Mia Gurary is a skateboarder and artist who runs Slacker. Through her creative brand she's experimented with different forms of art, produce work in several mediums and made tighter connections with her crew and the collective of creatives she's met along the way.
As soon as we noticed that her approach to skating and art had a distinct style we had to get to know more about her and her brand.
Although her brand is called Slacker her rate of creative productivity is quite the opposite. Not only does she run a brand and skate she's involved in various London based skate community projects and on top of that has loads of intriguing perspectives and plans for it all.
So we caught up with her to find out her thoughts on skateboarding, art, design, Slacker creative collaborations with her crew, influences and inspirations, getting on Tranquil Skateboards, Mark Rollinson, Adam Aulqui, shredding Southbank, Deptford and Moscow, her role in a new Canada Water Skate Spot regeneration scheme, future plans and her favourite skaters, artists, styles, videos, photos and more.
Read the Mia Gurary Interview below to find out out yourself

Photo by @lola.pani /Pani Paul
What's your full name?
Mia Gurary
Where did you grow up and where do you live now?
So I was actually born in Cleveland, Ohio and grew up in the countryside there.
My family moved around a lot and I ended up living in Moscow, Russia for five years before I moved to London to study at university in 2017.
Right. So, how did you start skateboarding?
I used to sit and watch people skate at the local park growing up. I always thought it looked cool.
Then when I was about 13, my friend Olga and I bought boards in Moscow and tried to learn to skate in secret near my house.
But we felt too embarrassed and stopped. I was able to cruise then but never properly skated.
So when did you really start taking skateboarding more seriously?
It wasn't till I was 18, when I was in London and I was going to university that I found myself actually really getting into skating.
I was at Cantelowes Skate park in North London with my friend Remi and my boyfriend at the time, we started joking that I was there as a "pute du parc" – which is French for a park hoe, but as soon as that joke became a thing I was like "hey you know what? Fuck that! I'm going to get a skateboard"!
What was your first board?
So we went to Slam City Skates and it was there that I got my first board. It was a 7.8 Krooked.
Who were you skating with at the time?
I was skating with my friends Remi and Joost and then we met another friend Aiwa – Lava La Rue, one day at Cantelowes.
They invited me over for lunch the next day and we skated together that whole summer and also with our friends Yolanda, River, and Madi. We had a super creative crew and we had so much fun getting to know each other through skating and going on different creative adventures.
I went to Moscow later that summer and was skating more with my Russian homies; Max, Vova, and Masha. That's actually when I first fucked my knee, six months into skating.
Mia next to her artwork – 'Quarantine City'
Okay. What kinds of art do you make?
I do all sorts of things. I make paintings, I write, I screenprint and paint on clothes.
I film for Map Studio Café and also work as a photographer.
I kind of dabble in everything and then combine bits of everything in my work.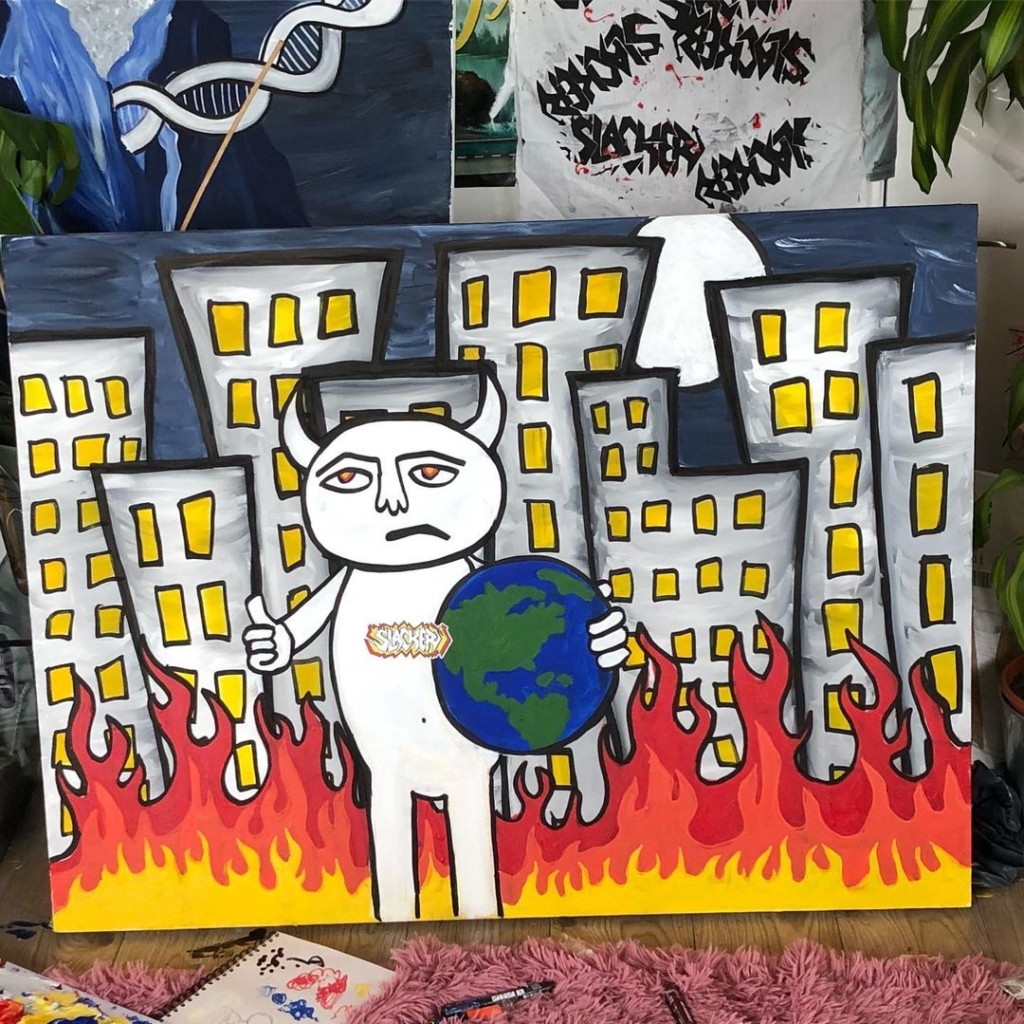 What is Slacker City?
Slacker is a brand but it's a kind of creative collective. I started it when I first injured my knee in 2018.
I couldn't skate so I was more painting on clothes and one day my homie said "yo…you should sell this" so I made more and advertised it all on my art page.
Now it's run by myself, Merryn Garner, and Yolanda but I encourage my homies to get involved so the people organising and contributing is always changing.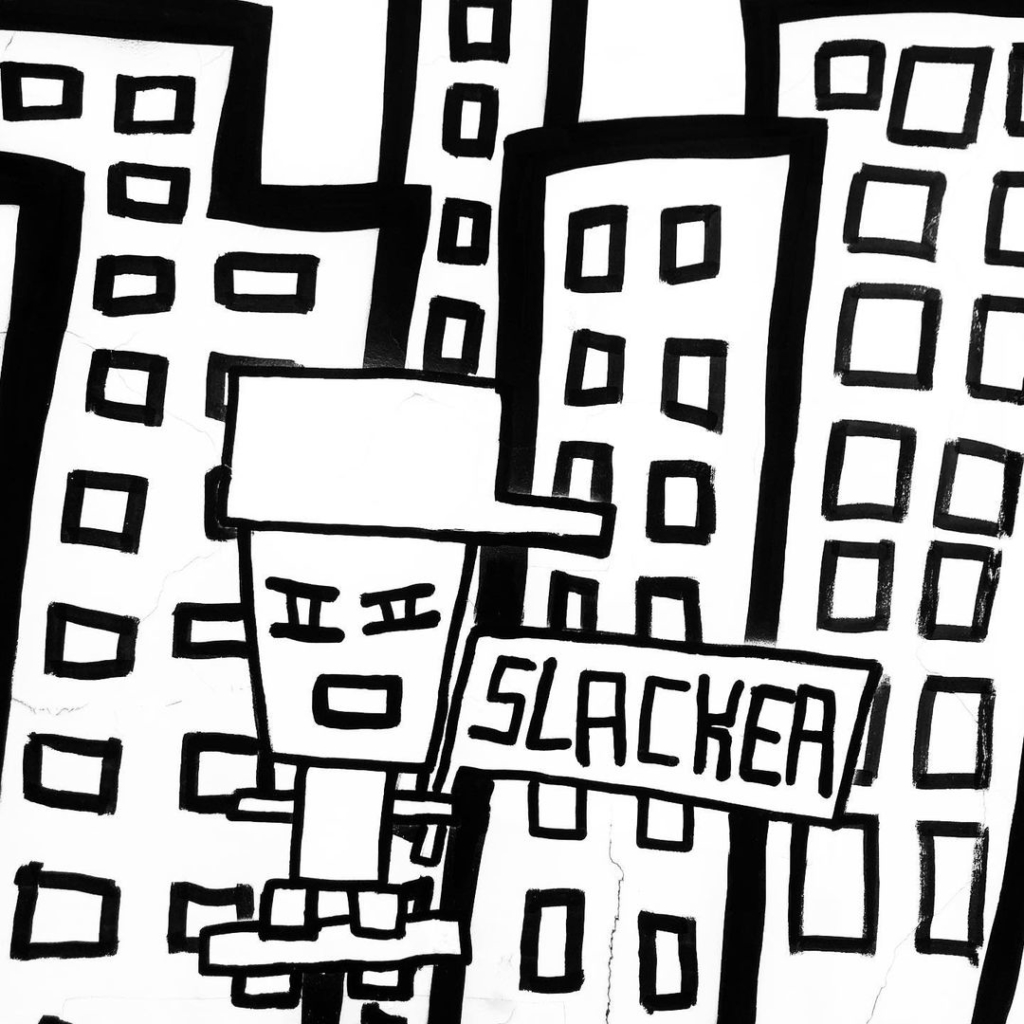 Why did you choose to call it Slacker?
I watched the film "Slacker" by Richard Linklater and that's when the name Slacker City became a thing.
I was then asked to do a pop-up by my musician friends Skinnyville, Cale and Zander, at Map Studio Café which is where I got the idea to host my own events.
We did an event at Map a few months later where Lava, Bone Slim, Bebeluna, and Skinnyville all performed.
I designed and made clothing and two-piece outfits for all of the performers and also sold my work at the event.
We turned the rest of the space into an exhibition where friends put up their paintings, photography, poetry, clothes, and art. It was honestly amazing.
That's great. So what is the concept behind Slacker?
The ethos is all about uniting creatives and "slacking" societally but also I guess inverting that meaning, politically.
Society is programmed to make us feel like our creative dreams and endeavours are futile and wont get us anywhere, but I want Slacker to be a space that says "Hey you have so much potential, let's turn it into something, you're welcome here and all our resources are yours".
Because I see so many creative people who just don't have the confidence or motivation to really put themselves out there and make a living off what they enjoy doing and it's the saddest thing.
It's given myself and a lot of people I've met on my journey a feeling of purpose and I kind of just want to share that with everyone who gets involved.
Right. So do you create all of the designs and artwork?
No. Almost everything is a collaboration.
Luke Vincent, Aiwa Laurel, and Jasmine Darlington have done a lot of filming and editing.
Elif Gonen, Rose Meggle, and Natalia Bjerke have done a lot of the photography.
Remi Sayers has designed countless logos and backdrops. Merryn Garner recently made her own slacker collection.
I've also worked with Dorothy Dee, Mia Tiomosoli, Rainer Pits, Alisa Paikina, Bebe Luna, Bone Slim, Remi Sayers, Joost Janssens, Lewis Bell, and Lou Salasca on different designs and projects. I do a little bit of all of those things too.
That's cool. So where can people purchase Slacker clothing?
When SB Skateshop lands in Waterloo then Slacker will have a permanent home there.
Right now you can get it at Cheap Hotel Skate Shop in Peckham or on our Instagram.
Do you have any upcoming plans with Slacker?
We're working on new ideas and are organising some projects and events right now.
Now that the pandemic is over Slacker is going to return to that original idea of recurring mini-festivals and events to promote and inspire creatives.
Over Lockdown Slacker became more of a skate brand.
Now we are focused mostly on making T-shirts and hoodies, using art and photography from the creative people around us and it was briefly sold at the SB Skateshop pop-up.
I guess it's a space and a platform and a creative movement all at the same time.
Where are you skating most at the moment and who with?
I've been skating mostly at Queens Road, Mile End and Southbank but also quite a few other spots lately, filming and shooting with different homies.
I mostly skate with Merryn and Yolanda, they're my best friends and my main crew, but I also skate with a lot of other people.
My SB crew is Merryn, Rose, Ryan, Ainsley, James, Tommy, and Sadaaq.
I have homies at every spot I go to so it's hard to name everyone. I often just go places on my own and skate with whoever is there.
What tricks have you learned most recently?
I recently finally got Nollie Heels, Nollie Frontside Bigspins and Switch Backside 180's. I've learned so many tricks this year.
What creatives in skateboarding do you look up to and why?
Pia who runs Loutre.co
She makes the best pants I've ever skated completely out of sustainable materials.
She's also designed a pint pocket that perfectly fits my pints of Stella. I fucking love what she does. She collabs with a lot of other creatives and has made some really unique jackets and trousers out of curtains and has worked with a lot of artists.
I look up to Liisa Chisholm, a South London based skater and artist who just oozes positivity and good vibes.
I also really like what the Always Do What You Should Do guys are doing. I love their designs and the overall positive message of their brand is so sick.
When it comes to more well known creatives in skateboarding though I guess the first name that jumps into my mind is Spike Jonze.
From working as a photographer for Transworld, filming Video Days and founding Girl. Then shooting music videos with artists like The Beastie Boys, Weezer, Daft Punk and Kanye to then directing Being John Malkovich, Where The Wild Things Are and Her. His journey has been so sick, he's been a huge inspiration.
His story really embodies how amazing skateboarding is as a creative culture and how infinite the possibilities are within it.
What's your favourite thing about skating flat?
How endless the learning process is for me. I love a challenge and I am pretty good at deciding I want something and getting it.
It's a really satisfying feeling and I love how many different tricks you can do with the board and how creative it can get.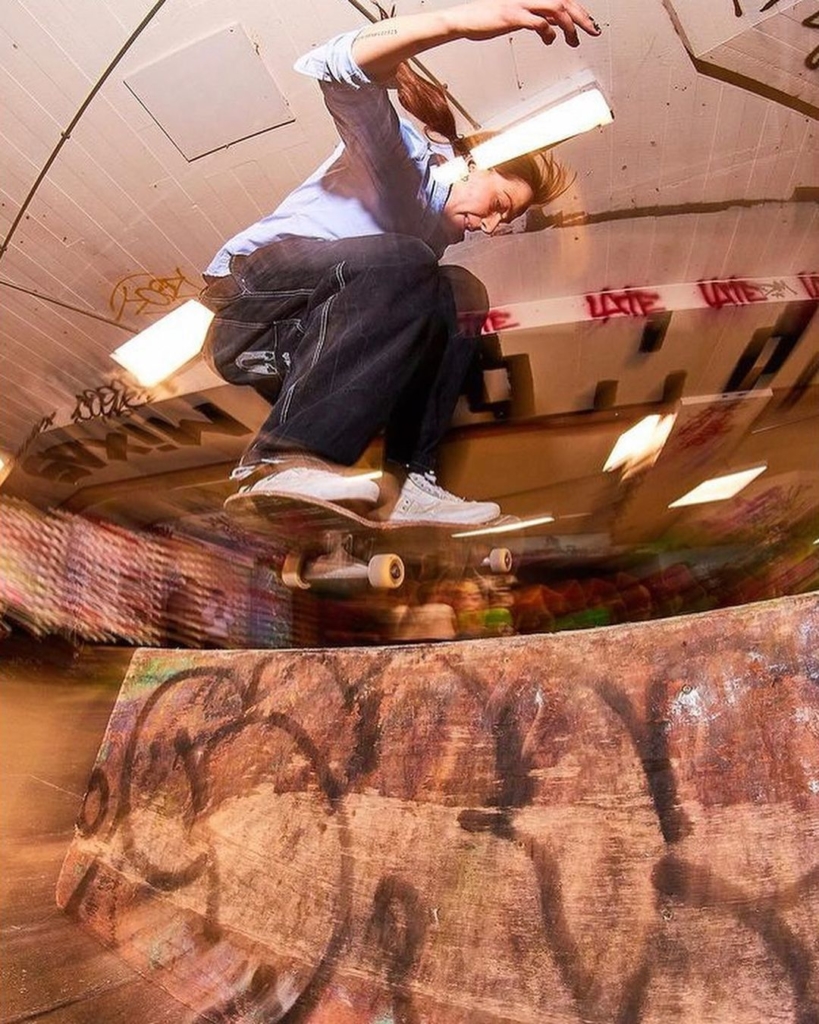 Mia, Switch Barrier Wallie, Southbank: Shot by @c.e.foulkes
What's your favourite thing to skate at Southbank?
I really don't know, it depends on how I'm feeling. I really like the ledge, it's really fun to Noseslide.
I think my favourite thing about Southbank in general is how fast paced it is as a spot. When I go there I block everything else out and just really send it.
How did you get on to Tranquil Skateboards?
I skated Folkestone Gardens Skate Park in Deptford a lot during the pandemic because 'Deppy' was one of the only parks that wasn't being policed.
Mark Rollinson and Adam Aulaqi who run Tranquil were there and we skated together and they really supported my progress.
A few months ago they reached out and asked if I wanted boards from them and if I wanted to skate for them and I said Hell yeah.
What's your favourite thing about skating for Tranquil?
The guys are so down to earth and a part of the local South East London community. They're also amazing skaters.
They're both so technical on their boards and I get so inspired watching them skate and learning from them.
I haven't gotten to properly skate with them yet and I guess since I'm injured it'll be a while but I'm stoked to be repping their brand.
Mia, Queens Road: Shot by @fulltimeliability
You skate at Canada Water a lot, why do you like that spot?
I first skated at Canada Water with Aiwa and the girls I started with so I had most of my first skate memories there. I learned so many of my tricks there.
I've lived next to it for two years and it's become my local spot. I don't skate it that often anymore but it's a pretty important spot to me.
I saw your working on a new Canada Water skate spot regeneration scheme, what's it about and how did you become a part of it?
Basically, Skateboard GB and British Land reached out asking Bedir Bakar, Adam and I to help them to position these massive planters at the spot.
This was to make it so that they get in the way of skaters less but since we were meeting with the suits we thought we'd try and get something out of it.
Then they also mentioned they may be potentially giving the spot away to various vendors and markets and taking it away.So it was then we decided we had to work with them to save the spot.
We've suggested a semi permanent skate plaza project with skateable sculptures and an exhibition, and they seem on board.
We've still got a lot of things to discuss before it really gets moving properly though.
For now the plan is to keep meeting with them and discussing terms and negotiating. We've even gone as far as to suggest a curfew as a compromise.
Canada Water: Shot by @c.e.foulkes
How can other skaters help to get involved?
For now there's not much you can do unless you have ideas or useful presentations and statistics on the benefits of skateable sculptures.
We used the Malmo and Bordeaux skate projects in our presentation but yeah if anyone out there has any ideas don't hesitate to reach out to us.
Are you working on any new projects you want to mention?
My homie Jonty has a crazy sick wood work studio and we recently built a ledge there.
So it reminded me that when we moved another ledge from Queens Road to Canada Water, during Lockdown, although it lasted a few days before getting taken away by the police, those few days were so amazing.
Everyone came down from everywhere and had the best time regardless of how short it lasted. So I've actually started working on a transient ledge project.
We're planning on building a ledge every two to three weeks and dropping it off at random spots around the city and then announcing it to people at random like "hey there's a ledge at …… go enjoy it" and then just keep on building them from there.
I'm sure some will be taken right away but I'm going to paint them and make them look nice so there's a chance that maybe some places in central will be like oh hey this is actually kinda cool.
It's going to be a fun experiment and project to to explore while I'm injured I guess.
For sure. So do you have any advice for girls who want to skate?
I guess try your best to not give a shit what people think. I know that's easier said than done but most people really don't care and aren't judging you.
Wear whatever you want, skate however you want, do whatever you want, you're amazing just for being out here doing it.
Just have fun, and learn from the people around you, the community is so welcoming.
Who are the women in skating that you look up to?
Alexis Sablone. I think I've watched her last part like 100 times.
I've always thought Alexis was the sickest. Graduating from MIT and working as an architect while also skating for The United States? What the Fuck.
Breana Geering has the illest style and vibe.
Also Cher Strauberry has insane style and is a massive inspiration, infinite respect for what she's done for skateboarding.
What skate videos are you watching right now?
Going Nowhere
éS Terminal 001
Grand Prarie
Constant
WAF
And everything that's been coming out I guess.
What skate videos do you watch the most?
I've also been rewatching a lot of my all time favourites like
Baker 3
Homies 2
Davonte Jolly's Godspeed
Polar's We Blew It At Some Point
Also Mark Suicu's Verso part last week when I was couch bound with my knee injury.
What's your favourite skate video made in Moscow?
I really liked Atlantic Drift Episode 10 that was shot there.
I loved the soundtrack and the editing and just thought it was so sick to see skaters that I usually see in London shred the motherland.
Where is your favourite skate spot in Russia?
I lived near the Beloruskaya train station which has one of the main Moscow spots next to it so I skated there a lot.
I also like skating the Noviy Arbat four set and the dank ledges there. Moscow is definitely my favourite place to skate it has so many amazing spots.
What's your favourite skate photo of all-time?
Right now I really love the photo of Maité with the Chessboard by Guillaume Perimony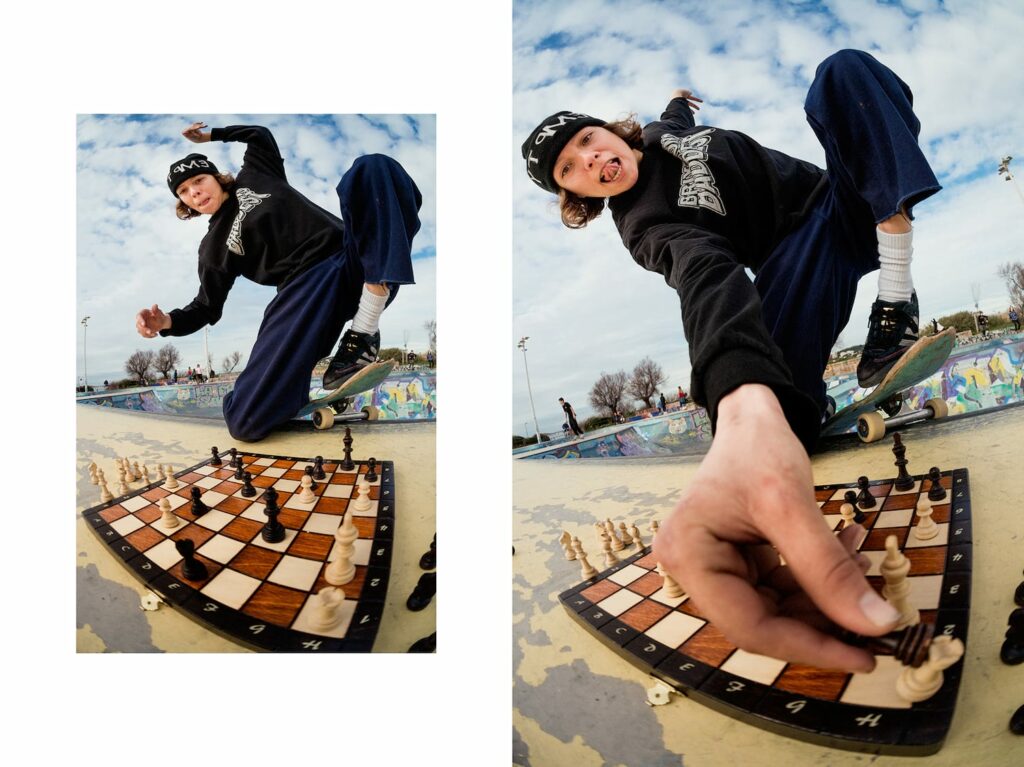 Maité, Layback Smith Stall with the Chess Piece: Shot by Guillaume Perimony
Sick photo.What's your favourite skate video?
That's a really hard question but I'm going to go with the Vans video Credits.
It's the first all female skate video I watched and I remember getting this insane feeling watching these women shred, it felt something like, "hey I'm actually like leaving my body right now watching them do these things cause I relate to it and see someone like me in there and actually see myself being able to do these things – is this how guys feel watching like every skate video ever?" .
Seeing that video was definitely that pivotal thing that made me believe that I could do the big boy tricks that I ended up learning to do in the years following, so I'm really grateful it exists.
Okay. Who has your favourite style on a board?
That's such a hard question. I think Deedz or Maité Steenhoudt. Both just look so free when they skate.
Maité especially. Her part Broski 2 Proski was actually one of my favourite things to come out this year.
It's rad. Is there anyone out there you want to give shout outs to?
Definitely the Sumo boys I'm stoked to see the video they've been filming.
Baglady, I think what Tom's doing is sick! Mixing photography with skating and fashion.
SB Skateshop and Cheap Hotel for doing what they're doing and all the homies for being the best fucking homies!
Cool. Any last words Mia?
Thank you skateboarding and thank you to everyone who I've been lucky to share the last few years with. Life is pretty awesome