Ted Barrow is a skater, art historian, lecturer and social media personality most well known for his former satirical skate account Feedback TS. His acerbic, assertive and always on point satirical skate commentary made him a household name in skateboarding. Thousands upon thousands of his viewers became incredibly fond of his humour and wit, 90's skate stories, his stalwart street skateboarding stance and opinions on the daily submissions of skate clips that he would post and critique.
The Feedback TS account gave Ted a channel to showcase his larger than life personality, straight shooting delivery and insightful creative perspectives on everything from rare pieces of fine art to your friends front blunts at your local skatepark. 
But it wasn't just that. Alongside the clips of his own skating and tales about his skate history, as a kid in the 80s as a young man in the 90s and an adult in the early 2000s, his clear well expressed and stylish, yet always self effacing demeanour in his online videos, fully captured the attention of skaters of all ages, generations, interests and tastes to follow him and listen.
His no holds barred comic art and skate criticism created a mystique around his account and constantly fulled speculation about how he came up with the things he said and whether he actually meant them in jest or in truth. But one thing was for sure, he never tired of talking about skating and art, never shied away from talking about his real life and the struggles and success and personal challenges he experienced every day with a palpable sense of honesty. 
It was his integrity to his comic format alongside his consistent ability to suprise, entertain and educate viewers whilst never letting them forget that satire was the focus of his platform that made his work brilliant.
He constantly made meta jokes about how he was just playing a character – a curmudgeonly old skater hating on skate clips and that his account was just that – an ongoing in-joke that week after week fuelled online fire, only to be reignited by his next blazing critique about a skate clip submission he would receive, post and rip.
 Whatever you made of his criticism, he was always down to offer his insight and experience in a new and fun, interesting way. He encouraged skaters to think about what we skated and how we skate in a often light-hearted manner sometimes with the odd unexpectedly harsh and heavy comic response. But you knew it was just a joke from a skater who wholeheartedly cares about the act of skateboarding and its culture.
So after joining The No Comply Network and rising even more rapidly in online popularity with each passing post at some point over Lockdown, all of a sudden he and his followers awoke one day to discover Ted's Feedback account was for reasons unknown, removed.
So we hit up Ted to find out what had happened and what we discovered was radder than we first expected. 
 We found out that Ted has spread his creativity way beyond skateboarding clip submission critique and has moved further afield into podcasts, lectures and creating art itself.
Despite the removal of his Feedback page he still has an active online presence across three accounts where he continues to critique art and talk about skateboarding and his experience in intriguing, innovative ways.
So after the sudden disappearance of his Feedback account and finding out he's made a series of life changes and gained a whole new handle on his life, we called him up to have a conversation about how his Feedback TS account got shutdown, how he felt about losing his page, filming a part at one spot in New York's Upper West Side for Thrasher, Switch Back T's, Switch Back Smiths and flatground tricks, Atlantic Drift, meeting Jerry Hsu, rocking Sci Fi Fantasy, the reason he's moved from the New York to California, how he lost his job at the museum in New York, his new career, his online lectures at Olio Lectures, Vent City podcasts, his art project – Berate The Birds, how he originally discovered skateboarding, rolling over Lockdown, reading John Berger and Mark Fisher, book and music recommendations, most and least favourite things about 90s skating, modern skate trends and a serious deep dive into his favourite, skaters, artists photos and videos of all-time and more.
Read the Ted Barrow interview below to find out for yourself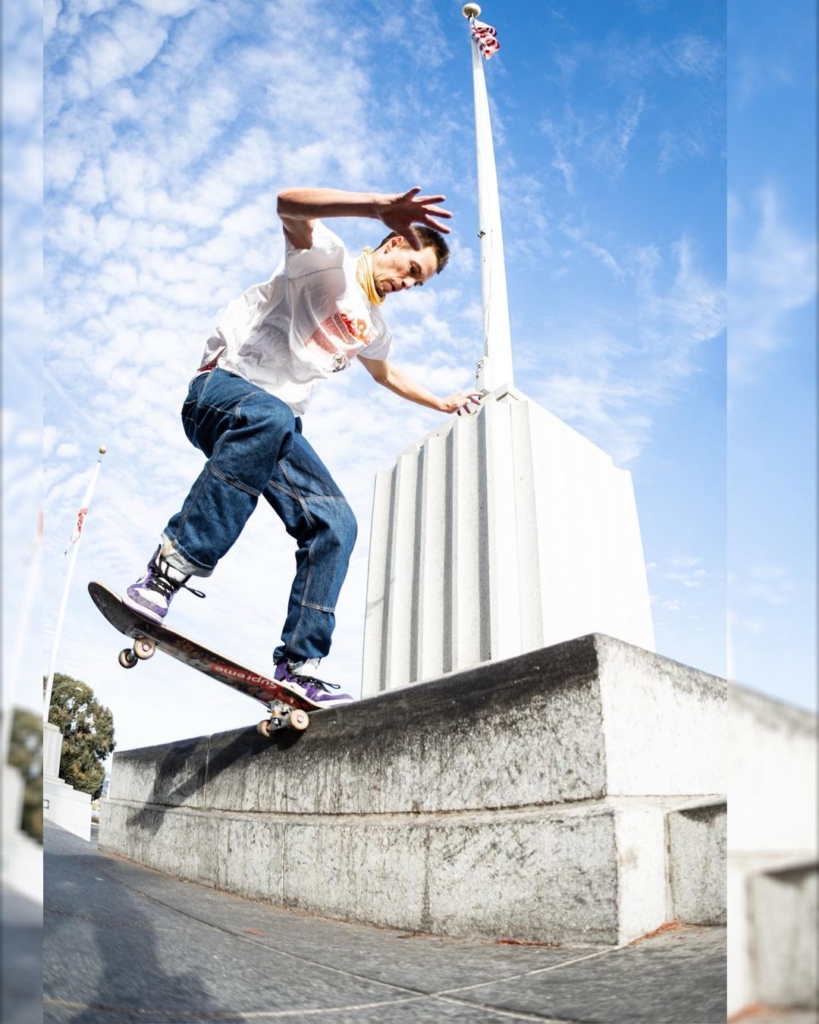 Ted, Frontside Noseslide, Oakland, Californnia: Shot by @seancho
What's your full name?
I believe my last name means "pile of dirt, like borough, berg, or barrow.
You can call me Ted.
Where did you grow up and where do you live now?
I grew up in Austin, Texas, and I currently live in Oakland, California.
When and where did you first discover skateboarding?
I remember the feeling of sidewalk cracks under red urethane wheels underneath a yellow plastic banana board in South America, 1982, but I don't remember seeing it. There is a picture to affirm this memory.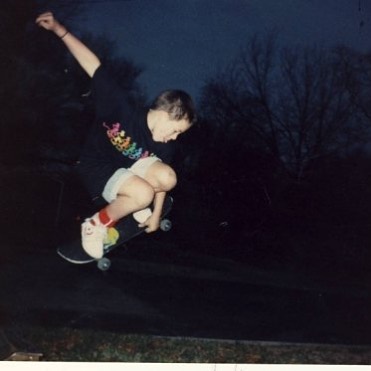 When'd you first get a board and what was it?
My first "real" skateboard was a Seaflex deck that I bought at the Flea Market in Mill Valley, California, after a summer of bumming boards from older surfers around Bolinas.
Where did you learn to skate and who was in your crew?
I learned to skate the following Fall back in Austin.
My first crew was Dylan Howard, Wiley Wiggins, Justin Jacobsen, Chris Micklethwaite, and Peyton Denman. Soon we merged with downtown Austin kids—too many, too insignificant to name—and formed Team Trix.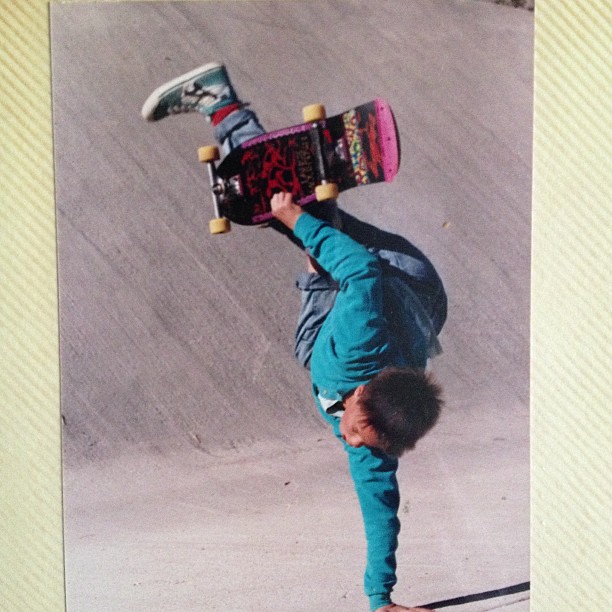 @tedbarrow: Handplant
What kinds of art did you make growing up?
A lot of figures falling into spiky pits.
Souunds gnarly. What was your job at the museum?
I worked as an assistant curator, where I worked on interpretation, public engagement through gallery talks, tours, and lectures, coming up with programming, and long-term planning for shows.
It was wonderful—museum professionals are committed to their work in a way that I have not seen in other fields—but it wore me pretty thin by the end.
How did you lose your role at the museum?
I had a lot of other things going on between completing my dissertation, for my PhD. in art history, and my Feedback_TS instagram, which I hate to admit was a hugely exciting and rewarding distraction, so we parted amicably. It was a great place and I learned a lot.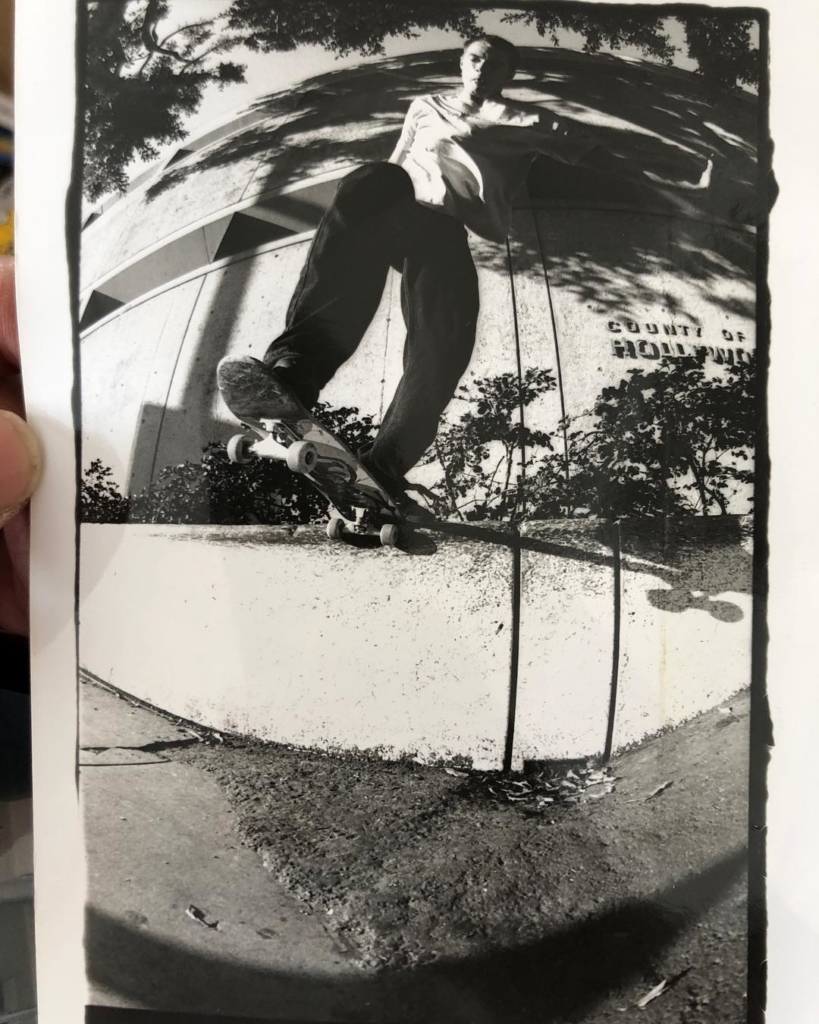 @tedbarrow: Switch Backside Tailslide
Right, so where are you working at the moment?
I currently work retail, and I love it. It seems like a strange u-turn in an otherwise straightforward course of increasing responsibility within a professional field of art academia and museum work, but I have to say: it's great! I work with really cool people, I believe in the company, and it pays me enough to live comfortably, for the moment.
Skateboarding has taught me to be fiercely independent and disciplined about my passions. That means, despite whatever job I may have to pay the bills, continuing with my work in the time that I have. Just as most of us who weren't sponsored or particularly good found a way to fit skateboarding into our lives after school and on the weekends, so goes my approach to my work versus my job.
I am nearly done with my dissertation, which I work on every morning before work and before skating, and I hope to return to the field when it is all done. I am grateful for the work I have, the time that I have to explore my ideas, and that is due in large part to the cool job that I was lucky enough to get to pay the bills.
Sick. So how did Feedback_TS get shut down?
I really do not know.
Instagram recently changed their community guidelines and I noticed that posts and stories that I had already posted months and years before were getting flagged for inappropriate sexual content.
I'm talking about posts where I made allusions and comparisons to 19th century academic (nude, sometimes) PAINTINGS.
The only time my content was flagged was from that.
On the other hand, I reached a lot of people through that account, and I am sure that not everyone was on the page about my intent.
The more popular it got, the more new people there were to misunderstand what to me (and maybe 150 other followers) seemed like a pretty meaningless and straightforward bit of satire.
So, I'll allow for the possibility that I was flagged for abuse by someone who either didn't get it or loathed what it was they thought that I did on that account.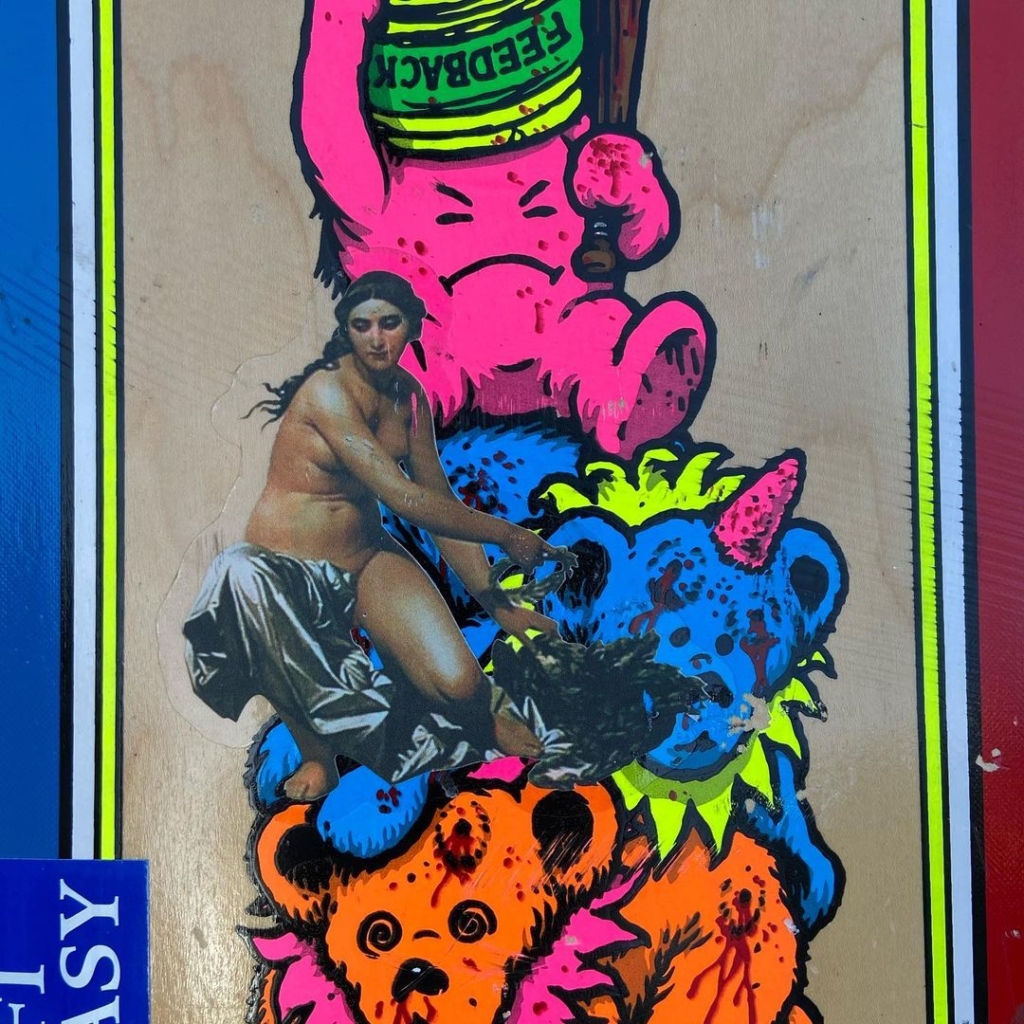 How did you feel about Feedback TS being
taken down?
Intense relief.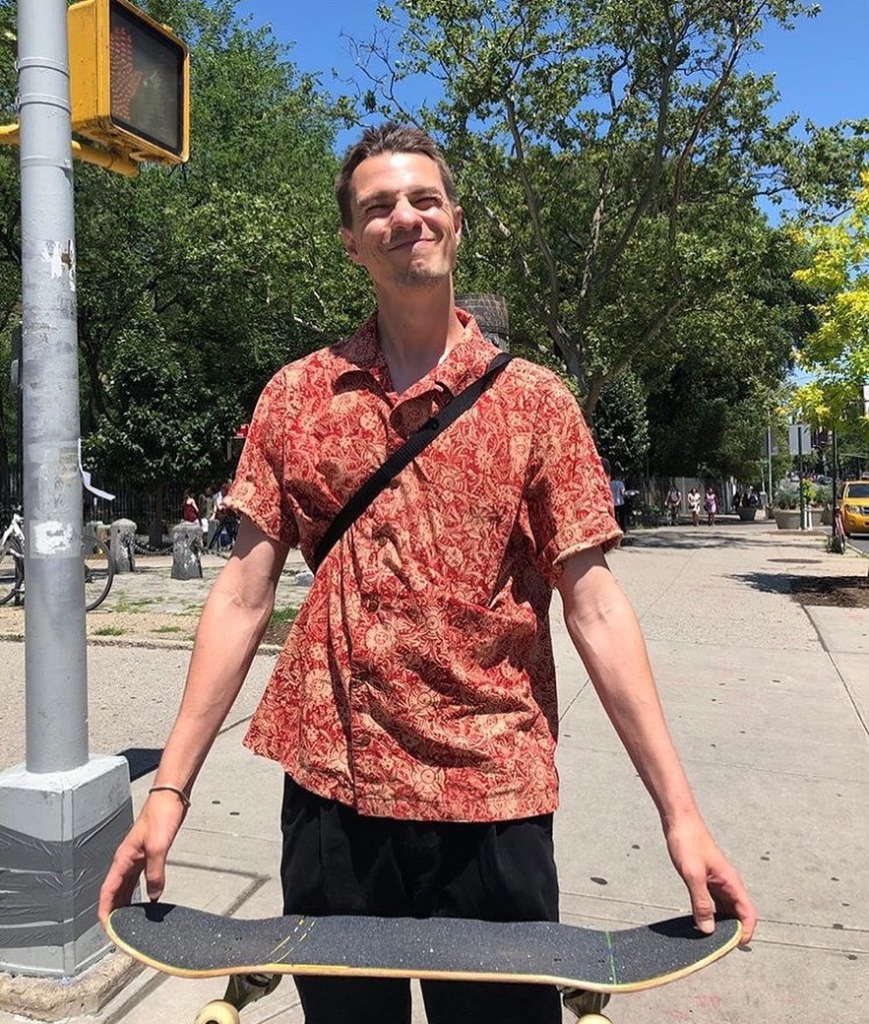 Do you plan on doing more skate clip reviews in future?
No. I made over 5,000. One was enough.
Fair enough. So why did you move to California?
I lived in New York City for 18 years. It is the only place that I chose to live as an adult, and I lived there longer than I have lived anywhere else.
My last year was pretty hard, full of dramatic triumphs and a lot of heartbreak and honestly, I was overwhelmed.
The city that used to inspire and excite me made me fell sad and enclosed.
I also wanted to be closer to my family, most of whom are in California.
Cool. Where do you live in California now?
I moved to the Bay Area in February, about 3 weeks before the pandemic changed everything.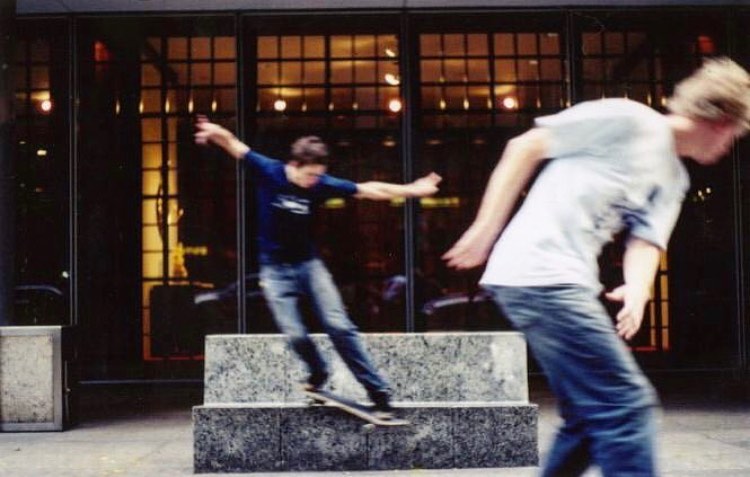 Ted Barrow, BS Smith, NY: Shot by @_charleslamb
How did you end up filming the part in New York at that Upper West Side Curb spot and how can people see it?
That last year that I just described was one where I had a lot of free time. I was unemployed for half of it, it was spring, and I just decided to skate this very awkward and difficult plaza a few blocks from my house as my main skatespot.
On my feedback account, I exclusively made fun of skatepark clips, because that isn't' real skateboarding to me.
That said, I primarily skated the LES skatepark when I could, hardly ever skating street. That seemed hypocritical to me.
I read an interview with Lurker Lou where he explained that he was too old to go to skateparks, and that he would spend the rest of his time skateboarding finding new spots.
I was really inspired by that, as well as Taylor Nawrocki's monument part, not to mention the other amazing Atlantic Drift-related parts where Tom Knox skates awkward cobblestone spots that shouldn't be.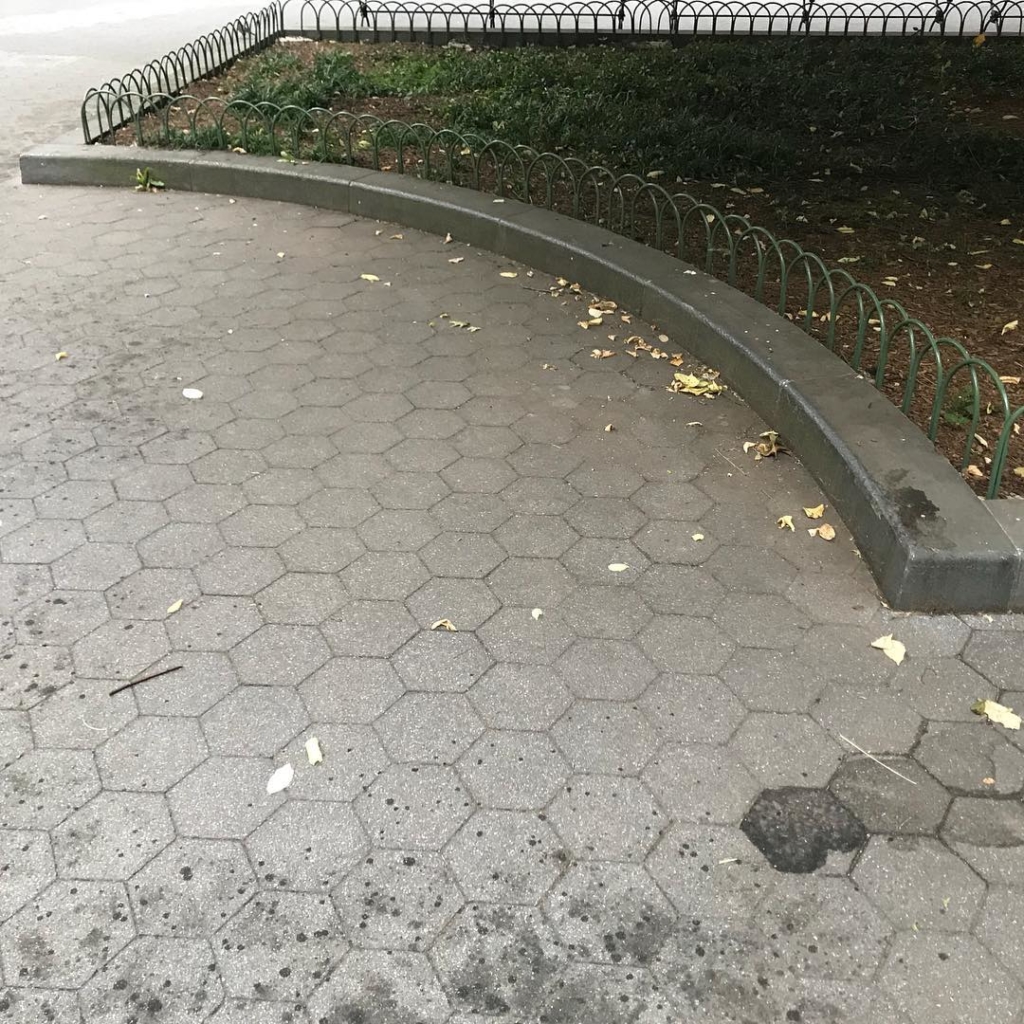 This spot near my house is more British than your most British spot. Friends in London have told me that they wouldn't even skate here, because of the cracks and uneven paving.
But it looks and feels cool, so I figured out a way to skate it, had my buddy Greg film it, and invited friends and locals to film a video there.
The video was a labour of love, maybe the last video part I'll ever film.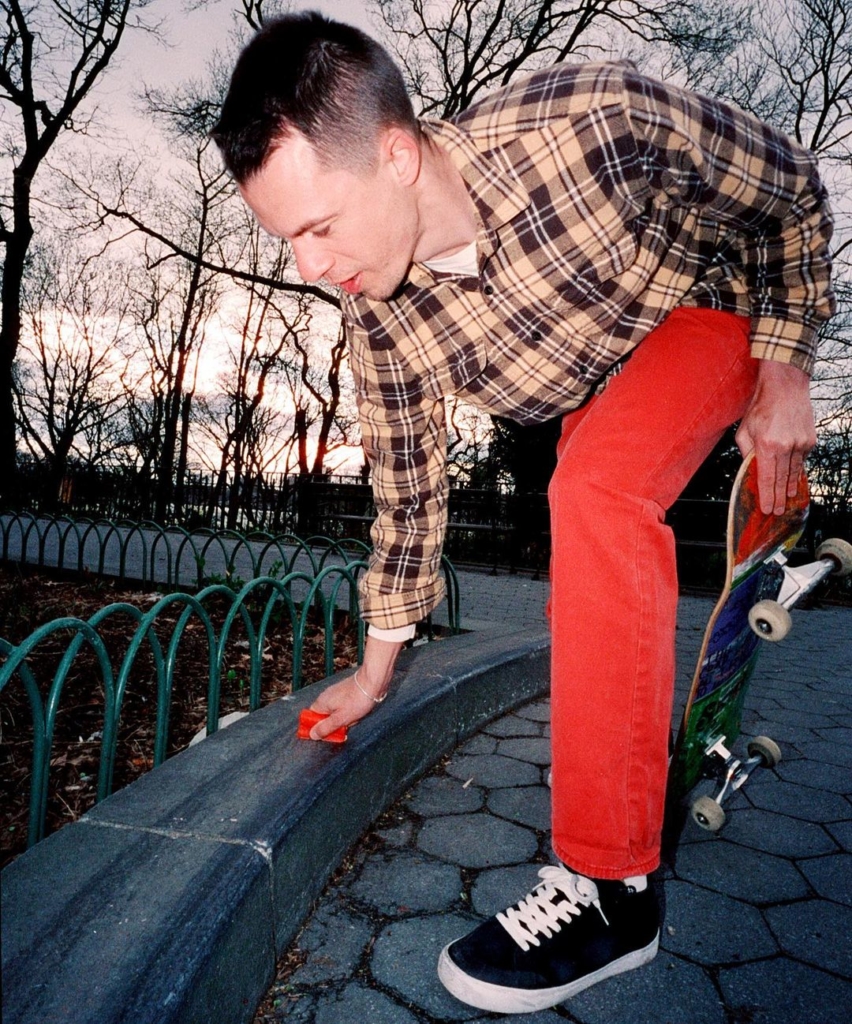 Ted, Waxing The Upper West Side Curb Club Curved Curb: Shot by @sloanisabuller
I'm 44 now, nobody is trying to see me skate, but this was my way of paying tribute to what I loved about skating on the East Coast, and to plaza skating of the 90's.
It will be on Thrasher by the time this interview comes out.
Who filmed the section and what was your favourite thing about making it?
Greg Navarro, a kid I met the previous summer who turned out to be a pretty talented videographer.
The best thing about making the video was the best thing about skating: creating a scene around and upon a space that other people ignore.
You mentioned you've been reading a lot of John Berger. Which of his books would you recommend to readers?
I've been reading John Berger for over twenty years. I return to his essays and novels whenever I'm between other things, and his sense of justice and the primacy of looking is spot on.
I recommend starting with Ways of Seeing, both the BBC series and the pamphlet, and then moving onto "Why Look At Animals." If you're not hooked by then, you're helpless.
Through looking we learn compassion, and compassion makes us better citizens.
You also mentioned you've been reading books by Mark Fisher.What have you learnt from his books?
Umm, I was just trying to sound smart and sympathetic to your writers or something idk I'm not into Massive Attack.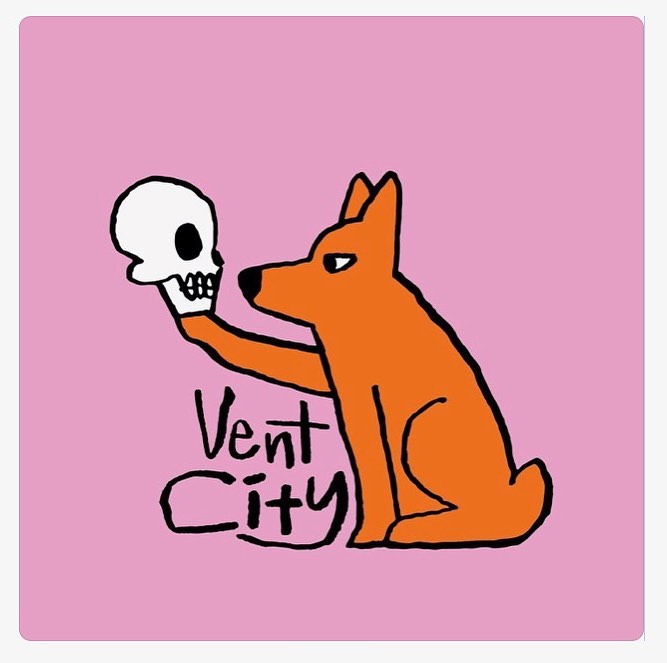 You regularly air your views over the airwaves on the Vent City podcasts. Why should people listen to the show?
Vent City is a podcast with Kristin Ebeling, Alex White, Kyle Beachy, Ted Schmidt, Ryan Lay, and myself.
Instead of the standard interview-format podcast, we try and discuss larger issues in an informal way.
Being part of slightly more diverse (in terms of gender) panel helps me formulate why I skate as an adult, and what we can learn from these discussions. That sounds boring, but it's a blast to do, and fun to listen to.
Who doesn't want to talk about skating with their friends, or hear other people talk about the thing we all love?
Blindboy described our attachment to podcasts as "the hug," and argued that we as a species get the same sensation from listening to podcasts as our primitive forbearers got from gazing at fire or water. They allow us to slow down our monkey-minds and think abstractly. Listening, like looking, fosters compassion.
I've seen you do lectures at ThinkOlio. What are they about and how do they take place?
ThinkOlio hires professors from around the city to give informal lectures to small to middle-sized groups. I was an adjunct professor for 6 years during graduate school.
In that time, I taught two or three classes each semester, and while I loved lecturing and taking my students to the museums in my free time as part of the curriculum, I had 75-200 students per semester.
The workload was massive, and the pay was not commensurate. I felt, at times, that being an impassioned lecturer and enthusiastic museum guide was not what these students needed.
Olio allows me to come up with topics that interest me, and to present my ideas informally to people who sign up. Since the pandemic has made in-person lectures next to impossible, we do it over Zoom now, sometimes pre-recording the lectures. It's great. I'd be a fan of them even if I didn't work for them.
What's the most satisfying thing about those lectures?
There is a moment when giving a lecture or speaking about a work of art when the preparation goes out the window, and I find myself exploring new ideas and expressing my responses to them based on what I am seeing and sharing with my audience in that moment.
It's not about me, it's about the energy in that group, and my audience's reactions are as crucial to that experience as the insight I bring to it with my training and education. That, to me, is the best thing about teaching: it's a collaboration, not a recital.
How can people watch them?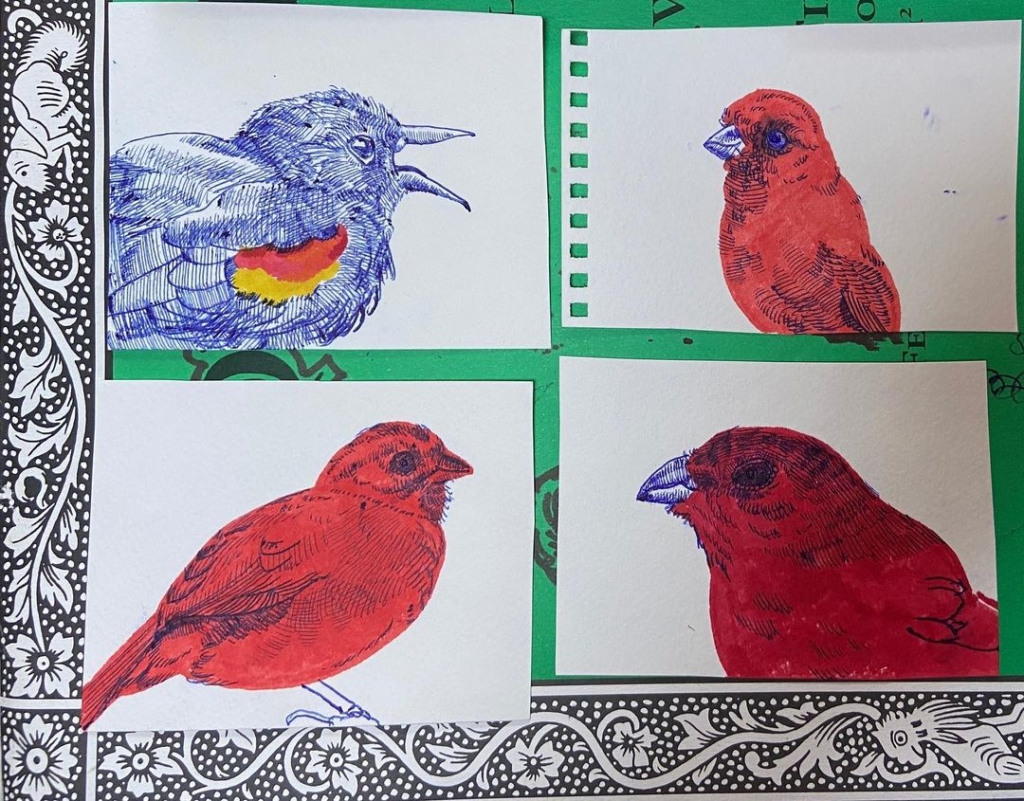 Okay. So you also started up a Patreon called Berate the Birds, what's the story behind it?
I started Berate the Birds as a kind of placeholder for people that enjoyed the non-skate parts of feedback.
While running Feedback, I started posting art-historical stories or video analyses in my stories, and those were fun to do, a welcome change of pace from the back and forth video submission/my response format of the account.
I'm sure some people found them tedious, but enough people gave me positive feedback on them that I figured I'd have a place for them there. I also devote a lot of time to them, and I produce stickers and drawings as incentives to supporters, so it's a pay-only thing for the content that I still produce.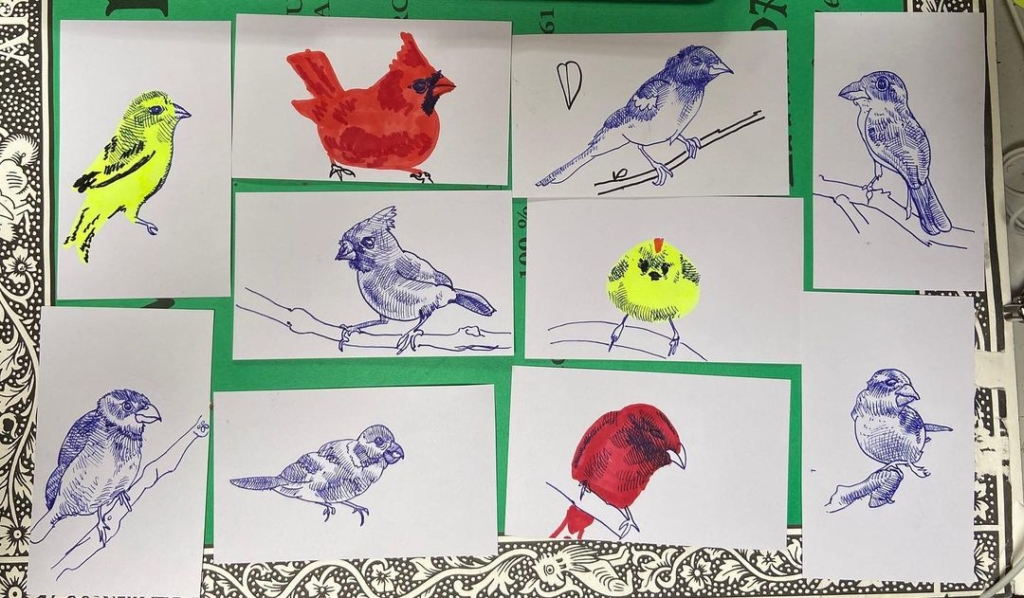 Rad. You're a passionate switch stance skater. What draws you to skate in the opposite stance?
Hmm. I'm a child of the 90's.
Switch skating seemed like the most advanced, radical thing to do in 1993, and I guess I still get a kick from it today.
What's your favourite thing about skating ledges right now?
Texture. Cracks. Site, surface, skateboarding.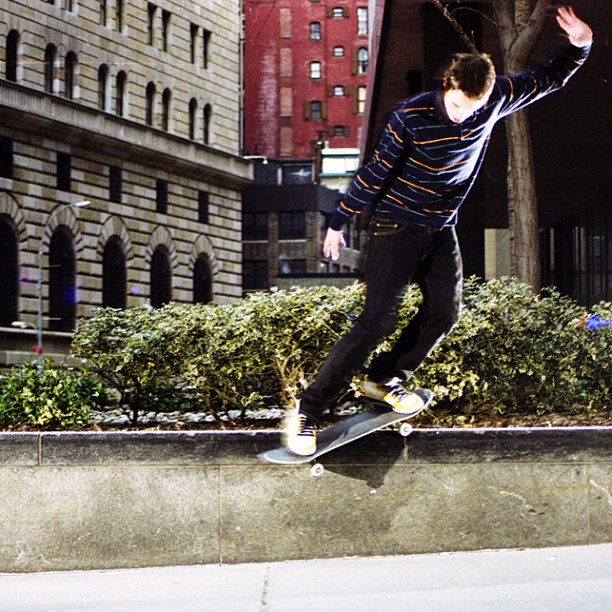 Ted, Switch BS Smith: Shot by @manute_bol_lives
You've got SW Back Tails and SW BS Smiths on lockdown. Who's got your favourite SW Back T?
Favourite SW Back Smith?
Kenny Anderson, because Kenny Anderson.
You've got sick Nollie FS Flips. Who's got your favourite?
I do not have a great one. I've done one satisfying one, where it folded the way I want it to, and it was last year, and on accident. Ronnie Bertino in Second Hand Smoke is the gold standard.
Rowan Zorilla does a good one, as does Charles Lamb.
I'm sure Javier Sarmiento does a sweet one too, as he does everything the way it should be done.
One of the best Feedback segments was the 90s stories. What do you miss the most about skating in the 90s?
To be honest, skating in the 90's was not that fun. We all tried to skate like the few advanced videos we saw, most of our heroes were total dicks, which meant that we were all dicks to one another.
Skateboarding wasn't that diverse, and a pretty harsh and unfriendly culture back then.
Those #90'spros stories were told to highlight the awkwardness and weird egos, inconclusive exchanges and compromised memories that I have from back then.
It was never about claiming that I was a part of something influential or important, but rather showing how sometimes those awkward exchanges are all that we have left.
The 90s had some strange trends as well as good ones. Which ones are you glad that have disappeared and why?
Every trend gets cycled back, but House of Pain was an unequivocally shitty rap group.
Do you have a favourite 90s skater?
Joey Bast
Henry Sanchez
Marcus McBride and Lavar McBride
Moses Itkonen in the Madcircle videos
What's your favourite mid-90s skate video?
Dan Wolfe's Eastern Exposure videos hit pretty hard back then.
But for me it was mostly about staying abreast with what was in 411.
How did you originally meet Jerry Hsu?
I met Jerry Hsu through Patrick O'Dell, skating Tompkins in the East Village.
What's your favourite aspect of Jerry's skating?
I think my favourite aspect of his skating is how he got bummed, so easily, when some dude sitting on the green benches dissed one of his late flips.
Favourite trick by Jerry Hsu?
The best trick that Jerry ever did was to convince the world that he didn't exist.
I've seen you rocking Sci-Fi Fantasy hats and clothing. What's your favourite piece of Sci-Fi Fantasy gear?
I beg Jerry for clothes and he invoices me well above retail value.
I don't skate in the items, strictly resell. It is so hard not to be sarcastic when answering this line of questions.
People followed Feedback because what you said translated thoughts skaters have but don't always say. Any advice for online creators trying to find their voice?
Well, first I should say that I am both humbled and gratified that people paid any attention to my account, but also to gently remind those that followed and maybe agreed with some of the things that I said there not to conclude that those were my actual opinions.
I did over 5K videos, and I think I gave a sincere response to maybe 5 clips. In over 3 years. If you agreed with what I said, great. We don't agree, because I don't agree with most of the tone or positions of what I put out on that account. I want to make that very clear.
In running a satirical account, I was careful not to express my actual opinion in those reviews. It was all entertainment, meant to be meaningless on the surface but meaningful in an abstract sense.
So my advice to someone planning to become an "online creator" is: be prepared to relinquish control over what you make. Your intentions for it and how people take it will always be at odds.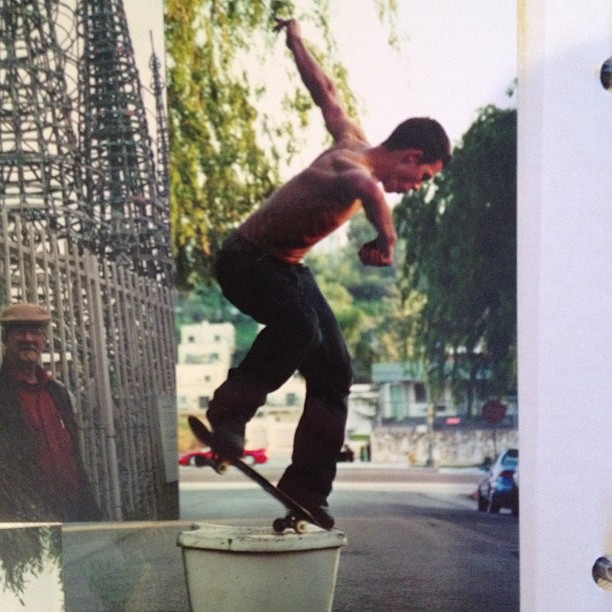 What things outside of skateboarding are inspiring you right now?
I mostly read art and cultural criticism, and don't really pay much attention to mainstream skateboarding.
I'm 44. It would be really weird if I still cared about the current trivia. I have my pantheon, my standards, my experience. The new ideas that I like come from outside of skateboarding.
Most of the UK probably knows about it, but I love the Blindboy podcast, and that style of storytelling, hot-take analogies, and compassionate engagement with ideas has been tremendously comforting and inspiring to me during the pandemic.
Which creatives in skateboarding are inspiring you?
What kinds of art are you into at the moment?
I've been researching some 70's and 80's artists:
Raymond Pettibon
Mike Kelley
Paul McCarthy
Eric Fischl
David Hammond
as well as some contemporary painters like
Nicole Eisenman
Kylie Manning
Nicki Maloof
Riley Payne
Peter Doig
and the sculptures of Kara Walker.
To me, these artists better touch upon a lot of latent creative or social impulses that I found in skating, just couldn't fully express.
The purpose of skateboarding isn't to analyse, break down, and express the social and symbolic content of a culture the way that artists can.
If anything, skateboarding can be a great lens through which to see these things, to mobilise ideas, but isn't the most adequate expression of them. Art, for me, crystallises the symbolic and aesthetic in a much more satisfying way.
What music would you recommend to listen to over lockdown?
I hit Brian Jonestown Massacre, Dwight Yoakham, and Lou Reed pretty damn hard, for someone who has never had a drug problem and is basically sober.
But I recommend everyone check out Chances With Wolves.
I remember you saying you saw skating as a sport, is that still the case?
As I kind of got to above, skateboarding is an athletic activity with an aesthetic appeal. As someone who spends a lot of time pondering skateboarding in prose (as a writer), and comparing it to art in a lot of different ways, I still see skateboarding and (my understanding of) art as separate.
By no means am I saying that I am an expert or an authority, nor do I think these distinctions are terribly crucial to my or anyone else's experience, but mainstream skateboarding, as practiced and consumed by most skaters I know, is not art. Whatever.
What are your thoughts on skating in the Olympics?
Annihilating indifference.
What are skate trick trends in 2021 you think are good?
I like the whole BurberryErry & Dane Vaughn type of skating. It's hot.
Latent in Tony Alva in the 70's, expressed classically in Christian Hosoi in the 80's, and at it's absolute peak on Instagram last year. Fantastic.
Which 2021 skate trick trends do you think are awful?
I'm being honest here: I've been in this game too long to flatly categorize any trick or trend as awful. There are always exceptions to the rule, and that's why skateboarding stays cool: the weirder, the better.
During lockdown, there's been a noticeable boom for skate shops, more skaters on-board and more girls. What changes have you noticed recently?
I skate one spot, and I live in a different city than I did before lockdown. I can't speak for the state of the culture, but the more the merrier.
@tedbarrow: Shot by @_charleslamb
How have you been passing the time over lockdown?
I draw birds, I read a lot, I write, I work, I skate.
My life has been luckily winnowed-down to the essential things that bring me joy, and I am for the most part happier than I have ever been.
Working on any new projects at the moment?
A lot has changed since the last interview I gave.
I'll be spinning some publishing and gallery-related projects out of @beratethebirds.
I'll continue to take on lecturing and writing gigs when I can, but the main priority—my central focus—is to complete my dissertation, which at this point is an extravagant labour of love.
Cool. Alright. Who is your favourite skate photographer?
Tobin Yelland.
Where's your favourite skate spot in your current city?
The Alameda County Courthouse.
Favourite spot in Texas?
Trinity Ledges (RIP).
Every city that didn't have a famous skate plaza in the early 90's had their "second-best-" version, and Trinity was our Pulaski Park, Love Park, and Brown Marble all in one.
Where's your favourite skate spot in New York and why?
The Soldiers and Sailors Monument.
It's where I filmed my part, and it is so picturesque and hard to skate.
Do you have a favourite photo of all-time?
Raphael Zarka's collection of people skating modern art comes to mind.
What's your favourite skate video ever?
Video Days. It is our early Classical moment.
Who's your favourite skater of all-time?
Javier Sarmiento
Lucas Puig
Tiago Lemos
and Neil Blender
Favourite style on a skateboard?
Tom Knox. He's a hunk.
What's your favourite piece of art or artist?
There are works of art that make me want to know everything about them, why they look how they do, who made them, what that context was like, and everything that has been ever written about them.
Those are the works of art that I study, like portraits and sketches by John Singer Sargent or Edouard Manet.
Then there are paintings, like Giovanni Bellini's "St Francis in Ecstasy," at the Frick collection, or the female portraits by Ingres in the 1850's, where I don't need to know anything more than how they look.
What do you think about The No Comply Network?
I don't know what it is. I need to know more.
Any shout outs?
No.
Any advice to people reading this over lockdown?
The more I've been around, the more I've learned that, in most cases, my unhappiness has stemmed from the pressure of feeling like I have or should have control.
This pandemic reminds us of how little control we have. There is freedom in this state. Embrace it.
Ted, Backside Talislide Powerslide a Curb: Shot by @alexram375
Any last words?
 I've said enough. Thank you for your time.</p