David Yap is a skater and Southbank local living in London with one of the smoothest styles in the city. He's not an artist per se but he's an original Concrete Poet and if you see him shred Southbank you'll change your mind about that.
You will most likely recognise Yap's skating from his skate section in Hold Tight Henry's Concrete Poets' Writers Block, the HTL series filmed by Henry and Morph or from in Slam City Skates – City of Rats.
In all his of stylish skate clips the one thing that stands out about Yap, apart from his dope Heelflips and Backside 5-0 grinds, is that he loves to skate in predominately limited and rare Nike SB Dunks.
It hasn't slipped our attention that Yap's been skating in seriously eye-catching Dunks for over 15 years.
So after we found out Yap is starting a Dunk skate clip Instagram page we had to find out more about it,  him, his skating and his history with the Dunk. So we sat down to kick it about Dunks and realised he got into them way before the Hypebeast era and that he has a lot of opinions about skaters who've shredded in them.
After realising how strong a foothold he had on the subject, Yap inspired us to start a whole new interview series called Geared Up to talk about skate gear and our experiences with the shoes and clothing we skate in.
Geared Up focuses on the skate gear that stokes us out and the photos, video,  influential pros and bros that inspired us to get those particular items and our thoughts and perspectives on why we like them so much.
So we decided to kick it off with a deep dive into David Yap's passion for the Nike SB Dunk.
Read David Yap's Geared Up Interview on the Nike SB Dunk and discover how he first became obsessed with the Dunk Silhouette, how he originally got into skateboarding, his first ever pair of Dunks, going to Cide on a search for the Supreme Dunk, Jacob Sawyer, Slam City Skates, Dunks in skate videos and photos – past and present, inspiration from Paul Rodriguez, Yeah Right, In Bloom, Nike SB – On Tap, Danny Supa, Richard Mulder, Wieger, filming a video part wearing a series of Dunks for the Concrete Poets' Writers Block video, filming clips with Henry Edwards-Wood, the rise of London's streetwear Dunk culture, The Pidgeons, Tiffany's, What The Dunks,  the global Dunk community, launching his Dunk skate clip Instagram page –  Swoosh Tapes, his most anticipated upcoming releases, his favourite Dunk models ever and much more.
Read Yap's Geared Up interview below to discover it all for yourself.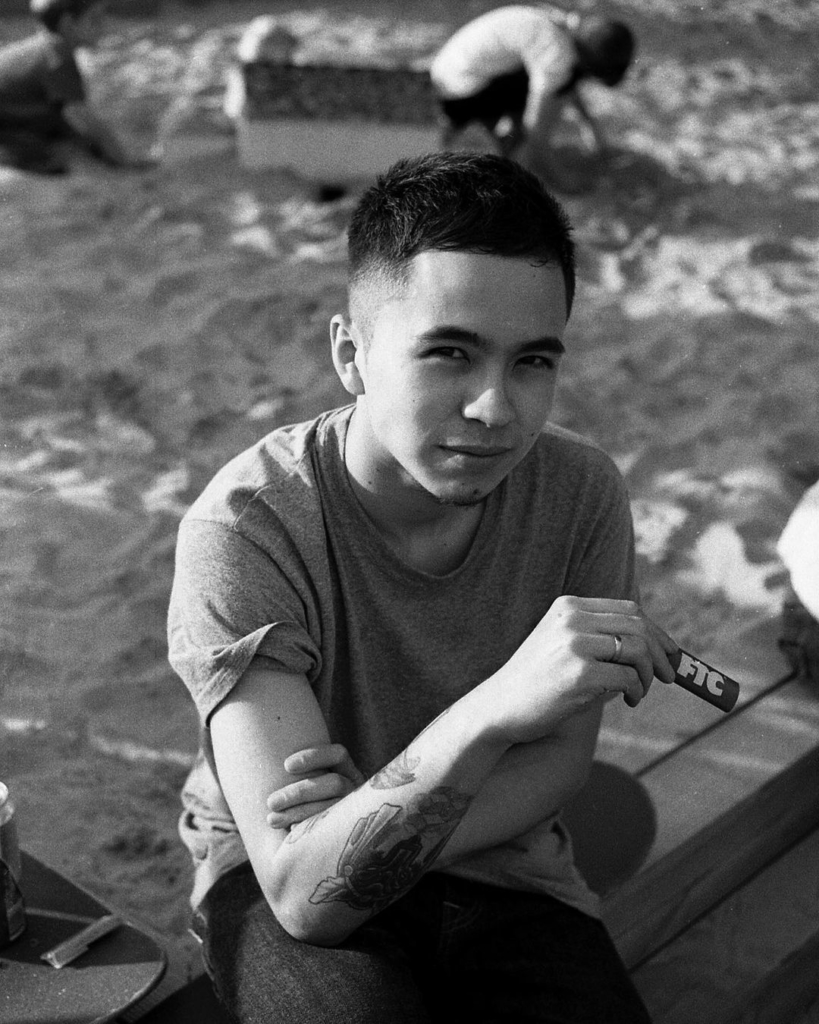 David Yap at Southbank: Shot by @alecmcleish
What's your full name?
David Joseph Soong Yap
Where did you grow up?
Mostly in Swiss Cottage before moving around various pockets of London.
Where do you live now?
By the time this interview is released I will have just moved to Waterloo.
How did you discover skateboarding?
Playing a lot of computer games and somehow Tony Hawk's Pro Skater 2 came into my possession.
I was instantly hooked and thought to start a new hobby involving leaving the house for a change. It definitely made it easier having one or two friends at school who were just getting into skating too.
Who was in your first skate crew?
I was living in Watford at the time so a big mention to Louis and Foley. Both were kind of the ringleaders of WSC – Watford skate crew – Big thanks to them for welcoming me with open arms.
What were your first pair of skate shoes?
I started with some Nike astro turf football shoes.
I was totally clueless about any of the gear to begin with until I was exposed to all the skate videos at the time, it was maybe 6-7 months later until I got a real pair of skate shoes which were a pair of DC's.
I can't remember what model I skated but I have a feeling it was a pair of Kalis "Truths" or the Manteca.
Where did you get those DC's?
I bought them from a skate/surf/snow store called Legends in Watford. I think they had a store on Oxford Street for a while.
Blueprint's First Broadcast was the very first skate video I watched and I wanted to be like Colin Kennedy and Paul Shier.
When did you start to skate in them?
Straight out the box, comfort levels compared to those football boots were insane.
So when did you first see people skating in Dunks?
A couple years later at Shell Centre, late 2003 – early 2004.
What shoes were you skating at that time?
Those lovely éS Accels, the all gum brown colourway. I was going through that Paul Rodriguez Yeah Right phase.
Where did you skate at that time?
On weekdays we would keep it local in Watford, C&A,  skating flat and the occasional Pioneer evening session if someone was driving and then on weekends we would get to London and go skate Shell Centre and Southbank for 11.
@david_yap,  Southbank in 2005
What were the first Dunk colourways you got hyped on?
Thinking back, probably the first official Nike SB line that they ever did, that was when each skater on Nike, at the time, had a signature colourway, so from that era, the Danny Supa's in orange and blue and the Richard Mulder's in white and blue.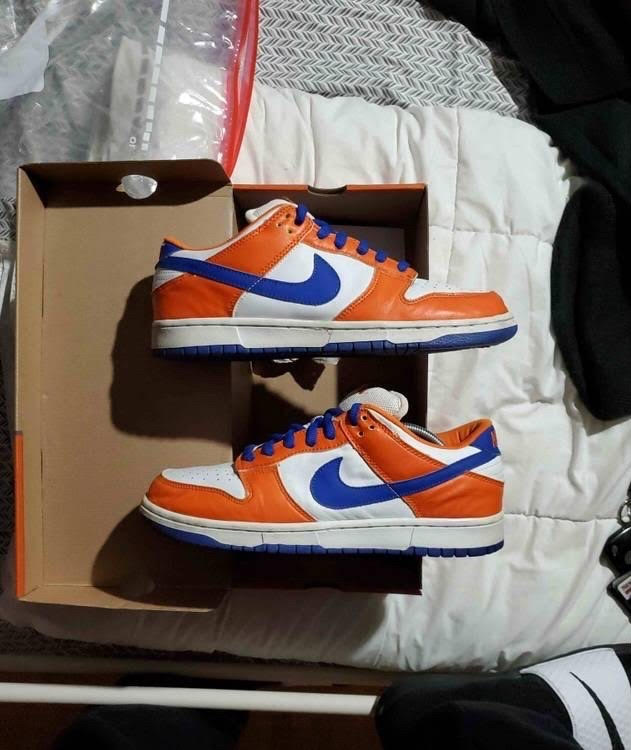 Both were top tier stuff, both leather pairs with exceptional quality which sadly doesn't get applied to today's production.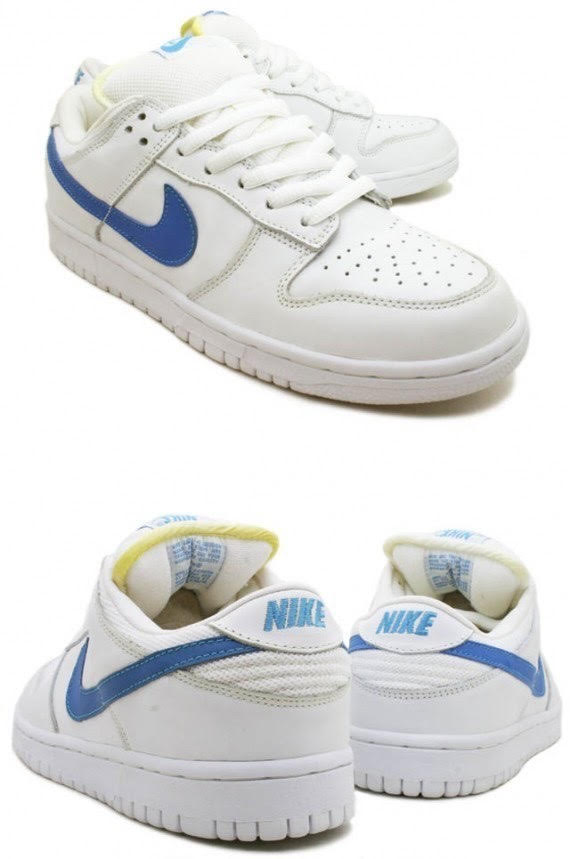 The Supreme Dunks that Paul Rodriguez wore in his first ad for Nike too. Those red and white Dunk Hi's were next level, man.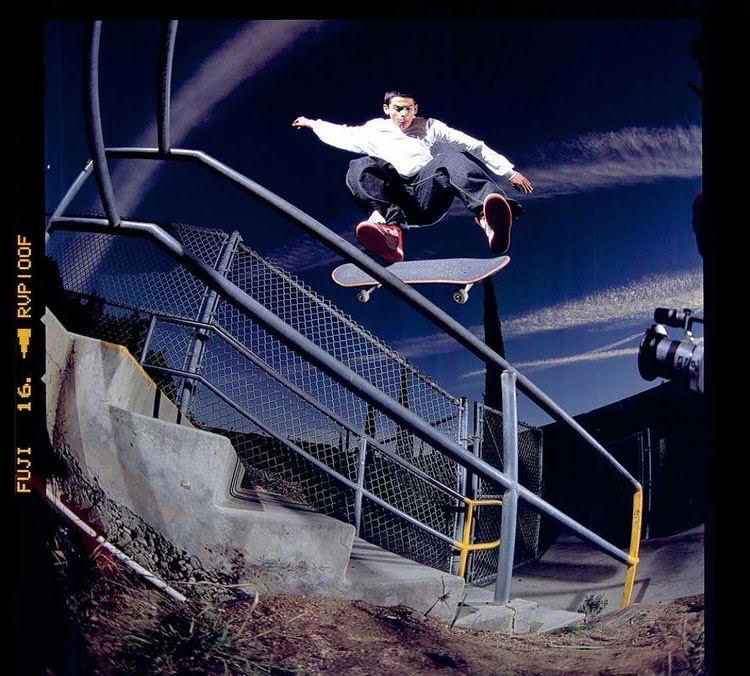 Paul Rodriguez, SW Flip FS Boardslide, Shot by @atibaphoto for @nikesb
For sure. What skaters inspired you back then?
Travis Stenger
to name a few.
Favourite P-Rod trick from his In Bloom/Yeah Right era?
One clip that really sticks out is P-Rod's Nollie Frontside Noseslide from In Bloom.
It's down that gold handrail in Melbourne at the train station. The double angle, music and the slow mo is poetry in motion.
What was your favourite gear moment in Yeah Right?
My favourite gear moment in that has to be with P-Rod.
His opening line to his Yeah Right part, soundtracked by NAS' track "Made you Look" with the Nollie Heel Backside Tailslide.
Everything in it is on point, I can't get enough of that line.
Did you just watch videos or did you read skate mags?
 At this point in time, I was in full skate rat mode. Sidewalk forum posts, reading magazine to anticipating the next 411vm.
Rad. So what stoked you out about the Supreme Dunk?
To be honest at the time, I had little knowledge of Supreme's existence but it was all to follow in due time.
Still being a P-Rod fanatic I was shocked by his move from éS to Nike. Paul's first ad for them was a huge two page spread in a Transworld magazine.
Nike marketing always on point. I can't find the exact ad but the shoes looked cool and I wanted to jump onto that.
Paul Rodriguez: Shot for @nikesb
Where did you buy your first pair of Dunks?
How did you know they had them?
Ah man believe it or not I went to my local Footlocker and JD stores…they had Dunks but the non-SB version.
No padded tongue and the colourways were not as appealing, so the search continued.
This was the phase pretty much everyone skating Shell Centre and Southbank had Dunks on.
I was in awe of the locals…especially Jak Pietryga and Rich Hardy who stood out because they were wearing some insane pairs of Dunks at the time, that would still be in today's market too.
Jak and Rich mentioned Slam and Cide had Dunks to me.
But at the time Cide skateshop stocked a few pairs but they never had my size…
Big thanks to Greg Finch for making my first trip to an authentic core store not so terrifying and intimidating.
Eventually I got over my anxiety of going to Slam and taking the trip across Waterloo bridge into Covent Garden.
How did you decide on a pair?
I must have chain smoked about half a pack of cigarettes outside Slam before going in for the first time as I only heard myths about the staff being intimidating and not helpful, however those myths were wrong.
It must have been a good day in-store with only Jake Sawyer and Dan Callow about on a quiet Saturday morning.
Sad story but I even brought in the TWS mag with P-Rod's ad to show what I was after only to be told by Jake that, that particular pair of Dunk's that P-Rod had on in the ad, had sold out 6 or so months ago before I got there.
Jake gave me the lowdown on Supreme too and explained who they were.
After storytime with Jake we went to pick out a couple pairs but it turned out that my size was difficult to get at the time so I settled for a pair of brown pack Dunk SB low's.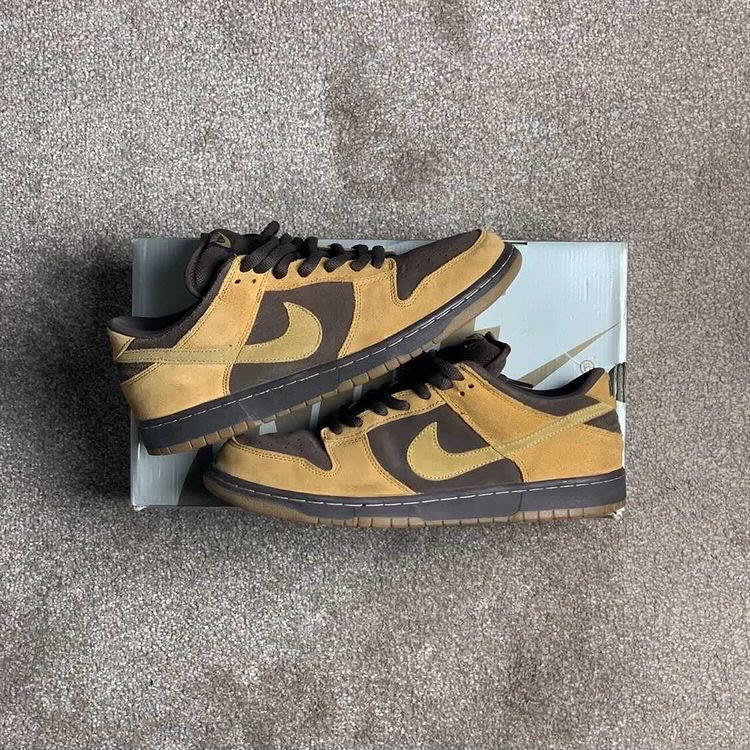 So did you start to buy Dunks regularly from Slam?
Yeah pretty much man. I was there most Saturday mornings for some years picking up what I could find as there were no key release dates.
How did you find out more about Dunks?
It was really a case of calling up, listening out for word of mouth and finding out what was available.
Sidewalk had the marketplace with all the shop's Slam, Sumo, Note and Flatspot. My mind was blown!
I would call up every store possible, order over the phone and online, loads of pairs would end up on eBay too.
At the time there was no social media so if you were after something particular you really had to do some ground work.
It's nothing like today.
How do you find out what Dunks are out right now?
Over the last decade or so I have been supporting various stores across the UK and chat with them every now and then as it's so accessible now on sneaker blogs and Instagram pages
But there are two very reliable sources I use from the US @nikesbornothing and @swooshface
What skate videos were you watching in that era?
Lost and Found
Flip's Sorry  and Cliche's Bon Appetit by Fred Mortagne
Baker 3
Nike SB – On Tap
and all the Puzzle videos to name a few.
Who had your favourite trick in On Tap?
That's too hard to say but a standout is Wieger with the line at Prague.
Wieger's line starts with a Heelflip FS Crook.
To this day I still struggle with Kickflips, it was refreshing to see somebody Heelflip into things rather than the usual Kickflip Crooks. Heels for life.
Who were the standout skaters in those videos for you?
The whole roster man..such a variety to choose from but those who stood out to me were
Wieger
and Danny Supa.
Favourite clip of someone skating in Dunks in On Tap?
Tough choice but for me it's the line with Reese Forbes' Pop Shuvit manny across the 3 up 3 down spot in SF in a pair of Hulks.
Did that video inspire you to want to wear dunks?
Honestly I don't recall the moment where I became obsessed with the Dunk silhouette but of course looking up to your favourites on video and witnessing first hand in London was sick.
After a year or so I had accumulated 20-30 pairs!
It also helps when you're skating and looking down at your board and feet and if everything looks and feels good it just works.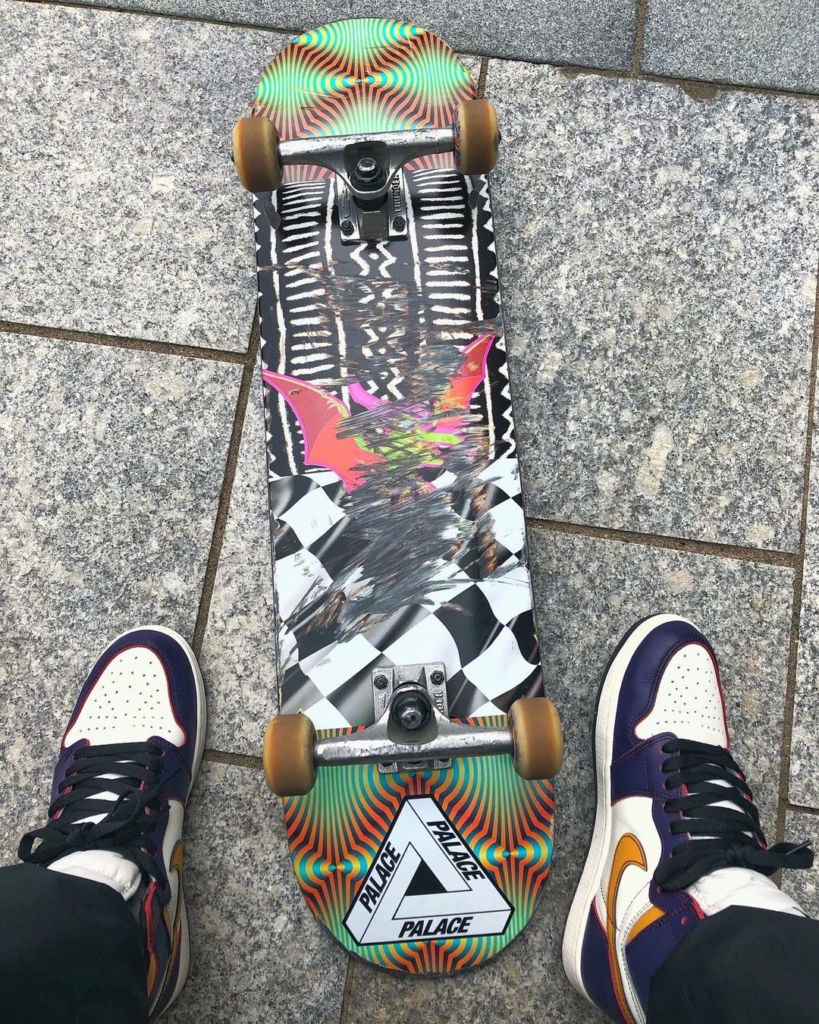 This would also be the time I met a good old friend of mine Jordan Buck, he definitely got me hyped on Dunks too
How did you meet Jordan?
I think we just met at SB and complemented each other's pairs of Dunks aha – annoyingly we were the same size, so we would trade pairs every now and then.
He introduced me to the whole streetwear side of things as I was a clueless skate rat who had no idea about anything apart from skating.
Jokes, how did Jordan know so much?
He worked at this streetwear store called Bond International, just off Carnaby St in Central London which stocked a lot of streetwear brands from the USA and Japan.
It was the perfect timing and connection as I was heavily into skate videos from Japan with those guys repping baggy denim and Dunk vibes
Which Japanese skate videos?
 TWS Japan- Undergo Mission.
There were also two skate crews in Japan I really liked.
T19 shop and Nitraid skate crew – I fucked with those guys' skateboarding heavily.
When did you start filming your skating?
I think a year or so after that I met Henry Edwards Wood aka Hold Tight Henry.
I was just skating SB and he was making Concrete Poets at the time and he asked if I wanted to film a few tricks which led to me filming just over a minutes worth of footage, with a heavy Dunk presence in my footage, that premiered at Slam City Skates.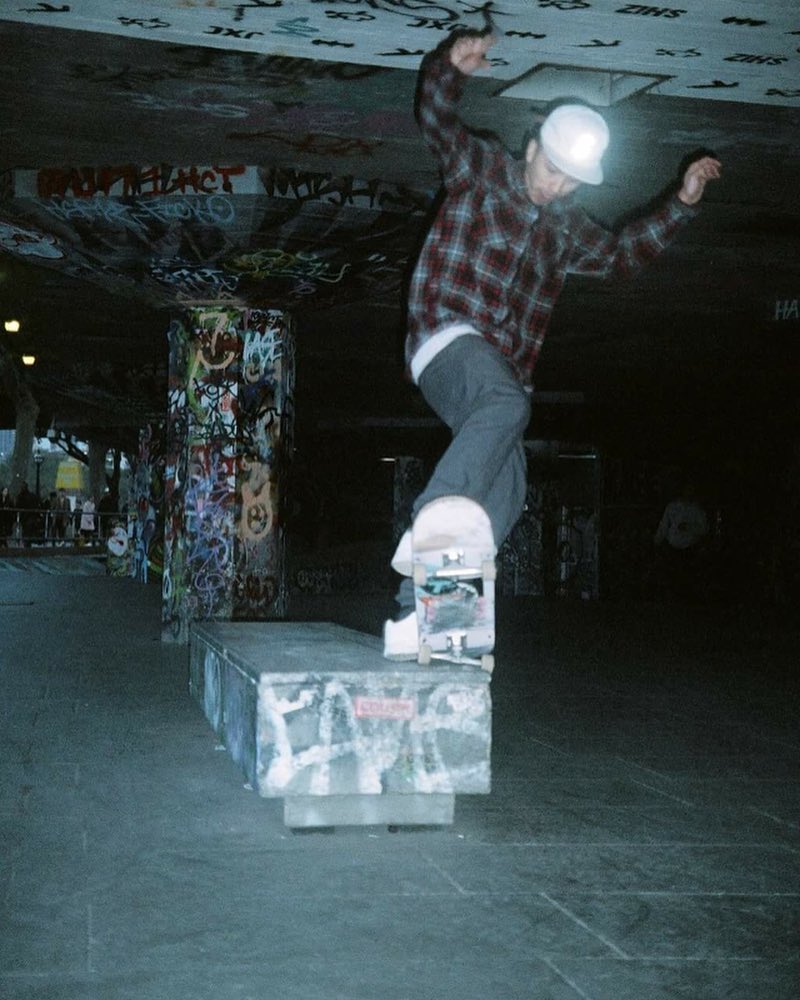 Yap,  Half Cab Backside 5-0 the Ledge at Southbank: Shot by @bayleyrushton
What was it like filming for the Concrete Poets?
Great memories man. Linking up with your mates and hitting up spots every weekend.
Doesn't get any better than that don't you think?
Favourite trick to film for your Writers Block section?
I got two clips in one day. The line with the Heelflip 50-50 and my last trick Shuvit Nosegrind Shuvit out.
I had never attempted both! Special meter was up that weekend!
Any Dunks you skated in a clip you wish you hadn't?
I'm 50/50 on that man. Back then all I did was skate. Maybe now as I don't skate anywhere near as much, it would have been nice to keep some pairs purely from a collectors' perspective.
Who had your favourite part or trick in Writer's Block?
I have to say Jin Shimizu or Scott Howes.
Jin, even now, has the most effortless style, flows like water.
Howsey was hammers and tech with such finesse
What was it like to see the finished video?
Pretty mad considering we had the premiere at Slam. It was a dream come true to see all your mates on the big screen.
What was the response to the video?
Henry got a lot of good feedback..showcasing I guess London's new blood, we were the new kids on the block.
I know Henry went on to do other projects with Morph and Brooks too like Hold Tight London Volume 1-13.
Shit as i'm typing this Morph is out! If you know you know.
The very same night Henry Clay, who was the manager at Slam at the time, asked me and my friend Jordan if we wanted to join Slam on a project with Nike SB.
It consisted of having a mini Slam pop-up shop in Niketown London, Oxford Circus for Nike SB and their very first full-length video Nothing But the Truth.
Since I had been repping Nike for a while this was a dream come true.
We had Henry Clay and Seb Palmer overseeing the operation and was joined by London legends Ozzy Will and Justin Atalian
Sick, what was that like?
Amazing man..an eye opener for sure.
I was taking baby steps into the skate and sneaker culture, learning a lot with the guys I was working with.
How do you mean?
This was the moment I  realised there was a whole other world to being in the sneaker community and I'd been fucking with it, without realising – I was skating pairs people were paying stupid money for – it was all starting to come together in my mind.
What was happening with Dunk culture back then?
This is what we would call the golden era.
Not just for Dunks but for sneakers in general but back to the topic, the Dunk scene was booming!
There were a few releases during this era Jeff Staples' Pidgeon and Nicky Diamonds' Tiffany Dunk between 2005-2007.
 Whilst me and Jordan were working at the Slam/Nike SB pop up it was leading up to Nike SB's first full length video "Nothing But the Truth" along with that was a very special pair being released.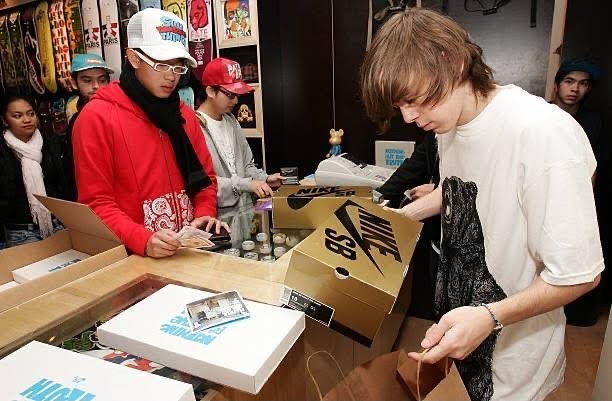 It was the now infamous "What The Dunk" .
The shoe consisted of materials of 31 iconic Dunk colorways mismatched into one pair. It's a real collectors piece.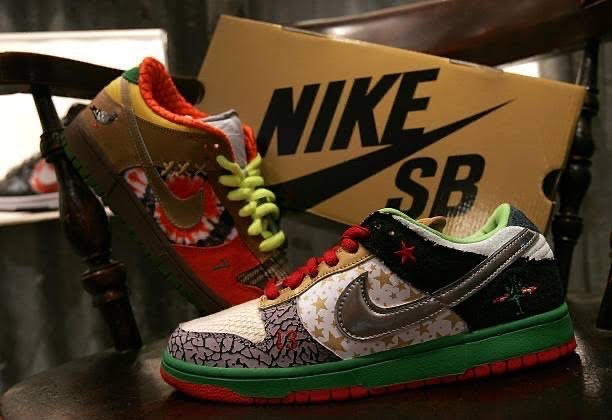 They were so sought after the first guy who queued up was sleeping rough outside Oxford Circus Station for four, maybe even five nights straight –  only to leave for food.
Eventually hundreds would show up on the day they released.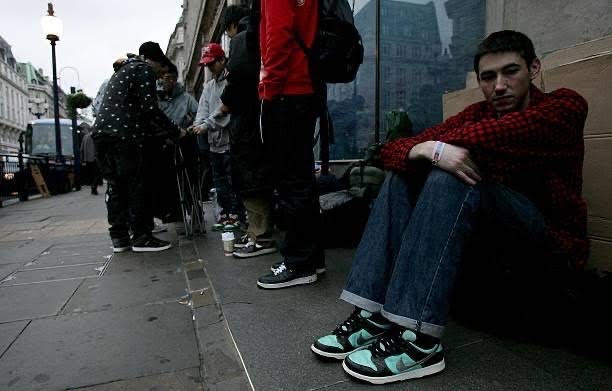 How much is that shoe worth now?
The pair released for around £80 in 2007 and now has a market value of anything between £5000-£9000.
When the Dunk boom suddenly came back around late 2019 early 2020 those pairs were selling for £12,000 and up.
Annoyingly I was gifted a pair after working for Slam and  Nike and having worn them I can't remember if I sold them to a old mate 10 years ago or have misplaced them at my parents house – haha I fucked it.
That's a lot of cash. What are your favourite Dunks ever?
I have a handful of favourites but the holy grail are the Paris Dunks which came out in 2003.
They were part of a city pack where London, Tokyo and New York got their own colourways with 202 pairs for each city.
The reason they are my favourite aside from their value in today's market its a colourway that could be worn everyday, so it ticks all the right boxes personally
They also feature the workings of French painter Bernard Buffet who passed away in 1999 on the suede and canvas uppers and all 202 pairs worldwide are unique with different patches of his artwork on each shoe.
I know of a seller in LA who recently sold a pair for $66,000!!!
What are your thoughts on the Dunk resale market?
There's a lot to say but i'll keep it short and sweet. Sadly resale culture exists and won't be going away anytime soon as long as the demand is there.
Items will sell out and go to the highest bidder I see and hear about people with more money than sense and that has fucked it for the core heads who either want to skate or keep the shoes but this goes from anything to a PS5 to Japanese toys and of course Dunks and all limited sneakers in general
Due to small quantities and the demand through the roof all skate shops raffle out pairs now for all the Dunk releases.
Any tips for wannabe collectors or buyers?
My advice would have to be you have to be in to win. If you don't win take the pinch of salt and move on.
I have entered 30 odd raffles before for a pair and got nothing back, it's just part and parcel of it.
You just started a Dunk Skate clip page, what's it called?
@swoosh_tapes is my Nike SB Dunk clip focused skate video page in Instagram. I just started it this week!
What's your plan for Swoosh Tapes?
Just skate content I feel people would appreciate, as the following gets bigger I will add more in-depth info about each clip.
Cool. What Dunk are you most looking forward to now?
Already blessed this year with the pair I wanted the most by the name of "Street Hawker". It was designed by a Chinese artist called Jason Deng from Guangzhou
Originally thought to be a design to celebrate Chinese New Year, the story behind the upper is unique in itself, reflecting on world-wide love for Chinese food.
The Nike Dunk Low Street Hawker is a piece of artwork in itself – as the upper features mismatched watercolors on a majority canvas, leather, and suede construction. From there, Chinese characters replace traditional "Nike" heel embroidery.
Looks tasty. Any last words for people reading this Yap?
It's a weird time right now. Check up on your mates, support your local and all UK skate shops.
I hope to see everyone sooner rather than later as I haven't been out skating with a lot of people since October.
Thank you Jason at The No Comply Network for asking me to do this. Thank you all for taking a moment to read this.
Stay safe