Alphonzo Rawls shoe designs are similar to his skateboarding – stylish, multifaceted and ready for all terrain. He's created standout original models for a series of top skate shoe companies for decades but has now molded the experience he gained into his brand Savalé.
Alongside solid footwear design he's consistently produced eye-catching graphics on collections of shirts and decks for Everybody Skates, his clothing company that uses satire to celebrate skate culture and pop iconography. Most recently Alf's fashion outlet has gained even more widespread attention when a t-shirt design he constructed to celebrate black skateboarders became a social media phenomenon.
So with all this in hand we had to catch up with him to have a chat and uncover the stories behind his time in shoe and clothing design.
We had a great conversation about how his career as a skate shoe designer kicked off, starting Savalé, the meaning behind the brand's name, its ethos, his creative process, Everybody Skates, the Thank You tee, his new projects and his favourite spots, skaters and styles.
Read the Alphonzo Rawls Geared Up interview below to find it all out for yourself

@alphonzorawls holding the Savalé Sieka in Bone White Colourway: @savale_footwear
You started to design shoes in 1995. What motivated you to start?
I was approached an upstart footwear brand called Kastel in 1995 that offered me an opportunity to design a signature shoe.
I accepted and fell in love with the design process.
Were you designing all kinds of shoes back then or just skate shoes?
Mainly skate shoes at this point.
Alphonzo, Boardslide for his Signature Kastel Shoe Advert: Shot by J Grant Brittain
What is the most memorable shoe you designed in the early stages of your career?
My first signature shoe because it was the first skate shoe with an airbag and served as that launchpad for my footwear design career.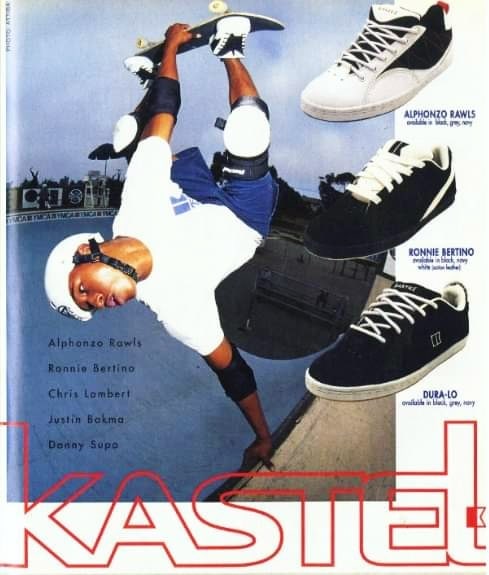 Alphonzo, Frontside Invert for Kastel
Why did you decide to start Savalé Footwear?
Every footwear designer has fantasised about creating their own brand unrestricted by preconceived direction so when I was afforded the opportunity to apply my creative direction to my brand I couldn't resist.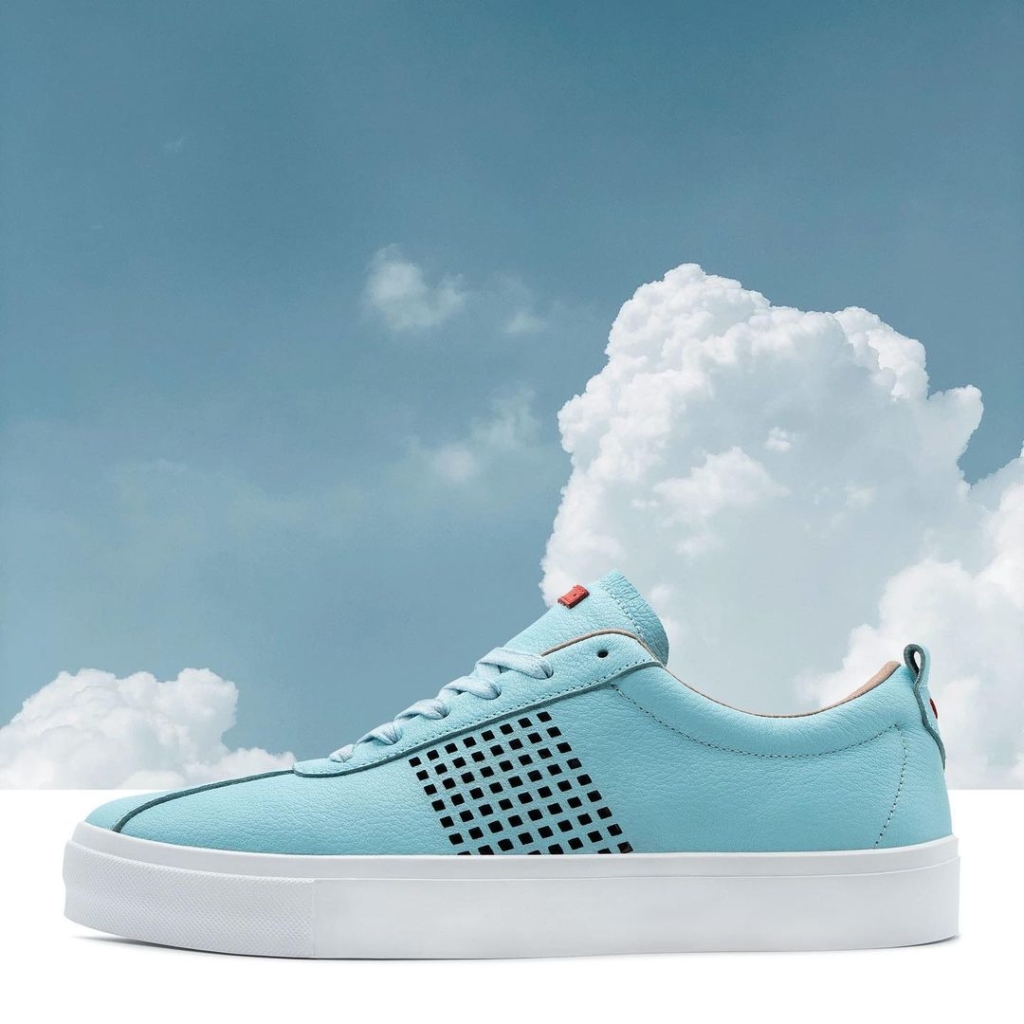 Savalé Cavell in Light Blue Colouway
So what does the name Savalé mean?
Savalé derives from the word "sabali" which means 'patience' in Bambara – the language spoken in Mali.
I first heard the term used in a Nas and Damian Marley record called Patience.
Savale Middleton in Yellow Fullgrain Leather Colourway
Rather than a logo you use your signature Brick Label Icon. Why?
I wanted a distinctive symbol to represent Savalé that was void of any wording….something that was identifiable from a distance for those who "know" but also something that made you question what that was if you didn't know.
Where are Savalé currently being produced?
We manufacture our shoes in Xiamen. We have a sample room at our factory that works exclusively on Savalé production.
Producing in our sample room as opposed to a general production line gives our product more focus and attention.
Savalé is limited.Why have you chosen to go in this direction?
I wanted to create something special and not just another mass produced disposable product.
I found when most luxury footwear brands offer limited product, production runs generally exceed thousands of pairs and is usually relegated to a few models.
Savalé offers a range of styles and none of our shoes will ever exceed 999 pairs.I want our consumers to take pride in knowing that their shoes are truly limited with most of our production runs between 200 – 300 pairs per colourway.
Savale Harmann's in Tan Pig Suede Colourway
What's your process behind designing new models?
My process for designing Savalé Footwear is to identify any gaps in our collection and do research for inspiration that will bring something new and exciting to that category -or- establish a whole new direction that combines multiple categories, like a dress shoe upper with a cross trainer sole that I've been working on.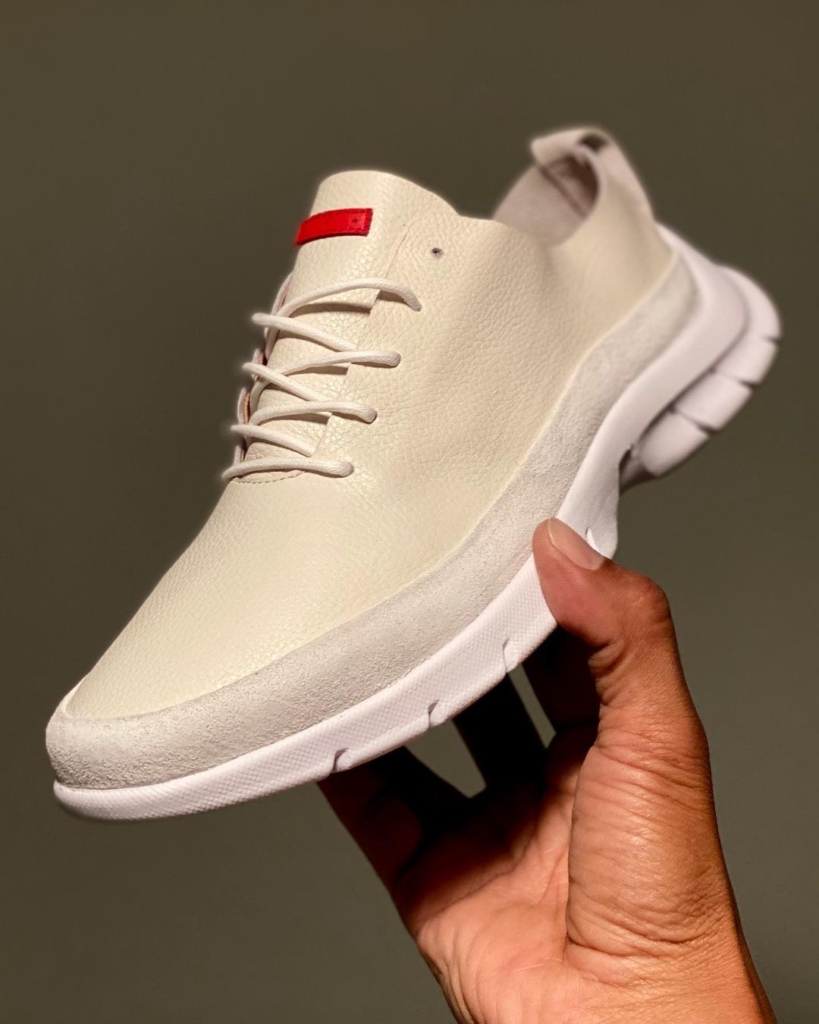 What has been your favourite Savalé model to make?
Now that I have unbounded creative freedoms that question has become harder to answer.
It kinda depends on the day and what best fits the occasion.
I've been creating some deconstructed models, with no linings, that I've been enjoying quite a bit especially in warm weather.
Constructing shoes in this way gives them a glove-like feel on your foot.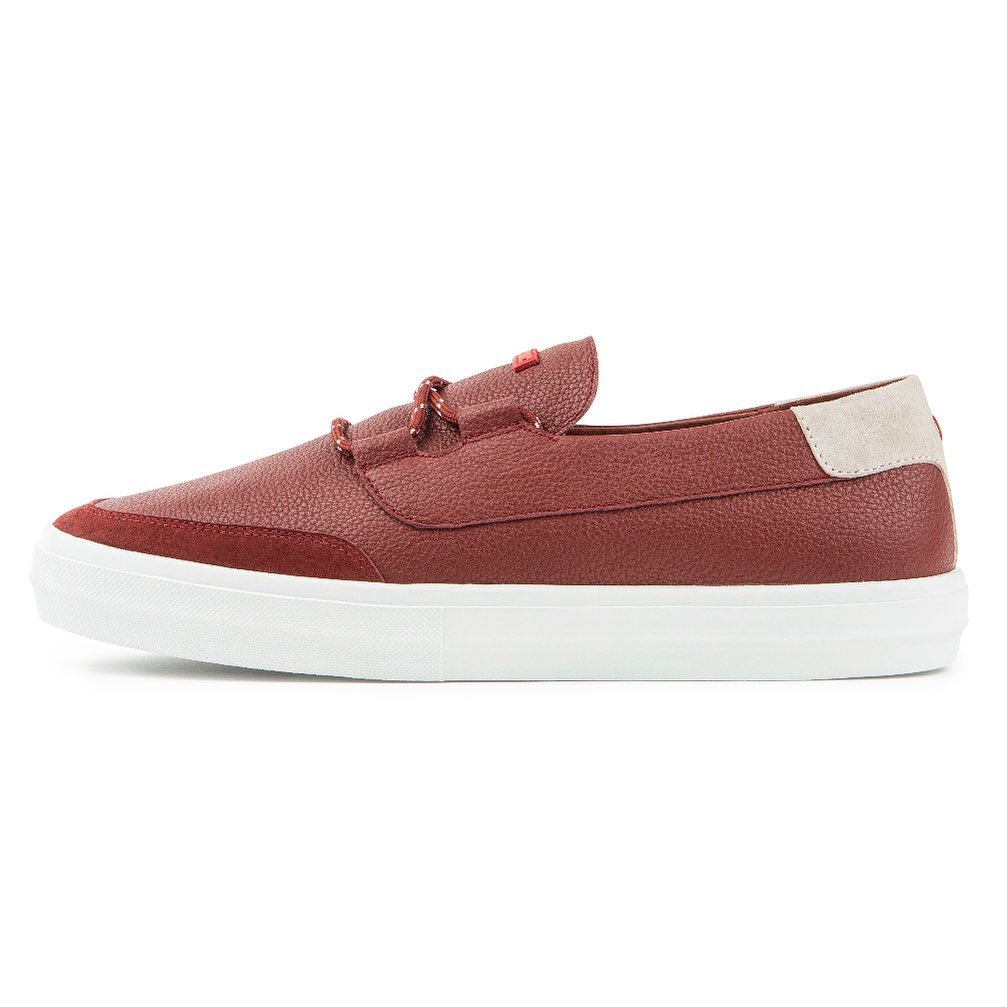 Savalé Maritime in Pig Suede Colourway
What skate influences have you brought into Savalé?
Some of the current Savalé models offer unobstructed forefoot designs that are void of panels and layering in high wear areas.
The memory foam insoles present across the line was inspired by my need of more cushioning that I wasn't getting out of skate shoes in the past.
Lace protective features like speed lacing, positioning the laces back and away from the Ollie area are also some of the inspiration I drew from skateboarding.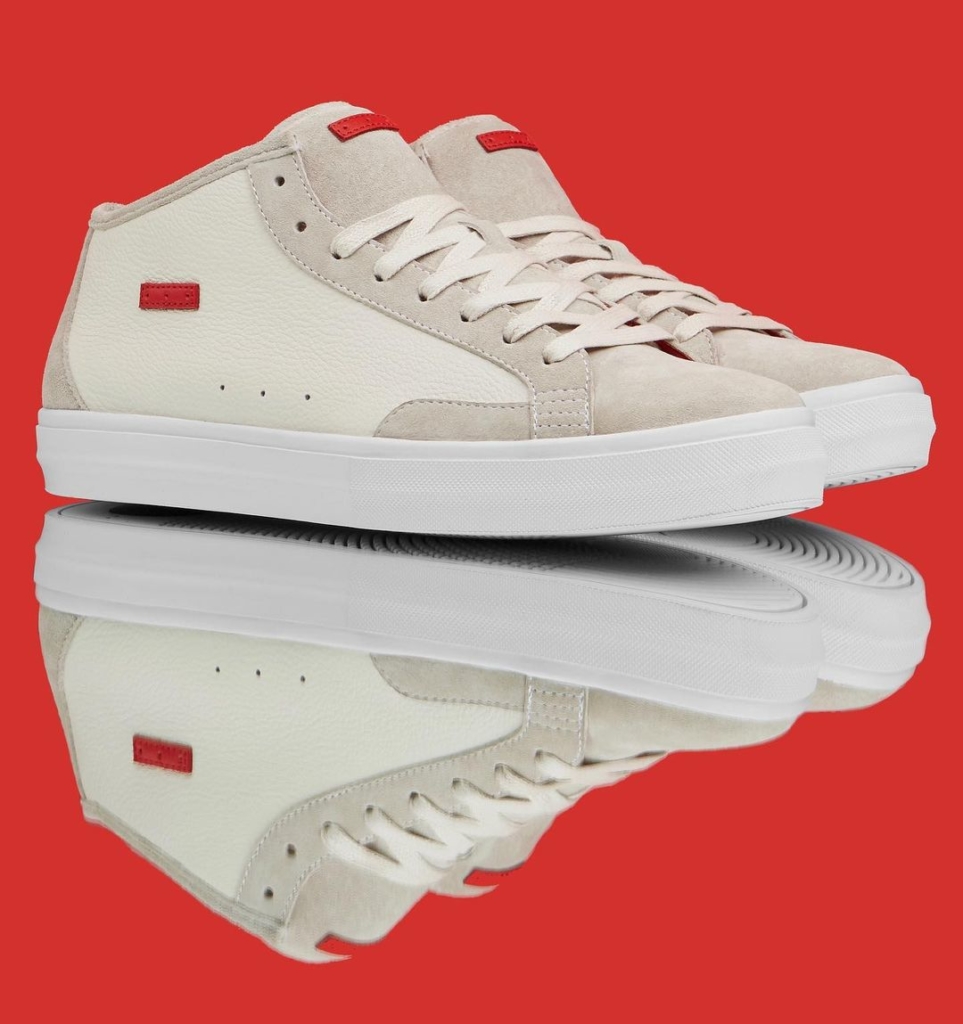 Savale Middleton's in Bone White Colourway
What is your favourite Savale model to skate?
Yes, some of the shoes I make now are the best shoes I've ever skated. The Cavell, The Maritime, The Middleton, just to name a few, skate very well!
For skateboarding I really like the "Harmann" which are the best shoes I've ever skated in.
The Savalé Harmann's in Black Fullgrain Leather Colourway
As a shoe designer, what qualities do you focus on the most?
As a skate shoe designer some of the most important qualities of a shoe design is function, durability, comfort, and aesthetics.
When designing, do you think of aesthetic or the skateability first?
It depends on what the project calls for.
Both are very important because if it doesn't look good, people will never know how great they work.
I prefer to address the functionality first and love the challenge of creating the most aesthetically pleasing design around functional features.
Alphonzo, Ollie to Fakie, 1990: Shot by @brycekanights
You shred street and vert, do you wear different kicks for both?
In my Airwalk days, in the early 90's, I would prefer shoes with lace savers for vert skating but eventually evolved to wearing shoes that represented whichever look I was going for at the time.
Alphonzo, One Foot on Danny Way's Ramp in the 90s':Featured in @poweredgemag
You say you want to use Savale to influence culture, what's your aim for the brand to change perceptions of skating and creativity?
As skateboarders we've been the most influential group when it comes to popular culture and fashion but never really get the credit we deserved.
I wanted to create a "luxury brand" to highlight skateboarders influence beyond skateboarding.
The Savalé Maritime in Bone White Colourway
Where is the best place to purchase Savalé?
Savalé Footwear is available exclusively online at savalefoowear.com
It's the best place to stay updated on new drops and releases and you can sign up for our mailing to be notified of upcoming limited releases.
Right, so the Everybody Skates 'Thank You' project was great. What inspired you to make that shirt?
The Everybody Skates "Thank You" project started in observance of black history month as a way for me to celebrate and give thanks to black skateboarders who have had an influence on skate culture.
What has the reaction been like to its release?
The response has been phenomenal and the industry has really been engaged and very instrumental in this evolving list that continues to grow every year.
Humour is integral to Everybody Skates. Why is comedy important to your gear's art?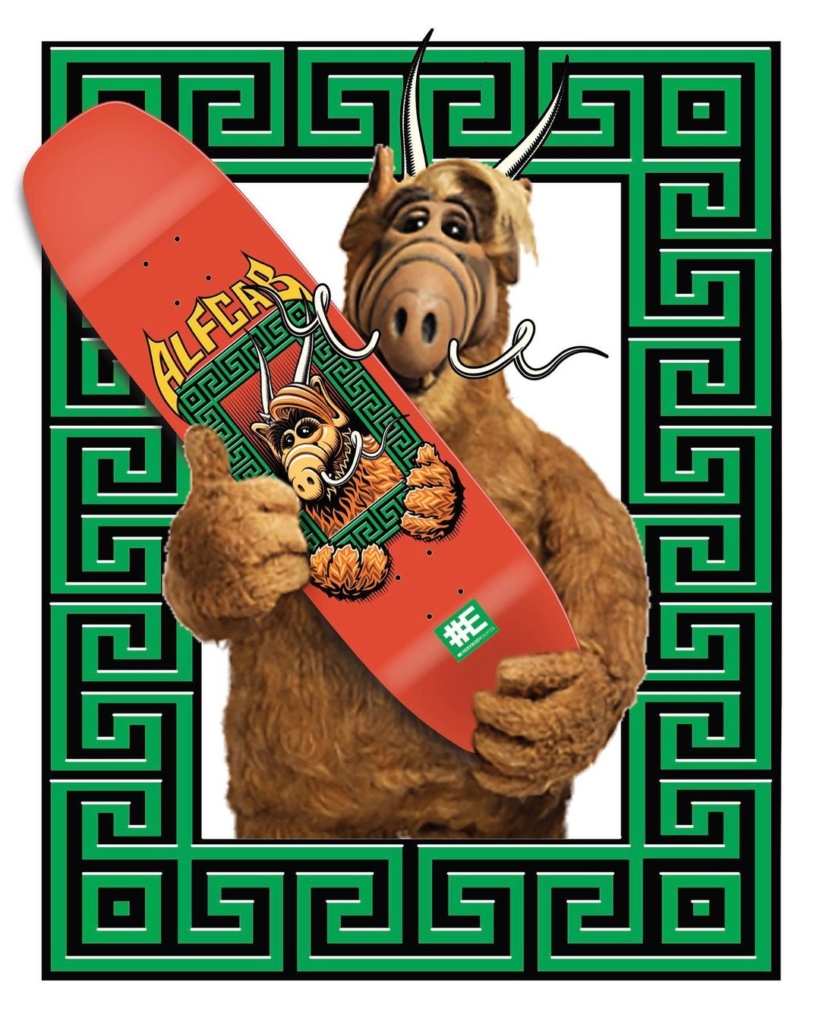 Alf Cab Graphic: @everybodyskates
There always "serious shit" going on in the world and skateboarding was always meant to be a fun escape so the art that I create is inspired by that.
What inspires you to create your 80s pro skater mashup graphics?
Skateboarding has helped to shape many people's lives, whether you skated when you were younger or established a career in skateboarding my fans love things that remind them of their youth.
A lot of my designs are inspired by my own childhood nostalgia and resonate with people that want to reconnect with that nostalgia.
@christianhosoi with the 'Hawsoi @everybodyskates deck
Any upcoming releases for Everybody Skates?
I've got more limited release collab decks that I'm working on with the some of the most legendary skateboarders on the planet.
You can follow @everybodyskates and tap the link in bio to sign up for our mailing list to be notified of upcoming limited releases.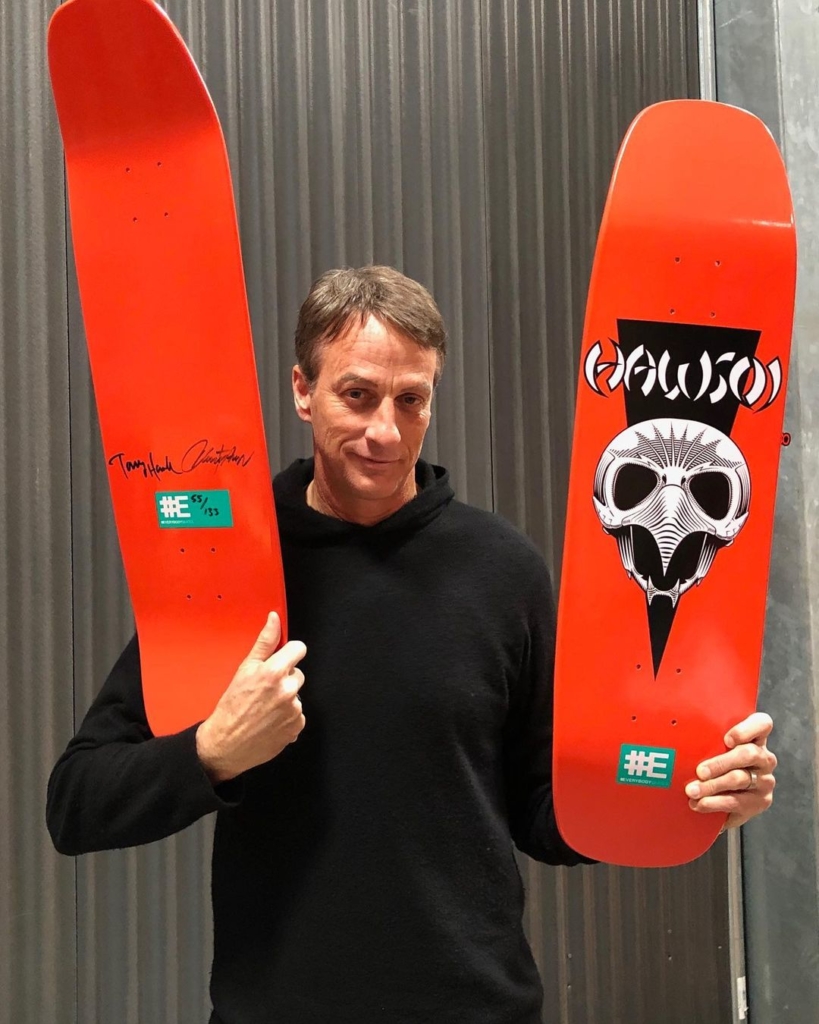 @tonyhawk holding the 'Hawsoi @everybodyskates deck
What are your plans for the future with Savale?
We will continue to make creative statements with our products and look forward to meaningful collaborations in the future.
How have you been passing the time over lockdown?
Not much has changed for me since the Lockdown.I always have tons of creative projects to do, now I just have more.
Cool. Who's got your favourite style on a board and why?
Tough question but imma go with Danny Way because he's well rounded and approaches skateboarding with power and proper execution and never looks out of place in any discipline.
Who's your favourite skater right now?
Danny Way, for the reasons I just mentioned earlier.
What is your favourite skate spot in your local area?
Prince Park. It's my local skatepark, I like it because of the several knee high obstacles that suit my low-impact skating these days.
Where is your favourite spot you've skated in the world?
Mike McGill's skate park, in the late 80's. It's where everything started for me.
Alphonzo, Backside Lipslide, Shot by Daniel Harold Sturt
Any last words for people reading this Alf?
Find something that you love to do so that you don't have to "work" another day in your life.