Alphonzo Rawls is an innovative skater, shoe designer and graphic artist who turned pro in the early 90's.
Alf went pro at a time when skateboarding was changing at an incredibly quick pace and although skateparks were being shut down left right and centre he was one of the pioneers on the front of that new street skating transition who did some of the best tricks on ramps too.
He now runs his own satirical graphic design company Everybody Skates, designs shoes for the biggest names in the game and after three decades is still one of the most creative skaters out there on and off his board.
We are stoked that Alf is now a No Comply Network Member.
So we had a chat about growing up in Cali, going pro for H-Street, skating street and vert, art and design, how he become a shoe designer, Everybody Skates, starting up Expedition, advice for upcoming skaters and his favourite things on and off his board of all-time.

What's your full name?
Where did you grow up?
San Diego, California.
When did you first start to skate?
I started skateboarding in 1984.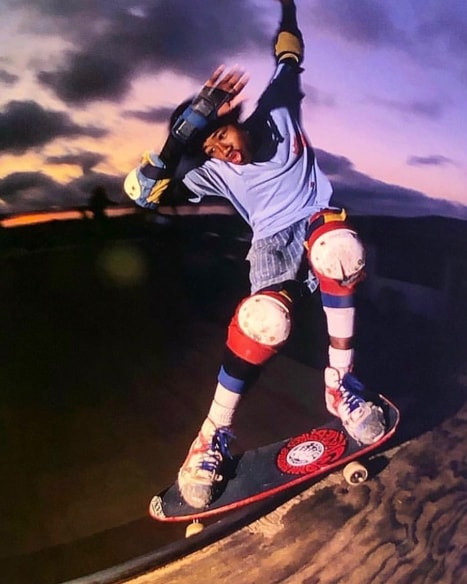 How did you first get into making art and design?
I've always been into art, design, and all things creative, thats just my personality.
My love for creative expression is what drew me to skateboarding.
The ability to think of new tricks and then learn them intrigued me much more than throwing a ball through a hoop.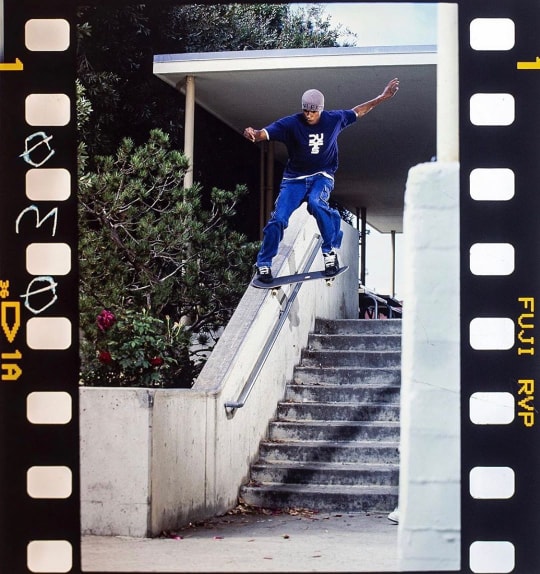 What kinds of things were you making?
I started off drawing with pencil trying to create realistic art then started illustrating with prisma colors and color pencils which I still enjoy.
I now use Adobe illustrator quite a bit for a lot of the art and design work I do.
Who was in your first skate crew?
My first skate crew was a group of friends from Oceanside.
It was me, Lamont Girton, Charles Ragland, and Frank Evans.
It was rare back then to see black skateboarders so me, being Black and Thai, Lamont was Black and Japanese, Charles was Black and Filipino, and Frank, was a black kid.
We didn't exactly fit the stereotypical description of "skateboarders" at the time.
#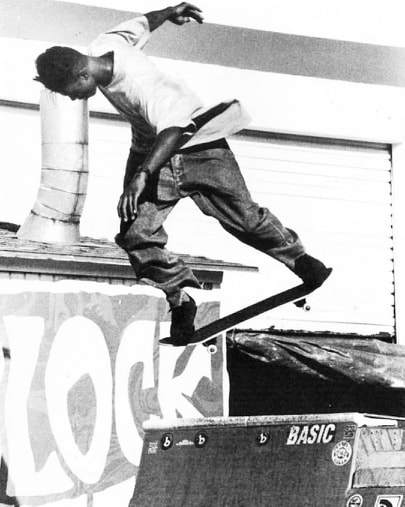 What spots did you skate at the time?
We skated the elementary school I attended called Libby Elementary in Oceanside which later appeared in videos and magazines.
There was also a 1 foot tall curb cut thingy with a little lip on it up the street behind "Lavicios" (a local liquor store) we would skate.
After a couple years of skating me and some friends "borrowed" enough wood from various construction sites to build a 7 ft tall, 16 ft wide ramp in a field steps away from my Jr High School bus stop that I used to skate every morning before school.
Who was your first sponsor?
My first sponsor was Mike McGill Skateshop in Encinitas.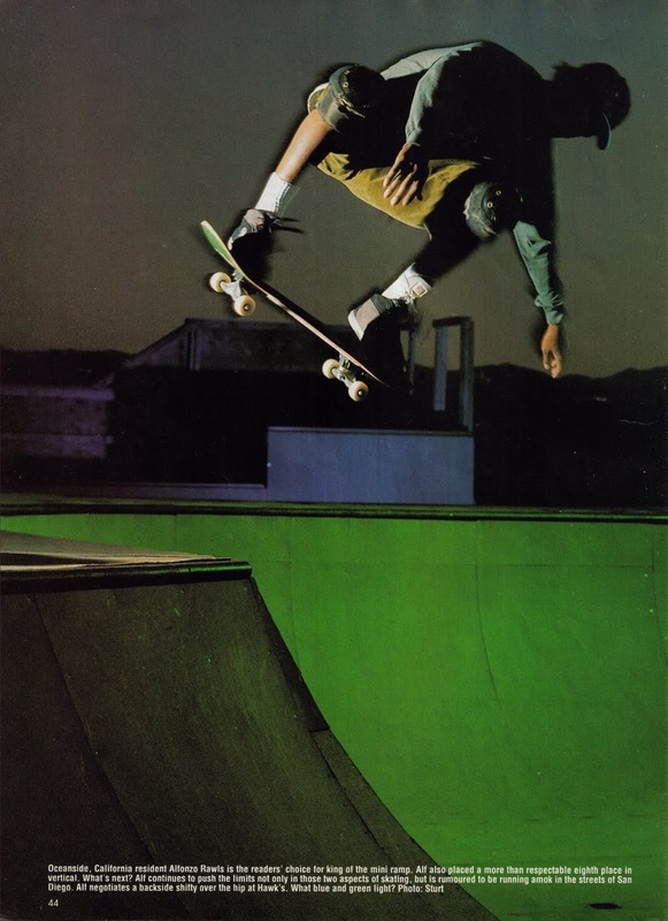 How did you get sponsored by H-Street?
When Mike McGills skatepark opened in 1988 I skated there every day with Danny Way and we became good friends.
He made the suggestion to Mike Ternasky and Tony Mag and they were really receptive.
I got on the team the day after the premier of "Shackle me not" (H-street's first video).
When did you realise you could make a living out of skateboarding?
I realised when I got on H-street that it would be achievable.
Where did you go on your first tour and who with?
My first skate tour was a 30 day tour in a motor-home across the U.S. (in 1989) with Eddie Elguera (+ wife and kids), Danny Way and myself, from California to New York and back.
Danny and I were 14 years old.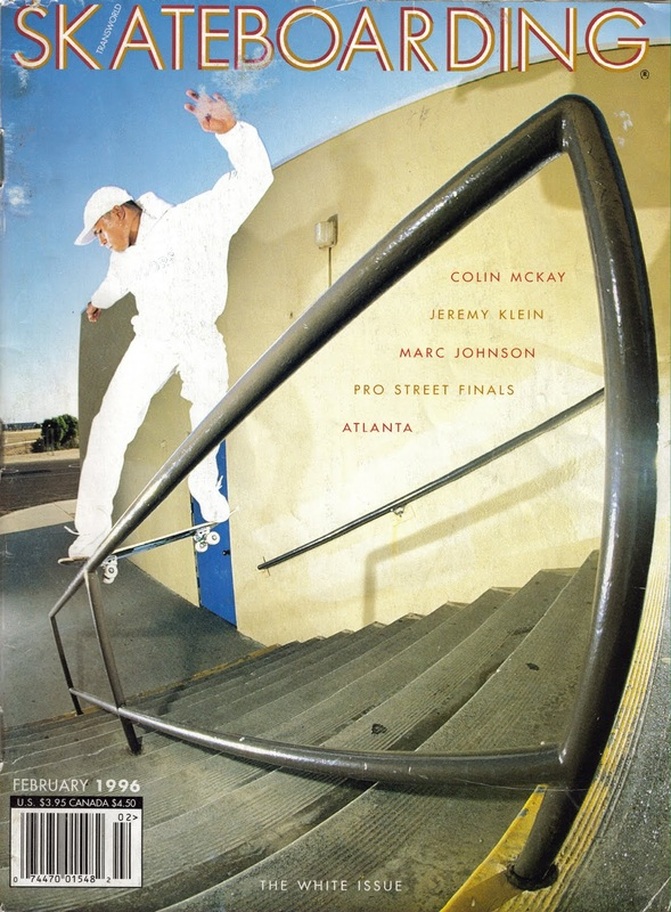 Who did you go pro for?
I turned Pro for H-street Skateboards in December 15, 1990 which was the day before my 17th birthday, at a mini ramp contest in San Jose CA.
What do you think made your skating stand out?
The most frequently acknowledged ability has been that I am able to skate both street and transition.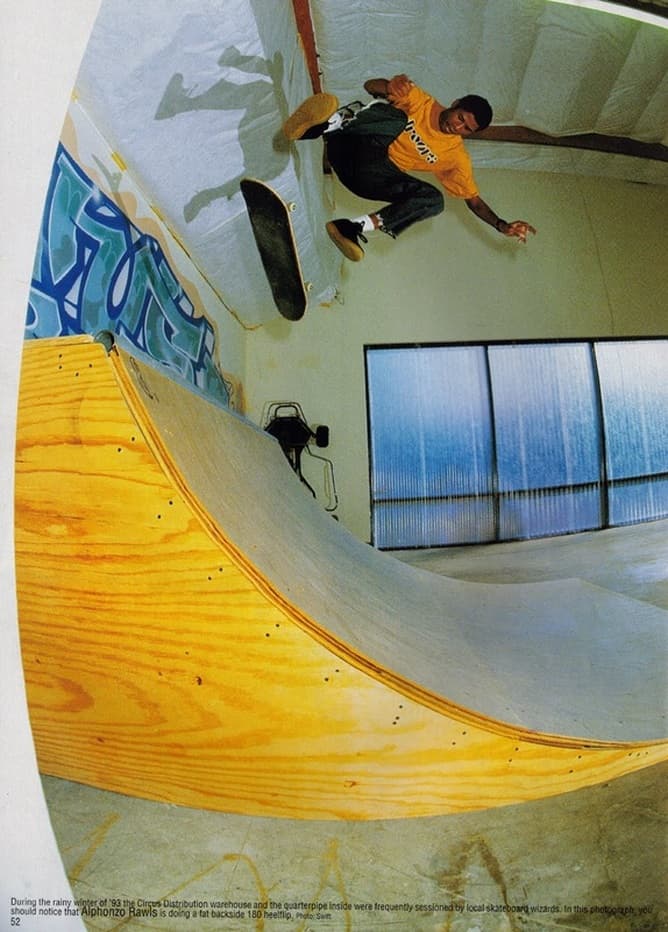 You skated street and vert, which one was your favourite to skate and why?
I really didn't have a favourite per say. It was a matter of mood or accessibility.
When all the skateparks closed down in the early 90's there weren't as many ramps around so that was when my skating began to lean heavier towards street skating.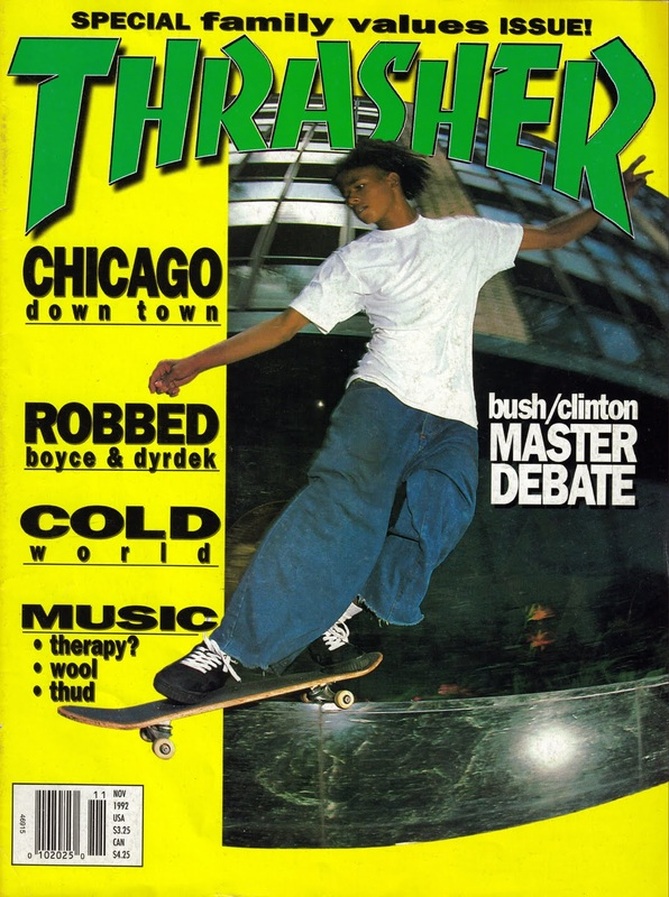 How did you push yourself to learn so many variations on transition??
Its what excites me most.
Coming up with an idea and seeing it through is my favourite part of skateboarding.
Skating for H-street was the perfect platform for my kind of skating.
The team and the projects we worked on together set the tone of skateboarding at that time and we knew that so that was all the motivation we needed to push ourselves.
What's the best trick you ever did on transition?
I get a lot of people still talking to me about the Cab Back Foot Flip…
On Street?
I think that the "scariest" thing I've done on street was at a Slam City Jam "Best Trick" contest where they had a gap out to a 8 (ish) stair rail that I did a Frontside 270 Back lip On… I got 2nd place.
Favourite place to skate back in the day?
I would have to say Mike McGill's skatepark. Lots of great memories and relationships built there
Skating there was the launching pad to my skateboard career.
How did you decide to start Expedition?
Chris Lambert and I started Expedition and through our lack of business experience had it taken from us by who we "thought" was a good friend.
(You can check out my interview on The Nine Club where I explain )
What was your favourite part about Expedition?
The Team.
What was your favourite part about filming for 'Alone'?
Challenging myself at that stage of my career
With the understanding that I would not be skating at that level for much longer
How did you end up leaving Expedition?
I was afforded the opportunity to get into footwear design and had already established a career doing it.
After spraining my ankle on a film trip to San Francisco (the first 10 minutes out of the car upon arriving)
I got really busy in my design career and by the time I heeled up I was fully immersed in it.
I felt like I went as far as I could in skateboarding and was excited about footwear design.
Any advice for skaters coming up right now?
We live in a time where social media allows you to be less dependent on sponsorship.
Utilise technology and the provided platforms to be pro active and create your own opportunities.
There is more to professional skateboarding than just skateboarding.
Learn, network, and build valuable relationships.
Where's your favourite place to go skate now?
My favourite place to skate these days is Prince Park in Oceanside about a mile from where I grew up.
It's located in the very lot that I learned how to drive a car when I was 16.
It has everything from small to big transitions, rails, ledges, wedges, and kickers…
My favourite of course is the little 3 foot quarter pipe in front where I spend many hours trying to think up new tricks.
What's your favourite part you've ever filmed?
My favourite part I've filmed so far was a little edit I put together a few years ago called "Fucking Alfsome".
It is some of the funnest time I've had on a skateboard.
The absence of pressure and expectations allowed me to enjoy the process much more than projects of the past.
How did you get your start in shoe design?
I was approached by an upstart footwear brand called Kastel in 1996 who wanted to give me a signature shoe.
They also gave me an opportunity to design my signature shoe and I fell in love with the process.
As I progressed new opportunities presented themselves allowing me to expand and evolve.
Who did you design shoes for?
I've been designing and developing footwear for over 25 years now.
I've had the great privilege of creating everything from Skate Shoes, Snowboard boots, soccer cleats, sandals, casuals, and damn near everything in between.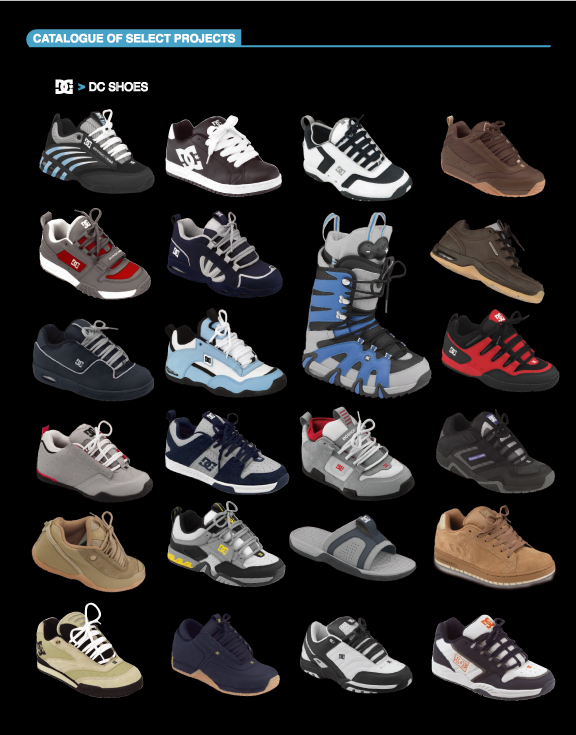 I've worked with Gravis, DC Shoes, Vox, Osiris, Fallen, Reef Sandals, Macbeth, Circa, Savale… to name a few
(Right now I've worked with over 30 brands and produced 100 manufactured footwear models to date).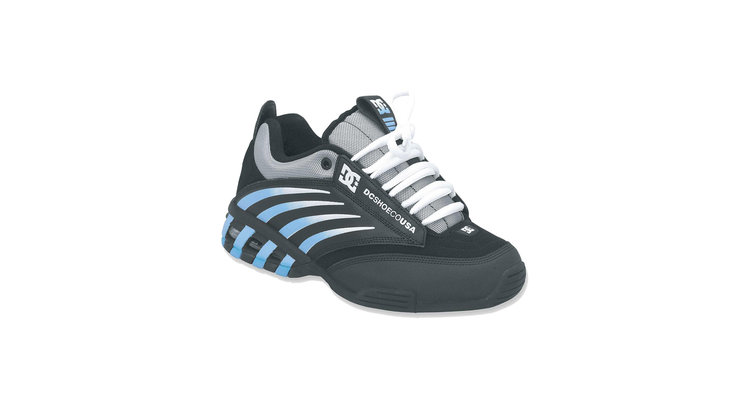 What are you working on at the moment?
I'm currently working with one of the biggest brands in the world on a project that is currently under wraps.
We should be releasing this project at the end of 2020…
Keep posted!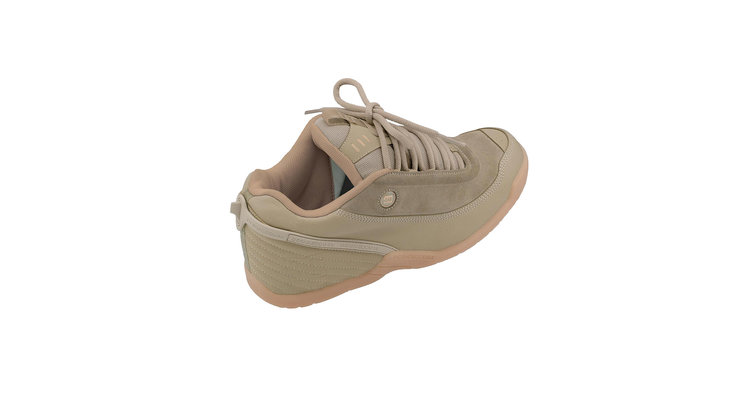 When did you start Everybody Skates?
Everybody Skates started as my personal creative expression that I shared on social media starting around 2014.
I had no intentions initially in starting a brand.
The images that I would create of celebrities skateboarding connected with an audience that was more than happy to share it on their social platforms and it began taking on a life of its own.
It was soon that I was receiving consistent request for the images that I was creating to be put on shirts.
I made a small run to supply the demand and caught the attention of Supreme in LA which was one of the first retailers that carried #EVERYBODYSKATES .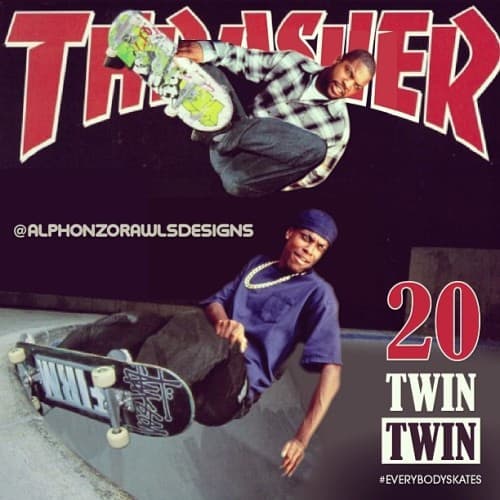 What's the ethos of the brand?
The brand ethos is simple. Skateboarding meets Popular culture, inspired by FUN.
How do you come up with ideas for new designs?
First I identify a subject which is usually inspired by popular culture from my youth.
I research images with the subject in various body positions then identify tricks that match the body positions… I pair them up to see what works…
The one that makes me laugh the most wins.
I've also been illustrating my ideas lately which allows me to be more creative.
What kinds of products do you make now?
I make limited issue t-shirts, hats, hoodies, and stickers.
Any upcoming plans for Everybody Skates?
#EVERYBODYSKATES is more of a spontaneous project than a company with a plan… I think that is what people like about it. Its organic, I release product as I come up with the ideas…
Sometimes I will come up with an idea one day and then release it the next.
I've got some ideas that I'm working on that I will make available soon!
Stay tuned @EVERYBODYSKATES
What's your favourite Everybody Skates design?
Michael Jackson doing a method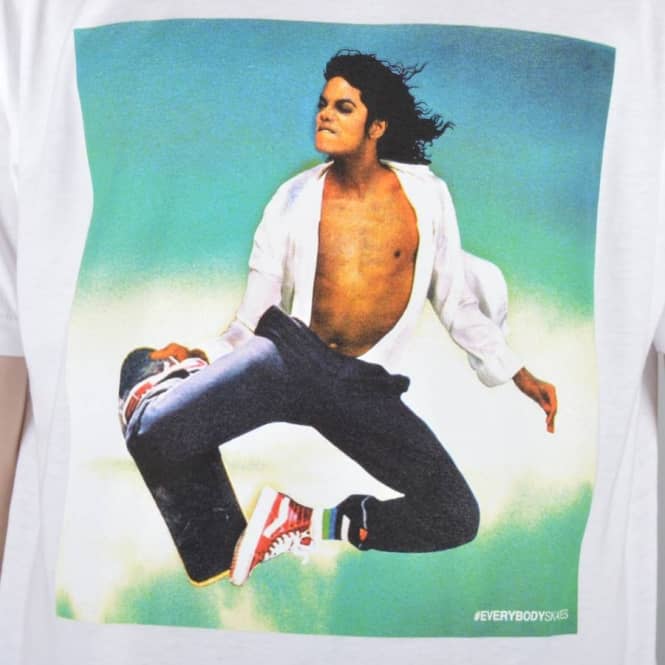 Smokey (from Friday) doing a blunt slide,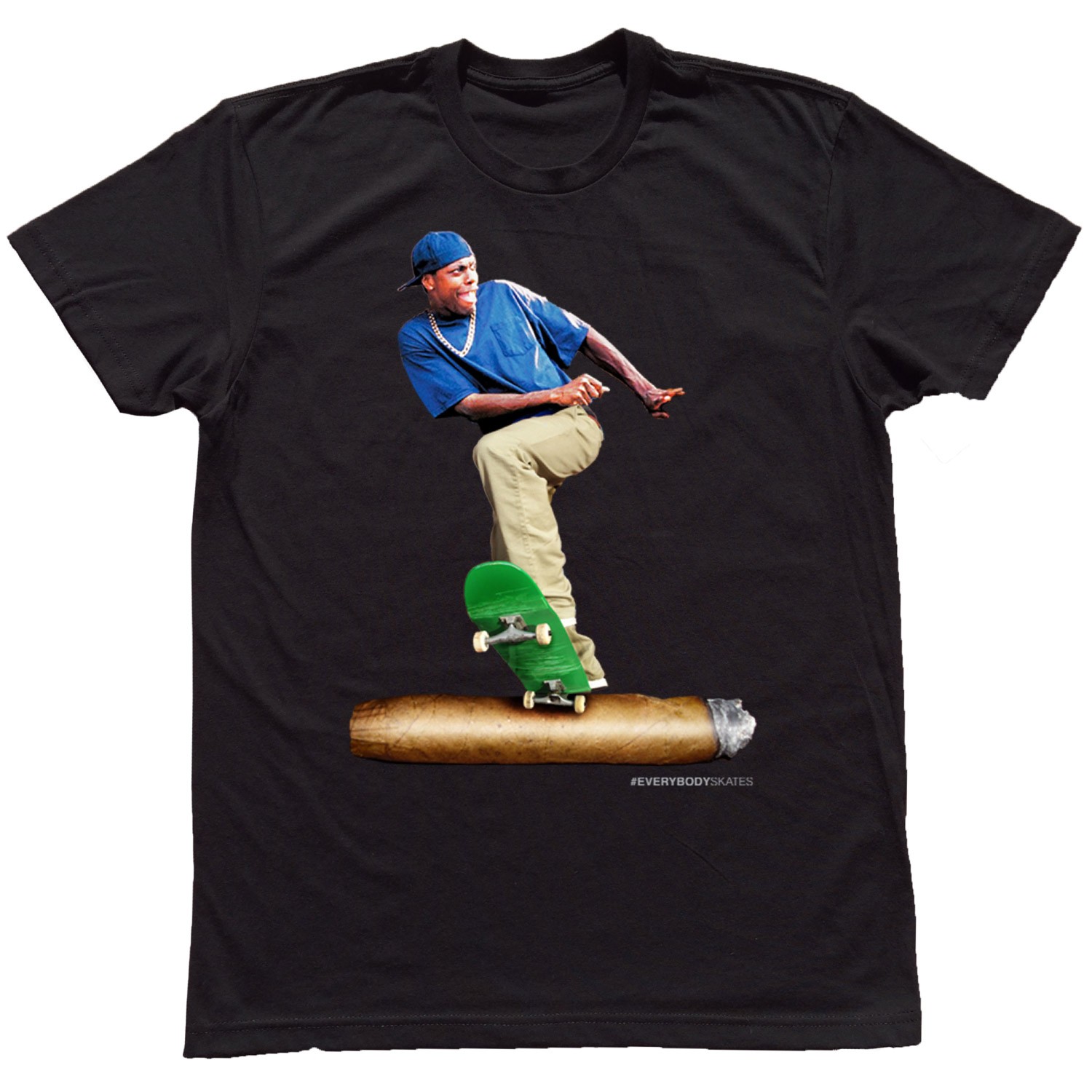 Morrissey (from The Smiths) doing a Smith grind.
Madonna doing a Madonna…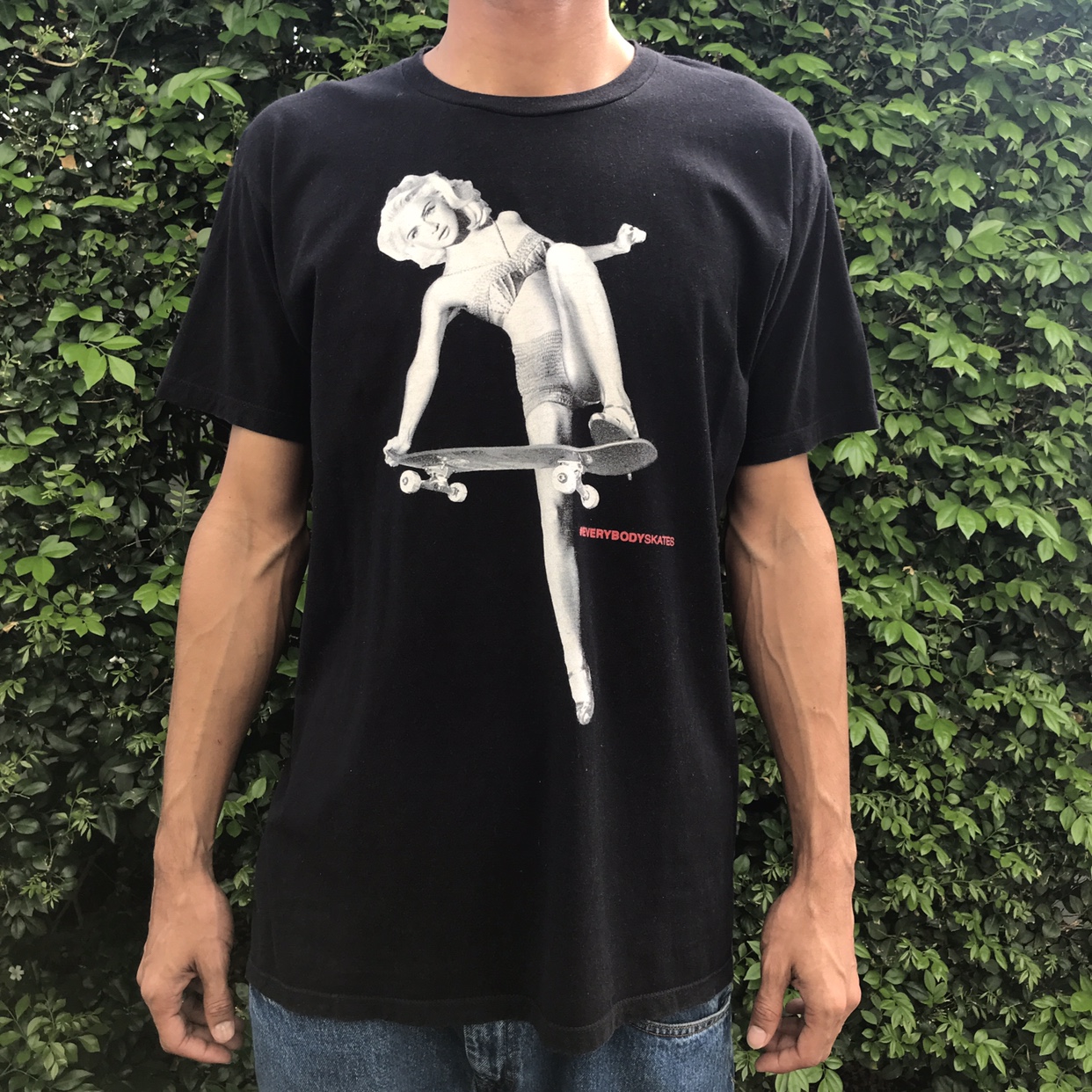 What's your favourite design you've made so far?
The project that I am currently working on will most definitely be my best work to date.
It's for a high end fashion brand. I can't say any more.
Who is your favourite skate photographer ever?
Daniel Harold Sturt
Favourite skate video of all time and why?
Bones Brigade Video Show.
Because it was the first video that I ever watched and it made me want to "be" a skateboarder.
Before that I only thought of skateboarding as something you "do".
It still gets me hyped!
Who is your favourite skater?
Tony Hawk Since Day one.
His level of progression has been relentless from then til now.
I also feel that he's a great spokesperson for skateboarding.
He has created a lot of opportunities for skateboarders and skateboarding throughout his career.
Favourite artists of all-time?
VCJ
Dave Kinsey
Mike Dargas
Favourite work of art?
Bones Ripper by VCJ.
It brings back nostalgic feelings from my early days of skateboarding.
Any Last words Alf?
"PLEASE OFFICER DONT SHOOT!!!"