Photo by Mike Blabac
J. Grant Brittain has been at the forefront of skate photography since the 1970s. He was the photo editor of Transworld Skateboarding for two decades and has shot some of the best skate photos ever.
We are stoked that J. Grant has joined The No Comply Network.
So we had a chat about skateboarding and photography, shooting Jamie Thomas doing the Leap of Faith, going out with The Gonz and Natas in the 80s, how he missed taking a photo of Tony Hawk's 900 and his favourite skate photographers of all-time.
What's your full name and where did you grow up and where do you live now?
Jordan Grant Brittain, born in Fallbrook, CA in 1955.
I have lived in Encinitas, California since 1974.
Where did you learn to skate
I received a skateboard for Christmas when I was 10 years old.
So, When did you first shooting skating?
I shot my first roll at the Del Mar Skate Ranch in February, 1979 of Kyle Jensen with my roommate's Canon AE1.
After that, I shot my friends and the DMSR locals.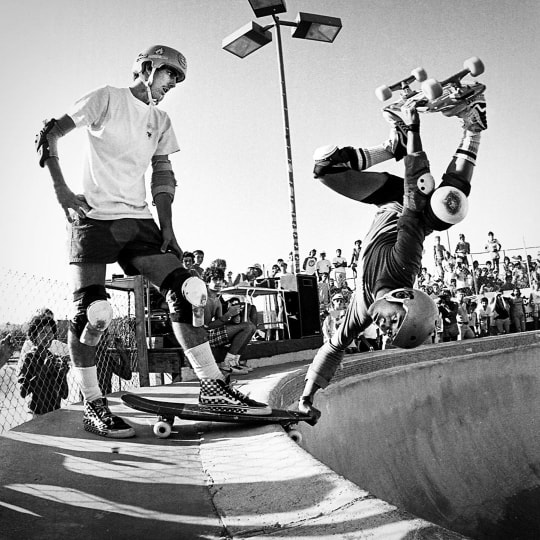 Lance Mountain & Steve Cabellero, Del Mar Ranch
What made Del Mar so special?
I worked there from 1978 to 1984.
The Del Mar Skate Ranch was a mecca of sorts for skaters coming from around the world, it was also a breeding ground for some of the best vert skaters in the world.
It was also the second to last South California skatepark of the 1970s and 80s to be bulldozed in 1987.
I think all of the events that were in the magazines put it on the map.
Favourite photo that you shot at Del Mar?
There are a few, but If I had to choose it's Tony Hawk 's Crossbone Lien in the Keyhole pool.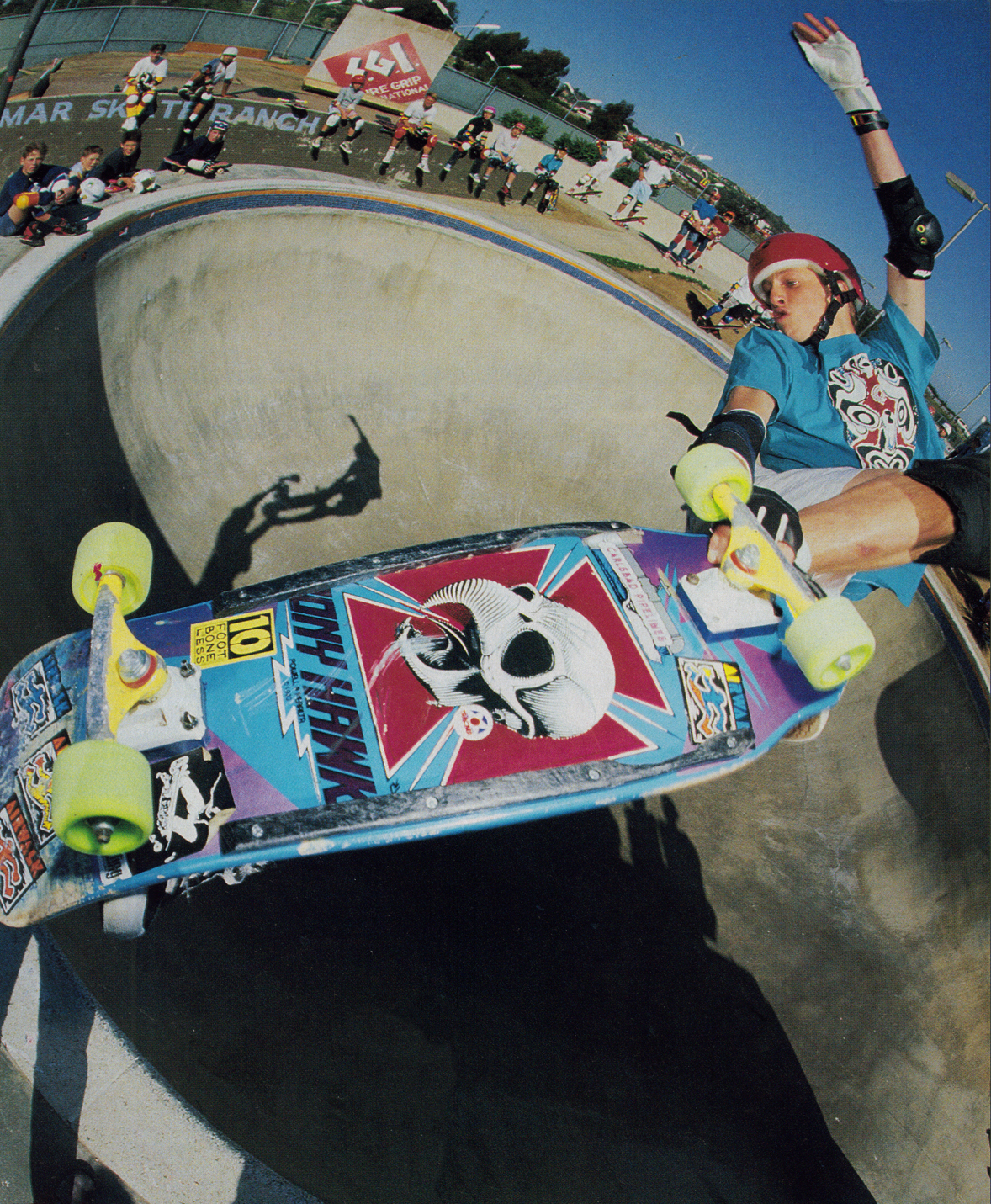 When did you start at Transworld?
I helped found Transworld Skateboarding Magazine in 1983 when I was still working at DMSR.
I became Photo Editor a few issues in and from the beginning I loved collaborating with a variety of photographers, designers, artists, writers and skaters.
We were all learning how to make a magazine, it was in the pre-computer days and everything was done by hand, all cut and paste layouts.
It was a talented bunch and everyone had their own idea of what they wanted it to look like, but we came together and made it work and produced some amazing magazines.
I worked there for 20 years.

Jamie Thomas, Leap of Faith
I do really like the mid to late 1980s, I call that the Golden Era, I was honing my photography skills and that's when Vert Skating was changing and Street Skating was on the come up.
You were shooting Gonz and Natas around that time. What was it like?
We, the photographers were essentially figuring out the best way to shoot street skating and Natas and Gonz were taking skateboarding to another level.
The skateparks were disappearing and it was all moving to the backyards and city streets.
You have to remember that there weren't a lot of skate photographers back then and those guys pretty much only shot with us magazine photographers.
I lucked out, now those shots are iconic.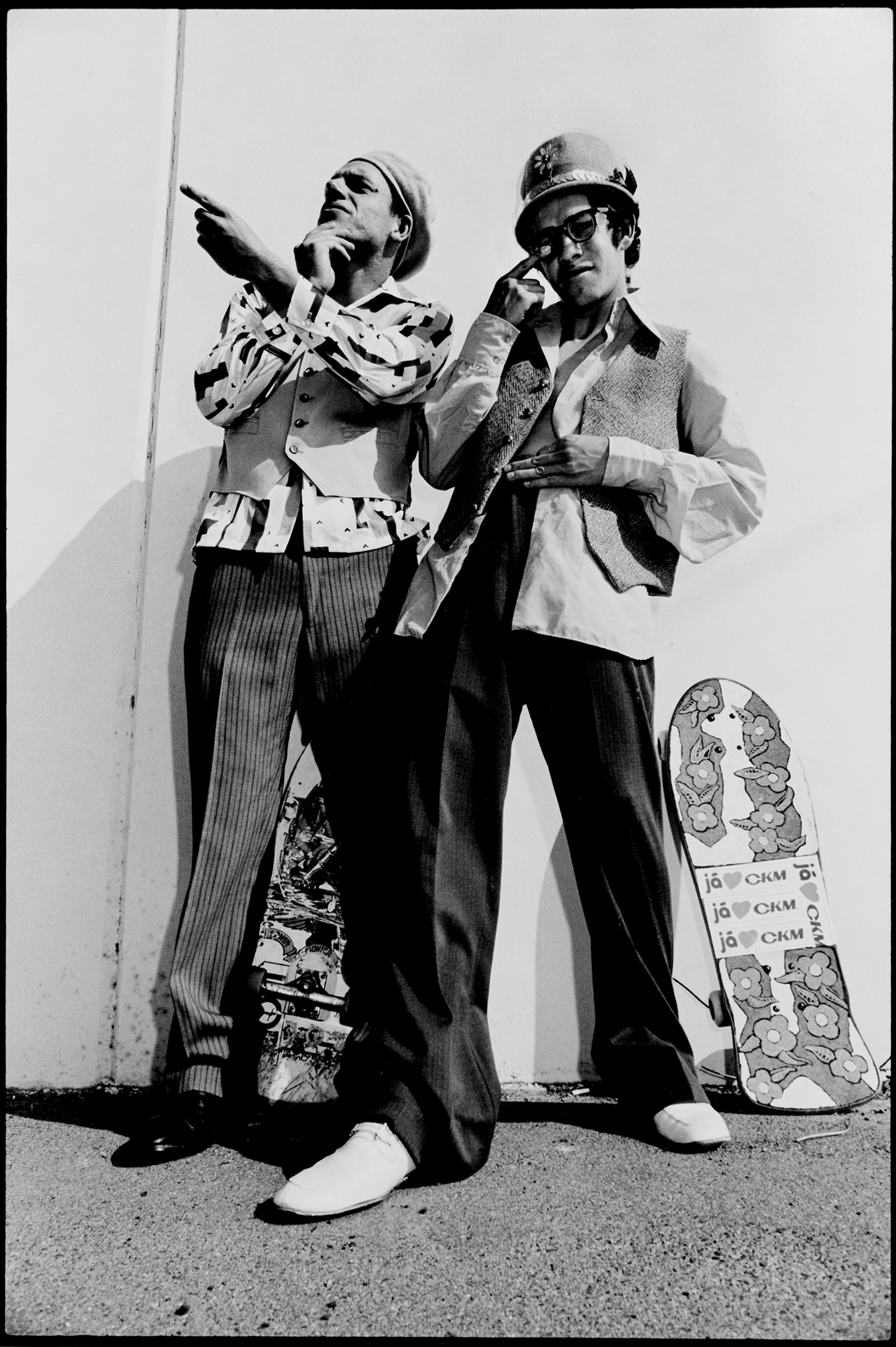 Natas and Gonz
What's your favourite Natas photo?
I really like "The Landing", that's what I call it anyways.
It's one frame of a sequence that is just him at the moment of landing the trick and before he rolls away.
Skateboarding is all about the landing and 'The Make', that's what counts.

Favourite photo that you've shot of Gonz?
The ollie off the bathrooms in Venice where he broke two or three borrowed boards the first time I shot photos of him, I think.
He was just some crazy skate kid going off the roof.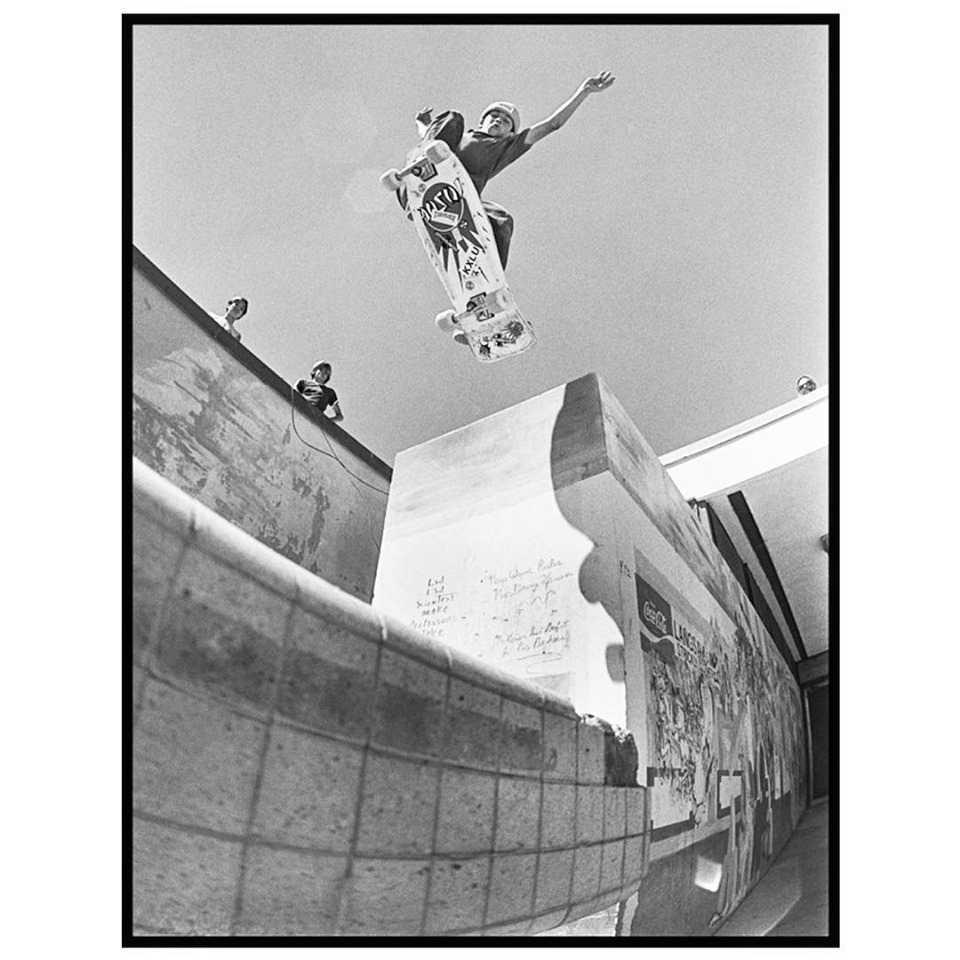 You shot Jamie Thomas' Leap of Faith Ollie attempt. How did that go down?
I was shooting Jamie at a rail on the other side of Point Loma High School and he wanted to show me something he wanted to try.
I looked at it and thought he was nuts.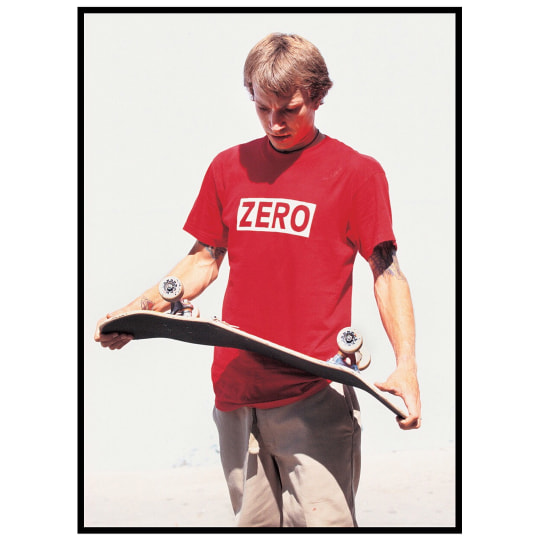 We went back another day and he rode up to it a bunch of times and finally launched off and went right through his board.
It's not a Maker, but I think it set up the future for the Big Gap skaters like Jaws.
After that, the school built a elevator for the disabled where it once stood.

Jamies Thomas 'Leap of Faith'
You nearly shot a photo of Tony Hawk's 900 but you got kicked out by security. Why did they kick you out?
I didn't have the correct credentials to be next to the X Games ramp, they didn't really give two shits about skate photographers.
I probably would have blown it anyways.
What was troubling was that I had shot perhaps 100 rolls of 4 guys trying it over the years.
Any advice for up and coming skate photographers?
Not anymore.
The Social Media Boom and the extinction of many skate magazines has changed everything.
Everyone has a camera and darkroom in their pocket and the need for Content, any Content has driven the Quality down I think.
There are a lot of great photos on Social that 15 years ago could have been a cover, now they are relegated to 15 seconds on Instagram and disappear into the ether and forgotten.
I guess I would tell newer photographers what I have always told them, perseverance, success take time, good things never come easy, so never give up.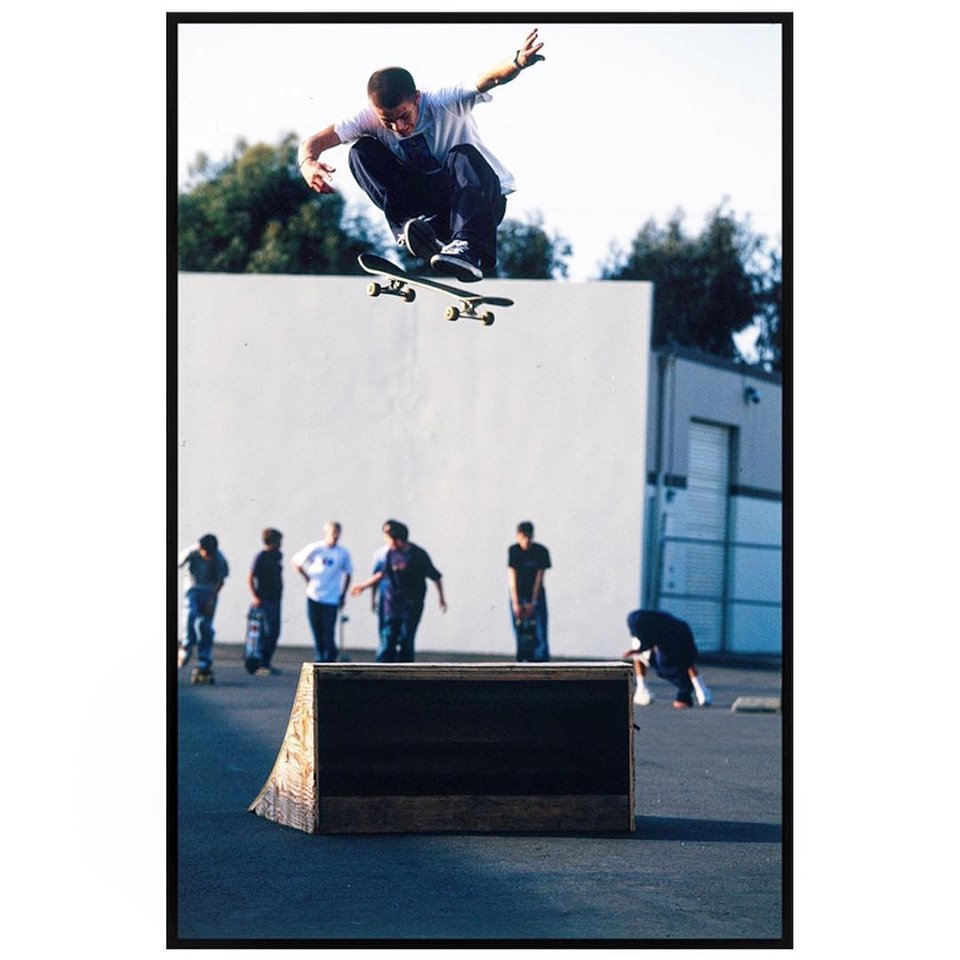 Geoff Rowley – Pop Shuvit
Favourite photographers of all-time?
Warren Bolster
Craig Stecyk
Ted Terrebonne
James Cassimus
William Sharp
and Jim Goodrich were the ones I learned from by looking at their photos.
After that
Dobie Campbell
Daniel Harold Sturt
David Walsh
and many more.
What are your plans for the future Grant?
Working on a book, hanging out in the new darkroom and sharing my work.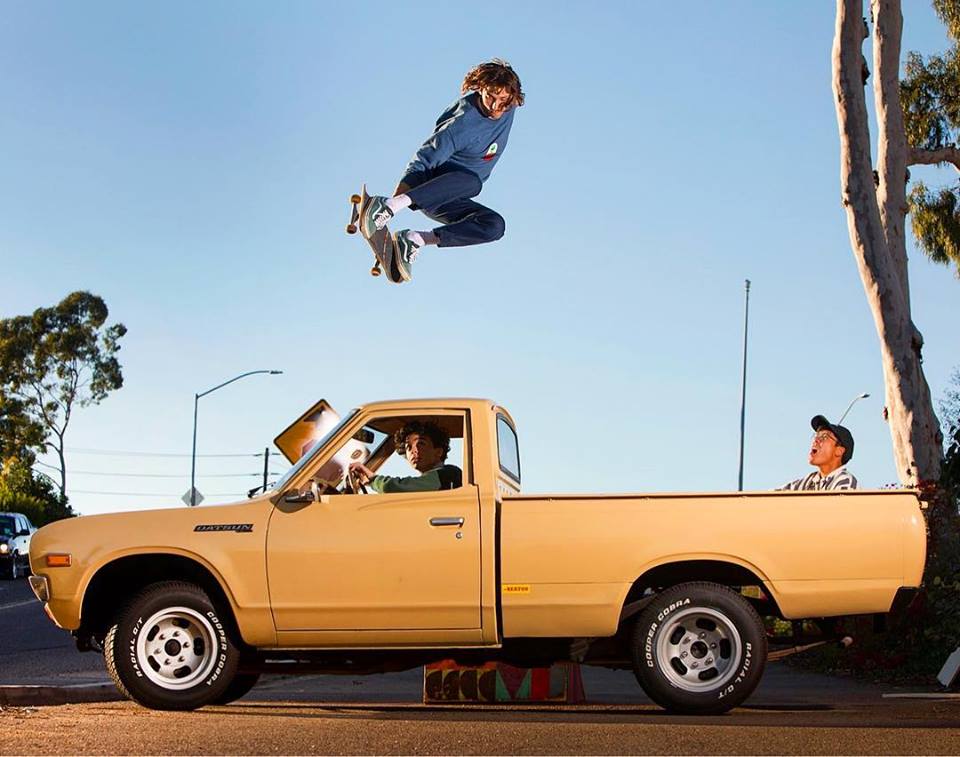 Julian Klincewicz, Melon Grab Over a Car
Any Last Words?
I owe skateboarding, photography, friends and family everything, without them, I am nothing.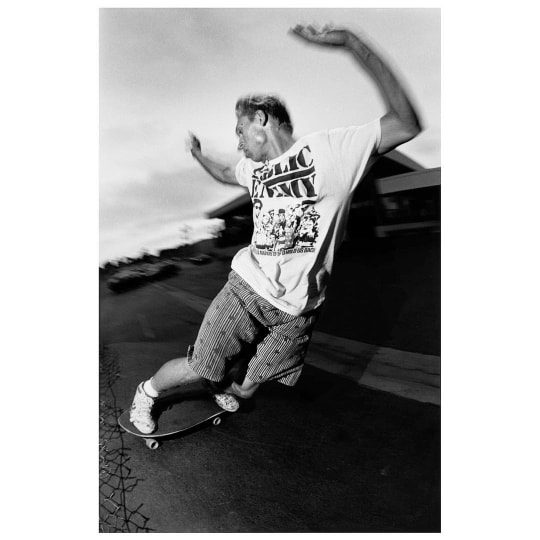 Natas, Powerslide