Nasir Roumou is a skater based in London sponsored by Blast Skates.
His skating blends his passion for '80s tricks done with a modern day approach. It's clear that he gets a lot of creative inspiration from that early street-jump ramp era but if you watch his footage you can see he's adapted his taste for that skating into his own unique style. 
In conversation you find that he's got a solid knowledge not just about the tricks he likes but also where they came from, who invented them and the spots and skate parks he's drawn to. He's really specific in his interests and influences inside skateboarding.
We were intrigued and wanted to know more about him, so we hit him up to join The No Comply Network and after discovering he was down, we learned we had lots in common and that he also had a series of interesting perspectives on skating, art and music to share.
Learn about how he got his first board and found a skate style and influence from skaters ripping before he was born, his favourite thing about skating Stockwell, getting on Blast Skates, Matt Bromley, Jake Snelling, why he likes shaped boards, his stand out tricks and clips, influences and inspirations, Alphonzo Rawls, Ray Barbee, Jovontae Turner, getting on Converse, shredding street and transition, skating Southbank, his perspectives on skating, art and music, and his favourite skaters, styles, videos, spots and parks, photos and more.
Read the Nasir Roumou interview below to find out for yourself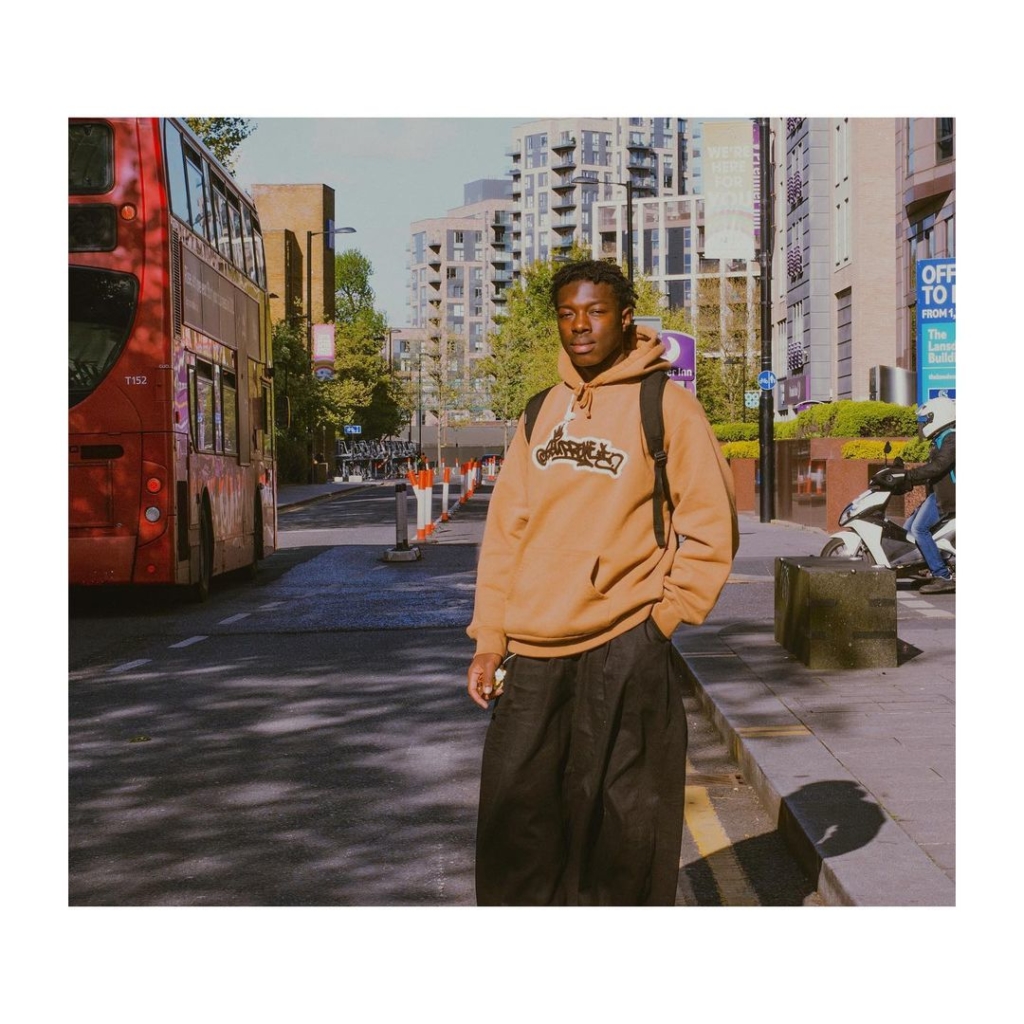 Nasir by @idkmayyne
What's your full name?
I'Santi 'Nasir' Roumou
Where did you grow up and where do you live now?
I'm from Atlanta, Georgia. Gwinette County to be exact. However, I've spent majority of my life in the UK.
When did you first see skateboarding and think I want to do that?
Well upon first moving to the UK, my grandfather and I would often venture around with the aim to get me better acclimatised to living over here.
One of the places we'd almost always end up at, would be Stockwell Skatepark in South London.
My grandfather would hoist me up onto the wall so I could sit and watch the skating in the park, I was mesmerised by everything I saw going on.
Now that those times are way in the past, I can't imagine myself cherishing skating as much as I do or being at a point now where I couldn't imagine my life without it.
That's great. So when did you first get a board and what was it?
My first ever board was originally a Christmas present. It was a Sports Direct branded deck, the ones that practically come gift-wrapped in plastic, grip and all.
It didn't turn and it barely rolled. Those unredeeming qualities were partially the reason it happened to collect a concerning amount of dust in storage aha.
5Fair enough! So where were you skating at time and who with?
There was this playground nearby where I lived that happened to have a miniature water park called Myatt's Field.
Sometimes when they'd forget to turn on the sprinklers it would have these little crater-like spots and even bumps too. I skated there for a week or two maybe.
However, when I felt ready to skate a real park I went to what I managed to get familiar with from all those day trips in in the past – Stockwell.
I got pretty cool with most of the locals and happened to make what I consider some of my closest friends to this day.
You've got a unique style, which skaters influence you the most?
Haha, so many! However, one that really influenced me was Jovontae Turner.
He is one of the dopest, most consistent guys to have skated EMB back in the day and he had the most solid 360 flips too.
Agreed. So where do you go skating right now?
I skate my local park Wandle so much it's concerning.
It's not the best park around, but I never find myself running out of things to try there. I skate there with the locals and my awesome friends aha.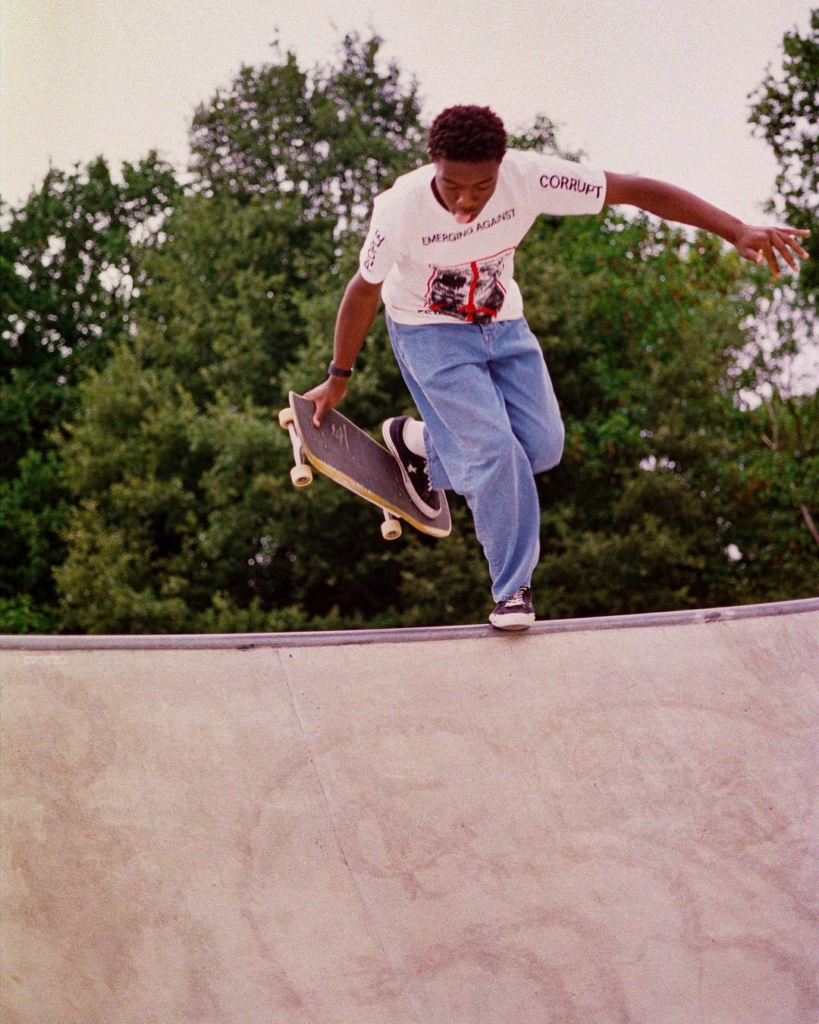 Backside Boneless: Shot by @ozzbot76 
What was the last new trick you learned?
Sal-Jars. It's an Alphonzo Rawls special. It's essentially just a Backside Sal Flip to Tail.
They're pretty uncommon and slightly uncomfortable, but the finished product is well worth it. All in all, I really like the way they look.
What new tricks are you working on right now?
Hmm…There's three.
"JT airs" AKA Backside Ollies on transition. Front Shuv Nosegrind Reverts on ledges and "Boomerangs" which is a No Comply Revert with a Fakie Bigspin.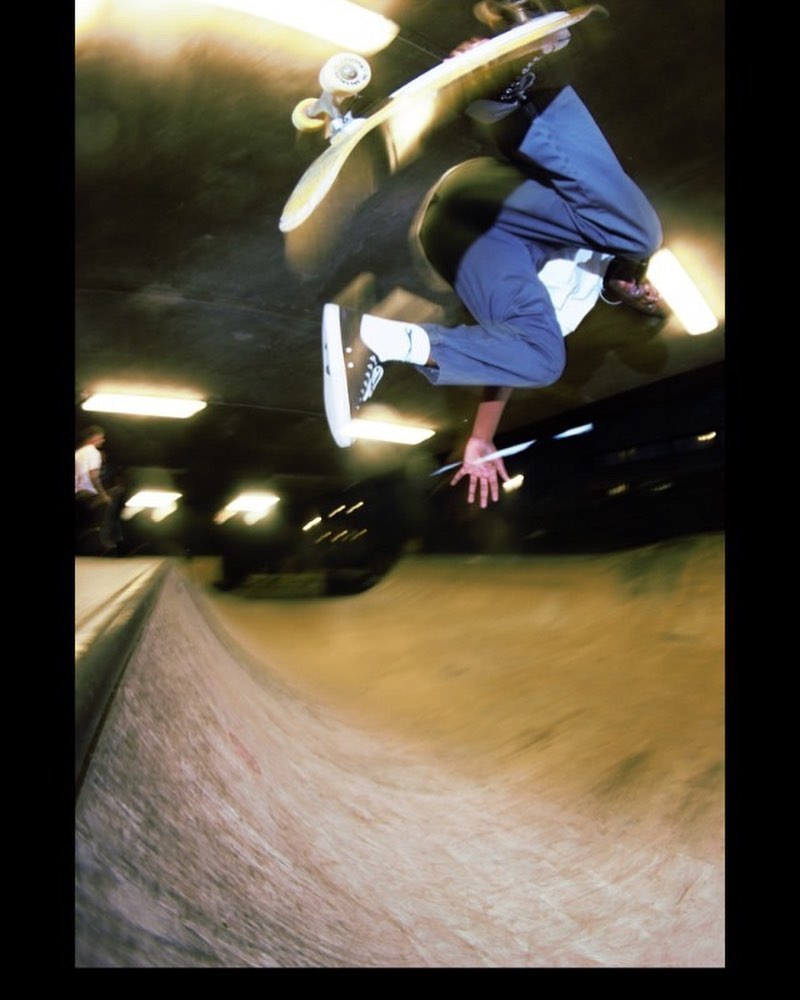 Fastplant: Shot by @ginge_the_geeza 
Sounds dope. How did you get sponsored by Blast Skates?
I think it was due to me always hanging around Stockwell and just being mates with and skating with the majority the riders on the team.
It wasn't until Lockdown happened that I was given the opportunity to contribute to a little article in the Blast Skates Lockdown zine that Matt Bromley was working extremely hard on at the time.
In the week's leading to its release I was reluctant to say or believe I was on the team until I had received a copy and then when I got it I saw my name underneath the riders list in the article section. I was stoked!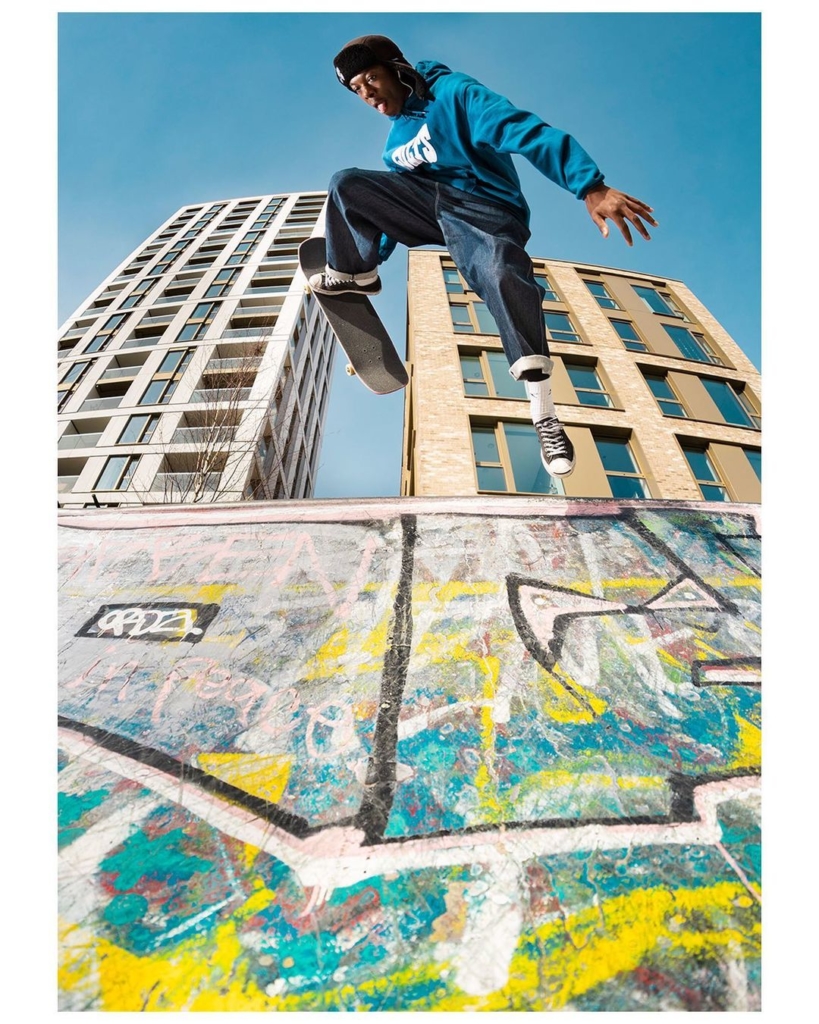 Backside Fastplant at Stockwell: Shot by @whistonphoto
What's your favourite thing about skating for Blast?
I really like how everyone pretty much skates the same thing but in their own unique way.
You got Callum McRobbie who's approach to transition skating is more "Run and Gun", long grinds and high airs.
Then you have Ben Koppl who's a little more calculated, and has a more technical outlook on ramp skating.
Everybody's style really blends well into the next.
Not to mention I love how Blast pays homage to the '80s. As a brand it's heavily focusing on bringing back the lighthearted and harebrained tone to skating.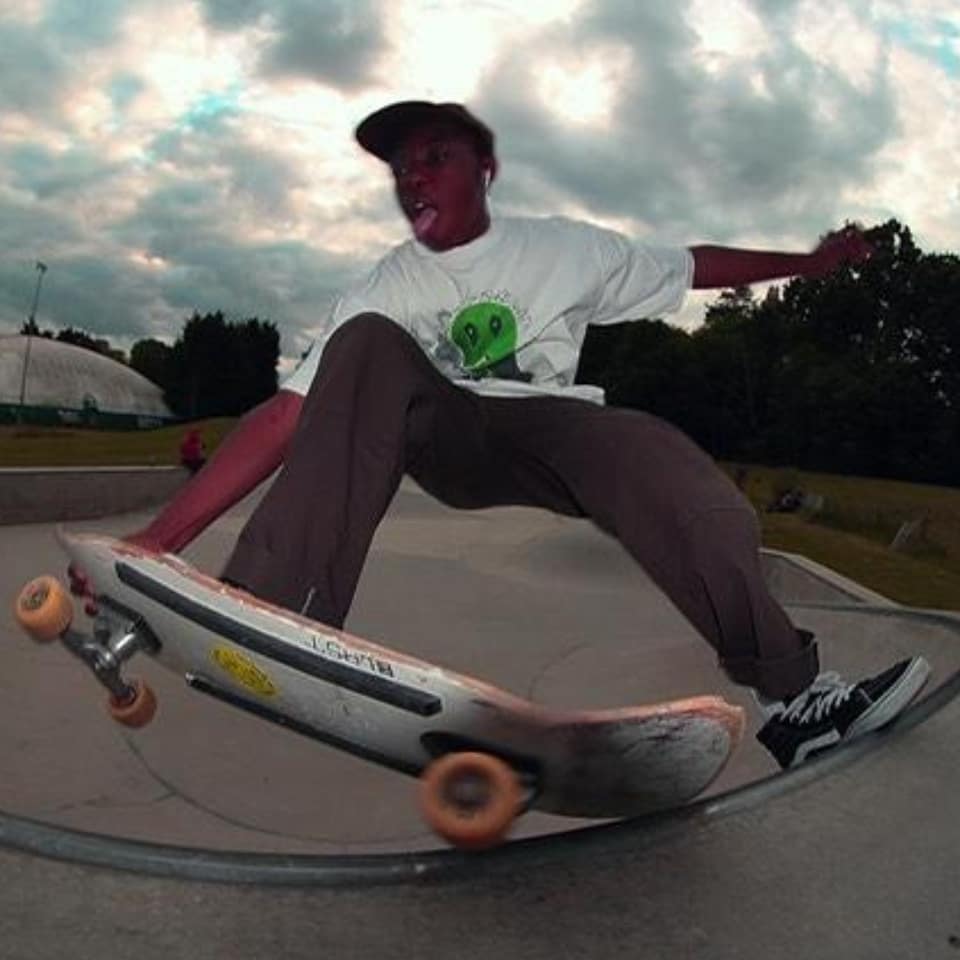 Nasir at Crystal Palace Skatepark: Shot by @ginge_the_geeza
What do you prefer to skate – street or transition?
Hmm, as of late I've really taken an interest in transition skating.
Despite how terrifying it is and it was to learn at first, it's actually pretty low maintenance, it's just all mental, especially when comparing it to street.
You don't have to push or Ollie and almost the majority of the tricks there are to learn are either glorified kickturns or reverts haha.
However, when it comes to skating vert or anything big the feeling of rolling away from a trick that genuinely terrifies you is unmatched. High risk, high reward.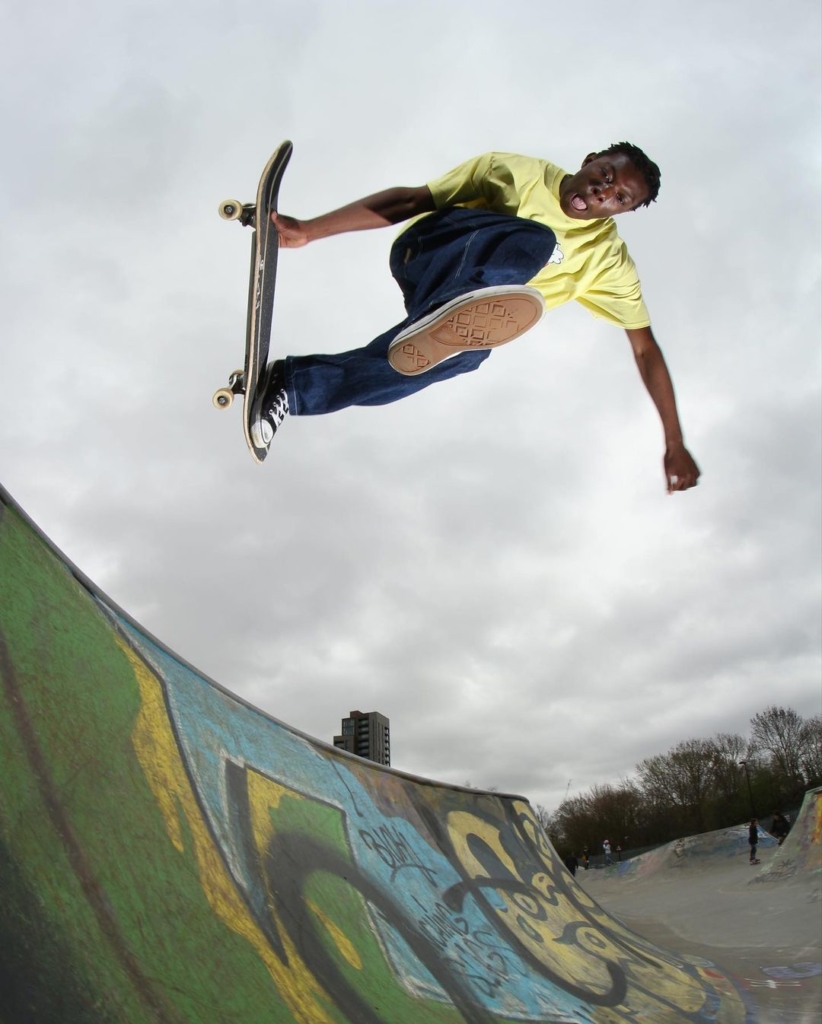 Backside Judo: Shot by @yo_where_this 
You do a lot of rad No Complys, who's got your favourite?
Ray Barbee hands down aha, most fluid looking style when doing them too!
What's your favourite thing about doing Fastplants?
My favourite thing about doing Fastplants is that sometimes you'll have the rare few that flap on the way up. It's even cooler when the board happens to slap against the bottom of your shoe when your foot gets back onto the board.
Chris Miller, Riley Kozerski and Junpei Shibata are a few influential ones to come to mind.
Special thanks to Broley for taking the time to teach me, been doing them since.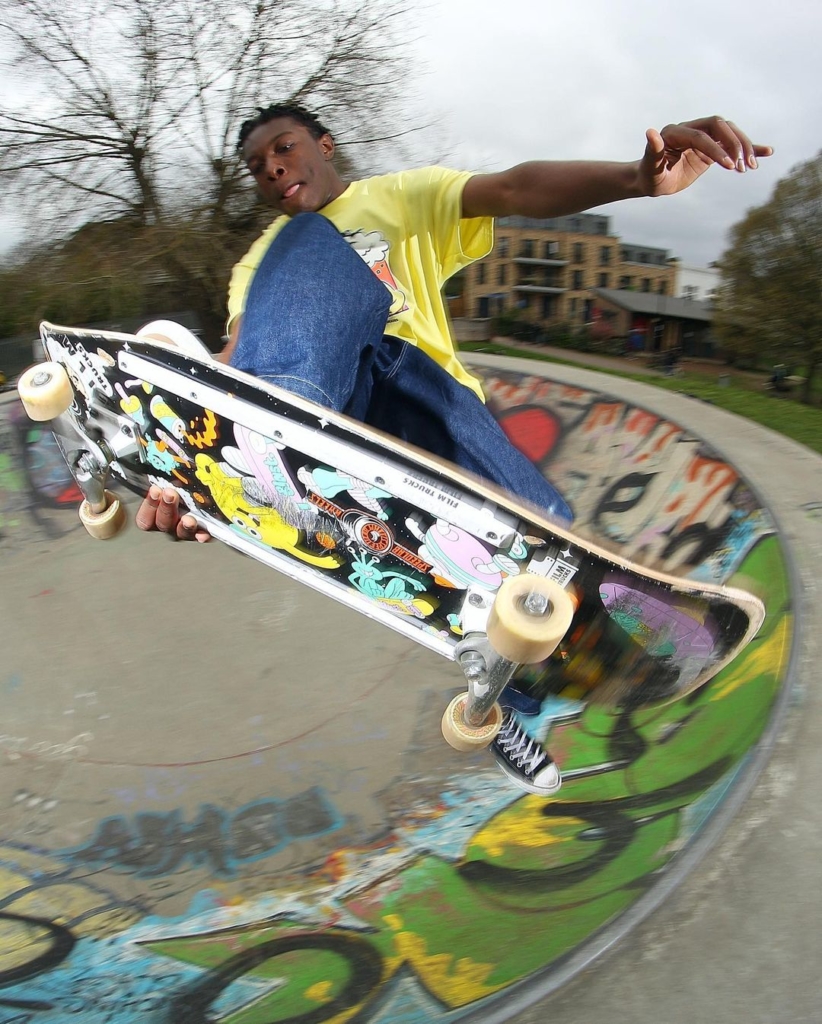 Frontside Fastplant: Shot by @yo_where_this 
Cool. What's your favourite thing about skating for Converse?
I'm extremely grateful for Luigi, who is the French Converse TM, reaching out to James Cruickshank about flowing me Cons.
That's honestly my favourite shoe, not just for aesthetic but for the value that the iconic Chuck Taylor holds historically of it being the first basketball shoe and has been around since 1917.
It's even a staple shoe in a lot of 80's vert culture and photos. A huge thanks to Luigi and Shankie for hooking it up!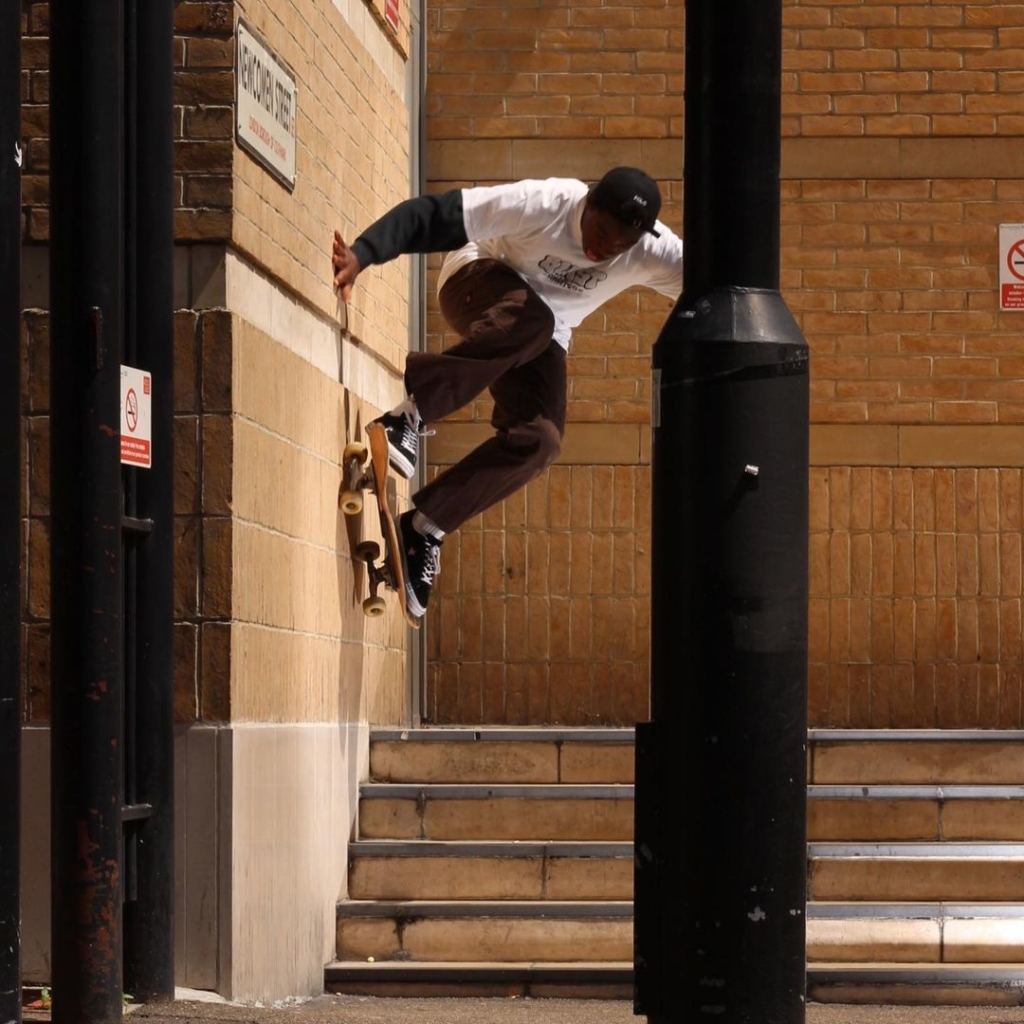 Wallride: Shot by @ginge_the_gezza
What's it like being sponsored by Three Amigos skate shop?
I like how Three Amigos is communal and welcoming they are in the shop. It's more family-run than other shops in the UK.
I find it pretty dope how they also focus on some of the smaller and underdog companies over here. They also find a way to make customers and visitors feel welcome as well as showing their gratitude towards the public for stopping by, rather than on how and if they can make a quick buck.
How did you get sponsored by Three Amigos?
I got on through a really good friend of mine. I used to film his clips a lot and I guess out of curiosity they wondered who could possibly be screaming with their voice cracking dreadfully in the background aha and the rest is history.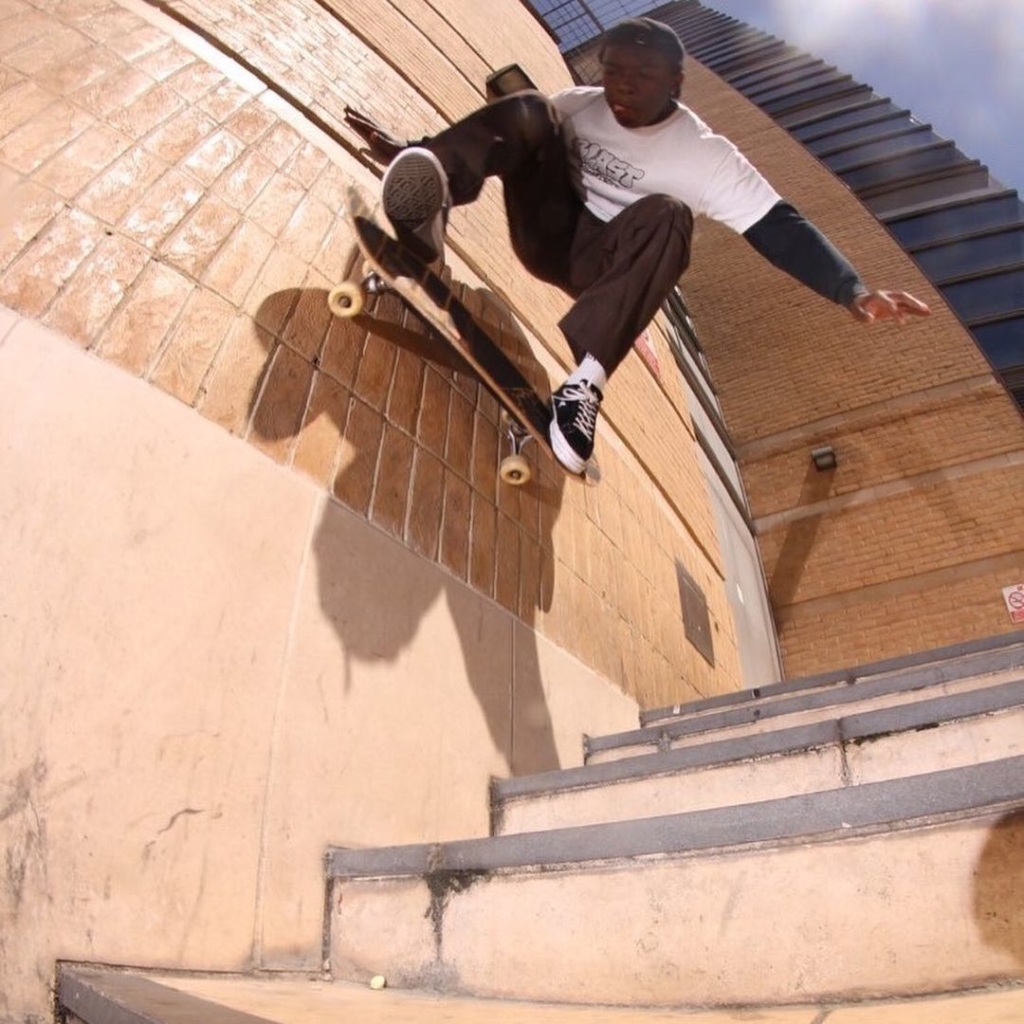 Shot by @ginge_the_gezza
 What do you think makes skateboarding creative?
I believe what makes skating so creative is the fact that you can never truly say you've ran out of things to do nor try.
With new videos coming out almost everyday the standard for skating is advancing so much in all aspects, whether that'd be tricks, clothes, music or trends.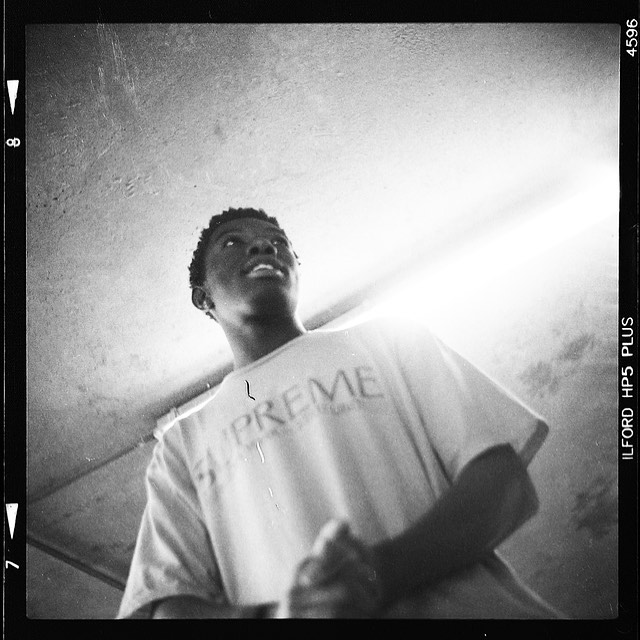 Nasir: Shot by trapped.illuminants
Who do you think are the most creative skaters out there?
Ah man, there are loads. A few that come to mind are:
I could honestly sit and name names all day haha.
I feel the ones that genuinely skate for fun and personal fulfillment, are the most creative as they aren't trying to impress others and as a result constantly think outside the box.
What was the last skate video you saw that stoked you out?
The last video I watched that got me hyped is the "Smuts Crew" video on YouTube with Eliot Toiminen, Heitor Da Silva, Gabriel Viking and more.
Got some really good mini ramp stuff in there, would 100 percent recommend checking it out if you haven't yet.
Where's your favourite bowl to skate in London?
Although I don't go there much, I'd have to say Clissold for sure. Really easy to just end up finding yourself carve around and doing slashes all day.
Frontside Rock: Shot by @yo_where_this 
What's your favourite thing about skating Stockwell?
My favourite thing about Stockwell has to be the overall environment there. I've met a ton of really cool people and learnt a bunch of things from almost everyone there. Definitely played a huge part in the way I skate now as a result of being able to be around so many awesome skaters.
Hmm, one of my favourite tricks I've seen go down at Stockwell off top would have to be Pop Shuvit Frontside 50-50 grind along and around the corner of the deep end by the park warrior Adam. That'll be in my head forever just because how clean it was aha.
What's your favourite trick by Jake Snelling?
Anyone of his street plants, but a personal favourite of mine that he does is his "Switcheroo". He has them all so good.
You make edits, how do you go about selecting music?
I normally just sit at home and spend literal hours browsing through at least four different genres a day.
Whenever a song gets stuck in my head, that day or even for a week I personally see to it that I use it for the next clip I post. I can never move onto the next without doing so aha.
What musicians are you into right now?
Well for the past week or so I've been listening to a lot of
Mary J. Blige
Gary Wilson
Stevie Dinner
Jerry Paper
 Roxanne Shante
Lou Reed
Why do you prefer shaped boards over classic popsicle boards?
Being really into the 80's vert scene I've just really grown to like the look and feel of a shaped board. And having a shape is probably the closest you can get to feeling like you're in the 80's alongside the having the tricks to match course. It's also cool how most shapes also have specific features for certain tricks.
Such as the tail on Rob Robskopp's board being used for Smithverts and Fakie Thrusters, or Jeff Kendall's double kicktail, the list goes on.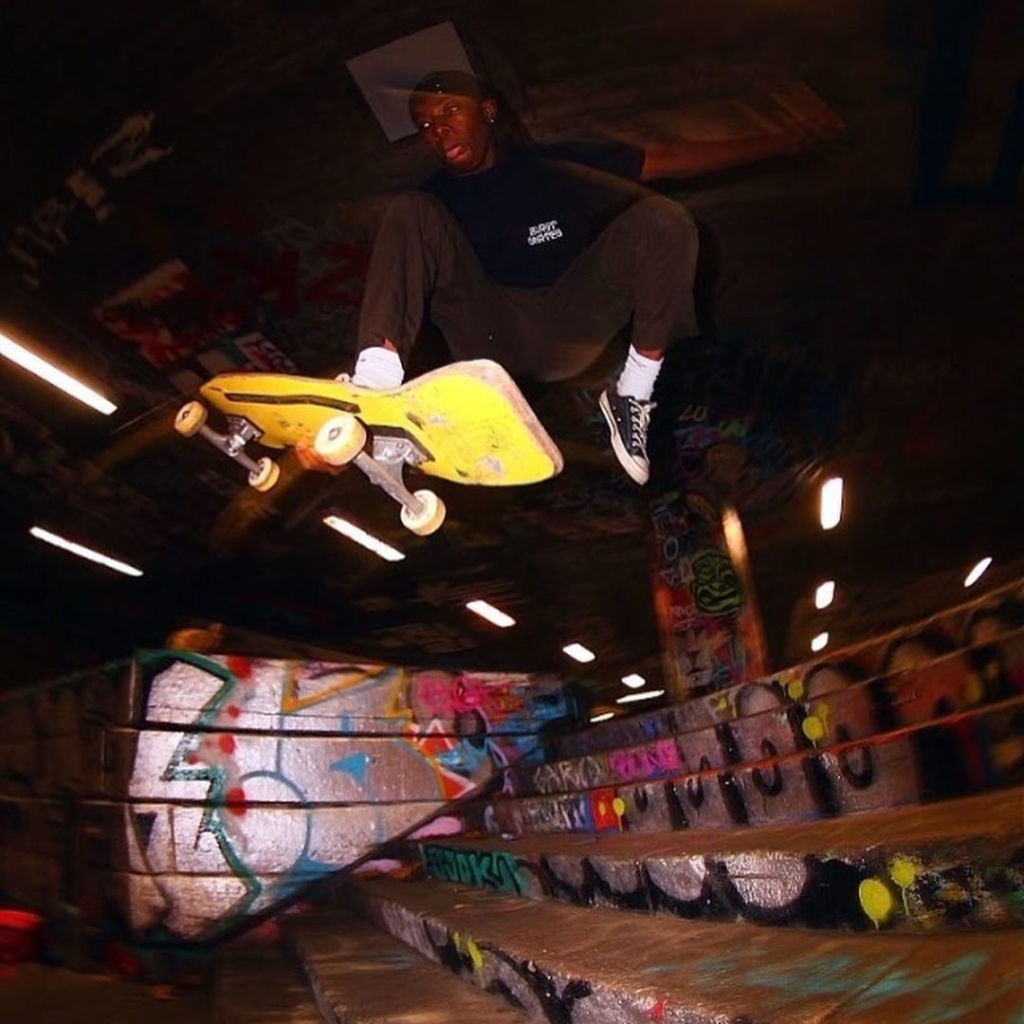 Fastplant the Seven at Southbank: Shot by @ginge_the_gezza
What's your favourite thing to skate at Southbank?
My favourite thing to skate at Southbank would just probably have to be the walls, pillars and the quarter there.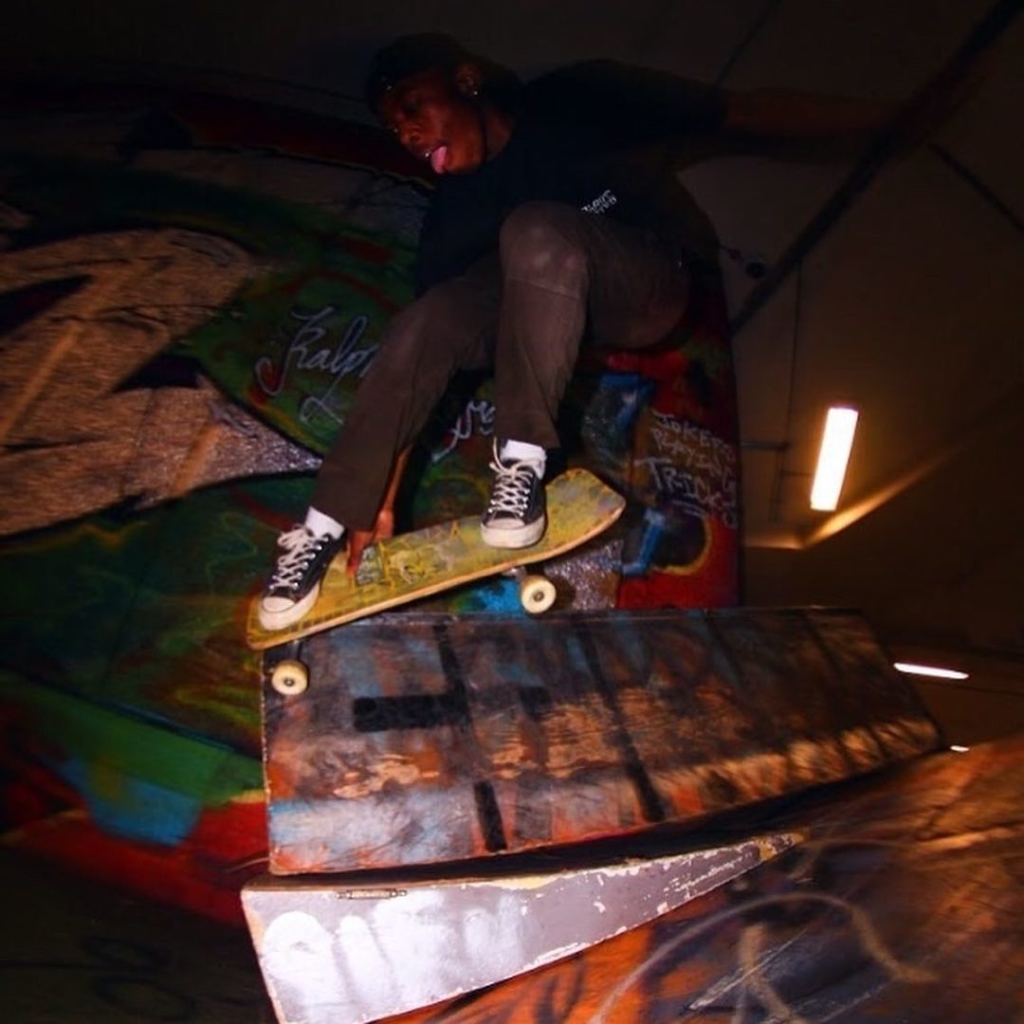 Wallride Melon Crook at Southbank: Shot by @ginge_the_gezza
Who's got your favourite Backside 360 Ollie?
Off the top of my head my favourite BS 360's would have to be by Shredmaster Keith, Jeremy Klein and ones I've seen Guy Mariano do when he was younger.
What kinds of art are you in to?
I'm really into collages and line art. Anything abstract is always cool to look at.
Where's your favourite skate spot in London and why?
It's still most definitely gonna have to be Wandle.
It's pretty convenient for me to get to, almost all of my friends skate there and on top of that it's relatively easy to learn things at that park.
I've been skating there for a while now and honestly couldn't imagine not being able to go, it's the place to be.
Where's your favourite skate spot in the world?
My two favourite spots from back in the day would have to be EMB and Sadlands.
The skate scenes at both places looked so awesome in all the old footage. Also the dudes skating either of the spots back then were all so gnarly.
What's your favourite skate photo of all-time and why?
One of my favourite photos would have to be The Gonz's Front Pivot in Alcatraz dressed as an inmate. Rad photo.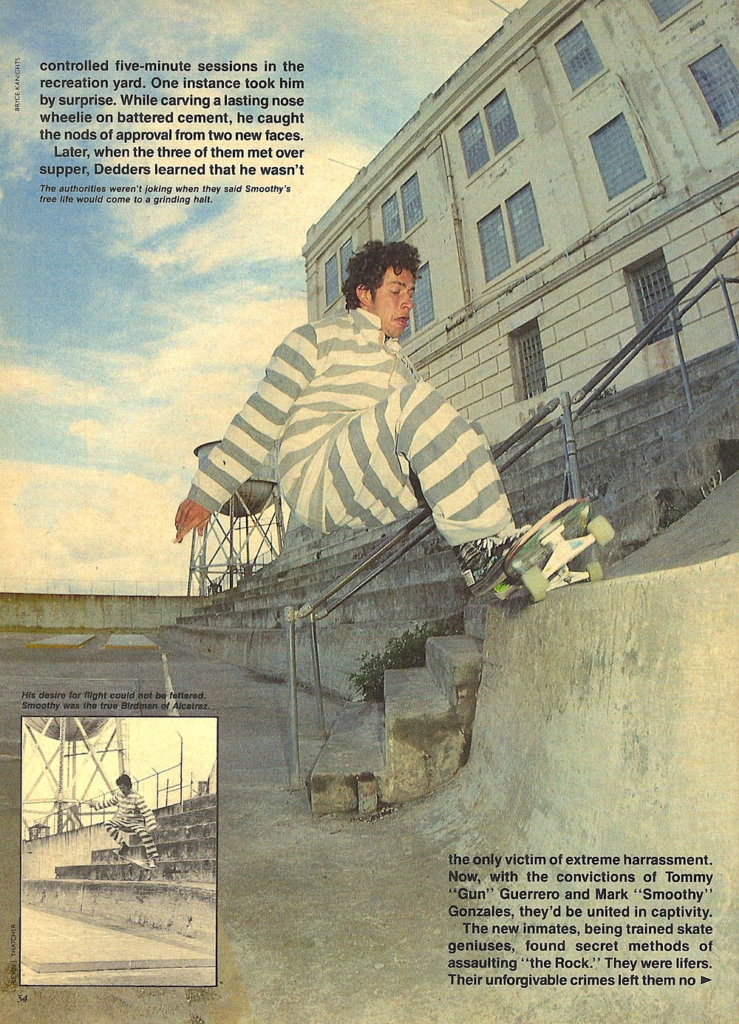 Mark Gonzales, Frontside Pivot, Alcatraz, 1988: Shot by @brycekanights
What's your favourite skate video ever and why?
My two favourite videos of all-time would have to be Lavar McBride's Trilogy section with the karate skit and Girl Skateboard's Yeah Right.
I can't tell you how many times I've watched both of those videos in full.
Who has your favourite style on a board and why?
I'm gonna have to go with Dane Brady on that one.
I'm in love with the way the dude skates. Really chilled style, simple yet stylish tricks going extremely fast.
Do you have any upcoming videos projects you'd like to mention?
Nothing at the moment but I'd like to be able to go out and film some more stuff at some point. Would be cool to work on a proper part some day.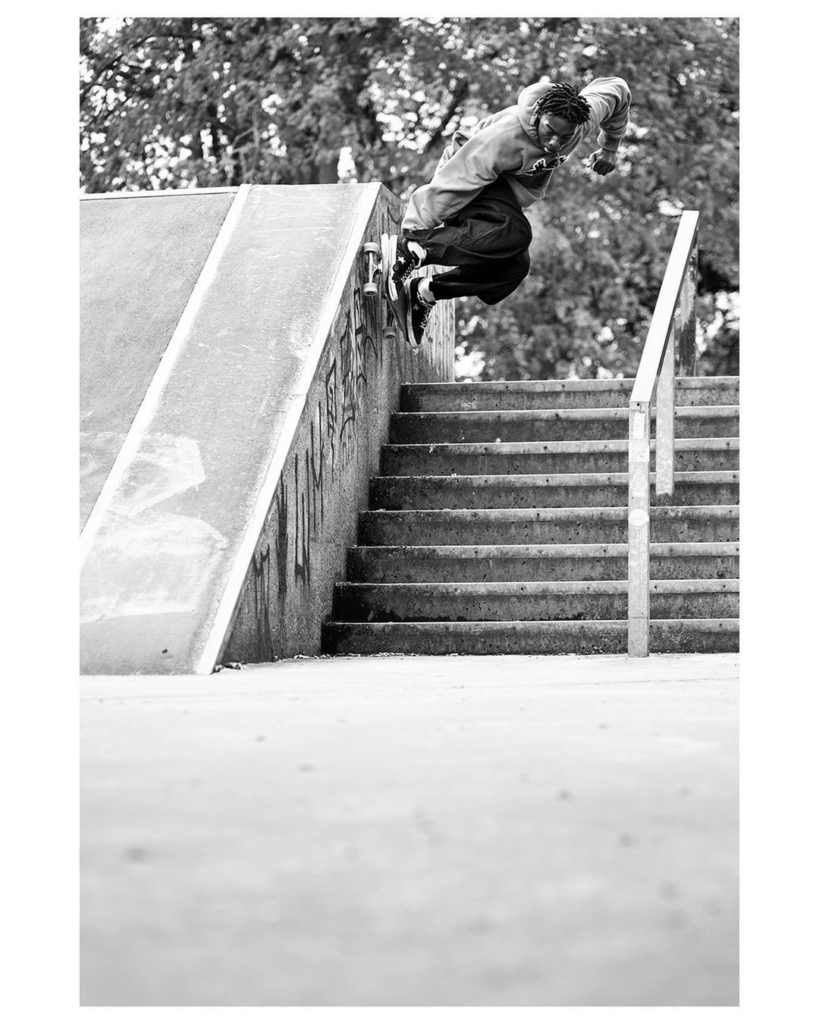 Backside Wallride Melon at Wednesfield: @whistonphoto
Any shout outs?
A huge thanks to my family, my friends
Three Amigos Skateshop
Matthew Bromley
Luigi and Shankie
And anyone out there who's been rooting for me since the start. I appreciate you all!
Any last words Nasir?
Thanks for allowing me to do this interview, I'm really and truly grateful for it!