Brad Cromer is a pro skater and artist who powerfully meshes creative and innovative tricks on his board with a super clean style.
His artwork is similarly imaginative and bold and if he's not making art, he's looking for spots on the streets to film for HUF and Krooked.
We are stoked Brad is now a member of The No Comply Network
Read his member interview to discover how he got his first board, growing up in Jupiter, how he learned to make art, filming pro parts, getting hooked up by HUF and Gonz, Krooked, Dylan, his secret to sick tricks on flatground, his favourite skaters, spots, art and much more.

What's your full name?
Bradley Stephen Cromer
Where'd you grow up?
I grew up in South Florida in a town called Jupiter.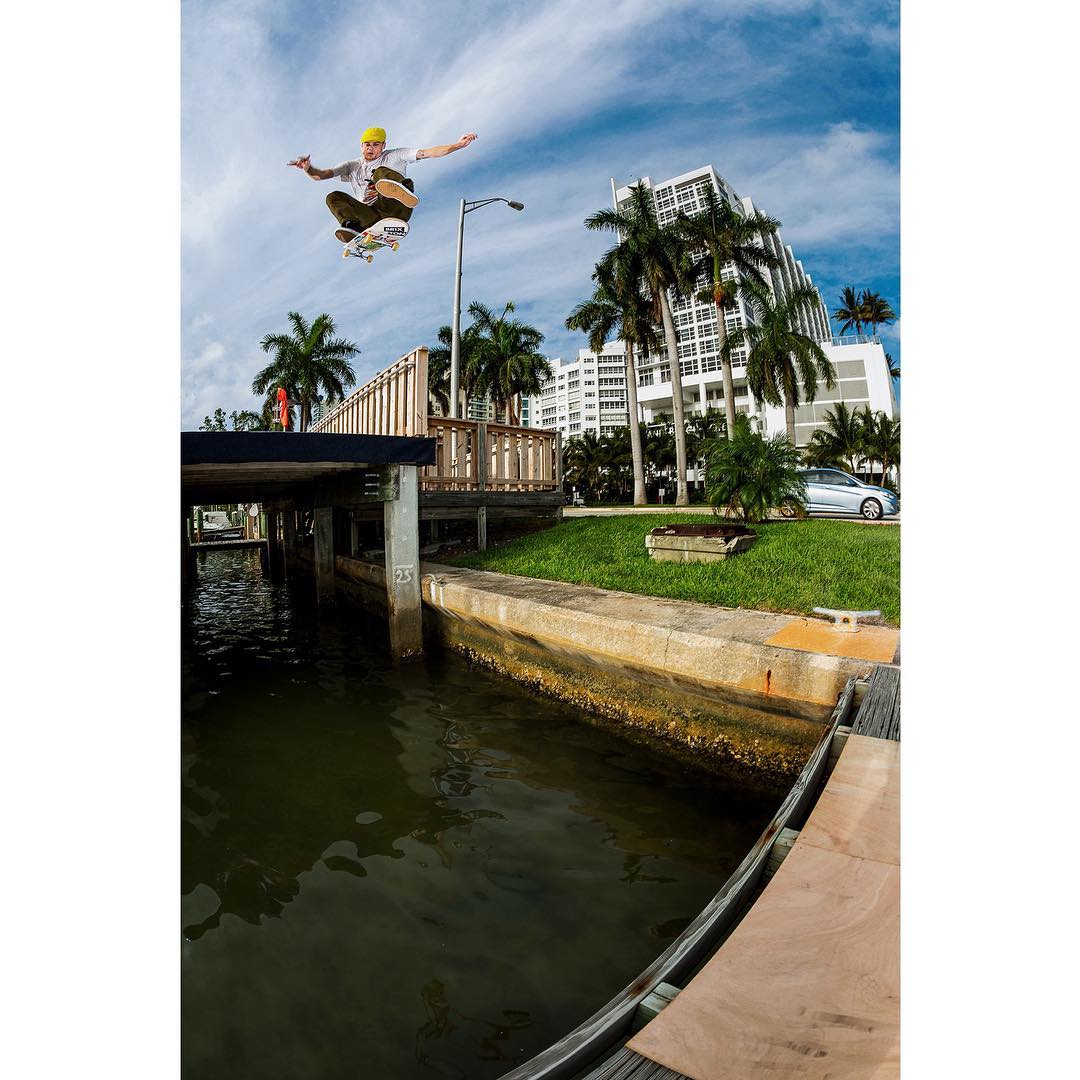 Sick, where do you live now?
Now I live in Brooklyn, New York.
How'd you get your first board?
My first board was a yellow plastic Valterra skateboard with a dinosaur with a Mohawk printed on the top.
The board had no grip, plastic trucks and bearings. I pretty much just rode that down my slanted driveway over and over.
Then a few years later I got a "real" board that I started learning Ollies and other tricks on.
A real board, like Deluxe?
The brand was called Voice if I remember right…it was a Peter Smolik board.
Sounds good. How old were you?
I was 11 or 12. I wish I knew exactly when I started. It could have been 10 but yeah, that's when I got hooked. Then I started seeing skate videos. I wanted to learn it all. I was obsessed. I messed around with other things like BMX, soccer, building tree forts and all sorts of little kid things. But I would always go back to skateboarding.
Throughout all those years I was skating with my friend Eric who I had met in 2nd grade. We skated every day together, any chance we got, those were the best days.
We are still friends to this day and still skate together, that makes me happy.
Where did you and Eric skate?
So both of our parents would take us all over, to skateparks, random shopping plazas, but mostly we'd actually just skate in our driveways.
I had a dirt road but a big driveway in front of my house, it was always fun, we would set up the craziest shit. I would grab what I could find in the garage to build something remotely skateable, we had to be creative.
Good. When'd you start to make art?
I've loved drawing and art for as long as I can remember. I just like making things. I think I just always need to be working on something. I can't have idle hands!
Still to this day I have always gotta have something in the works, whether it's a skate part, some sort of drawing, or a paper mâche sculpture.
How long have you been making sculptures?
I've been doing that for a couple years now, it's good for rainy days, or during an injury, making art is very time consuming but it's sort of therapeutic for me too.
What kinds of work did you make as a kid?
When I was younger, I drew weird creatures, monsters but I would also draw my favourite skaters. I would then use the drawings to make flipbooks of stick figures skating like 20 stairs and shit.
Best thing about art for you?
I'm not really sure. I guess just seeing what I can make from a thought into something tangible. I'm a visual person. As a kid I would skim through books to see the illustrations.
I mean, I would read them but I couldn't wait to see the artwork. The art would help paint a picture to the story, so I'd buy Goosebumps books for the cover art.
Do you mainly use computers or hand draw your work?
Recently I've been drawing a lot on my iPad and also on my iPad Pro and an Apple pencil. I also use an app called Sketches, it has every medium you could want on it and I draw on there pretty often.
I save the drawings that I'm proud of but having it physically in front of you on paper is more rewarding.
Who was your first sponsor?
It was this skate shop called Shred Shed, then Lib Tech and Savier shoes. I was 15.
When did you realise you could skate as a career?
Maybe around 18 or 19. Before that I wouldn't think too far about going into skateboarding or at least no further than filming tricks and parts.
But yeah after I started getting small checks monthly from Krooked, I realised that this could be something. That's probably around the time my parents realised that I could make a career out of skateboarding too.
How did you get on Krooked?
I was on Rasa Libre for a few years when it was through
DLXSF
. I loved that brand, such a sick team and art direction, sadly that ended and then they asked me what I wanted to do from there. Luckily they wanted to keep me around and I thought Krooked fit me the most.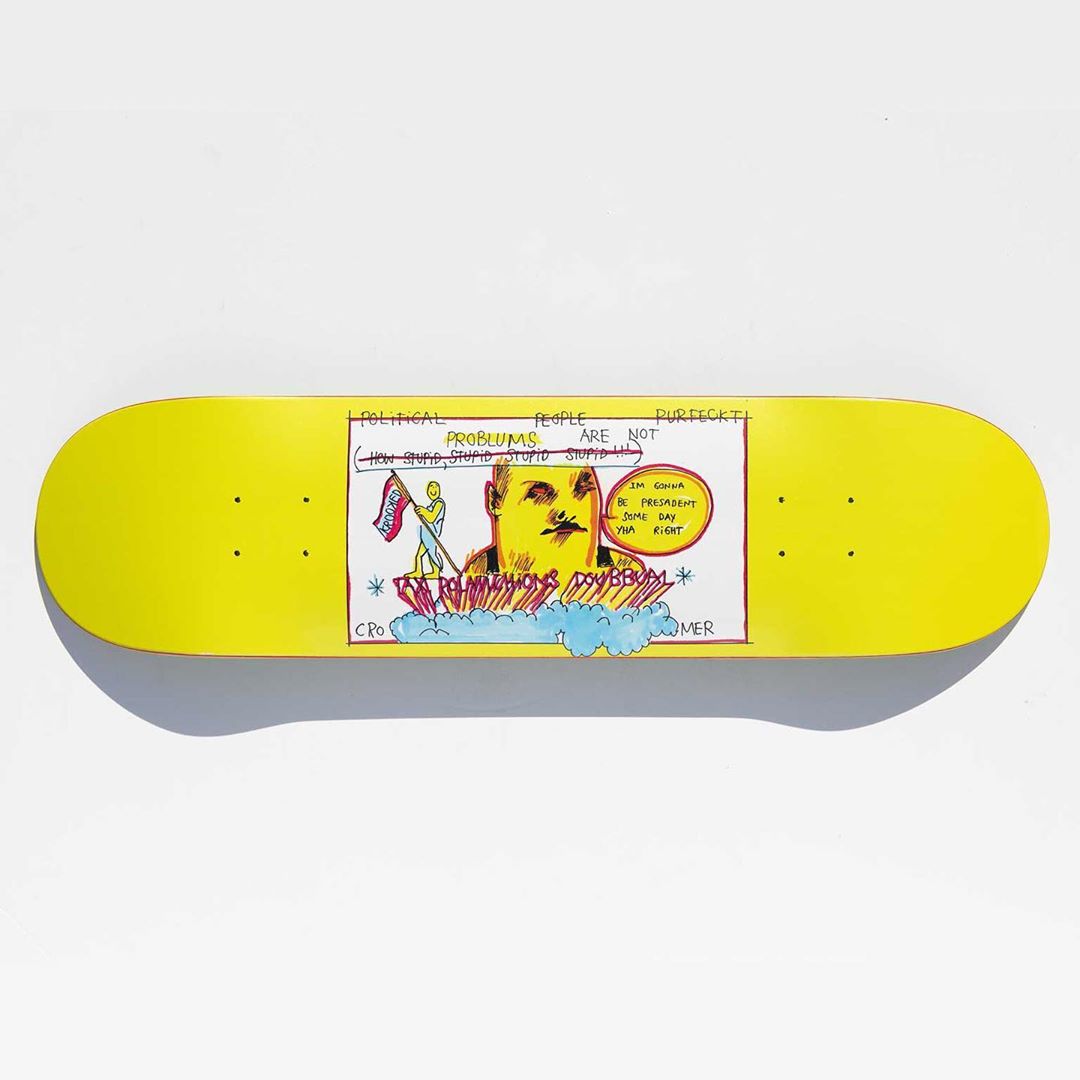 Imagine if I chose Anti-Hero back then! I wonder how that would have played out!
But yeah, I couldn't be happier that I chose Krooked and that I got to grow with this brand. I feel honoured to be on the team.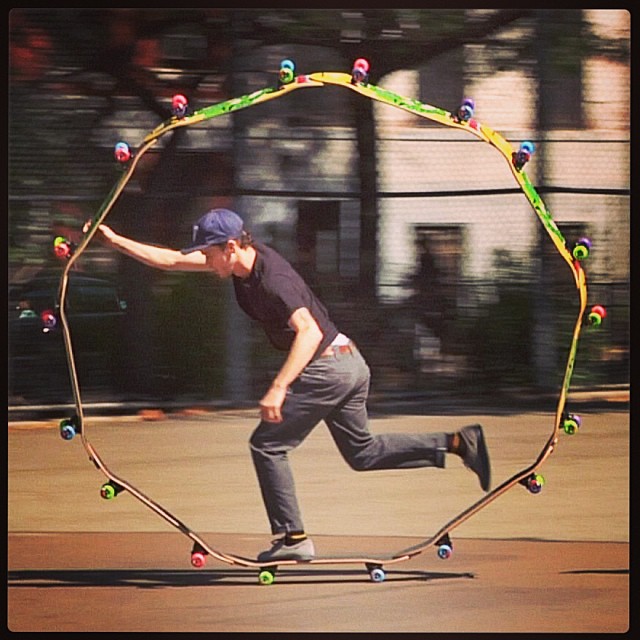 Best thing about being on Krooked?
Everything about Krooked is what I enjoy about skating. The team is so special, every board is guaranteed to have an amazing graphic. I love that its always been its own thing, it just has its own feeling. It's fun, not too serious, also the fact that we have guest boards is so cool.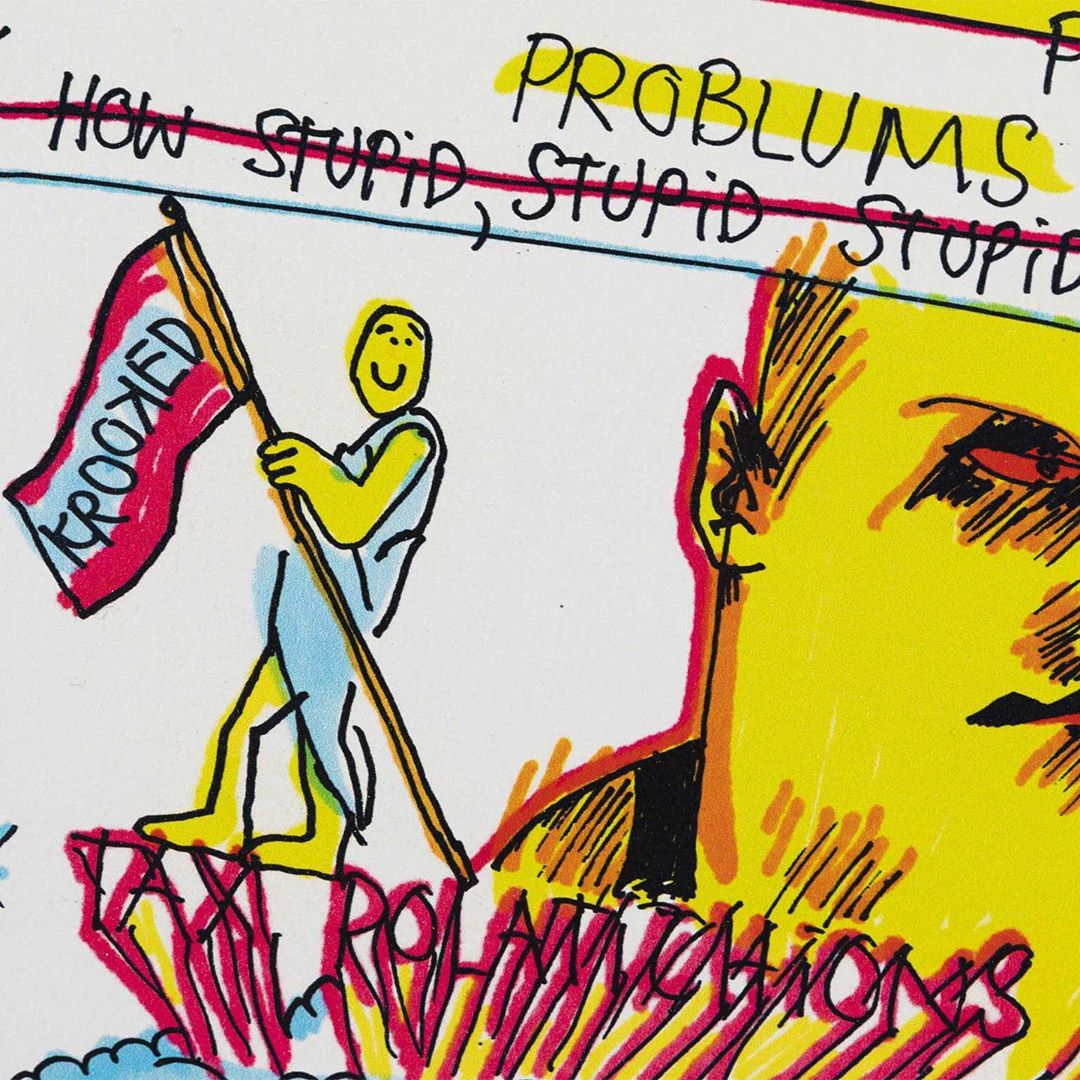 The list of guest boards is insane. I have a few good boards saved for the future.
Do you ever go skating with Mark?
Always so fun. Every time I go skate with The Gonz it's a really good time. He just has so much energy, you can tell that he absolutely loves skateboarding most days I skate with him. He'll always have a specific trick he wants to learn or do and usually knows exactly what spot he wants to try it at. I hope that when I'm 52 that I have that much drive in me to do the same, it's so inspiring.
Favourite skating with Gonz story?
There's too many, everyday that you skate with him multiple crazy things happen that day, he's magnetic to crazy situations or something, he may be a magician.
Maybe the day when he skated into Tompkins on the Circle board, that he made up of my graphic and then told me I was Pro for Krooked, that was pretty amazing.
There's too many things he's done to pinpoint one.
Favourite Gonz trick?
Honestly him just pushing, he just looks cool. The way his arms move. he's so fluent and natural looking. I really like his 360 flips.
How did you get get on HUF?
So, I was skating library one day in SF, it was 2009 and we were filming for the KROOK3D video.
Then,
Keith Hufnagel
texted me saying to meet him at his office, just down the street and that he wanted to talk to me about something.
So I skated over and he had a few samples of shoes out and a bunch of drawings pinned up on a board and Keith said he was going to start making footwear.
At that time HUF was just a skate shop and only had some apparel and he wanted to know if I was interested.
I was getting flowed shoes from another brand at the time and didn't see that going anywhere. I was like "Hell Yeah, let's do it!" and that was that.
What's it like skating with Keith?
Keith is great. He's a funny guy. I haven't skated with him in years but when we did skate it was awesome.
He has amazing style. Keith is such a staple. so much power and pop. I couldn't ask for a better boss.
Favourite trick by Keith?
Every trick he has done he has done so well. So proper and popped all crazy, so much speed. A Keith lipslide is a good one. Frontside or Backside. Skrrrrt!
Best thing about being on HUF?
I really like the team. I like how it organically grew to what it is. Our trips are fun and memorable. we've gone to so many crazy places. I'm very grateful for that.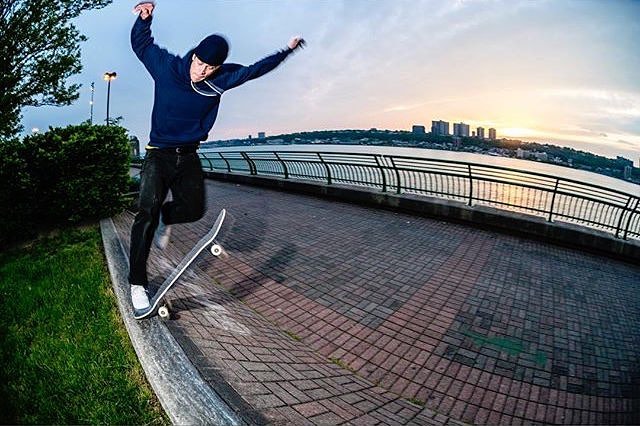 You've got great flip tricks on flat, what's the key to getting your flatground tricks down?
Well thank you. I think the key to doing any trick well is to just try them over and over and over.
Mess with your foot placement. It helps to watch videos of someone that does that trick really good.
I watched a lot of
Dylan Rieder
 Impossibles to help me figure that trick out.
What video part are you most proud of producing and why?
Probably my LSD Krooked part. I worked pretty hard on that one.
For that part I wanted to do all the tricks I could do once, and on the exact spot that I think it would look best, I wanted to flip my board as much as I could.
For example I wanted one Switch Flip in my part, one BS 360, one Heelflip, one Back Heel and for each trick I would rack my brain trying to think of the spot that would accommodate that trick best and what spot it would feel the coolest to do it on.
What other stuff did you do for it?
Thinking like I could nollie FS heel some grass gap at a school or I could do it on this sick tile double set in Koreatown that
Anthony Pappalardo
and
Mike Carroll
skated.
I did a lot at night, so certain clips, were filmed at night. A lot of thought went into that part. I wanted it to be a good mix. I was living in LA at the time so I had spots to choose from, but I didn't want to skate blown-out spots.
I also was very particular in the songs I used and I'm happy with the music we got, I'm proud of that one.
Favourite skate video and why?
Photosynthesis. There's too many reasons why. The orange VHS tape!!!
Favourite piece of art?
I have some really special art made by Mark.
It's this super colorful drawing he did of Mickey Mouse boardsliding a double kink rail with NYC in the background. I love it.
Favourite skate spot right now?
Currently, it's this slappy-manny pad that has some flatground spot close by me. I'm not sure what people call it.
The spot has smooth asphalt, rounded metal curbs, and a long slightly downhill manny pad.
It's on the side of a giant graveyard. you can see all of Manhattan behind it.
It's quiet, its probably about an 8 minute bike ride from me. Fun stuff.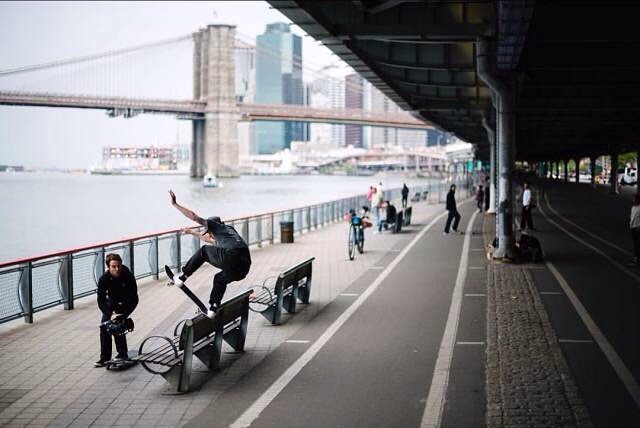 Favourite spot to skate in the world?
Honestly, it could be any spot, if I'm with my good friends it doesn't matter.
We could be skating over a sandbag, it doesn't matter. Although I do appreciate some really nice flatground.
Same here. Any last words Brad?
I'm not really an epic last words kind of guy.
Just do you and do what's fun.
Do what feels good and be true to yourself.
There is an endless amount of diversity in skating right now and that's really cool to see.