Kevin Romar is a skater and DJ who has done some of the gnarliest tricks with the smoothest style. He's got a twisted trick selection.
Kevin also regularly makes quick power moves on his turntables for thousands of nightgoers for his job as rap star Hopsin's official DJ.
We are stoked Kevin is now a No Comply Network Member.
To celebrate we chatted about his skating and DJing career, his Nollie Backside 360 attempts down Wallenberg, getting hazed by Jake Phelps, Nollie Heeling Wilshire 15, losing his iconic afro, turning pro, Muska, Penny, Supra, hanging with Hopsin, his favourite music, videos and more.

Where did you grow up and where do you live now?
I grew up in Long Beach and Cypress.
I live in Westminster, Orange County now though.
When did you get a board and who was in your skate crew?
At age eleven, I learned how to skate and then I got my first skateboard.
It was a cheap plastic board so I couldn't do much until I upgraded it from a used board that I got from a real skateshop.
My whole crew was formed during that time with my friends:
Nick Garcia, Don Luong, Alec Jamir, Julian Davidson and the Shred Dogz Crew.
Where did you skate?
In my mom's garage mostly!
But then eventually in front of my elementary school, until I got picked up from school. I got my first sponsor when I was thirteen years of age.
After two years? When did you realise you could maybe go pro?
I realised that about the time that I was filming for The Berry Video – Atmosphere and the Digital Smoke and Mirror Video Days.
Sick, what was your first cover?
It was for Skateboarder Mag. I did a Nollie Heel off this gap called Vapa Gap?
Where's that spot?
That spot is in Downtown LA.
What's the story behind the photo of you flying down Hollywood High 16?
Yeah man haha. I've been there a countless amount of times, such a legendary spot.
I think I do that jump/flying thing every time I skate there too haha.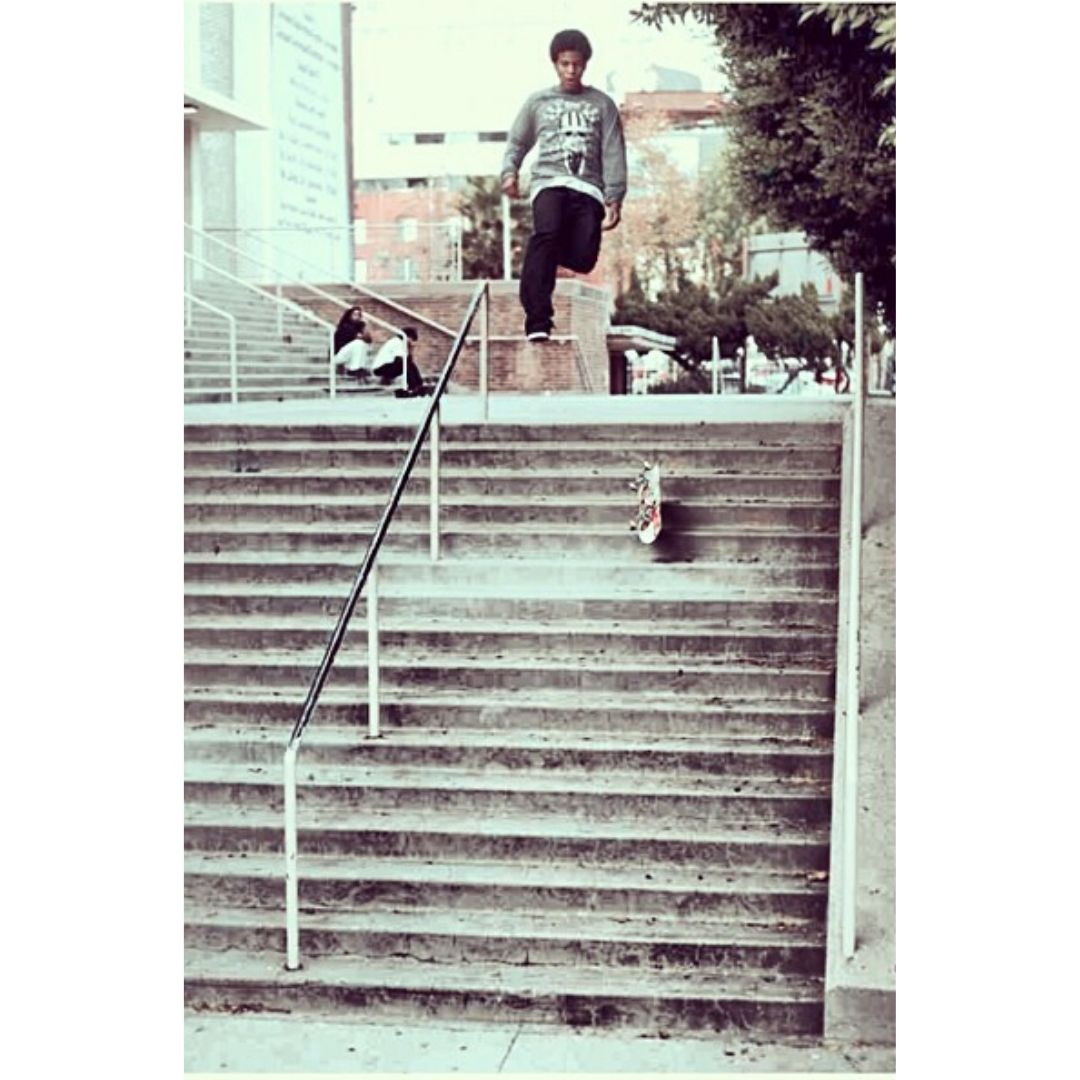 Amazing. What's your favourite trick that you've done down it?
I think Nollie Heeling the 12 when I was a little kid was my favorite, just because I got a bunch of cool phone calls from sponsors at that time from doing that.
Then Nollie Back 180 down the 16 is a close 2nd.
You've toured the world with Blind and Supra. What was your favourite tour and why?
Every Single Supra Tour was my favourite.
Just because everyone was so fun to be around at that time and there was so much hijinx each and every trip that you didn't want to miss out on any of the trips!
My favourite Blind Trip was our Full FUJI Japan tour.
That was my first real introduction to Yuto Horigome, since he was on Blind at the time. I was completely blown away the moment he started skating those intense skateparks out there.
What's it like skating with Penny, Muska and Lizard on the streets?
Skating with Tom, Chad and Lizard?
It's probably the most accomplishing feeling skating with them.
They were the guys I was watching to get hyped to go skate when I was a little kid, then all of a sudden you're touring the world with these legends.
They all became family now. The energy of the super stars brings out some intense skating just from being around them.
That's good to hear
I actually have a song I recorded with Tom Penny when he would come into mine and Furby's room every night and freestyle to my beats!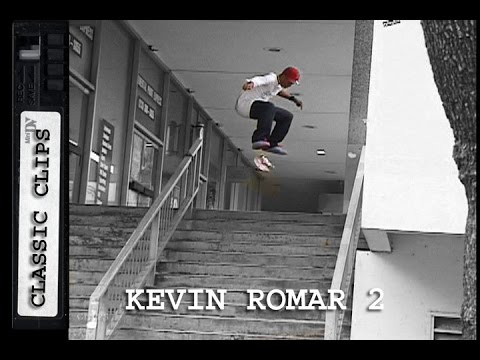 No way. How did your Nollie Heel down Wilshere 15 go down?
I was filming for The Berry Video – Atmosphere, and needed an ender to solidify my part pretty much.
I was really going for it, I was trying to get on the Ice Cream team and trying to get on a board company at the time and wanted to go full steam into that part.
I went back 6 times to get it! I got kicked out about three of those times.
Two of those times I just got really burnt out from trying it for hours and couldn't get it.
The time I landed it I drove with my filmer John Berry (RIP) at 6am.
I gave the security guard $50 bucks for an hour to skate it, and it all ended up working out.
I ended up doing it twice that day for 2 different angles since we only had one VX.
Skating Wallenberg you tried a Nollie Backside 360, tells us about that day?
That day was nuts! There were so many pros at that contest that I looked up to!
No one knew who I really was at that contest, and I was trying to make a name for myself there.
I just remember that roll in being the most sketchiest thing ever.
It shot you out like a hot wheel car on the race track. That was probably the scariest thing about the contest was that damn roll in.
I was trying to varial flip it first after I was able to squeeze in there to get a turn.
Once you dropped in on the roll in you had no choice but to jump down the Wallenberg big four in front of thousands of people!
Jake Phelps was announcing the contest and just being a dickhead to me.
Why?
I was wearing a Dodger Hat, and in SF they hate the Dodgers so he was super over me before the contest even started.
As If
I was a little kid, I didn't know better, I was just tryna rep my county!
So as I was trying to Varial Flip down the four Phelps got in my way almost every time.
Every time I went he called me out each and every time I jumped down it, he kept saying some intense things about me.
How did you stay focused with that going on?
I literally could have got jacked up if he actually hit me with his body while I was trying the trick mid air.
I was trying to be the bigger man at the time so i wasn't letting it get to me.
Why'd you try the Nollie Back 360?
I decided varial flipping wasn't working, so I gave a nollie heel a shot for two more tries and that still wasn't working.
Then I was thinking in my head this is your shot to go BIG…
This is what you came here for, so I started trying Nollie Backside 360 down it.
Sick
That got the crowd's reaction and Phelps' reaction and he started to back off me a bit.
Thanks to Bill Weiss for helping me out with him that day as well.
A few tries in on trying the Nollie Backside 360 down it.
I believe I stuck it 3rd try and everyone was going insane!
How long did you try it for?
I tried it for about 30 minutes.
I landed on just about everyone I could down it, even broke my board on a stick, and Phelps threw my whole setup in the crowd for no damn reason!
No way
I borrowed Andrew Langi's board and stuck on it twice before the event had to end.
It was one of the gnarliest man.
I got a huge amount of props that day.
It's as almost like the tries were better than the make.
Me and Phelps were cool after that, although he received a lot of hate after that contest, it was pretty wild.
But we became cool after that though. RIP Jake Phelps!
Wow, so what inspired you to DJ?
Probably making little Cassette mixtapes off the radio when I was a kid, and making mixes for people at school and burning them music on CD's.
What was your first gig?
It was at this little club in Fullerton called Incahoots
Sick, what do you use to play your sets?
I don't collect records just because I'm very Digital.
I like my crates to be on my computer.
At home I use a Pioneer XDJ-RX, and at clubs I use Pioneer CDJ-2000's.
You work as a DJ for Hopsin, how did that opportunity come along?
I met Hopsin at Black Bar in Hollywood that I was a resident DJ at.
I met him at the outside patio of the bar. My friend 7mak introduced us.
I happened to be there on a random day not knowing what was going on that night, and pretty much me and Hopsin just vibed out that night.
The next morning he called me and asked me if i wanted to be his DJ because his DJ had just quit!
What's it like hanging with Hopsin?
It's the most fun. He's an interesting person.
I like to pick his brain with things because he's accomplished so much in his life!
He has a super big personality and we just vibe off each other.
He's a really good skateboarder too.
Do you have any advice to DJs on how to keep their sets fresh?
Taking people on a journey is the key!
Cool, what are you working on at the moment?
I have a few clips stacked up that I'm sitting on as far as skateboarding goes.
Music I'm building and trying to produce a lot more music nowadays.
Do you have a residency?
Not at the moment with this Covid-19 craziness going on.
Right now is the time I'm building to be able to do my own shows in the near future.
Good idea, what music do you play?
I play everything, but I have always loved bass music and House music so I'm trying to gravitate to more of those as of late.
Do you make your own music?
I produce Bass Music and Hip Hop at the moment.
What's your brand Romar?
I also have my own line of DJ merchandise called ROMAR
It's for when I DJ shows or just to make some clothing to sell.
I made and drew the logo myself and use that as my logo for everything.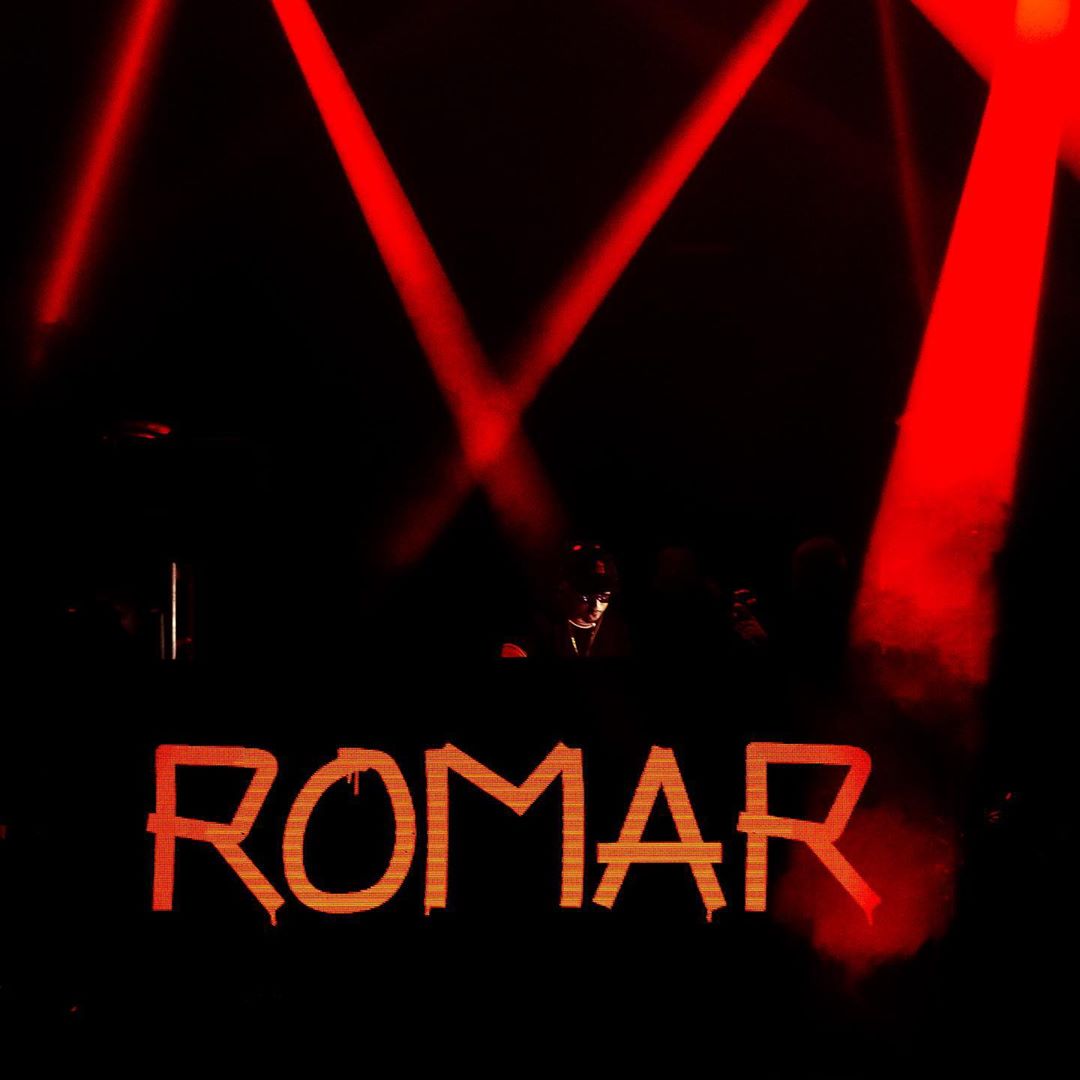 Sick. Who makes the best music?
Nas, Big L, Snoop Dogg, Biggie, 2pac, Nipsey Hussle, Lil Wayne, G-Funk Era, Ricky Remedy, Diplo, Green Velvet, Claude Vonstroke, Calvin Harris, Disclosure.
Do you have any favourite albums or songs you always go back to?
I always go back to the classics, like Nas – Ilmatic, 2pac – All Eyez on Me, Nipsey Hussle, anything that speaks and tells a message pretty much.
You skate Nollie often, what inspires you to go off the nose?
My feet like the nose more I guess!
Poppin off the nose makes me feel more comfortable for certain tricks.
I got inspired by Evan Hernandez the way he used to pop into his nollie tricks at the skatepark I used to see him at called El Dorado Skatepark in Long Beach.
What's a day to day like for you now?
I pretty much start the day by finding some new fresh music to download, watch some skateboarding, then start DJing and then start working on a track to produce!
I try to skate at least a couple times a week and keep the muscle memory active.
Your afro was iconic, what motivated you to get twisted?
Thanks man, a part of me wants to grow it back out, and a part of me doesn't!
I have Dreadlocks at the moment because handling an Afro takes a LOT of maintenance!
You have to be on top of your game 24/7.
After 7 or 8 solid years of having a fro, I didn't want to have to deal with blow drying and picking my hair out constantly every day.
There's something about afro's that makes it so mystical. It's crazy the amount of recognition I got just from having an Afro!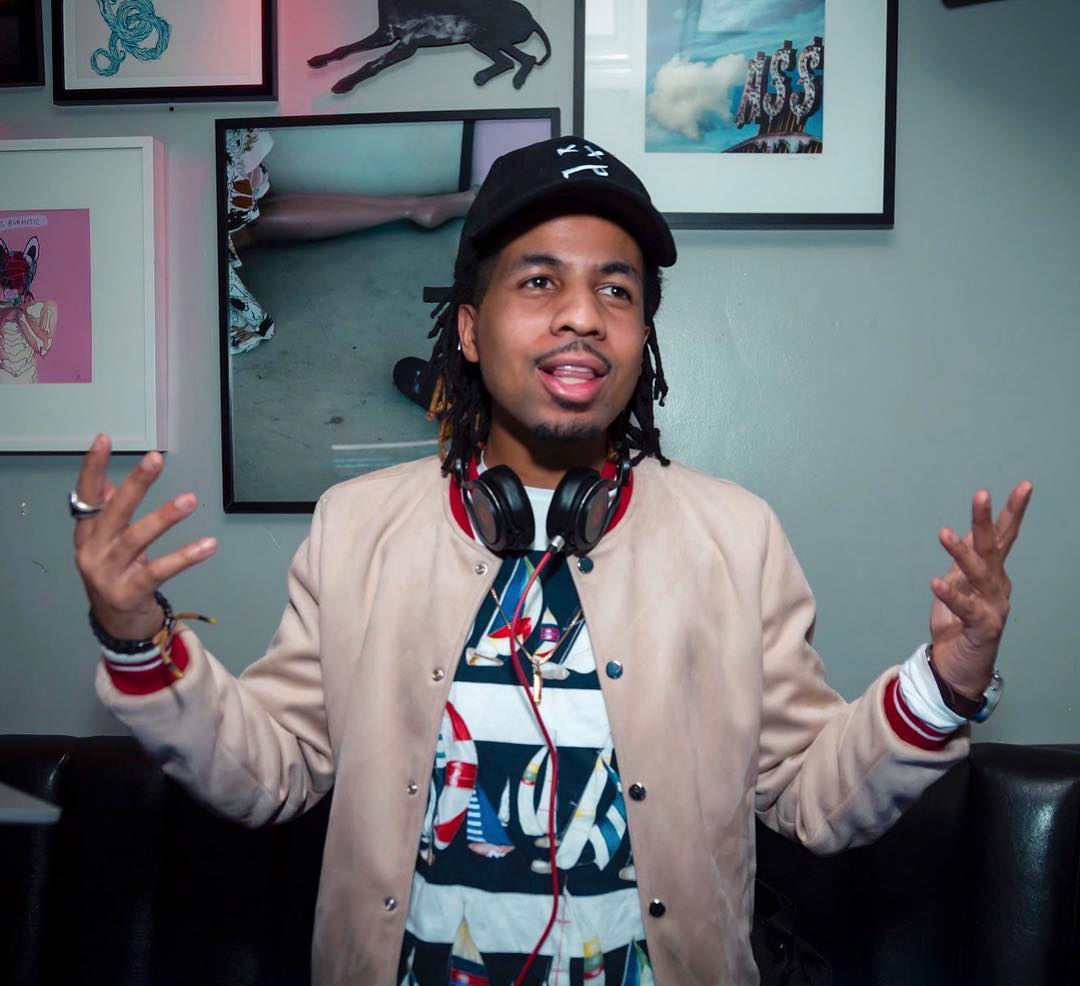 Favourite skate photographer?
Shad Lambert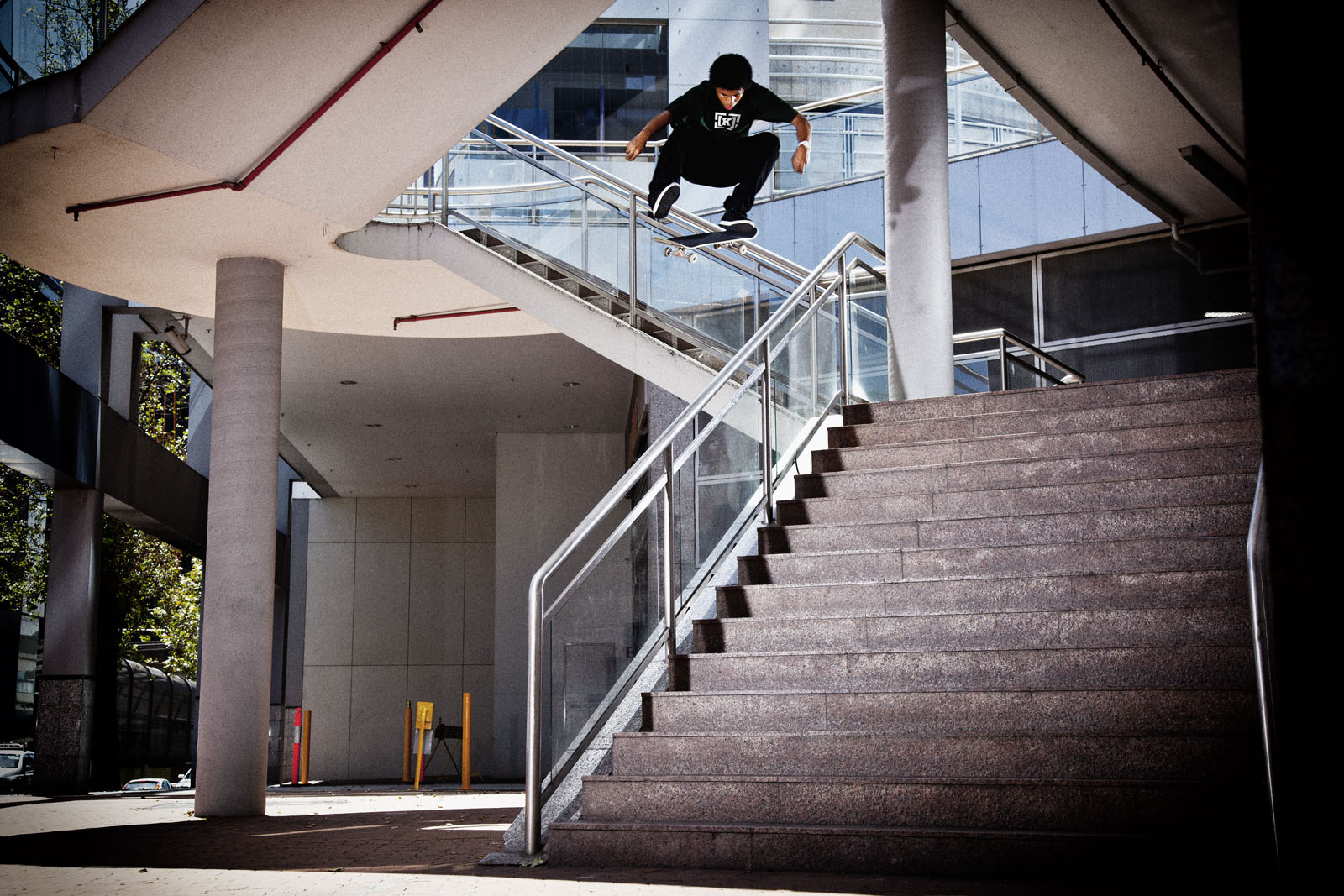 Favourite photo of all-time?
This kickflip I did over this 14 stair rail in Australia that Shad Lambert shot.
What's your favourite skate video ever?
Transworld – In Bloom, it's the video that captured my eyes into the steez land. Chris Cole, P-Rod, Mikey Taylor, Evan Hernandez, Trainwreck.
They all had their own individual steez and I could watch that video forever and never get tired of it.
Do you have a favourite skater and why?
Evan Hernandez
Paul Rodriguez
Shane O'Neill
They have this thing when they land it just look so soft and soothing, I've always admired that.
Favourite skate video of all time?
Transworld – In Bloom and Girl – Yeah Right!
Favourite artist?
I like Alec Monopoly
Favourite skate spot right now?
Anywhere with good flatground
Favourite spot in the world?
Nothing beats skating in California
Fair enough. What do you think about The No Comply Network?
I think it's rad that you guys are sharing and promoting people who are creative to the people in the skateboarding community! I'm glad to be a member.
Hyped. Last words Kevin?
Stay motivated and inspired everyone, and always follow your dreams!