R.B. Umali is the filmmaker behind one of street skateboarding's most treasured visual gems, the Zoo York Mixtape video.
He captured the raw intensity of East Coast skating in a finely polished way that inspires skating, fashion and music to this day.
R.B. didn't make it by chance. He stayed on the grind and never let anything curb his enthusiasm for skating and opportunities to capture iconic footage.
His videos document the passion he puts into his productions but in conversation you discover how his partnerships with friends and creative skaters was pivotal to helping him to carve a vision of the tricks, tales and street culture that surrounded him as a means to deliver it to our screens.
He now works as a commercial film director but his heartfelt appreciation for creative collaboration and supreme eye for skateboarding and significant moments has never changed. He still shoots skaters, makes skate edits and finds time to stay rolling on his board.
We are stoked to be able to say R.B. Umali is now a No Comply Network member.
So we hit up R.B. to find out how he got into skating and got on-board with filmmaking, shooting for 411, moving to New York and filming for Zoo York, his thoughts on making Mixtape, Robbie Gangemi, Eli Gesner, 90s hip hop, untold Harold Hunter stories, stacking clips with Zered Bassett, Keith Hufnagel, his advice to skate filmers and his favourite skate videos, photos, skaters and spots of all-time.
Read his interview to find it all out for yourself.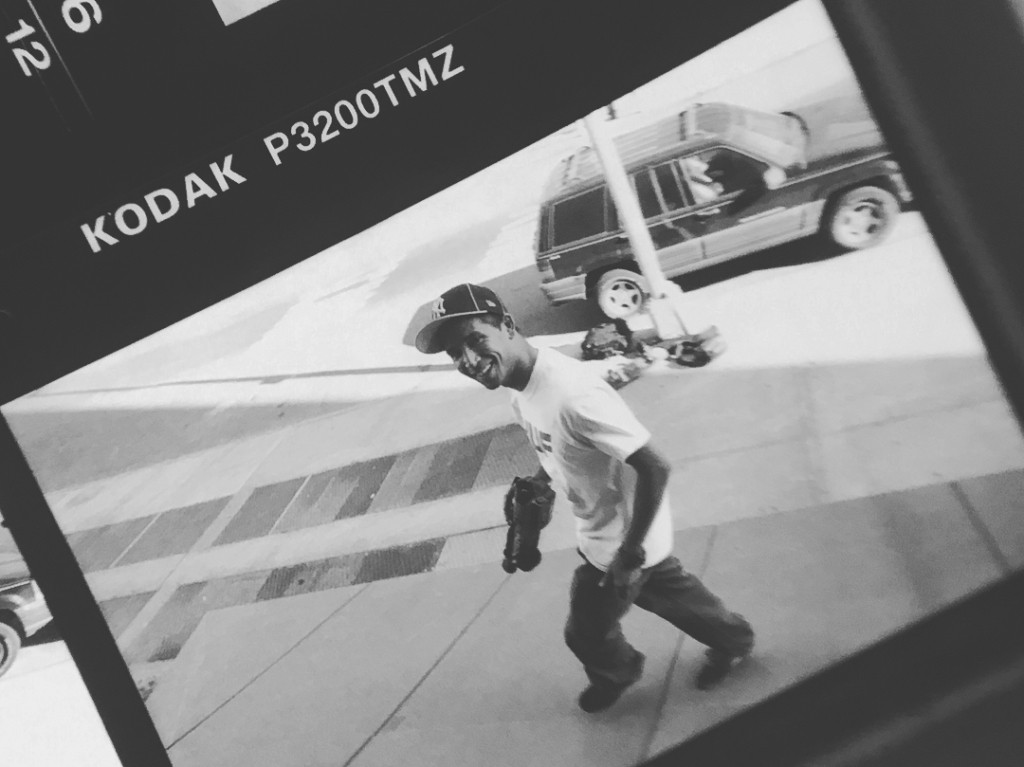 What's your full name?
Roman Brian Umali the 3rd
Where did you grow up?
I was born in Chicago and grew up in Houston,Texas and on Houston Street in New York City.
How did you get into skateboarding?
I first got into skateboarding after watching Back To The Future and The Search for Animal Chin.
Sick. What was your first board?
My first skateboard was a Nash Executioner but that was quickly replaced by a used Vision Gator with Indys and Krypto's I bought at a garage sale for $5.
Dope.Who was in your first skate crew?
My first skate crew was the "Houston Heads. It was myself, Anthony Correa, Phillip Vaughn, Kenny Kulhanek, Presley Alford, Mike Holloway, Adam Valadez, Fred Munoz, Wayne Patrick, Jeff Taylor, Jon McGrath, Forrest Kirby, all the "Houston Dirts" and Bryan "The Fresha Pressha" Angelle.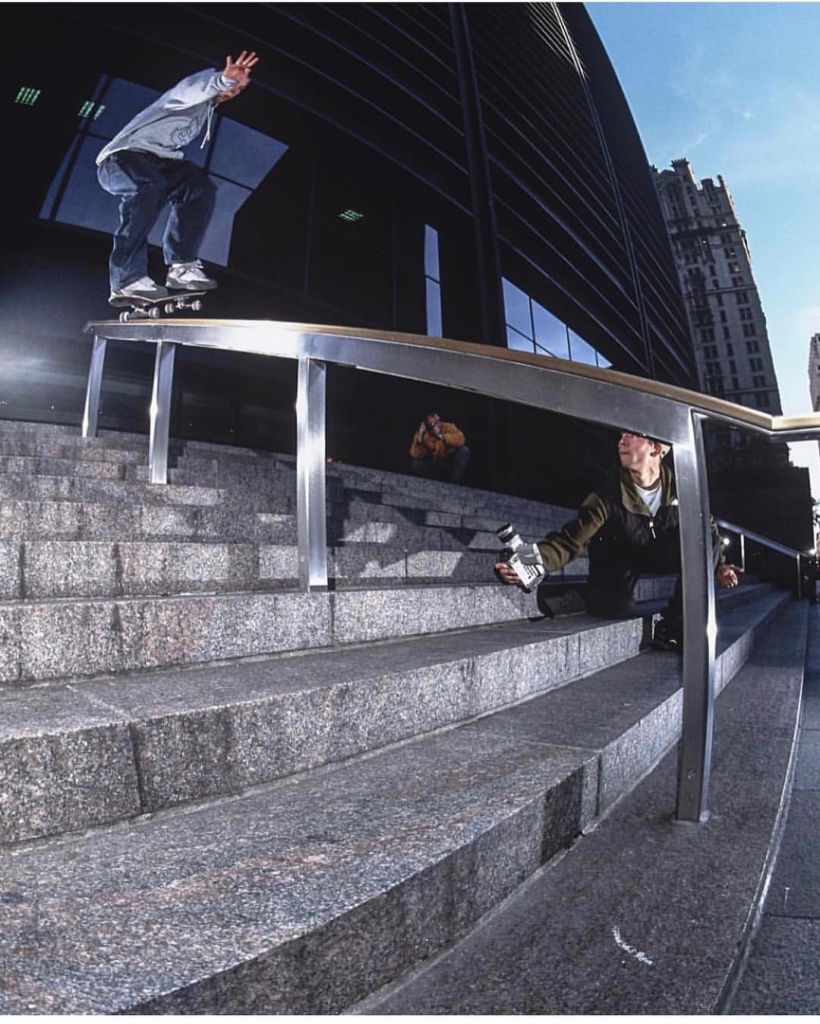 Cool. Where did you skate when you started?
We would go skate at the original Skatepark of Houston on Orange Grove and Downtown Houston, Texas.
What inspired you to get a camera?
Old skate videos I would rent from the video store. Especially Sick Boys, Hokus Pokus and Shackle Me Not.
What was the first skate video that you made?
The first skate video I produced was called Heads – A World Premiere. It featured all the "Houston Heads" I mentioned and it had parts with Lennie Kirk and Ricky Oyola. I put it all together with a Sony TR81 Hi8 Camera, two VHS VCR's and a Sony Walkman!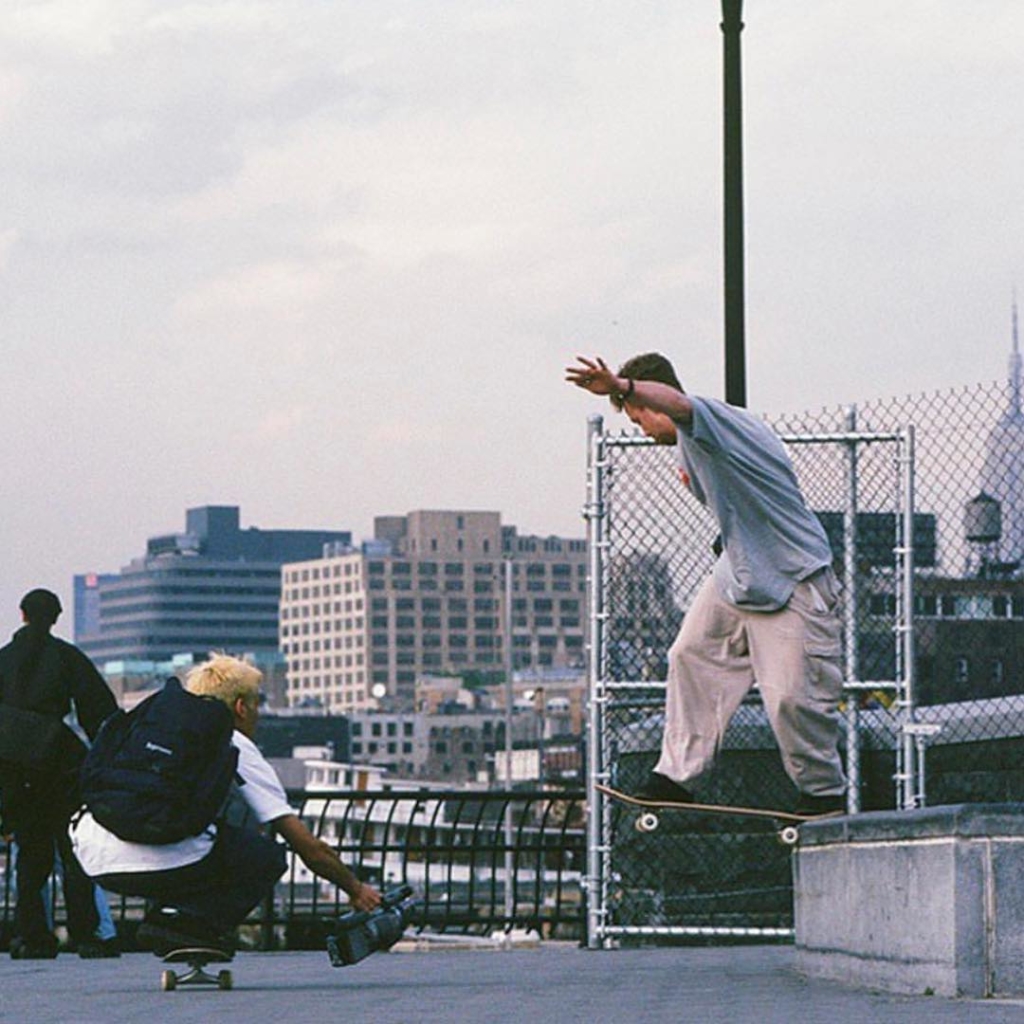 What camera do you film on now?
Nowadays I film with a Sony A7s III, Panasonic GH5, GoPro Hero 9's, GoPro Max 360's, an iPhone 12 Pro Max and a Sony VX1000.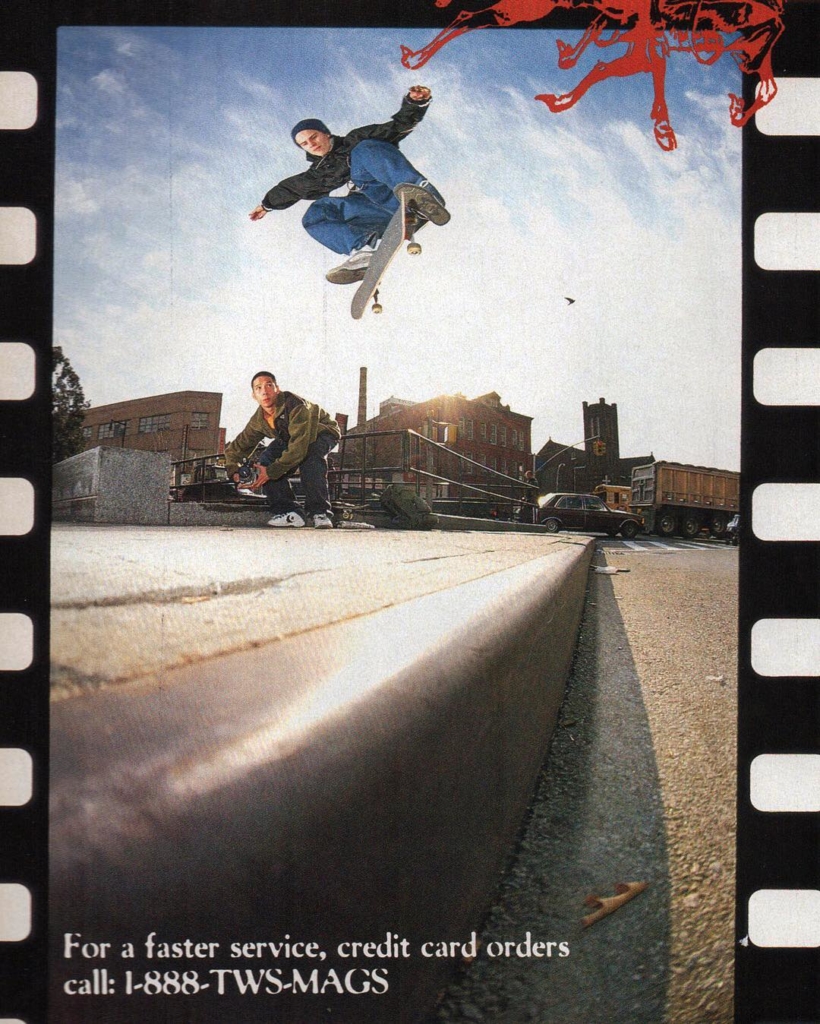 When did you realise you could film as a job?
I realised that filming could be a job in my senior year in High School when I was making the Heads – A World Premiere video. That is when I started filming my first assignments for 411 Video Magazine.
How did you get a job filming for 411?
My good friend Jeff Taylor who was pro for Powell at the time filmed the Brewster Park Spot Check article that I had a trick in. After that Jeff asked Chris Ortiz from 411 if I could shoot a Metrospective article on the scene we had in Houston TX at the time. This was all happening around 1994.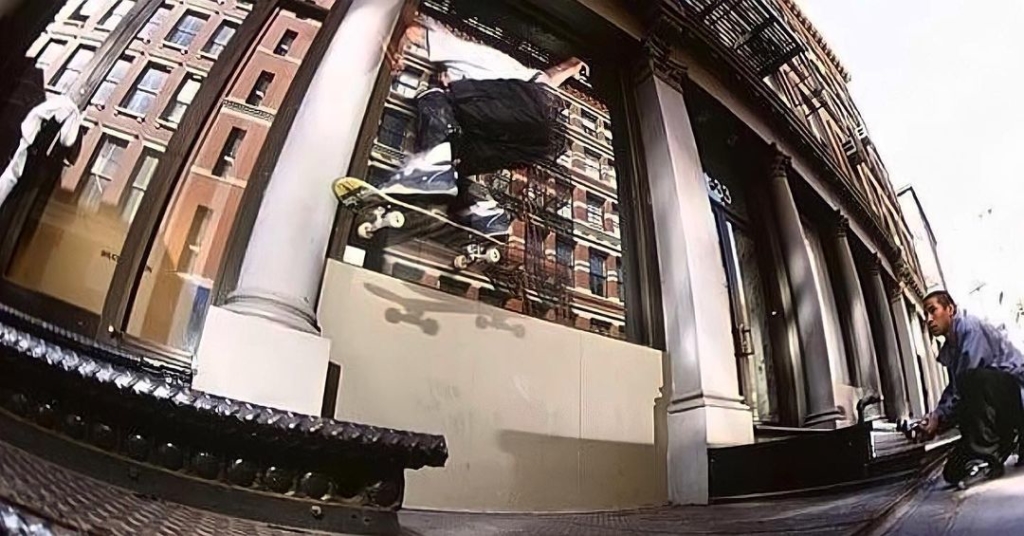 New York was different in the 90s. What was the best thing about the city in that era to you?
The best thing about that time was the lack of COVID 19, skate stoppers, security guards and endless new terrain to be discovered with an amazing crew of relatively unknown skaters who had amazing style and skill.
Also, the music of that era on the streets was an incredible thing to witness. Music and skateboarding have always gone hand in hand in my world and to be in NYC in that era was the greatest place in the world for me.
But what was the worst thing about the 90s that you are glad has changed?
There was a lot more crime and open drug use in the streets at that time.
There were certain blocks that you would not walk down alone at night. Now those same blocks are filled with expensive condos and the weed spot bodegas are now gourmet grocery stores!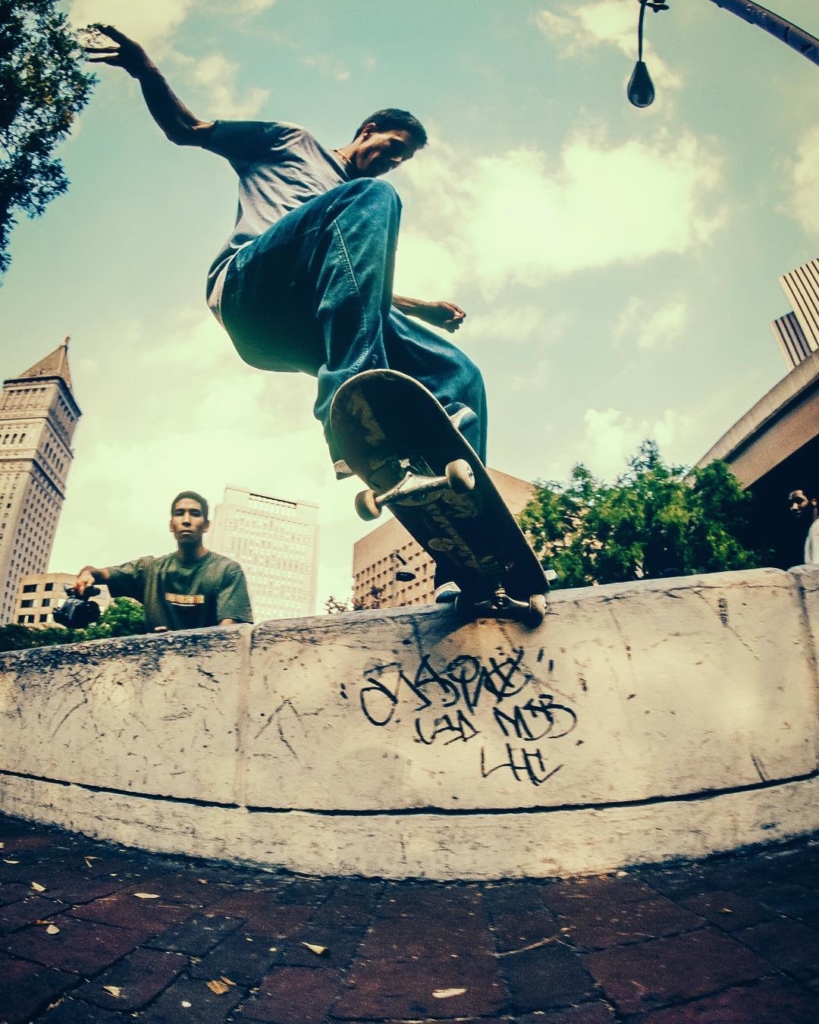 How did you get the Zoo York filmer job?
When I moved to New York to study at NYU in the mid-90s I was already filming videos for 411vm and Transworld Skateboarding. I also contributed footage to Dan Wolfe's Underachievers video, the 2nd FTC video and the World Industries' 20 Shot Sequence video which helped to establish me as a reliable filmer.
I met all the Zoo guys naturally on the streets and just started filming them. Eventually I talked to the owners at Zoo and we made the magic happen. I kept it going after I graduated from NYU and turned it into a full-time job for another 20 years after that!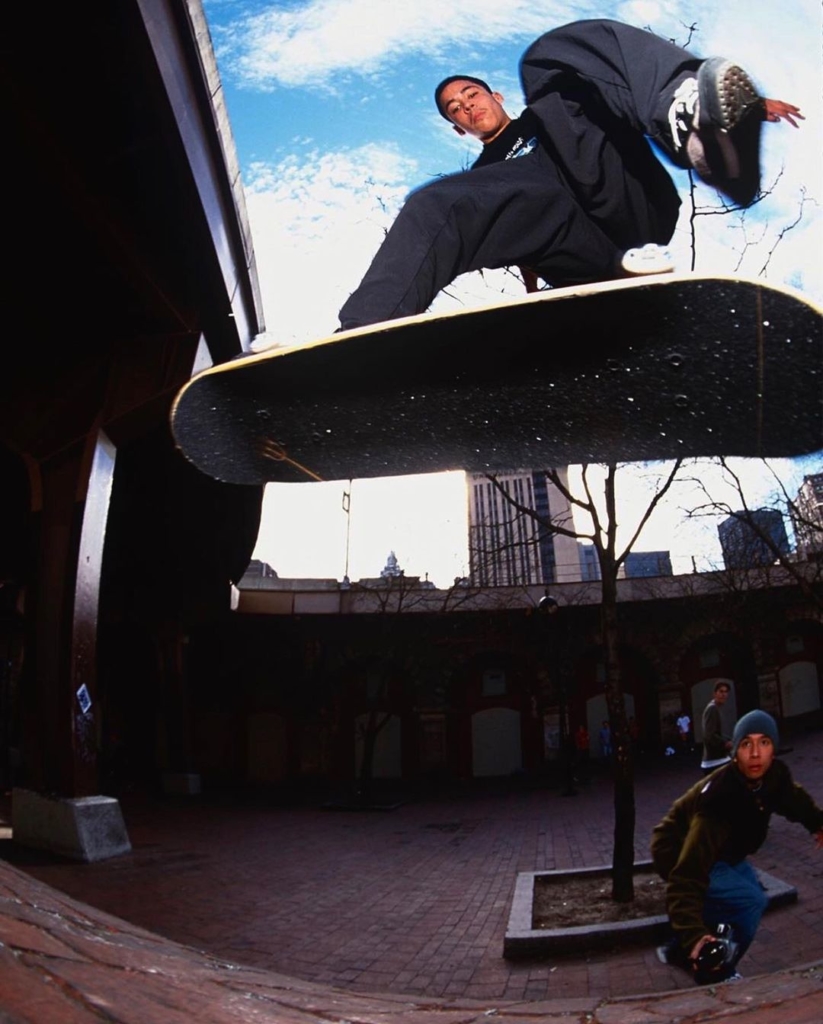 The Mixtape DJ intro is iconic. How did you come up with that and who was the DJ?
That DJ was the legendary Roc Raida of the X-Ecutioners. All of those guys were the best turntablists at the time and won many DJ battles to prove it. The visual concept was from Zoo York Mastermind Eli Gesner who has a long history with iconic NYC hip hop pioneers as he was the main party promoter at the Club NASA from back in the day which was the only hip hop party in NYC during the early 90's.
Mixtape's hip hop soundtrack is still on rotation. But what's your favourite track?
My favourite track from the Mixtape video is Busta Rhymes verses that appear in both Peter Bici and Robbie Gangemi's sections.
If you get a chance peep the original footage on my instagram it is mind-blowing. Busta spits this reggae style verse and the rapper Kurious Jorge is in the background just losing his shit. It is bananas. I feel like Ol' Dirty Bastard definitely used Busta as an inspiration for his style of rapping.
Harold Hunter's intro when he's head bopping with the boom box is classic, how did you think of that or was it a spontaneous moment?
That moment was completely spontaneous and 100% genuine. Just like Harold was!
He was the best person to film with. You just turn the camera on and let him do his thing!
Busta Rhymes, Method Man and Fat Joe soundtrack and feature. Where was that recording studio and who filmed them?
Those freestyles were shot at the WKCR 89.9 radio station uptown at Columbia University during the Stretch Armstrong & Bobbito Show. We taped that show religiously off the air every Thursday night from 1am-4am. There is a documentary on Netflix I highly recommend you check out, it is called Radio that Changed Lives.
Who has your favourite section in Mixtape?
My favourite section in Mixtape is the tour montage at the end, edited to "Bounce, Rock, Skate" as it features the funnest moments with the entire original Zoo crew.
What was it like filming Harold Hunter skate?
Harold was the funniest person ever. Always cracking jokes and entertaining myself and the ladies. He could be annoying at times and we also had our fair share of arguments. But that is what made him so exciting.
I remember he would ask me to film him skating on West Broadway a lot, not because it was a good spot to skate but because it was a great spot to be seen by beautiful models! I would always have to stop and wait for him in-between tries as he was trying just as hard to get some fly girls phone number as he was trying to land his trick. Harold made me laugh so much.
Tell us a Harold story you've never told before
There was one time I was on tour with Harold and the Zoo York team in Houston when my parents were out of town. I brought the entire crew to my parents' house and let everybody take showers, swim in the pool and raid the kitchen pantry.
The things that were coming out of Harold's mouth at my parents are things that we still joke about today!
"Yo RB can I take a shower? Yeah sure! Go upstairs, cut the lights, smoke some weed, spread and jerk!" Is what Harold would say over and over again making fun of my generosity at my family's home.
He left our home with a pillow case filled to the top with Pringles and ramen noodles. Jeff Pang yelled at him for taking everything and we all just laughed!
Robbie Gangemi's huge up rail 50-50 ender is legendary. How did that one go down?
I was lucky enough to film and witness that go down with the photographer Sean Keenan. I have been searching endlessly for that original Mini DV tape in my archives and still have not found it. I don't remember it taking him too long at all. Robbie is a beast.
Harold's part in Mixtape has a series of unforgettable tricks but what's your favourite?
I will always remember his line at Time Life in midtown where he looks at me in amazement and says "I never landed that trick in my life!". His reaction was better than the entire line.
Favourite memories of Harold?
My favorite memories of Harold can be seen on the two episodes of "Skate Maps" we produced for Fuel TV. We travelled all over Europe filming hammers and chasing donkeys!
What was your favourite Zoo York tour?
My favorite Zoo York tour might be the first time I went to Europe with Jeff Pang, Anthony Correa, Danny Supa, Quim Cardona and Dimitry Elyaskevich. But there are others that I also consider to be the best times of my life but that one is just the first one that popped into my head.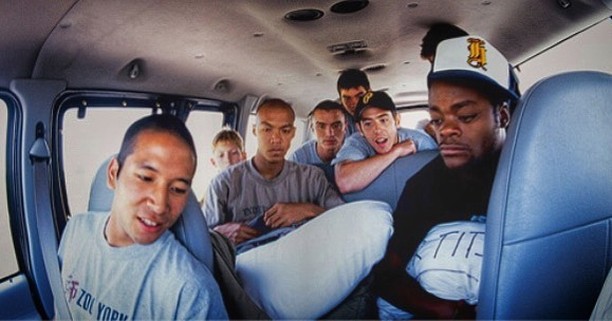 How was it filming Zered for Vicious Cycle?
Filming Zered for Vicious Cycle was unreal!
Dr. Z had so much explosive talent as a young teenager and filming him during that era was so much fun. What up Doctor Z!? So amazing to see him still killing it so many years later. Zered is definitely one of my all time favourites.
What's your favourite trick by Zered?
Zered Bassett has got Front Crooks, Switch Crooks, Switch Tres and Switch Kickflips for days.
Why did you end up leaving Zoo York?
During my last year at Zoo York I felt like I hit a creative wall and was getting bored of making the same videos every year. Especially with the rise of social media and the inability to take my time and make a project that I really cared about and was proud of.
The creative director of the brand at the time was super cool about it and helped me transition away from the brand. That is when I started my own production company that makes commercials and social media content for a series of different brands.
What's your favourite type of project to film?
Anything related to skateboarding that I am still able to be a part of is something that I love working on. I am very grateful to all of my clients whether they are skate related or not that give me opportunities to work and create cool video content.
What's been your favourite documentary to produce?
My favourite documentary that I have produced would be the ones I have made for the legendary NYC skate, art and music scene at the Max Fish bar in the Lower East Side. Max Fish has always been a clubhouse-living room of mine and I consider many of the people who worked and frequented there as family.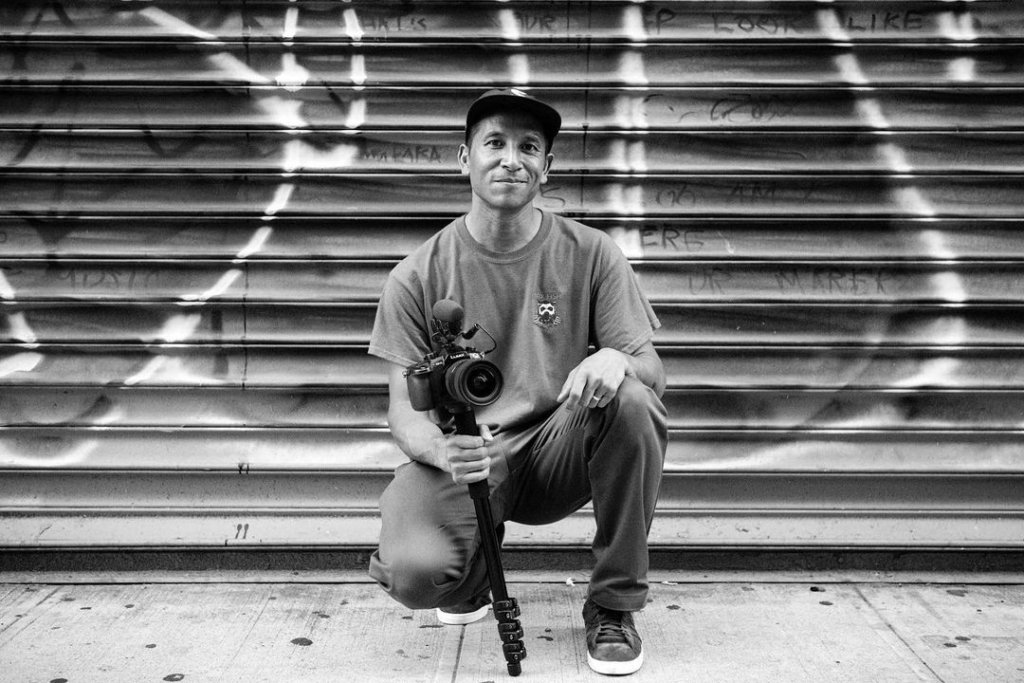 Cool. Are you working on any new documentaries right now?
Nothing I can announce at the moment. I was working on one with my good friend Giovanni Reda who has since directed some amazing skate related documentaries but the film we were making has been put on hold.
Okay. Have you made any skate edits recently that you're really proud of?
I am really proud of the Keith Hufnagel "Forever" tribute video I made with Hanni and Ben Kelly at HUF Worldwide. Big shout out to everybody at HUF and also a big thank you to Christian at DLX and Colin Kennedy for access to their video archives.
Keith Hufnagel was an amazing human and skateboarder. The response that everybody has given me for making that has also been amazing.
What skate video was your favourite to make?
My favourite video that I have produced is Peep This. It was a video I made in the late 90s featuring all of my best friends and favourite skaters in New York City, Boston and Houston, Texas.
It was funded by Zoo York and I had the freedom to put anybody I wanted in it. Eli Gesner made all of the music. We are good friends and make great work together!
Who has your favourite style on a skateboard?
Gino Iannucci, Guy Mariano, Keenan Milton, Mike Carroll, Kareem Campbell, Andrew Reynolds, Tom Penny, Gonz, AVE, Quim Cardona, Javier Nunez, Jeff Pang, Ryan Hickey and Zered are just a few of my faves.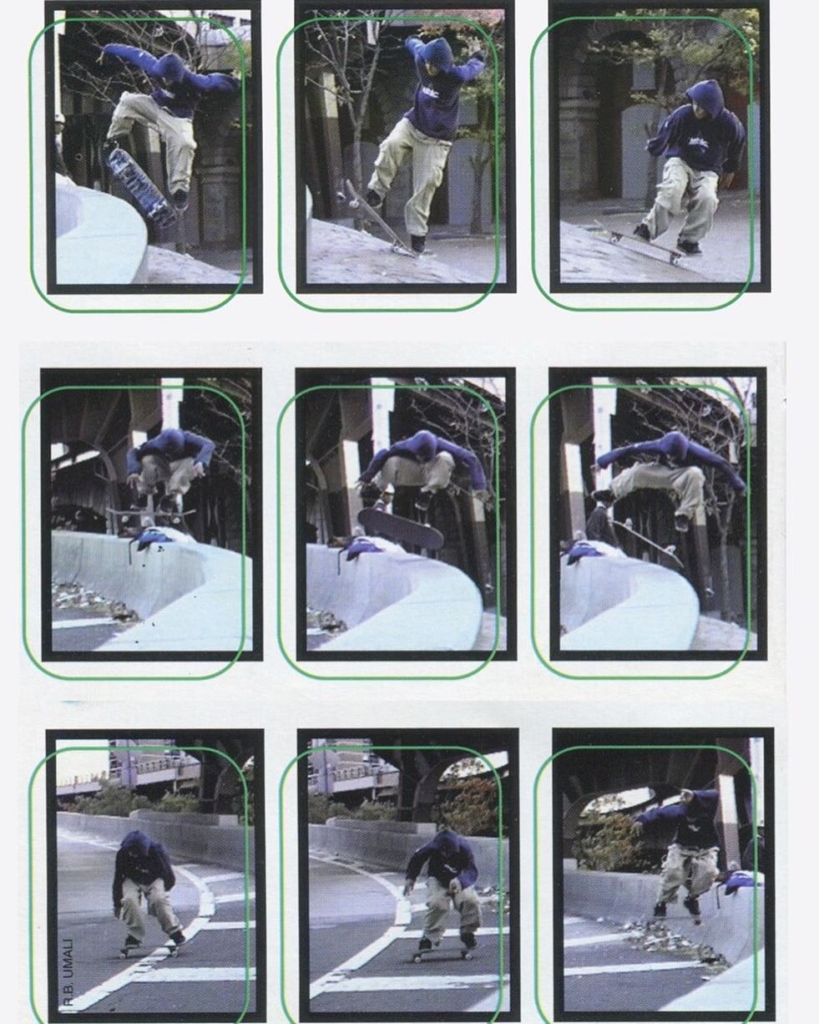 Who's your favourite photographer?
I have too many favourites! Spike Jonze, Daniel Harold Sturt, Mike Blabac, Giovanni Reda, Mike O'Meally, Tobin Yelland, Ari Marcopoulos, Atiba Jeffersen, Gabe Morford, Ryan Gee, Lance Dawes, Chris Ortiz and Meechface.
What's your favourite skate photo?
Spike's multiple exposure photo of Jeremy Klein's Kickflip Melon grab where he is wearing a red shirt is one of my favourite photos of all-time.

Favourite skate video?
It has to be Sick Boys. It opened my eyes up to street skating at a young age. It was all shot on film and had rad narration.
Who is your favourite skater of all-time?
Zered Bassett is my favourite skater as I have seem him grow up as a young hungry am with a sponsor-me tape and blossom into the most versatile skater ever who's skating has remained timeless and innovative to this day. Plus we have also made a lot of amazing memories together.
Do you have a favourite artist?
Banksy, Basquiat, Kaws, Stash, Futura, Mark Gonzales and Harif Guzman.
Favourite skate spot in New York?
My favourite skate spot, BAM on Flatbush, doesn't exist anymore but any block with smooth blacktop and low metal rounded slappy curbs suits me just fine these days.
Cool. Favourite place to skate in the world?
The old metal outdoor street course and Ninja ramp at the OG Skatepark of Houston on Orange Grove.
So where do you skate nowadays?
I work on relearning flatground tricks that I used to have on lock on my in-laws driveway. I occasionally hit up a shopping mall parking lot and slappy some freshly waxed curbs when I can.
Nice. Any advice for skate filmmakers?
My advice is to get out there and film as much as possible whilst being cool to everyone you meet. Don't expect to make a lot of money and do it for the love of the game!
Solid advice. Any last words?
Thank you to Jason at The No Comply Network for the interview and shout out to my friends, fans and family for the support and for reading this!