Julien Januszkiewicz is a skater and filmmaker living in Bordeaux who has been capturing standout French creative skate feats for over a decade. First out of necessity to film his brother Ben's skate shop, Popular Skateshop's team but later as a passion when he discovered an urge beyond filming his skate shop's extended family and his friends. He went on a mission to try to document the tricks of legendary French skaters, visiting pros and talented skaters he met on his skate trips around Europe, the UK and US.
As Julien delved deeper into skate filmmaking his drive and ability to shoot skaters in the Bordeaux scene grew heavily. As a result he's acquired a unique taste for production and also sculpted a personal vision and vested interest in skate visual history.
So after watching his collection of well produced skate videos, we had to hit him up to find out how he produced his Bordeaux Exposure videos and we learned that not only is he planning on releasing the third instalment in the series – Bordeaux Exposure III – but that he is active in the new development of a city-wide skateable street architecture project in Bordeaux itself.
So after finding out he has got a new video in the works and that he is supporting the Bordeaux skate scene in front of and behind the lens and talking about his skating, his skate videos, and also the music and art that he really enjoys, we asked him to be a member and Julien was down to join The No Comply Network.
So right after that we had a long chat about what motivates Julien to film and edit skateboarding in black and white, how he got his first board, growing up in France as a skater, watching 80s skate videos, his memories from the 90s and the iconic skaters of the era that grabbed his attention, his thoughts on 411 Video Magazine, his current camera setup, his first video Days&Nights, meeting JC Leuvrey, London, skating in France and across Europe, filming Bordeaux Exposure I and II, his plans for Bordeaux Exposure III, filming with Leo Valls and Vivien Feil in Bordeaux, Glen Fox, Magenta Skateboards, his inspirations and influences, Wu Tang, Madvillain, Dan Wolfe, Colin Read, Dan Magee and Leon Was Here and of course, his favourite videos, styles, photos, artists, spots and music of all-time and much more.
Read Julien's interview below to find it all out for yourself.

Julien: Photo by Kenny Adoua
What is your full name?
My full name is Julien Januszkiewicz
Where did you grow up Julien?
I grew up in the South of France in a small town named Millau.
Just over 20,000 people live there and it's near Montpellier.
Okay, so where do you live now?
Now I am living in Bordeaux in France
Cool, so when did you first get a board and what was it?
In 1989, I was 9, a friend got a skateboard imported from America, with yellow flashy colours and my brother Ben, he was 8 at the time, we were both so stoked to see the skateboard that we asked our dad to buy us one straight away.
We went to the local toy shop and he bought us a shitty one but it was good enough to start with but after that we quickly got a Holysport to really start skateboarding properly and learn Ollies.
Where did you skate and who was in your skate crew?
In Millau, with older guys, who were around 14 years old.
My brother and I, we were the youngest in the crew in 1990, I was 10 and Ben was 9.
We had not been skating for a long time, just for 2 years, and as the older guys of the crew started to stop to skate around 1992, then we stopped too.
I don't know why but I restarted skating in summer 1997, aged 17 years old, after having bought an ACME Everslick in Biarritz – again thanks Dad!
I had to learn every new trick of that time; I was not aware about Switch tricks, and I really restarted from scratch with the basic tricks, Ollies, shove-its etc…I did not know the period of big pants, small wheels, Switch and all of that technical skating that started from 1993 to 1996.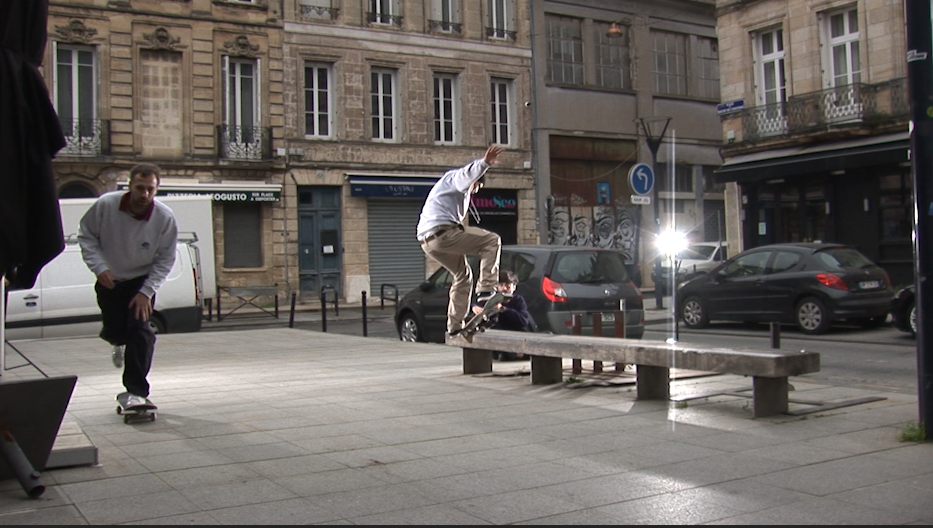 Julien, Fakie 5-0 Grind, Bordeaux
My brother Ben restarted with me as well; it was an additional motivation to skate together because in Millau we were the only skaters in 1997!
What skate videos did you watch growing up in the 80s?
In 1989 my first video was Powell Peralta's Ban This!
Then World Industries – Rubbish Heap, on to Powell's Propaganda in 1990 and then I watched Powell's Eight video.
How about when you started to skate again in the 90s?
But then when I restarted in 1997 it was the Girl Skateboards Mouse video,
Zoo York – Mixtape
Santa Cruz – Pack Media
World Industries – Trilogy
Shorty's – Fulfill the dream
Birdhouse – The End
The 411 Video Magazine videos and Puzzle videos
TWS videos like 6th Sense, Feedback, The Reason, Modus Operandi and IE.
I did not know anything about the FTC videos at that time, shame on me!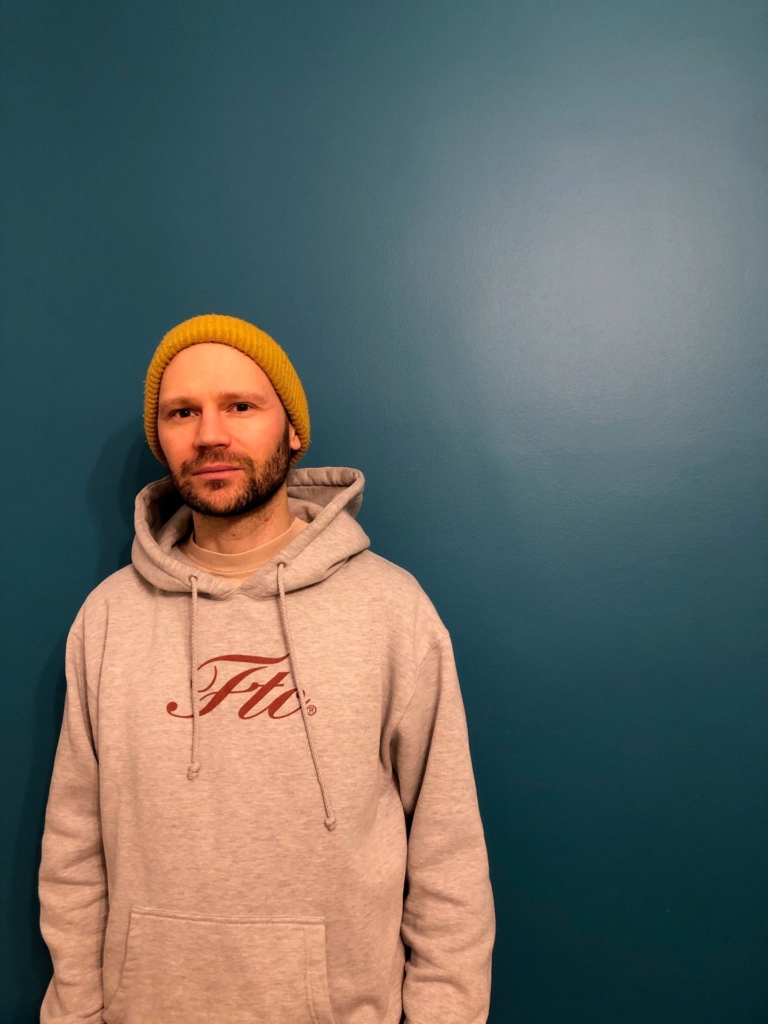 Julien: Photo by Emannuelle Nadaud
That's funny because it's clear your now a fan of FTC. What was your favourite issue of 411?
The Best of 411 Issue #4 with SAD
What's your favourite 411 opener?
The one with Kareem Campbell's Ghetto Bird, in 411 Issue #30 , released in 1998, it is the one which came to my mind because it was so steezy!
In this edition, there was the DC Euro Super Tour section, with the soundtrack by 12 Jewels track – Crystalize, it was a sick section:
Josh Kalis, Rick Howard, Mike Carroll, Scott Johnston, Keith Hufnagel and more.
Otherwise the Chaos section in one of the Best of 411's is really nice with Josh Kalis' line at Pier 7 and street skaters like Bobby Puleo.
What's your favourite thing you remember about 90s skating?
Skate videos, FTC videos, baggies, street skating at Pier 7 in San Francisco.
Who's your favourite skater from the Mid 90s era?
Caesar Singh
Drake Jones
Lavar McBride
Richard Mulder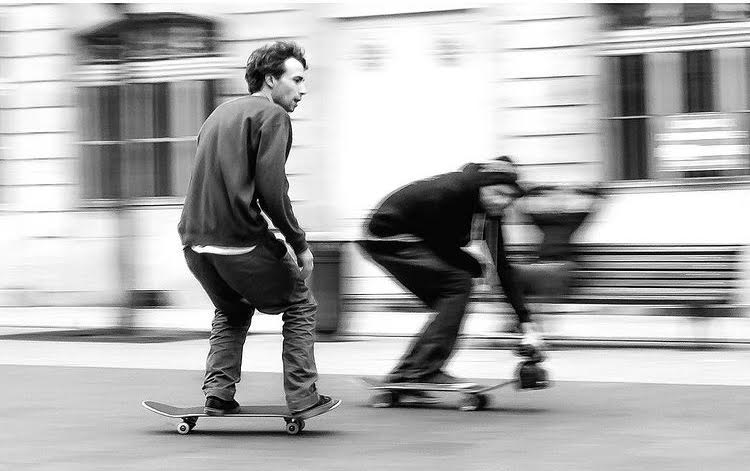 Julien filming Vivien Feil: Photo by @adrien_zino
What was your first camera setup and what do you use now?
I bought my first camera in 2008 for my brother Ben's skate shop called Popular Skateshop to film the sponsored skaters of the shop at that time.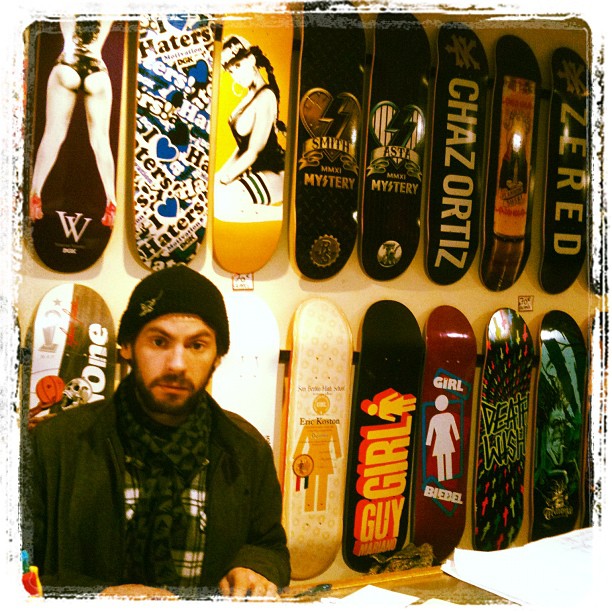 Ben Januszkiewicz in Popular skate shop: Shot by Julien
I broke my left ankle by trying a Frontside Nosebluntslide on a ledge in Bordeaux and it took me almost a year and half to relearn to skate as usual.
Sounds gnarly. What camera was that?
It was a Sony FX-1 HDV, one of the first HD cameras at the time. I am still using it, using tapes but I am going to change for a Panasonic P2 soon.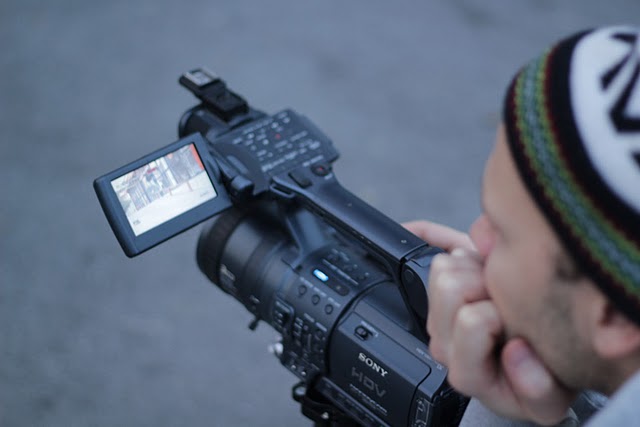 Julien's Camera: Shot by Julien Merour
What's it like to go skateboarding in Bordeaux?
It is really a nice place to skate with tons of spots since Bordeaux has been renewed with Tramway construction since 2007.
There are a lot of marble streets to cruise in the city centre and ledges.
Bordeaux is part of the UNESCO World Heritage Centre, so it's a nice place to film, the architecture is unique.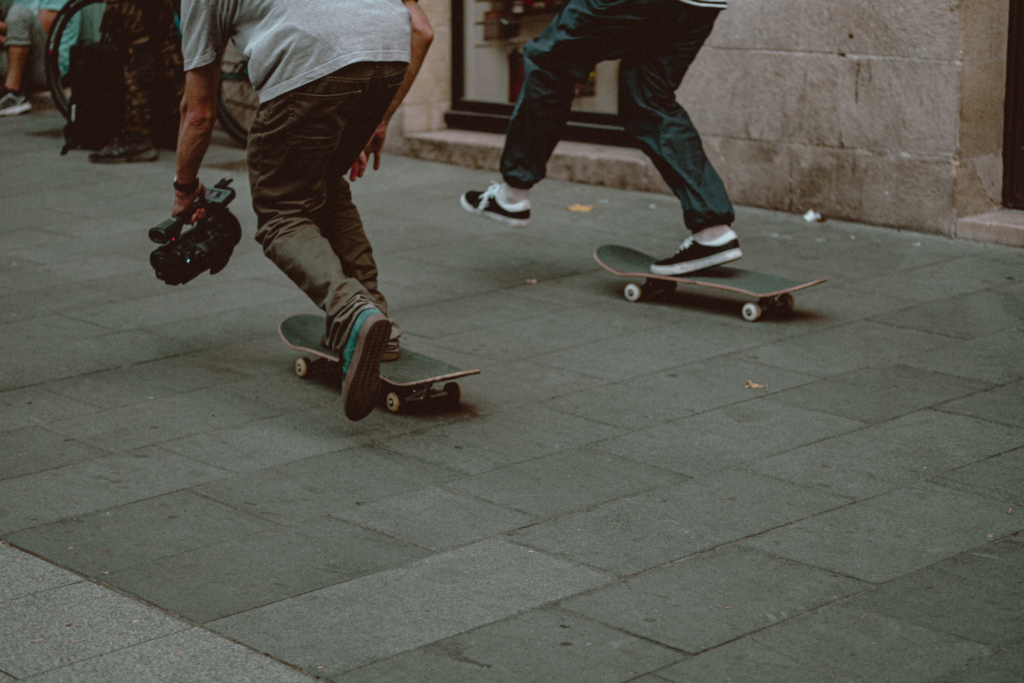 Julien filming a line: Shot by Tom Dick
We now have a good relationship with Bordeaux Council thanks to Leo Valls.
He worked hard 3 years ago to put time slots and specific days, in place, for two days per week, to allow us to skate the major spots of the city centre without getting tickets from the police.
5 years ago it was a nightmare! We were often getting kicked out from the city centre and got tickets.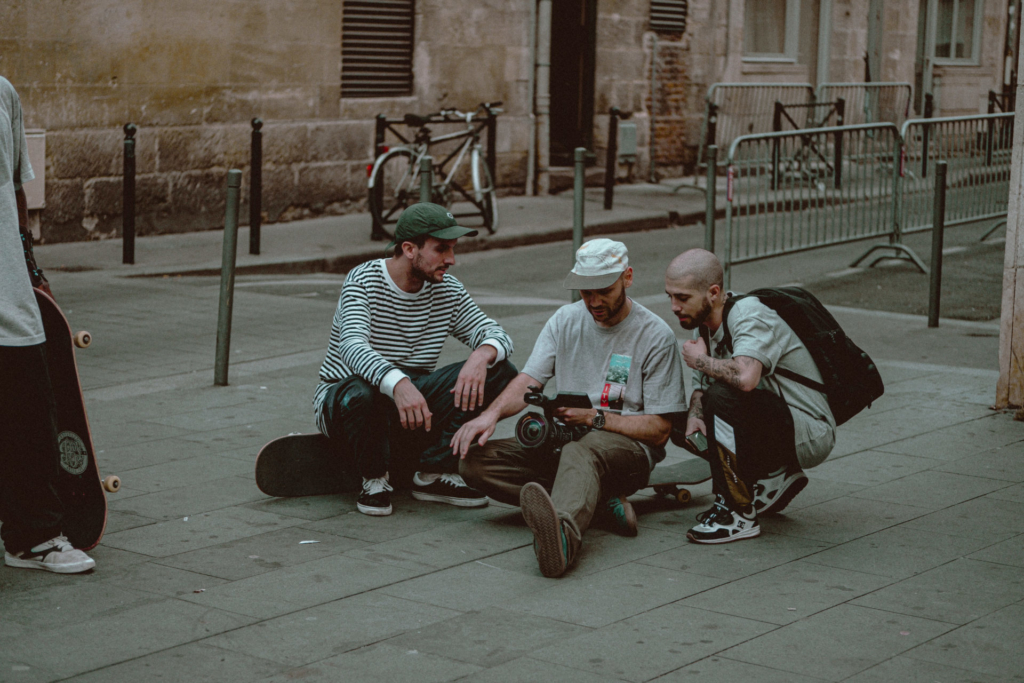 Julien and the crew checking out footage through the viewfinder: Shot by Tom Dick
Also, I have been working for a year and a half with Bordeaux's Town Hall, Leo Valls and two others skaters, Soizic Gargaud, a skate mum and Vincent Dallemagne, on a project to implement skateable sculptures in several places in Bordeaux like in Malmö, as we won a 200,000 Euro budget!
Thanks to a vote by Bordeaux citizens via the launch of a participative budget by the Bordeaux's Town Hall, our project was the second most voted project among hundreds of proposals!
Here are a few examples which inspired us: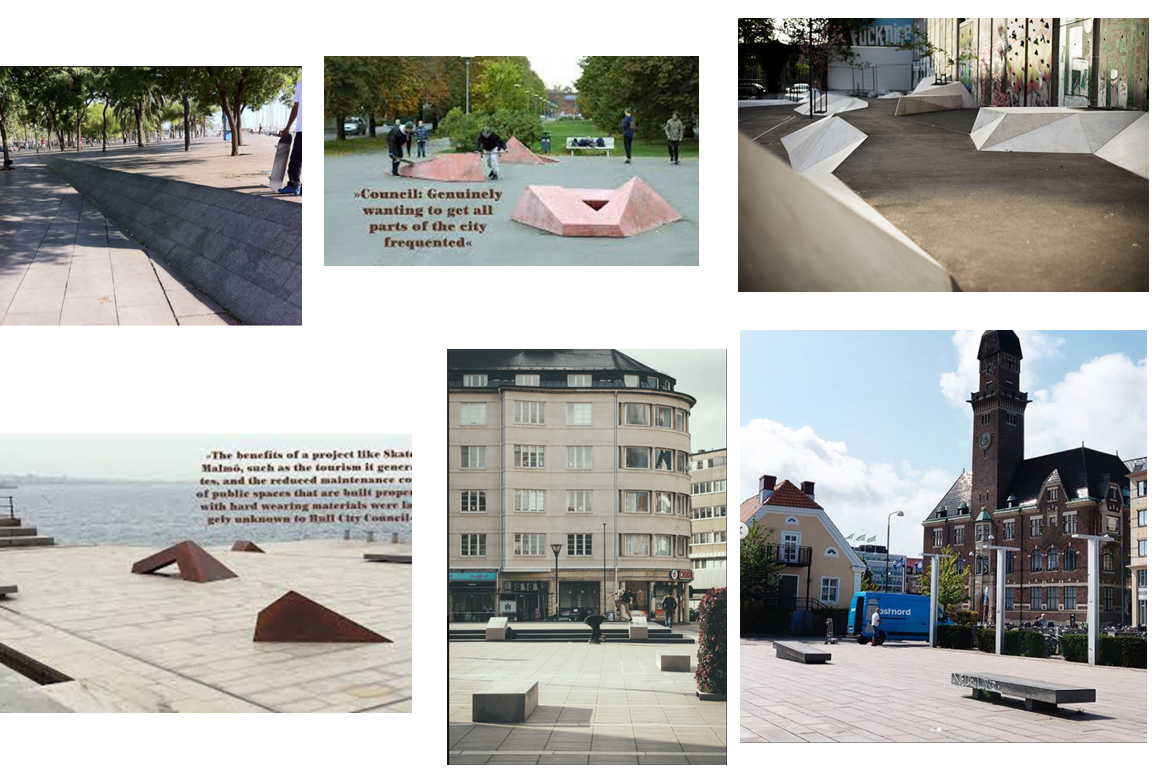 Who do you skate with at the moment?
I skate with Leo Valls, Kenny Adoua, Vivien Feil, Sergio Cadaré, Gauthier Rouger, Andréa Dupré, and many others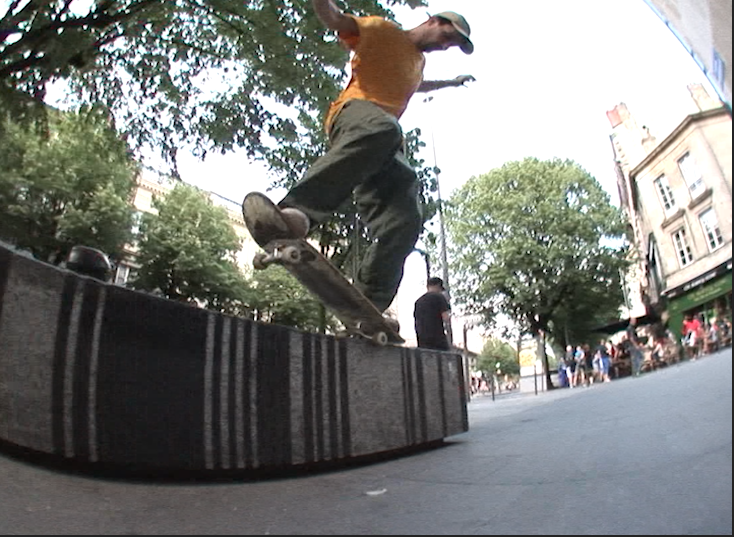 Leo Valls, Switch Backside Nosegrind: Captured by Julien
How have you been passing the time during lockdown?
Well, I worked at home as I usually travel every week from Bordeaux to work in Switzerland close to Geneva.
I am the head of a laboratory for a UK pharmaceutical company.
I am a Chemical Engineer, and it has allowed me to spend more time with my girlfriend and daughter Thaïs at home, so not too bad.
What's it like in Bordeaux under lockdown?
Well, during the second Lockdown in November 2021, we could go out and do sports with an authorisation form, it was supposed to be for not more than one hour per day, however police officers were not really present in town to control people and so we could skate more than one hour easily.
More spots are accessible because bars are not open so the city was really empty to skate where we cannot skate usually because of too many people.
It is not too bad this pandemic for skateboarding!
How did your Bordeaux Exposure series start?
It started naturally after I released my first full-length skate video called Days&Nights released in 2011
I continued filming in Bordeaux and I was searching for a new name for my skate video that was due to come out in 2012 at the time.
How did you come up with the name Bordeau Exposure?
One of my friends, Antoine de Lassée suggested 'Bordeaux Exposure' as a tribute to the Eastern Exposure series created by Dan Wolfe.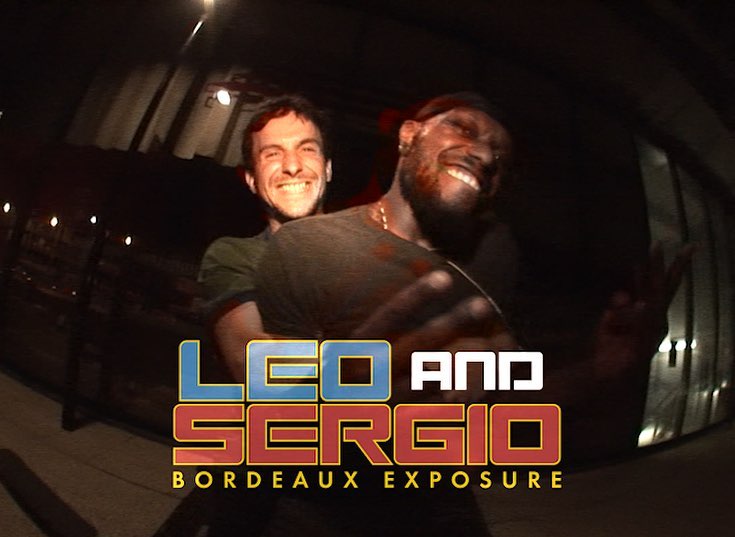 So were you heavily inspired by Dan Wolfe?
Not so much but it played a role in terms of an influence of his raw street skating vision.
I have been inspired by Yoan Taillandier's work with MINUIT,
The Static video series by Josh Stewart.
Jeremy Elkin's videos – Lo-Def, Elephant Direct, Poisonous Products,
What's your favourite Dan Wolfe video and why?
Eastern Exposure 3 – because of the New York Section, the video's soundtrack and Ricky Oyola's part
Who was in Bordeaux Exposure I and how long it take to make?
There was Leo Valls, Masaki Ui, Vivien Feil, Gauthier Rouger, Antoine Roussel, JF Taillon, Guillaume Dulout, Julien Mérour, Xavier Benavides, Jon McConkey, Antoine de Lassée, Thibaut Carpentier, Michael Desbois, Glen Fox, Kenny Adoua and many other friends…It took me a year in 2012
Right, so who was in Bordeaux Exposure II?
Leo Valls, Glen Fox, Masaki Ui, Soy Panday, Vivien Feil, Olivier "Tavu" Ente, Aymeric Nocus, Gauthier Rouger, Carlos Young, John Lindsay, Jesse Narvaez, Vincent Boyom, Maxime Garlenc, Julien Mérour, Victor Pellegrin, Jérôme Romain aka Cloben, Victor Pellegrin, Alexis Greusard, Xavier Benavides, Simon Källkvist, Yoan Taillandier, Antoine de Lassée, Thibaut Carpentier, Mickael Desbois, Kenny Adoua, Ben Januszkiewicz, Raphael Marque, Luc Boimond, Gabriel Zufferey, Guillaume Berthet, Simon Perrottet, myself and many other friends…
That second video took me 3 years and it was released right at the beginning of 2016.
What was it like prem'ing it with Magenta's 'Just Cruise'?
We premiered Bordeaux Exposure II and Magenta "Just Cruise" in a movie theatre in Bordeaux with all the homies.
That was really dope and there were hundreds of people who came down to see it.
Then we premiered in Montpellier, Paris, Geneva and few others places. Nice memories!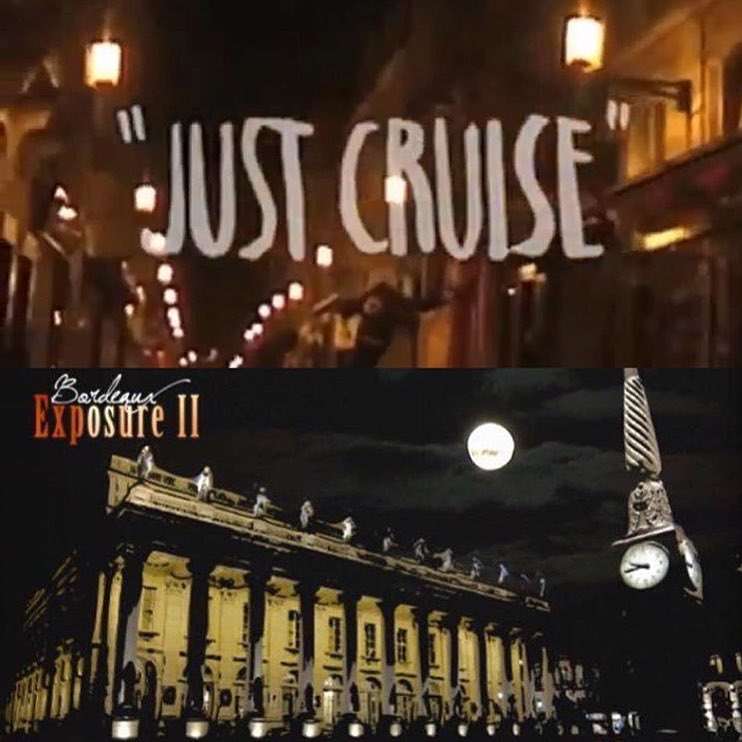 What has been your favourite video to produce?
It was Bordeaux Exposure II.
That's because I travelled a lot between Geneva and Bordeaux, Montpellier, Lyon, Paris, Milan in Italy and went to San Francisco as well; it was nice to meet SF locals over there like Jesse Narvaez from Northern Co and Carlos Young, a legend of Pier 7 and a few others too.
Cruising the city, skating at EMB, so stoked! Pier 7, going to The Island Spot, I would like to go back!
Who will be in your upcoming Bordeaux Exposure 3?
Well, there will be tonnes of skaters, at least 35 skaters, and parts of Gauthier Rouger, Leo Valls and appearances of Vivien Feil, Sergio Cadaré, Andréa Dupré, Kenny Adoua, Vincent Boyom, Luidgi Gaydu, Nicolas Chastel, Amélien Foures, Fred Plocque-Santos, Pako Pion, Luc Boimond, Jordan Queijo, Guillaume Berthet, Yoan Taillandier, Aymeric Nocus, US guests and many others friends.
I have been filming for Bordeaux Exposure III since 2017.
Tell us a memorable story from making it
I mean every time you film in the streets, something can happen;
One time I almost had a fight with one guy just because we were skating a ledge and because of his wife with her baby, who had been sat too close to us and he threatened to me and my friends that he had knife and knew how to use it and could kill us;
That was crazy and did not bring good vibes for the skate session for that day haha.
What's the best thing about skating in Bordeaux?
The fact that it is quite small so you can easily skate several spots during the day and the skate scene is really nice, there are a lot of skaters here, so you will always find someone to skate with.
Which spot in Bordeaux is your favourite to skate?
My favourite spots are ledges – spots like the Chartrons marbles ledges and the Grand Theater place, another marble place again!
Cruising in Sainte Catherine Street ,the most long streets in Europe, all marble as well.
Do you film with the Magenta Skateboards guys much?
I film them for my projects and hang out with them.
How did you first meet Leo Valls?
I moved to Bordeaux in 2007 and met Leo Valls through sessions in Bordeaux with the MINUIT Crew at that time.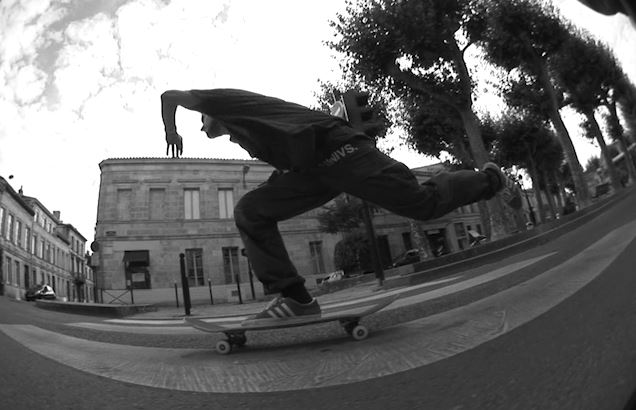 Leo Valls, Pushing: Captured by Julien
What's your favourite thing about Leo Valls skateboarding?
Leo's freedom to skate how he wants without any mind barriers and mix technical tricks and simpler ones.
Favourite Leo Valls trick?
Switch Backside Tailslide
Cool. So how did you meet Vivien Feil?
I met him in 2011 in Bordeaux when he moved to the city.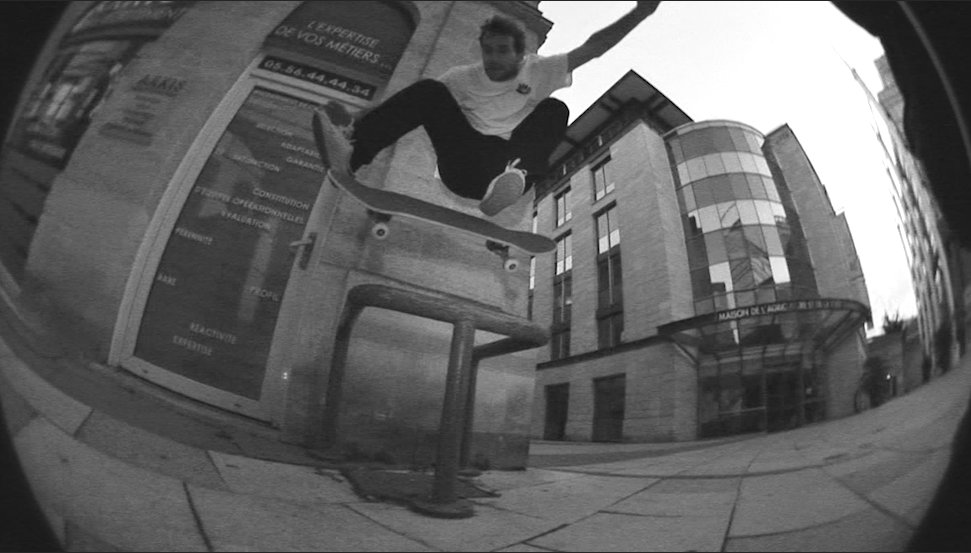 Vivien Feil, Kickflip: Captured by Julien
What Vivien Feil trick stands out the most to you?
His Switch Ollie over high stuff! Vivien AKA 'The Horse'.
Do you have favourite skater on Magenta?
Jimmy Lannon and more recently Casey Foley who just joined the Magenta Skateboards family.
Sick. So what kinds of music are you into?
I am really into Trip-hop, Soul and Hip Hop a lot.
What's your favourite MF Doom album?
Madvillain – Madvillainy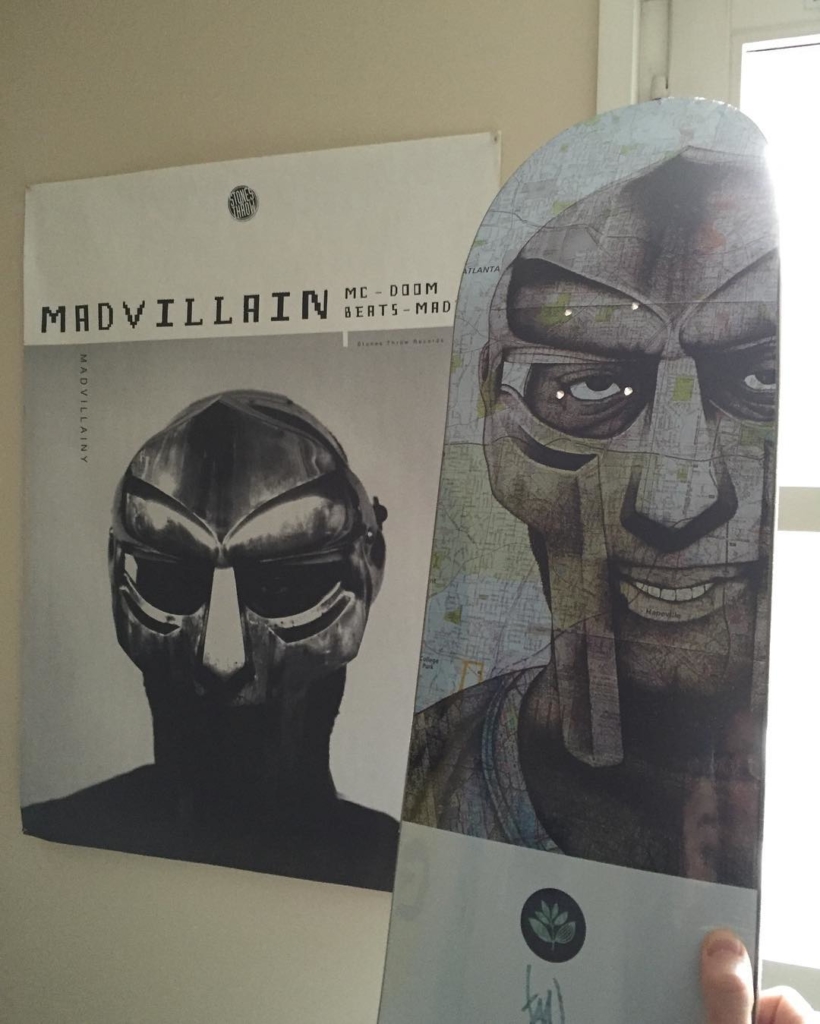 What's your favourite Wu Tang album and why?
Enter The Wu Tang 36th Chambers, as it was one my first US Hip Hop albums with few others around at that time when I was 16.
Favourite member of Wu Tang?
GZA as he is the brain of the team. His flows are seamless and the work is resultantly a consistently, cohesive listen.
This is supported by the smoothest of mixing and production from RZA.
Why do you like editing skate footage in black and white?
I like the atmosphere of black and white as it makes footage more special – as 99% of skate videos are in colour – so its a visual manner to differentiate my filming work from all of the other videos that are out there.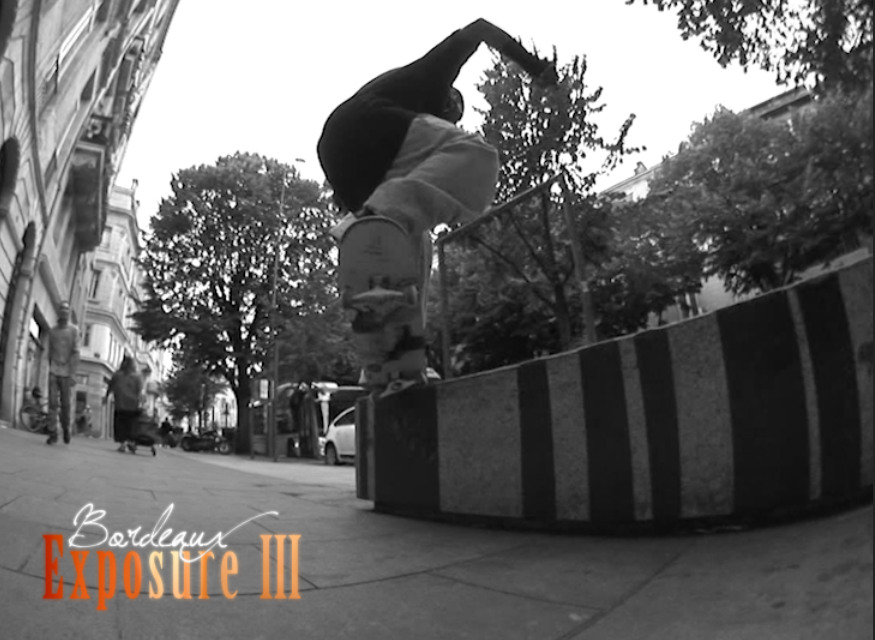 Sergio Cadare, FS Crook: Captured by Julien for his upcoming video release, Bordeaux Exposure 3
Why did you go to London to skate and film?
I wanted to film in London for my Days&Nights video and to visit my mate JC Leuvrey, who was in London at that time in 2011, with Clement Brunel – who is the co-founder of Hélas and is originally from Montpellier.
Did you go to Southbank?
For sure
How did you meet JC Leuvrey?
I first met JC Leuvrey in Reims, his hometown, around 2003, as I was visiting my brother who was running Bud Skateshop over there.
I was a student at Evry near Paris and I used to go there sometimes during the weekend.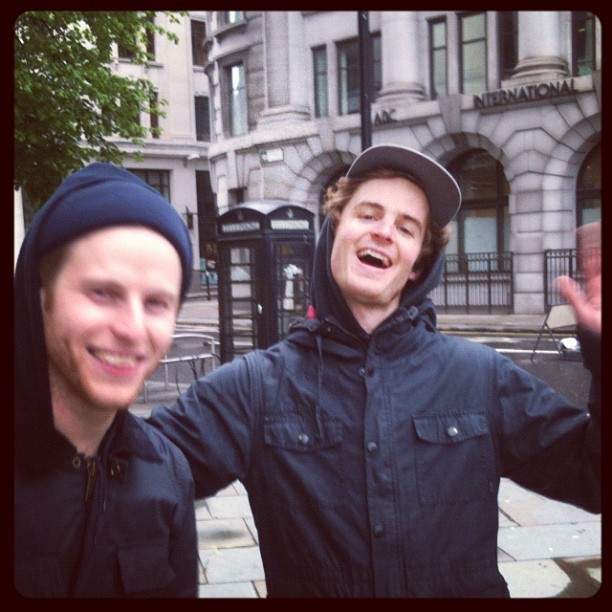 JC and Steph Morgan in London: Shot by Julien
What's your favourite JC trick?
JC's famous Frontside Tailslide on coping and his Bonelesses are my favourite.
Rad. Do you have a favourite skate video out of England?
I don't have a specific UK skate video but I loved all the Blueprint videos by Dan Magee – especially Waiting for the World.
What's your favourite thing about filming with Glen Fox?
I first met Glen Fox in 2012 in Bordeaux when he came up to skate with Magenta crew. He was with his mate Luka Pinto.
Glen is a really cool guy and very spontaneous in his skating. It is very simple to film with him and smooth.
By the way, he has a real talent for drawing and painting, that's nuts.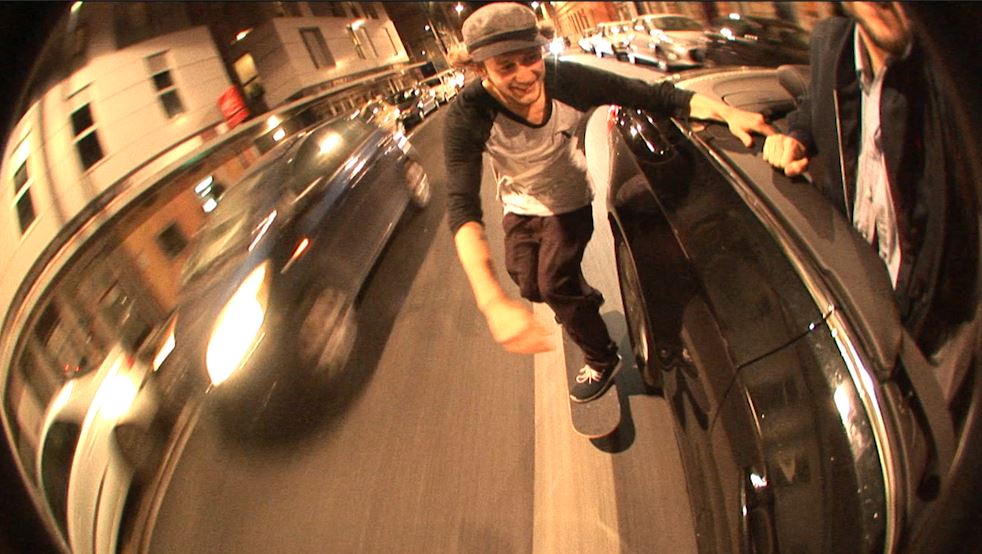 Do you have a favourite Glen Fox trick?
Glen's Flip Frontside Crooked Grind
Why do you like skating ledges?
Because it is beautiful, there is infinity of possibility and it is low impact!
Favourite ledge trick?
The Gino Iannucci Grind, the Switch Backside 180 Nosegrind.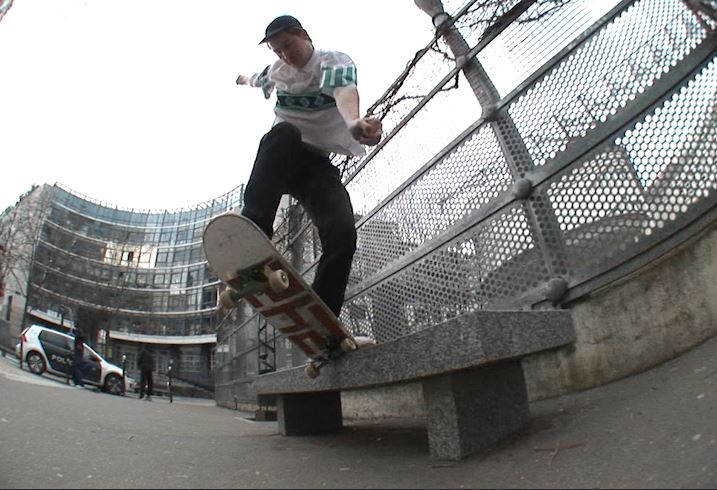 Luc Boimond, BS 180 Switch FS Crook: Captured by Julien
You've got a nice Fakie Tre but who's got your favourite?
What's the key to great filmmaking?
It is all about the general atmosphere, the flow and steez of the skaters plus the most important: the soundtrack.
What do you think about creativity, skating and filmmaking?
I think this is a natural path, as skateboarders are creative themselves to invent all those new tricks and different combos over the last 30 years.
When you are being creative, you can see the hidden pattern and make connections between things that are not normally related:
Colin Read's Spirit Quest added new dimensions to skate videos with artistic filming, filming underwater and flipping cameras, filming flip tricks.
How long did it take you to learn rotoscoping?
It took a few days using Adobe Animate software – this is the easiest way; the real way is to do it manually with printed papers of each image every two seconds for example, draw what you want in each image, colorise as you want and scan them one by one
Shout out to Leon Was Here ,he is doing an amazing job
What rotoscoped creations have you made so far?
I just did one using my own footage to train myself how to rotoscope but it is taking a lot of time.
I will do another more elaborate one with colours when I have more time
Who is your favourite skate photographer?
Mike Blabac, because he shot a lot of skaters that I like in the 90s and 2000s
Do you have a favourite skate photo of all-time?
Josh Kalis by Mike Blabac , shot in 2004, his Frontside Nosebluntslide at Love Park.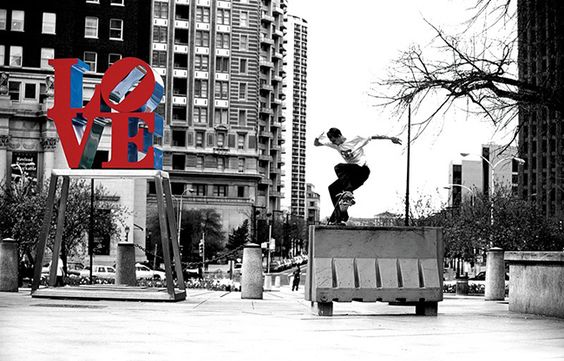 What is your favourite skate spot in Bordeaux?
It is called "Chartrons' place" – there are marble ledges everywhere at the place
You've skated all around Europe, where is your favourite city?
Stalin Plaza in Prague
Barcelona, Spain
Bordeaux, France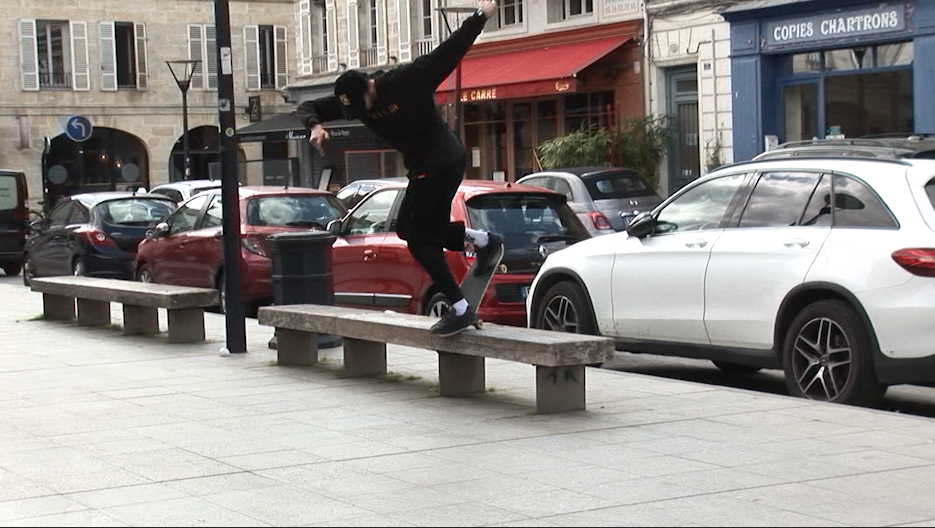 Gauthier Rouger, BS Nosebluntslide: Captured by Julien
Favourite skate spot in the world?
Stalin Plaza in Prague and before it was gone Love Park – RIP.
What's your favourite skate video ever and why?
Girl's Mouse video because of Guy Mariano, Chico Brenes, Mike York, Koston and the soundtrack. Plus Zoo York's Mixtape.
Who's your favourite skater?
In the 90's Caesar Singh, because he was so smooth and had steez and was so underrated. But for now, it is Tom Snape
Who has your favourite style on a board and why?
Right now, it is Casey Foley, as he does simple tricks, manuals and ledge tricks and goes fast with style. I like Jimmy Lannon's skating as well.
Who's your favourite artist?
He is a freelance illustrator and graphic designer from Frankfurt, Germany.
He is doing a lot of graphics for skate brands like Deckaid, DC shoes and others and he is very inspired by 90's.
Go check his Insta! Actually he is providing me with the lettering for the name titles of skaters of Bordeaux Exposure III.
Do you have any upcoming releases you would like to mention?
Bordeaux Exposure III.
I hope I can do a premiere in Bordeaux sometime in Spring 2021 with this Covid situation
What do you think about The No Comply Network?
The No Comply Network has a lot of diversity on topics, music, art, skateboarders, filmmakers, and it is very interesting to discover interviews of skaters with a mix of personalities which are known and not so much known.
I like that. Your work is amazing, thanks
Any shout outs Julien?
Yes, shout out to my daughter Thaïs and girlfriend Emmanuelle and my two brothers Ben and Jean Marc.
All my homies from Bordeaux, Paris and Geneva, especially
Michael Desbois
Any last words?
Keep up the good work and thanks!