John Murphy is a skateboarder, rapper and skate video maker from The South West of England. His tech skating and verbacious lyrical output both contain inventiveness, ingenious and a unique quirky intricacy.
After discovering skating from American TV and media in the late 90s and now creating as a filmer-editor John is a driving force behind the TSCrew skate crew who have infused immeasureable waves of hype and motivation into their local skate scene in Trowbridge.
Similarly his homegrown style of Hip Hop, rapping under the name – The Nicewun JM, with a name and style that could only be cooked up in England's South West delivers an enthusiastic and unconventionally unorthodox concoction of thought provoking and positive bars.
Chocked with references to his life, skate experiences and personal philosophy with nods to icons on and off the board on both sides of the Atlantic, his original sound and songs have an undeniably English flavour.
We first found out about John from our HUF Worldwide trick challenges as he won the Brandon Turner Switch Hardflip Challenge and it was through that we figured out he was a big fan of skatiing and Hip Hop.
However after reconnecting nearly 5 years down the line and chatting more about his skating, The South West, Bristol, Hip Hop, and skate videos and watching his footage, we discovered he has a passion and real ability for rapping and skating and also for filming for and producing rad skate videos with his TSCrew.
John isn't just great at skating or weaving together lyrics he's also an incredibly knowledgeable skater who has a database of dope UK and global skate and Hip Hop moments constantly at the forefront of his mind.
So after discovering he's just released his debut album 'Celebratin' Hip Hop… Over Here', we talked about it all and asked him to be a member and were stoked he was down to join The No Comply Network.
Read our conversation to hear how John first got a skateboard with his twin brother Dan Murphy AKA Turkey, filming and editing, the TSC Crew video series, his battle to Switch Frontside Flip London Life 9, Bristol, Fifty Fifty Store, Danny Wainwright, Hip Hop Culture, his rapping – The Nicewun JM, producing his first album – 'Celebratin' Hip Hop', why he's always down to keep it positive, Dr Dre, Snoop Dogg, Westwood, why he thinks full length skate videos are really important to skate visual culture, Jus Fooling, Bristol in Bloom, Sorry, Really Sorry, Mark Appleyard, hanging with Korahn Gayle, Layth Sami, Harry Ogilvie, Lloyds, Skateboard Cafe, Paul Carter, Tim Crawley, Tom Penny and his favourite skaters, rappers from the US and UK, styles, spots, videos, photos, songs and shows of all-time and much more.
Read the John Murphy Interview below to find it all out for yourself.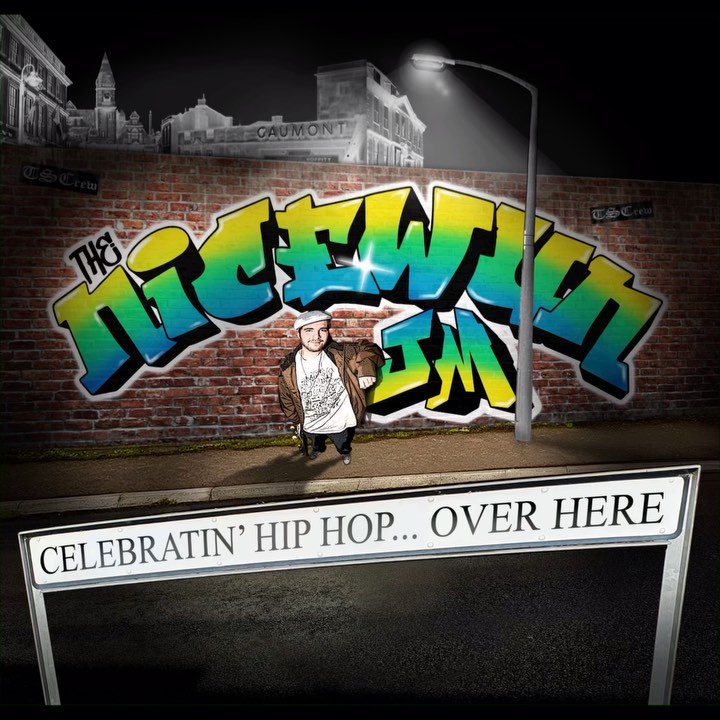 The Nicewun JM 'Celebratin Hip Hop… Over Here' Album Cover – click here to listen
What's your full name?
John Philip Murphy
Where did you grow up and where do you live now?
I was born in 1988 and I've lived in Trowbridge, Wiltshire, England, my whole life.
When did you first see skateboarding and think I want to do it?
So me and my twin brother, Dan Murphy both got interested in skateboarding at the same time and it was a number of things that led us both into realising skating was what we wanted to do. At the time we were really into wrestling. We would watch all the WWF, WCW and ECW shows.
I was a massive Stone Cold Steve Austin fan and we had also been doing Judo for a few years and both got pretty good at that.
We were both fascinated with the stunts you'd see in Jackie Chan movies and so me and Dan just wanted to do frontflips and backflips all the time, we were kids with a lot of energy. This led us to seeing skateboarding on the X-Games on TV and really being into it and we also bought the Tony Hawk Pro skater 2 game for the PC which we played a lot.
Also as I was into watching music videos we'd see skateboarding in some videos and also through watching Jackass on MTV.
Okay.When did you first get a skateboard and what was it?
I first got a skateboard in the summer of 2000, when I was 11, just as we we were finishing primary school and going into secondary school.
That one was an Argos Board, but my first proper skateboard was a World Industries Mathias Ringstrom Pro Model – called Chilli Willy.
It featured a graphic where Flameboy has turned bully victim Wet Willy into an Ice Cube. I had that board for a week.
You snapped your first board, the first week? What happened?
We were stupidly skating by a main road and I let my mate Sam Walton have his first ever go on a skateboard. He slipped on it, like a cartoon banana peel, it went into the road and a speeding car drove over it. I watched it fly up really high in the air in two halves, and felt like I watched it come down in slow motion.
Sam was like 'sorry'. I was like 'it's not your fault', holding back the tears. I didn't cry,I felt like I was going to, but I tried really hard not to.
World Industries recently reissued the very same board, but without Ringstrom's name on it, so I'd like to get it for the wall.
If you are not familiar with Mathias Ringstrom, check out his dope Vert part in Osiris The Storm.
Where did you learn to skate and who was in your crew?
I first learned to skate going down my driveway at my mum and dad's house.
Our crew in the beginning was me, my twin bro Dan Murphy – who everyone calls Turkey, and Martin Robinson AKA Marv and Sam Walton.
From there we started skating the old metal Stallards 6 foot Half Pipe and the Asda Car Park, where we met more people who became close friends.
For anyone interested, everyone that we know calls my brother Dan by his nickname Turkey.
Why do they call your twin brother Dan Turkey?
It's because one Christmas at school there was a tag type of kids game being played called get the Christmas Turkey and my brother was the Turkey.
They'd catch him, put him under a picnic table, which was meant to be the oven and then they'd cover him in woodchips, I can't actually remember what the woodchips was meant to mean, I doubt we were aware of what seasoning a turkey even was back then as kids.
The next day everyone came up to him and was like 'alright Turkey, yo Turkey, Turkey my man what's good?' and the name just stuck from there.
That's funny. Did you ever have a nickname?
People did try to give me a bird nickname for a bit because both twins should have a bird nickname.
They tried Chicken, Pidgeon and Ostrich. But none of them stuck, which I'm glad about.
For sure, I can see why
Ostrich was the better of the three, as Chicken sounded Cowardly and Pidgeon makes me think of the song No Pidgeon's by the Sporty Thievz.
What was it like growing up with a twin brother who skated?
Yeah, it was really dope. He progressed a lot quicker than I did, as he learnt tricks before me and started going bigger way before I did but I eventually caught him up to the point where we both skated at a similar level, but also skated very differently regarding styles of skating.
Dan has always been an all-terrain killer on the street, hitting the handrails and getting massive airs on ramps.
I was always more into getting different flip tricks down stairs, but I love all kind of skating and I love watching ramp skating, but find it challenging.
Where did you both skate regularly once you got a hang of it?
So in the beginning we were skating all over Trowbridge, and surrounding areas.
Earlier as I mentioned my drive was the first place I skated, as well as Stallards Ramp and the Asda Car Park, but another was Vicky Park in Bath.
I was on that first Argos Board. I was riding along Vicky park and I guess I didn't understand spatial awareness back then. I was riding towards the old funbox – The one that Wainwright did a Tre Flip Melon off the launch ramp bit, and in recent years before it was removed, James Whitlock Switch Ollied up on to from flat, which was crazy!
Anyway I'm riding towards that funbox and all of a sudden I see an older blader flying towards me in slow motion and we've probably both got that 'OHHH SHIIIT!!!' Look on our faces and with full power he smacks into me, my nose starts bleeding and one of the Argos board plastic trucks snap.
I've always had a really high pain threshold, so I wasn't too phased and he stayed with me to check up on me til my dad returned to see how things were going. My mum and dad then took us to the nearest skate shop that we could find in Bath.
Bath had Darkotic's back then, which eventually became Detour Skate Store RIP, but I wasn't aware of that shop at all then and it was out of the city centre, so we went to Snooks Toy Shop instead, which had a skate shop in the back, and my Dad bought me some classic Venture Trucks.
I remember being allowed to travel to skate Bristol for the first time a few years later on a day where the weather was amazing, so when we got off the train it felt like being abroad. It was the day of the Krooked Demo at Lloyds where we saw Mark Gonzales, Bobby Worrest and Van Wastell R.I.P.
I still have footage we recorded from that day of Van Wastell doing a Fakie Flip Switch Backside 50-50 off the top ledge.
Rad. What kinds of art and music did you make growing up
Yeah so I've always been really into creative stuff, so art-wise I collected comic books for a bit and anything I've ever ever been interested in, I've always wanted to know everything about them. I'd look at Marvel and DC but also all the other stuff that was available like Image and Dark Horse.
I've always loved all music, but especially Hip Hop. I've also always loved graffiti, breaking, and to be honest I'm down to support anything where people show passion with what they do.
What was the first skate video you saw?
The first skate video we ever bought on VHS was Toy Machine's Jump Off A Building, from that toy shop Snooks.
Such a dope video, and around the same time we started seeing Bam Margera on Jackass too, so we definitely were hyped on Bam for sure, but every part and bonus footage is amazing.
Elissa Steamer, Ed Templeton, Chris Senn's downhill stuff was crazy!
Kerry Getz does the best Kickflip down Love Park and then there's Mike Maldonado and Brian Anderson
What was the first skate video you had on repeat though?
There's definitely been too many over the years, but one of the first ones has to be Danny Wainwright's part in Day In The City 2.
Everything about that part is perfect, The Styly Cee song, the editing, the spots, the style.
I have loads of family up in Liverpool, so there were a lot of spots around the corner from where my family lived.
I'm always gutted I lost the Day In The City 2 DVD, so if anyone's selling one let me know. The only other DVD I lost was the Bath scene video Yellow Brick Road, so if anyone has that for sale too let me know.
Back to early repeated skate videos though, Flip Sorry and Really Sorry will forever be my favourites.
My other favourite skate videos back in the day were:
Girl Yeah Right
The DC Video
Shorty's Guilty
Fifty Fifty's Jus' Foolin'
Blueprint Lost & Found
And then when Baker 3 and Baker Has A Deathwish dropped I was super hyped on those!
Also Kayo It's Official was another one I loved
DVS skate More
Circa It's Time
Lakai Fully Flared
Sick. When did you start to make skate videos?
So, I want to say maybe we first attempted filming skating somewhere between 2001 – 2002.
Sam Walton was the first person to get a DV tape camera. Marv also had a picture camera where you could record video without sound, then we'd borrow another picture camera from my dad, which recorded videos with sound.
And from there we'd do filming missions over the years until we finally dropped a skate video in 2005 called Nail Soup, which we gave to people on rewritable disks. YouTube came out the same year, but we weren't aware of this yet.
Looking back on Nail Soup I'm really proud of it, as it captures a lot of great childhood memories, and we were all pushing each other just because we loved skateboarding and skate videos so much.
Nail Soup is on our TSCrew YouTube channel.
When it comes to videos, do you do more filming or editing?
I've always done a bit of both. We've all always took the filming in turns.
The editing has usually been shared between Marv, Turkey and Me. I've always really especially liked Marv and Turkey's editing styles.
Marv is an amazing musician, he can play anything and we dropped the first Trowbridge skate park edit on YouTube in 2008 and Marv's editing was on point with the way the clips go with Big L's Ebonics.
So what is the TSCrew and when did you start it up?
So the TSCrew stands for the Trowbridge Skate Crew.
So it was already a thing before I even started skating. It was older skaters like Luke Rose, Baldy and others.
Basically it was the guys we looked up to when we started skating down the Asda Car Park. We could have started our own thing, but instead we thought it was important to continue something that had already planted the seeds in our own town, so TSCrew is actually over 20 years deep.
Who is a part of the TSCrew?
So pretty much it's skaters from Trowbridge, but also in the early years we also had BMXers, bladers and anyone contributing to the building of kickers and DIY stuff down the Asda Car Park.
It's not exclusive to people from Trowbridge, but it's usually people who live in Trowbridge who tend to rep it, but yeah it's a very inclusive and diverse crew, which is open to anyone who reps it respectfully.
I'd say some of the ethos' are friendship, loyalty, respect, good vibes, pushing others to progress and generally supporting each other.
Right now there many people in it to name, but you'll see regular names in our videos such as myself, my brother Dan, Marv, Dave Butlin, Andy Shaw, Walton, Ollie James, Rory Mclean, Luke Rose and many more.
How did you decide to Switch Frontside Flip London Life?
The first time I believe I ever thought I wanted to skate London Life is when I saw footage of London Life on the first ever issue of the old UK 411 skate video series – UK VM, where a really young Korahn Gayle Nollie Heeled it and also Layth Sami does a Backside Crook down the handrail.
The first time I ever skated the London Life 9 set was in 2005 when I was 16. I hadn't even Ollied it before, but back then I had a lot of ambition from hyping myself up myself watching gnarly skate videos and in general just wanting to improve and progress.
There was a group of us from Trowbridge who were going to Bristol that day, but the trains weren't working. Walton and Turkey got on the first bus, and then a bit later on me, Marv, Adam Mclean and Dale Smitherman got on the next bus.
When our group arrived in Bristol, we saw Walton limping with his arm around Turkey in the distance. He'd hurt his leg really bad trying to Backside Boardslide the London Life handrail and years later he had to have surgeries.
He got super close as well and I reckon he probably would have got in the next couple of goes, which was really unfortunate.
We helped Walton get back on a bus and he was cool for us to stay ,or at least I think he was, but anyway we obviously stayed.
What did you do then?
So we went to London Life, which already took out one homie and I Ollied it for the first time.
I was then trying to Kickflip it, and was landing it every go, but would collapse, step off or slip out due to impact. I eventually landed one in a crab position with both hands down and I decided I was over Kickflipping it and wanted to Frontside Flip it instead.
I was landing on Kickflips down it pretty much every go that day and I was able to do the same thing with Frontside Flips and I ended up rolling away from the Frontside Flip quite quick – somewhere between 10 to 15 goes I reckon.
It's a blessing for me when I get something quick, as I've always had to battle for tricks, and I'm usually the get close but didn't get it type of skater.
So when did you finally stick the Switch Frontside Flip?
So I first stuck a Switch Frontside Flip down London Life in 2006.
I had to keep going back and I eventually figured out you don't get kicked out on Bank Holidays, so I made it my mission to attempt Switch Frontside Flips down London Life on Bank Holidays.
I eventually got it in 2008 when I was 19.
Again it was one of those days where I kept sticking it during the battle, snapped my board and then snapped my spare board on it, so Marv let me do it on his setup. Don't know how I did it on a setup I wasn't used to, but I wanted it so bad I would of tried it on a tech deck if that was the last option, that would be a sight… I'd allow the toes down.
I didn't want to get robbed by that trick that day. I also listened to the same song on my iPod the whole time to get hyped and because I got into a groove and didn't want to affect the rhythm of my attempts, I kept repeating it. The song was Ryde Or Die Bitch by The LOX.
Right. When did you first start listening to Hip Hop?
The first song and music video that started my obsession with Hip Hop was in the summer of 1999 ,a year before I started skating.
The track was 'Still D.R.E' by Dr. Dre featuring Snoop Dogg.
From there we'd watch the music channels all the time trying to catch Hip Hop music videos, and I started to learn about older tracks, as Trevor Nelson would do the Licks Shots on MTV Base, so we'd hear older tracks by 2Pac, Wu-Tang Clan, Nas, A Tribe Called Quest and many more.
Not long after getting into Hip Hop we went on a day trip to Cardiff with our Mum and Dad and we asked if they'd by us an album, and the first CD we were ever bought was Tha Doggfather by Snoop Dogg ,Snoop's second album. 'You Thought' is my favourite from that album for sure.
What is the connection between skating and Hip Hop for you?
Yo, there's the biggest connection between the two for sure.
It brings people together worldwide from all walks of life and I think our shared interests bring us together. Skateboarding's love of Hip Hop has been there way before I got involved. All the way back to Natas Kaupas rockin' a Public Enemy T-shirt while busting a phat Melon Grab.
What's your favourite Snoop Dogg track and why?
Really good question, but really hard to answer as there's so many classics throughout different eras of Snoop's career.
Doggystyle is one of my favourite albums ever so everything off that.
The Dr. Dre features, The Ruff Ryders WWIII track feature was a heavy one and Tim Westwood would drop that banger a lot when it first came out.
All the tracks he did with DJ Premier were always crazy, for example Protectors Of 1472 by Jermaine Dupri, the Gang Starr feature on The Ownerz and the tracks they did together on Paid Tha Cost To Be Da Boss. Can't forget So Fly from the 213 album too, but too many.
What kinds of Hip Hop were you listening to at the start?
I started expanding my knowledge about Hip Hop at a fortunate time as the year 1999 was a year of super lyrical influences with the likes of Jay-Z, Eminem, DMX, Big Pun all blowing up.
Dope albums like Dr Dre's 2001 being released, but at the same time movements such as Rawkus Records were in full effect with the likes of Mos Def and Pharoahe Monch making a big impact. Wu-Tang Clan's The W was another dope release, which dropped in 2000, but I think one of the most influential albums and what I'd say is my favourite album ever is Moment Of Truth by Gang Starr.
From there I discovered Pete Rock, The Pharcyde and more amazing Hip Hop, which led to learning about U.K. Hip Hop, like Klashnekoff, Ty, Blak Twang, DJ Skitz, Skinnyman and then on to discover Hip Hop from around the world and just wanted to keep learning more over the years.
I also educated myself about many different types of music, as Hip Hop is diverse and the great thing about Hip Hop is it takes from many different aspects of music and life, and then creates something new with it. I was able to educate myself about all types of music through watching skate Videos, films and tV shows.
I have memories of discovering songs that have been the soundtrack throughout my life, watching MTV Base, Kiss, and recording the music videos and Hip Hop related shows on VHS and then cutting up pictures from the Source, Hip Hop Connection and sticking them on the VHS cases.
Also listening to Tim Westwood on a Saturday night and recording his shows to cassette tapes!
Also watching documentaries such as Rhyme and Reason and watching shows like the Lyricist Lounge Show were really influential in helping me understand the importance of the history of Hip Hop Culture, The Elements and the Craft.
When did you start going to live Hip Hop shows?
I'd regularly attend Hip Hop gigs and have had the opportunity to meet artists I've been a massive fan of over the years. It would be easier to give you a list of who I haven't seen live compared to who I have seen live as there's so many gigs I've been too.
I've had the chance to share the same mic as Jeru The Damaja, Sadat X and Akil The MC when they gave the opportunity for local Emcees to come and join them in the cypher on stage, which were really dope experiences.
That's sick, so when did you start rapping?
I started Emceeing in 2009, which was a learning process, as it was something I had to work hard at to improve, but I learned from homies such as MDV who helped me a lot regarding learning about making music and he'd cook food for us when we'd chill at his and stuff like that and he'd do little DJ Sets on his decks which was dope too.
Watching him perform local show live was dope as well, as he was really good with the off the top of the dome freestyles, where he'd do the Supernatural type shit like rapping about what was on a poster or what was on a T-shirt someone was wearing.
I used to do a lot of off the head freestyles, but I am possibly quite rusty now, as it's something I don't make time for as much in later years, but sometimes we can all be hard on ourselves when it comes to our own stuff.
I also gained a lot of knowledge from my childhood homie Marv aka Marvin A Doup aka Afralune, who is a really talented musician who can play anything. He used to make all of our Ringtones when we were 11, so we didn't have to buy them. He's one of those talented people who can hear something and just play in on a keyboard, guitar, whatever instrument.
Also the homie Obeah from Earthtrax Studios who recorded all my vocals for this album was pivotal. He makes dope Reggae and Dub music too.
More recently Mac Lloyd has helped a lot with advice, he's an amazing musician. He's got some great projects out on Res One's Green Brick Records.
How did you start to play live gigs?
I did small shows here and there a very long time ago with MDV and DJ Marlondon but I always felt like I needed an album behind doing the shows.
My original plan was to release an album way earlier than I eventually did and then do shows, but life and other priorities were ahead in the queue, so it's always been something that has followed me around, but I'm so relieved to put something out into the world now, especially something I'm very proud of that I put a lot of time into, as well as the other collaborators contributions who really helped make it possible.
What has been the most memorable show you've played?
To be honest they felt like little successes that I was still proud of because I was able to put myself out there like that and I always seemed to get a good response from people when performing, and people were interested in what I was doing, even when it was small crowds.
I think jumping on the mic with legends has always been a dope feeling but I think it's always about progressing and improving.
I don't see myself anywhere near one of the best emcees as to me I think I'd be pretty deluded if I thought that. Instead I just want to try and contribute something dope that hopefully people will enjoy.
When did you start recording and produce your own album?
Making an album was a very long learning experience and journey, as being a perfectionist I wanted to put something out I felt proud of, and it was important to me to put out something that represented Hip Hop Culture and hopefully would bring enjoyment to others.
It's a hard one to find a balance with as I want people to hear my music, but at the same time I don't want to force it on people.
The other thing is I'm always John first and I think it's important to differentiate and not to just approach everyone as The Nicewun JM, because not everyone wants that, if you know what I mean. I also try to let the music do the talking as it's up to other people to decide if it's dope.
I'm really proud of it though and so far the reaction from my people, peers and new people has been really positive, so I'm hyped.
If there are people who organically become fans of my music and want to call me JM or Nicewun then that's all love too, and I really appreciate it.
Also it's all good if people aren't feeling my music, even close friends, as it's not that serious if your music isn't for them and it's important to respect that. I'm conscious that I wouldn't want to alienate myself from people, if I approached things in an immature way.
How can people listen to and buy your music?
I released my Debut Album on 6th February 2021 called Celebratin' Hip Hop… Over Here, which is on Bandcamp and on Spotify 
I'm really grateful to everyone who contributed to this Album. The Album features
Blaq Poet, Thirstin Howl The 3rd & MDV
Production by Da Beatminerz, Domingo, Marvin A Doup, Jabba Tha Kut, Mac Lloyd & MDV
Cuts by Da Beatminerz, Jabba Tha Kut & DJ Marlondon. Mixed by Marvin A Doup
Mastered by Chemo and Vocals recorded at Earthtrax Studios by Obeah ,except features,
Album cover design by Tim Warder.
Your raps discuss skateboarding, The South West and your family life, how do you choose a subject to write a song about?
So for me I write about the things I love and feel passionate about, and it's always interesting how people are going to take it.
I'd say it's been a ten year journey where I've wrote some tracks at different points in my life, so some situations I rap about in certain songs have completely moved on as it only captures a point in time.
Family is so important to me. Shout out to my wife Adi, our kids Lucia and Saffron, my mum and dad who've always been really supportive regarding anything I've wanted to do, my bro Dan, my Nan, our cats Bronx and Tuna, our dog Cleo and my wider family and the family we've lost like my grandad, my Nan, my uncles and cousins.
As well as representing Hip Hop Culture, it's also important for me to rep skate culture, as it's been a very important part of my life.
You have a distinctly positive tone, why do you keep it positive?
I do really like writing lyrics, lines and bars that are slick – sometimes even braggadocious – but I think I'm more humble. at least I hope that's the impression I leave on people, I may come across as humble in some tracks, but for some reason that's just the way some tracks end up.
Some of the tracks are just rapping for the love of rapping and to see what references are picked up on and hopefully some lines will makes people say 'Aw Shiiit' in a Big Daddy Kane voice.
Some tracks I may sometimes go in a bit more of a negative direction, but I mostly try to write things that are uplifting, empowering and motivating.
What else are your tracks about?
There's tracks on there about mental health and older situations in life, such as tracks about the fear of making a commitment to a relationship in the early stages, there's songs about faith, praying to God and Jesus, and much more.
There's even a track I did about people who challenge you to battles and in the track I'm referring to people who I used to make assumptions about for example, maybe they aren't actually into Hip Hop like I am and they want to try and belittle you for taking it seriously and by seriously, I don't mean super serious, but you know, when you're passionate.
Then again who am I to make that assumption about someone else but sometimes you write a song about how you're feeling in that moment because of the way you've interpreted something. I do absolutely respect people who's hearts are in the battle scene, it's just not for me.
Why are you not into rap battling?
I'm not competitive like that. I also did one, which was inspired by how judgmental some people are who don't get Hip Hop and look down on it.
I did a tongue and cheek 'Call the cops when you hear Hip Hop… When you hear me rhyme, ring 999' type of thing on that one, as I've witnessed some people in life who have the kind of attitude which is like 'wears a hoody, listens to rap… must be a Chav' type of mentality, which I'm sure we all have experienced by some people.
That was also inspired by a documentary about the Police in America, who would racially profile black rappers and keep a file on them – which is insane discrimination! It's the stereotype that Hip Hop is criminal so that was something subtle that inspired me at that time.
I think something which would really hype me though, is if people really feel my lyrics are quotable and people provide me with that knowledge – specific details that make them think or they get the reference.That would be dope and that's what it's all about!
What's your favourite track off your latest album and why?
So my favourite track off my new album is called Can't Keep Me Down, which is produced by the legendary production duo Da Beatminerz, who also did the DJ Scratches and Cuts on the hook.
The moment I heard the beat, I knew it was meant to be, so reached out to Mr. Walt of Da Beatminerz and his people and made it happen.
For anyone who doesn't know Da Beatminerz, they are Mr. Walt and his brother DJ Evil Dee who is also a member of the legendary Black Moon.
They've definitely produced a lot of classics over the decades for sure. I love all the tracks though, but that's the one I just released a video for.I'm always very detailed and usually try hard to ensure what I write is accurate, but there was one lyric, which isn't too big a detail as it still works, but i was writing something very specific.
The line 'Too quick for the eye like a Tom Penny Back Tail Shuv' – I was actually trying to reference the Tom Penny Backside 5-0 Shuv, infamously known as the invisible Shuv because it's so quick. But for some reason in my mind I was picturing a Backside Tail Shuv, so I should have rewatched the trick before recording the track. But it's all good and still works I think.
I was very fortunate to work with people I've been a massive fan of such as Da Beatminerz, Blaq Poet, Thirstin Howl The 3rd, Domingo and more.
How do you find samples?
So I didn't produce any of the beats on the album, but there were some beats where I suggested some samples to Marvin A Doup for beats and I also asked MDV to use a specific sample for the beat he did, and they both killed it.
The other producers did their own thing regarding samples. The DJs also did their own thing regarding the samples in the scratches. The only track I asked if specific samples would work on was the cuts for Strictly Hip Hop, which Jabba Tha Kut did and killed, so big up him.
There were a lot of samples influenced by classic skate videos though for sure.
Cool. Do you collect skate videos, Hip Hop CD's and Vinyl too?
I started skateboarding in the year 2000, and I feel listening to a lot of Hip Hop and skateboarding both went hand in hand, and from there me and my bro started building a collection of Hip Hop CDs and skateboarding VHS and DVDs… We're mad hoarders – especially me, Turkey's not so bad.
Somewhere long the line he ended up with the skate video collection at his house and I have all our Hip Hop CDs at my house.
I live with my Wife, two kids, 2 cats and a dog, so the Hip Hop Collection lives in my wardrobe where there are more CDs than clothes. I follow a lot of Hip Hop pages on social media which celebrate album release dates, so I always post a picture of the CDs on their release date, so if anyone has been following me on Instagram that it will give you a rough idea regarding the size of our collection.
What's your favourite thing about making skate videos?
First of all I just want to add that I think full-length skate videos are really a crucial part of our culture.
I know there's evidence that attention spans have changed, but I really struggle to remember many solo internet parts, which is a shame because the skating is the same level as what we see in the video releases.
There's many things I love about making skate videos. The journey with your people, overcoming the battles, and supporting and hyping people because if one person wins, we all win.
We've made many TSCrew videos for YouTube, which led to our two DVDs 'The TSCrew Video' in 2012 and 'Another TSCrew Joint' in 2017, which I'm really proud of.
Again both of these are on various platforms on the internet, but I'd suggest the best place to watch all the parts from both videos is my Instagram.
I've uploaded all the parts to IGTV and I believe maybe one or two parts may be muted on other platforms.
What skate videos did you see that influenced ones you made?
So definitely all the videos I mentioned earlier but I think the most inspiring ones regarding our own videos have to be Fifty Fifty skate store's videos and Bristol skate scene videos such as Bristol in Bloom.
The TSCrew homie Dave Butlin had amazing footage in Bristol in Bloom, and his footage was mentioned in the review about the video in Document Magazine at the time.
Jus' Foolin' is definitely one of my favourite videos with dope parts and footage from Will Ainley, Dan Wileman, Joe Habgood, Paul Carter, Zak Pitter, Matt Keal, Justin Sydenham, Danny Wainwright and Flyn Trotman… Such an epic video!!!
This then led to other amazing skaters putting out amazing footage in Bristol scene videos, such as Korahn Gayle, Boyo, Layth Sami, Ashley Skidmore, Dave Snaddon, Nicky Howells etc.
Also big shout out to Ben Nordberg too, who started skating in Bath, really killed it skating and it's amazing how far he's taken it, so loads of us are really proud of him down this way. Nollie Bigspin Heel down Lloyds is no joke!
If there's any guys that I mentioned above who aren't pro – I think they should be, as they're all world class.
Who were you favourite skaters growing up?
My favourite skaters growing up were
Danny Wainwright
Turkey's favourite skater is Tom Penny, who is also one of mine, but when you're a twin you sometimes try to differentiate from each other a bit!
What's your favourite trick by Mark Appleyard in Sorry?
That's a hard one, I think if there was any I was going to choose it would probably be the Kickflip Backside 5-0 down Clipper as that's my favourite grind for sure.
Favourite Appleyard trick or section of all-time?
I like Appleyard's Flip Sorry and Really Sorry parts joint, too hard to choose which one is my favourite!
I also love his Digital section with Bill Withers Ain't No Sunshine, and they then later did the Remix Video with Gang Starr's Speak Ya Clout!!!
I have too many favourite Appleyard tricks – his Nollie Bigspin Heel MACBA 4, Nollie Flip Backside Crook the Blue Handrail, Kickflip Backside Tailslide Bigspin out down a handrail in Really Sorry. I also remember he did a steezy Hardflip Backside Tailslide on a ledge.
Also his Tre Flip Backside Noseslide Really Sorry ender, and Mark's Really Sorry Kickflip over the handrail – best Kickflip ever in my opinion.
What skate videos from Bristol and The Southwest inspire you?
Anything that comes out of Bristol I've always been hyped on. There are a lot of really dedicated skateboarders.
I think the homie Korahn Gayle is one of the best skaters in the world.
Also the homie Paul Carter released so many epic parts and I really admire how he killed it in the UK, in Canada, and any other places he killed it.
If Paul Carter didn't Frontside Lipslide the Odeon Car Park handrail in Bath in Blueprint's Waiting For The World I don't know if any of our TSCrew would have stepped to it and I know that clip inspired Turkey to Frontside 50-50 it.
The grounds so bumpy there, so seeing Paul Carter be like the Neil Armstrong first man on the handrail definitely helped.
The Fifty Fifty Videos were so influential. Best skating and the best Hip Hop, so I could relate to it, as these guys shared the same interests as me.
Who had your favourite part in Jus Fooling and why?
It's got to be Danny Wainwright.
I think Danny has one of the best styles ever and I personally think he has the best Tre Flip ever.
The one he does down London Bridge is perfect!
There's another Tre Flip which was really steezy up a Euro Gap in one of the 411 Contest vids. Can't remember which one.
But yeah every part in Jus' Foolin' is epic! Paul Carter's Backside Flips are crazy in that vid too.
What's your favourite Paul Carter trick and why?
Paul Carter has had so many dope parts. Yesterday's Future, amazing Canadian video from Underworld skate Shop and he has a dope part in that!
I think my favourite is possibly his Frontside Bluntslide down St Lawrence handrail in Bradford On Avon, which is the town next to Trowbridge or his Frontside Smith down Bath Rugby Club handrail,
But then again he also Backside Smithed Garfunkles Handrail, Frontside Flip Nosegrinded Little Lloyds and also did a Backside Nosegrind Nollie Backside Heel out in Prague, there's too many!
Do you have a favourite trick by Tim Crawley?
In Bristol in Bloom the Nollie Flip Tim Crawley does down Lloyds is so dope and Nollie Backside Noseslide the Bath Rugby Club handrail is crazy!
What's your favourite spot in Bristol and why?
For me it's London Life as I got my two best tricks down that, but Bristol's so good!
Lloyds is the obvious one, but to be honest there's so much potential for creativity in Bristol with the amount of dope spots there are and you have skaters who come up with really amazing ways to hit things…
Harry Ogilvie for example, so amazing and unique, Switch Flip Switch Backside Tailslide one minute, then the next kicking his board around a lamp post and landing on it, so crazy!
Favourite spot in Bath and why?
Garfunkles is an epic spot. It's a long 7 Stair, high handrail and slight downhill landing. so many of the TSCrew homies have chucked a few dope tricks down it.
Marv's Varial Heel, Dave Butlin Frontside Boardslided the handrail, Andy Shaw's Nollie Flip, Ollie James' Hardflip, My bro Dan's Nollie Backside Shuv and Rory McLean did a Backside Lipslide and Frontside 5-0 down the handrail.
Also Bath Multi Story is epic – Dave Butlin killed it there, especially the line Switch Frontside Tailslide to Switch Frontside 360 out into the first bank then Switch Bigspin Heel into the second bank.
Bath Rugby Club has had some hammers down the 8 set handrail over the years.
Leo Romero murked it on the Foundation That's Life Bonus footage, Flynn Trotman Frontside 180 Nosegrinded it and Colin Kennedy Switch Backside Crooked Grinded it for a Sidewalk cover.
Sick, so how have you been passing the time over Lockdown?
So, I've been really busy with my main priorities being family, working and even helping with school work.
Skating and Hip Hop does take a back seat when you have a family, but when I can I go skating or do music, I love it, and my family is really supportive. In my mind I can still do all my tricks, but sometimes my body struggles due to being a 32 year old man who's muscle memory isn't always there when not skating regularly enough.
I had also been listening to a lot of final mixes and then the masters for the album in my spare time before releasing it, as I actually wrapped up recording the album pre-Covid. I was really hyped on the mixing and mastering Marv and Chemo did – They killed it.
One of the best things I've had the opportunity to do since Covid was connecting with Korahn Gayle who is my personal trainer, and we do sessions over Zoom with him being based in London. Those sessions have really helped me a lot improving my posture and health, and Korahn's sessions have helped me reduce a lot of pain that I had been suffering from previously.
You mentioned hanging with Korahn,what's your favourite thing about him and his skating?
Korahn is probably one of the smartest people I know, he knows everything about the body and it's amazing how often he checks in to see how you're doing, which I really admire.
He was able to pass through Trowbridge and do a socially distanced session a number of months back and he was really stoked on mine and Turkey's skate video collection. I kind of forget how big a collection we have and I always assume everyone else has a similar collection.
Korahn is one of my favourite skaters ever, and I regret not getting the Skateboard Cafe board with him in the England Shirt.
If I had that board, I'd put it on the wall above the TV, so when I'm about to be lazy and zone out, I'd look up at that board and say 'you're right Korahn, I need to go and skate or exercise.'
One of my main goals from training I do with Korahn is to hopefully improve my skateboarding, as I'd like to make another TSCrew Video one day.
Favourite Korahn trick down Lloyds Big 3 and why?
Too many – He's the Lloyds Bank Manager and shut down the branch! The Switch Backside 360 he did was epic, Fakie Tre and Switch Hardflip.
I was there at two different jams when he got the Half Cab Frontside Heel and the Switch Varial Heel down Lloyds and they were epic.
I think he could do every trick down Lloyds if he wanted to, he's the champ, so props to the homie Korahn.
Where have you been skating most recently and who with?
So more recently it's been solo skates, like at schools when no one's there, but the last time I skated was a month ago due to other commitments.
Who is your favourite skate photographer and why?
Leo Sharp has always had the dope shots.
The homie James Whitlock from Bath is a really good photographer and skater.
I've never had a really good photo in my many years of skating as we always video'd everything, but I've always wanted to get a really good photo.
I'm really hyped on the new mag The Skateboarders Companion and it's really good to have another UK mag after the demise of Sidewalk.
Also Dogpiss mag who've used some of my bros skating pics in their mags too.
Where's your favourite skate spot in your city?
Trowbridge is a hard one – possibly Asda 4 set – which is a long 4 or Y-Bridge Flatbanks also known as Butlin's Banks as he used to live near there.
Where's your favourite skate spot in the world?
Very hard to say but Barcelona is incredible, I've only ever been once, before I had my own little family, but I'd love to go again one day.
New York is amazing. I'm a big fan of Bristol, London, Liverpool and Leeds, but I find it hard to pick specific spots, because I have always liked variety, I've never really dedicated myself to a specific spot, if I'm honest.
I'd love to be better at doing tricks down stairs again one day. I've never been the most tech, but I do enjoy trying to learn slides and grinds.
Do you have a favourite photo of all-time?
It's got to be Tom Penny's Kickflip Frontside Shifty over the Besos Bump to bar in Barcelona…STEEZ!!!
Tom Penny, Kickflip Shifty: éS Footwear Ad
What's your favourite skate video ever and why?
Flip Sorry – I always go back to it, and enjoy it just as much every time I watch it!
Who's your favourite skater right now?
It is still Mark Appleyard
I've just always really liked his style and trick selection! He killed it in his recent part too.
Who has your favourite style on a board and why?
Javier Sarmiento – Too many amazing sections my favourite section of his is in The Firm Video, Can't Stop.
Do you have a favourite song and if so, what is it?
I think the song in my part in The TSCrew Video, The Life by Styles P featuring Pharoahe Monch has to be up there for sure, but there are too many tracksm that's a hard question. I'm not very good at choosing favourite anythings as I appreciate so many things out there.
Who are some of your favourite UK Hip Hop Artists?
So there's a lot of dope UK Hip Hop I've loved over the years.
Two of my favourite U.K. Hip Hop Albums are The Sagas of Klashnekoff by Klashnekoff and Council Estate of Mind by Skinnyman.
But then there's legends like Ty ,R.I.P, Blak Twang, Rodney P and London Posse ,R.I.P Sipho, Jehst, Mys Diggi, Phi Life Cyper, Foreign Beggars , R.I.P Metropolis,, Estelle, Scorzayzee, Ms. Tempz and Out Da Ville, Mark B ,R.I.P, & Blade, Roots Manuva, Task Force, Tommy Evans, Dr Syntax, Stig Of The Dump, Monie Love, Lewis Parker, Terra Firma, Harry Love, Joe Budha, Dizee Rascal, The Streets, The Four Owls and Rhyme Asylum.
What about favourite rappers in the South West of England?
Having seen an amazing UK Hip Hop scene in the South West, I'm hoping my contribution can add to that legacy, having watched artists who've made their marks such as Leaf Dog, BVA, Split Prophets, Asian Hawk, DJ Fingerfood, Sip The Juice, KNers, Buggsy, Mr Slipz, Krazy and Word Life, The Souljah Clique, Sir Beans OBE, JMan, NLP/Creatires Of Habbit, Rogue & Relly, Krate Krusaders, Blacksmith, Twizzy & Jinxta JX, Mac Lloyd, King Aggi and many more – but if you're making Hip Hop and putting yourself out there I have nothing but respect for you.
Do you have any upcoming releases or shows ?
Yeah, I can't really say too much about them as there is always the fear of things falling through.
Been in talks with dropping an edit about the Trowbridge scene and TSCrew with some good people who are interested, but just awaiting to receive notes from them to get a final version complete to a good standard. There's also an art museum style exhibition about the Trowbridge skate scene which had been in talks for a while, but was paused due to Covid.
I've been talking to some good people regarding some music stuff, so hopefully that happens. Hoping to get CDs and Vinyls made at some point.
Going to continue to promote my album and just put out a music video that's getting positive support.
Continue skating with TSCrew and more skating with the kids and hopefully make a new TSCrew video.
Turkey is hopefully do more boxing matches soon, and I usually film those and he's had a positive response from that too, which has been quality.
What do you think about The No Comply Network?
I'm hyped on The No Comply Network, it's been a dope experience chatting to you, and it's great what you are doing to promote skate creatives.
Also thank you for picking me as the winner in the Best Ever Switch Hardflip comp – besides Brandon Turner's one down Carlsbad you did a few years ago… I submitted Layth Sami's Switch Hardflip down Lloyds and won a pair of HUF Shoes. Thank you No Comply Network and big up Layth.
All good, glad to have you on-board. Any Shout Outs?
I'd also like to give a shout out to some of the radio shows that have supported by playing my songs or having me on their shows so check them out.
Screwball Radio hosted by Blaq Poet, Comet & King Eric
The Critical Beatdown Hip Hop Show hosted by Mr CRF on Chuck D's Rapstation
50 ways to hate an album Podcast with Marv & Merrett
The Xposure Show hosted by DJ Sammy Jay on Itch FM
Any last words
John

?

Yes, just thank you to everyone who's read this. Hope everyone's all good out there and God bless