Tom Delves is a skateboarder and illustrator from London who's always making new work, taking commissions or out skating the city's streets.
We sat down with Tom to talk his inspirations, how he got into skateboarding and his favourite things on and off a board of all-time.
What's your full name, where did you grow up and were do you reside now?
My full name is Tom Delves.
I grew up in Wanstead and Leytonstone in London and I live in Aldgate now.
When did you first learn to skate and who did you skate with?
I've always had a skateboard pretty much but I guess when I started high school I got into it more.
I lived next door to my mate Set Roy so we'd always skate outside, and then met people like Joe Sivell, Josh Cox and Jake Harris, who we started skating around the city with and filming stuff.
When did you first get into making art?
I was massively inspired by the Beano, and then the Simpsons, so I basically just drew loads of cartoons.
What inspires you when you sit down to make something?
I'm obsessed with skating, graffiti and architecture.
Being a skater makes you study and appreciate the architecture of really mundane places, so I try to reflect that.
Some objects such as a green electricity box are really iconic in these cultures, but are rarely seen in much artwork.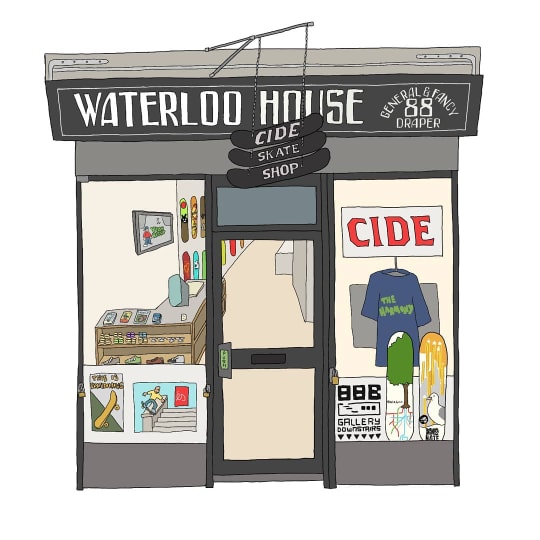 You've made a series of skate shop illustrations. Why do you think skate shops are important?
Skate shops really help to build a community if done right, and enforce the concept that all skateboarders are part of the same family.
Those particular places were way more than just a shop, being able to hold skate and art events is the perfect way to inspire and bring people together.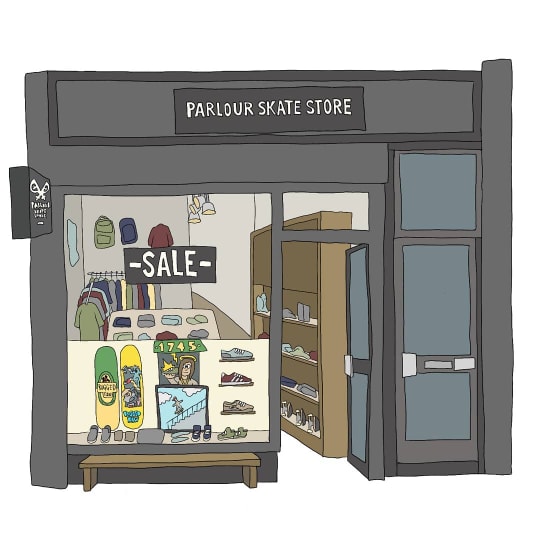 Favourite photographer of all-time?
Joe Buddle's photos are sick.

Favourite UK Skate Video?
Isle Skateboards Vase video was pretty awesome.
Favourite skate video of all time and why?
Probably Transworld's Sight Unseen. I'll never get bored of that video.
Favourite Illustrators of all-time?
I can't name just one, here's a few people whose work stokes me out.
Jean Giraud
Vaughan and Mark Bode
Brian Blomerth
Joe Sacco
Best Skate Video soundtrack of all time?
Probably the Static videos by Josh Stewart
All the songs go so well with the skating and editing.
Sick. Any plans for the future Tom?
I'm just gonna keep drawing and hopefully find commissions here and there.
Me and my mates are filming for Rugged Raw 3, an independent skate video by Jake Martinelli.
I'm also making my own feature length offcuts video.
Both should be out within a year I think so I'm working to finish off that