Callun Loomes is a filmer who runs Get Lesta
What's your approach to skateboarding, design and filmmaking?
Wing it. No – I'm sure, like me, everyone looks back at things they did and thinks, 'What was I thinking?' But obviously you get influenced by everything day to day. I've grown up at my grandparents' pub in Leicester, so a lot of graphics have been influenced from that.
Do you do all of the Get Lesta design?
No, no chance. My best friend Darryl does all the designs. Any DVD cover, poster and graphic of any sort has all been him. I've always been interesting in filming and editing – that's my department. Having him do all the artwork has made me never want to learn anything graphic-wise, as I love everything he comes up with. I feel like, after nine years, bringing something out with art he didn't design would ruin it as a series, if you can call it that. Extremely grateful for all he's done.
How do you and Daryl collaborate on these projects?
Normally, the approach is go to the pub with Darryl, sit there for ten hours trying out my shit ideas. Next day, realise it was a terrible idea for a cover, he deletes it, finally admits my idea was shit and does his own thing.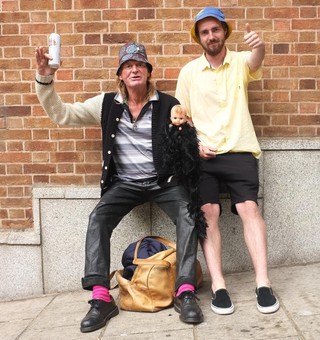 Callun (right). Photo: Leo Sharp
So you're from Leicester – you must have known Sam Taylor
Yeah, Sam is the reason I got into filming. I met Sam in 2008-ish at the Boardroom and used to film little edits with him. He moved to London and sold me his camera, and I've been filming ever since. Stoked on all his work for VICE.
I wanted to chat a bit about the Leicester scene. Where is Luke Walker these days?
Me too, 100 percent. Naturally talented skateboarder. He could mostly be found at Victoria Park cruising about when I was younger. I hadn't started skating when the old Leicester skate shop Casino's video was being filmed, so I missed seeing his tricks firsthand. I believe he does something to do with woodwork now.
What about Paul Alexander? He's another Leicester legend, and Bristolian filmmaker Tim Crawley's documentary about his story and talent on a board touched so many people.
Yeah, Paul Alexander was always at the Quay, a popular skate spot in Leicester, when I first started skateboarding. Undoubtedly he has one of the best frontside kickflips of all time. Silly pop and would circle the quay not bailing a flatland trick.
Casino was a special, proper skate shop. Did you know Andy "Simps" Simpson and Casino well, or was that before your time?
Andy and Casino killed it. I grew up dodging college and hanging out in Casino. I ended up working there. They did loads of shop boards and clothes for cheap. My favourite memories were the "King of Lesta" Competitions they did – a little fun version of [Thrasher's] King of the Road: loads of stupid challenges and tricks to do at local spots. They would do a premiere to watch everyone's edits.
You've filmed a lot of footage at the Boardroom Skatepark, which closed its doors recently. What are some of your favourite moments from there?
I remember my parents dropping me at Boardroom the first week it opened. It was a second home, that place. Most of my friends I met through the boardroom. Dave, who owned it, did so much for the Leicester scene over the years. He moved location, then Chris Straw and Sam North took over for a few years. It closed down earlier this year, which is absolutely gutting. Everyone needs to make sure they don't take their local park for granted and support it.
What was your favourite trick done there that you saw/filmed?
I don't really want to give it to him, but most things Eric Thomas has done. Every comp he would go off and do something even more daft than the previous year. He didn't come off his board much at Boardroom – was great to watch. Over recent years, Shaz and Shumba started working there, so skated it 24/7. They destroyed it towards the end. Hopefully we get a new indoor park soon.
When did you start Get Lesta and where can people get a hold of everything you've done?
In 2009, and my bigcartel has our current products on it. Every video I've made, until this year, has been sold on DVD – the latest couple are still available. Skate shops always stocked and supported the DVDs, which I'm grateful for.
Who's on the team and what is the company's ethos?
There is no team. If you're willing to sleep on my floor, go to dog shit spots and live on Tesco meal deals, you're in.
Does Get Lesta have any recent or upcoming releases that you want the people out there to know about?
My latest film, Manners, premieres tomorrow. It's ten to 15 minutes long and is everything I've filmed this year, featuring Kris Vile, Mark Stern, James Bush, Rianne Evans, Joe Marks, Alex Hallford, Luke Humphries and Lucas Healey. It's being shown at the Firebug pub in Leicester – the first prem we've ever done not at Boardroom.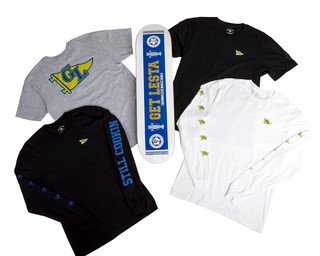 The Get Lesta x Primitive collaboration.
What's the worst slam in a Get Lesta video?
I would say Kelley's 5050 slam on the Ponds Forge rail in Sheffield. I love a good slam, but that one even stunned me for a second – he went like a rag doll. It's the intro to his part in What's Cookin'? For comedy value, in the same video Shehzad Jaffer hangs up and forward flips into this gap in Wolverhampton. Looks horrendous, but didn't hurt him – absolute gold.
What skate videos inspire your style?
Filming and editing wise, I love everything Jon Minor puts out. The transition from Stay Gold to the MADE series, switching from VX to HD and still enjoying how it looked, had a part in me switching to HD. Always love watching Baker videos – never get bored of watching them.
You've done a series of collaborations with brands. Which is your favourites and why?
The first one was with Ravenous, a brand from Sheffield. This came about from filming with Joe Marks and being in Sheffield most weekends. Louis and Kennelly from Slugger helped distribute the first few DVDs and always helped me out.
Then, in 2016, we did a collab with Footprint innersoles, which was great, as it meant the crew had to jump down stuff for me. That came about through Form Distribution – they sponsored Get 420, so we did a collab innersole to go with the DVD artwork.
Later that year we did a board and clothing line with Primitive. Really stoked on this one as they sent a few of the guys over to film a clip for it. We spent a couple of weeks going round the UK showing them our terrible spots – it was a really fun trip. This one came about through Charlie Munro; he'd just got on Primitive.
I was just finishing up Charlie's part and they wanted a welcome clip. Obviously he wasn't riding Primitive boards in any of the footage, so the part wouldn't have been any use to them. They decided that doing the board and clip would be a good welcome. Pretty stoked on it.
What are your favourite spots in Leicester and the Midlands generally?
Favourite skate spot in Leicester would be poly drop. It's not there anymore – it was a big drop opposite quay that everyone skated down. Had some steep and mellow banks leading up to the drop. Definitely an OG Leicester spot for me. In the Midlands, I'd say Sneinton market in Nottingham is up there – always people skating there; it's super smooth, fun and easy to film at.
Do you have any plans for the future or recent news that you'd like to mention?
Once Manners comes out this week I'm going to chill through winter. I don't want to start filming when it's freezing – it's hard to get everyone motivated and I don't blame them. I've always done full length videos, full parts DVDs, etc – this is the first year I've done a shorter edit… Promo? Clip? Whatever you call it. Partly down to everyone getting older, me included. So I'll start filming like normal, see how it pans out, then decide what happens next.