Alex Moul is a musician and pro skateboarder from Oxford, England. Mouly invented tricks, got sponsored by Flip, made music, became a DJ and went pro.
He's done the impossible and more. We are stoked Alex Moul is now a No Comply Network Member.
So we had a chat about growing up in Oxford, Deathbox, Drum and Bass, hanging with Penny, skating rails with The Gonz, Ed Templeton and his best ever.
How did you get into skating?
I started skating when I was 11 when I got a board for Christmas.
I begged my mom for an Alva board.
This must have been 1985-1986.
What did the board look like?
I had pink rails, pink wheels and a pink tail saver!
I got pink and green fluorescent striped griptape that I cut out myself with scissors and fluorescent green Gullwing trucks and bright pink Powell ratbang wheels.
It was Police Academy 4 that got me into skateboarding funnily enough.
It had like Lance, and Tony and Tommy in it and when I saw someone go over a car;
I thought shit, I'm into that.
A year prior when Back to the Future came out people in Abingdon started to skate too.
I was like 'ah you Back to the Future wannabe!'.
But I ate my own words when Police Academy 4 came out.
I was like shit.
You can jump over police cars and you can grind curbs with sparks coming out of your trucks?
I was really into that and that's what got me into it.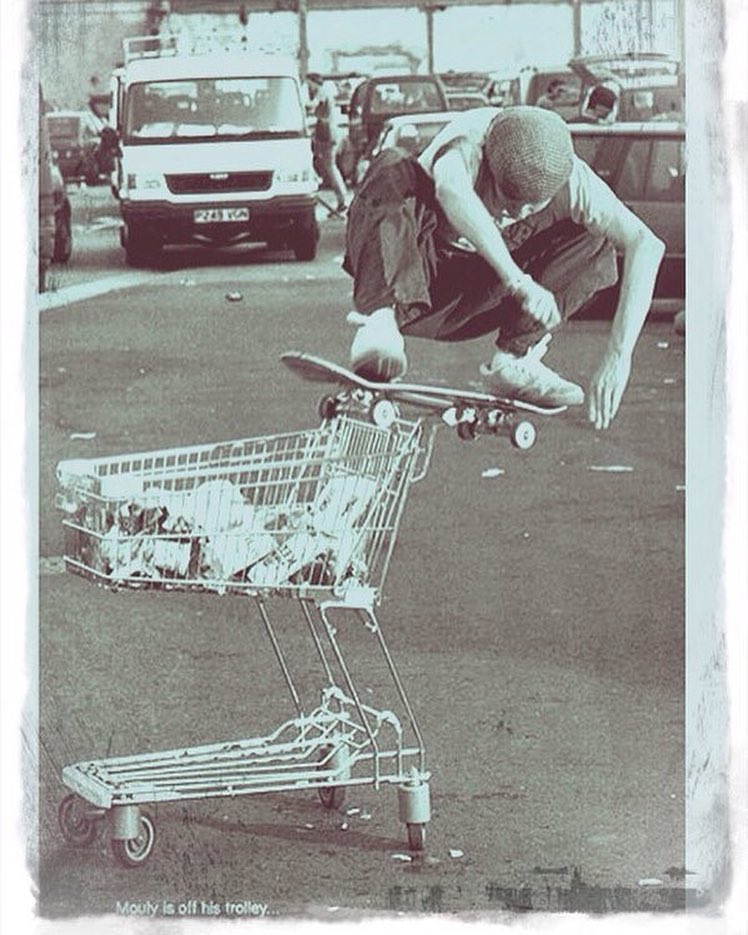 How'd you get into making music?
A good thing about Drum and Bass when it started out was that there was no rules, and skating was the same.
When the rave scene split off into House, Jungle and Techno and later into even more genres, basically all the tempos changed.
I liked break beats more.
I was more into Electro and Hip-Hop.
When I was a kid I liked breakdancing down at a Budgeons car park, that was me as a kid and that's what drew me towards Drum and Bass.
Where did you hear all this music?
There was no internet so I would get the street sounds tapes and the Electro compilations, from a little shop in Budgeons carpark in Abgindon Oxford.
There was a little curb outside that I'd always skate.
There's loads of footage of me in the old Deathbox videos skating there.
I'd go there and get those cassette tapes.
Also my older sister would tune me into new music because she always went out with guys in the American air force base.
She'd be into a lot of Let's Jam Radio Active.
All of this new music, I heard when I stayed with her, get my breaking on, between the ages of 8-10 years old.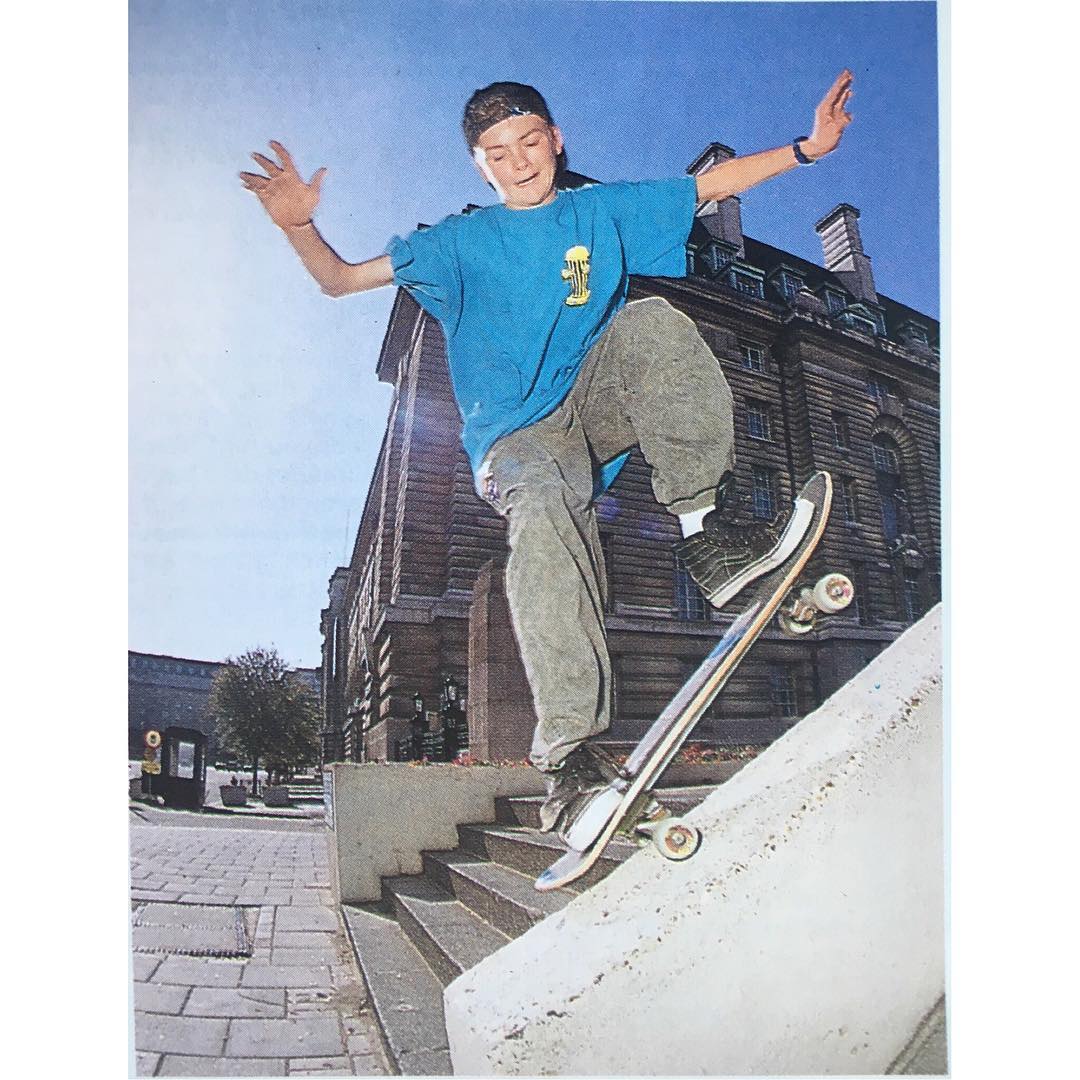 At that time, were you sponsored?
I had that Alva board for six months but then it got thrashed, then I got a Santa Cruz Corey Flame.
By the next Christmas, I got the Tommy Guerrero sword and flame board and that was when SS20 just opened up.
I got that board from there.
I was sat on the SS20 doorstep the day it opened waiting for them to open the door, that day I went skating with Sean Goff.
I didn't think I was any good or anything.
What did he say?
Sean told me that I had to shoot some skate photos with a photographer called TLB from Rad Magazine.
I was a full-on skate grom at the time so we skated a lot.
I shot some stuff, quite a lot.
I remember apologising that I hadn't made the trick and he was like no, its fine…
I didn't realise he was stoked on the tricks I was doing!
Then I realised Tim was from RAD and what that meant.
I thought amazing, maybe next month I'll have a photo in the mag.
Next month's RAD issue came out and I didn't have anything.
But little did I know the month after that I had 7 pages in it!
What did you shoot with TLB?
I was one of the first kids to Boardslide a handrail and a Kickflip down a two stair!
And the rest of the shots were all these no comply variations.
Skating to me at the time was just my own creative outlet.
Before I even saw the mag I was in SS20 and I was bugging Sean Goff and the phone rang, he passes it to me and says it was Jeremy Fox.
Jeremy asked me
'Would you like to be sponsored by Deathbox Skateboards?'
I didn't know what that meant at the time.
But I was down to do it.
After the phone call, he said we're going to London to go skate, you should come down, oh and you're now sponsored by SS20!
Sick. Is that how you met Deville?
Yeah.
We went to London that day to meet up with Deville Nunes and Jeremy to film.
I shot a rad checkout that day and shot a photo of the One Foot.
I learnt One Foot in the bus shelter in the rain on the way to London.
I don't remember this but later that day.
I went to London and I ended up teaching Deville Ollie One Foot's that day.
It was a rad picture in Skate Action.
It was the same day I learnt them and the same day I taught them to him.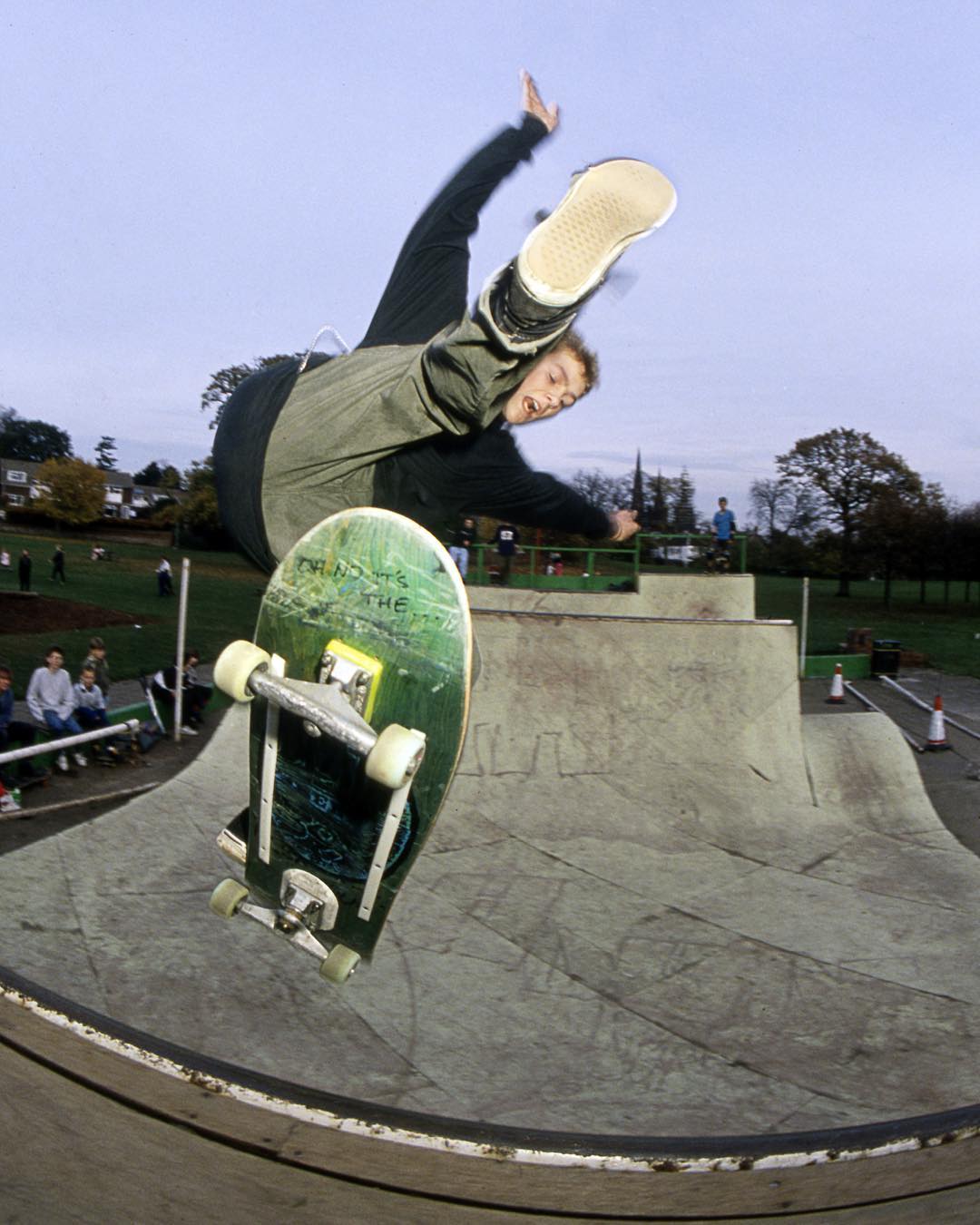 How did you learn new tricks?
People used to just call you up from Scotland or wherever and ask you to describe certain tricks and how you did them.
The dialup phone was our social network of the day in the time before the internet and mobile phones were available.
What was it like skating in London back in the day?
I'd been there six months before.
My friend's dad was living in London and my friend told me to come down.
Joe Farman (RIP).
I'd go to Southbank, no phone or internet and I knew I would have a place to stay for the week.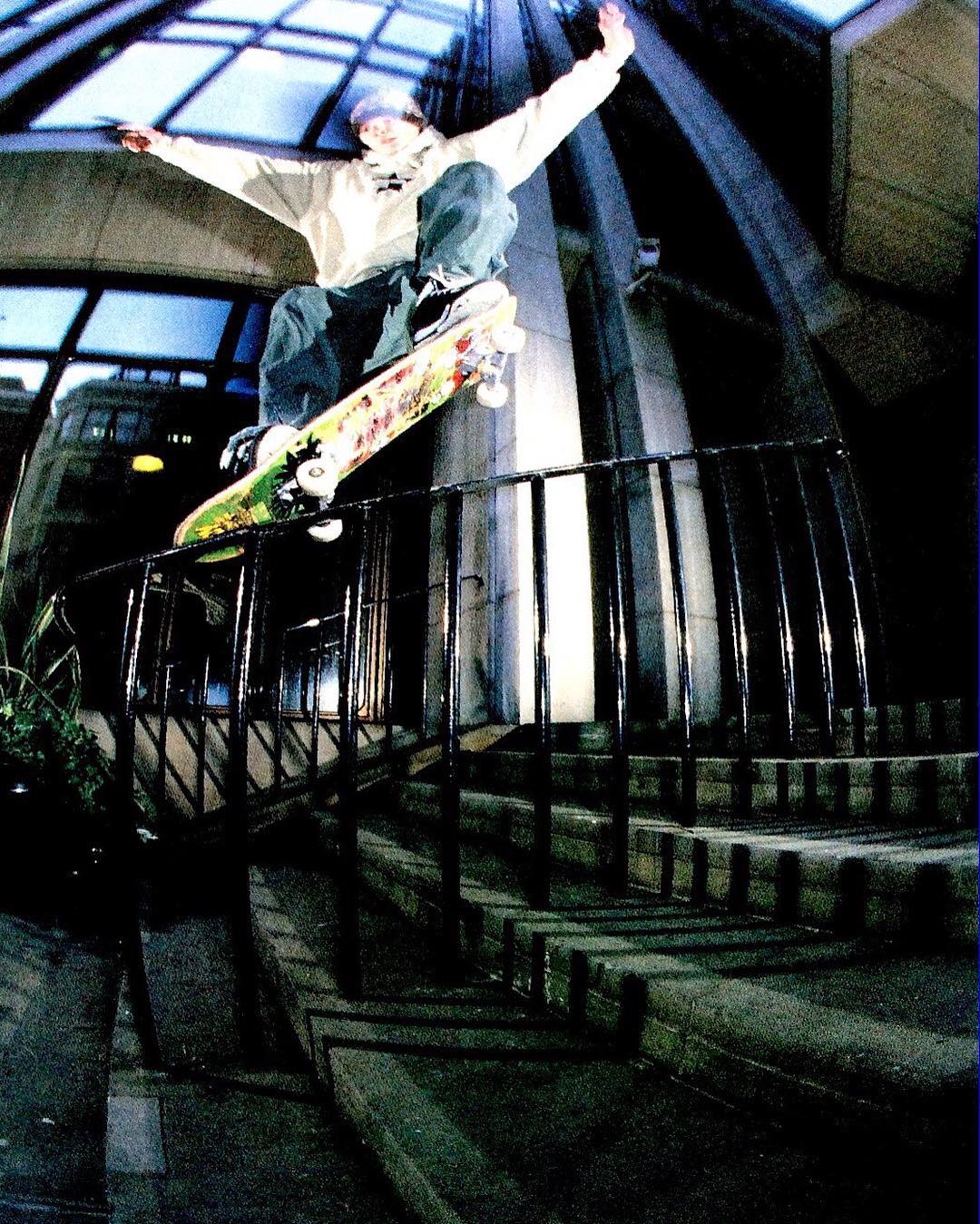 Who were you homies with?
I remember Simon Fort and I met Matt McMullan.
He was a legend.
He did crazy Nose Manuals and Wallride Revert the SB wall.
He took us to Yellow Blocks, Shell Centre and loads more spots up the river.
We went into a tube station, it was kinda downhill and he Nose Manualed the whole thing.
I'm talking for like a gd 5 minutes, he just didn't stop.
From then on we became really good mates.
I'd go home and learn some new tricks, then go back to Southbank with new tricks.
But by the end of the week everybody had them down so I had to learn new ones.
What motivated you to try new tricks every week?
I like to think outside the box but back then there was no point of reference…
I've always thought you can do new tricks , you can always push the envelope so I was always trying to think of that I didn't realise it was ahead of its time.
A new video would come out every year and I thought I've already done most of these!
But I saw some other tricks that gave me ideas and I thought of ways I could add something to it.
So it wan't a competitive thing?
No way.
Skateboarding is like freedom to me.
Once you can break the boundary of that first Ollie, the sky is the limit.
Your Crook Melon Grab down the Shell Centre handrail and the 180 Nosegrind were ahead of their time. How did they go down?
In that era, the Ollie Sad Grab thing was quite big and I realised if I did a Sad Grab down the stairs, I could put my front truck on there and pull it off.
I had a Deathbox sequence doing it, which I liked but originally, it was more of a bonk.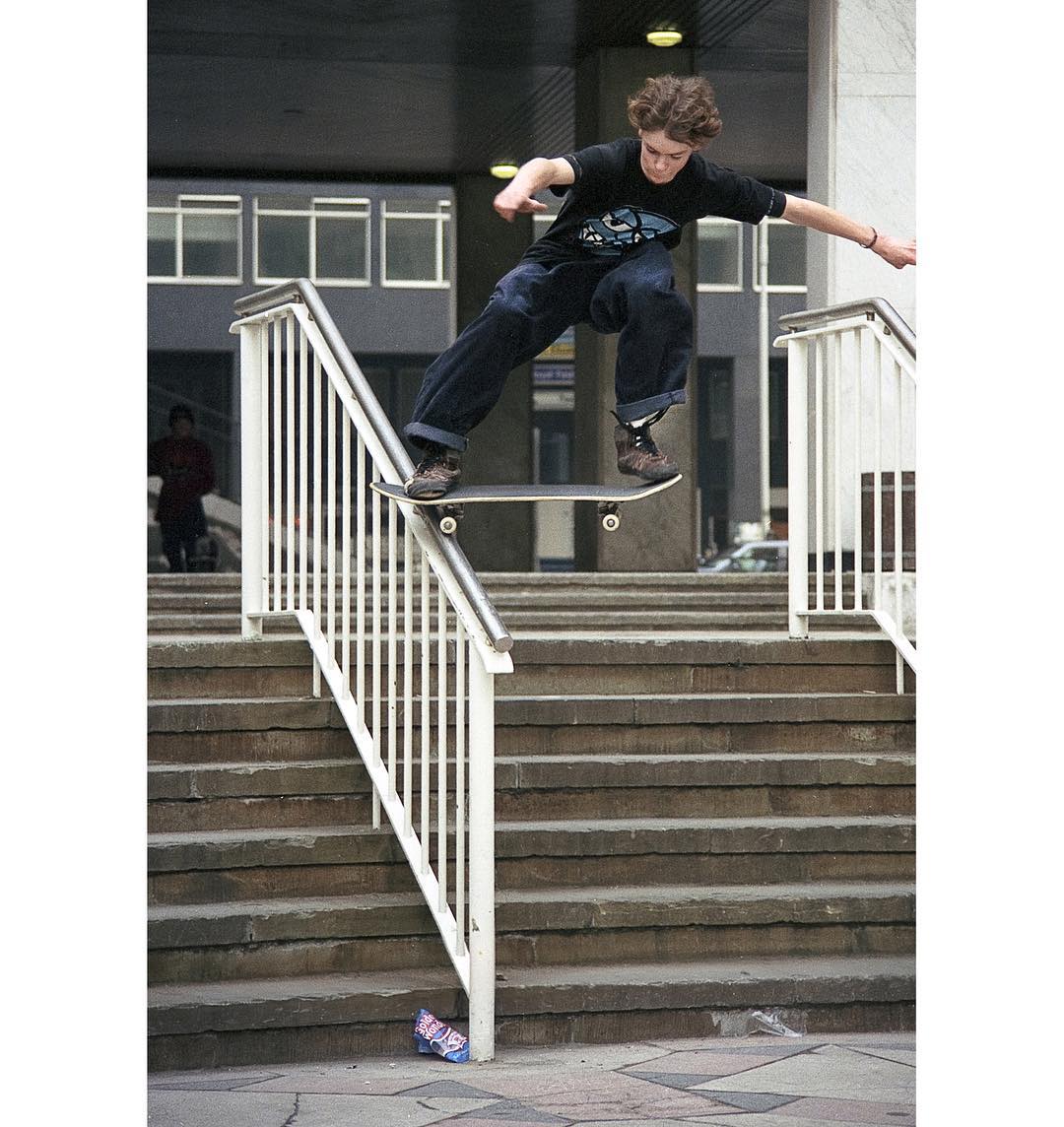 What other tricks did you do?
180 Nosegrind Stalefish down a 2 stair rail in Spirit of The Blitz.
Did you skate with Tom Penny?
I lived in Abingdon, which was close to Oxford, Tom was in the centre.
We started hanging out as we were all forming Deathbox.
Tom and I met on Clarendon Street and immediately I thought this guy is rad to skate with.
We'd meet up on the weekends as we were growing up.
How did Tom get on Flip?
I got Tom Penny on.
Well I was trying to get Tom on.
He got on New Deal Skateboards flow and he got some coverage in RAD and then he caught Jeremy's eye and he's got a wicked eye for skate talent.
He asked me if I thought we could get Tom on?
I said, 'he'll be on the team next week!
It was a cocky thing to say but Tom and I were good friends and I thought it would be the best thing.
I spoke to Tom and told him he'll be skating rad places every weekend.
He was down and he's stayed on the camp ever since.
In our era, if you were on the team, you were on the van, you were together all the time and if somebody didn't get along, they weren't on the team.
Everybody loved Tom and we all got along from the start.
We were mates and we hung out all the time.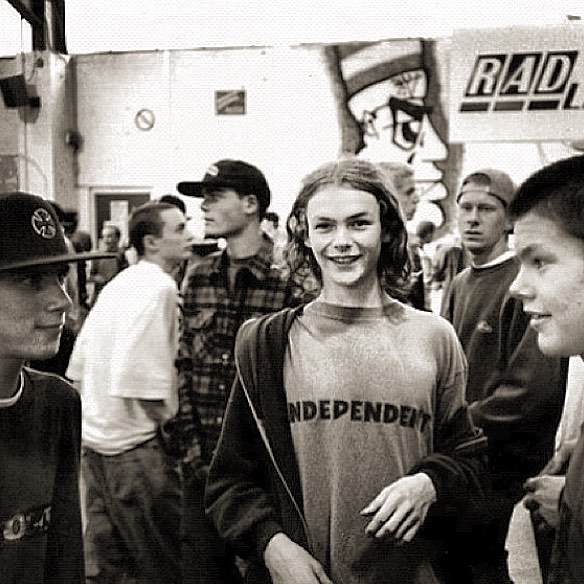 Stories from growing up with Tom?
The Southsea mission was a naughty one.
I remember knocking on the door and asking his mom if he could go skate in town but we went on a train hundreds of miles away to Southsea.
I didn't think it mattered that much at the time though.
We went to the skatepark, I'm a few years older than Tom.
I thought I'd take him down for a treat and this is years before anyone knew who he was or whatever.
So I took Tom down to Southsea, when he was about 14 and we skated with the Isle of Wight guys.
They were the most amazing skaters at the time.
We went to this one spot, we were doing tricks down the stairs and I 180 Nosegrinded the rail, all those guys we were looking up to, looked at at us going,
"What the fuck is going on?".
What happened?
So we're skating the stairs with those Isle of Wight guys.
Tom wasn't sponsored or anything, the board he was skating was worn down and his tail was scrapped into a razor tail.
I remember he did a massive 8ft Melon Grab and his back foot came off and he credit carded himself from an immense height.
We were all little but he was the smallest.
Tom was like
'Oh it's fine, don't worry'.
And he walked up the bank and his white shoes turned red with blood.
At this point I was like oh my god.
I had to take him to the local medic!
He split his No Mans Land open but I had to go back to school the next day.
I phoned his mom and told Tom basically I had to leave him there.
Not sure how he got back to be honest.
Yeah, his mom was not my biggest fan after that happened.
No way.
Yeah. I used to call him Stop, Drop and Roll.
Tom would never get hurt.
He'd just stop drop and roll and get out of any sketch tricks.
Then later on when he was skating ramps we'd call him 'Bunch of Grapes' because he looked like he was holding a bunch of grapes.
Then one tour, we went on with Deathbox and I came back and his style had developed massively and the tricks he was doing were immense.
I would show him something one week, then the next week, he'd have it down even better than me.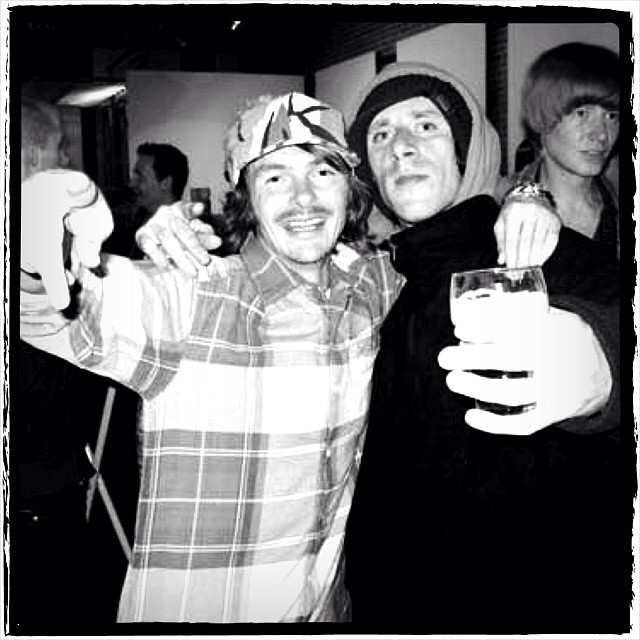 Why did you never go pro for Flip?
I skated for Flip but I never had a pro board.
It changed from Deathbox to DB, then to Flip, for about a year and a half.
It was a weird time in skating for me and I didn't want to be a part of it.
If you didn't look a certain way, you were fucked.
I got into DJing a bit.
I went on tour every week as a kid, I never got to meet girls.
I was 17 so DJ'ing sparked off.
I was still doing well in contests but the magazines, would still be writing captions about 'Alex Moul Techno King'.
It was a lame time in skateboarding for me.
They didn't care that I was doing well , it was just about what I did.
I remember Jeremy asking me to do a contest in Belgium and I just made up some bullshit to get out of it out of time.
When did you start playing music?
In 1991, was about the time when I got into spinning tunes.
Jocke Olsson let me have a go on his technics and that was amazing first experience.
My friend Lee Chin who I grew up skating with, Oxford SS20 legend, he started to DJ as as well.
In the end he went to do to Metalheadz and other stuff like that, so I got into it through him and others.
What was Flip doing at the time?
Flip went to Cali around end of 1993 and it was about that time I wanted to be a normal human.
I did some normal jobs, temp jobs, warehouse jobs and picker packer jobs.
Did you work in music?
So I applied for a job at Massive Records, a record store in Oxford.
I was just a teaboy and sweeping the floors, and by the end I was the main buyer for all of the label's drum and bass.
It was there that I met Graham Luster.
He asked for a song called Tunnel Vision and it turned out he made it,
He'd heard my music, we got chatting and we arranged to make a song together.
All he had was a Akai MP60, drum machine, sampler and a Yamaha YS Keyboard.
Graham was amazing to make the music he did on that setup.
The first thing we made we had some interest from Legend Recordings, so we made a tape and gave it to DJ Spinback, who was a legendary DJ back then.
He listened to it and loved it.
He was the resident DJ at Raging Rabbit and I wanted to play there.
So I ended up warming up there at the end of 94/95.
So Graham and I made another two tunes.
Then our first main tune got us signed to Timeless Recordings.
'Chilled' and 'Spirits' and also Graham's tune Invisible Man came out on Goodlucking Recording, which was a label run by a guy from Oxford.
Where did you go out?
So we used to go to Speed in London.
We would go religiously every Thursday in London and we'd either get in or not, an hour and half to London and sometimes we wouldn't even go in.
I once met Bjork in there. It was ridiculous.
This one week Fabio played 'Chilled' at Speed, the one week, we didn't get in.
Then we made Spirits, the B-Side and that was the funky one that kicked off
Basically by this time I was cutting plates every Friday the music house and people were cutting daps of our plates every week were cutting more and more.
Fabric Fabio was on BBC Radio 1 and he was playing our tunes on Radio 1 and we were tripping out.
Then Graham and I got in especially early so we could get into the club and they were playing 'Chilled'.
Then the music stops and suddenly they play our b-sides but no one was in there!
The owner Leo was in there doing the sound check, and he said to us
"Your die had fan regulars aren't you?"
He asked us our names and discovered that we were Mouly and Lucida.
He told us to never wait in the queue ever again!
We just walked straight in. He didn't know that I DJ'd or anything til that moment.
I made a tape and sent it him and he called me up and he asked me to play Speed that night,
I said I can't do that!
I wanted obviously to but I hadn't cut anything new that week so I turned him down.
The next week Thursday, I went to a music house in London and cut everything that I'd been working on.
I got someone to cover me at work, ended up working at the club and it went off.
I ended up doing a residency there for three months.
It was rad and I met a load of great people through it!
Who are your favourite Drum and Bass artists of all-time?
LTJ Bukem was my favourite
Total Science
Future Bound
Goldie
Metalheadz
Pendulum
You played at Cambridge Uni? How did you get that gig?
I can't remember how but somehow I got the headline set at Cambridge University and it was packed and it went off.
I didn't bring our tunes with us, it got requested and luckily my mate had a copy.
It got three rewinds and a girl said to me that tune was so good I was going to take my clothes off!
How did you get into DJ'ing?
I was still skating but not filming.
DJ'ing was the new buzz for me.
My friend Peter Haslam, DJ Slicer at the time, we'd hang out together.
I'd spent all my Deathbox money on vinyl, he was a good DJ and he'd play my tunes.
He got a gig at a place called Prism in Oxford.
He decided to put me on the bill too.
We split the session together.
I was playing 'Whistle Posse Blow' and the place was pumping.
We had two hours. I don't want to stop after half hour.
I wanted to keep going.
I did the first hour and I just thought to myself and I just stopped the song and I played this song with a huge atmospheric intro.
It was a risky choice.
I looked into the crowd and there were hundreds of people with their hands in the air.
I thought wow!
'I'm controlling the mood of this room right now'.
This is unbelievable.
It's such a big compliment.
If I meet someone compliments my skating I've got time for them, its amazing that people even remember you.
So it kinda equates with the feeling i get from DJ'ing.
So after that I just wanted to play out all the time.
That's gnarly. What about the time you skated with Gonz in Harrow?
So Gonz was filming for Video Days.
I was down in in London for a week and I saw him do a 180 Nosegrind 50-50 down Shell Centre handrail and then I heard he was going to Harrow to a demo.
I went down there that weekend and I hung out with Matt Stewart at the time.
Matt lived in Harrow so I went down there with him.
I was lucky enough to meet Gonz the day he was down at Harrow.
What was he trying there?
He tried to do an Ollie Frontside Pivot on the lip and totally hung up.
His board went over the other side and he landed on his head.
I thought that was it, the demo was over and then he got it up and just did it the next go, no problem.
I was amazed.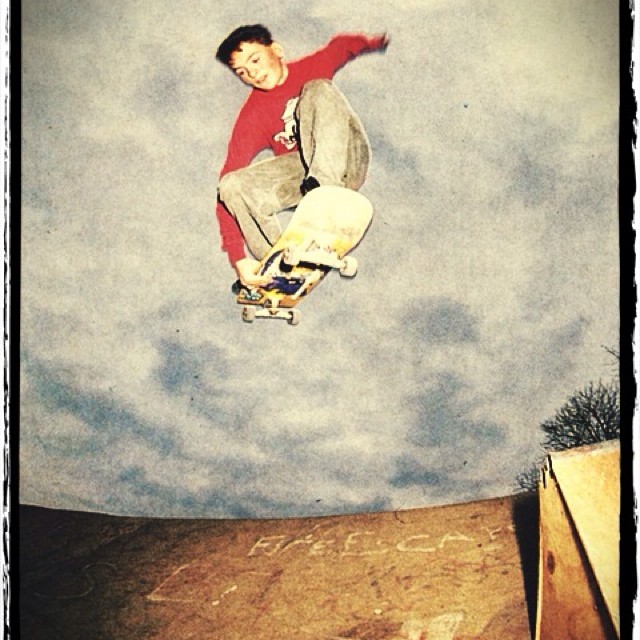 What else went down?
There were some rails behind the swimming centre there,
I said to Mark would you like to skate the handrail with me?
He said yeah.
At this point I could only do the basics 50-50s, Lipslides.
I did my first Smith Grind during that session.
But I had no idea what I was going to see him do that day.
Warming up he did a Salad Grind down this six stair rail, getting on right at the top.
Second trick Frontside Grind, both first try.
Third trick 180 50-50 right over the top, he does it all first try.
Then it starts getting interesting.
He starts trying Noseblunts, we were freaking out, we'd never seen anybody try anything like that.
Then he Noseblunted it, by this point there's a full crowd watching.
I'm just trying to learn Smith Grinds and I'm just watching, mesmerised.
Then he did a Switch Boardslide.
We were all like damn he's just done that backwards!
There was no Switch at this point.
Then he tried a 270 to Backlip and by this point we were all freaking out.
And after all of that, he tried to Darkslide the rail and was actually getting on it and nearly doing it..
Blind Video Days hadn't come out yet.
We hadn't seen a Noseblunt on a curb and we just saw him do it down a handrail!
Wow. When did you decide to move to the states?
I was working in that record store in Oxford and I had a little bit of success with record making and DJ'ing .
I was making money but there was always something missing.
Even though I was skating a bit I wanted to do more.
Then Jeremy called me up from Cali randomly.
He said, "Tom is killing it out here, you should see what we've been upto since you were a part of everything from the start".
He asked me if I wanted to go out to The States, and said that he'd pay me to come out and see what's going and hang out with everybody'.
At that time that was exactly what I needed. So, I called up my boss and quit my job.
I told her about the opportunity Jeremy offered and she let me have the time off.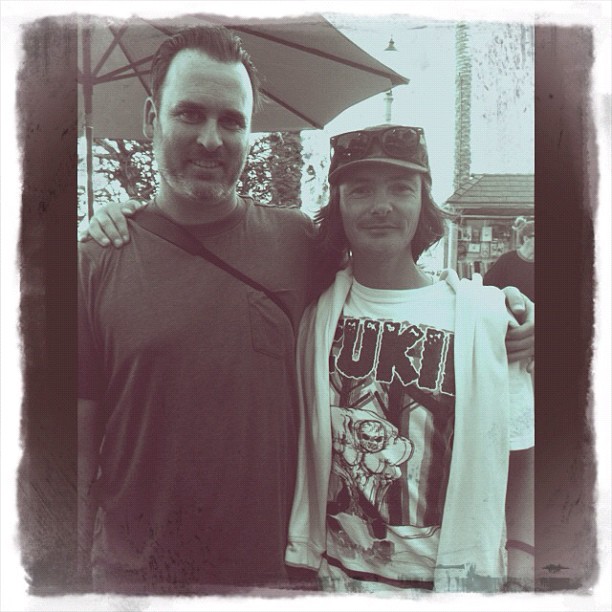 I got off the plane and we went straight to Ed Templeton's house.
He's my childhood hero and there I was sat on his sofa.
Those two weeks were great skating in the sunshine with Tom, Geoff and everyone was great and I got back into skating deeply.
I got back home and within two months, I stopped working for the record store, was skating full-time and then the next year I went back to Cali for 3 months.
I came home, my girlfriend left me and I just sold the house and I thought fuck It and I moved over to America.
It was rad joining everyone again
How did that Frontside Flip over that handrail go down?
I was unsponsored at that time.
Jeremy would hook me up with Flip boards but with Arto, Bastien on the team I had to take a backseat.
Arto had just got his first Hasselblad Camera and he hadn't shot anything yet.
Bastien was getting on the rail, that was the day he Crook Backlipped it and Luke McKirdy was there.
I got up there and I tried to Kickflip the rail to hype up Bastien but then everyone said Rodrigo TX already did that for the Es video three weeks before.
Then I tried a flip and he came up to my feet but I kicked it out.
I thought "Oh God, I can't jump down this thing!"
Seven months prior to that I'd been diagnosed with a crooked spine and told not to skate.
But I thought fuck it!
Arto's set up his flashes and he's got his Hasselblad out.
I'd never Frontside Flipped anything that big at that point, and then they put a 12 pack of of Heineken and a pack of cigarettes on it.
Bastien had just got his trick on it and I tried and my shoelace ripped on the flip but I rolled away.
I was bummed because I touched my hand but everyone else was stoked.
Seven months ago I was told that I wouldn't be able to skate by doctors.
We went to an 11 stair rail after and Bastien Backlipped it and I front Willied it.
I went to chiropractor and they told me I had arthritis in my spine , at the time, they said I was the youngest person they've ever seen with it.
How did you get that?
Bailing and slamming repeatedly over years and years. My friend Pete Evans came out to visit me and he knew all of these stretches to deal with back issues.
I knew he'd want to skate and he showed me all these stretches and within three days I'd straightened out. By the end of the week I was skating and in four months I was pro.
I just want to thank Pete Evans, he sorted it all out.
What got you skating again?
I was just going out with Geoff and Arto and Ewan Bowman was staying with me, whilst he started his job for filming for Flip.
I was going out with them, skating with no pressure.I remember Rowley saying,
"Shit Mouly you got more clips then any of us right now!?".
I was so hyped that I was back skating I was just going for it.
Kids out here would call the Switch Bigspin Heel 'The Mouly Flip' because of the way I would do it. Tom even called me out and said it looked like a pressure flip.
It was flattering because I know I do it totally wrong but some people like it.
I remember watching Josh Kalis doing a Switch Bigspin Heel out of this kicker over a bin at The Brooklyn Banks in New York.
He rolled up to me and said 'I bet you could do this first go Mouly'. I just laughed.
There was no way I could do it the way Kalis was doing it but I appreciated that he came over and said that. I remember Ewan, me and this guy were driving to a double set spot.
I wasn't feeling too good and we were with a skater I'd never met before called Billy Marks. We went there and I Ollied it, then Billy Kickflipped it.
I went there to do that.I was pissed. I had to think of another trick. I tried a Varial Heel and caught it five tries later and I was riding away from the biggest thing I've ever done.
Then I got a Frontside Flip down it too.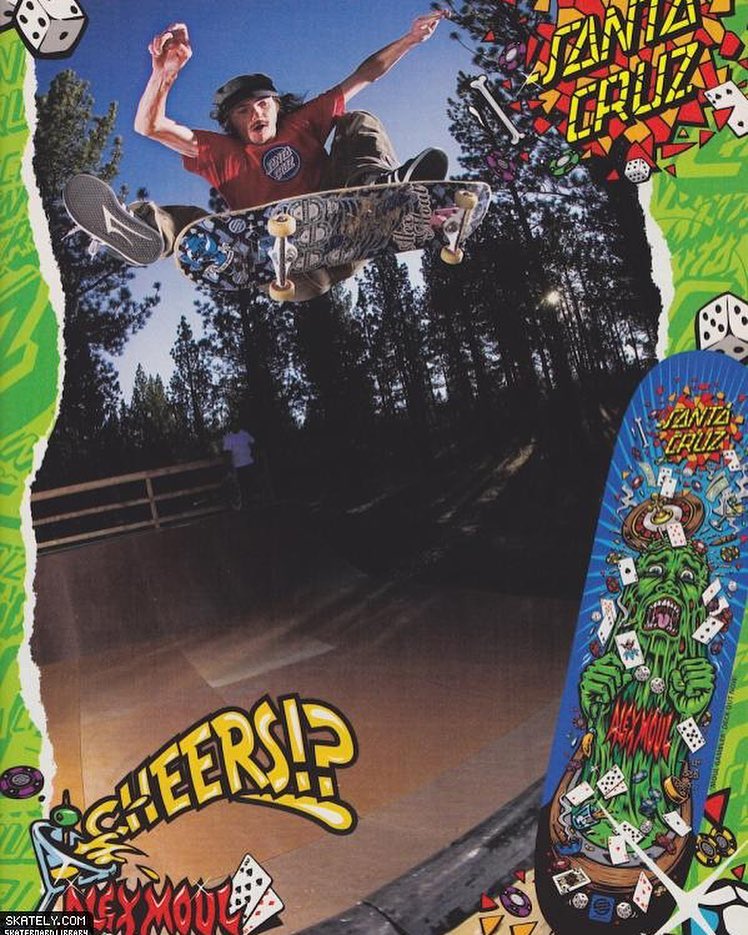 Sick
So next month Thrasher magazine came out and the back cover is the Varial Heel sequence for an Indy ad and the Frontside Flip is a double page spread in the mag.
Then Stacy Lowery called up my girlfriend's house in San Diego and he said,
"We've all been talking because we want to put someone new on the team and we want you to join Santa Cruz.
….We want to give you a board, pay you and put up on the team!?"
I told him I'd let him know, I'd think about it…
He was like,
"What is there to think about!?"
Thing is I'd been skating for Flip for years and I didn't want to be disloyal to them.
So I called up Geoff and asked him his advice.
He said,
Why are you talking to me right now, get on the phone and get talking to them!
I got off the phone to him and did just that.
I was just so blown away by the deal at the time due to my back injury.
I never thought I'd get that opportunity again.
Rad. So how did you become Santa Cruz TM?
There was a former TM, he left and everyone chose me to take up his job.
I didn't want to do it at first but then eventually I was proud of the work that I did as a TM for them.
Kris Vile for example I've got a good story about him.
Down to hear it.
Back in the day, I headhunted him for Santa Cruz.
I saw a video of him, a Vans UK thing and I was like blood hell this kid's a ripper.
I called Ben Powell, and I said,
"I haven't seen anyone that good out of England for a while, do you have his number?".
Ben gave me his number and I called Kris and he hung up on me!?
He thought it was a prank call.
I had to call Ben back to tell him it was Alex Moul and then he finally answered my calls.
Then we had a chat and then he came on the tour with us and everyone loved him.
He was great and got everyone going and really inspired everyone around him.
He'd get cracking right away and made everyone else go for it.
He'd set it off.
That's what I like about Kris, he's a skate rat.
Hardest trick you've ever done?
Front Foot Impossible Back Foot Footplant in the On Video Section.
I don't think anyone else has ever done that before.
Ewan Bowman filmed it.
I was stoked on that one.
Your first pro contest ?
So Jeremy turned me pro didn't think I was ready, I wasn't pro material.
So Eindhoeven was my first pro contest and Ed Templeton was there.
Then at one point in the contest it was just me and him.
Everything came to a standstill and everything was watching me and Ed T skating and we were both ripping and everyone was just watching.
So Ed, that day showed me late Shuvits, I learnt them in three tries, he was really surprised.
We went out street skating, he was trying to do Tailslide Bigspin out, at the time it was crazy.
Then the next day it was my run.
I did Shuv it, Shuv it Ollie Impossible, went up to the vert wall did a 360 One Foot to Fakie, turned around went to the funbox, did a Bag Lady down the handrail, did a Front Foot Impossible, went across the course, did a Frontside Ollie Tailbash, then went back and did a Kickflip on flat on the way back.
Out of all the tricks I did I was the most stoked going full speed.
I did a 540 one foot Ollie, came back and did a BS Mute Japan, really tweaked and I did a Frontside Ollie late Shuvits off this ramp over the gap to end the run.
I'd only just learnt late Shuvits the day before and I won that day.
I won a bag of popcorn and $500 dollars.
Vert won $1500 dollars and a popcorn that's how much things had changed!
Crazy
As we went to McDonalds, Wurzel, who was an original Deathbox rider, said,
"Ed Templeton's won Munster World Championship twice in a row, you beat him so you're World Champion Mouly!".
We've always shared that joke but I was the first skater from outside the US scene to beat an American Pro at a contest.