Marcus Palmer is a skateboarder from Birmingham who's sponsored by Emerica and Karma Skateboards. He's got a rad style, rips street and ramps and can seamlessly skate both at super speed with original style and he has great Hardflips. He came to our last Beyond Skateboarding jam and put down some of the heaviest tricks of the day.
He's one of the most standout skaters in Birmingham who always finds the right words to capture a moment and a place to put himself on and off his board, so we had to ask him to join The No Comply Network.
Now Marcus is a member, we had a long chat about how he got rolling in the first place, going to Ideal Birmingham, Bob Sanderson, shredding Ideal Mini Ramp, witnessing Grant Taylor, hanging with Kris Vile, Neil Bailey and Jamie Hewitt, the story behind his gnarly Hardflip down the five flat five double set, learning regular Ghetto Birds, Stevie Williams, Hardflips, Blind's What If video, skating for Spreadeagle Skateboards, his 13 Foot high Front Rock, Bournbrook DIY, getting on Emerica and Karma Skateboards, skating in Scotland, Livi, filming with Callun Loomes, shooting with Chris Johnson and Rob Whiston, his favourite skaters, videos, spots and photos and more. 
Read the Marcus Palmer interview to find it all out for yourself.

Marcus, Nosegrind, Fastlands: @whistonphoto
What's your full name?
Marcus Elliot Palmer
Where did you first go skate?
The first time I skated I was 7-8 years old. I was playing Tony Hawk's Pro Skater 2.
I first picked up a board but I didn't know what I was doing. I took it down the local grove and rode down the hill twice and fell off.
My mom was screwing, she was like 'ah no you've ripped all your trousers!? You can't be out doing this!'.
Then she wouldn't let me go out and do it.
Because you ripped up your clothes?
Yeah.
Then when I was 11, I was living in Aston and it was there that I found some skaters doing Ollies and I was like wow! That's amazing.
How did you learn to Ollie man?
Just trying to figure it out. I watched a whole lot of skate DVDs.
How tos?
Yeah, trick tips videos. Yeah I remember Eric Koston and Tony Hawk were in it.
OK, the Birdhouse trick tips videos
Yeah I had no idea. I didn't know anyone in the Birmingham skate scene to watch.
So I needed something to watch and the best thing I could find was in videos on YouTube.
Right, you started skating in the YouTube Generation
Yeah. It was all on the internet. That was my first couple of months in skating basically.
Until I met Bob Sanderson, he showed me the way, he showed me everything I needed to know how to have fun and how to make skateboarding yours.
What was the first video you started to watch on YouTube?
The Blind Skateboards' What If video.
Really?
Yeah, I went out and bought it on DVD because I liked it so much.
I got it and somehow I downloaded it and put it on my phone.
This was back in the day when phones didn't have much space on them to store anything, so that skate video took up all my space, had no music, just that, the soundtrack to that video, that was my shit back in the day.
Yeah, Ronnie Creager, Aaron Artis and that
Yeah, it's quite emotional, in the start, the way he's painting on his own, in the desert, with loads of effects and shit.
The Grant Patterson intro, where they remade South Park characters into the Blind Reaper. That was a funny idea
Yeah, that part was really influential to me.
He was wearing loads of baggy clothes, doing 180 flips down stairs; I was like yo that shit looks fucking sick!
What's your favourite section from that video?
Most of it to be honest. I watched it the other week. The whole thing. I reckon Jake Duncombe his part and Grant Patterson's part.
Grant's Nollie Flip down the Wilshire 15 was crazy
Yeah, he was controlling tricks down stairs and just doing it. But yeah seeing him Nollie Frontside Heelflip a 10 stair was amazing.
There's a lot of other people like that. Like Sean Malto with his Hardflips.
Sean Malto is sick but I don't think he ever Nollie Flipped a 15!
Yeah, I don't know about putting it down anything bigger than a 10.
It's one of the tricks I like to do and I can't imagine doing that now and pushing it that far.
Birmingham has got loads of sick stairs to skate
Yeah, not many ledges, or rails, a lot of spots are like almost-ish.
You have to pop up a drain, or skate over some skate stoppers.
So most of the things you can really skate are Demo Ledge, Fastlands 7 and 9 or WHSmiths 7 and 9.
Marcus, Tre Flip:Shot by @cj_photo
When did you first skate in Birmingham City centre?
So I guess, I used to chill in Pidgeon Park.
 I was up there a lot of times. I suppose I would have been there when I started skating.
I remember I ended up going to Fastlands as I decided that I didn't want to hang out with these guys who didn't really skate.
I wanted to go to Fastlands and get gnarly.
So I met a lot of skaters at Fastlands. But the first proper spot was Wesleyan ledge. It's by Snow Hill Station.
I was there for the first few years. I migrated from there around the rest of town
So where did you get your first board? Ideal?
The first board that I had, I bought it off my pal. It must have been from Argos. He got it for a tenner. I got it for a fiver. I fell off on a hillbomb and the Argos board was bust. I went and got another one from Argos for a tenner.
But then I went to Pidgeon Park and I met this guy who had this board, I don't know what brand it was but it was a 7.5 deck with a zebra print board graphic.
I bought that off him for a tenner put that on my trucks and that was my first proper board.
On some random trucks from the Argos catalogue?
Yeah. But I went to Ideal. Bob Sanderson saw what I was skating and was like I can't be having that. So he hooked me up with some.
What did he give you some proper trucks?
Yeah Bob gave me a brand new set of Indy trucks. Yeah I made them last for 5 years!
That's a long time. Sounds like your more of a slider than a grinder.
I didn't even do slides and grinds for the first 5 years deep.
What tricks were you doing for the first five years?
Flip tricks. Hillbombs. Just being out on the streets on my board, spending that time, being a street rat, pushing around, Ollieing stairs and that.
 Was that the first time you went in Ideal?
Yeah the whole vibe Ideal Skateshop man was great and inviting. I used to get bad vibes off other people on the street because we were this crew who hung out in this Pidgeon Park place – where a lot of the kids who skated at who were considered not to be proper skaters by a lot of people.
But when I walked into Ideal there was none of that. It was all love. I would go in there and chill.
The first time I went in, I came around the corner and someone did a Kickflip down the stairs right next to the shop. I felt like I was meant to be in there before I even got in there.
I was trying to learn to triple Kickflip, the first day that I went into Ideal, just kicking it down, trying to do it and kind of landing it but super sketchy.
I was kicking down; it was the wrong technique to be doing that thing at all. Just hit and hope.
Didn't you and your crew have a nickname?
Me, my pal Indy and my friend Phil – Flip and Indy's cousin – Chris, that was because before all of us started to come into town together.
Bob took one look at us and called us the Dark Lords of the Underworld.
Everyone started laughing and it turned into a thing after that.
Jokes. How did you get so good at skating ramps?
Again. Ideal. Bob showed me the move. Before the shop moved to The Custard Factory, Bob told me he was so excited we're getting a mini ramp.
I told him I'm not going to come skate it because I don't know how to skate ramps.
And for some reason he was like you have to, promise me you'll skate ramps! I was like okay, I will try.
Obviously I still didn't do it but then they had it open for a while occasionally till I eventually decided to go down for the first time.
What was it like that first time?
Then I went there and saw Martin Darragh, Neil Bailey, Kris Vile and they were all just going off. Jamie Hewitt. They were all doing their thing.
Marcus, Feeble: @whistonphoto
Sick
Seeing Jamie Hewitt do massive airs over your head, watching Kris do every flip trick in the book.
Seeing Martin do his Switch Front Nose 360 and Tailslide 540 out out on the ramp. It was crazy.
Martin's always been able to do all of those tricks
Yeah, thinking back, I've always seen him do those tricks,
Neil Bailey attacking the shit out of the coping. So I got intimidated and I went straight back to Demo and went back to skating the gap there.
I was just skating off the ledge but then one day I was going past Ideal, when it was in The Custard Factory and I was walking through when I saw Bob and his brother, Rob, smoking a cigarette outside, so he hollered at me outside, and said we're having a little session after hours, you should come in and skate too.
So I came in there, he made me drop in, I had so much fun.
So until the day that the ramp officially opened, I was there every day, before work, after work, days off, just on the ramp all the time.
Cool, so Ideal Mini Ramp played a big part in your transition skating. That was a sick ramp. Who else was killing it at the time?
Jake Smith he was always killing it, he was very good at skating the ramp. He could skate the ramp and street.
So when I met Jake skating on the street he came with me to the ramp too. So it was good to skate with him on both.
What was the most memorable session at Ideal Mini Ramp for you?
All of them. It went off and so much, so often, so when the ramp was going down, the Thrasher team came down. Lakai came down.
There were a few jams in the last few months of the ramp being there. They were unforgettable.
There's so much that went down. The last couple of jams. The Thrasher tour, the Lakai team tour, they were really close together in timing
Who came down on the Thrasher Tour?
It's hard to remember which one was which; there was so much high energy and mad tricks.
Watching Grant Taylor skating on the ramp he did some tricks that I didn't even know you could do.
Watching him skate that ramp was different. He was everywhere; it was like the ramp wasn't big enough.
You watch his videos and you kind of see that Grant is an absolute beast but then you see him skating there and you realise the ramp's not big enough to contain him. He did this roll up thing, going off the tombstone, landing on the wall; pulling in Fakie, it was mad.
There's some footage out there. Sebo Walker did a Blunt Tre Flip. I had never seen that done before in person. Absolute twinkle toes.
Do you have a favourite trick that you've seen go down, with your own eyes or in footage, that you thought was the sickest thing?
A good couple of things. In one of those jams Neil Bailey did Frontside 5-0 Kickflip out back into the bigger side of the ramp.
I'd never seen a flip out of a grind into a ramp in person before either.
 But there was another one when I went to Ireland with Spread Eagle.
I can't remember the guy's name but it was a trick on a vert wall, he rolled up on the vert and caught it front foot and brought it back down to the bottom of the ramp and rolled away from it. That made me want to learn Tre Flip Fakies.
Also when I went to Glastonbury, the second year, I met Jed Cullen.
Jed Cullen is good at Front blunts
Yeah, perfectly in place, yeah he can fly with his body position.
I watched him fly out of the ramp and I think I saw him do the highest air on a ramp that I've ever seen in person.
So back to your skating, when did you start to skate big stairs?
That was a progression kind of thing. I was hitting stairs with Ollies, and Front 180s kind of thing but then getting up to 7-8 stairs I got to that point and after the ramp days my trick selection got a bit broader.
I started doing more Nollies from transferring the skills I learnt on ramp, it's all about staying on your board and manoeuvring with them.
I started filming a lot in the ramp times and during that era I got hooked up by a local board company called Spread Eagle, so I started filming with them more.
What year was this?
Around 2012.
It's cool that Tommy saw that you were stacking tricks
It was actually Emma Richardson who watched me skate and found me and suggested me for the Spreadeagle team.
She came into the ramp, first time I met her and we were skating. She was like I want to introduce you to my mate and she introduced me to Tommy Davis, who runs Spread Eagle.
Tommy D was stoked on me and my skating and we started skating together and filming. It was just organic, we just skated and there was a camera there.
Being on Spreadeagle Skateboards, I wasn't going out and filming, it was natural and it was hella cool.
Yeah, that's the way it should be
Not being forced about the situation whatsoever.
What about the regular Ghetto Bird, when did you learn that trick?
I saw Steve Williams doing it, and I was like that is the blackest trick I've ever seen. Hardflips are my thing.
I've had such a journey with that trick, had them, lost them, got them back; it's one of my favourite tricks to do.
Yeah it is literally a hard trick. Some people go under the legs, some to the side and you do a mixture of the two, sort of Bryan Herman style. You've got great Hardflips.
Yeah I did watch a lot of Herman to be fair. He's got a way of doing them. He's got his Nollie Inward Heels the same way.
But I didn't want to do it The Muska way. I was trying them down stairs and snapping the nose of the back and it wasn't working.
I was just refining it over the years because I really like doing that trick. I couldn't really get it sideways but I couldn't do it straight over and I figured I could do it in-between.
So I thought OK, let's see how far I can go. So I went to that double set in High Gate park, you know the one?
Yeah, in the city centre. How did your 6 flat 5 Hardflip go down?
I remember it took me at least a year of going back to get it.
I lived in a flat in Highgate, outside of the city centre at this time, so this was around the time Ideal had that ramp, I'd skate there from home on the way to Ideal and I'd pass this stair set all the time. One time I was drunk, just chatting shit, I was like haha imagine if I Hardflipped that…
I told all my friends I wanted to try it and they were like you should, we got your back!
 So I tried, it got close, tried it again, not really, tried it again, got a bit closer, it was just like that battle of trying it. Snapping boards, going through the seasons, got to winter, and then we found out that the double set was going to get knocked down. I'd been trying it for months.
So in the last two months that it was there, I went back again, everyday just to make it. I was getting stressed, I was trying it and trying it and just could not get a rollaway or anything close to that. Snapped countless boards in the process.
 It doesn't even look doable for an Ollie from a distance
That day, it didn't even up working for me, I ended up falling down the stairs and landing on my head! Haha
Fuck
So I was just falling on the floor and everything because you can't stay down for too long on those kinds of things.
Yeah, you have to keep your legs warm
The stair game is one that plays games with you, it really does.
For sure
On the last session I had on it I got one land and it was like both my hands were on the floor. It was a bit of a powerslide.
I stood up and I was rolling away. I rolled into the path on the side, and I fell over. I wasn't like thinking yeah, I want to keep it.
Yeah I wanted to go back and get one better. But I snapped my board on the next try.
Then they pebbled dashed the rollaway, with all of these loose stones so I couldn't try.
I was kind of bummed because I was like I was trying it for a year and all I got was that but I was stoked that I got that in a way.
The Marcus VS The Double set video is classic
Yeah, hours in, trying to get this one clip.
How did your Front Rock at Bordesley Green go down?
I did not go there for that trick that day. I think that was Jamie Hewitt telling me to try it and me having a go. I don't skate vert, I'm scared of heights. I look at vert and I think I'm not doing it.
I remember the process of doing it, I've been back there to do it again and I haven't been able to do it again but I don't want to say too much but I heard you can put down some Coca-Cola and it can make it a bit grippier. I went back since the photo, since the footage was lost. I did it a few times that day.
That was the picture of the best one I did, I couldn't get the rideaway again. I kept slipping out. I put it down to the fact they painted the ramp!
Marcus, Front Rock: @cj_photo
Yeah your back foot on the photo is dangling off!
I think I fell out and landed in the transition on that particular attempt.
If I was going to explain how it goes, imagine a hurricane where you go Frontside and fall back in Backside?
Yeah, you whip in and out
Yeah, that's why I was in that position. Chris Johnson is an absolute G on the camera so he made it look great. I think the photo is good because he took the photo. He caught that one perfectly.
I'm not even taking the credit; I'm putting it all on him!
Did you learn to front rock on the Ideal Mini ramp?
Yeah, I was skating the Ideal ramp around the same time.
We don't have a ramp to skate at the moment and it's so wet. I miss skating there. Yeah, I think learning to Front Rock the tombstone helped.
How did your Emerica sponsorship start?
Getting on Emerica happened off the back of me attempts at the Hardflip down the double set.
CJ came for the photo but we didn't get it that time. He was like call me when you get it because we were there for an hour each time and didn't get it.
So I got gifted a pair of Emerica's off Jake Smith and he gave them to be, I liked them because they were really grippy.
CJ was like do you like them and he pulled some strings for me and got two pairs sent to me, I was a bit cheeky with and I was like is there any chance I can still get these and they were like yeah and it's just been like that ever since.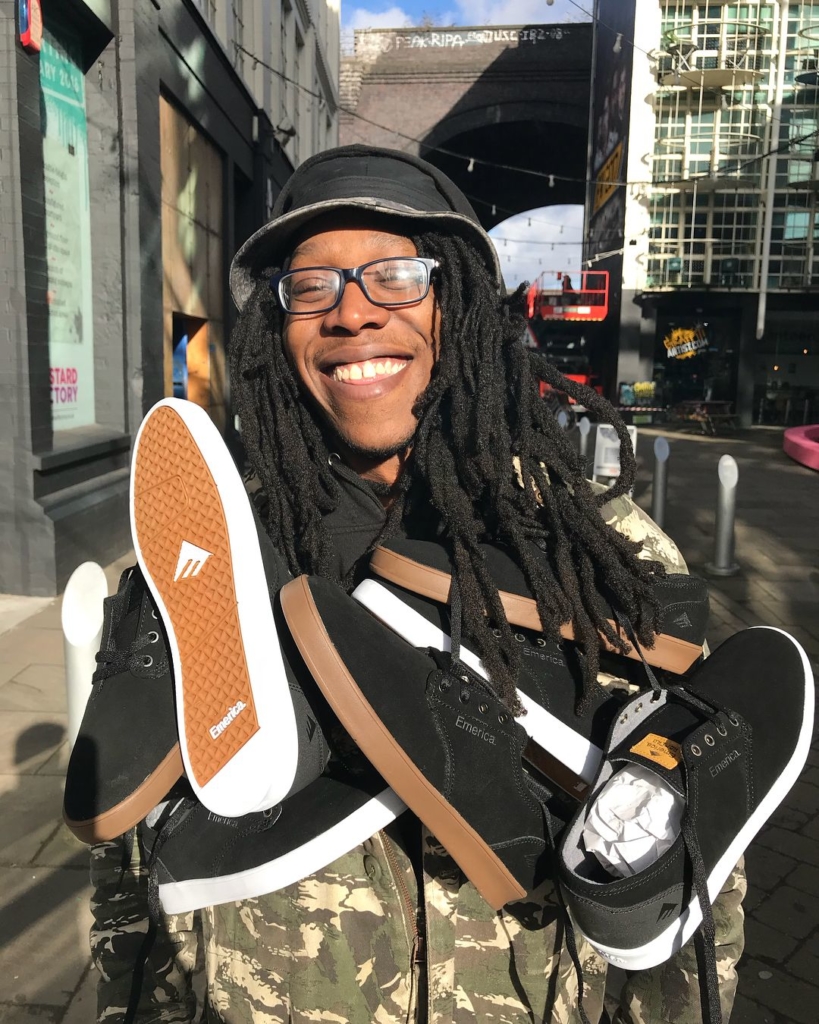 Marcus: @idealbirmingham
What's your favourite Emerica shoe? The Reynolds 3 was good
Yeah, the toe piece is indestructible, they last forever.
Yeah, they're so rad man.
Do you remember the cruiser? It was a low model. I remember skating them, they were so grippy.
Yeah, they make a lot of well designed skate shoes
I don't even have a favourite; I've got some Westgate's, that I can't bear to skate because Brandon Westgate is not on Emerica any more.
Ah man, true, yeah he's on New Balance
Yeah so I've got a pair of them I've got some Reynolds 3 I have worn yet. To be honest out of the newer models that I've been testing and skating.
I'm getting more of a skate out of them I'm quite enjoying the Spankys to be honest. It's got a pointy toe, I like where they are going with it, and I'm fully behind Emerica. Also the Herman G6 is great.
One of the things I didn't know about Emerica is that there are two 'E's in the logo. In the dark space, there are two E's in the logo. Every time I look at it now I see it, in that mountain shape.
That's mad! Never seen that before I'm going to tell everyone, never noticed that before!
Yeah, subtle branding. Are you working on anything with Emerica?
We had some future plans in the pipeline but Covid took a hold of all of that, so we're in a bit of a lieu, waiting for things to normalise, so we can get back on it
Yeah, I'm always out filming with This is Brum, or filming for a video part.
I'm trying to film with Callun at the moment, trying to get into a Get Lesta video. I've been out with him a couple times.
Yeah, it's cool that you are filming together now
Tommy D will let me try whatever for Spreadeagle, Jamie will push me for This Is Birmingham stuff.But Callun Loomes has a different mind
He's always trying to push you in another direction and he'll see you trying a trick and he'll be like yeah, I've got a spot that you could do that trick on.
I like filming with him, he's got a good vibe about him that guy and I'm enjoying filming with him.
Sick
I'm not trying to jump on the Get Lesta thing to get some coverage; I think it's happened naturally again. A couple of years ago, actually, on the day I learn Ghetto Birds, Callun was actually there.
I was with Kris and he was like I'm going to Coventry and Walsall to film with Get Lesta and Callun…do you want to come? I was like yeah!
So I was there at the skatepark with Kris Vile whilst he was filming for some bits and I had learned Ghetto birds that day and I did one at the skatepark and Callun filmed it on his phone and he posted it straight to the Get Lesta Instagram.
I was like wow, you liked it like that? Cool.
Yeah, it's rad, Kris brought you along
Yeah, he showed me what it's about for sure.
Callun I think about him like he's Atiba. Like yo. He's a professional.
Yeah, he's filmed with some great skaters
Yeah, I respect that and I do think what can I do that's good for his camera?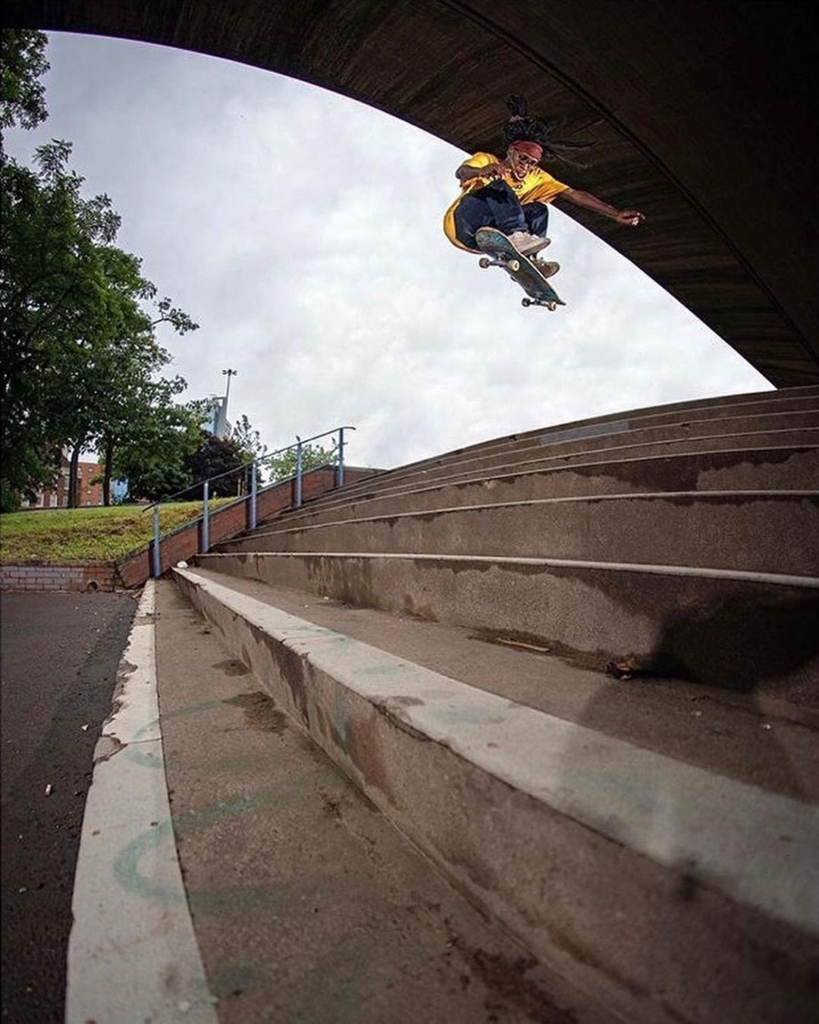 Marcus: Nollie Flip, Fastlands 9, @whistonphoto
How did your Nollie Flip down Fastlands 9 happen?
It started with the Beyond Skateboarding Fastlands jam that you did, it started with that Hardflip I did at that jam.
Sick. Why did you do that Hardflip that day?
I actually wanted to do it; I wanted to do it for myself. I bruised my toe on one go, so I wasn't going to skate after I did the Hardflip but then Pete was trying the Switch Heel down the 9 and it got me hyped up.
In-between the tries he was doing that, I did the Nollie down the 9 stair to see how it felt, so I was like maybe I should try a Nollie Flip down it one day.
I did it for my Welcome to Karma part and there was a Karma trip in Birmingham where Rob Whiston came to shoot me and I did one that day.
So you've done it a couple times?
Yeah, the second one was a little bit different?
Jamie was there. Rob Whiston was shooting the photo and the owners of Karma were there too and Liam Courtney who skates for the team too. So it was a totally different vibe the second time.
So when you were skating for Spread Eagle, what was that like?
Skating for Spreadeagle was a really interesting time of my life I was like 20-21,
I was going to places like NASS and Glastonbury Festival, I'd never been to festivals before, I wouldn't have gone there without skating, so I was getting really involved in the love of skating, learning the language of it.
Yeah, it was the first step of thinking let's try and film and get clips and do that. But there was never ever any pressure to do that from Tommy.
Yeah he'd take me to a spot, we'd check it out, we'd both skating, he'd look at what I was doing and he'd get the camera out and just go from there.
It's good to make a plan but cool to do things spontaneously,
I kind of see the positive in both approaches to be honest because like I've gone through so many injuries, pretty bad ones, that I have to think about what I'm actually doing with my body. Skating is fun and all but it is actually hard work,.We have to stretch and make sure that we eat right.
At my age now, when I think about going to stairs to do a Hardflip, I don't mind planning but on the other side that's not what I want to do all the time. Sometimes I just want to go somewhere and go with the wind and just try something different.
For sure. What's your favourite spot to skate in Birmingham?
Fastlands is the best spot in Brum, always has been, it's just a bit hard to skate so not everybody loves it. But I do.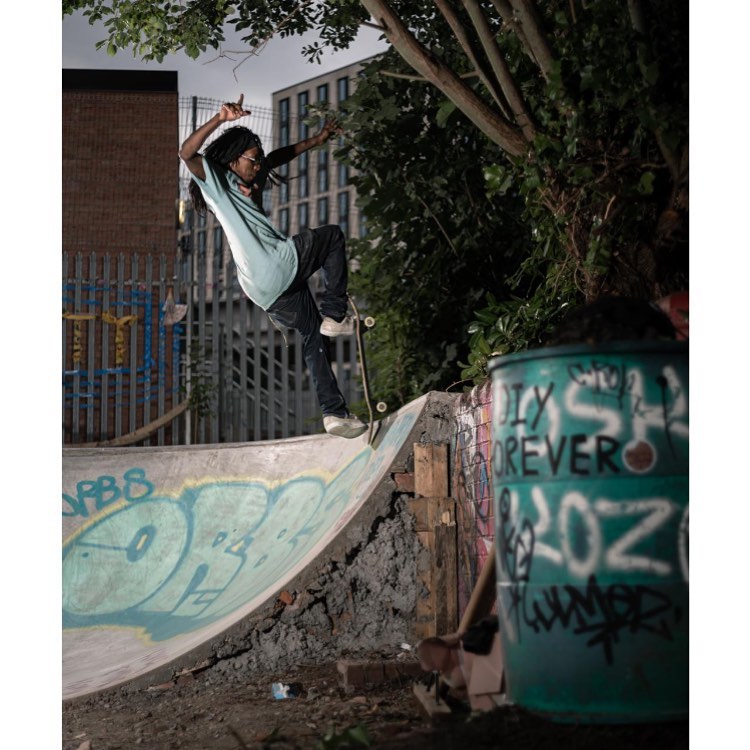 Front Blunt, @whistonphoto
Have you been going to Bournbrook DIY?
It's a pillar of light out of the whole scene. What was Eastside, that went to Bournbrook, everyone would go there to chill.
There would be 30 people chilling at Eastside but now that's gone, the same thing is happening at Bournbook.
What they have going on is amazing. Every time I go down there's something new. I like it, like that, it's so rad.
I saw you went to Scotland on a Karma trip. What was that like?
I only heard stories about Scotland and the great northern crust of the spots and parks there.
 I met Stu Graham once at the Ideal Mini Ramp. In the back of my head, I was like I have to go to Livi one day. When you see footage it does not do it justice.
But when I went there it was like oh my god.
It's the most crust, fun, exhilarating thing to skate. I spent pretty much a day there and I could not even draw it out for you how good it was because of the architecture and the bumps at the spot. It's really weird, it's really sick.
It's not inviting but it skates so good.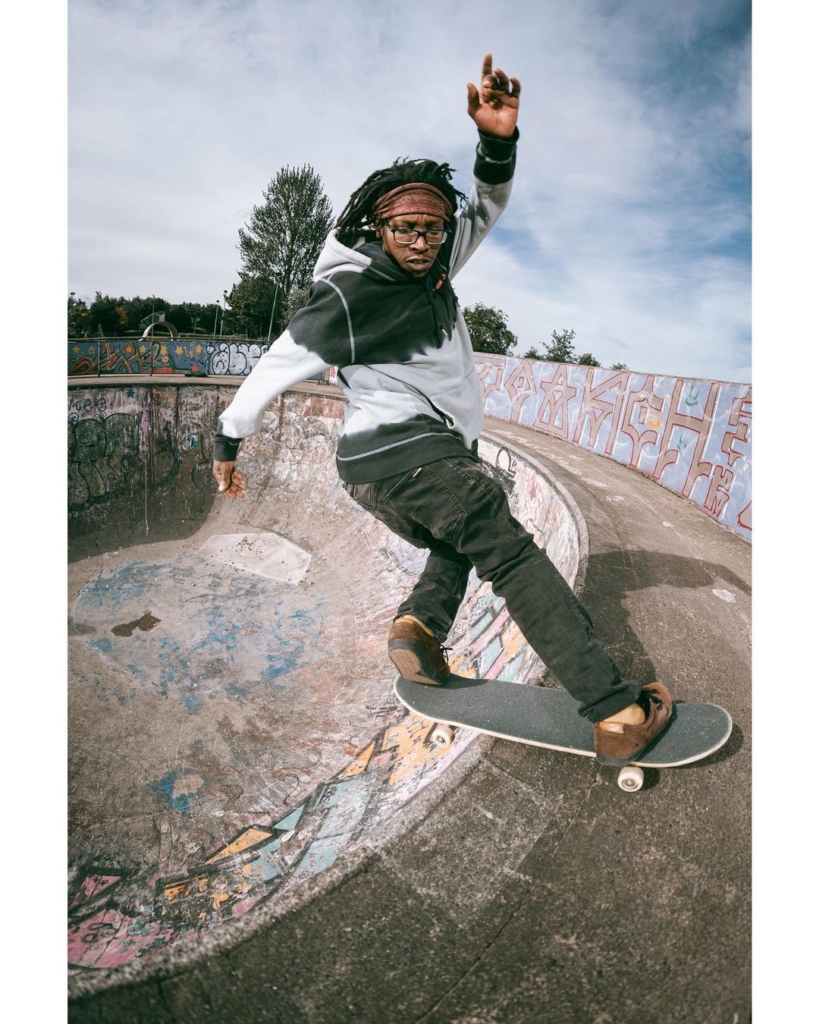 Front Rock, Livi, @whistonphoto
What was Scotland like?
Scotland was exactly that. I didn't expect it to be like how it was.
I always wondered why it was so different to England. But when I went there it put into perspective how big it is. The banter is different, the air is different and the spots are fine and there are a good few of them. I went too ham at certain spots I shouldn't and done myself dirty and didn't get to skate things I wanted to.
We went to Edinburgh, where the Dynamic Earth Triple Set was, I was there for like an hour or a half trying to Hardflip that,
I was fucking up my flip but I figured it out. After that my legs seized up, I had an injury so my leg is giving me issues.
So the rest of my day was done after that, even though we hit up a few spots. We went to some DIY the next day and a few spots like that.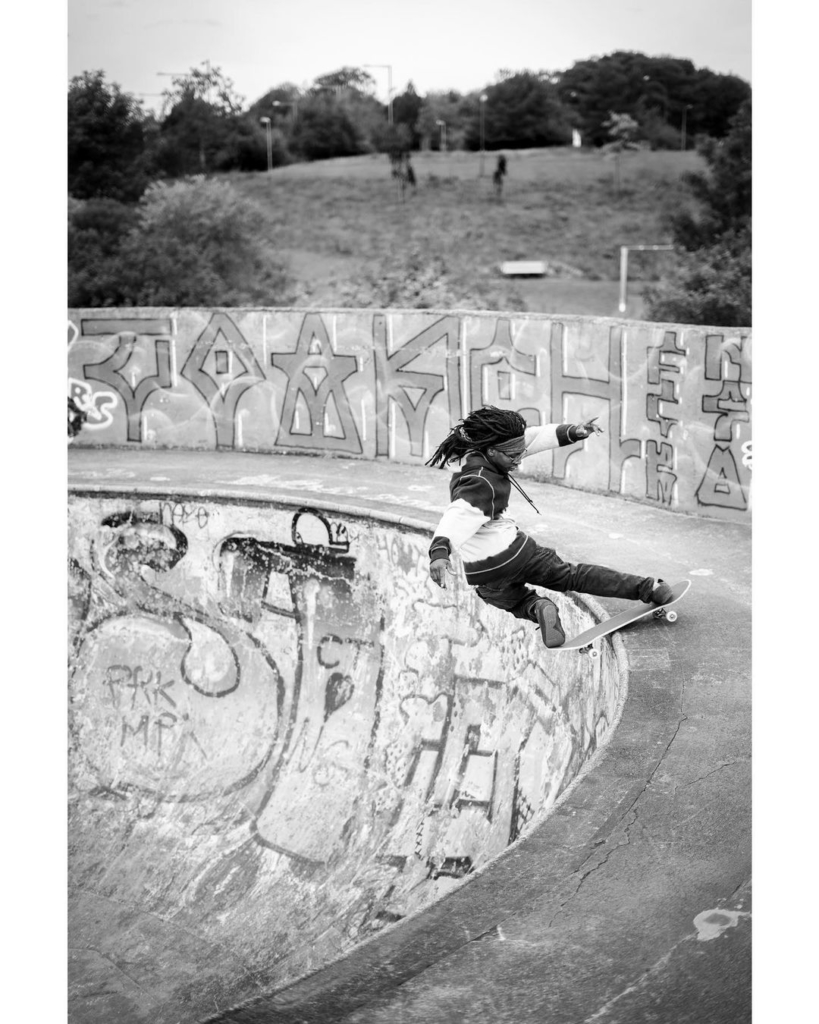 Where was that?
Arches? Heard of that one?
Kind of transition-y pretty gnarly. Built a bit different, it's really fun. But I couldn't really skate it.
You skated a triple set the day before. understandable. What's your favourite skate video when your not skating?
Favourite skate video of all-time? Oooh shit. I'm going to say Almost Round 3 but I also want to say DGK Parental Advisory.
I know they are two different videos but I like them both the most.
The one with the skits?
Yeah it had the story, where Stevie Williams gets shot.
Why was DGK Parental Advisory your favourite?
The whole thing to be honest. I quite liked the brand DGK and when they came through with that video,
I bought it on DVD and it came with the stickers with alcohol bottles with all of the pros names on them.
I really enjoyed it. I liked how the whole video was like a movie.
It was cinematic
Yeah with the younger version and older version.
The semi demonic bit I wasn't that into but I like it overall and it made me pay attention to it more. I liked all of the skating the whole way through
Who had your favourite section in that video?
Boo Johnson had a great section, probably my favourite
What's your favourite video part of all-time?
Almost Round 3, Daewon Song's section. Fuck when he does the Tre Flip from truck to truck I was like c'mon man.
Yeah the truck to truck Tre Flip, the Crook, the Flip Front Board…
I was like that was the dopest shit.
The Tre though that is one of the gnarliest tricks
Yeah I like how it's all filmed in silhouette too.
Who is your favourite skate photographer?
It would have to be Chris Johnson to be honest.
He's my favourite because of how good his shots are. He's like a magic man. Every picture he's taken of me has been banging and he's not had to take it twice.
Like for example the Hardflip photo he took of me at the Beyond Skateboarding jam. He wasn't even looking at me and I saw him swing his head and he took a photo as he heard me coming out of the corner of his ear and took the shot and the picture was banging.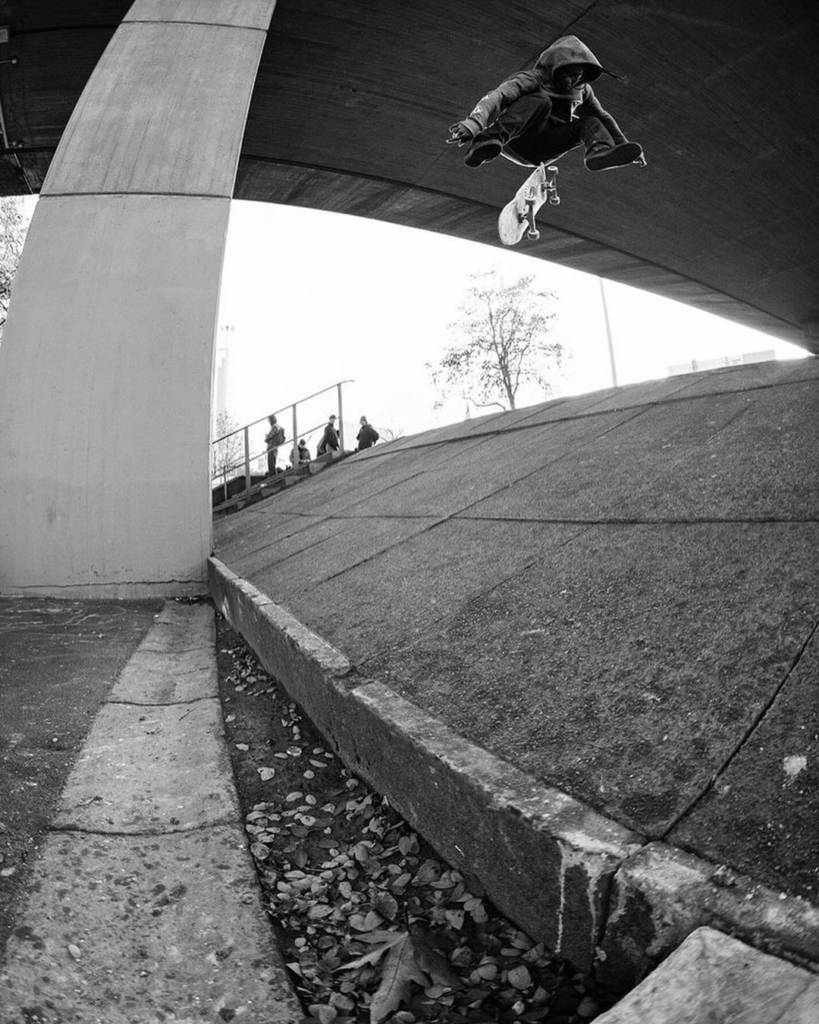 Yeah the Hardflip photo he took of you was banging
Also Rob Whiston is doing a good job picking up where CJ left off. Rob has been taking great photos recently.
Yeah Rob has been taking a lot of photos recently
Yeah he's not exclusive; his work rate is so high. I have to respect it.
The way that his photos are getting are nearly on that CJ level I think.
Do you have a favourite skate photo of all-time?
I think the first photo that really got my attention was Chris Haslam, going off a Bump to Bar, the Besos Bar in Barcelona.
Yeah, yeah, that was the first photo I looked and I thought you what?
Yeah, he had a unique technique on those
It really inspired me that did. I did my GCSE art piece on it.
On Chris Haslam's Switch Ollie?
Yeah, he's famous and renowned and sort of underground too.
Where is your favourite place to skate in the UK?
My favourite city to skate in the UK is Manchester. I also really like skating the M32 spot in Bristol and the Lloyds Block too.
Those blocks at Lloyds are so high!
The floor is top on the bottom but on the stairs it's quite rough.
I guess my favourite spot is the local mecca, where you can hang out, crack a beer, meet people and skate and chill. Wherever that is, is probably my favourite.
What's your favourite spot to skate in the world?
MACBA is great. It's in Spain, the weather is great, and the floor and I like seeing the level of the skating.
There's always somebody doing some mad shit. It's like humbling seeing somebody do some shit you didn't think possible.
Yeah MACBA is amazing
Yeah, something happens to remind you what it is, you don't even have to look for it just happens. You get your mind blown for no reason.
Do you have a favourite style of music?
OK, so I'll bring you to the start. I grew up in a predominately black environment, I was always about bashment and RnB but I wasn't into it too tough.
But then I found myself into rock music from early. Yeah, so I guess in the rock stage of things I like a bit of Emo. I went from that side to the screamo side, not like Slipknot but the other niches of Metal. You know like Trivium and bands like that? But I fell into liking a lot of pop punk too.
But then I hit a point age 16-17, where I thought I can't deal with rock too much at the moment, so I got way more into Hip-hop. I'm an appreciator of all music, I like Drum and Bass but then again I like my chilling music and my easy-listening though, so It's definitely a mix, the kind of music I'm into right now.
Cool. Are you working on a new video project right now?
I've just started filming some new tricks. I don't want to talk too much about them. I've got my eyes on some projects. I always like to set myself a little project. I'm looking at a double set right now, is all I can say.
 I guess like in the future, skateboarding's been there for me the whole time, so I want to keep doing it. I know I won't beat the same level. But I still want to be able to do it. That would be nice in the future.
But before that I would like to give something back, because for like what skateboarding's done for me, the community, people like Bob Sanderson, everyone I've met along the way has given me something, a little bit of fire, and I kind of want to give it back to the next generations who are coming up.
Look forward to seeing it. Any shout outs you want to make?
Volcom for hooking me up. Kevin Parrot coming through with that. Karma with the Super Toxic Urethane wheels too.
Ideal, Emerica and just my friends and family. Also, thanks to everyone who's helped me along the way.
Any last words Marcus?
Not really, just a quote from a friend, it's that, you don't know what you can do, until you do it.