Alice Price-Styles is amazing. She's one of those new kinds of creative people. A triple threat.Writer, filmmaker, DJ and Model.
She may not skate but she's clearly ahead of the curve as she was the first girl to join No Comply.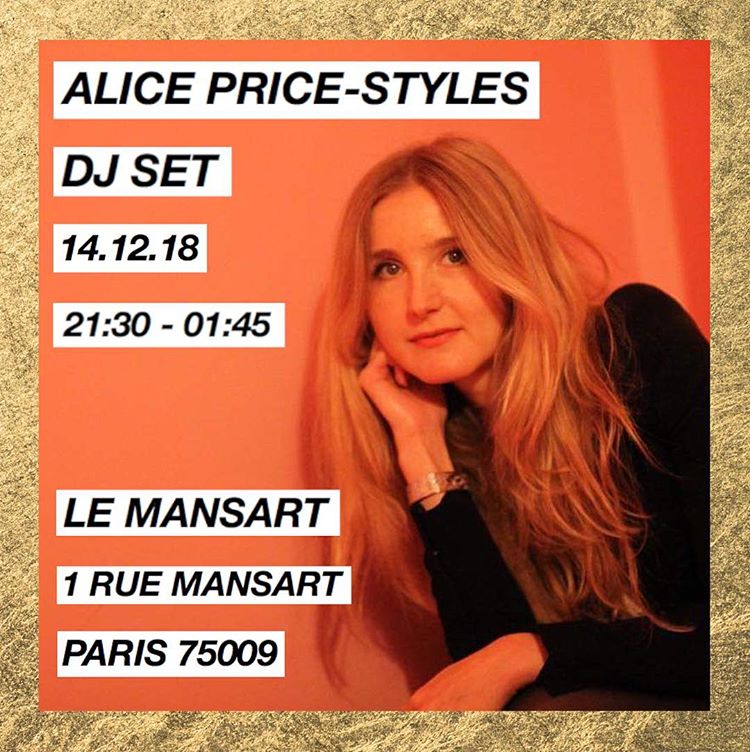 Ahead of her latest DJ set in Paris tonight, we chatted about Alice's thoughts on skaters, creativity, music and film. Paris, Why she loves Blade Runner and Ghostdog and loads of other stuff that she thinks is reely cool
What's your name, where are you from and what do you do?
What do you think about skateboarding?
I remember one time being at the skatepark in Venice, CA and getting a little mesmerised watching the skaters there doing their thing.
I was struck by how quickly they would get back up.Even after the gnarliest falls! Just straight back in there.
It was super poetic and spoke to me about how to approach life, like even when you get bruised and cut up to keep going for it with the same enthusiasm as before. I think it applies to everything, but definitely to creative pursuits.
When things don't work out how you wanted or fall apart – just to dust off and try again. For me with my writing and film projects I'm trying to experiment and not be afraid of making mistakes and learning along the way. I hope I can be like those skaters and just keep on creating no matter how many times I fall down…
I know you love music but what visual media are you into and would like to discuss?
Well, I love film and my dream is to make movies.. I'm very inspired by the films of Gregg Araki, Richard Linklater, Sofia Coppola, and so many others.. I recently watched Phantom of the Paradise by Brian di Palma which really blew my mind.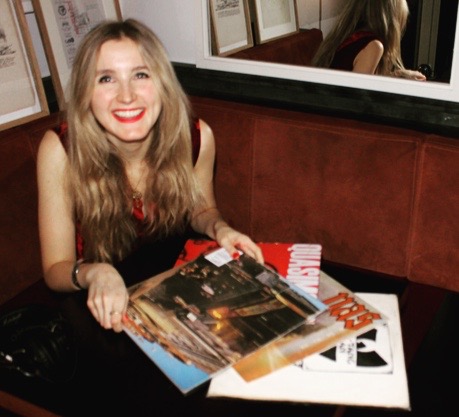 Recent music you've heard that you think people should know?
It's funny, I always say that my head is stuck in the past and that I barely listen to new music, but I've realised it's kind of not true.
I teach a little bit of yoga on the side here in Paris and always enjoy searching for new music for my playlists. Here are a bunch of albums and songs from this year that I've been digging:
The Egyptian Lover – 1985
Rabbithole – The Visionary Tape
Nanna B – Solen
Jansport J – Low
Jerry Paper – Like a Baby
Michael Seyer Bad Bonez
Topaz Jones – "Toothache"
Mayer Hawthorne – "Henny & Gingerale"
Roc Marciano – "Power"
Noname – 
"Don't Forget About Me"
Kadhja Bonet – "Mother Maybe"
Mr Twin Sister – "Echo Arms"
Melat & Jansport – J "Push"
Asal Hazel – "UTMT"
Like – "Graceful"
Benny Sings – "Passionfruit" / Beat Tape
What's your favourite TV show, film, audio book or other reel based media right now and why?
Boots Riley's "Sorry To Bother You!" I don't know where to start. It confronts you with so much relating to modern day society and capitalism and sort of wipes the sleep from your eyes, just like The Coup's music.
I watch quite a lot of films and there are a ton I love. But if I have to narrow it down I'd say my all-time favourites are : Ghost Dog : The Way of the Samurai by Jim Jarmusch – this film gets me so high every time I watch it. So cool and so funny. I love all the characters and all the samurai philosophy peppered throughout the story. Then RZA's soundtrack is the cherry on top.
Dr. Zhivago by David Lean – epic in every way. Lara is my favourite heroine and "Lara's Theme," composed by Maurice Jarre, is too beautiful.
Blade Runner by Ridley Scott – another sublime soundtrack, this time by Vangelis ("Memories of Green," oh my!). At the risk of sounding pretentious, to me this film just perfectly captures what it is to be human, and in such a cool beautiful way. Objectively I think it is the greatest film ever made.
Is there any skate-based art, music film or brands you like and want to mention?
Yeah, shout out Odilon the skate shop around the corner from my studio! They're next to my favourite bakery and always have dope beats playing out.
The smell of fresh bread mixed with Premo on blast is like heaven.
What do you think about the No Comply Network since you've been a member?
I'm a big fan of No Comply and am bummed I've not been able to make any of the events yet…
No Comply is like a nifty little rolodex of sound creative folks.
Any plans for the future or projects you're working on that you want people out there to know about?
Earlier this year I shot and edited my first narrative short film, which I'm currently submitting to competitions and festivals.
It's called MoMA with Mami and I originally wrote it as a short story. It's pretty close to my heart. I'm excited to hopefully get it out there and start working on the next! I have a couple of scripts ready, and am also writing my first novella.
Other than that a few DJ gigs lined up in Paris – playing at Le Mansart, which is always fun, this Friday 14th December, and Le Tres Particulier, which is always sexy and chic, on New Year's Eve!