Roberto Cuellar is a skater and artist from Mexico living in Berlin, Germany. His skateable sculptures are pieces of fine art. But there's more to them than solid skate obstacles with intriguing aesthetics. As a skater and sculptor with a defined, refined ledge and bank skate style, he knows from years of experience what's practically good to skate but also how to frame that inside work beyond the theory, in order to make rad installations that have true meaning. His art is part of his search for the perfect spot.
He has created a unique set of pieces for a series of brands and exhibited them around the world. But there's something philosophical about his creative builds. They are meticulously constructed, brilliantly decorated and skateable from multiple approaches. Leaving enough space for skaters to explore but allowing them to standalone as well-molded masterpieces. Painted in a mathematical manner, bordering on scientific, their presentation, intelligently displays angles and shredding possibilities.
So we hit up Roberto to find out if he would like to join The No Comply Network and were stoked to discover that he was down.
Read our chat to discover how he started to skate in Mexico and got into creating art, moving to Germany, studying and finding focus in Düsseldorf, skateable sculptures, sourcing materials, finding a balance between making tech constructions that skate well and look great, creating obstacles for Converse in Berlin, building his sculptures in Cuba, Cuba Skate, his murals and art installations, upcoming projects and his favourite skate videos, sculptors, skaters, spots and Switch Hardflips of all time.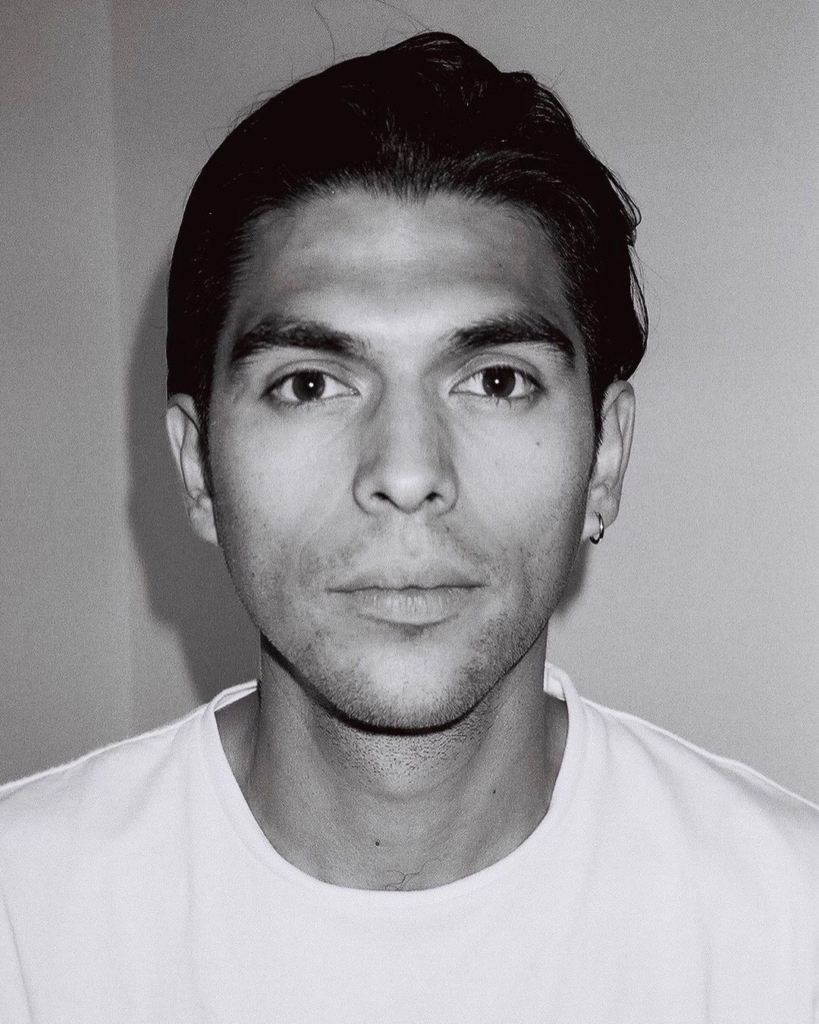 Roberto – Shot by @danielvaysberg
What's your full name?
Roberto Alejandro Cuellar Santacruz
Where did you grow up?
I was born and raised in Tlaxcala Mexico until I was 12 years. Then I moved with my family to a small town in Germany.
Where do you live now?
When I turned 19 I moved out and since then I have lived in different cities. Currently I'm based in Berlin.
Okay. When did you first start to skateboard?
That was in Tlaxcala, where I'm from in Mexico.
There the skaters always met in the central park and when I saw them I was just fascinated by the vibe of this group and what they could do with their boards.
Sick. What was your first setup?
It was a Channel One board with orange wheels. I must have been 12 years old
Right. Where did you go skate on that?
For months I skated alone on the doorstep in Mexico but when we moved to Germany I found my crew super fast!
It didn't matter that I couldn't speak the language at all, the connection was immediately there.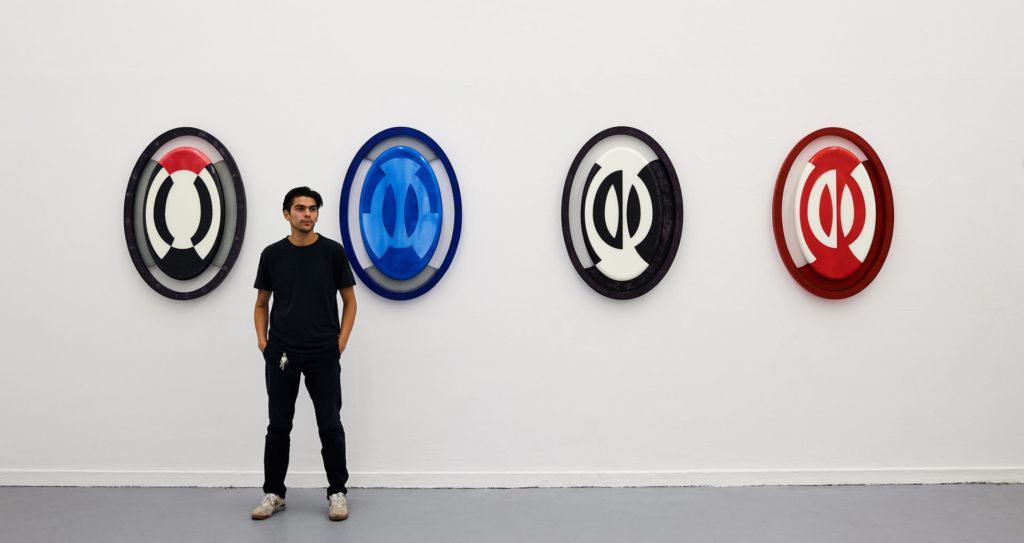 What kinds of art did you make growing up?
As a kid I did a lot of handcraft without thinking of making art. Later I painted canvases for a while and quickly became interested in graphic design.
However all of it was just side stuff for me since I was a 24/7 skate rat.
It wasn't until I got injured that graphic design became a big focus in my life.
Cool. So how did you originally get into creating sculptures?
I first started designing skateable backdrops to create my own world.
Very quickly I realised that I had to create special objects to make everything more unique, so the idea of sculptures came to my mind.
Kai Hillebrand, Backside Tailslide: Shot by @f_o_l_e_y19
What is the key between making great art and skateboarding?
Personally, it is essential the aspiration IS about being different from your surroundings. I always wanted to be different because I feel different.
Skateboarding and Fine Art offers you the best platform to prove that by putting your own experiences together, maybe through tricks or material choices plus many other possibilities, and thereby creating your own style.
Did you study art or sculpture?
I studied Fine Art with a focus on Sculpture at the Art Academy in Düsseldorf.
What was that like for you?
It was a unique life experience, let's put it this way…I could write a whole book about my time at the academy.
It was a very wild time and incredibly enriching on all levels….but I wouldn't repeat it again.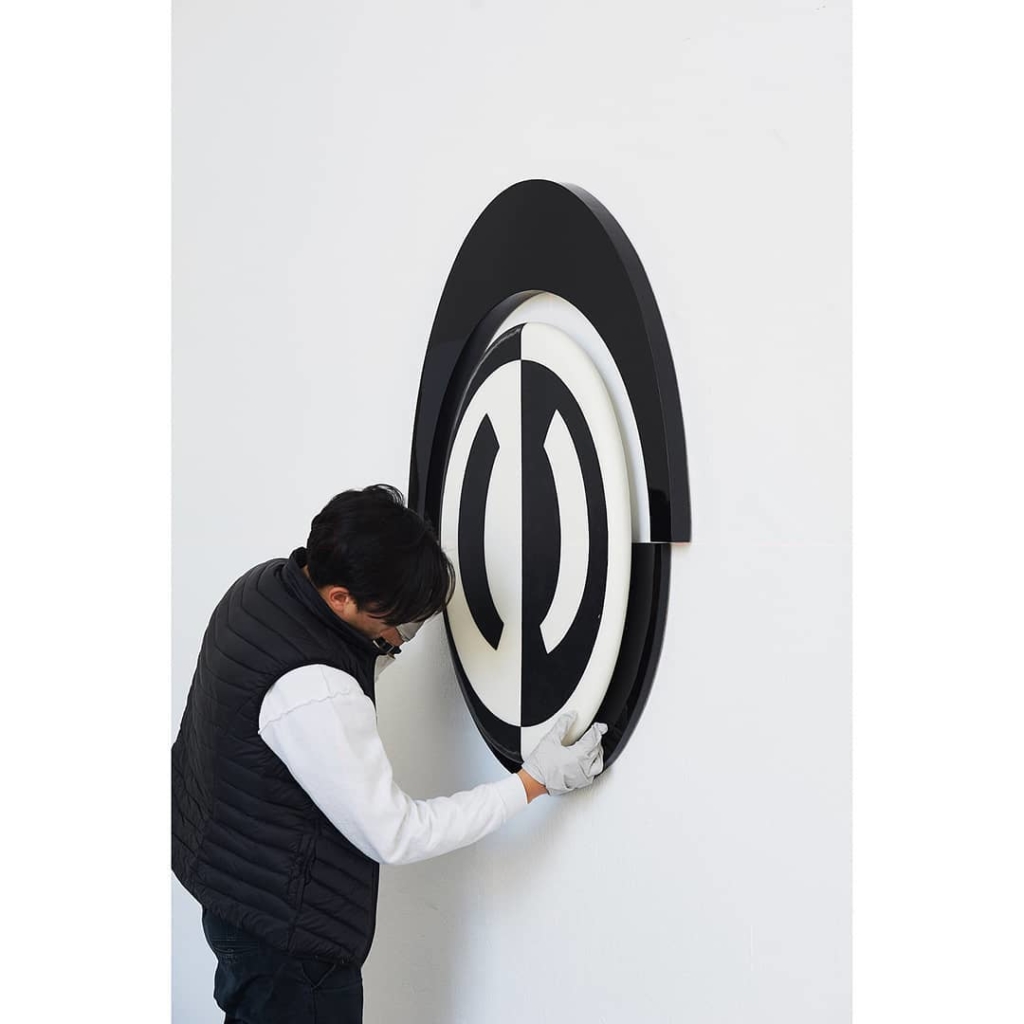 Your work is visually striking but why do you paint them?
That is because of my graphic design background.
Before the academy I mainly built my sculptures out of wood and wanted to give them a new texture or a kind of skin.
During my studies, I concentrated more on the properties of the individual materials and now I'm mixing both variations.
Makes sense. So what's your favourite ledge trick to do?
Backside Tailslide and Nollie Crooked Grind
You've got a sick Switch Hardflip. Who's got your favourite?
Definitely Brandon Turner!
It's unbelievable that at his age, he just did the Switch Hardflip down the Wallenberg Big 4 gap! That's pure inspiration!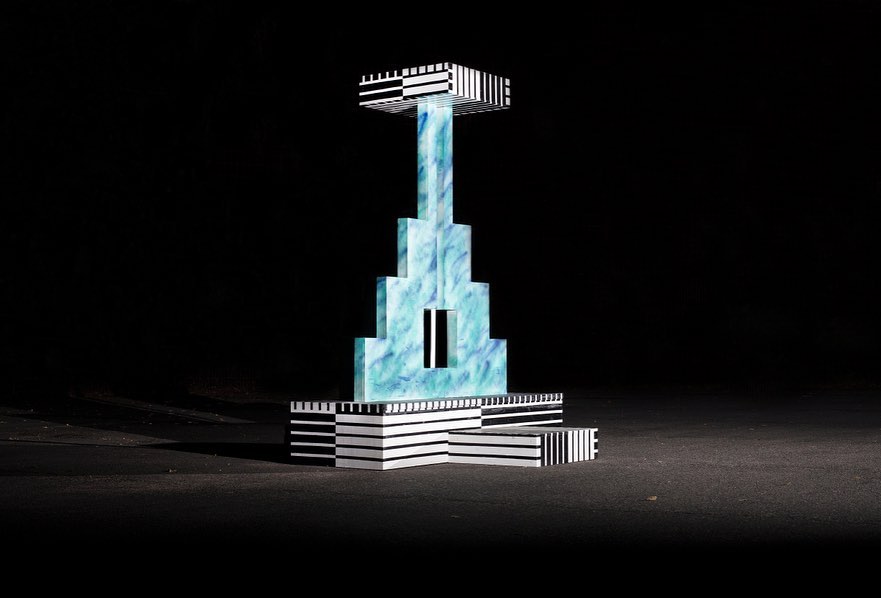 Where do you source the materials for your obstacles?
As I mentioned, during my studies I was very interested in experimenting with materials.
I was very hungry to learn everything about material processing and how to do it. That helped me a lot!
Now I have a large amount of knowledge and can decide on a material for any idea, location or request, or mix several together, just like with the trick selections we all do at different spots.
When creating your skateable sculptures, do you think more about a bigger concept, the aesthetic or its skateability?
It depends on what kind of project I have to work on.
For skateable sculptures I always have to stick to the technical specifications i.e.
Is it indoors or outdoors? Or Is it daylight or in the dark?
Or is it for an event vs performance?
Will many people skate on it? Or only a few?
More importantly it's about the footage that will be shown later.
Once I have all of this information, I can start with my concept and create a healthy balance between function and concept.
OK. You made obstacles for Converse. How'd that come about?
I was contacted by an agency that was working with Converse Germany at the time and they introduced me to the Converse Europe team.
Because this big event was being planned and they had only recently discovered my sculptures everything happened very quickly.
To be honest, I realised how nice this project was many years later.
At that time I was still very young and a lot of things transpired very quickly.
Back then I conceptualised and executed a lot of projects in a very short time with very little experience, so it would be a lot for me.
Later I found a place of refuge in the academy where I could develop my work in peace and grow as an artist.
Now I feel as though I reached the next level, much more prepared and stronger with my artwork. More importantly I have learned to enjoy the moments.
Javier Mendizbal – Backside Tailslide: Shot by @biemer
On that note, which brands in skateboarding inspire you?
I remember when I visited my first skate fair, I got a promotional DVD from the clothing brand Insight.
They had built artistic set design for skate and surf advertising. I was so fascinated by discovering them that I couldn't stop watching their DVD over and over again…
I actually don't know if the brand is still alive but they had a great team: Daniel Shimizu and Jose Rojo were a part of it.
Rad. What's been your favourite sculpture to create so far?
A very special one was a documentary about me, it was shot for a French/German art TV channel.
I had budget to invite my friends, who live all over Germany and France, to skate and film my sculptures and set design for three days.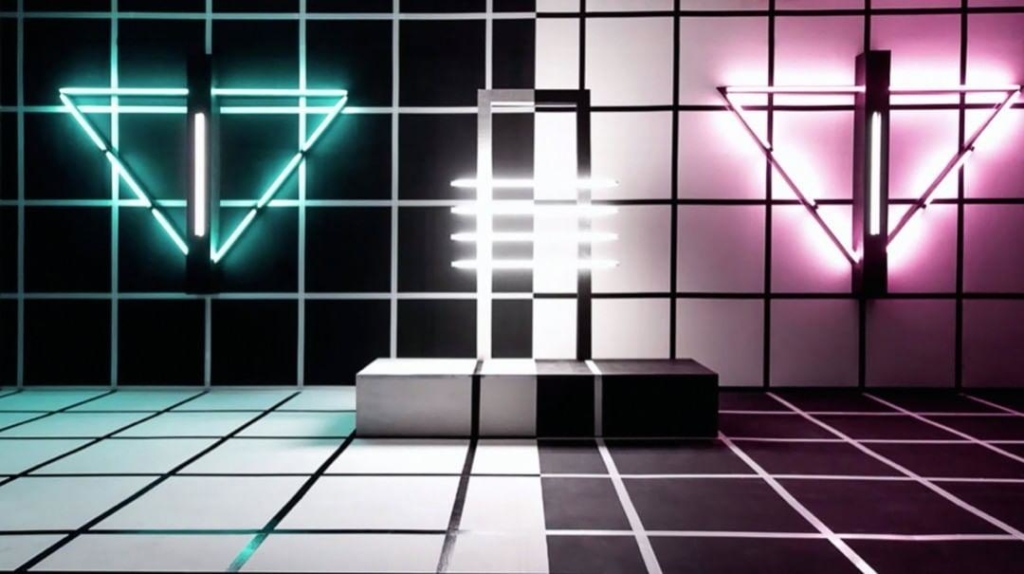 Cool. How did you get into making murals?
That started as a background addition for a skateable project.
It has felt quite natural since I've been dealing with graphic design since the beginning, but curiously never with graffiti.
The wall paintings came after having done a lot of sculptures.
What other kinds of art do you make?
I am currently experimenting with 3D programs. I think there will soon be new works from me in this format.
The video of the skater shredding your sculpture at night is dope. Who filmed it and what was the idea behind the video?
That's my friend Stig Breu and the filmer was Severin Strauss.
My idea was based on the 4 cardinal points, therefore the shape of the sculpture and the light in the center represent the intersection of the coordinates.
The name WGE is an abbreviation for the word 'wege', which in the German language means ways.
Your SNN installation looks great. What was the idea behind it?
That was for a study for a walk-in room installation. I was interested in experimenting with kinetic art and optical illusions.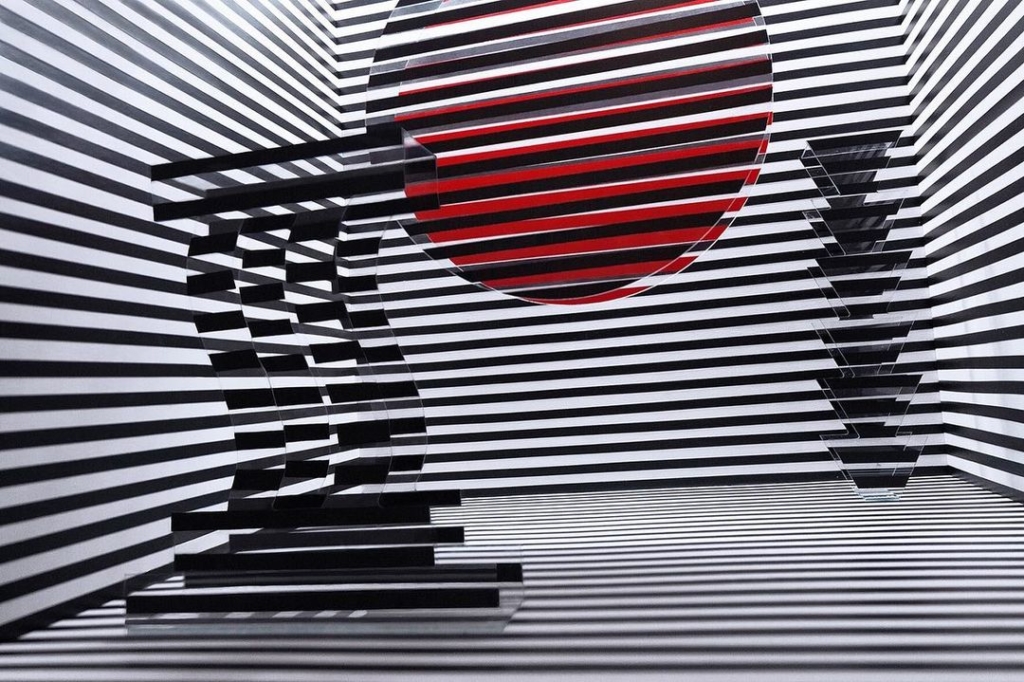 Your sculptures are geometrically designed. What is it about geometric-style design that you like to add into your work?
Graphic forms fascinate me and are my visual language.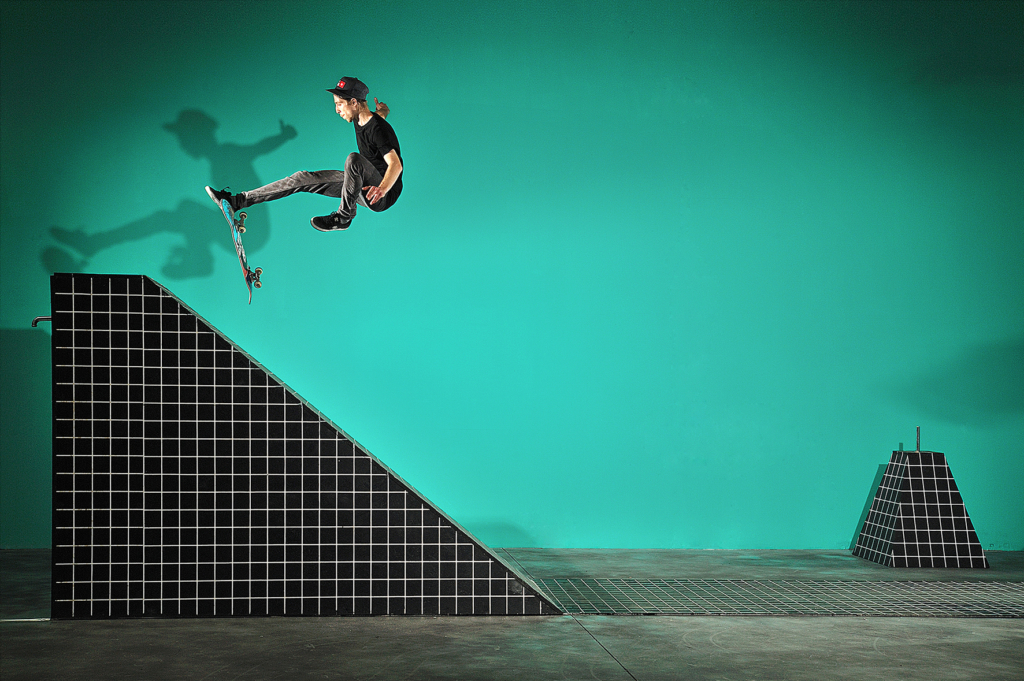 Marcel Kühnemund, 360 Flip to Fakie, Shot by @madeby_will
This brought me to discover my obsession with the golden ratio. It's about the ultimate balance that everyone is looking for in their lives.
You've done a lot of shows and live events around the world. Which has been your favourite and why?
Cuba was very special because of the circumstances. It was financed by me and the non-profit organisation Cuba Skate.
It was the first and so far the only time that I have built a sculpture out of concrete.
It was also extremely difficult to get materials in Cuba which was definitely challenging.
In the end, we all came together and made it down to the last minute.
Unfortunately, the sculpture only survived five days after some troublemakers destroyed it.
In the end, it was an amazing experience and I made a lot of really good friends in Cuba.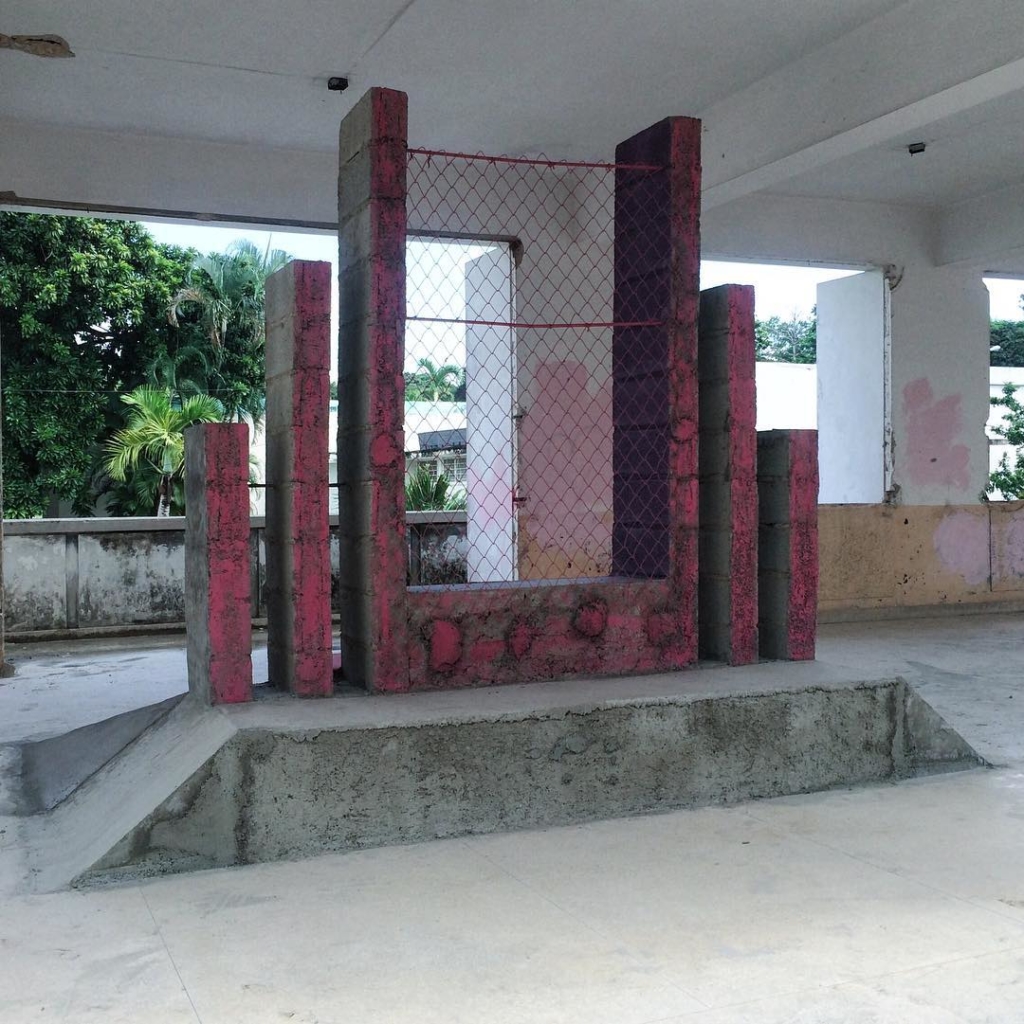 How can people get in touch with you for a commission?
Write me an email on my website or reach out on Instagram. I'm always looking forward to it!
You can also connect with Vanessa Escamilla, my manager/agent in the states – [email protected]
She allows me to focus on my art and creative side of this industry.
Are you looking to collaborate with any other artists?
Always! There are so many possibilities and creating a movement would be so sick.
I'd love to travel all over the world building skateable sculptures and document a series about it.
Let me know if you are up for it! I'm also open to collaborating with brands, set design opportunities and more.
Roberto Cuellar at @skatehalle.berlin
What's your most recent work you have created?
I recently redesigned the Skate Hall in Berlin by creating different murals, patterns and choosing the colors.
You can check it out here.
Roberto Cuellar Murals at @skatehalle.berlin
Which of your sculptures means the most to you and why?
Every single one of them mean a lot to me, I can't really choose one!
What are you working on at the moment?
I have a couple new ideas for skateable sculptures! I hope I can realise some of them in the new year.
Who is your favourite sculptor?
There are just too many…but very high on my list:
Heinz Mack and Constantin Brâncuși because of their unique visions on how to see and develop their own sculptures.
Where's your favourite skate spot in Berlin?
I really liked Wassertorplatz in Berlin…RIP
Where's your favourite skate spot in the world?
I don't have a favourite spot, that's what inspires me to continue building my own vision of what I consider my perfect, favourite spots.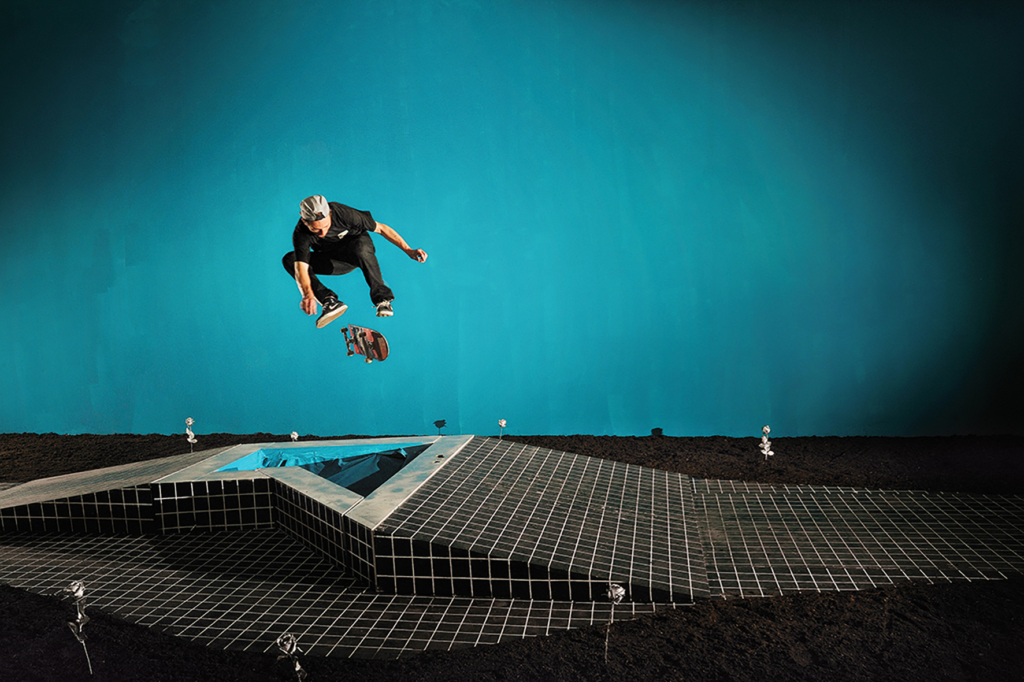 Tim Junga, Hardflip, Shot by @madeby_will
What's your favourite skate video?
That's a tough question…
ADIO – One Step Beyond
Transworld – In Bloom
Tiltmode – Man Down
If I named them all the list would just be too long…
Fair enough! Who's your favourite skater?
Haha again there are to many, if I listed them all it would never end! If I have to name just a few they would be:
Who has your favourite style on a skateboard?
Marc Johnson and Javier Sarmiento.
Because both have such a unique on-board body movement.
Their tricks and music selection also create a unique overall style.
Do you have a favourite artist?
There are also too many and I keep discovering more.
But I would say Oscar Niemeyer right away because his work and his thoughts helped me to lose my fear of the curve.
Do you have any upcoming releases?
I just recently got approved for a new studio in Berlin, so in the next few months there will likely be a series of a big scale paintings on canvas by me.
I'm getting back to my very early roots.
I also have some works available for purchase on my website including a modular skate ramp.
Rad. What do you think about The No Comply Network?
I totally like your concept, big props! So glad to be a part of it.
Stoked to have you on-board. Any last words Roberto?
Thank you very much to The No Comply Network for the interview.
Check out more of my work on my channels and let's connect.
Roberto's Instagram, Vimeo, YouTube and Website.
@artofoto , Wallieng out of Roberto's Sculpture: Shot by @dosouto