Danny Gonzalez has done some of our favourite tricks of all-time.
From his gravity defying upside down Wallride, perfectly balanced manual feats and series of next level gnarly tricks, he's filmed some of the most obscure and creative moves ever documented on a skateboard.
So we had to hit him up to find out what he's seen and done on a board that stokes him out to this day
Read Danny Gonzalez's Best Ever interview to discover more about him and his skating, stories behind a selection of his standout tricks and his favourite skaters, filmers, photographers, artists, videos and more.

@dannygonzalezskate Frontside Lipslide: Shot by @peetigga
What's your favourite trick by Tom Penny?
Tom Penny's Frontside Flip is my favourite; whether it's switch or regular.
The way he floats and catches them on quarterpipes or down stairs is my favourite thing he does.
You'd think that was the only trick he did but he has done every other flip variation on ramps, banks and stairs too.
He's very consistent, and if you saw any footage of him, your mouth was always left wide open.
I also love his aura, he doesn't talk much and also disappeared for sometime and then he came back. He left you always wanting more.
Those are the main reasons why I love Tom Penny. He's my favourite skater from any generation for sure.
Penny is a legend. How did you meet Shepard Fairey?
I met Shepard Fairey in 2008. His assistant reached out to me and asked if I wanted to be in a commercial that he was producing for the Vote for Obama campaign with other musicians, actors and artists. I ended up going there, met him and we became friends.
Eventually my wife and I photographed him and Shepard and I later collaborated on a piece together.
I'm so grateful we connected and have a deep respect for his career as an artist.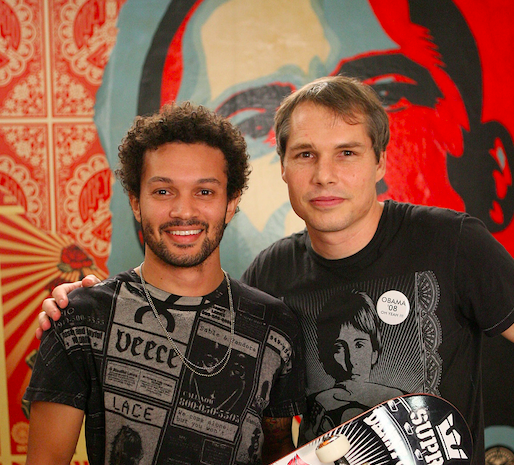 Danny and Shepard Fairey
Do you have a favourite piece of art by Shepard Fairey?
I like Shepard's portrait pieces of other artist. I love the simplicity in color but the technical technique with papier-mâché.
For me, he's like the Warhol of today. Plus he comes from a skate background which is awesome too!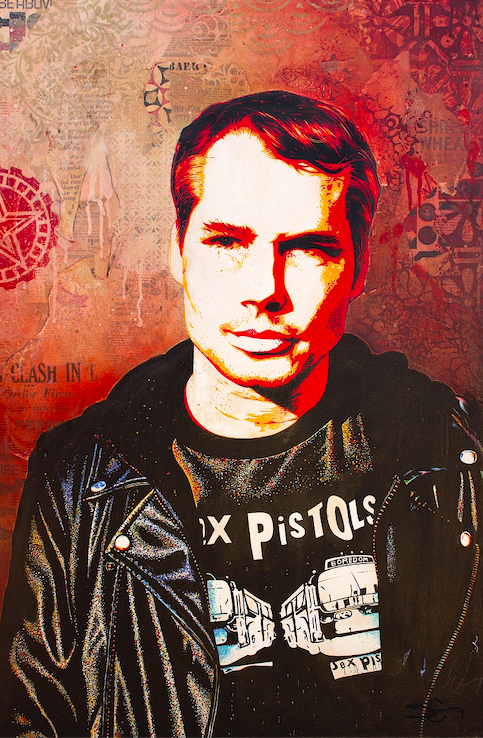 What was your favourite thing about Transworld's Feedback video?
Transworld's Feedback video had great editing and music, like Moby
Ty Evans and Chad Muska, but also Anthony Van Englen, Jason Dill and Andrew Reynolds.
Ty did something absolutely different with those videos, they were emotional and just packed with feeling and emotion.
He really brought a new wave of change in the film game at that time.
Who is your favourite photographer?
Pete Thompson released a book called 93 til and he has taken some wonderful photos over the years that a lot of people really love.
In terms of us skating shooting together, we go way back. We've shot a lot of my favourite photos together.
Another photographer I deeply respect is Seu Trinh.
Not only have we shot a lot together but he has had multiple covers for Transworld Magazine. I love his photography a lot and he's an awesome person too.
What's your favourite photo of yourself that Pete shot?
His shots of my Wallenberg Kickflip, handrail Lipslide and Switch 360 Flip Foot Plant in San Francisco are some of my favourites. They are in his 93 Til book.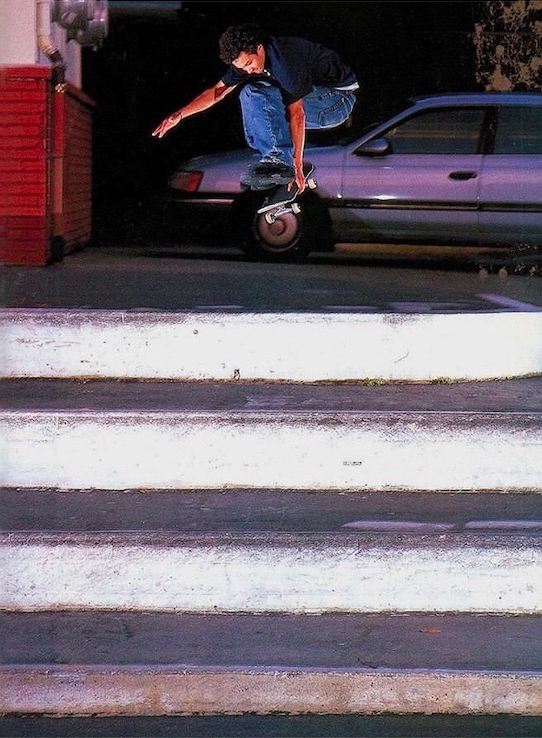 Danny, Kickflip Melon down Wallenberg: Shot by @peetigga
Cool. So what's your favourite photo by Seu Trinh?
As for Seu, I'd have to pick The Ceiling Ride at the San Diego ditch.
Danny, The Ceiling Ride, Shot by @seutrinh
What's your favourite trick that you have ever filmed?
I'd say the Kickflip One Foot Nose Manual that I did in 1998 for a 411 Opener. For the time it came out it was out of left field.
A lot of people didn't even think it was real.
11 years passed before somebody else came along and did it, which was Rodney Mullen and Chris Haslam – Rodney's was Switch.
At the time Jon Miner filmed it at Pier 7 and came up with that great angle for it.
Do you have a favourite skate spot of all-time?
I'd say probably Wallenberg, as I skated there a lot with my two friends Andrew Schoultz and Travis Jensen.
I used to skate the top, the bottom. I remember I doing a Crooked Grind up a table to late Front Foot Kickflip off which was filmed but not sure where the footy is. I've also got to say Japan was amazing! I like it there a lot. The Japanese culture, and architecture was so good, the people were really cool as well.
What's the best feeling trick you've done on your board?
When I filmed the Tre Flip Foot Plant tree line in The Reason.
I was landing it clean but a few tries later I landed into a skid on my tail to Backside 180 out.
Ty liked the way it looked on film, so I told him I could do the rest like that.
So we purposely shot it to look spontaneous even though it was planned to make it look an accident.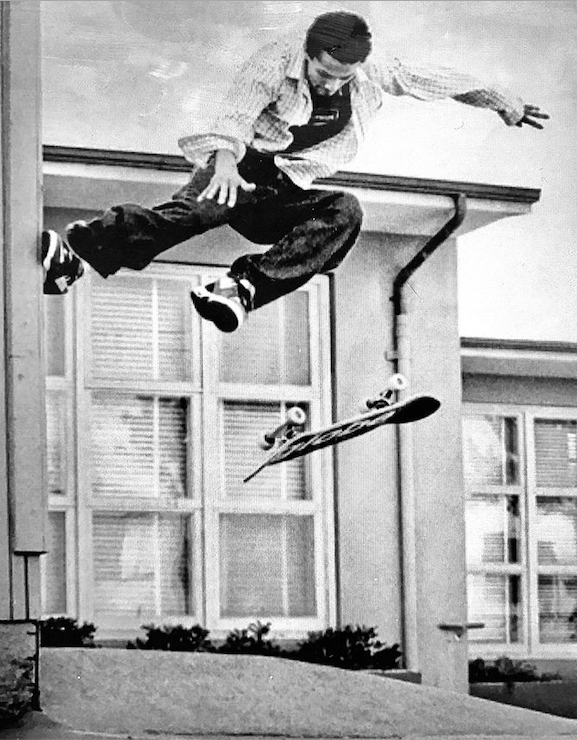 Switch Tre Footplant: Shot by @peetigga
Cool
When you're skating every day for six hours, that's how much control you can get over time.
If you go back and look at the footage, you can see I land the Switch one perfect but not the regular one? Overall filming anything with Ty was my favourite.
You mentioned skating with PJ recently, what was that like?
You can tell PJ Ladd skates a lot! He's locked in and gets into everything he tries, it looks so unfair, haha. He makes is look so easy.
When he grinds, it doesn't look like he puts any weight on the ledge. Its impressive but i'm like a fan when I talk to him.
I seriously ask him so many questions, one after another, lol
What's your favourite trick by PJ Ladd?
Probably in Wonderful Horrible Life, the very last second of the part when he pushes off, his forearm goes up and his back leg is extended.
The power he has is reflected in that last second, I really didn't want his part to end.
But specifically some of the lines and ledges tricks where he had to pop out of the wall and the way he does his tricks, like the Nollie 360 Kickflips with the full body turn.
You've both been similarly elusive, that's sick.
 I reached out to him on Instagram like a week before, and randomly ran into him at the North Hollywood skate park. I didn't even know he was in California.
But I went up to him and just started talking to him. Now we talk a little bit over Instagram.
PJ has pushed skateboarding and he's done things people have never done before.
Why is Eric Koston one of your favourite skaters?
Well Eric Koston, I think really brought the Nollie tricks into the skate culture!
When Mouse came out, everyone was trying to Nollie into everything.
He inspired a lot of people to do that stuff. He was and is always ahead of his time. I deeply love Koston's skating.
For Sure!
I recently seen Milton Martinez at a local skatepark, and I had never met him.
The day before though, I had just seen his Kickflip into the car wash footy online. There's nothing that gets me more stoked than seeing someone push the limits of skating. I was so excited to see him in person, I walked right up to him saying his name with the biggest smile.
I put my hands on his face, pre covid, and I said… "the car wash, the car wash" and he just started smiling.
I just gave him a big hug and thank you man, thank you for doing the trick at the car wash. All his friends watching got it and just smiled as well.
I once saw Sean Sheffey at the same park and started singing the theme song to his section in "A Soldier's Story" .
As he laughed I hugged him so tight and didn't let go for a while haha.
Basically if I see a pro skater that I grew up around I kinda turn into an idiot.
Sometimes you have a better chance of striking a friendship with a random person rather than your heroes like Guy Mariano, Mike Carroll, Rick Howard, or you'll act like a weirdo.
Any other favourites you would like to mention?
Not really but I want to say thanks for the giving me the opportunity to speak on your forum.
The No Comply Network has a lot of love for the skate community and I'm glad to be a part of it. So thanks a lot. Be good. Late – DG