Ragdoll has done some of the gnarliest tricks ever on a skateboard but everybody knows his skating brought more to the table than that. He took classic tricks to dizzying new heights.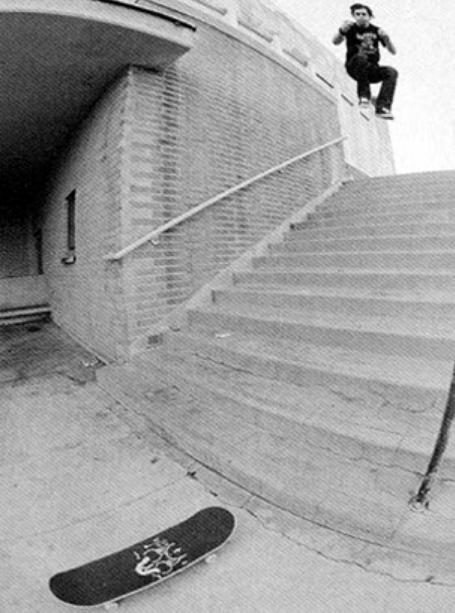 Ragdoll, Hippy Jump, Hollywood
Ragdoll is now a member of The No Comply Network. He is still pushing what's possible on and off his board.
To celebrate we talked about how he got his nickname, Chad Muska, Black Label, John Lucero, his El-Toro Slam, Canna Hemp X and why he thinks his main strength is falling down.
What's your full name, where did you grow up and where do you live now?
Anthony Daniel Scalamere III.
I was born and raised in Las Vegas Nevada, and bounced back and forth to Arizona. I currently live in Las Vegas, again. I always seem to come back here.
When did you learn to skate?
Man, I learned how to skate out of sheer rebellion to be honest.
I played soccer for 10 years but got tired of coaches who didn't play, telling me what to do and the team fucking up during games and pointing fingers at everyone.
Soccer was just a blame game. There was no self discipline. My sister always dated skate dudes and they always looked cool and did rad shit.
I remember finding a board in her room that her boyfriend got her, maybe she stole it from him. I don't know, but I found it. I remember just being hooked, not knowing
what I was doing.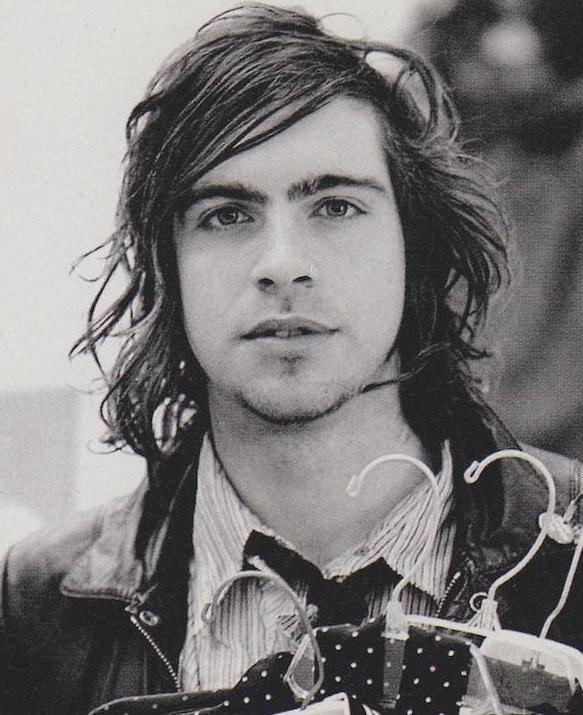 How did you quit playing soccer?
I learned how to roll and would try to skate to soccer practice.
When I got good enough, I skated to soccer practice one day but I just decided not to stop and kept skating on by. I quit soccer the next day.
I skated by myself for like 2 years but mind you no one skated back then. I was twelve years old and a happy outsider learning what I thought and made up along the way.
Where have you been skating recently?
I honestly love getting on my board, catching the bus and finding shit that's overlooked.
I don't like skateparks.
I can be so motivated to skate and get to a skatepark and feel like the energy is sucked out of me.
There's no real mystery to a park, it feels like the setup is just there for you to perform. Like a hamster wheel. So I usually go downtown by myself and wanderlust.
How did you get your nickname?
The way I fell when I was trying tricks made all the people who watched me say I skated like a 'Ragdoll'.
But I think the nickname was completely solidified the day I went out skating with Chad Muska and Bill Weiss. Chad and Bill came down to Vegas to get footage for Digital, and were both watching me skate down this 10 stair rail.
What trick were you trying?
I was trying to noseblunt down the rail whilst Chad and Bill were there
I had never even done a noseblunt on a rail in my life, let alone down a 10 stair handrail but the Muska was there. I had to try it. Chad Muska is my fucking idol!
So what happened?
When I went for the rail I caught my feet on the rail and I ended up cartwheeling on to my face.
Right at that moment, Bill Weiss said:
"That's where 'Ragdoll' comes from then!".
Chad overheard Bill saying Ragdoll and started to hype me for the noseblunt shouting:
"Yeah Ragdoll! Fuck Yeah Ragdoll!".
Muska was shouting 'Ragdoll' the entire time during the session.
So it was him who made it stick.All Thanks to him. I Love Chad!
Gnarly. What motivates you to skate such big stuff?
I'm not that talented at skating. I knew my strengths and didn't fucking care about my weaknesses.
I would see something average and feel an urge to try something different. I was really good at falling so I knew I always had that covered if I didn't land my trick first go.
Sick. How did you originally get on Black Label?
You know what, nobody has ever asked me this before in an interview. The answer is quite interesting as I owe getting on Black Label all to one special person. So at the time, I was riding for and trying out for Zero Skateboards.
Everything was going good…until it wasn't. Though I do admit I was wild at the time that I was just trying to get on the team.
We were filming constantly for Zero's upcoming 'Dying To Live' video and I was hoping my footage would solidify me as an Amateur skater on the team.
So, you nearly skated for Zero?
Yeah but personalities clashed between a few of us and it didn't work out.
But then I got a call from a guy named John Lucero. I had no idea how he got my tape or who he was at the time but he said he wanted to give me Black Label boards.
I had no idea what he was talking about! But then later I came to find out, Jamie Thomas had sent Lucero my footage that we had been getting together for 'Dying to Live' and Jamie sent it to him thinking I would be a good fit for The Label.
John agreed and kaboom! All the pieces fit into place for me! Thank You, Jamie Thomas.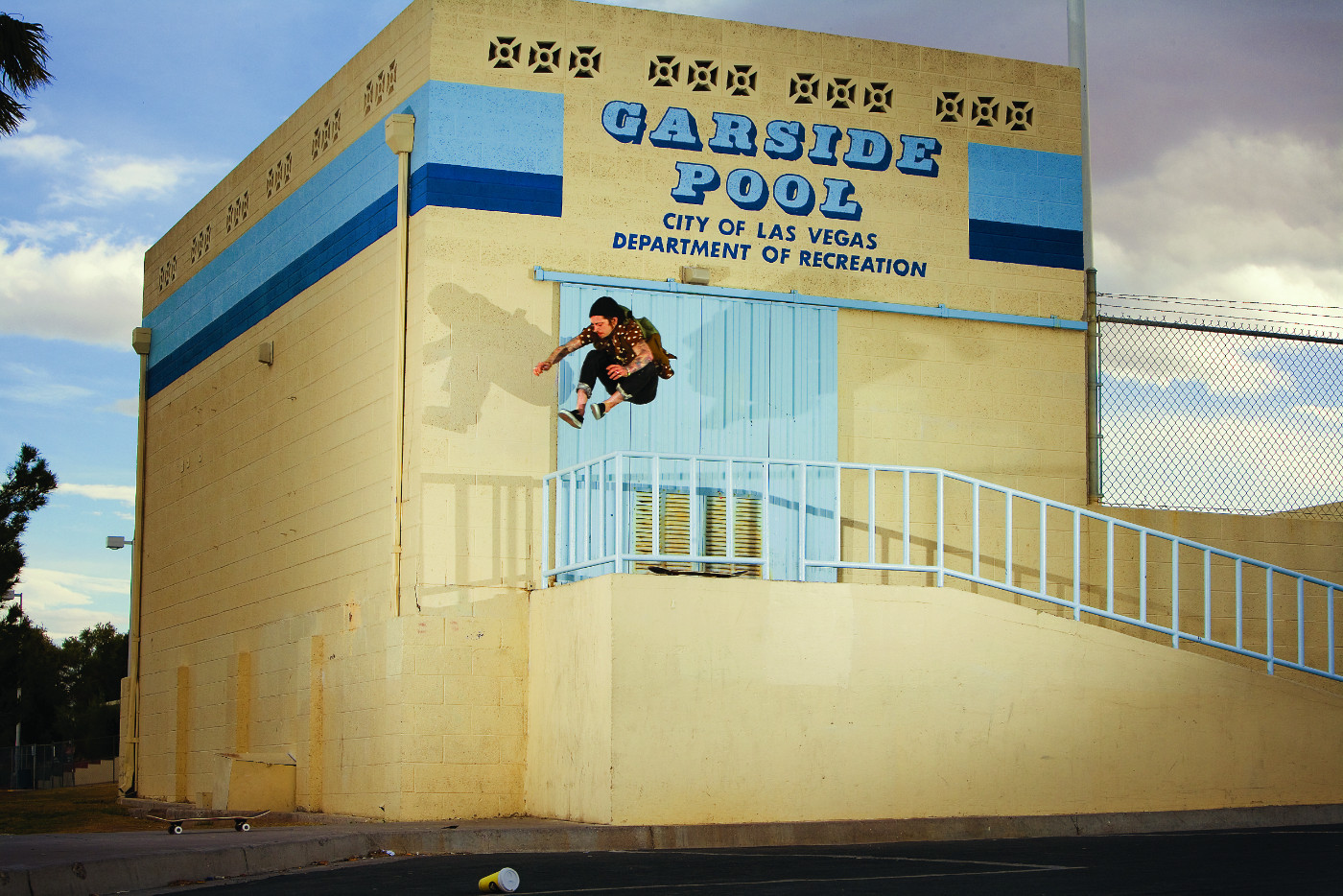 Ragdoll, Hippy Jump Board Transfer: Photo by Blair Alley
What was it like skating for Black Label?
If I could mention one thing about Black Label it would be that I just want to say:
John Lucero always stood up for me, the underdog. I always have a place in my heart for John and Black Label. I will never forget that.
Why do you think style is important?
Style is everything. Style is your personality, persona and character. Style is what makes you stand out from the person next to you.
If it's natural you don't think about it that much as it's kind of second nature to be impulsive. But don't fake what you can't create. It's natural or nothing. Just be yourself. Know that there is only one you, and it's impossible to fuck it up.
Any advice for upcoming skaters?
Stop trying and start researching skateboard history.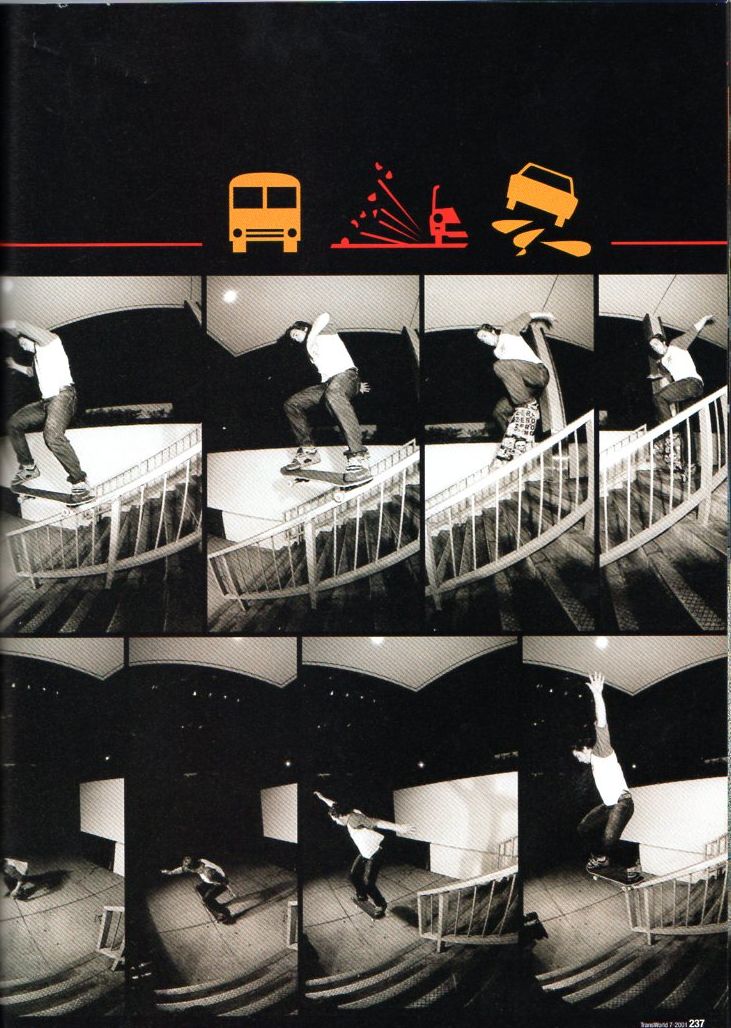 Ragdoll, SW 180-50, Wilshire 12 Stair Rail, Transworld Checkout (2001)
Your El Toro slam was Insane. What do you remember?
That day was pure chaos.I had already did the run jump down Hollywood 16 and thought I should try it down the El Toro 21 stair. Mind you, I had never even seen the spot and had already lined up a photographer and a filmer. So we get to El Toro and I'm fucking rattled; it's way bigger than I thought to run and jump down.
So I was like if I roll on another board I could get the speed.
Problem 1: I only had my board so I had to borrow Ewan Bowerman's (filmer) board that had soft wheels, fast as fuck bearings and was a really insane size and shape.
I decided I would use that for the roll up board.
Problem 2: Wind and not being able to see the landing board I set up at the bottom to land on.
I made a marker with a lil' twig for a reference of where to jump from at the top. All good right?
No. It's gusty up at the top of 21 stairs, and I knew I didn't wanna hesitate on my first try.
I pushed up to that motherfucker and felt confident. But as I approached the point of no return, going fast at it, I realised at the last second the twig that I had marked for the take-off spot had blown away from the run up of the stairs.
I had no choice so I just fucking went for it. Watch the footage again and it will all make sense why I missed the landing.
What is the gnarliest trick you have ever tried?
The 50-50 grind on the Hollywood High double set ledge that was my second to last trick in Blackout.
Hands down, that was the scariest and hardest thing that I have ever done on a skateboard.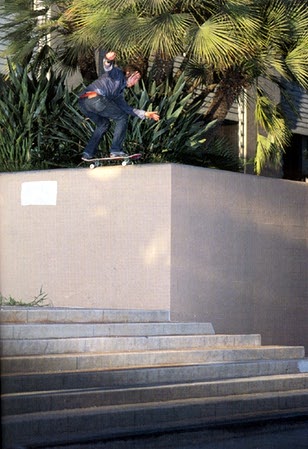 Ragdoll, The Hollywood 50-50 Grind.
The 'Black Out' roll-in is fucked. How many tries did it take?
I have always looked at a spot and tilt my head, so to speak, to see it differently. That brick bank is in Vegas and I tried that drop-in almost every year for like seven years before I rode away. That drop-in had to be done and I made sure of it.
That's dedication. So, you work for a CBD Oil brand, what do you do for them?
We're called Canna Hemp X .
We are a upscale and solid quality CBD company that helps so many people from all walks of life to recover from pain and setbacks of injury.
No THC involved. I truly recommend people looking into the benefits of CBD and all the things it helps with.We make the highest quality of cream and elixirs.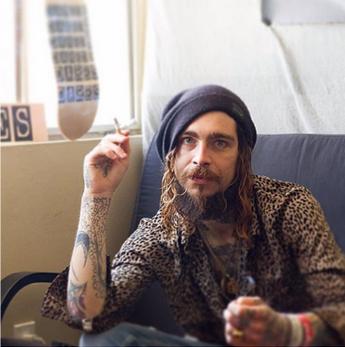 I work at Canna Hemp X as Brand Manager. My job is to oversee all of the marketing for skateboarding.
I run the social media and I also look after the ambassadors, find talent and make sure all the ambassadors get their pay and product on time.
Rad. Who's your favourite photographer?
I've always loved Daniel Harold Sturt's photos. Sturt's Thrasher cover photo of Geoff Rowley juggling grenades is my favourite photo of all-time.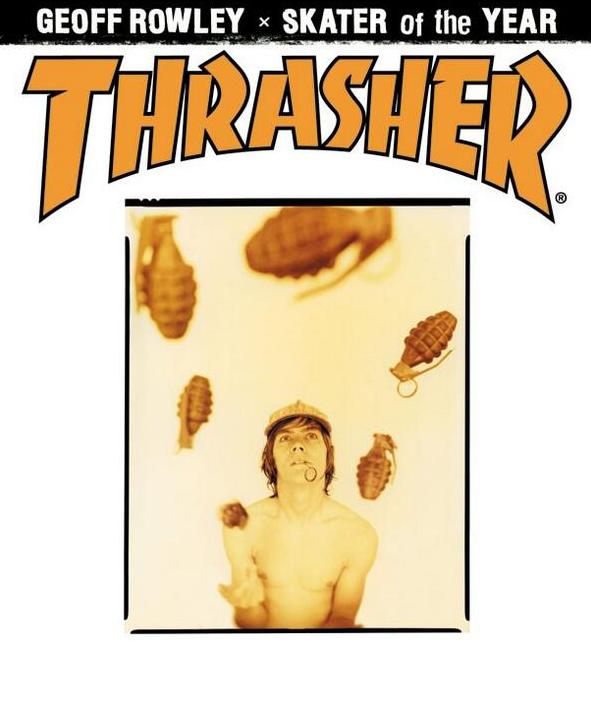 Geoff Rowley, Grenade Juggling: Shot By Daniel Harold Sturt
But my favourite go-to-guys to shoot with was Shad Lambert and Jaime Owens. Shad and Jamie brought out the best of me and encouraged me to go apeshit with any ideas I had.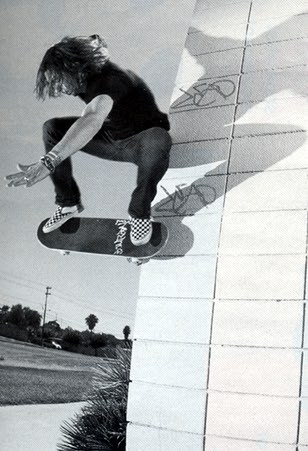 Ragdoll, Huge 12 Stair Wallride: Photo by Shad Lambert
What is your favourite skate video?
Zero Skateboards 'Misled Youth'. That video made me feel like I could be a part of skateboarding.
It also made me want to keep skating, no matter how many times I rewatched it. It's a classic.
Favourite thing to watch on TV?
I love documentaries. History channel. NatGeo. But King of Queens rules though.
Favourite artist ever?
Salvador Dali. I named my son after him. His name is Sir' Dali Scalamere.
Favourite musician of all-time?
My favourite band from my generation has to be The Icarus Line.
But my favourite musician of all-time has to be Frank Sinatra.
Greatest skate video soundtrack?
Fuck! Old Transworld videos were the best!
Who is your favourite illustrator?
Thoughts on The No Comply Network?
I love what y'all do and I'm a proud member of the network.
Plans for the future?
I'm aiming for a smile on my face and a skateboard in reaching distance.
Shoutouts?
Shout outs to my son Sir' Dali. Family. Friends. Skateboarders and You, You reading this.