Tyler Surrey's skating is creative, precise and stylish. Polished on the streets, parks and plazas of San Diego, his diverse bag of tech tricks and ability to put them down on all terrain in his path, in combination with his drive to learn new things, has seen the video parts and clips that he's filmed consistently push the limits of what we thought was possible on a board.
He's been an integral member of the SK8Mafia crew since its start and he now lives and skates in Spain. While he was in-between trips and filming missions we hit him up to join The No Comply Network and were hyped to find out that he was down.
Read Tyler's member interview below to discover how he originally got on Sk8Mafia, his stories behind his most standout tricks and clips, his experiences skating with Peter Smolik, Wes Kremer and Brandon Turner, living in Barcelona with Gustav Tønnesen, his thoughts on learning new tricks and his tips on finding new spots, New Balance trips, skating in Uganda with Madars Apse, and his favourite videos, filmmakers, skaters, photos, styles and spots of all-time and more.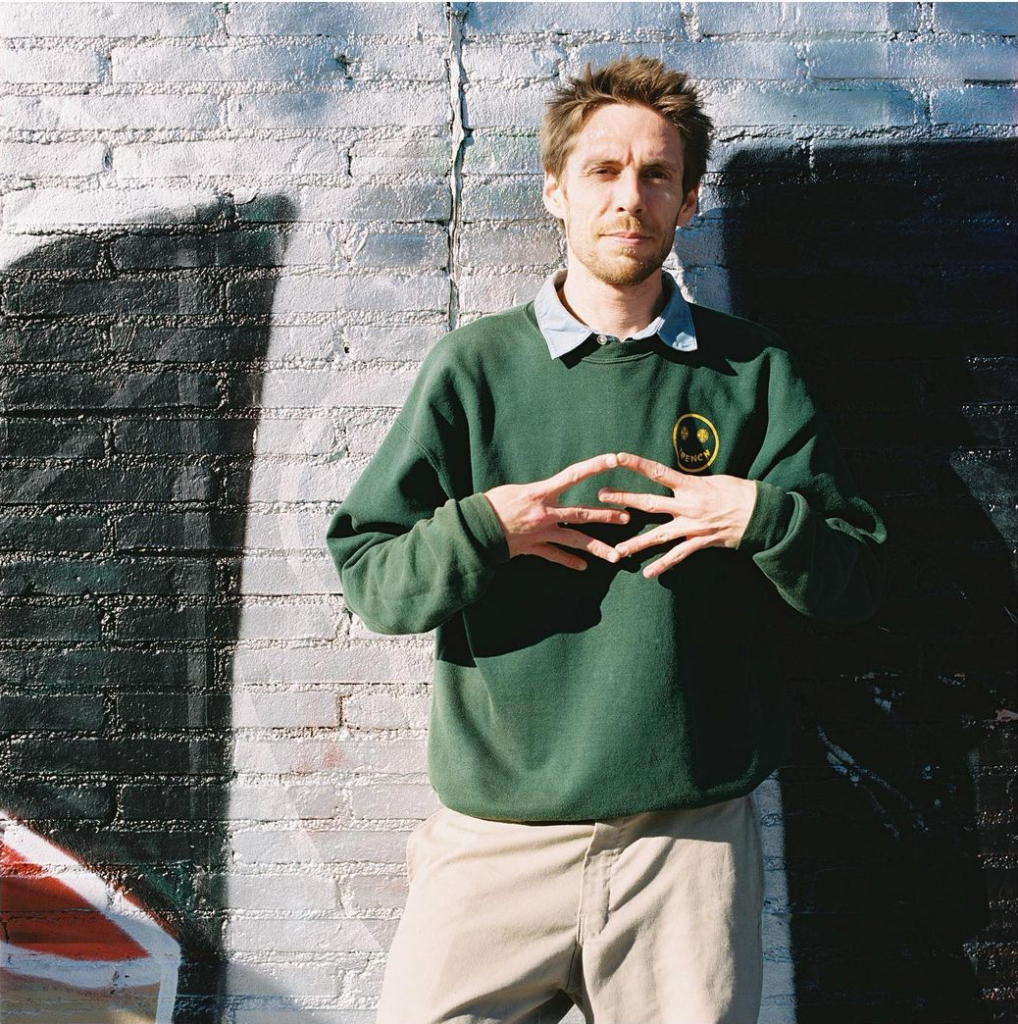 Tyler: Shot by Ando
What's your full name?
Tyler Wynn Surrey
Where did you grow up and where are you living now?
I grew up in San Diego, California. 6 and a half years ago I moved to, and currently reside in, Barcelona, Spain.
When did you first see skateboarding?
I was introduced to skateboarding by my older brother Kevin. It was the classic scenario where anything your older brother does you think is the coolest thing in the world, so I naturally fell in love with the act and culture of skateboarding.
Right. What was your first setup and where did you get it?
My first memorable setup was a $50 complete from a second hand sports store.
It had blank wheels, Indy's, and a deck covered in Spitfire stickers, so when I got home I took off all the stickers only to be surprised by the fact that it was a brand new Pat Duffy Plan B deck.
I was so stoked because my first video was Plan B – Virtual Reality.
Who was in your skate crew at the time and where did you go skate?
My first skate crew was all the local skaters in our neighbourhood University City from middle and high school. I think my friend Brian Martinez is the only one still skating from that crew.
Which skaters in San Diego did you look up to at the time?
I looked up to my brother and his friends and my friends Zack Howe and Kai Gormsen.
And naturally I looked up to Peter Smolik and Brandon Turner during the Osiris and Shorty's days.

Nollie Flip: Shot by Rhino
What was the first skate video you had on repeat?
I think it was Osiris – The Storm and Shorty's – Fulfill The Dream because it had everything: tech skating that my novice mind tried to comprehend at the time and big rails, gaps and stairs that naturally grab your attention more when you're a kid.
After that was probably Zero – Misled Youth for the gnarly groundbreaking stuff they were doing.
And following that was Alien Workshop – Photosynthesis. That opened up my eyes to the artistic potential of a skate video. Everything from the filming, editing and the music really expanded the scope of my skate video palate.
So how did your first video part come together?
There was a guy like 4 years older that was into filming and would drive us around and film us and make his own videos. I met Wes and Marius Syvänen and pretty much all the skaters in San Diego through him.
The video wasn't really premeditated. We would just go film because we thought that's what you do. We wanted to be like the guys in the videos we watched. And he ended up making a video and had a local premiere.
Me and Wes shared a part. I ended up showing up late to the premiere and missed the video, but that video resulted in me getting sponsored by a local skate shop.
What was the shop called?
Sun Diego, a local skate shop in San Diego.
The team manager, Paul Kobriger, saw the homie video we made and asked me if I wanted to get some boards from the shop and go on some trips and skate with the shop guys. I was definitely super excited. I never had even entertained the idea of getting free product so I was ecstatic to say the least.
When did you realise that you could skate as a career?
That was never my objective with skating. Skating was more of an escape and outlet for me but everything evolved pretty organically and led me into the industry side via different sponsors over the years.
I believe I was 19, working and going to community college.
I had 3 classes left to get a 2 year degree to transfer to a real university and was offered to go on some trips and make a little money skating.
So I decided to "take a semester off" and see how it goes. I ended up never going back to college and realised I guess skating is my career now.
For sure. How did you get on Sk8Mafia?
Me and Wes were skating with Dan Connelly and Peter Smolik growing up so when Sk8Mafia became a real company and picked up by a distribution, we were on since the inception.
It definitely happened organically and was never even a thought. I don't even remember if we were asked, it was kind of just a given haha.

Frontside Boardslide over the Rope Stoppers, Shot by Dan Connelly
What's your favourite thing about skating for Sk8Mafia?
It's just skating with the crew of friends we grew up with.
It's not a company built with random skaters from all over. Everyone that is on is like family, and we would be skating together regardless.
What's been the most memorable Sk8Mafia project so far?
I think the Am video for me is the most memorable because that was the first video we did that felt official. We had a legitimate premiere and it seems like that was the first recognition of the company internationally.
I've had people comment to me about that video from different countries and it's pretty cool to hear that and realise that it has a somewhat international recognition, because, to me, it still just feels like a small crew of homies from San Diego.
Also, Wes' part in that video is one of my favourite parts ever, bias aside.
Watching him during that time period made me realise we were witnessing something special and when that part came together and I saw all the footage together with that Pete Rock song, I instantly knew this is one of those once in a generation moments of a very special skater, and that part is the proof.
When did you first skate with Peter Smolik?
I think the first real time skating with him that I remember is when we did a demo tour across the U.S. 28 demos in 29 days!
It was crazy to see how much someone could party and still manage to skate so well, for the most part haha.
Sick. What's your favourite Peter Smolik video part?
Shorty's – Fulfill the Dream because I grew up on that video and the tricks he was doing at the time along with his style are timeless.
Those tricks still hold their weight even by today's standards and skateboarding has progressed a lot since that video.
What's your favourite Peter Smolik clip of all-time and why?
The Backside Flip Judo he did in his TWS part is my most memorable trick of his just because it is just so outlandish, yet he made it look like it was an everyday trick.
How did you find out that Sk8Mafia was turning you pro?
I don't remember exactly. I think they just told us one day and said we have to shoot an ad of all you guys because you're all turning pro now. And that was that.
What is it about learning new tricks that you enjoy?
It's fun to think of different ways to try new tricks. It's kind of like tricking your head into thinking it's more basic than it is. For example a Switch Backside Flip to Nose Manual is like a Switch Flip Manual in my head, you just turn to get in. So a lot of more technical tricks really come from a basic building block trick with a different perspective.
Do you have a favourite trick to put down on flatground?
I think No Comply because it feels nice and requires not much effort. It's definitely the go to warm up trick.
Back in 2009, you nailed a Switch Flip Late Shuvit over a bump to bar, never seen that again. How did you decide to do it?
I think the idea just popped into my head one day when we were skating that spot after Switch Flipping it. I started messing around with Switch Flip variations and that one felt like it could work.
What's it's like living in Barcelona and skating with Gustav Tonnesen at the moment?
It's inspiring to skate with someone like him because he has so much talent and control he can just play with ideas and it looks like he knows secret pockets of the board that nobody else has discovered yet. I mean, when you have so much control with Switch Flips that the next step is to do them without popping the tail, that says something.

Kickflip, Barcelona: Shot by Gerard Riera
How do you find new spots to skate in Barcelona?
Basically just go out hunting, via metro, skating, bike, train, or car.
Additionally, as your skating evolves so does your perspective, so you can revisit areas and find new things that you weren't able to see before. Being with Simon Isaksson and Gustav definitely helps as well.
I've been with Simon when he calls a spot out and I'm right there like "Where? I don't see it." Haha.
It's not the biggest city but it is very concentrated, so it always feels like there is something to find still. Although after 6-7 years it's getting a little harder haha.
Your Nollie Flip, Nollie Shuvit Flip and Nollie Cab Flip across the channel gap at the Barceloneta banks are sick. It's steep, tight and has that weird angle. How did all of those bangers go down and which was the toughest one to do and why ?
That spot is the classic spot where you start flinging something as a semi joke, and sometimes you realise that it could actually work. I think that's how all those tricks came about. Just being there messing around and next thing you know you roll away.
I think the Nollie Cab Flip was the hardest because going from right to left over the channel doesn't have the best angle. The right bank is a little sunken in compared to the left, so it doesn't send you over as naturally. It requires kind of popping out instead of just over.
Gustav is a talented skater and filmer too. What's the gnarliest trick you've seen him do?
Everything he does is pretty impressive but maybe the Nollie Cab Flip at the Besos bump over rail or the Nollie Backside Flip to Switch Nose Manual back to regular stands out to me.
Your 50-50 to Primo Slide Grind to BS 180 Out Gustav filmed you do on that flat bar in your Vagando section was tight. Have you done that trick before and how long did it take to go down?
I definitely had never done that trick before, nor will I again haha.
I believe that there's two types of skaters: the ones that have tricks and look for a spot for that trick, and ones that look for spots and come up with the trick according to the spot. I feel like I fall more in the latter than the former.
We just passed by that thing one day randomly and that spot just seemed to ask for that trick after looking at it for a minute. It worked out in probably 15 minutes.
Your Nollie Powerslide line is dope. How did it go down and did you hit those bricks or did you somehow manage to steer clear?
That was another one where the idea came after seeing the spot. We were in Madrid and me and Gus lost the rest of the guys and I remembered about that spot down the street so we checked it out, not knowing it had skatestoppers.
But the skatestoppers ended up making the spot even cooler.
We filmed that in like 5-10 minutes and then went back to where the rest of the guys were like, "We just got a clip real quick." Haha.
I don't think I ever clipped the bricks with the wheels once.
That section is sick. Which clip stands out most to you?
I think that was about a year and a half of filming with nothing planned for the footage until we realised we had almost enough for a part.
I think the Ollie over the rail into the crusty bank for me was the most stand out clip because I don't skate many impacty spots anymore and I had that one in the back of my head for about a year and a half since I first found it.
I was pretty skeptical about actually trying it but me and Tom Snape fixed the cracks that were too deep to ride through just enough to roll properly through it all and when the deadline for the part came up I decided it's now or never. And luckily it worked out.
You've put sick tricks down on some legendary Barcelona spots. That Nollie FS Flip you nailed on the wave kicker ramp spot was next level. You did it like it was a quarterpipe. How long it take and what was the toughest part about doing that?
That day was a day when the Sk8Mafia guys were in town and my groin hurt so I proceeded to leave the house without my board.
Then Dan Connelly was like, "Bring it just in case, you never know." So I grabbed it and we passed that spot that day.
The idea was another one of those just mess around ideas that seemed to be able to work, so after like 20 minutes it worked out.
The hardest part was landing back in the skinny ramp. I remember some tries just ended up just landing next to it on flat.
The Sk8Mafia crew has put down a lot of tricks on micro boards recently. How and when did the Mafia get into skating on those?
Wes had a little toy board that was even smaller than the SM Micro board setup and he used to bring it out on sessions.
We would always mess around with it and I think that evolved into the idea of actually making a micro board setup to skate.
Once Dan got a sample board made we all were infatuated with seeing what you could do on it and that led to the production of those boards and some heavy tricks done by a lot of skaters.
What's the gnarliest tricks you've seen someone on Sk8Mafia do on a Micro board and who did it?
I would say Brandon Turner's Switch Hardflip on the bump to street or Chris Haslam's Blunt Tre Flip on a quarterpipe in the SM Micro video.
What's the sickest trick you've seen Brandon Turner do in person?
Well I was virtually there, but when he battled the Switch Hardflip at Wallenberg in San Francisco.
I was in Barcelona watching the session via Facetime.
So I saw the whole process, and when he did it I was losing my shit running around the Sour office yelling haha. That was the most inspiring thing I've ever witnessed.
What's your favourite Brandon Turner clip?
That Switch Hardflip on Wallenberg or his opening line in Shorty's – Fulfill the Dream.
The Crooks on the bench was so steezy and the Backside Flip he did down the 10 stair was, in my opinion, the cleanest and best Backside Flip ever done.
What's your favourite trick you've seen Wes Kremer do?
My favourite trick would have to be a whole session back in the day on this 12 stair in La Jolla, San Diego. I was battling one trick the whole session.
Meanwhile he Frontside Flipped it, then at our request he Switch Frontside Flipped it and Switch Frontside Heelflipped it in 1-3 tries each trick. Then he Back Bigspinned it in like 4-5 tries.
In classic Wes form, he stayed up there to keep me company during my never ending battle for one trick.When I landed my trick he got my back with another Back Bigspin back to back in the footage.
That session concreted the fact that Wes is a one-of-a-kind talent on the skateboard that you witness once a generation.
What's your favourite Wes Kremer clip?
His Fakie Heelflip in his TWS part over the 18-stair rail into bank at Patrick Henry in San Diego.
That spot was really scary and had the crustiest bank and that seemed to be like one of the scariest tricks to try over it.
He did it so good and popped and made it look absolutely effortless.
How did you originally get on New Balance?
I got on thanks to Sebastian Palmer, the brand manager. I had met Seb on one of the only eS trips I went on to Cyprus, Greece while I was still flow for them. Years down the road I got a call from Seb out of the blue who explained the idea of starting New Balance Numeric and asked if I would be interested. Obviously I said yes and am forever grateful for him believing in me enough to give me an opportunity like that.
What's your favourite thing about skating for New Balance?
The vibe between everyone involved. It's a very intimate, family-style relationship between all the skaters and everyone that works in the office. Everything has a very organic and natural feel and there is no sense of a corporate or sterile environment, or a team that has been put together at random. You can feel that they pride themselves in quality over quantity in every aspect of the brand. After all, their in-house motto is: "We don't strive to be the biggest, we strive to be the best."
Your new clip for the 440 is gnarly. How did your Noseblunt Nollie Flip on the skate stopped bank go down? The rollaway was gnarly
Once again, we were at the spot messing around and that idea came about naturally after playing around with the spot. Sometimes skatestoppers actually create the spot.
In the same 440 ad, your No Comply Frontside Flip out of the bump to bar is so boosted. How did you come up with that trick?
Tom Karangelov showed me that spot with the idea that I could No Comply Flip it. I thought that it was a little tall but with the fresh wood of a new board you can squeeze a little extra pop with that trick. So I set up a fresh deck and proceeded to try it, but it kept wanting to turn Frontside a bit. So instead of fighting it I embraced the rotation and decided to go for the Frontside Flip and it ended up working out that way.
What's your favourite New Balance model to skate?
I like the 440 because it is a thinner shoe with not too much material, so the board feel is still all there, yet it is a cup sole and reinforced in all the right places so you feel very protected in it and don't tear through it super fast. And the heel to toe look when you look down at it is perfect.
You've got a sick No Comply Flip. What's the key to doing them?
When you pop the tail you have to put slightly more pressure on the toe side of the tail, causing that side of the tail to hit the curb, or whatever it may be that you're bonking off of first. That's what gives it the flip of the board.
What has been your favourite New Balance trip so far?
The Spain trip we did in 2016, the video was called "Tinto de Verano".
We had the whole team, at the time, on that trip and I don't think that has happened again since. Because everyone on the team vibes so well you always are a little bummed when someone isn't on the trip, but on that one nobody was left out so it was just an incredible trip vibe-wise.
Who do you think are the most creative skaters out there?
and all the kids in the Uganda Skateboard Society.
Why is creativity in skateboarding important?
Because skateboarding, to me, is a form of expression first and foremost.
It falls somewhere in the grey zone between art and sport, but it is more art than sport. The unique thing about skateboarding is that the medium aka the spots you skate are not fixed or consistent. It's ever changing, so you have to be ever changing and develop a good ability to adapt. And the fundamental basis of adaptation and expression is creativity.
You and Madars went to Uganda to make a skate documentary. What was that experience like?
It was very humbling and sobering. Of course it's all relative, but compared to our society, the kids we met in Mukono, Uganda grow up with very little to nothing. So to see how happy the little things in life make them was amazing and awakening to me.
They were all very happy to have one place to skate and share boards and shoes to make it happen. To meet them and be able to show them different aspects of skating that they hadn't seen before was such a great experience.
But it went both ways, they showed us tricks that I personally had never seen before, so we were both in a sense blown away with our different perspectives on skateboarding. The pure love they have for skateboarding was so great to experience first hand, and I would love to go back and spend more time out there at some point.
What is the sickest thing about the Uganda Skate Society's park?
The fact that they had no precedent, nor previous experience with skatepark building or obstacles was the sickest thing to me. The park they made in its entirety was incredible.
Any standout stories from Uganda you would like to mention?
One guy wanted to try to rob us, but not in a violent way, and actually ended up following us all the way to the skatepark.
He then, unknowingly asked the founder of the skatepark if he would help try to rob us and instantly was shut down and told to leave.
But instead of leaving he joined the little kids who were colouring the skate box we built with crayons. So instead of robbing us and having malicious intentions anymore, his inner child came out and he had a good time colouring the skate obstacles we built for the community.
Where have been some of your favourite places to travel and skate?
Buenos Aires, Argentina for the good vibes and friends I made and the passion in which they put into everything they do. Everything from food and coffee to futbol and the murals and paintings around the city. It's beautiful.
Where are you looking forward to travelling in the future?
Japan.
What's your favourite spot to skate in the UK?
Probably that over the rail into bank that Ben Raemers (RIP) did Ollie over then Pivot to Fakie on because it was such a challenge and I have this weird OCD where I try to find an over the rail into bank on every trip I go on. It wasn't easy to skate but it looked so photogenic. I had to go find a sign to put on the crack before it and make it work.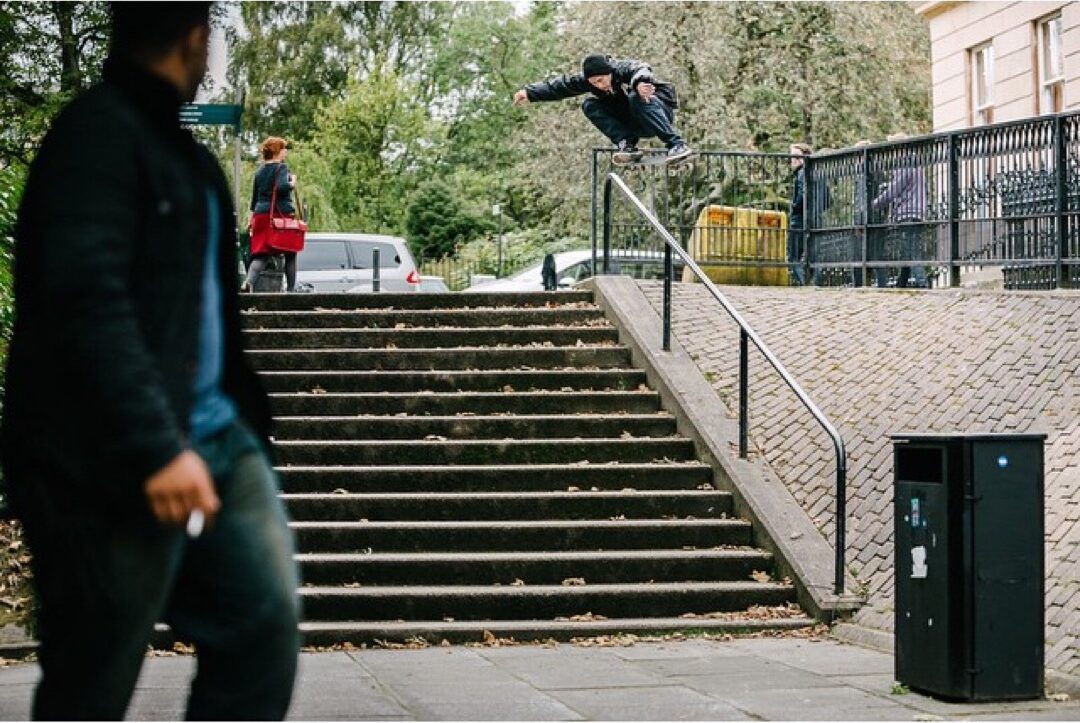 Switch Ollie: Shot by Sam Ashley
Do you have a favourite skate video of all-time?
Menikmati because it really was monumental at the time. It highlighted different countries all over the world and had an all-star line up of parts. Not to mention the tricks and filming were so advanced. It is a true work of art.
Who's your favourite skate photographer?
Jake Darwen for his ability to capture the spots the way he does. Nobody does it better.

Front Rock: Shot by Jake Darwen
Who's your favourite skater filmer and why?
French Fred for his new approach on angles. The rolling sideways behind with the slow zoom in is so classic.
Who has your favourite style on a skateboard?
Tom Penny. Doesn't need an explanation.
Agreed. Where's your favourite skate spot in San Diego?
Standley Middle School because it had benches you could set up wherever you want and I also went to school there and grew up skating there. I try to have a line there in every Sk8Mafia part I film.
Barcelona?
Bobila DIY in Badalona. It's fun and flowy and has a little bit of everything.
Cool. Where is your favourite skate spot in the world?
The Concourse parking structure in Downtown San Diego or the white bank to ledges spot in Buenos Aires.
Any upcoming plans you would like to mention Tyler?
Me and Wes have a shared part from Buenos Aires that we filmed with the homie Tommy that does Delivery Buenos Aires.
It should come out in some months. And there's a new Sk8Mafia video is coming out in a month or two as well.
What's your advice to kids who want to skate as a career?
Don't get into skating with the single goal of becoming a professional. With anything you do in life, if the intentions are pure the results will come naturally.
Any last words Tyler?
Enjoy the process in life, and do your best to enjoy each moment and be grateful for what you have. Don't focus on what you don't have. Positive energy attracts positive energy, and vice versa.