Colin Read Portrait: [Source]
Colin Read's skate footage always stands out. If he's not literally kickflipping his camera or filming doubles lines with a VX in each hand he's always thinking of a new way to capture skateboarding in a way that nobody has ever seen before.
Colin's last full-length skate video 'Spirit Quest' skilfully combines skate footage, spiritual animal animations made by Cosme, and archival footage to capture the true wild side of street skating.
His films push what is possible behind the lens and he has produced some of the most creative skate videos ever made.
To celebrate Colin becoming a No Comply Network Member we had a chat about making Tengu and Spirit Quest, filming Quim Cardona, directing for Radiohead and his favourite skate filmmakers of all time.
What's your full name?
My full name is Colin Read.
Where are you from and where do you live now?
I was born in the Philippines, grew up in Florida and I now reside in New York City.
When did you first learn to skate?
I learned to skate in Florida.
My friends and I built wooden boxes and ramps, and skated them in the streets outside our houses.
Who was in your first crew?
My crew was just a bunch of us who grew up together; Alex Fogt, lives in NYC was in it too, and has been my constant friend and sometimes-roommate for the past 25 years. He's had footage in all my videos.
When did you realise you wanted to be a filmer?
When we were kids, I'd bring out my dad's Hi-8 camera and we'd all film each other.
Various handicams followed that one, but I was never the dedicated filmer.
In high school, my friend Charlie bought a VX1000, and we'd switch off holding it and taking turns filming.
Eventually he quit skating, and sold his camera, so we stopped filming for years.
In college, I broke my pelvis while skating, so I couldn't walk for six months.
What did you do then?
Well to give myself a reason to hang out on the sessions with friends, I bought a camera and started to film. When I finally got off my crutches, I had to learn how to walk and skate again, so I kept filming during that process as well.
So by the time I was fully functional again, my role as a filmer had more or less cemented itself.
Why do you call yourself Mandible Claw?
That comes from high school days. As I said, we'd skate in front of our houses, mostly my friend Will's house.
In Florida it rains almost every day in the summer for an hour or two; when it rained, we'd come inside and play games, from chess and cards, to Mario Kart and a wrestling game on the Nintendo 64, or Halo.
Will had video game systems like the XBOX that none of the rest of us had. For some reason we always ended up on teams, Alex Fogt and I vs. Will and our friend Jake. And for some other reason Alex and I became Team Mandible Claw, from the wrestling move. Our team would always lose, too.
Mandible Claw is just one of those inexplicable high school things that randomly stuck.
Looking back, maybe I should have picked something else…People sometimes come up to me and call me Mandible Claw, and don't even know my real name.

Tengu is a classic. How did you put it together?
A lot of very late nights and close calls. I was pretty young.
Koki's Subway Ollie is fucked. How did that go down?
We had to wait until about 4 in the morning to start filming it. We needed it as cleared out as possible, and for the hours when that track would be out of service.
There was a police station upstairs, so we had to have someone on the lookout for that as well. After hyping himself up, Koki finally went for it and landed it first try.
He wasn't satisfied with the way he landed though, so he tried it three or four more times. The next two tries he stuck it.
Then, on the next go he slipped out and tumbled into the tracks. It was terrifying. But he jumped right back up and got the make the next try.
That's rad. What's your favourite memory from making Tengu?
Just the unrecorded moments when we weren't filming. Having spontaneous good times with good friends out in the streets.
The roof top section in Tengu is gnarly. How did you film that?
It was filmed all throughout NYC. The process took several years.
You can only really skate the roofs in the colder months, because when it gets warm, the roof materials get soft and mushy.
The tar melts in the heat. So it took a few winters.
We'd ride around on the elevated subways, looking for roofs that looked promising. If we spotted one, we'd jump off, then try to find the building, and then try to find a way to get on top of it. Or, we'd just periodically try to get inside random apartment buildings, and go straight to the roof.
We also just checked out the roof of every friend's apartment that we could ask.
There was a lot of fool's gold; but there were also many miraculous spots that we stumbled upon.
How did you meet the skaters who feature in Spirit Quest?
Most of the people in the video are friends that I met somewhere in my travels, either while filming for my previous video or while on tour filming for other companies.
For example, I met Chris Jones whilst I was in London on tour with Magenta.

What inspired you to try that VX Kickflip and how many cameras did you break trying it?
That predated Spirit Quest by a long time. I'd done test versions of it before. Surprisingly, I didn't break any VXs doing it.
I waited to do it until I found, for one, a dolphin-related spot so that I could match it with spinner dolphins; and two, until I figured out who had the best and most consistent kickflips out of anyone I knew.
That ended up being James Sayres. It took a good amount of tries to get it perfect, but James rarely fudges kickflips, and we got it without smashing any cameras.
The 'Eye of the Chameleon' section is amazing. Skating with two VX's is a feat in itself. How did you come up with that style?
Well, it kind of started with a pretty bad moment actually. During the filming of my previous video, Tengu, I slammed and tore my right rotator cuff.
Gnarly. How did you film with a broken hand?
Since I had to wear a sling for a long time, I really wanted to continue filming, so I learned how to film with my left hand. So a lot of Tengu was actually filmed with my left hand while my right arm was in a sling!
Since I developed that skill, I figured that I might as well film with both hands at once, and make something really interesting.
Why did you shoot split screen?
I'd also wanted to do that for a long time. I wanted to explore the idea of the different possibilities and routes that lines could take, within one frame.
I eventually realized that the chameleon eyes were a perfect analogy for that.
So, the split-screen sections actually contain two concepts—one is the double VX filming, and the other is this "multidimensional" technique using the same skater going two different paths.
What's your favourite trick in Spirit Quest?
Taylor's bald-head to ball-ride always makes me laugh.
Favourite city to skate?
I'd say Tokyo, but it has become nearly impossible to film street skating there in recent years.
It just isn't fun there anymore, it's too stressful.
Honestly, probably NYC is still the most fun. Spain is also incredible.
What's the best skate spot in Tokyo?
There's a glass wallride in Shibuya, Tokyo that we would always end up skating drunk at 4:30 in the morning after skating or partying all night, while waiting for the first trains to open up to head back to catch a few hours of sleep.
My life has changed so much since then, but sessions like that are what made those days special.
Your favourite skate spot in the UK?
Best skate filmmakers ever?
the list goes on.
They make work that's memorable for more than just the tricks portrayed.
Favourite filmmakers outside of skateboarding?
Akira Kurosawa
Spike Jonze
Wong Kar-Wai
Michel Gondry
Lee Chang-Dong
Paul Thomas Anderson
Terrence Malick
I could go on endlessly.
What's your favourite skate video?
I can always put on and enjoy the iPath Summer 2005 promo.
Who is the best skater ever and why?
Quim Cardona. Style.
Filming a part with Quim Cardona must have been rad. How did you connect with him for the video?
I've known Quim Cardona for a long time.
In 2010 I filmed a mini-part with him and Billy Rohan for Wu-Tang Limited, the clothing line.
The Wu thing fell apart fairly immediately, but we remained friends.
He's the best. The most amazing energy and positivity. I love his part in the video, I think it shows his spontaneity and energy pretty well.
Your music video for Radiohead's track 'Man of War' is rad, how did you get that job?
It came together really fast, but the normal way: pitching a treatment.
My favourite part was that I brought in a lot of good friends to work on it with me.
Have you made any new music videos that you'd like to mention?
The recent one for Alice Phoebe Lou's "Skin Crawl" was really fun to work on.
We got a lot done with a tiny budget.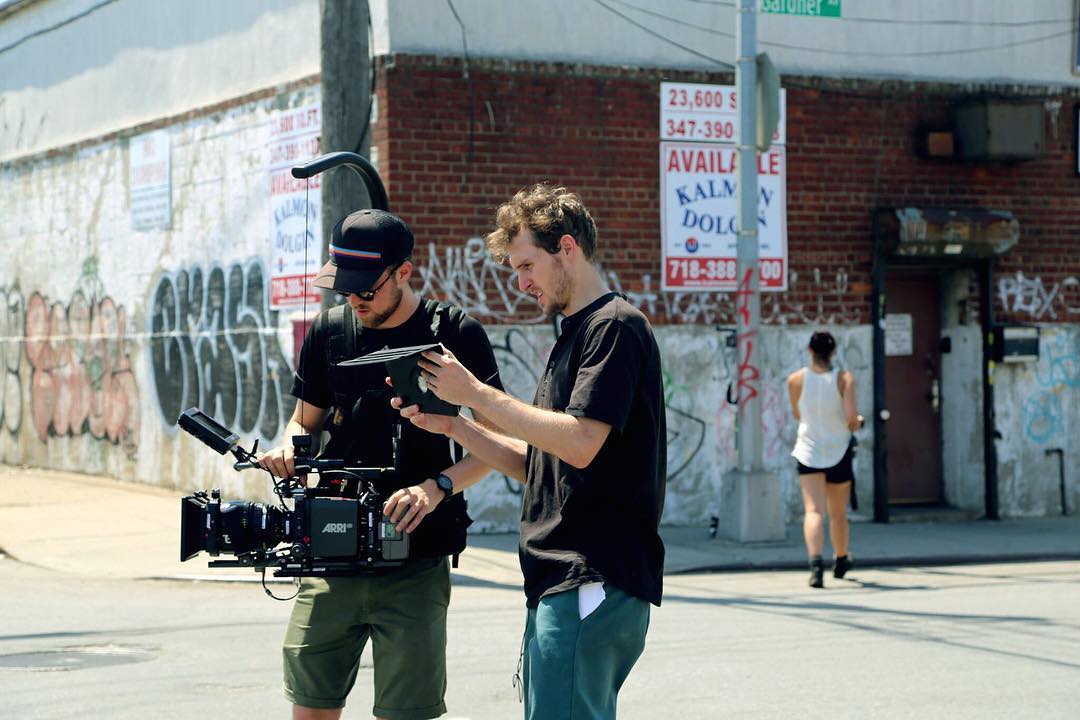 Colin Read on Set [Source]
Plans for the future?
Right now I'm mostly having projects fall apart at the moment in rapid succession!
But I am getting a few things off the ground, so I'm keeping my fingers crossed on those right now.