Mack Scharff, Boneless over a Handrail: Shot by Bram De Martelaere
Mack Scharff's epic clips and dope edits for Deluxe have become a major contribution to the SF-based distribution company's ever flowing stream of video releases. Containing a series of their team's latest tricks, lifestyle clips and off the board antics, he's regularly filming some of the gnarliest skaters out there.
Whether he's charging around San Francisco with the Spitfire squad, keeping it rolling at Southbank to film The Gonz for Krooked, taking his keen eye to detail to his Arson Department edits, or pushing around the US with Antihero, his drive to film skating has taken his mission to document bangers and lines to new spots and visual environments virtually every week.
Mack puts down unique tricks and his ability to handle his camera and his skateboard is clear after watching his skate footage and the rad clips he stacks behind the lens. His strong connection with skating is apparent in the footage he has captured but also in his words about his experiences.
We are hyped that he's now a member of The No Comply Network.
Find out what it was like for him growing up in Idaho and how he discovered skateboarding and first started to film skateboarding, the story behind his move to San Francisco and how got his job filming at Deluxe, his tales on his travels to the UK, Birmingham, London, Leeds, his Krooked edits, his favourite skaters, skate videos, tricks and his perspective on it all.
Read The Mack Scharff interview below to discover what he had to say about that and more.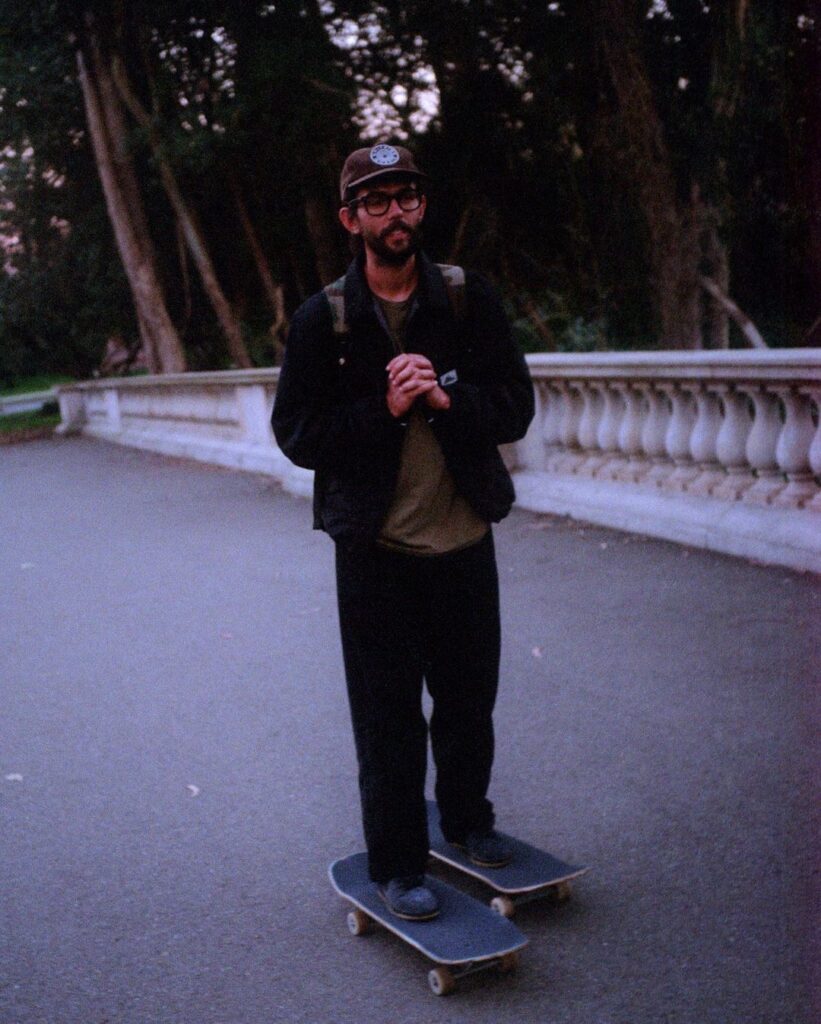 Mack, Double Board Roll: Shot by Tyler Smolinksi
So you're currently on a US Thrasher tour and you've been travelling around a lot, did they invite you or did you jump on?
I heard about it when I was rooming with Una Farrar. She got asked about it when we were filming for Tom Knox's Krooked Intro project in SF.
I hit up Dylan Christopher and Cole Matthews about it, then they circled back a couple weeks later and asked me if I was serious about it. I guess I was. Kinda just went from there.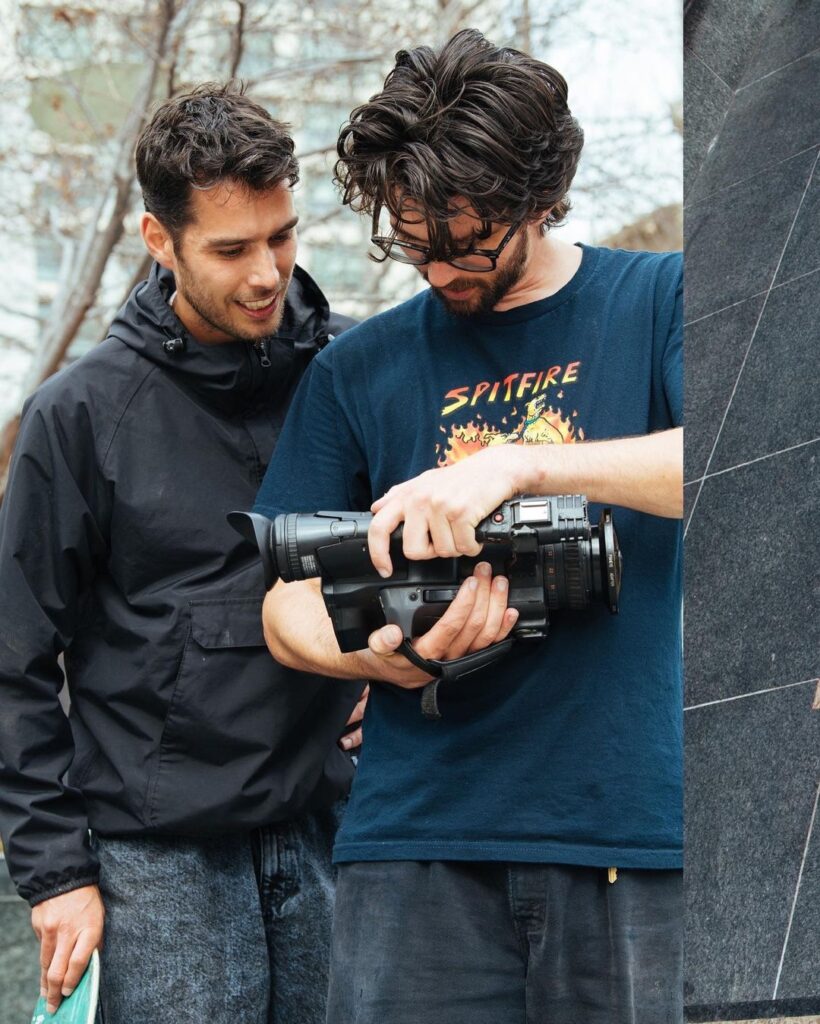 Mack and Tom Knox: Shot by Bram De Martelaere
That's the sickest thing about skating, things happen organically you're a benefit to that crew, motivating them and filming them
Yeah, I'm pretty much friends with everyone that was there. Raney, Frank, Una, Pedro and Evan. I've been on a lot of trips with them, so it all felt pretty natural. We've been travelling a lot. Going through the Rocky Mountains, there are the sickest lakes there.
Where in America are you from?
I'm from Boise Idaho. I don't know if you're familiar with where Idaho is on the map, but I feel like a lot of people think I'm from the MidWest but it is in the Northwestern part of the country.
Right, so growing up in Boise, when did you start to skate there?
I started skating when I was 5. A neighbour homie had a board, they built a quarterpipe and it all just went from there.
We built a concrete ledge in my dads's driveway. My friend wanted to get sponsored by a random shop there and I was like shit, my mom has a little point and shoot camera that shoots video, I guess I'll start to see how this thing works.
My dad had a computer that had Windows 95 with Movie Maker on it. I made a little sponsor me video of my friend with that. Didn't work!
Then I just kinda got sparked off it from there. I got a mini DV camera. You know those peepholes you put on a door? I taped one of those to the camera and that was my first fisheye. Eventually I got one of those shitty Canon GL1 cameras, and I had a few VXs.
I made a few VX videos with the shop there called Prestige. Those guys have really been holding me down for so long. I got really fucking stoked on filming skating around that time in Boise when I was 16 to 19. I fucking hated school. All I wanted to do was skate and film skating.
Although, I did have a really good video editing class and that's where I learned how to use Final Cut 7. That was probably the only thing from school that really helped me. I started doing online school when I was 17 then eventually dropped out cuz fuck school! haha.
That sounds pretty sick man
I got really lucky with the school that I went to.
It was just a whatever public school that I went to but they had a really solid video editing program so I was really lucky I got shit into that thing.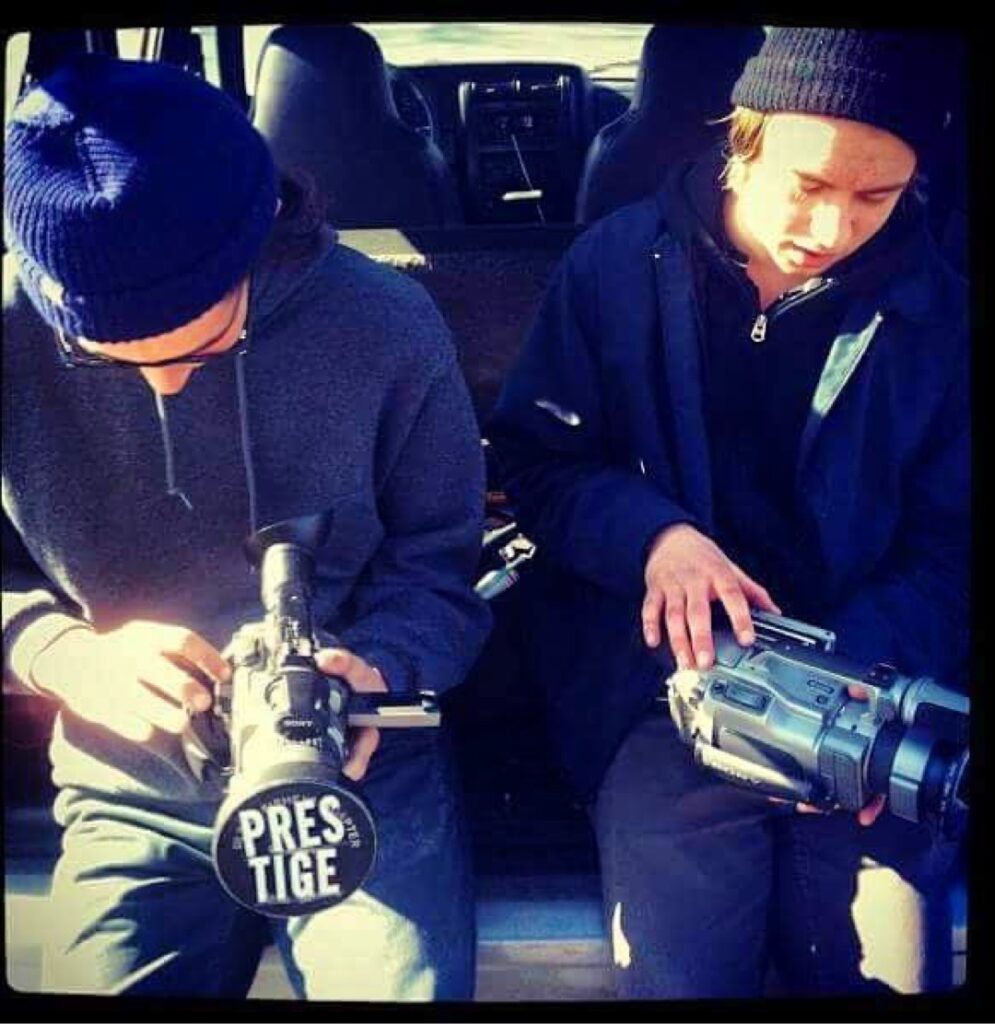 Mack and Friend, VX filming, Prestige Skateshop
Your proof that the system works
The system can be harsh, but if you get really stoked on something, you've got to hope it works
That's cool, most people are sessioning curbs outside their house.
The street in front of my parents house sucked but the curbs did get skated. Where I'm from is pretty spread out. My parents were really supportive of me. They took me wherever with my friends so that was huge. Very fortunate to have had that.
How old are you now?
I'm 29
Yeah you came up during the rise of YouTube video releases. But what was the first video you saw?
The first video that I saw was Sight Unseen. I was a couple hours north of Boise with my dad and we went into some ski shop.
They had a tiny video box that had Sight Unseen on VHS. I got that and that was the first video I can remember ever seeing.
Transworld videos were really tight back in the day.
I went to the shop and bought Baker 3 with my entire savings of 37 bucks and I was so hyped. Dad fucking hated it. I remember him tripping out on Terry Kennedy drinking out of the milk jug in the kitchen all fucked up and shit like that and Erik Ellington sawing shit in his garage.
Who had your favourite part in Sight Unseen?
John Cardiel's part. Cardiel and Heath Kirchart.
Cardiel is Antihero. So, at what point did you go from filming in Boise to living and filming in SF?
There isn't a ton going on in Boise so we would try to do little trips when we could.
See where we could go from there in the car. We would go to Salt Lake a bunch. It was the closest bigger city.
It was 5 hours away, Seattle was 9 hours, Portland was 7 hours and SF was 10.
SF was the furthest we went but after going there a couple times that was the one that we were the most stoked to go.
Dude I never even thought I would work for Deluxe. That was the most far-fetched idea, I was just stoked on filming skating.
Mack and Dennis Busenitz: Shot by Bram De Martelaere
For sure
My friend James Capps is from Idaho. He moved to SF and after a few years of being there he lived upstairs at the Newell House where John Alden, Frank Gerwer and Julien Stranger stayed over the years. John's the Antihero and Spitfire TM.
They came through Boise a couple times on different trips – Real KOTR in 2013 and on Cory Kennedy's Relapse of Luxury tour. My friend Lucas Erlebach and I showed them around.
James Capps [L], Mack [M] Lucas Erlebach [R]: Shot by Eddy Meksavanh
OK
Lucas moved to SF in November 2014. I was in Boise in the winter all bummed. Not skating, not doing shit. Right when I turned 21 he was like dude you've got to come here, he was like there is not really anyone filming.
I mean it's not like there was nobody filming but that it was not a really saturated place with all of these different crews doing it. I went to SF February 2015 in my truck. Set that thing all up. I slept in the back of it for six months.
So you were sleeping in the truck?
Yeah I would park up above FTC in a real nice neighbourhood where there is no street cleaning and no 2hr parking and try to blend in with all of the rich people. Sometimes I would park in front of the Newell too. I got a gym membership for 30 bucks month and would go shower there.
A few months later I started working at this pizza spot called Za that a bunch of skaters have always worked at.
Karl Watson worked there, Matt Miller worked there, Nikhil Thayer, a bunch of people that are connected with FTC. Some of the GX dudes have worked there more recently. Otto Ray, one of the GX filmers used to work there. Matt Gottwig took my spot when I left. Really sick to work at Za. That was a big one. We lived off that shit.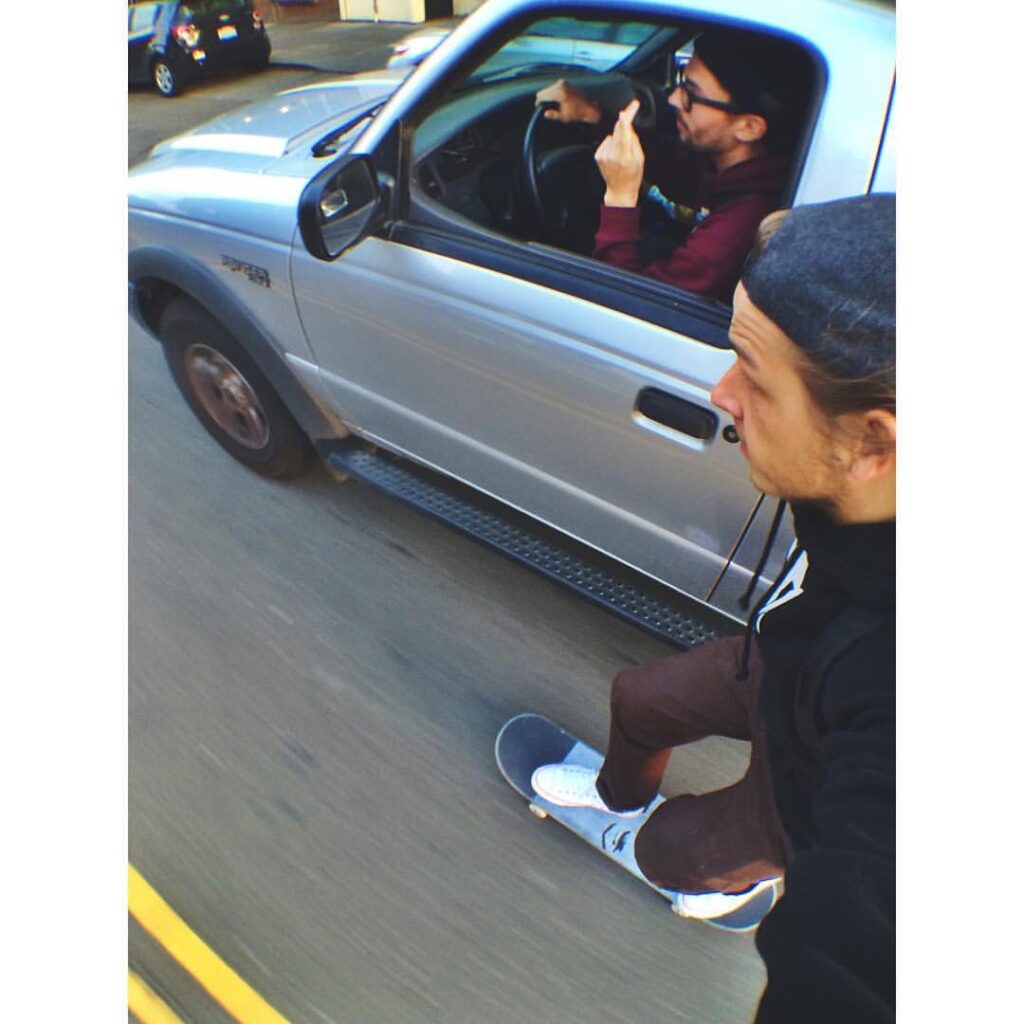 Mack, Truck Skitching: Shot by Lucas Erlebach
Did a skater run it or something?
Matt Jones has worked there forever. Now he owns part of it but at the time I was there he didn't. It's owned by this dude called Brooks, he's been around SF for a long time and was friends with Grateful Dead.
So, nah he doesn't skate but he was stoked on skaters that had been working there for years so he trusted them kinda haha.
Yeah, I don't know. It's all pretty wild looking back at it.
Mack and Lucas, SF Early Days Filming: Shot by @dcatbautista
So you quickly went from serving pizza to stacking clips for Deluxe or was it more of a grind than that?
A sick thing about working at Za was that we would go to work at 4 everyday. We would skate most of the day and then go straight to work. I was probably so annoying to Alden. I would text him everyday to see if they were skating.
Eventually he gave me Gabe Morford's number. At some point I moved out of my truck and was staying in the sunset. I lived with Adrian Williams for 2 years or something. Adrian is the man.
Yeah, Adrian's skating is really stylish
So yeah Gabe would come pick me up because he lived right there on the other side of Golden Gate Park. I was getting in the van with whoever was around that was involved with Deluxe for about a year before I started working for them.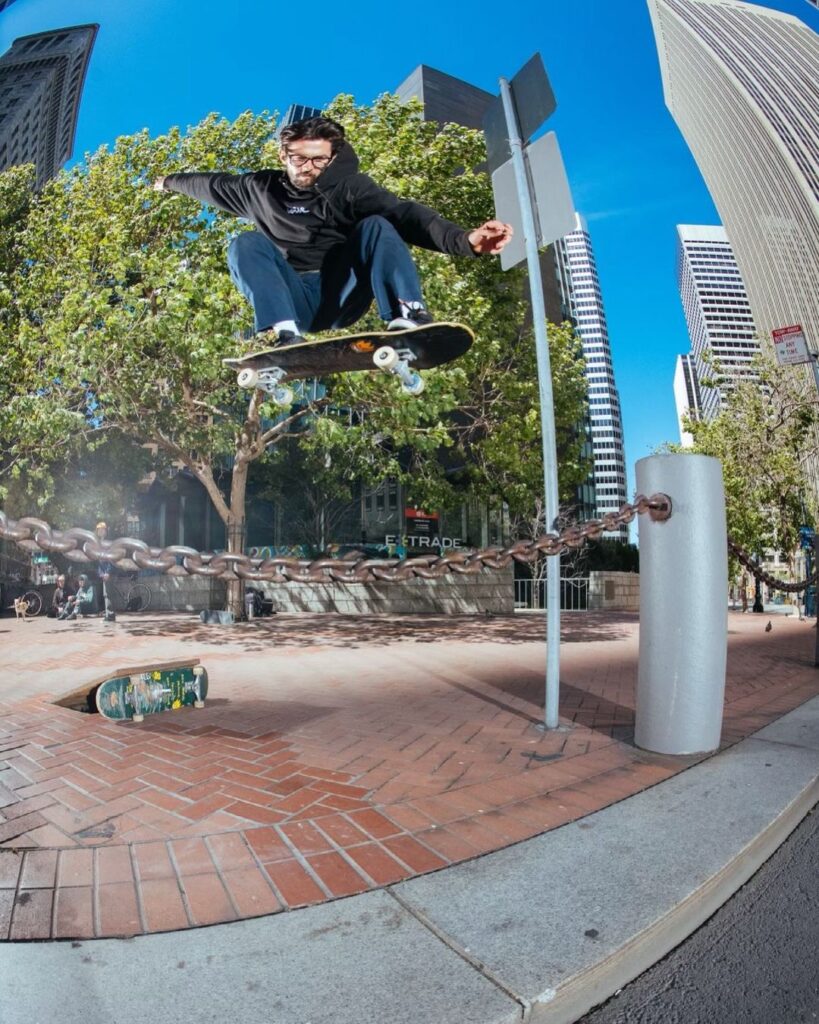 Mack, Ollie: Shot by Bram De Martelaere
What was the first project that you were working on for Deluxe?
I think that the first project I helped on was a Spitfire video with Raney. Jeremy McNamara was making that one.
Peter Ramondetta was there still. I was skating with him and Frank a bunch. Dennis Busenitz and Tony Trujillo were around. They live about an hour up north now.
The day to day crew was Ramondetta, Dennis, Trujillo, Frank, Elissa, Gottwig and whoever was in town visiting.
So from that first Raney project did you get paid and get the filmer job?
At that point I wasn't a Deluxe employee, or anything. Dude I was just a 21 year old kid who was stoked to skate with these guys. I was like holy shit! Gabe Morford's picking me up everyday and I'm rolling with all of these rad people. I was like I'm not sure how this happened but I was fucking stoked. I got paid per clip from that project but wasn't an employee yet. I think it took about a year of doing that a bunch before I started to work in the office.
When was it like we need to get Mack out filming for Deluxe as much as possible?
Raney's Spitfire project and Ramondetta's Surveillance part were the first videos I helped film stuff for.
Also around that time there was a Tony part that was for the Spitfire X Antihero collab.
I filmed a lot of Dennis' Live Wire part for Spitfire.
I feel like when Jim Theibaud figured out how much I was out with Dennis and Gabe for that is when he wanted me in the office.
Deluxe was stoked on your work.
I was skating with Lucas Erlebach and James Capps a bunch.
Lucas worked at FTC and Za and rode for Western Edition. James started to get Chocolate boards and was just announced am on Lakai.
I did a part with James for Transworld and a part with Lucas for Western Edition. I was out with Adrian Williams too since we lived together.
It was really sick having Gabe drive us around with my friends from Idaho along with Adrian and Jabari Pendleton.
I saw you had a Panasonic HVX200 and it looks like you were selling it in 2016 for a trip, what trip motivated the sale?
So yeah, I think I was just in SF. No trips planned at the time. Sold my HVX and mega fisheye for way too cheap and got a Sony FS5.
At the time that was what Jeremy McNamara was using. That was kind of the direction of how Deluxe stuff was looking.
What was the first big thing that they had you working on?
Those Arson Department videos were some of the first big stuff, I helped with LSD, the Krooked video that Tim Fulton made.
I filmed Matt Gottwig's ender. The Backlip on the ledge by Soma that HUF Boardslid.
I think I filmed Ronnie Sandoval's ender at Washington Street. A Back Crail there. So that stuff was some of the first big stuff.
Ok sick
The Antihero video Chestnut Hill was the first project I edited for Deluxe, and it was before I officially worked there in the office.
I think that was what sparked it a bit. Alden helped out with that.
That's sick that you worked on an Antihero edit before you even worked for the brand
Yeah, I would head down the hill to the Newell after work at Za.
We would eat a bunch of pizza and have some beers and edit in the basement on John Alden's laptop.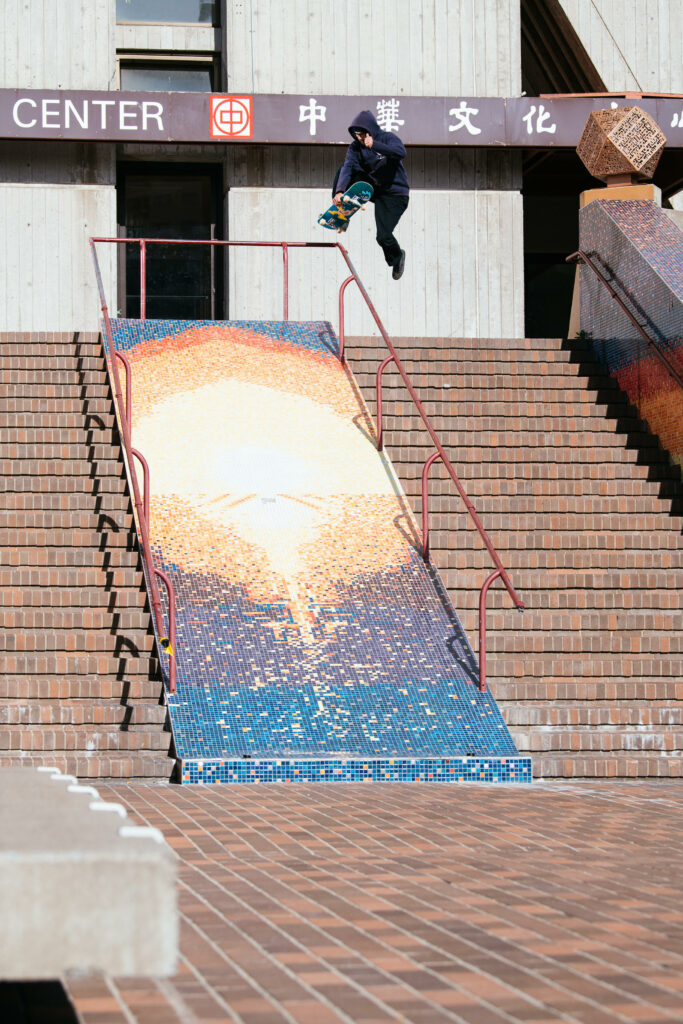 Mack, Boneless, China Bank Handrail Bank: Shot by Bram De Martelaere
So you became Deluxe's go to filmer?
One of them. I never met Dan Wolfe, but I know that I moved there around the time that he left Deluxe.
I think a lot of it was right time right place. I was like oh shit this is working, I guess I'm going to keep doing this.
Jeremy McNamara ended up leaving about 3 years after I had been there and Tim Fulton has lived in LA the whole time that I've worked for Deluxe.
Right
I actually just moved to LA a few months ago.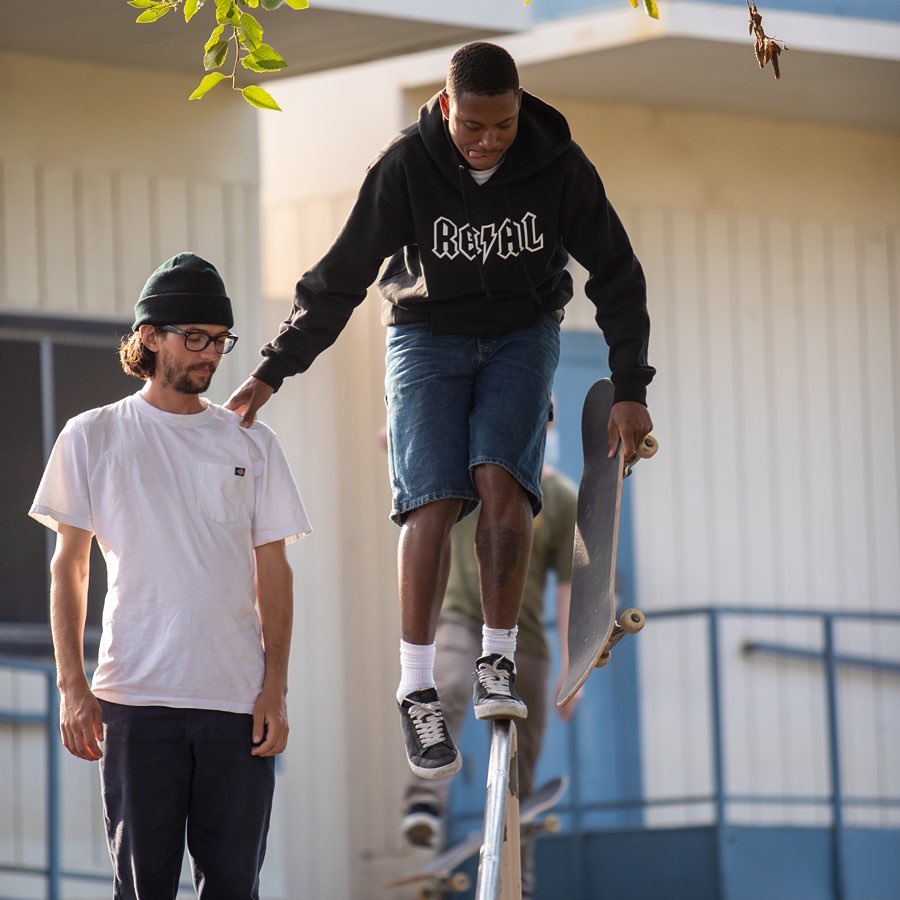 Mack and Ishod: Shot for Real Skateboards
That's an interesting development. I know that San Francisco and LA are like two different worlds
It's been cool. I've only been there for two 2 months and I've been on the road for about a month but it's been good. I stayed with Mason Silva and his lady for some weeks. Was so fun hanging and skating with them a little bit. Not going out everyday and blowing myself out. It's been mellow. I feel like LA can be whatever you want it to be.
You can go skate for 12 hours a day and party your face off. Or you can go hit a couple spots and be done.
It's this huge place but I feel like so much of skateboarding in LA is centralised in the Northern part.
Most of the skaters live in Echo Park, Silver Lake, Highland Park and around there.
I'm stoked, it's all really new to me. I've been going there for years but I haven't spent that much time yet. There's so many Deluxe riders that live there so, so far so good.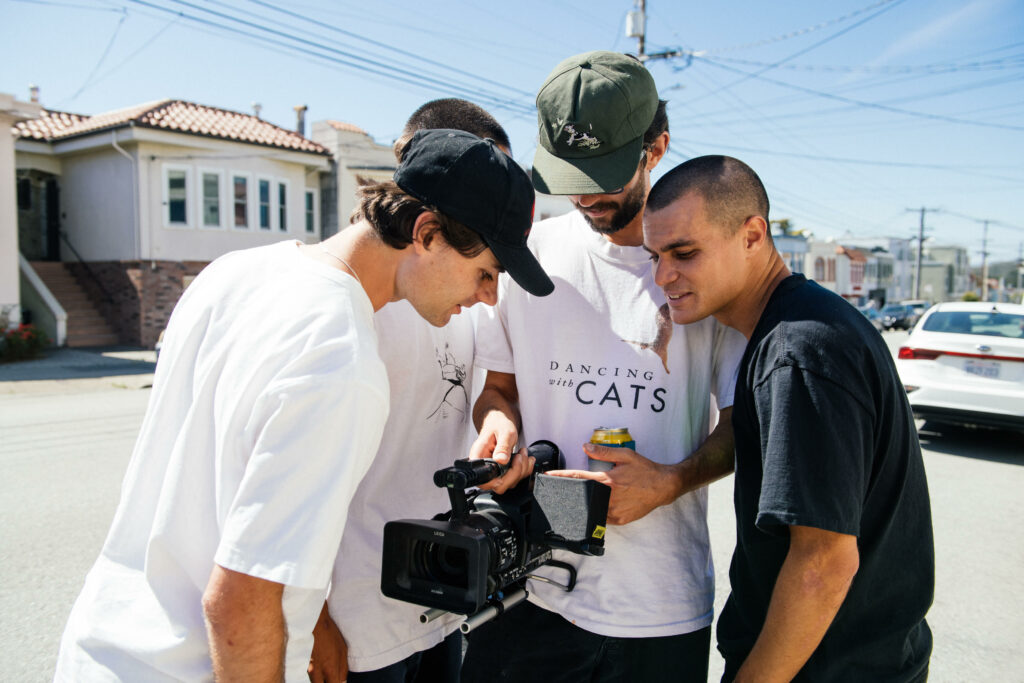 Mack, Nick Matthews and Mason Silva: Shot by Bram De Martelaere
Have you filmed with Mason much since you've been there?
We filmed this Bluntslide Alley Oop on this bank to wall that was in his recent part. He's gonna have a really dope part in the new HUF video.
His skating is next level. Those Arson Department edits are rad. Is that your main project you do through Deluxe?
Yeah, I feel like that kind of developed from me skating in SF with all of these people who were coming in to town and the people that lived there. The common thread is Spitfire. Everyone rides for it and we were like, what are we going to do with all of this?
Let's do a Spitfire video because we have like 30 minutes of footage. Than we can cut that down into 15 and we went from there.
I think we did 2 in SF and the 3rd one was called Kader and Classmates, which was Kader Sylla's part but with people he skates with. I think the 4th and 5th one ones were both footage from several trips. Some Copenhagen stuff, Sicily trip, Toronto to Montreal trip and clips from SF.
So what about Daan's Back Tail on that out ledge over the double set, how did it go down and did you film that?
Yeah I did. That was crazy. I can't remember if Daan did anything to warm up for that. I don't know if you can do anything to warm up for that. Pretty sure he Noseslid it in Volcom Holy Stokes. I think the first one he went for he slid the shit out of it and kicked it away.
Then there were a couple of those and then there was one where he stuck it. Dude you should not be able to Back Tail that thing, it was so fucked up. The rail is, probably is like 1 inch by 1 inch thick. It's really skinny. Its really gnarly. I think he did it in like 6-7 tries.
What!?
You kinda got to do it that way if you are going to try something like that.
What about the Indy Nosebone that Daan nailed over that brick volcano, where was that spot and did you film that one?
Oh yeah. That was in Norway, that was somewhere around Oslo.
It was the year of the CPH contest that went to Copenhagen, Amsterdam and Berlin.
We went to Oslo after and Daan was on that one with us. He did it on my board because he needed soft wheels.
That's crazy
The dude skates an 8-inch board and he was on my 8.75 board with huge soft wheels and he started flying over the thing and pointed it right in there.
Oh shit…That's gnarly. Is there a trick in an Arson Department that you were really stoked on filming you want to mention?
For sure. That Back Tail Daan did was insane.
Harry's gap to grind the big out ledge right before it too. That was a lot of Harry's early footage for a Deluxe project.
So what about your skating, you rip man. Your tricks are unique. Why do you think creativity in skating is important?
I just skate in the way that works for me I guess.
I think that's the best thing about skateboarding is that you can do it whatever way you want to do it, whether it's cool or not cool. It does not matter.
Yeah, for sure
I just figured out that it was easier for me to put my foot on the ground and pick up my board with my hand and set it into shit and that worked for me.
So I came across your Private Part online. That section is so good. You've got a sick Boneless you've got a bunch of sick ones in there. What got you stoked on doing that trick?
I don't really know. I think growing up at a shitty skatepark made me kinda figure it out.
My friends were like you suck at Ollieing and doing normal tricks so you should try to Boneless into stuff. Gonz did Boneless to Tailslide on that bump to ledge that's in New York somewhere. I remember seeing that and thinking woah, you can do it into ledges? You can do it into whatever. Then BA's Boneless, Lipslide on Clipper.
Yeah he's got a rad Boneless to grind. I think it's because he's so tall he can do them easier but it is about technique too.
Yeah that probably helps. I have long legs. My balance doesn't really exist. Any excuse I can say that makes it work.
In that part you do a No Comply tail smack out of the bump to bar. How did you come up with that?
Thanks. I hit the bar because that's what makes it level out for me I guess.
I'm not trying to smack my tail on the way up but thats the way they sometimes work. I dunno it's like a weird kind of autopilot thing, it for some reason it does that. At least the ones I end up rolling away from. I dunno, shit is different every time dude.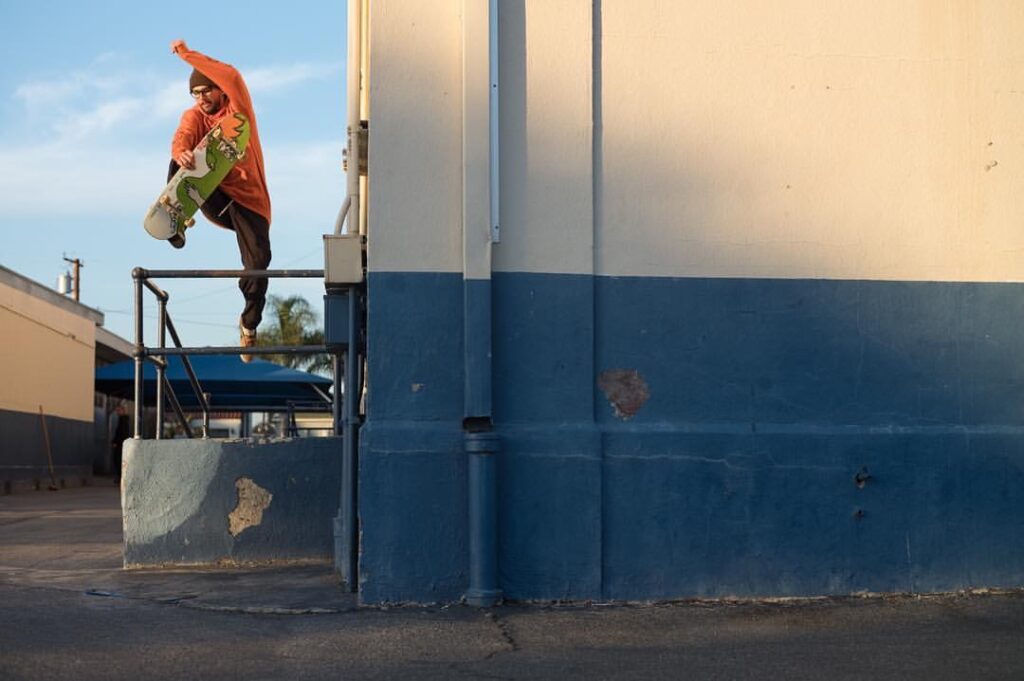 Mack, Bump to Bar Boneless: Shot by Anthony Acosta
What about your No Comply Wall bonk around that pole, it looks like you did that somewhere in the UK?
That was in Leeds. That was the day before we surprised Harry with his board.
We were with Reece, Harry Lintell and Charlie Munro. I think as a joke, I shot my board through it and was like whoa this might work.
All of skating and especially that one is throwing shit at the wall. But yeah that one I dunno. I did a couple regular ones.
Then one of them flipped over by accident. The Varial Flip one was fully on accident. But it just worked somehow
Mack filming in England: Shot by Alan Glass
What's it like skating and filming with Harry Lintell?
Harry is definitely one of the best skaters that I've ever seen. He sucks at texting its so funny.
Harry Lintell, Backside Flip, Birmingham: Shot by Bram De Martelaere
Any memorable moments with Harry that stand out to you?
There's been a lot of good ones. That gap to 50-50 on the fucked up out ledge from the first Arson Dept. vid. He did it first try and I nearly missed it. I pressed record a little late but I still got it. Stoked I didn't miss it. Big gap out. Weird housing for a dumpster with no dumpster inside.
So there was a ten foot drop on the one side. That was crazy. The dude can put back some beers.
One time we were in Barcelona and it was raining and he was stomping every puddle he saw on the way back to the hotel from the bar as if he was focusing his board but he was focusing puddles. Spent so much time with Harry but my little brain can't remember much.
You filmed Nick Matthews do that huge Back Smith on that flatbar, what was that like?
I'm with Nick and his brother Blake right now in New York. Yeah, I filmed the 2nd angle of his Back Smith. The HUF dudes were in SF and he'd been trying that. That's been one of the craziest things I've ever filmed.
Nick has this crazy amount of pop. That rail is up to his shoulder. It's a tiny curb cut. The train tracks on the ground make it so you can't get any angle, you have to go straight to it.
Yeah that's next level. He bolts the Ollie over the rail first
So fucked up Lee Yankou crooked it and that was the only the only thing that has been done at that spot. Nobody should be able to be able to Back Smith that rail. Its fucked up.
That was next level street magic. So you came back to the UK again for that Krooked tour in September 2022. Are you the main Krooked filmer?
Yeah. I do the majority of the Krooked stuff.
Rad. So you went to Southbank and you filmed The Gonz there, what was that like?
That was really cool. That was the first time that I filmed Gonz. It was really sick I was not sure what to expect at all.
I remember him coming up to me and asking, "what should we film, what should we get?" I was like fuck, I don't even know what to say!?
I thought the dude would be flying around the place and I would be this weirdo pointing a camera at him.
Haha
Yeah it was sick. He did the Sweeper on the bank and then I had to ask him to do it again so I could film it on the Super 8.
Felt crazy asking him to do it again. He was like "Should I Back Tail the ledge? I want to Back Tail the ledge. Should I Ollie up on this thing and Wallie this? I want to film a Boneless on the bank. Should we film it as a line or should we do it as a single?" It was cool seeing his process a little.

Mark Gonzales: Boneless, Southbank, London: Shot by Bram De Martelaere
Your Gonz SB clips definitely had Spike Jonze Video Days vibes
Sick.
You also filmed some rad clips of Brad Cromer on that tour. Did you film his Wallride Nollie on the London Wall?
Yeah. That was sick. Dude, everyone knows how good Brad is at skating, he handled it really quick. Dude looks good on a board.
Brad Cromer, Wallride Nollie, London: Shot by Bram De Martelaere
So after that you went to Birmingham, and filmed a lot there. What was your favourite thing that you filmed there?
Yeah the spot where Manderson got the Switch Noseslide to Crook and Harry got the Nosebluntslide from flat.
Yeah both of those were dope. Anything else come to mind?
The Black Sabbath Bench session was really dope.
Manderson, Switch Crooked Grind, Birmingham, Black Sabbath Bench: Shot by Bram De Martelaere
Yeah, you smashed it on the filming there. What about the Fastlands footage?
Thanks. The spot under the bridge? Yeah that spot is sick.
Manderson did that Wallride over the traffic barrier tilted on its side on the little bank to wall, how did that go down?
Yeah, I feel like we're always just looking for random shit to make. I think for me that's the most fun part about skating.
Like there's this spot here but what can we do to do something stupid or to make it fun. That barrier was there. Mike just grabbed it. He was doing Wallrides and we were like how can we spice it up a little bit?
Mike Anderson, Traffic Barrier Wallride, Fastlands, Birmingham: Shot by Bram De Martelaere
Yeah Manderson's Wallride was so high and fluid
We put a patch of concrete on there too. I can't remember what but something about the ground was fucked up so we had to patch it up a little bit too.
Yeah there's like a tiny curb just in front of it that would hit your wheels.
We have this quick setting concrete that we've been using lately so we used it for that.
Sick, that's a cool thing to have with you. Where were your favourite places to go in the UK and skate and film on that trip?
Birmingham treated us real nicely. I wish we had more time to spend in Leeds. I think we were just there for one night.
I feel like there's so much to skate there. When we went there on the Krooked trip I think we just went to the Hyde Park skatepark.
It was kind of crazy, the queen, they announced the queen passing when we were at that demo and the next day we drove to London.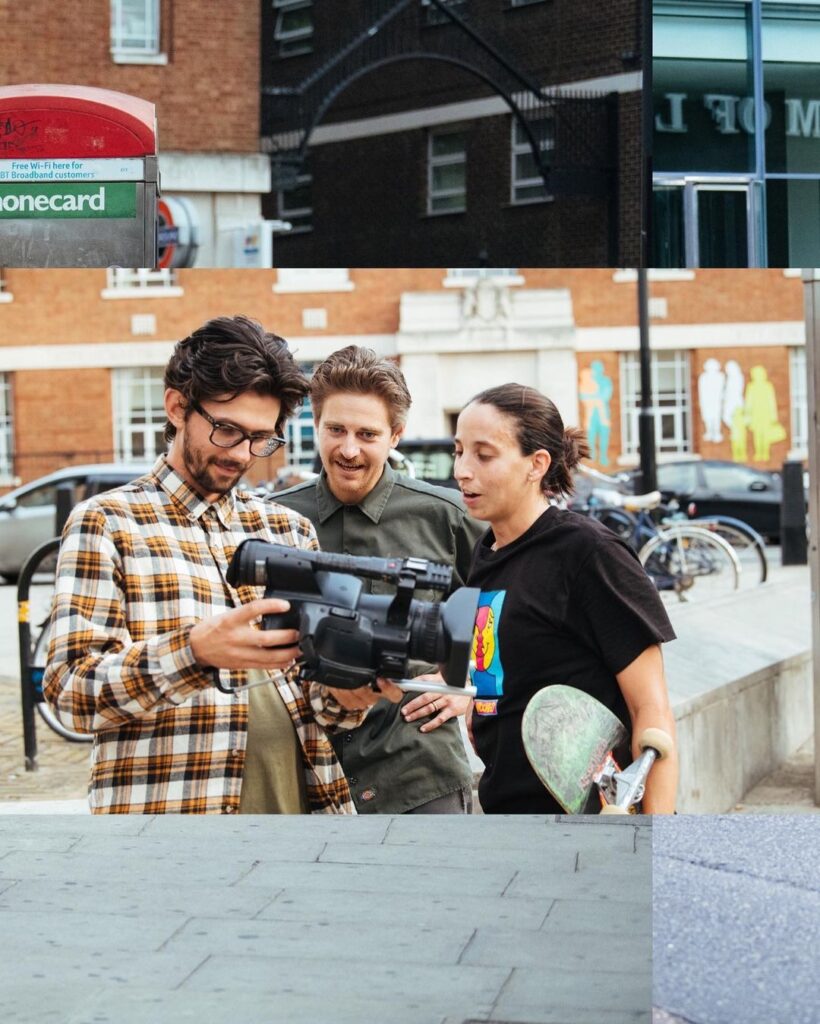 Mack, Manderson, Sam Narvaez, Plimlico, London: Shot by Bram De Martelaere
Oh shit
I still have a newspaper with the front page of the Queen passing that I got from that trip.
That's epic. That was the end of an era. The branding of the country changed while you were here.
Yeah we got to London and a day or two before the whole lineup they did for the official state mourning.
To be here then must have been strange. So we spoke about your UK Real and Krooked trips but are there any other trips to Europe you've been on for Deluxe that have stood out for you?
Some of the best trips that we have been on have been the Spitfire ones.
That Thrash and Burn trip that we did in 2017 was my first Europe trip that I did for Deluxe. We have this crazy energy and we have all the best skaters in the world getting together. Seeing Grant, Raney, Raven and Cory Kennedy all firing off, it's really sick.
They are all feeding off each other's energy and once one of them gets something the next one is doing something behind them.
Whereabouts did you hit up on that one?
We went from Milan to Prague through Zurich, Stuttgart and Nuremberg.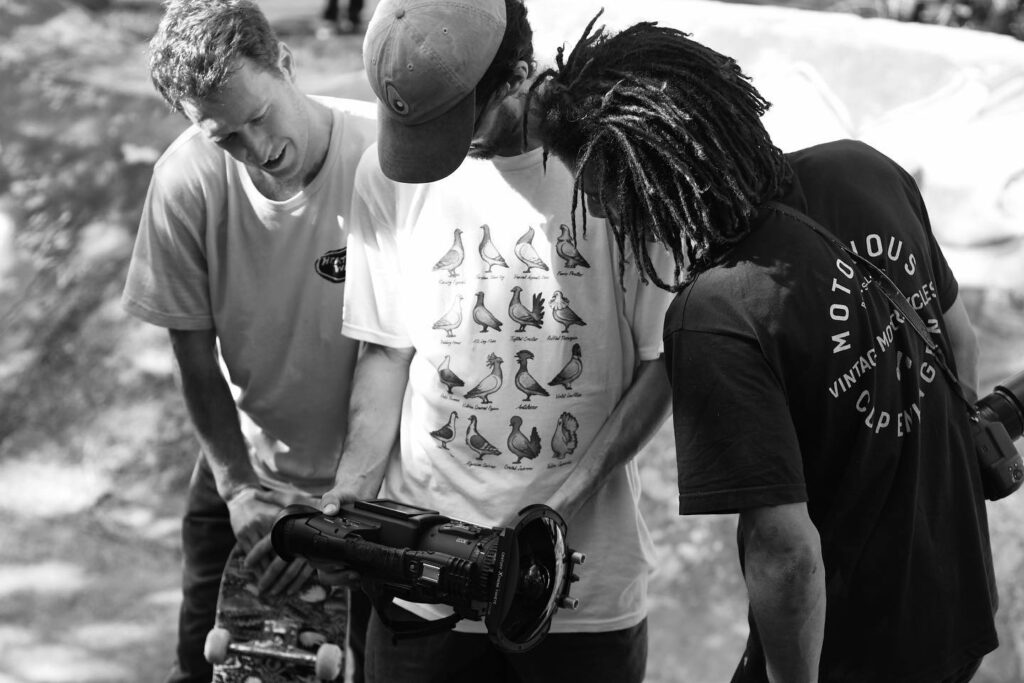 Mack, Grant and Pfanner: Shot by The Standby Project
Travelling through Southern Europe to Central Europe. That's a different route.
Yeah it was sick. We did another one SF to Seattle.
Same shit but we were camping the whole time. We only had hotels for a couple nights. Those Spitfire trips are fucking crazy dude. So much good skating happens.
Yeah the Spitfire roster is stacked, must tight to film so many different skaters , all ripping together
Yeah, it's sick to see all the best skaters get together and do the damn thing.
What's your favourite thing about being a filmer at Deluxe?
It's cool being able to skate with all of these people that I've looked up to forever and meeting new people. I trip out on it everyday. It's really fun being a part of the creative process.
For sure. What's your favourite skate video and why?
That's a hard one. Probably Mindfield. The crew, the ripping, the music, the editing.
Who has your favourite part in Mindfield?
Probably Heath Kirchart, Jake Johnson and GT.
Yeah, they are next level. Heath's part is sick
I love that song. I'm a sucker for slow epic songs. I think that slow music to fast gnarly skating, looks and sounds cool
Yeah, it's just more epic.
Yeah
Jake's part has a rad song. Who's your favourite skater?
This is a really hard one. Mike Anderson has always probably been at the top of my list for sure.
It's been really fun skating with Mike, going on trips, staying at his house.
Yeah, fluid style and creative tricks, he's one of the sickest
Also Grant. Seeing Grant skate in person is insane.
Is there a trick you've seen Grant do with your own eyes that blew your mind at the time?
Anything that Grant is doing everyone who is there will be tripping on it.There was this one Stalefish or a Tailgrab that he did in Quito when we did that Spitfire Hellride video in Ecuador. I filmed it fisheye. He aired higher than I thought and I thought I was going to get fucking smacked in the face.
Haha
Yeah I fully thought that he aired out of frame. Dude its fucking crazy.
There's been times where you don't think he's going to get higher and he goes higher and airs out of frame.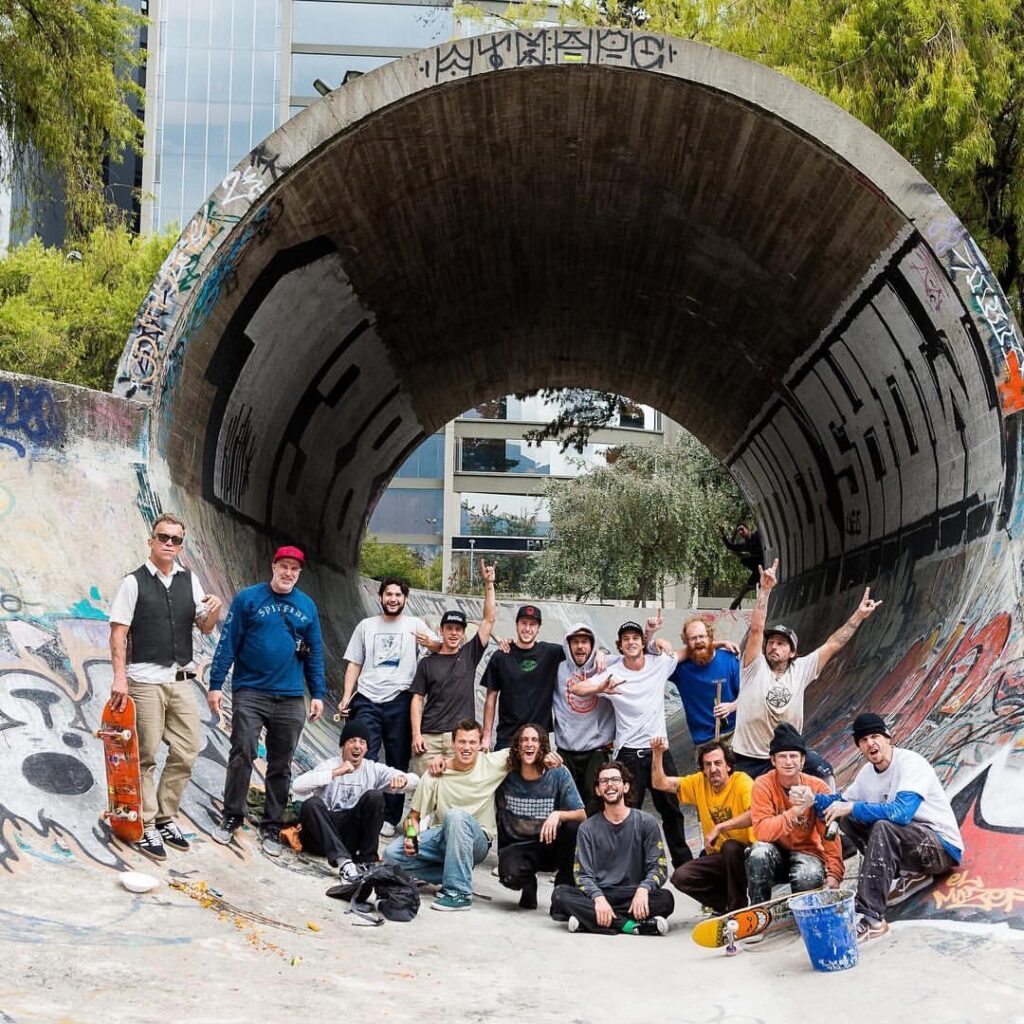 Mack and Thrasher Crew, Equador Hellride: Shot by Joe Brook
Yeah his skating is just next level. Every year he's getting higher and higher and skating bigger rails
Grant keeps getting better and his skating gets more powerful.
Who has your favourite style on a skateboard?
I'm a huge fan of Jordan Trahan's skating.
Backside No Comply to Back Tail is fucked up.
We were watching a video the other night and he ends a line with this Inward Heel on flat. He looks so fucking good skating.
Yeah, he's Tre Flipped over a Picnic table. His No Comply Back T is also just unreal.
I would like to be able to Frontside Air like Grant and Backside No Comply Back Tail like Jordan.
Where's your favourite place to skate at the moment and why?
I've been floating for the last few months, so that's a hard one. I love skating curbs. I love skating bank to curbs. Good ledges.
Right now I don't have one spot I'm going to that much because I haven't really lived in a specific spot since March.
You're getting shit done and keeping it moving so that's all good
Yeah, stoked dude. Just trying to take advantage of it while my body works and the world is spinning.
Where's your favourite spot of all-time? Like for example if we could hop on a plane and head there now, where would that be?
Fuck. Haha. Curbs all around the world.
Curb World Tour!
I want to go skate bank to curb on Jupiter.
Skate a crater on the moon. Get a Back T on one of those. If you got any kind of trick on the moon you'd be the first to do it!
That's where you can imitate skating like Grant.
Yeah Anti-Gravity skating, it's got to be the future. Epic. So who's your favourite skate filmmaker out there?
Probably Greg Hunt but I am a huge fan of current filmmakers like Rye Beres, Ryan Ree, Tyler Smolinski, they are all my favourites.
The way Smolinski does stuff for HUF is really cool. The dude is such a good editor. Ryan's energy is so awesome. Travelling with those guys is really dope. They're skateboarders that love skating and filming. They are not trying to impress anyone or do anything too crazy, they are just doing it.
Yeah, agreed. I heard from Javier Mendizabal that Greg Hunt used to work at a pizza place too. Don't know if it was Za so it's a funny coincidence that he's now your favourite filmmaker.
I'm also a big fan of Johnny Wilson's stuff too. Johnny and his crew are really sick. It's kind of the same thing with Ryan and his crew.
Ryan is just filming his friends who happen to be Mason, Jake, Curren and Louie. Same shit with Johnny filming Cyrus, Max, Nik and Andrew. Tao Strom too. Love Tao. Their videos really stand out.
Yeah, you can tell that they have that close relationship and that's why their footage is more relatable. Do you have any advice for younger filmmakers coming up who are reading this?
Have the best time you can have. Keep your friends motivated. Push the limits of yourself and the scene that's around you.
Be stoked on what you do. Appreciate what you got around you. Everything goes to Instagram now, I know it sucks, but if you can make shit that's fun with your friends, you're killing it. Getting paid to do it is really awesome but that's not what matters.
Are you working on any upcoming projects or videos that you would like to mention?
Been getting some good stuff with Nick Matthews and Gus Gordon lately. We're doing an Antihero trip in a few weeks. That will be a trip vid we are working on with Rye Beres. Theres a Gonz vid for Spitfire that will be out around the time this goes up.
We're working on a Krooked video that's going to be shot on a little handycam and any visual recording device that kinda functions.
That sounds sick. Look forward to seeing those. Do you have any last words Mack?
Put me on a spaceship so I can learn how to Backside Air in space, I don't know.
Haha sick. You've got out of this world ambitions, can't wait to see your next project, really looking forward to watching it.