Reece Knobloch's rise as one of Germany's most standout skaters has elevated in our eyes and around the globe at roughly the same rate of speed he has rolled around his home country's streets and skateparks.
Pushing with effortless, relaxed steez and nailing tech tricks down big stairs looks equally as natural to Reece as nailing stylish flowing lines on a mini ramp.
Whether he's grabbing his board, flipping it down gaps, grinding big rails or boosting head high airs, you can see he has a sense of ease and confidence on his board beyond his years.
Witnessing his skills on a board through the lens of Torsten Frank's clips and watching his progression in the short edits that he creates has been exciting to see.
So when we heard he was working on a part for Thrasher we had to know more about it.
A few weeks before the release of his Thrasher part we hit him up to get on board The No Comply Network and find out about his part and also to discover how he started skating, got sponsored by Adidas and the tricks and clips he's most hyped on right now.
Read Reece's interview to find out his thoughts on his Thrasher Part, his experiences filming with Torsten Frank in Germany, his standout tricks and clips, Adidas trips in Germany and abroad, and his favourite skaters, styles, spots, music and more.

Reece Knobloch, Shot by Torsten Frank for Adidas Skateboarding
Hey Reece. So we first saw your skating in an edit filmed by Torsten Frank. But when did you first see skateboarding?
I was adopted as a kid, you know so, the first time I saw a skateboard I had come from South Africa to start my new life here.
My parents from Germany came to South Africa and picked me up. When we were in Germany we went to the sports shop there. My sister needed new trousers and a jacket. When we were there I went over to the wall and I saw so many skateboards on it.
I picked up one of the boards and I tried to skate, just tilting it up and down and then I said to my mother, "Hey can I please get this board!" but at first she was not sure and then I just started almost crying in the sports shop, pleading so much with her, just saying, "No mom please I need this board and my mom finally said, "Okay…you can get it but you have to carry it around town yourself!".
Sick, so from the get go that board was yours, you were a skater.
Yeah, I just saw it and I thought, that's my dream, that's my future you know.
Then when I went to Germany with my family and we were at home I was skating a little bit in the room. Just standing on the board at first. Then I started trying to skate a little bit more. Then after a while an outdoor skatepark opened in Karlsruhe and I went to the park everyday with my mom.
That's dope that she took you there so often
Yeah, she would be sitting there with a book and I would be skating, everyday.

Reece, Frontside Tucknee Grab, Shot by Thomas Gentsch
Right. So where is Karlsruhe?
Karlsruhe? It is just one hour from Stuttgart.
I was going to the ODP skatepark which is the name of the local park in Karlsruhe and I was also going to the Stuttpark, which is in Stuttgart.
So that was my routine. Going there in the morning, eating my breakfast, I'd walk my dog and then I would be going to the skatepark or to street spots and there I would be learning new tricks. That's always fun.
Sick. So who were your favourite skaters growing up?
Kader Sylla and Tyshawn Jones. That's who I was watching at the time. Those two make my favourite skate videos.
They are legends and both are still young. How old are you?
I'm 19.
Right. So what did you skate the most as a kid, parks or street?
I would be skating both but my favourite thing to skate at the time was always mini ramp and skateparks.
For me it was better, I can remember going to the streets and I could not find my flow at first.
That did not last long. So why do you enjoy to skate ramps?
Ramps in general are better for me. I can Frontside Disaster, Backside Disaster, Tailslide and hit the whole park in one line. Then I can chill out and go on to do my next tricks.
On mini ramps you can flow. You can do a long 50-50, then 5-0, do a big air or a Backside Grab. I like skating mini ramps and bowls.
That's funny because your Heelflip to flat over that flatbank gap in that skatepark when you were younger is still next level. How did it go down?
I was standing there and thinking I can do this, let's go!
Then I'm skating the gap and I was like woah, I'm landing on it, so I was really proud to do that one.
You should be! That thing was massive. When did you start to film and make edits of your skating?
I started using Instagram at 12 years old. My first skate clips were on there up to when I got my first sponsors.
Who was your first sponsor?
My first sponsor? Yeah, that was a crazy story. So, at the beginning it was at Stuttpark. I was 12 years old and I was skating there at a contest.
I went there with my father. I was standing on the quarter and Torsten came up to me and said, "Yo, Reece your skating is really cool and your style is really nice. Would you like to go out and skate on the streets and do a little bit of filming? I just said yeah, why not!?".
So we went for the session and then Torsten turned around and said to me, "Hold on a minute Reece, come over to my car for a second."
So I went over and when I got there Torsten gave me four pairs of Adidas shoes and he said,
"Try the shoes on and let me know if you think they are nice and that they are a good fit for you?".
So that was the start of my first sponsors getting Adidas through Torsten.

Reece, Shot by Torsten
That's sick man. Who do you skate with the most right now?
When I go to Stuttgart, I meet up with Torsten, Paddy – Patrick Zentgraf and Phil Anderson.
They are my best friends. Torsten has helped me so much. In the next few weeks, my Thrasher part that he filmed is going to come out.
Sick. How long have you been filming for your Thrasher part?
Torsten and I have been filming for my Thrasher part for the last year.
Have you travelled much to film and stack clips for it?
We've been filming in Gran Canaria and Stuttgart.
We just had a one hour premier at Stuttpark and I'm really hyped on it at the moment.
It's cool. I've got too much love for Torsten for filming this. He's always helped me.
That's great. How do you feel about your part right now?
I'm a little bit nervous, it's Thrasher you know? I'm so proud of the premiere and for Torsten, filming my Thrasher part. I'm happy with the part.

Reece and Torsten at The 'Releece' premiere of his Thrasher part at Stuttpark
I'm sure your part is going to be a banger. What was the reaction like at the premiere?
The premiere was cool.
So many people were there and then as we were all eating pizzas older guys were walking up to me and saying:
"Yo Reece you've got a Thrasher part! You are the next skater coming up!".
For sure. Did you know the part was going to be for Thrasher?
No. For the last year I didn't know I was filming for a Thrasher part.
We were just filming for the future for clips that I thought would be maybe for my other sponsors – Independent trucks or Wayward Wheels.
We were filming a few clips and then Torsten said okay maybe towards the end of the year we can talk to Thrasher and ask them to post my footage.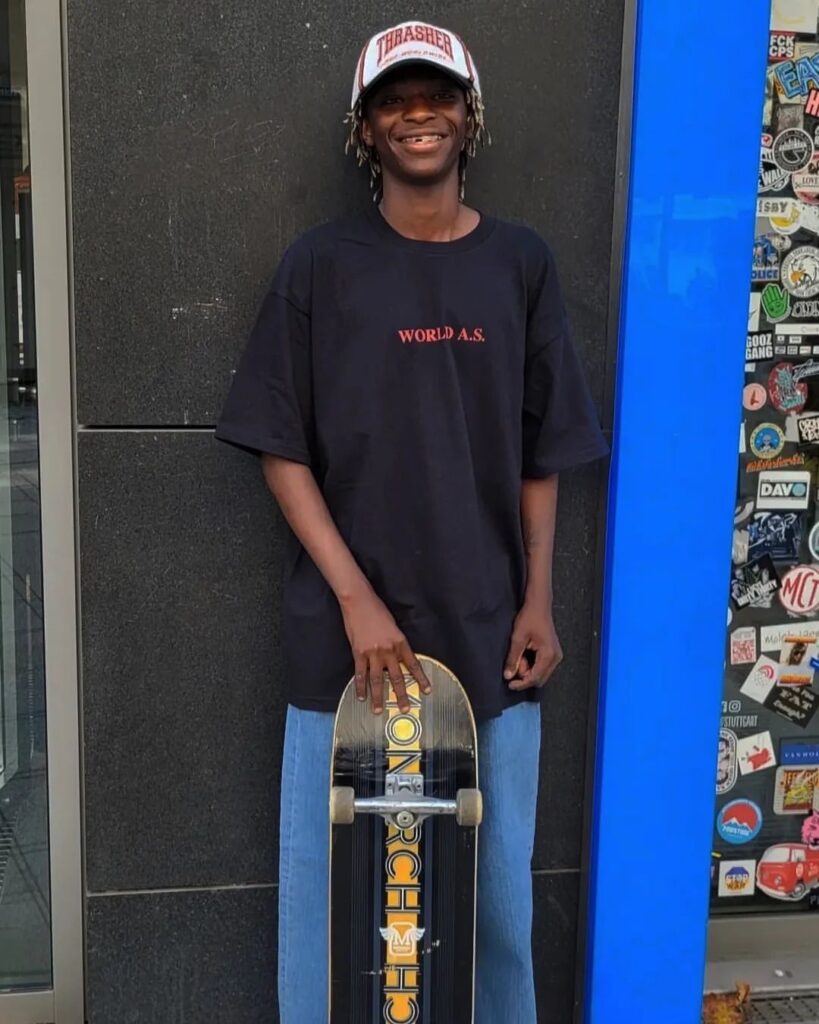 Reece, Shot by Sebastian Epple
Sick. What trick in your Thrasher part are you most stoked on?
I had maybe 10 tries to do the Backside 360 at Schlossplatz in Stuttgart. It's a big double set.
Rad. So how long did you have to put down the Backside 360?
20 minutes.
That's sick you did it so quick. Have you been on many trips over the last year?
In the last year, I've been on tour with Heitor Da Silva, Niels Bennett, Lucas Puig and Maité Steenhoudt to Gran Canaria.
We filmed there, a bit for Niels part and for everybody else too and then we came back to Stuttgart and we were filming at spots here.
Nice. What has been your favourite Adidas trip to go on so far?
I've been on so many trips to Gran Canaria, Berlin, Barcelona but the best trip was to Gran Canaria.
Yeah, that plaza there with the banks and hips looks sick. What was your favourite clip you filmed on that Gran Canaria trip?
Yeah, there were two lines in Gran Canaria that I did down this blue double set and out of those yeah probably The Backside 180 and Full Cab line.
That Calima edit was rad. Looking back, why did you decide to that Frontside Boneless to Backside 360 line that you did?
Backside 360 is better for me.
I can do Bonelesses on quarters and I wanted to do a line to the gap of the bank so I wanted to do that before the Backside 360 on the bank.
I always do Bonelesses on mini ramps and quarters so it made sense to me.
Yeah, I see that. Looking at your edits, that Half Cab Flip Body Varial you did was dope. Never seen that. How did you learn it?
That one was in Heidelberg.
So we were filming on the hip. I did a really good Half Cab Flip.
I was catching the board well before I landed so I just decided to turn my body too. It's really, really hard to do though.
Another one is Backside 360 Kickflips. You've got them on lock but do you have a favourite one that you've ever done?
So I think my best tricks are Heelflips, Backside 360 and Backside 360 Kickflips. I worked hard on them.
Backside 360 is the most stylish trick for me, so what else can you do?
It's weird, when you get down the Backside Flip, I think the last turn becomes easy when you go back to trying Backside 360 Kickflips.
Yeah, you've been doing them since you were young with steez. Who has your favourite style on a skateboard?
Kader. He has so much style. For me he has my favourite style. He has style on bowls, street, and in parks. He's the best skater, for me.
He's amazing. Who else are your favourite skaters to watch?
Vincent Milou, he's on the Adidas team.
I'm always looking out for his footage, every day alongside Kader and Tyshawn and Gustav Tonnessen.
Gustav has the technique. He has the technical tricks you know. I'm looking at all of them when I'm skating and thinking about what I can do.
But yeah Vincent has a nice style.
The way he does Frontside 180 to Switch 5-0 to Shuvit Out on a little quarter. I think, I like that, maybe I can do that?
So that's what I'm really looking at when I'm watching his videos.
Sick. You make dope edits. How do you find new music?
I go on Spotify. So I'll look on there and also on Instagram.
Right, so who's your favourite musician to listen to right now?
Chief Keef. He's my favourite rapper.
His music is what I like to skate to. When I go to the skatepark I'll be listening to his music. When I'm skating the bowl his music gives me a lot of motivation and power and it gives me a good flow. I don't always listen to Chief Keef but I'll always be listening to Hip Hop. That is all.
Okay. So how did you choose the song for your part?
Torsten and I went on Spotify to find a song for my part and then I'm saying to Torsten hey this song is cool and this one!
So in the end we had three songs but then we decided that a specific song out of those was good and that was it yeah.
Cool. Who are your sponsors at the moment?
Monarch Skateboards, Independent trucks, Adidas, Arrow and Beast, Wayward Wheels and Homeboy.
Rad. So you've been sponsored for a while and travelled around. What has been your favourite city to skate so far?
My favourite city to skate is Barcelona. I also want to go to Los Angeles and skate there too.
Where's your favourite spot in Barcelona?
The 3 block at MACBA. I want to do a Backside 360 Kickflip there, down that. That's my goal.
Look forward to seeing that, so right now you're skating in Stuttgart at Stuttpark the most?
Yes. Stuttpark is where I teach skate lessons and where I will go filming with Torsten on the streets.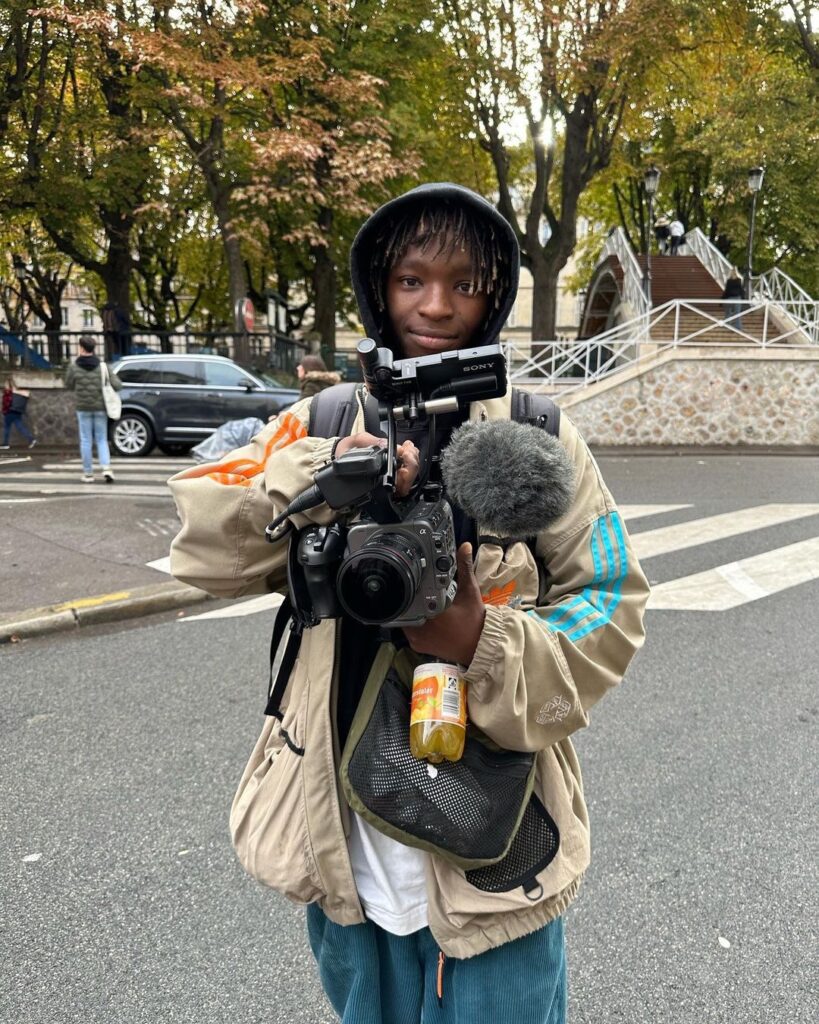 Reece in Paris: Shot by Torsten Frank
Right. Where did you go on your first Adidas trip?
My first trip with Adidas was when we went to Berlin.
Torsten and I met up with Justin Sommer and Patrick Zentgraf – he's a cool guy to have on the team and that was my first trip.
Ok cool. Did you film anything you were stoked on at the time?
Yeah. Kulturforum. I took nearly 20 tries to do a Backside Double Flip down the double set.
That was rad man.
I said to Torsten "What trick down the Kulturforum is free, what has not been done yet?"
Then I'm thinking and Torsten said "Maybe Backside Double Flip?".
We had both never seen anybody do this trick on Instagram or anywhere and had not seen it done there. I was like okay, I'll try it!
You made it look dope. You got a sick flick and catch on it. What is it about skating big sets of stairs and double sets that you like?
I love skating stairs. That feeling of flying. I'm always trying to get the trick and I just think about the next go until I get it.
Sometimes it's a little bit painful but then I say, fuck it, I can do this. That gives me the motivation.
Well it's definitely working for you. Look forward to seeing your part.