Josh Stewart is a skater and filmmaker whose skate videos have elevated the medium itself.
He's produced a stack of memorable classics independently and for brands that have captured the attention of millions for decades.
Josh's globe spanning Static video series set a precedent for the level independent skate video productions could reach with his artistic documentation of a selection of some of skating's most elusive personalities.
By featuring such an eclectic cast of iconic street skaters in their hometowns and abroad, the Static videos not only captured those skaters unique talents, styles and tricks but also the vibes of the sessions and atmosphere of the myriad of obscure skate spots that they sessioned on those international trips.
Beyond his filming, editing and shooting photos Josh also runs New York-based skate distribution Theories of Atlantis. It's home to a host of modern day street skateboarding staple brands like Magenta and Hopps and many, many more.
Behind the lens Josh's passionate attention to detail and well presented professionalism not only set the stage for his now iconic skate videos to stand out from the crowd but also cultivated the careers of skaters within them. Now through his business, he shines a light on how great their skating and ability to express their creativity through their companies is too.
In a Josh Stewart skate video, every shot and trick is very well considered and has a significance and a meaning for its inclusion that's tied to the last showed.
It's most likely for all those reasons why his library of skate videos are so well regarded and still continue to maintain interest and attract attention.
But just like any skater trying to nail a trick, Josh simply cares about making his videos look good and the way he intended them to be and it's because of that drive he has that you can see he always goes the distance to make them great.
So as life has been quite static over Lockdown we hit him up to see if he would like to join The No Comply Network and were really stoked that Josh was down.
We had a lot of questions about his filmmaking and skating, The Static videos, Adio's One Step Beyond, his recent projects, running Theories of Atlantis and more and he didn't disappoint with intriguing, thorough answers to them all.
Read the Josh Stewart Interview to find out how he first got into skateboarding and filmmaking, Florida,shooting for 411VM, computer meltdowns and making Wheels of Fortune, Ed Selego, Adio One Step Beyond, Jeremy Wray, Bam Margera, shooting on 16mm, Danny Montoya, making Static 1, producing Static II, Kenny Reed, Bobby Puleo, Paul Shier, Olly Todd, Will Harmon, London, Theories of Atlantis, Palace Skateboards, Lev Tanju, Static III, Joey Pressey, Snowy, Soy Panday, Nate Broussard, Pat Steiner, Static IV, Static V and VI, Quim Cardona, Jake Johnson, skating The Amazon, recent projects and his favourite skate videos, styles, spots and and much more
Read The Josh Stewart Interview below to find out for yourself.

Josh Stewart: Shot by @pepkim
What's your full name?
Joshua Elliot Stewart
Where did you grow up and where do you live now?
I grew up all around Tampa, Florida but I relocated to New York City 14 years ago.
When did you first see skateboarding?
I think my first memory of skateboarding was, of course, the scene in Back to the Future.
But soon after my older brother started skating and got good quick. So I was surrounded by skateboarding since the age of 6 or 7.
We had a vert ramp in our back yard when I was 9 but I didn't start skating myself until about 11 years old.
When did you first get a skateboard and what setup was it?
I think I started in '89 and I just got sparked one day in the summer when I was home alone and I crept into my brother's closet and put together a Frankenstein's monster out of spare parts lying around.
My brother came home and found me skating a freestyle board. Haha. I had no idea.
He was sponsored by H-Street so he put together a Kien Lieu "Donger" deck. So that was my first real board.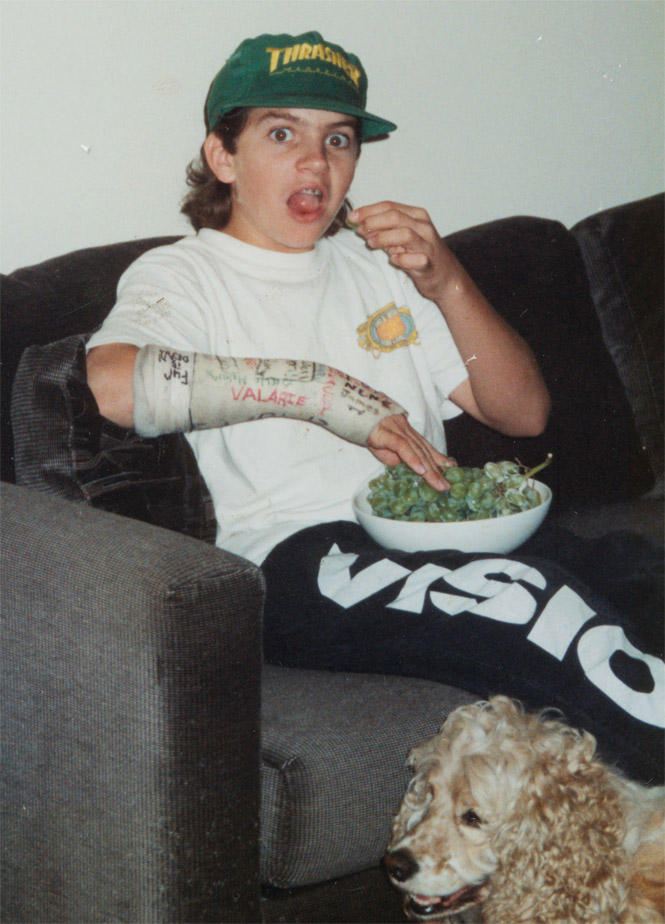 Josh, Lil Thrasher
What kinds of art did you make growing up?
I was into drawing and writing as a kid but once my parents got a little VHS-C Handycam I started filming little scenes at home and that really got me the most stoked.
Filming little ideas and editing them together from VCR to VCR just felt like magic. Then once I started filming skating and putting music to it I got hooked.
Sick. So who was in your first skate crew and what did you skate?
I mostly just skated in my neighbourhood with local kids for years but then most of them quit when skateboarding died in the early '90s.
I had one friend named Josh Markosen that I skated with for years and we started to go to the Skatepark of Tampa when it opened in 1993.
That changed everything.
I met Paul Zitzer, John Montesi, Mike Frazier and started filming with a lot of those dudes because there were no other filmers around at the time.
Right. So moving forward, how did you get your job at 411?
I actually never "worked" for 411 Video Magazine. I just submitted footage all of the time and hoped they'd use it.
I think the biggest breaks for me were when Mike Frazier needed help filming for the first Stereo video "A Visual Sound".
Then John Montesi needed help filming for New Deal and Paul Zitzer got a 411 profile. So we started filming for that.
I just filled a need at the time. There were all these talented skaters in Tampa at the time and nobody to film them.
So 411 kept needing things from me and I started filming the Tampa Pro and Am contests, sending them street footage of locals and whatever I could.
You filmed and edited for 411 but what did you take on the most?
Well, I lived in Florida during that whole time. And back then home editing systems weren't attainable for regular consumers.
A Media 100 system, which is what 411 and Transworld were using, cost between $70k-$100k.
So every year or so I was renting editing studios to edit my own independent videos, so I would use that as a chance to also edit some things for 411. I figured if I sent them a fully edited segment, it would be more likely to get used.
What was the first thing you sent to 411?
I think the first thing I did was Ed Selego's "Wheels of Fortune".
I had like half a day to edit it in the studio so I just rushed to capture all the clips and then didn't even use any music.
Just had Ed call me at the studio and recorded his interview over the phone and used that instead of music. I was so hyped when 411 actually used it.
What was your favourite clip or segment you filmed for 411?
Oh man, I don't know. It's been so long I don't remember most of it. I had a lot of fun filming Paul Zitzer's Profile. It was back when 411 was still new, I think like issue #12, so it was exciting to be filming the whole thing.
I got to film a lot of Kenny Anderson's profile and that was a rad experience.
It's funny, I got credit for several openers that I actually handed the camera to a friend at the time, like Steve Brandi, and had him film the trick while I shot the photo.
And then the footage got used for an opener so I gave the money to Steve or whoever I handed my VX to.
OK. What was your favourite thing that you edited for 411?
Hmmm I don't know…but the craziest thing I edited for 411 never got seen by anyone.
I was hired to make the sequel to the "Around the World" video. I spent a year going on crazy filming trips to Jamaica, Bali, Thailand, Hong Kong, Malaysia and more and I edited the entire video.
But right before I exported it my computer crashed. I lost the entire project. 411 cancelled the video and just split all my footage up for separate segments in future episodes. That was one of the biggest kicks in the balls I've ever suffered.
You filmed Will Harmon for 411s and Static videos. How'd you meet?
When the Skatepark of Tampa opened there were hardly any skateparks left in the United States. Especially not parks with street courses. So a lot of people from north of Florida would come to Tampa in the winter to escape the cold and skate the park.
Will became a regular who came down yearly with Kenny Hughes, Pete Thompson, Bob Reynolds and the North Carolina squad.
I worked at SPOT and skated there every day. So I became good friends with all of those guys. Also, when I went to San Diego in the mid-90's Will was out there at the same time so I filmed with him a bit out there.
And then Will happened to move to London the same week that I rented an apartment there to start filming for Static III.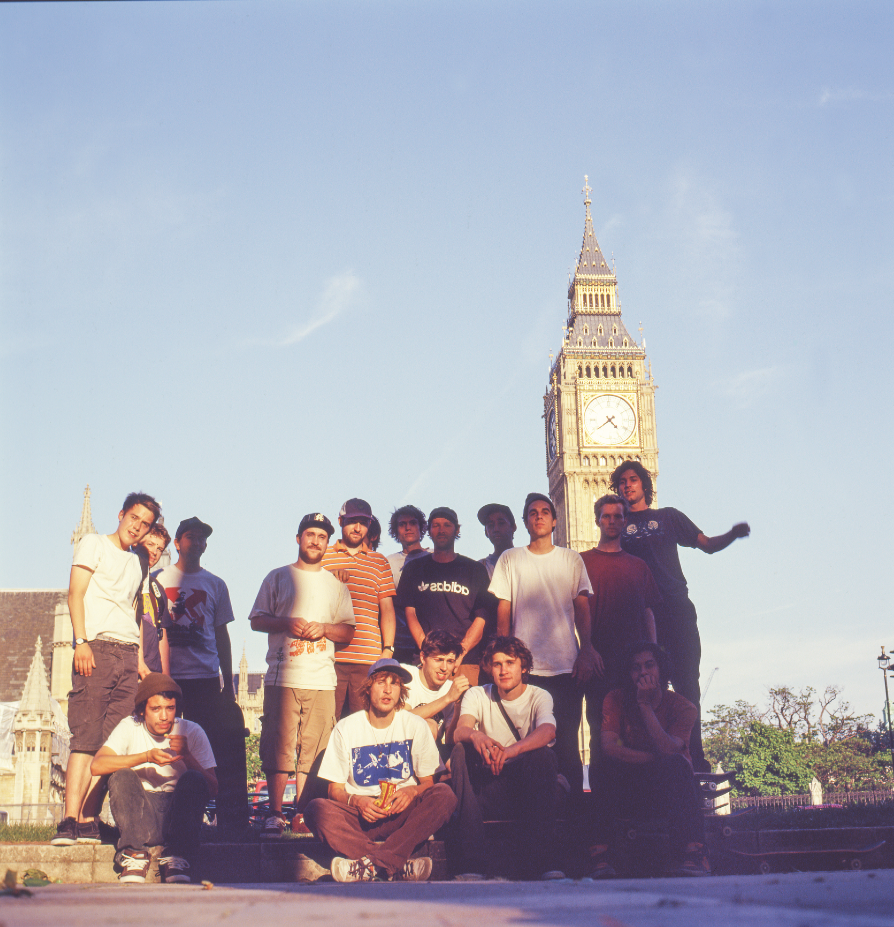 Static II London Locals and Static Posse at Parliament Square, 2007: Shot by @mystaticlife
So he rented a room in our apartment and I filmed with him a bunch then too.
So he always pops up in Static videos because he just has always happened to be around at different times and he's a good friend. And he's always ripped.
Joey Pressey, Rob Mathieson, Olly Todd, Snowy and Will Harmon at Southbank: Shot by Josh Stewart
What is the best thing about skating and hanging out with Will?
I guess we've just been in the same generation and part of basically the same scene for so long. Our paths have crossed so many times and Will has always been down to earth without a big ego.
He's not trying to be some big name pro and has never tried to be a cool-guy. He's just mellow and I dig that. I never really vibed with people who try to act cool.
That's why I'm still friends with that whole North Carolina squad. Will, Hughes, Pete and Mike Sinclair were all down to earth dudes who didn't cool-guy anyone.
Will, Charlie Young, Tukka, London, 2007: Shot by Josh Stewart
What's your favourite Will Harmon trick you have filmed and why?
Oh man, I think the Fakie 360 Flip he did in London back around 2007.
Because at that point Will had kinda given up on being a sponsored skater and we were both around 30 years old.
So to be doing a Fakie 360 Flip over a street gap was shocking and I was hyped to be able to capture it for him
The Adio video 'One Step Beyond' was amazing for your first feature length skate video. How did you come up with the skits?
 Well I had already done 3 or 4 full lengths at that point. But One Step Beyond was the first time I was hired to do a video for a brand. All my videos up to that point were indie projects. So I was tripping, scared to death by the responsibility.
The skits were actually by far the funnest part. They came about naturally by driving around with those dudes so much and just vibing out about ideas.
The Jeremy Wray idea was a blast because we had to drive so far out to that crazy rock formation he had found while he was on a camping trip.
We weren't even sure if it was skateable so it was a big risk. Shooting scenes along the way was fun because it felt like almost working on a real film. Picking locations based on how they looked through the camera and not having to worry about skate spots for a change.
Thank god that rock was skateable though, it was like a 5 hour drive and a several mile hike into the desert just to get to that thing. But once we saw it I got so hyped. I just could see how incredible it was going to look on film and seeing it in the theater at the premiere was incredible.
The way the skits interweave in the 16mm sections is dope. How did you decide to shoot them all in that film format?
At the time the competition was really stiff. Menikmati had just been released months before and Adio was a major shoe brand.
So I felt like this video had to look incredible and feel really cinematic. So shooting on 16mm seemed like a must, to give it that texture and aura of professionalism.
Adio, One Step Beyond Tape, 2001
What about the Super 16mm sections?
The only Super 16mm shots were for Tony's ramp segment.
He had his own production company at the time and they shot it on Super 16mm, which is different from the 16mm I shot everything else on.
Super 16 uses the audio track that's on 16mm film and uses that to capture an image that's bigger than 16mm. So it produces a slightly more beautiful image.
Kenny Anderson's Nose Manual across America was a great concept. How'd you come up with that skit and how long did it take to shoot?
I can't say for sure if it was mine or Kenny's idea, but I think we came up with it during a drive to Vegas from San Diego.
It was so fun to shoot because the whole thing was an experiment. Pulling off into the desert and shooting Kenny nosemanny down the highway with cars passing us at 90 miles per hour was insane. But I was super happy with how that film turned out.
That's what was so sketchy about all of those scenes. I shot all of them on film with my Bolex and didn't shoot a digital back-up.
So if I fucked up and overexposed the film or misread my light meter or anything, it could've ruined an entire roll or some crucial scenes. I got really lucky that it all turned out pretty good.
What inspired you to use Yellowman's track for Ed Selego's section?
That was actually Ed's decision. I was against it at first because I had something else in mind.
But the second I humored him and did a quick little mock up of his footage to that song it was obvious that it was a banger.
I can't imagine that video without Ed skating to Yellow Man. I felt like it is one of the raddest parts of the entire video.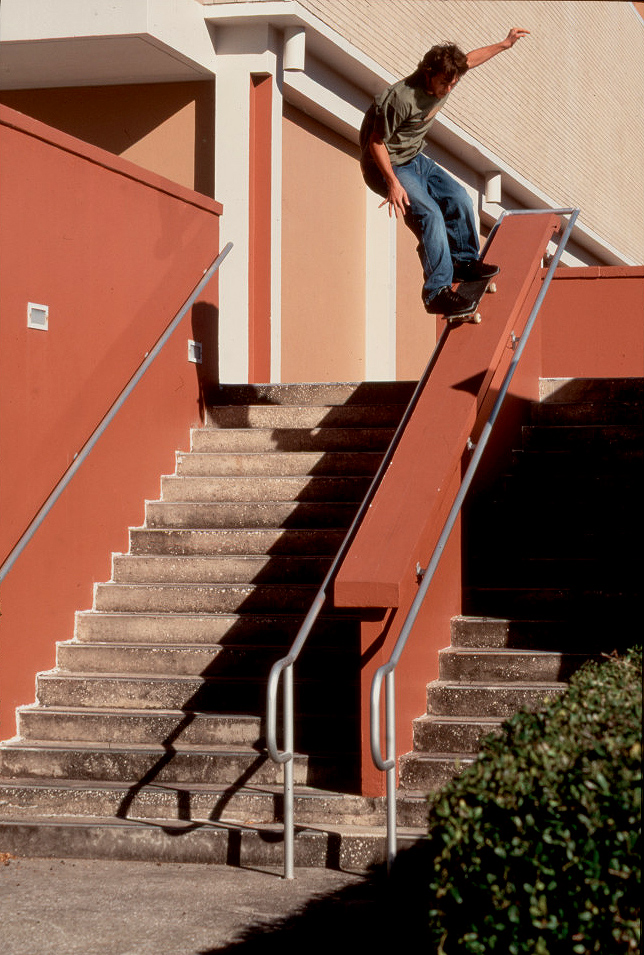 @edselego , Hubba 50-50 in Tampa, Florida 2001: Shot by Josh Stewart
What's your favourite trick in Ed's section?
Oh man, it's been a long time. I'd have to say the Nollie into the bank.
We went to a different spot that day and Ed just skated away down this ditch and someone skated back and said "dude you've got to see what Ed's doing". He was Ollieing into it which was super sick on it's own. And then he walked back and started trying a Nollie which just seemed insane. And only a few tries later he was rolling away. It was just so surprising and amazing.
What was it like filming Jeremy Wray for One Step Beyond?
I was probably the most intimidated filming with Jeremy out of the whole team because I was a HUGE fan of his skating during the 90's.
And he had actually just started skating again after getting knee surgery. So it was a tricky process. He was feeling pressured to make a new "Jeremy Wray" part while he was still not confident on his knee. I was kinda caught in the middle.
It was right near the last few months of filming that he really started getting more confident and he got some real bangers. Literally when we were wrapping up editing the video he tried to get a front 360 down that LA triple set. He came so close. I felt like that front three would've really sealed off his part.
So I wish we could've given him another few months because a Jeremy Wray part that meets its full potential is a thing of beauty.
A lot of the Bam Section contained a lot of CKY and Jackass type footage and original skate footage, who filmed the majority of that?
It was a mixture of myself, Roger Bagley and Bam himself. Roger filmed a lot more of it than I did.
He and Bam got along well and he eventually kind of became embedded in West Chester with Bam and started helping film for Jackass. Bam filmed a lot of the stuff on his own. He actually handed his part over to me already edited. Haha. But I chopped it up and plugged in the new stuff I and Roger had filmed.
He had actually done a good job editing it himself, but there was a lot of random stuff in there that didn't flow with the look or the theme of One Step Beyond. But it's pretty rad that Bam's part was mostly edited by Bam himself.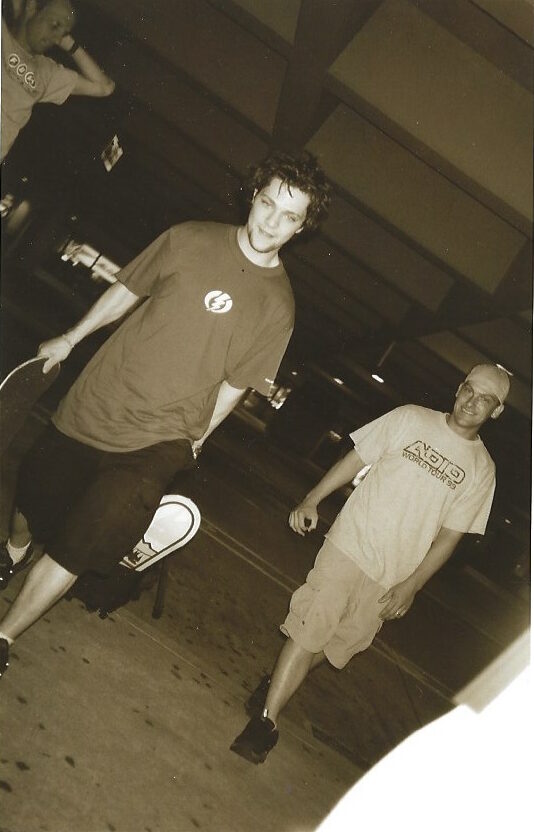 Bam Margera, Tony Hawk, Jeff Taylor on an Adio trip in Puerto Rico: Shot by Josh Stewart
What's your favourite thing about Bam's section?
Mostly just that it provides a little break from the seriousness of the rest of the video.
The marketing behind the video was so heavy and serious, I think it really needed some humour to balance it out and Bam's part has some strong skating it in
What was it like working with Roger Bagley on the project?
It was rad. At the time, Jeff Taylor, the TM at Adio hired Roger about 40% of the way through the project without talking to me about it first and I was kinda tripping at first. Because I felt like it was a judgement on my ability to get the job done.
But soon enough I was super hyped to have his help because if I had to film the whole thing myself it would've taken an additional year to finish the project. He was a very welcome addition to the team.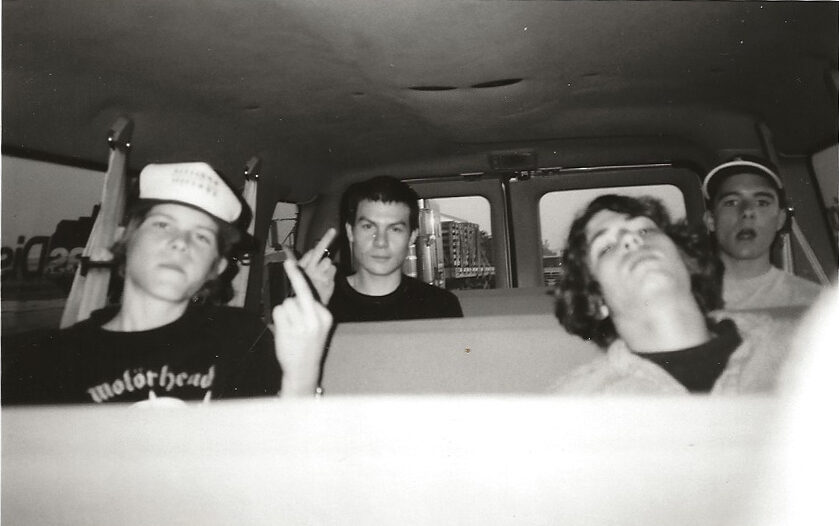 Adio AMs in Vegas, Richie Belton, Vinnie Vegas, Nate Broussard and Ryan Bobier: Shot by Josh Stewart
What was your favourite thing about working for Adio?
Definitely the people. I feel like I got really lucky for my first big job to be with so many incredible people and classic talents.
I'm still friends with a lot of the guys I worked with on that project and the reach of that video was really amazing. So I know I was lucky to have been involved.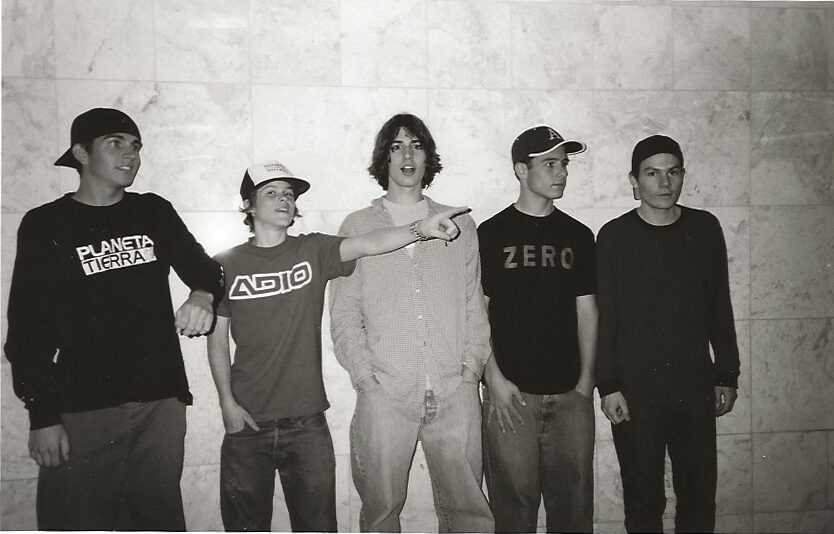 Adio AMS in Vegas Richie Belton, Nate Broussard, Ryan Bobier and Vinnie with Josh Stewart
The team AM parts with Richie Belton, Ryan Bobier, Nate Broussard and Vinnie Gambardella was sick but why did you have full sections?
Jeff Taylor, who was the TM and producer of the project really wanted to get the ams in the video.
I hate it when there's a montage introducing new skaters and you don't even get to get a taste of their personalities.
So we wanted to make the ams section flow as one piece, but give each am their own song and try to give people a taste of their personalities
That's a sick idea. What was it like filming Nate Broussard's section?
Honestly, for that video he didn't seem super motivated. He was super young and Jeff flew him in from Houston straight into this intimidating, intense filming schedule which I think really threw him off at first. We were close to finished and he still didn't have almost any clips.
But then at the last minute he turned it on and Roger filmed nearly that entire part with him in a matter of a couple weeks.
Danny Montoya killed it. What was it like filming him for the video?
Danny's just the best. He's got the best attitude and his style and ability is insane.
Filming with him is a combination of a lot of work but also very rewarding. He challenges himself by doing new tricks he's never done before or that nobody has ever done before so he really goes to into battle on his tricks. But when you get a clip with him it's always a landmark clip that is remembered for a long time.
I still to this day get asked about his Nollie Heel Frontside Noseslide and Nollie Heel Backside Nosebluntslide because they were so groundbreaking at the time.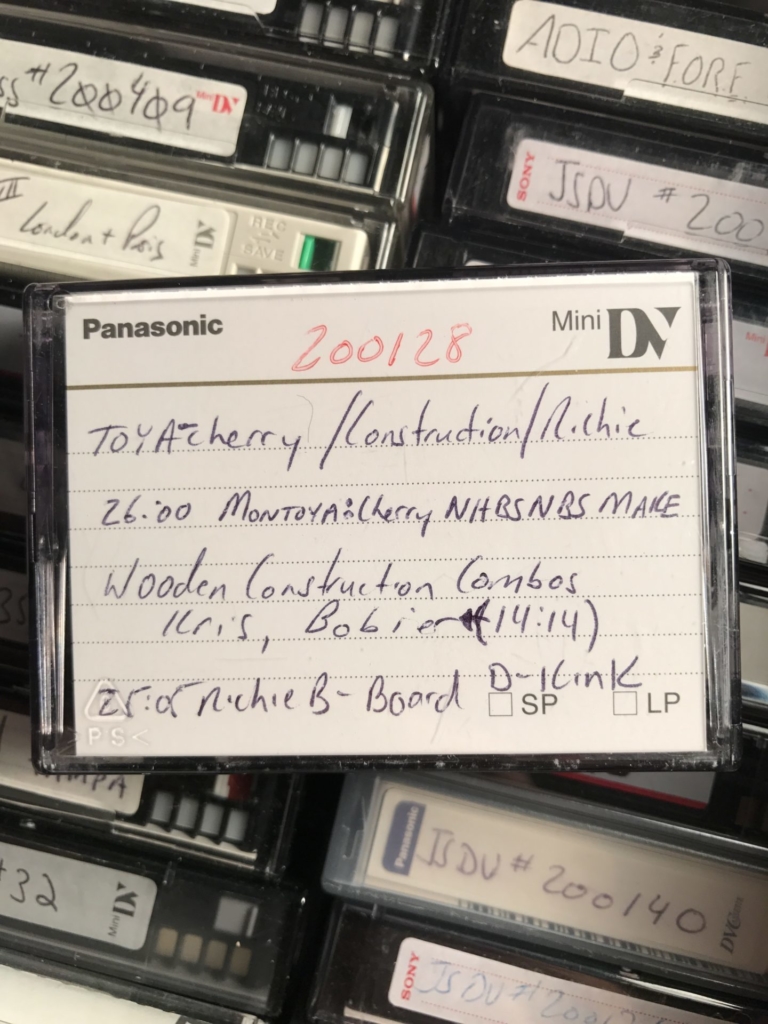 The Danny Montoya Nollie Heel Nose Adio Tape
What was it like filming his Nollie Heel Nose down the rail?
That was really nerve-racking actually. He tried that several times but it was at a federal courthouse so we'd get booted immediately.
So Jeff actually somehow got a permit for him to skate it. The only problem is we only had like a 2 hour window.
So Danny had a time clock on him to land the Nollie Heel Nose within that short window and we were stressing! But somehow he pulled though and made it just in time. I couldn't believe it and I was so worried about how I filmed it until I watched it in the viewfinder. Thank god it was alright.
What's the story behind that Cherry Park Nollie Heel Noseblunt?
Honestly, I just got insanely lucky on that trick. Roger Bagley battled the trick with Danny many times late at night with the generator.
But I went to film it just one night and he landed it fairly quickly, probably within 30 minutes of trying it.
How did you meet Jose Gomez who did the motion graphics?
Jose Gomez was the head designer of shoes at Adio.
He and I both agreed the intro needed to be incredible and very tech. I urged him to meet my friend Andre Stringer, from Washington DC because he had helped me with Static 1 titles and I knew he was a master of the kind of look we wanted.
Jose was resistant but eventually agreed to fly Andre out and meet him. They hit it off really well and Andre ended up teaching Jose all of his secrets with After Effects. Jose had never done motion graphics before. But after Andre taught him he took a week off work and he edited that entire intro piece.
He lived across the street from me and he'd come over and we'd pull out clips that he was going to do treatments of and then go back home and the next day he'd show me what he did and I was blown away. He was a natural.
It's crazy, he and Andre quit their jobs after One Step Beyond came out and started their own motion graphics company and they killed it. Their company blew up and they did all the TV show openings for MTV in the mid-2000s and all kinds of car commercials, I wish I could get a finders fee for bringing them together.
Looking back, what was your favourite section in One Step Beyond?
OK, that's tricky…
I'd say making those skits for Kenny and Jeremy's parts were the most fun just because it was so different and fun finding locations and then hoping all of the film would turn out.
Rad. So Theories of Atlantis is your skate distribution company. When did you start and what is the ethos of the distribution brand?
TOA was just my website for the first few years that I built to help promote Static III while I was working on it and I built a web store and started to sell other independent videos from around the world. At that time I was always talking to Bobby Puleo about how the east coast needed a distributor that backed Traffic, Hopps and other small brands to help give the underground more of a voice.
Then Soy Panday and Vivien Feil told me they were starting Magenta in like 2009 and asked if I'd be down to carry their boards on the site. That was kinda how it started.
I started offering Magenta to US skate shops and then soon after Lev Tanju and Gareth Skewis started doing Palace.
I was friends with them and offered to help distribute it in the USA along with Magenta. It looked like like the east coast distributor idea could possibly work, although it took a long time to get shops interested in Palace and Magenta.
Then soon after I was doing an interview with Pontus Alv about his video and he told me he was starting Polar. It just all kept happening like that without me trying. Just friends starting brands and they were all people I know had something really unique going.

Theories of Atlantis Meeting with Magenta Crew
So TOA from the beginning was built on underground skate videos and supporting indie videomakers from around the world. Then it morphed into helping to give underground brands a stronger voice in the US. By bringing small brands together under one roof if helped me them more attainable for shops who could order one box with a few Polar decks, a few Theories decks and some Isle decks too.
It slowly helped get all of these skater-owned brands into shops around the US.
So, thankfully it all happened organically and was built on the premise of giving underground, skater-owned brands a fighting chance in the US. And it eventually got some real traction. Unfortunately we lost a couple of the brands we started with like Polar and Palace. They got too big for us.
But the other brands have all stuck with us.
What brands do you carry at the moment?
We distribute Hopps, Magenta, Isle, Dial Tone Wheel Co, Evisen, Studio, Traffic, Picture Show Skateboards and Theories Brand, of course.
Your lockdown logo contest went off. How'd you choose the winner?
Thanks…it was really tough actually. We always like to let our readers choose the winner but it always becomes a popularity contest more than an actual democratic vote on the best artwork. So we usually let the readers pick their favourite and then we pick a TOA favourite as well.
We're always amazed by how many people participate in those contests and how many of the designs are really great.
Do you have any upcoming plans for projects for Theories?
We always have new things in the works.
It's been tough doing the majority of the video projects on my own but we have been getting more help from some other filmers lately and Jake Todd from Philly has been tackling some rad projects for Hopps, Dial Tone and others to help carry the load.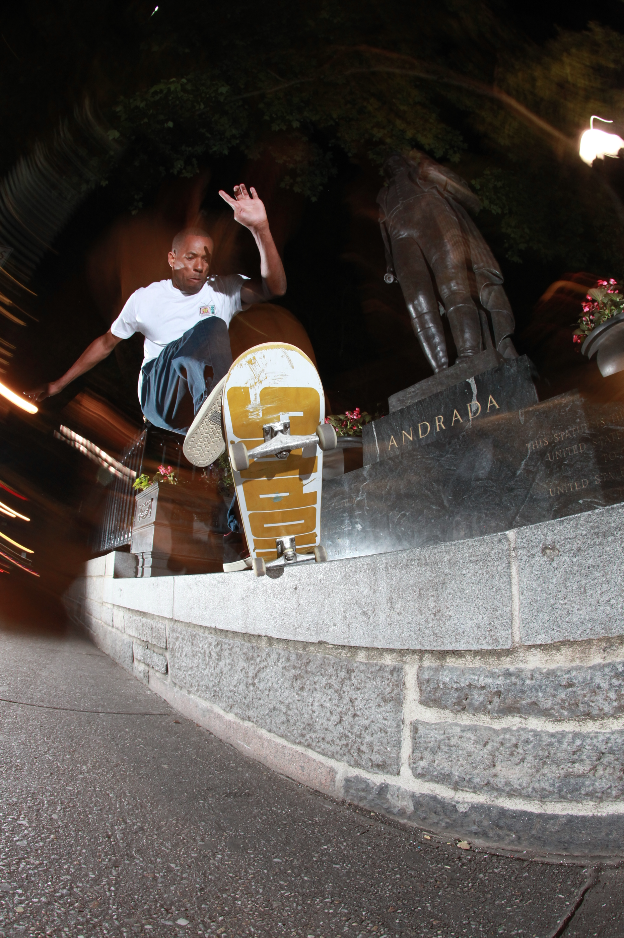 Jahmal Williams, Frontside 180 Nosegrind, Herald Square: Shot by Josh Stewart
So taking it a step back, you were the first US distributor for Palace. What's it like to see the brand become as successful as it is today?
Well, I was friends with the team and the owners so I offered to help with distributing it in the US.
It might be hard to believe but at the time it was really tough to get shops to carry it.
Small brands were seen as a big risk at that time. But things have changed a lot since then.
What's your favourite Palace video?
Honestly, my favourite Palace video piece was their original promo. There wasn't much skate footage but the feeling the edit achieved was epic.
I haven't really watched any of their edits over the past 5 years or so though so I can't really say anything about them.
How did Lev's Nollie Heel to Fakie in Static II go down?
Well, I had rented that apartment in London for 4 months in 2007 to work on a London section for Static II.
So we were skating with all of the locals, including Lev pretty much every day. Lev was everyone's homie but I hadn't really seen him skate.
So when he started trying that Nollie Heel I was stoked to try and get him into the edit since he was such a part of the scene.
Static I was mainly filmed in the US. What was it like to film the first Static video for you and what was your favourite experience of it?
It was exciting because all of the videos I had done up to that point were Florida-based projects.
Right so back to Static II. Nick Jensen had a few tricks in Paul Shier's section, what was it like filming with Nick?
Nick Jensen's just the best. Best dude, sickest skater and just a pleasure to hang out with.
He's so humble he never seemed to like anything we filmed but I was so hyped to get him into Shier's part.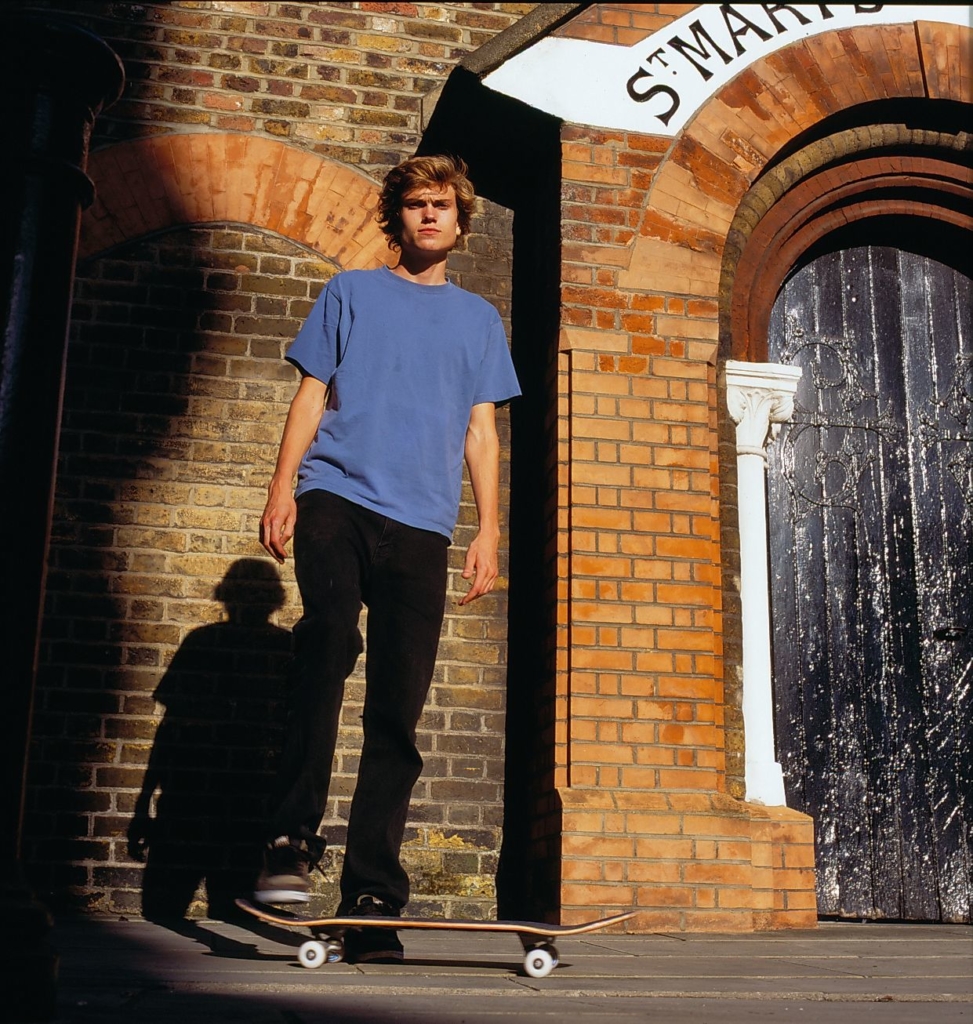 @nick__jensen at Baker Street, London: Shot by Josh Stewart
That's dope. So how did you meet Paul Shier?
I went to London with Kenny Reed at the beginning of working on Static II and told him I really wanted to do a full part with a London skater.
He told me Paul Shier should be the guy but honestly I barely knew his skating by then.
I'd seen his stuff in 411 but that was it. I took Kenny's word for it and gave it a shot to see how it would go but I liked Paul so much right off the bat I wanted to make a part work regardless. Paul had been kinda drinking a lot at that point and not really filming much.
So some people in London told me it was crazy to try and do a part with him.
But he got super motivated and really put tons of time into trying to make the part work. So it was a blast and it made his finished part really rewarding.
Do you have a favourite Shier trick from filming the Static II video?
Our trip to Egypt was pretty freakin memorable and it was insane that he filmed his ender in Cairo. Haha. That's so amazing.
But my favourite memory is he and I staying on Kenny Reed and Jerry Hsu's floor during an entire summer in Barcelona. It was like 100 degrees at night there and the apartment was insanely tiny.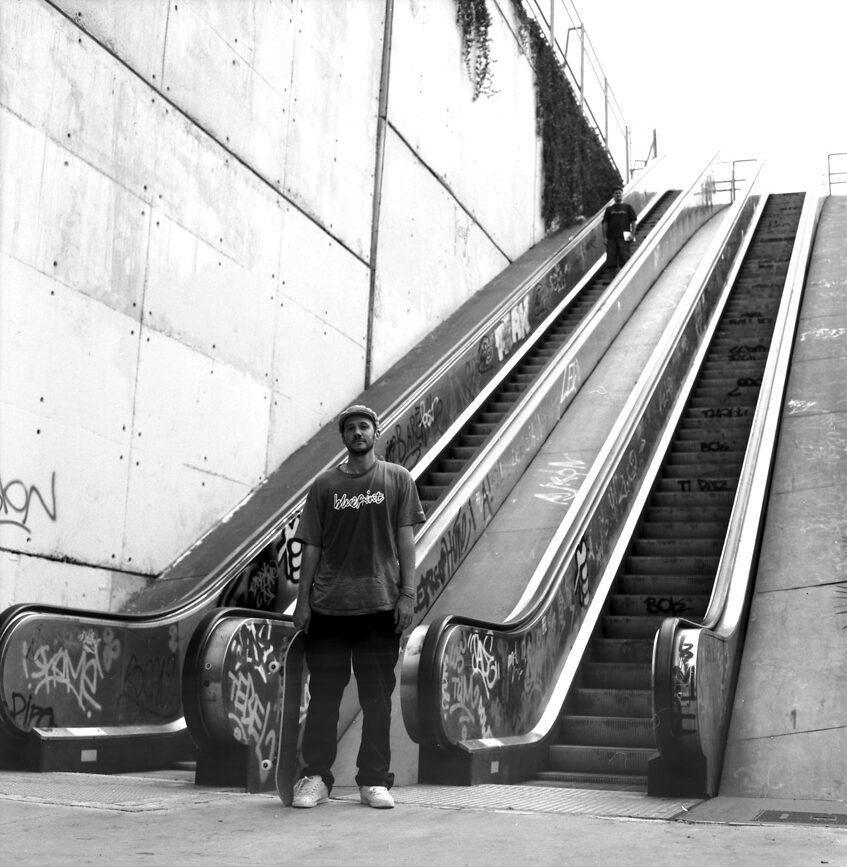 @paulshier in Barcelona: Shot by Josh Stewart
So Paul and I were like two sardines sleeping on the dirty tile floor and it was so hot we'd be sweating without even having any sheets. It was so miserable but my memories of it are amazing. That whole summer was incredible and I wouldn't trade those memories for anything.
Shier is the fucking man and we've had so many good times travelling together working on Static and other projects.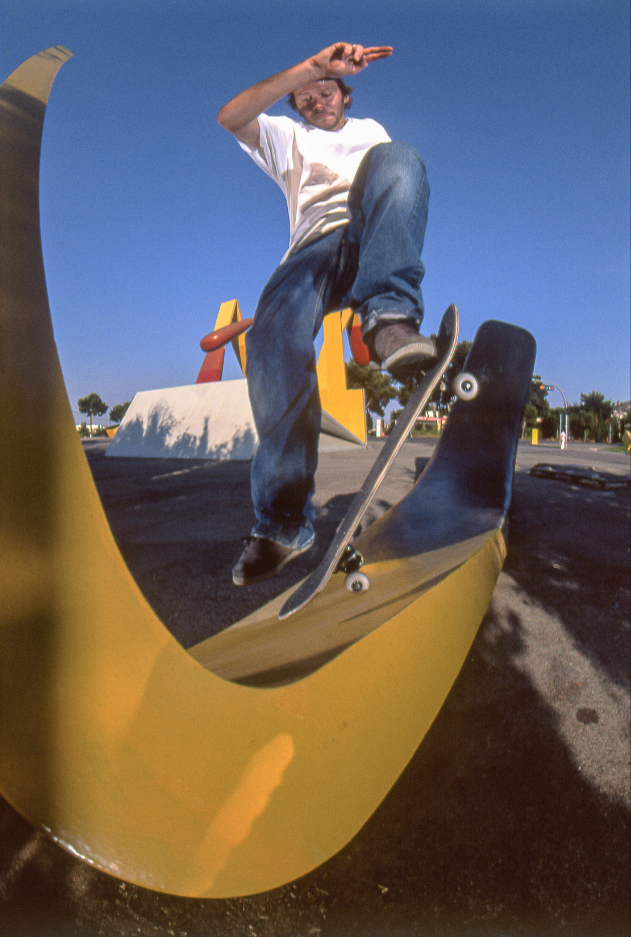 Paul Shier, Crooked Grind Transfer, Barcelona, Shot by Josh Stewart
The 16mm footage you filmed of Kenny Reed was great. How did you decided to film the non sequiturs and phone call skits with Shier?
Haha…well, it's always super tricky to do skits in a video that aren't terrible. But Kenny and Shier are such strong personalities I knew they could make it work.
I really wanted to show their personalities. I can't recall how the idea of those cutaway shots of Shier drinking came about, but it was an experiment I wasn't sure would work but it turned out being pretty funny.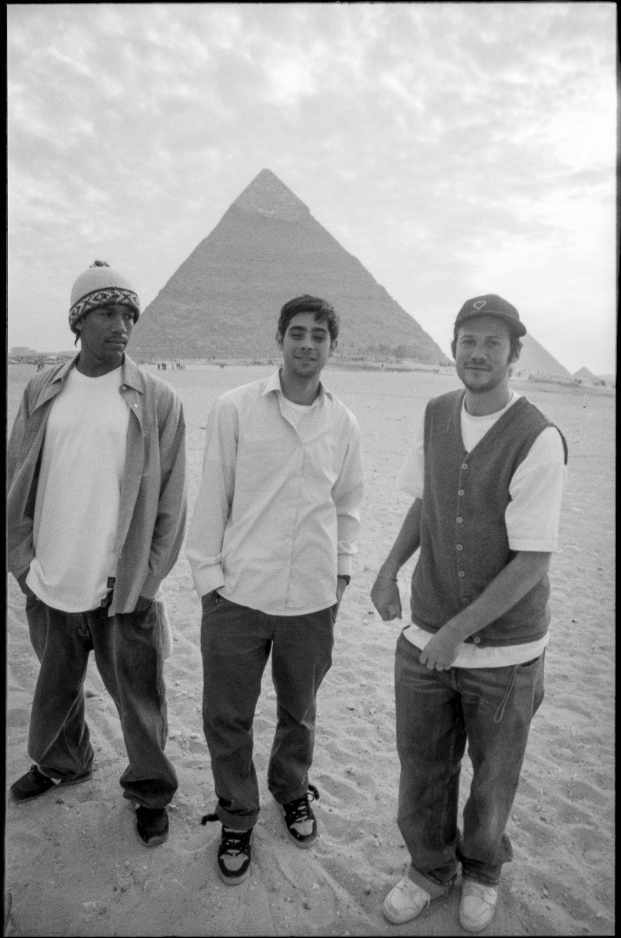 Kenny Hughes, Kenny Reed and Paul Shier, Egypt: Shot by Josh Stewart
I remember someone played that ridiculous "You know how we do" song during my London trip filming with him and I just thought it would be so funny to cut to those shots of Paul getting wasted to that song while he says in the postcard "I've been working REALLY really hard on this part, mate".
The Static II soundtrack was eclectic. How did you pick the songs?
The songs are almost as important as the skaters in the video. It's like all I used to think about all day long. Looking online everywhere and shopping in record stores for weird music ideas.
But for Static II I ended up using some tracks that I am a little embarrassed by now because they were just already so well known.
Modest Mouse, The Faint, The Shins were all so well known in skateboarding at the time it wasn't too imaginative to use those bands.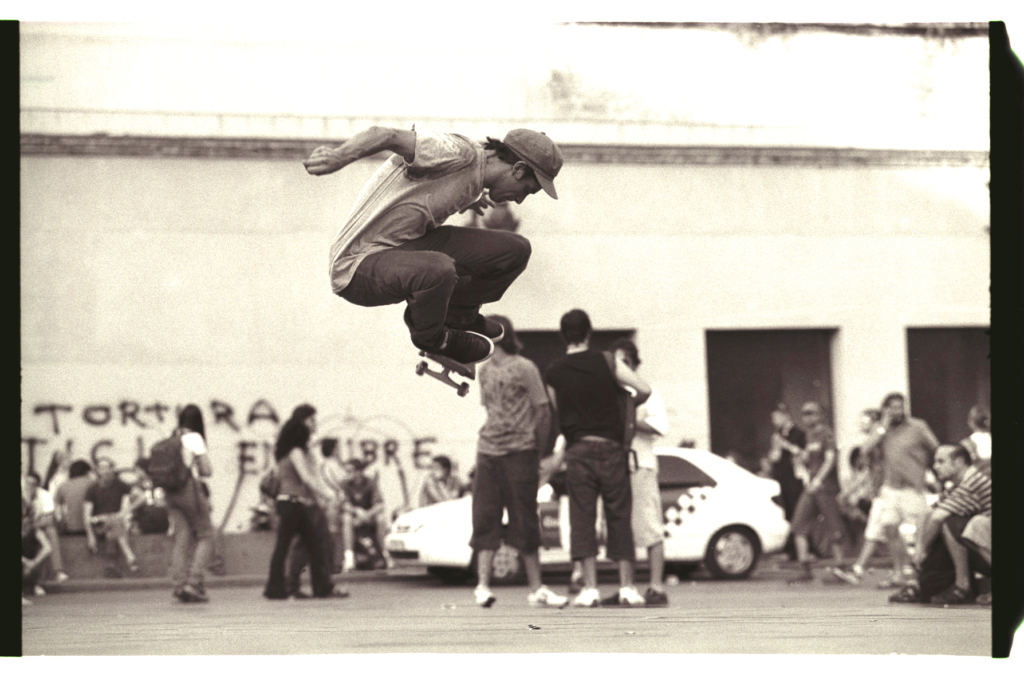 Kenny Reed, Huge Flatground Nollie in Barcelona, Shot by Josh Stewart
But the music worked really well for those parts at least. And I think even now, as funny as it is that we use The Faint in a Static video, it's crazy still how well it works in Shier's part.
But I stress the hardest over music because it is so insanely important to have fitting music for each skater and to use stuff people don't expect or they've never heard before.
@igeiland , Switch Hardflip a Double Set in 2004 while filming for Static II: Shot by Josh Stewart
John Igei and Andy Honen's section is classic. Why did you pair those two together?
Oh those two were inseparable back then. If you ever saw one of them the other was always close by.
When I was filming for the first Static video in DC I already knew I wanted John Igei to have a full part if I did another video.
But by the time I started going up to DC for Static II Andy Honen was in the mix and he was ripping.
So I started filming him too and bringing him on trips so that he could help fill out John's part if we had any issues
Who has your favourite section in Static II?
Man, that's just impossible to say…in hindsight Igei's part is fucking insane. He killed it so hard for that part.
Obviously, Bobby Puleo's part is one of my favourites of the entire series.
And then Reed and Shier's parts are really close to my heart. And Ricky and the Philly guys' parts have really aged well too.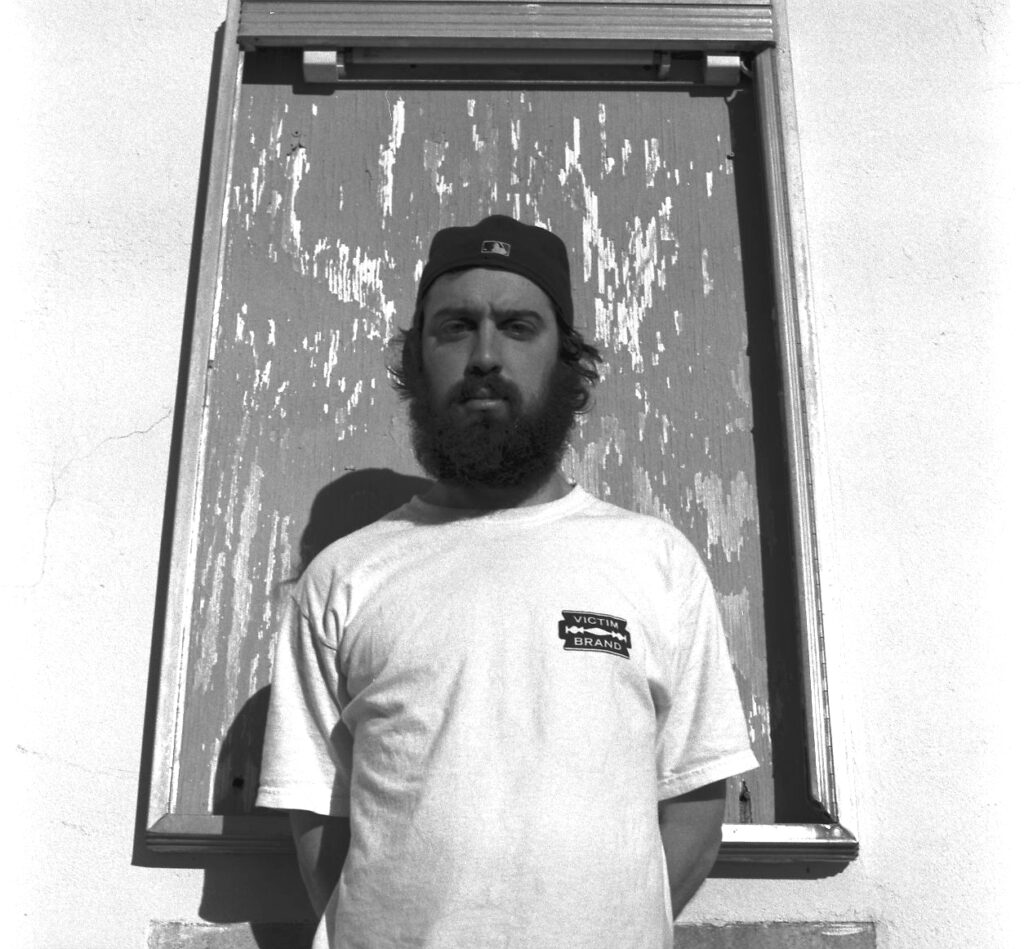 Bobby Puleo, Miami, Shot by Josh Stewart
How did you originally decide Bobby was to have a Static II part?
Actually, from what I remember, we were on one of the first road trips for the video leaving out of Tampa and driving to San Francisco and I mentioned to the photographer who was with us, Shawn Brodsky, aka Frankie, that it would be amazing to get Puleo in the video but I didn't even know if he skated any more.
I hadn't seen anything new of him in a while so I really didn't know. Frankie, who lived in Philly, said he'd actually been shooting with Bobby recently and he was down to hit Bob up to see if he'd be interested in hopping on our trip.
Surprisingly he was down and he ended up flying in and joining the trip. I think he flew in when we were in Texas. It's funny because he was on that trip and we continued filming for a long time, going to London, Barcelona and other places.
And far into the process we started talking about his part and he said "Yeah, I'm not really sure if I wanna have a part in this video. I never agreed to that". I was like "what the?!". Haha….it was a process but thankfully I eventually got him to agree having a part. But he was literally on the fence up until the last few days.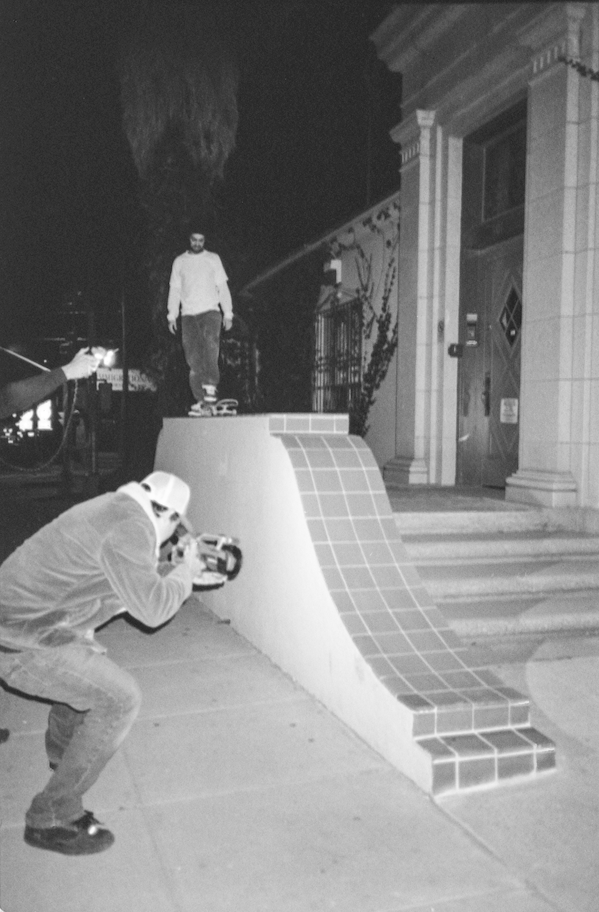 Bobby Puleo, About to Ollie in, El Paso, Texas: Shot by Josh Stewart
Oh Shit! What was it like filming Bobby in the Static II era?
It was definitely interesting…haha. I mean we mostly got along fine through the whole process.
Bobby is just so direct and so painfully honest that it makes for some awkward moments sometimes. Like that moment when he said he wasn't sure he wanted a part in the video, after we'd been filming for close to a year!
But he's also hilarious so most of the time it's a lot of fun. Even when he's having a meltdown at a spot trying a trick, it's usually pretty funny.
Like when we were filming at the Holborn banks spot in central London with tons of tourists and families around and he screamed at the top of his lungs after one bail "WHORE'S BLOOD!". That will pop into my mind randomly sometimes and I'll start laughing to myself.
Bobby Puleo, Tailslide, Water St, New York: Shot by Josh Stewart
The Kink's track, 'Shangri-La' was a sick selection that really fit his skating and all the London footage. How did you pick that one?
That song was actually Bobby's idea. I'm always hesitant for skater's to pick their songs because I already have an idea of how I want the video to feel and music I want to use. But that song was such a perfect fit. And to this day it's probably one of the most memorable and best feeling songs of the Static series. So Bob gets the credit on that one.
Funny that there literally were zero Kinks songs in any videos before that, which is baffling. But funny note is that like a few weeks before the video premiered Bobby wanted to change out that song to a Chaka Khan song. His part was 100% finished and felt so perfect I had to fight him hard on switching it out.
The Chaka song was dope but I can't imagine this video not having that Kinks song in it.
What was the most memorable trick to film in Bobby's part?
That's impossible to say really….I do look fondly upon all of the London stuff. That was just a fun trip overall and all of the spots just felt so perfect for the look I wanted for Static II.
I remember that on that one spot where Bobby does the back 360 out of that bank to platform, I climbed up a scaffolding to get the overhead shot and it was super sketchy.
And then my battery died so I had Bob throw a new one up to me and after I put it in the camera I forgot how my feet had been before and I accidentally stepped into an opening in the scaffolding and fell through but somehow after only falling a few feet I miraculously put my arms out and caught myself with my wrists and with my chest caught onto a big rusty bolt sticking out sideways. Blood started coming through my shirt so I thought it had punctured myself under my ribs and I started to get wobbly legs because I was panicking that I was seriously hurt.
Thankfully when i pulled up my shirt it was just a deep gouge into the skin and hadn't punctured all the way through. The best part is I didn't drop the VX, haha! I still have that 2-3 inch scar to remind me of that day.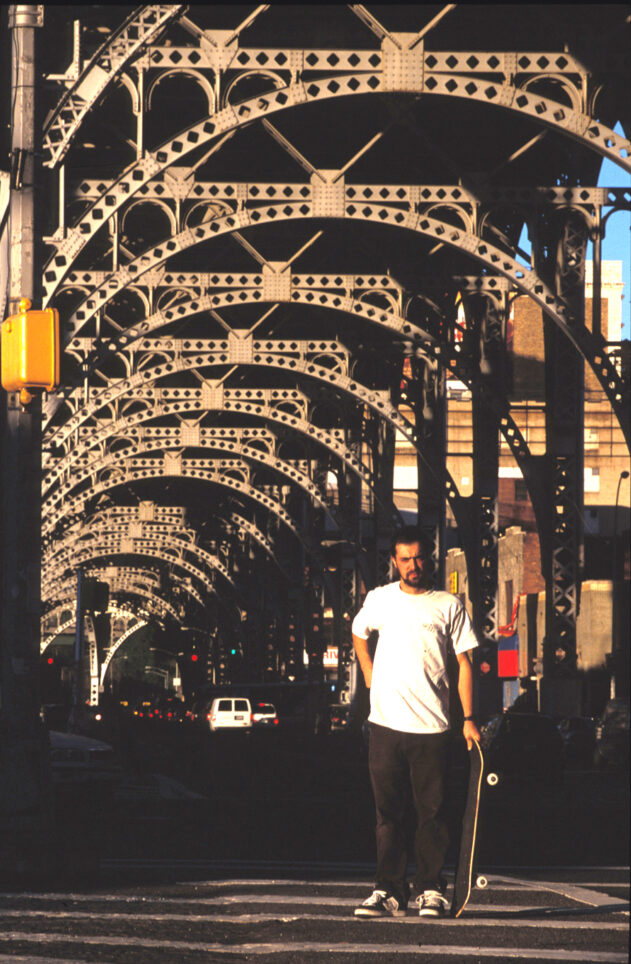 Bobby filming for Static II: Shot by Josh Stewart
In Soy Panday's Static III section you edited a voiceover montage, with him explaining his background, why did you put that in?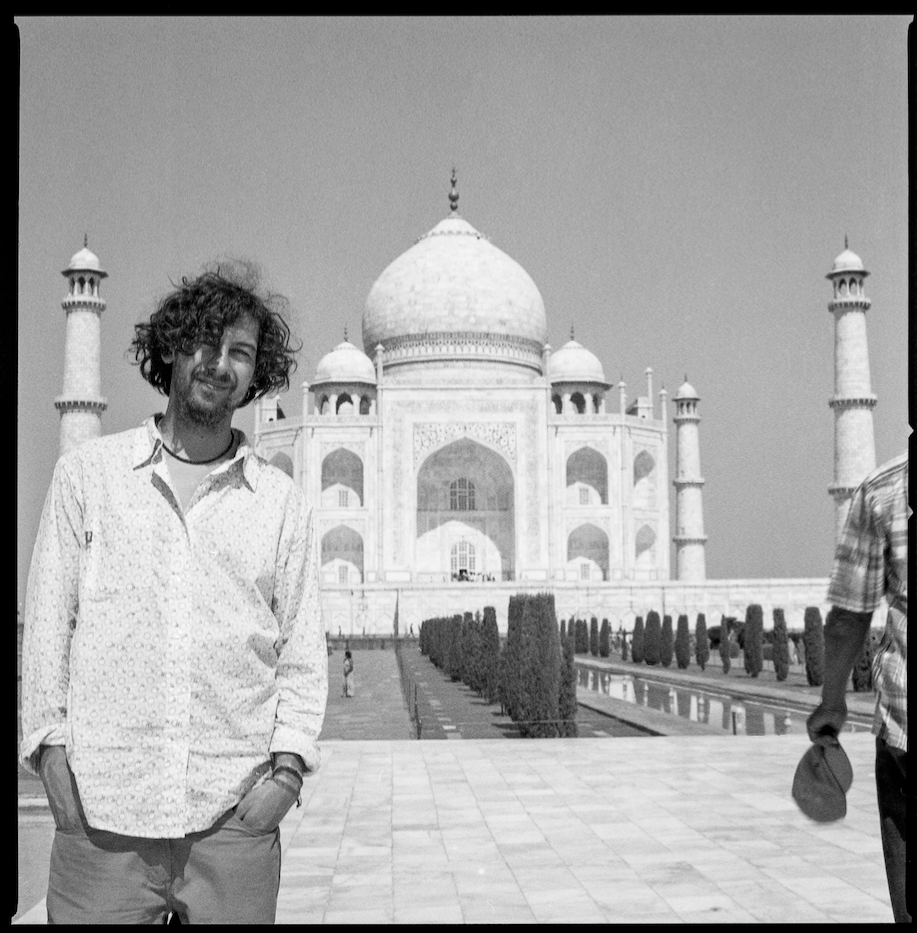 Soy Panday at The Taj Mahal: Shot by Josh Stewart
Well, I wanted to create a little atmospheric intro with 16mm shots from our trip to India and of course Paris as well.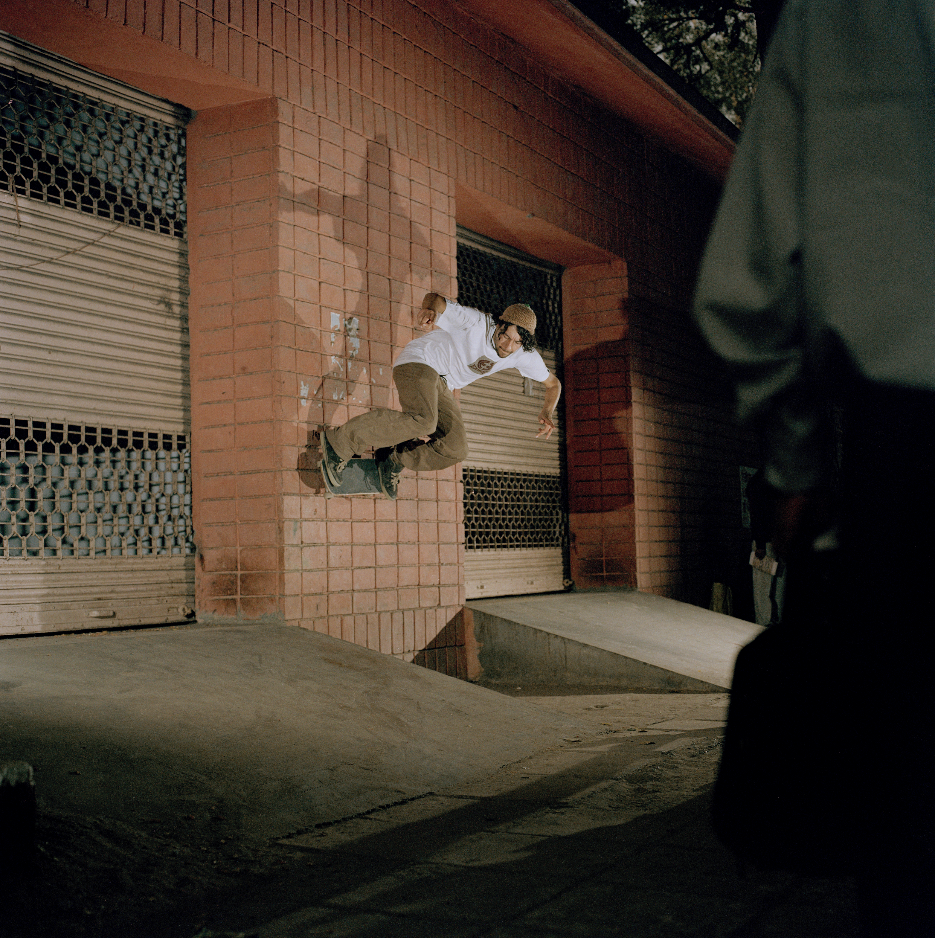 @soypanday , Wallride Transfer, Delhi, India: Shot by Josh Stewart
So when I learned that his parents were from India and France I figured having him say those opening words would give me an excuse to put together that little introduction.
In the Soy Section, Kenny Reed, does the sickest Backside 5-0 transfer on that flat bar in Barcelona. How did that trick go down?
Dude, that was so long ago I honestly don't remember. I filmed in Barcelona so much at that time it all blends together. But Kenny Reed is the man and that trick was bonkers.
Javier Mendizbal, Kenny Reed, Tony Cox, Barcelona, 2007: Shot by Josh Stewart
Olly Todd's Static III section was banging. What's your favourite thing about Olly's skating?
That's hard to say….Olly Todd's skating is so rad. He would never let a rad spot go by without figuring out the right way to skate it and getting a good clip.
He's just the perfect skater to film with in London. Every little weird spot we stumbled onto I could rely on him to find the right way to hit it. That crazy brick tube in the parking garage is a perfect example. He's still to this day skated it better than anyone.
Right. How'd you meet Olly and realise you wanted to film his part?
That's a good question. I met Olly when I went back to London for the Static II premiere. I hung around for a few days after the premiere and ended up skating with him one day.I was so stoked on his skating and his personality I already knew I wanted him to have a main part in the next video.
I hadn't even planned on doing another video yet, but once I skated with him I was motivated to get started on Static III.
Olly Todd and Danny Renaud, London: Shot by Josh Stewart
The Frontside Ollie Toddy does over that channel looked tight, steep and awkward. How long did it take and what was it like filming it?
Honestly, I can't really remember it. I just remember being stoked he was able to do it more than once and I was able to shoot it on 16mm in slow motion.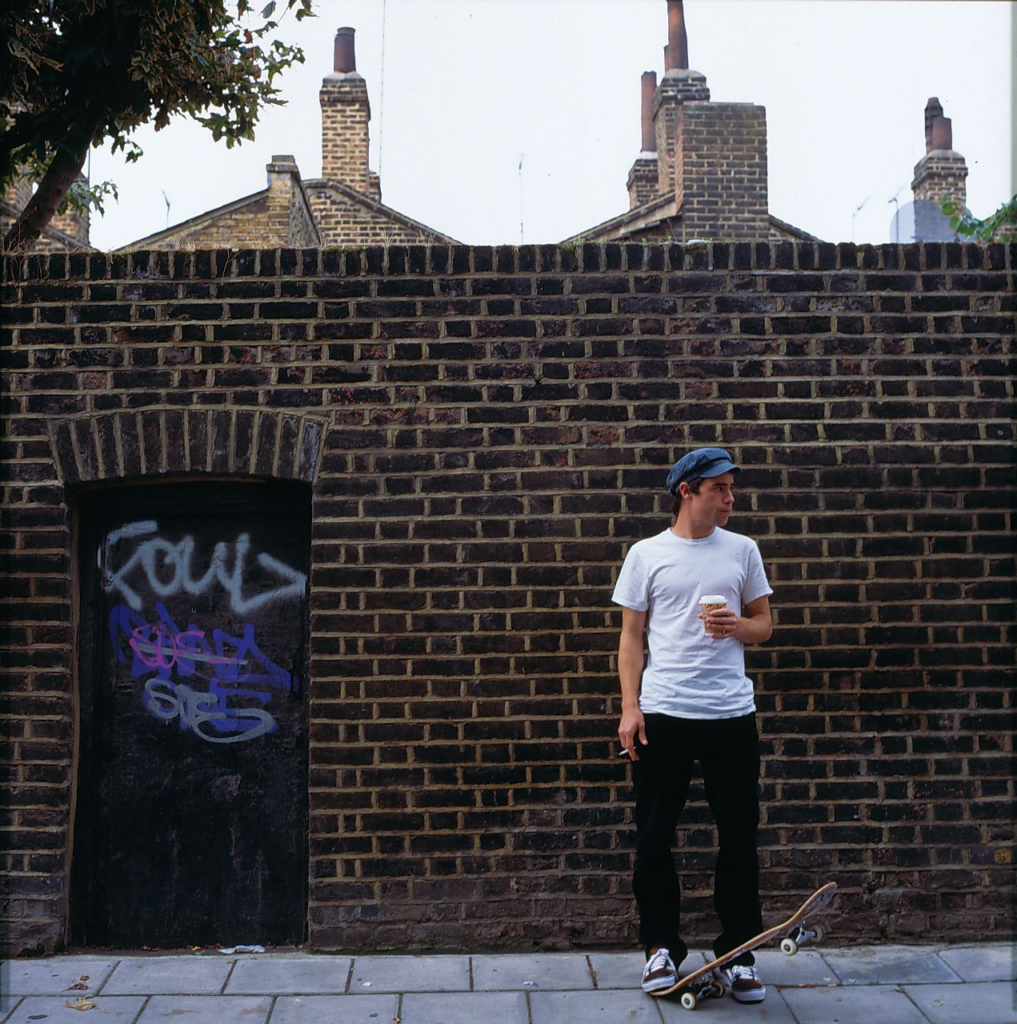 Olly Todd in London: Shot by Josh Stewart
How did Olly's Tre Flip from bank to bank in New York go down?
He came to NYC in October for the last stretch of filming for the video and that spot had been popping off at that time. We checked it out one night and had to light it up with a generator, which is kinda funny to imagine lighting up a spot for Olly.
For some reason that just doesn't seem right. But when he started trying the 360 Flip I got super anxious because it was obvious it would be his last trick if he landed it and I was praying we wouldn't get kicked out. He landed it shockingly quickly though thankfully.
Do you have a favourite trick in Olly Todd's section?
Probably that line in the parking garage with the Kickflip Fakie in that crazy brick tube.
In Static III Nate Broussard's gap Nose Manual on that long road gap is still amazing, what do you remember about how that went down?
Geez, I barely remember that day with Nate Broussard at all.
But I do remember having to ask him to do it multiple times because rolling in front of him kept not working, I kept getting in his way. I couldn't figure out the best way to film it. And you can kinda tell because I put two angles in the edit, when it really only needed one. I think the rolling fish was the one we used.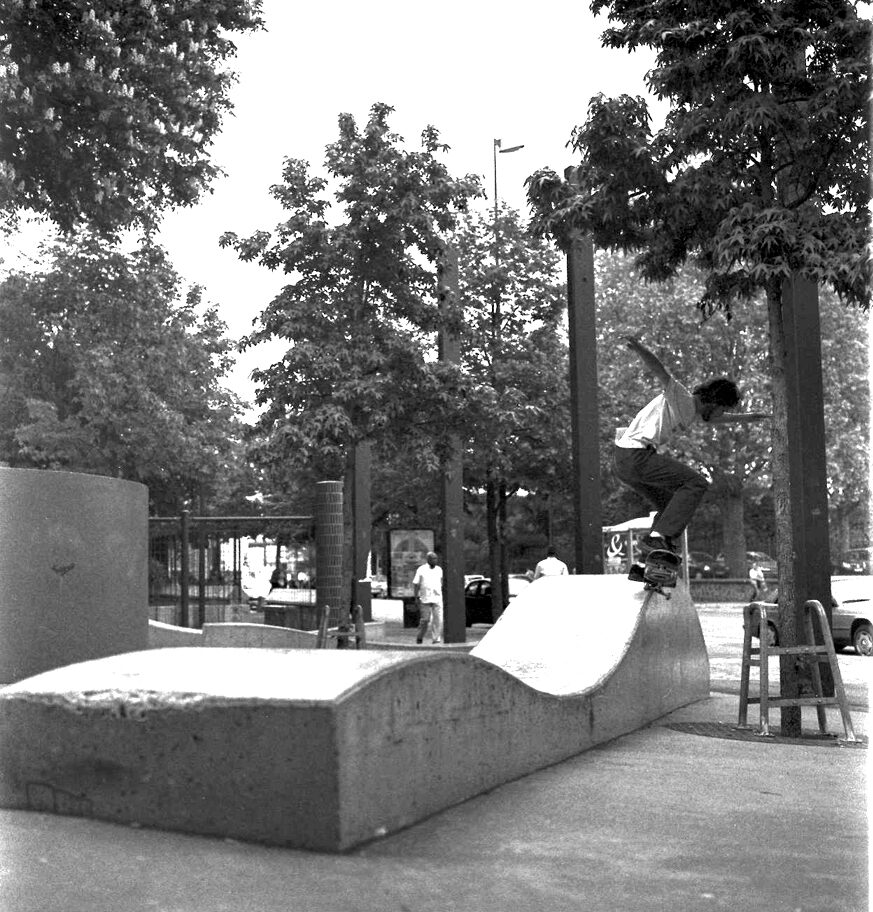 Nate Broussard: Backside Nosegrind, Paris: Shot by Josh Stewart
Nate looked like he had a good time in London. How did his Frontside Boardslide he did in Covent Garden by Slam City Skates go down?
Yeah, Nate was going through girl trouble during that trip. Some days he'd be super down and other days he'd be hyped. I think that's kind of why his song ended up being what it did because it sort of matched his mood throughout filming for the video. But Nate's style fit the London backdrop so well.
That front board is something everyone passes every day but nobody ever skated. It's just really uncomfortably tall to get onto so it didn't seem to make sense to skate it. But Nate started getting onto it pretty quickly. I felt like I didn't film that one right but I wasn't going to ask him to do it again.
What was the best thing about filming with Nate in London for it?
London is just a beautiful place to film in and it fit the feeling I was trying to create with Static so well. And, like I said before, Nate's style was just a perfect fit for the elegant architecture of London so I was super hyped on everything we got there.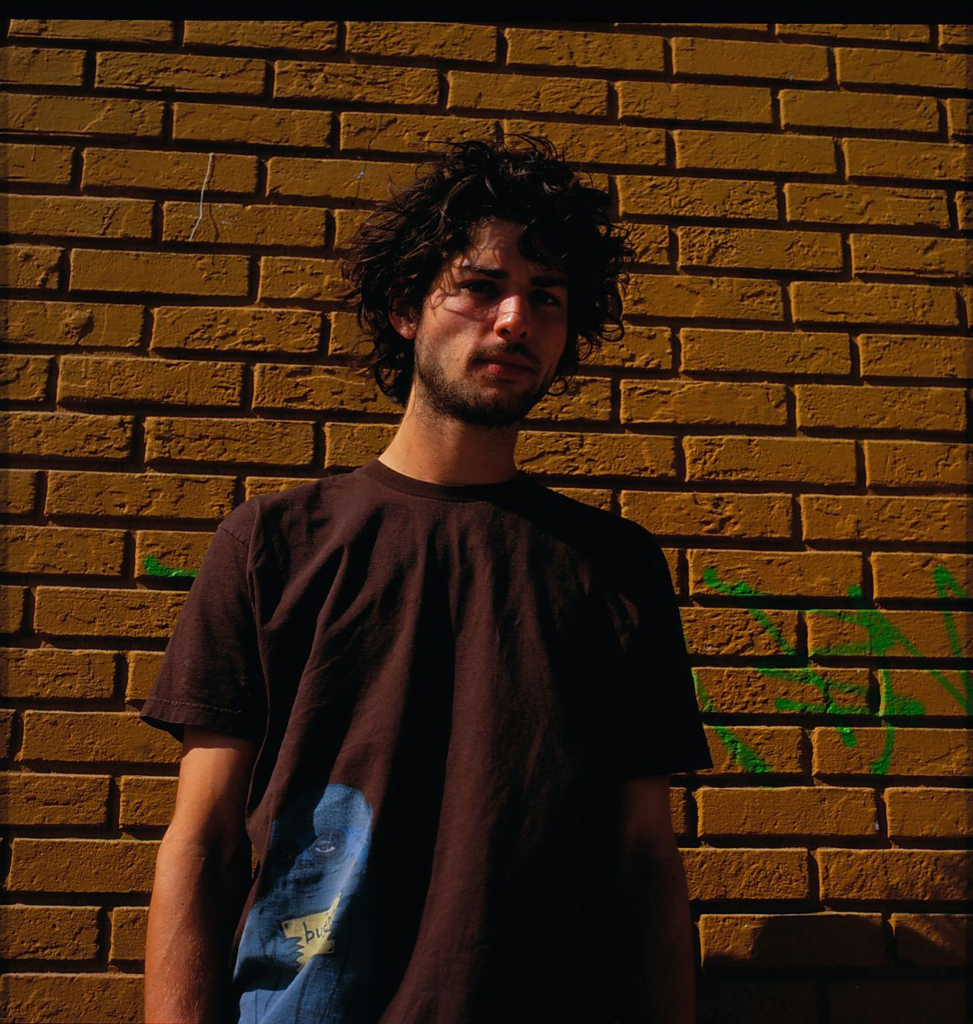 Nate Broussard: Shot by Josh Stewart
Do you have a favourite trick from Nate's part in Static III?
Hmm…probably his line in Israel with the Ollie to Nosepick.
Just the way he flows, the spot and the trick he ends with is so sick. That or his back Nosegrind on the wave in Paris.
Who had your favourite part in Static III and why?
Haha…I can't really say I have a favourite. But Pat Steiner's part was the one I was able to work the most on.
Pat is a perfectionist so he would film every trick or line 3-5 times. I feel like his part is the most complete, the song was a band I bet nobody had ever heard before and Pat's skating was just at an all time high. I feel like it showcases his talent better than most parts I've been able to do in any Static video.
Static IIII was long awaited. What was it like filming Quim Cardona?
Quim Cardona's just so incredible. His positivity is infectious and his style is probably the most unique and sickest style of all time in my opinion.
Quim Cardona, Bike Ollie, Astor Place, New York, Filming for Static IV: Shot by @pepkim
To have him included in Static 4 was such an honour. It was never easy getting him to actually show up when we made plans and sometimes we'd end up just cruising around while he hollered at girls but when he did get stoked on a spot I was like a kid in a candy store filming him because he's just one of the most incredible east coast styles and personalities ever.
Why did you include Quim's street poetry in the section?
Dude I was riding around with him in his car and he had an old cassette tape he played for me and it was some of his rhymes from the 1990's when he was 17 years old. He recorded them on a karaoke machine. The sound quality was so dope. It really felt like you were in the 90's just from the sound of the tape. I begged him to send it to me and he finally captured it digitally and sent it to me.
Quim is an amazing artist, he embodies so many of the raddest elements of the 90's in his rhyming, his skateboarding, his style, etc. Including his rhyme really helped create the overall felling I was trying to achieve with the Static project.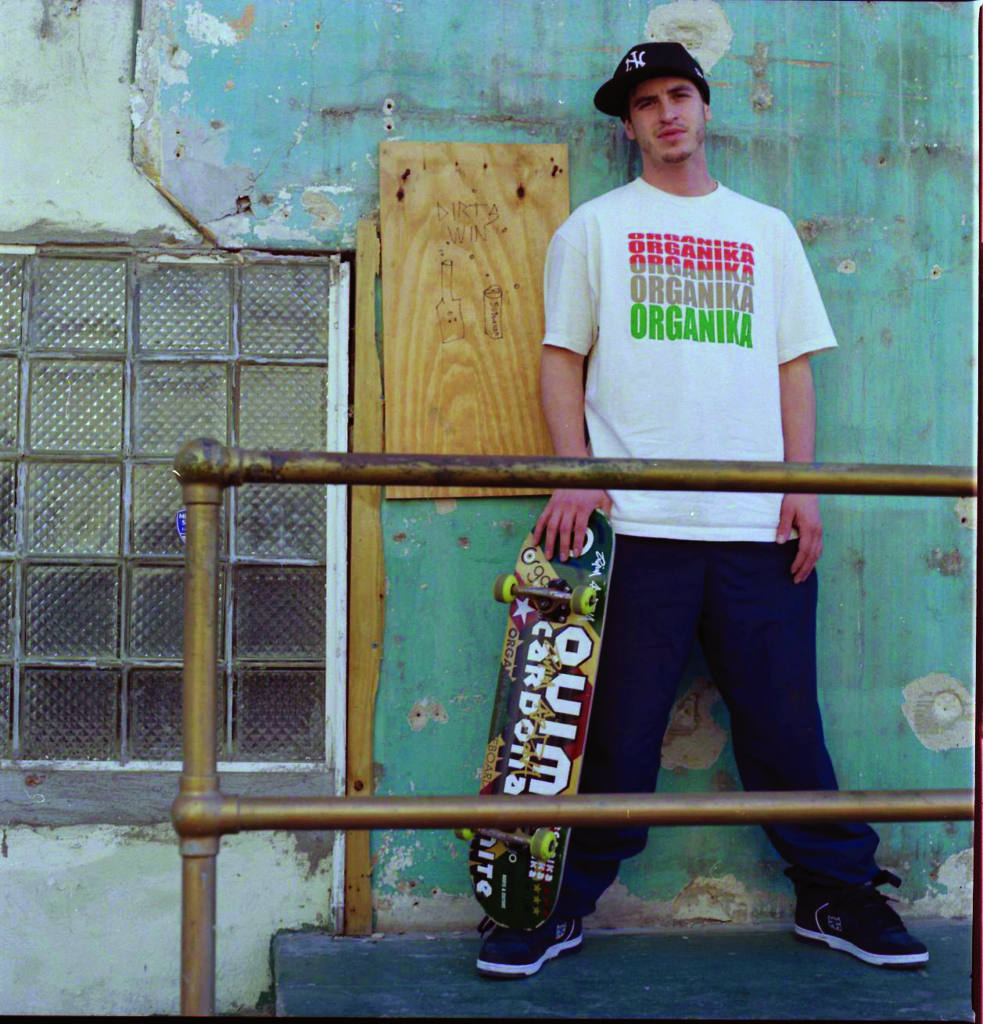 Quim: Shot by Josh Stewart
Quim skates a lot of transition in the part, why did you choose to include some more of his transition footage and his street footage
Does he? I'm trying to think of what transition you're talking about. He does that Pivot on that crazy spot in Washington DC, oh and he has a trick in the pool and oh yeah that crazy dumpster drop in Wallie.
I mean, it's all awesome, so of course I included it. Quim makes everything looks sick and those spots were all so unique. Especially that insane dumpster.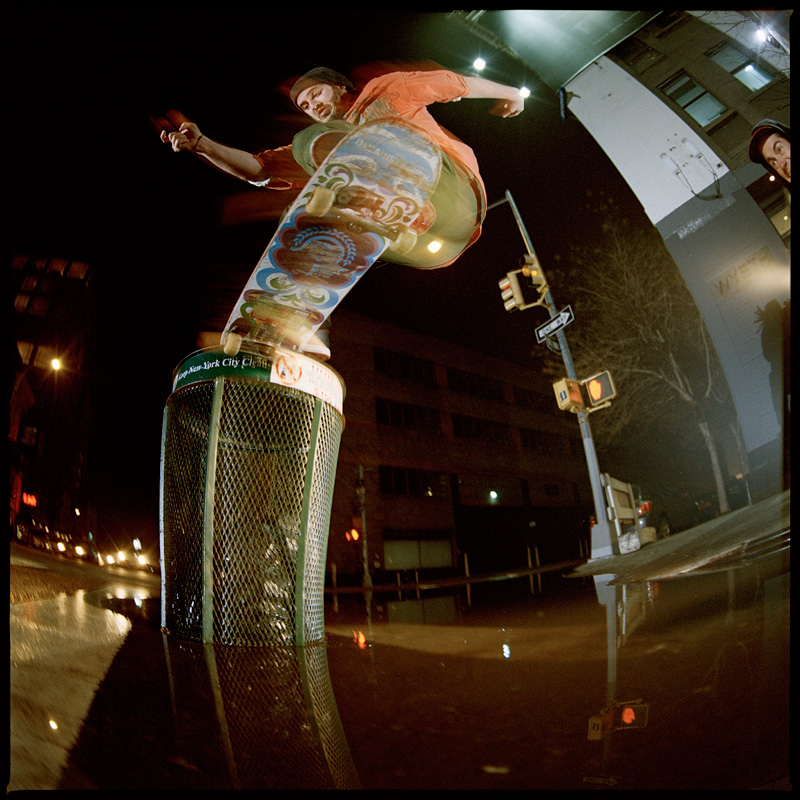 Quim Cardona, Gap to Backside Noseslide a Trashcan: Photo by @allenying
Jake Johnson's section is one of our favourites in it. How did you end up filming with him in SF?
Jake Johnson was a super last minute addition to the video.
Ryan Garshell from GX-1000 is a friend of mine and he told me he had been saving a lot of strong Jake footage and asked if I'd be interested in doing a part. Haha. It was like a gift from heaven.
I flew out to SF to film with him myself so that I could capture some 16mm to give it the Static vibe and only filmed a few tricks of him myself.
But Ryan is such a great VX filmer it really was a great fit because we set our colors very similarly and it felt very homogenous with the rest of the video. Thanks again Ryan!
Jake's epic Wallride is heavy. What was it like to film it?
I didn't film that unfortunately but it's in Canada. Ryan Garshell sent me that clip and I almost had a heart attack I was so hyped.
When you get the clip you KNOW is your ender it is such a relief.
Static IIII was a masterpiece but you released Static V and VI at the same time.What was the response to their simultaneous release?
Yeah, it took 7 years of filming off and on to finish Static 4. And in that time I ended up building up parts with a LOT of different skaters.
So at some point I was trying to think of a clever idea that would surprise people and create some buzz. I always like having a secret at the premieres that people don't expect.
Static 4, 5 6, DVD Boxset and Zine
Nobody knew Jake had a part, so that was one big secret. But then the idea of splitting it into two full-lengths was the second surprise.
So at the premiere, after Quim's part ended it went into the credits.
Some of the skaters with parts in Static 5 started tripping, looking at me with wide eyes like "Dude, where's my part!" and then a title popped on the screen telling the audience to take a 10 minute break and then return to their seats to see the premiere of Static 5.
Everyone's reaction was so awesome it made it all so worthwhile.
Brian Clarke told me during the intermission his parents had come to the premiere and when he thought his part had been cut he was freaking out. Haha.
Snowy and Joey, London: Shot by Josh Stewart
Snowy's Wallie BS 360 at SB in Static 5 is legendary. What was it like filming that trick?
Haha…dude I was just praying Snowy would land it. He was coming so close but something like that you can't really tell if it's possible or not until someone is rolling away. Snowy is so rad I was stoked for him when he finally made it.
Snowy: Shot by Josh Stewart
What's your favourite trick that you've filmed at Southbank?
Oof….I don't know, probably Snowy's trick.
But Joey Pressey did a Wallie and landed to Nosewheelie in a G-Turn and rolled back into the bank.
I realised just a few months ago I never used the clip. So I put it up on Instagram recently. People were tripping.
Joey Pressey in Miami: Shot by Josh Stewart
Nick Jensen's Nollie Frontside 180 over the bench into the bank was pretty banging too.
Who had your favourite section in Static 5?
Dude, the guys all killed it so hard I couldn't pick a favourite.
It's such a good mix of dudes, from Aaron Herrington to Steve Brandi and from Jahmal Williams to Jake Johnson. It was a gnarly line-up.
Aaron Herrington, Boneless for Stativ IV: Shot by @pepkim
Any advice for skate filmers on how they release videos nowadays?
Man, it's really tricky. Now with COVID it has changed everything. To me, the premiere is by FAR the most important part.
It allows you to really capture your audience's imagination and fully immerse them in the experience of your video. And if you can surprise people with some unexpected twists they will always remember that experience and it creates some buzz for the people who haven't seen it yet.
Josh Stewart, Shooting 16mm from the bed of a truck: Shot by @pepkim
You went to the Amazon with Skateboarder Mag, how long were you there and what was the gnarliest thing you saw?
Dude, John Mehring set up that trip and I am so grateful he invited me to join. That was definitely a milestone trip for my life.
I think we were there for 10-14 days, if I remember correctly. Funny thing, I picked up a book earlier that year by my favourite author and he only had written about archaeology up to that point so I expected his new book to be the same.
But instead it was about the altered states of consciousness achieved through psychedelics like Ayahuasca. At first I didn't want to read the book but after I finished it I was so impressed I told myself "If you're ever in the Amazon with a medicine man, you've got to try ayahuasca".
Which is crazy because I've never gotten high, I've never even been drunk. I just never was into the idea of drugs or alcohol.
But the case this book made for the importance of psychedelic plants made me open to the idea, but ONLY if I was in The Amazon and with a native medicine man. Then literally the same week I finished that book I was invited out of the blue to go on the Skateboarder Mag trip.
It was so coincidental. And then at the last night of the trip we happened to find ourselves on a small island in the middle of the Amazon river and we were being given a private performance by a native tribe and the town medicine man walked up to us and said through our translator (Adelmo) if you choose to do Ayahuasca, sit on the left bench, if you choose not to please sit on the right bench.
Josh Stewart shooting in the Amazon
I was just like "the universe is obviously lining this up for me so it's meant to happen" so I sat on the left bench and threw caution to the wind. That's a whole other interview in itself, but it was an incredible experience. And not in like an "oh maaan, it was so trippy!' kind of way. It was like an important and moving experience and I just can't believe how it all just fell into place. So yeah, it was an amazing trip.
What have you been doing to pass the time over Lockdown?
I've actually been skating a lot myself.
Over the past 20 years I rarely have gotten to skate much myself because when I am able to get out of work to skate, I'm always just filming. But during the pandemic I've been going out a bunch by myself skating a lot of crappy spots. It's been amazing.
I've skated more in the last year than I have in the past 10 years, for sure. My body is having a hard time holding up but it's been worth it.
Cool. So where have you been skating recently and who with?
I've actually been in Florida for the past few months.
I came back for Christmas and then just stayed for a while to avoid the bad weather in NYC.
I did a filming trip to New Orleans to film with Jordan Trahan and then did a Miami trip with a bunch of Theories, Hopps and Dial Tone guys.
It was a blast. I hadn't filmed in Miami in 10 years, since the MIA video project wrapped. And it was a lot of fun. And staying on the beach while NYC was covered in snow was quite a treat.
Who is your favourite skate photographer and why?
Hmmm…over the years I'd have to say my favourites have been Mike O'Meally, Dan Sturt and Oliver Barton.
The reason is that I feel like I could almost always see one of those guys photos in a magazine and know almost immediately that they shot it.
Sturt and Barton just had such a rad signature style, especially in Barton's earlier days when he was in London. I kept finding myself getting stoked on a photo in a mag and checking to see who shot it and every time it would say "Bartok". So he became a favourite.
Skateboarder Mag had an amazing team for a little bit. Barton, O'Meally and Gaberman! Are you kidding me? Dream team!
Where's your favourite skate spot in your city?
My favourite spots are pretty much garbage by most people's standards. Just crappy, hot parking lot spots back in my home town in Tampa, St. Petersburg.
But I always have a blast because I know no other skaters would even bother skating them so I always have them all to myself when I'm back in town visiting family.
Where's your favourite skate spot in the world?
Haha, well unfortunately some of the raddest spots I've ever been to I never got to skate.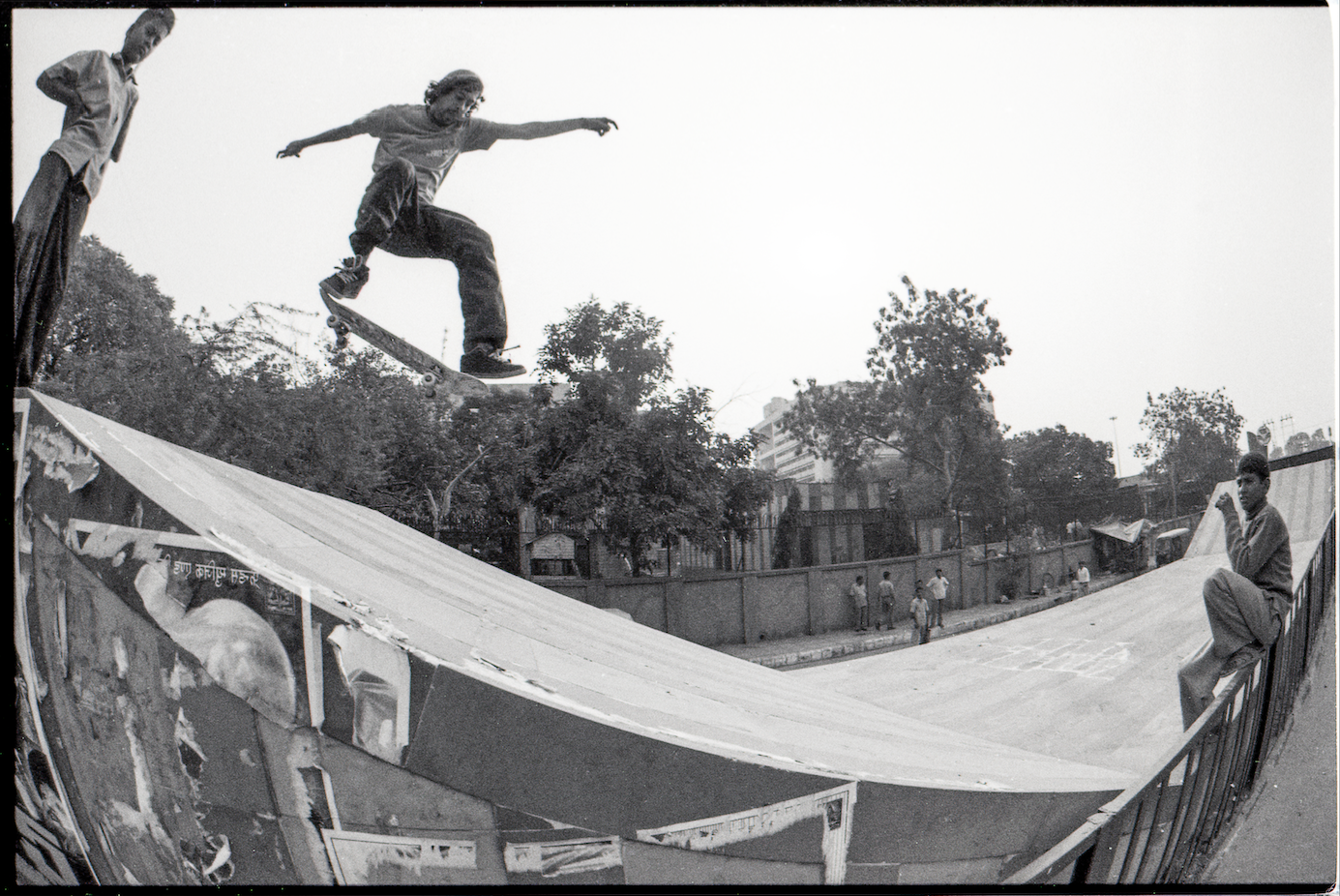 Soy Panday, Switch Flip, Delhi India, filming for Static III: Shot by Josh Stewart
I'm always at spots under the role of a filmer and if I start skating the spot I won't be able to stop so I usually just film and then when I skate I skate by myself so there's no stress over knowing someone is waiting for me to film them. Haha..
But some of my favourites have been NDK Plase in Sofia, Bulgaria, those volcanoes in Haifa, Israel, the Olly Todd brick tubes in that London garage.
What's your favourite photo of all-time?
There are just too many great photos to pick just one
Agreed. But what's your favourite skate video ever?
I'm always torn on this question between "Memory Screen" by AWS, "A Visual Sound" by Stereo or "Underachievers" aka "Eastern Exposure 3" by Dan Wolfe.
They each kinda represent a different element of the skate video experience that I think are the most important.
Memory Screen is a true work of art, it creates such a unique vibe and experience that is incredibly eerie and mysterious.
The art direction is just amazing and although the skateboarding is super sick, it's attainable, meaning they're skating shitty parking lots just like every kid in America has in their town.
A Visual Sound is just so beautifully crafted to give you an insanely heavy dose of style. From the Super 8 to the music to Jason Lee and OMH Mike Daher's part, I think this video was like a crash course on style for everyone in the mid-90's.
And then EE3 is probably the best example of true street skateboarding ever captured.
Dan kept it so cut and dry. I usually don't like videos as much when they don't have a lot of style and creative direction, but man he captured just the bible for east coast skateboarding with not only the perfect cast of skaters but also so well edited together, it's probably the most rewatchable skate video of all time.
Who has your favourite style on a board and why?
These are impossible questions…haha. I'll have to give you a list. I have lots of favourites.
Quim has by far one of the sickest styles ever.
Ricky Oyola's push.
Tom Penny in his hey day.
Keenan Milton, everything.
Jake Rupp
 Jordan Trahan
Who's your favourite artist?
I'd say I'd have to choose artists who've influenced me within the film and video medium so to name a few those would be
Mike Hill
Spike Jones
Any upcoming releases you would like to mention?
We had a new edit just drop for Picture Show that I'm pretty proud of.
It was a lot of fun to work on and I think it's pretty unique. But I have some other surprises coming this year.
So hopefully people will be stoked, just keep an eye out.
Rad. Will do. What do you think about The No Comply Network?
It's awesome.
There's so much creativity and so many true individuals within skateboarding and it's rad to see that celebrated and called attention to.
It's crazy how influential the artists within skateboarding have been to other industries and the greater art scene, it's cool to see you guys showcasing all of the creatives that have helped shape the culture of skateboarding.
Thanks. Any last words Josh?
No, just thank you for including me and for promoting creativity in skateboarding.