Eyedress is a skater and multi-instrumentalist, singer-songwriter-rapper, who shreds on his skateboard, guitar and pretty much whatever instrument he gets his hands on.
He's made some of the most hype-inducing and thoughtful tracks that we've heard by anybody who skates and makes music so far. 
When he's not bomb dropping or cruising down hills, he's in his studio, writing new rhymes and creating imaginative melodies, lyrics and beats for his songs.
His sound is rooted in skate culture. It's the main reason his songs resonate so well to other skaters ears. But its important to note, every single track he releases is always infused with his own unique delivery and flavour.
After listening to a series of his tunes and cutting a few remixes and loops to his songs, we were stoked when he hit us up to say that he liked them. So we had to take the opportunity to ask him some questions about his skating and his music and ask him to join The No Comply Network.
We were hyped that he was down.
Read Eyedress' interview below to discover how he kept it rolling as an independent artist from Manilla to getting signed to a major label and has found himself living in Los Angeles, find out how he became mates and collaborated with Mac DeMarco, Lucien Clarke and Na-Kel Smith, his stories behind creating his songs and music videos, his tours, trips and gigs, details on his upcoming releases and his favourite tricks, videos, skaters and artists of all-time and more.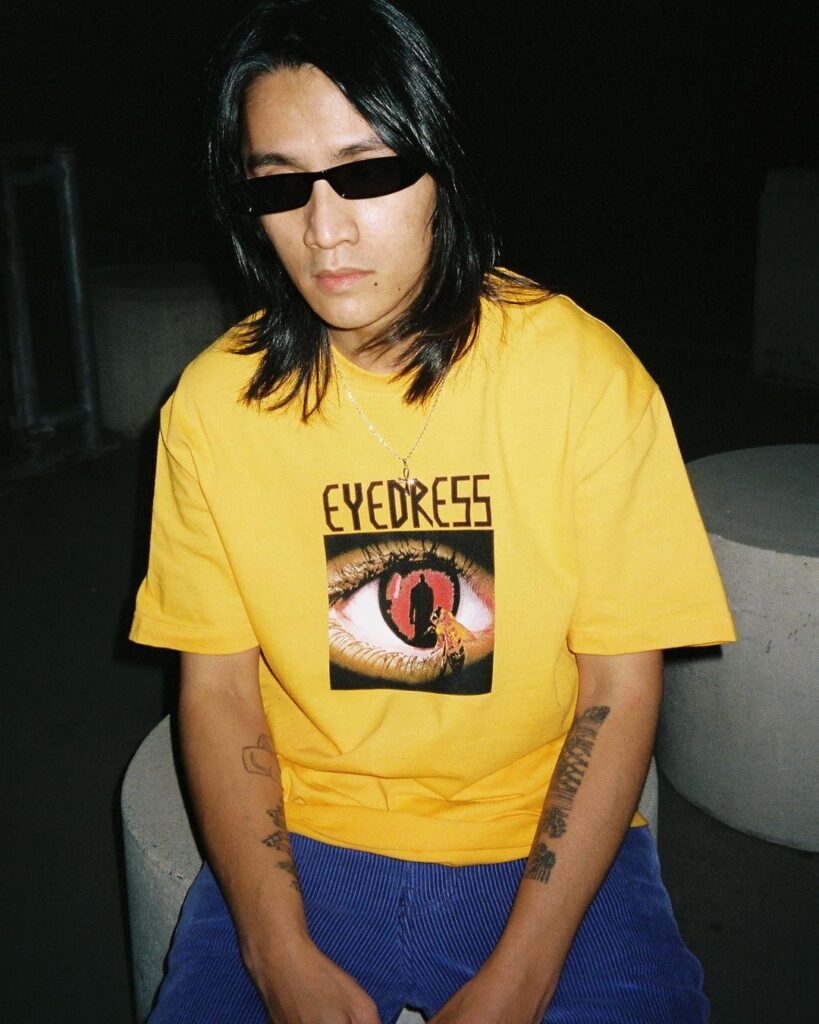 Eye Dress: Shot by Razy Faouri
What's your full name?
Idris Vicuña.
My mom named me after a king in Libya that was beheaded!
Where did you grow up and where do you live now?
I was born in the slums in the Philippines, then when I was 5 my dad moved my family to America I grew up in Phoenix, Arizona until I was 13.
Then we moved to San Clemente California til I was 15 then we moved back to the Philippines.
I lived there until I was 28 then I moved to Los Angeles and haven't left here since.
When did you first see skateboarding and think I want to do that too?
My neighbours in Phoenix would always skate the curb in front of their house, so seeing them skating eventually made me wanna get a skateboard.
What kinds of music were you making as a kid?
As a kid all I could play was "Come As You Are"by Nirvana and the solo to "Fade to Black" by Metallica.
I wasn't very good at instruments and it honestly took me some time to figure all this out.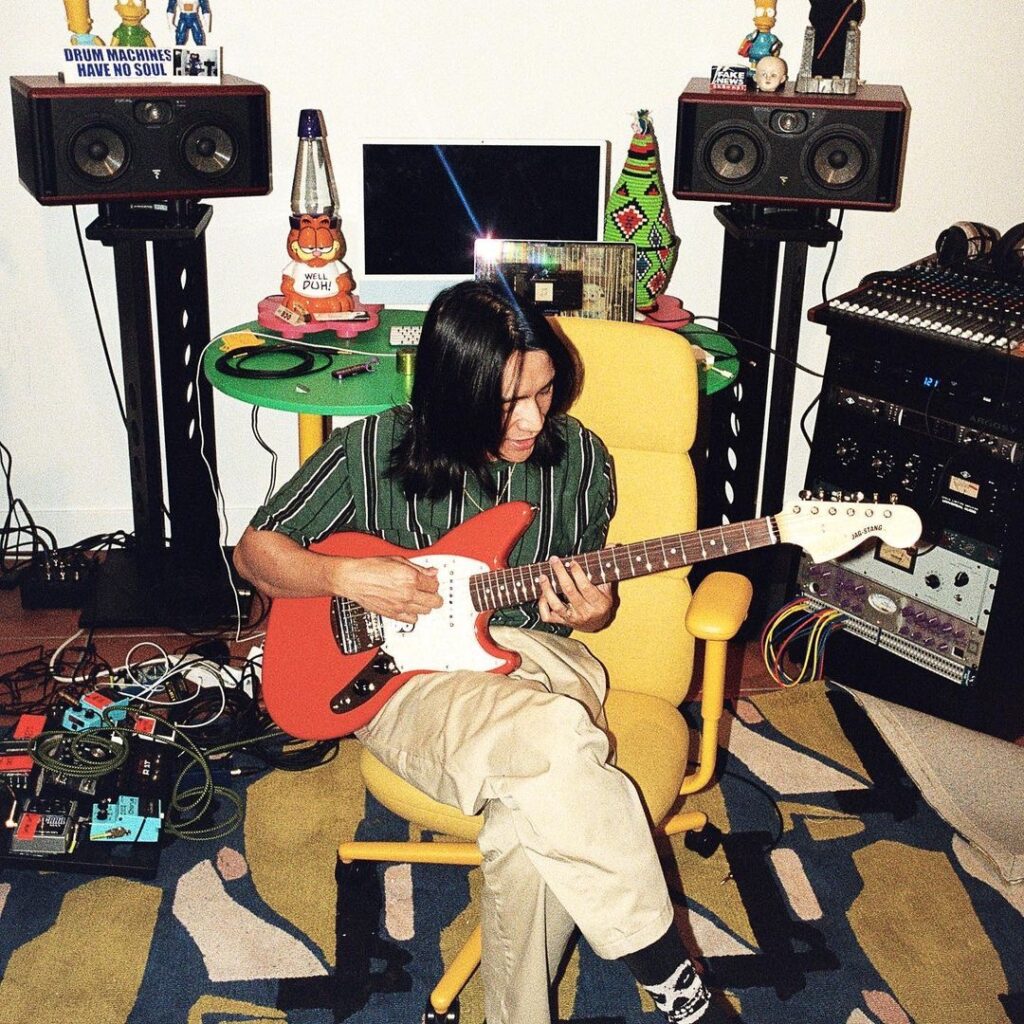 Eye Dress, Studio time in his Music Room: Shot by Razy Faouri
Was there a particular musician you heard as a kid that motivated you to make music?
Mostly Kurt Cobain and Sid Vicious then when I got older like in high school I started diving deeper into different genres like shoegaze, post punk and garage rock from the 60's.
What was your first skateboard set up and where did you get it?
It was probably a Hot Wheels board from Toys "R" Us lol.
My first actual set up I think was either a Birdhouse or Shorty's board and I probably got it at Cowtown in Phoenix.
The video for 'Look Past the Past', gives a glimpse into your young skate life but who was in your first skate crew, where would you go skate and what were those experiences like?
It was just me, my friend Jeremy, Daniel, and Felipe.
They were the only kids in my school that skated so we formed our own lil skater crew and would go skate churches and spray paint 666 and pentagrams on the walls and run away like a bunch of idiots. It was fun though we did a lot of stupid shit that got us into trouble.
In that video you see a lot of classical American neighbourhood spots being shredded. Were you mainly skating the streets or did you go to skateparks the most in those early years?
I would go skate the streets whenever we weren't at the skatepark. I also loved filming.
My dad had a Hi8 camera that I would take with me when I'd go skate with my friends that's how we made Look Past the Past.
Where do you like to skate the most nowadays?
Anywhere lowkey. I like really artsy spots too like buildings with cool weird looking architecture but you can only skate those for so long before you get kicked out!
The last time I skated was at band practice.
I wish I had more time to skate but I'd just be doing stupid shit like Acid Dropping off of anything and everything lol whatever's clever and fun and looks cool on video.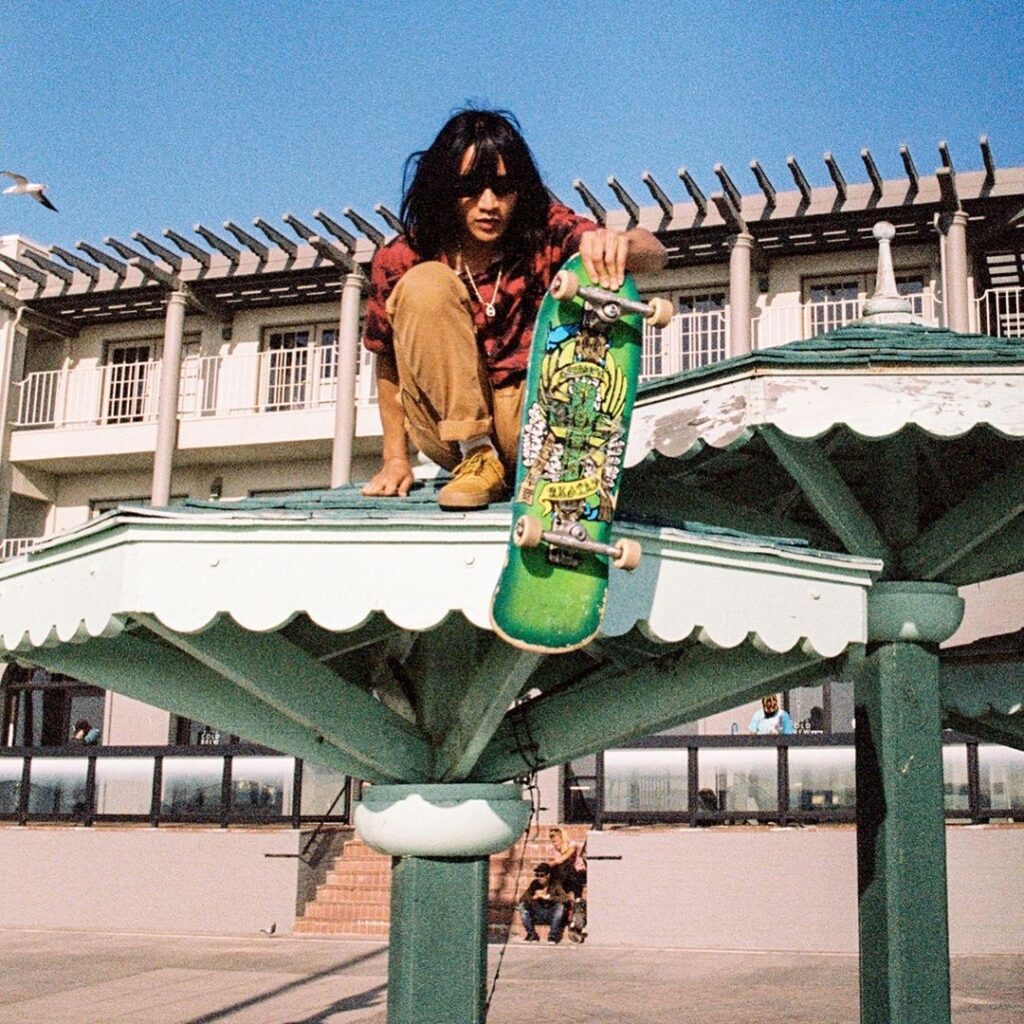 Eye Dress, Pre Bomb Drop Shot: Captured by Oodles of O's
I've seen clips of you doing Hippy Jumps, Bomb Drops and Fakie Bigspin Flips on your board. But what's your go-to trick to put down on flatground?
Like a Fakie Big Flip it's just really easy and fun for me and they also look sick on camera.
What's your favourite trick that you've ever done on your board?
I used to be really good at Back 180s and I'd do them off the highest bowls at the skatepark.
Which skaters did you look upto in your first few years of skating?
Jim Greco and Andrew Reynolds cuz they were piss drunk rocker foos in tight pants but before them I was just into like Jamie Thomas, Ed Templeton and early Toy Machine and Zero vids and everyone on Fulfill the Dream, I don't know, there's too many!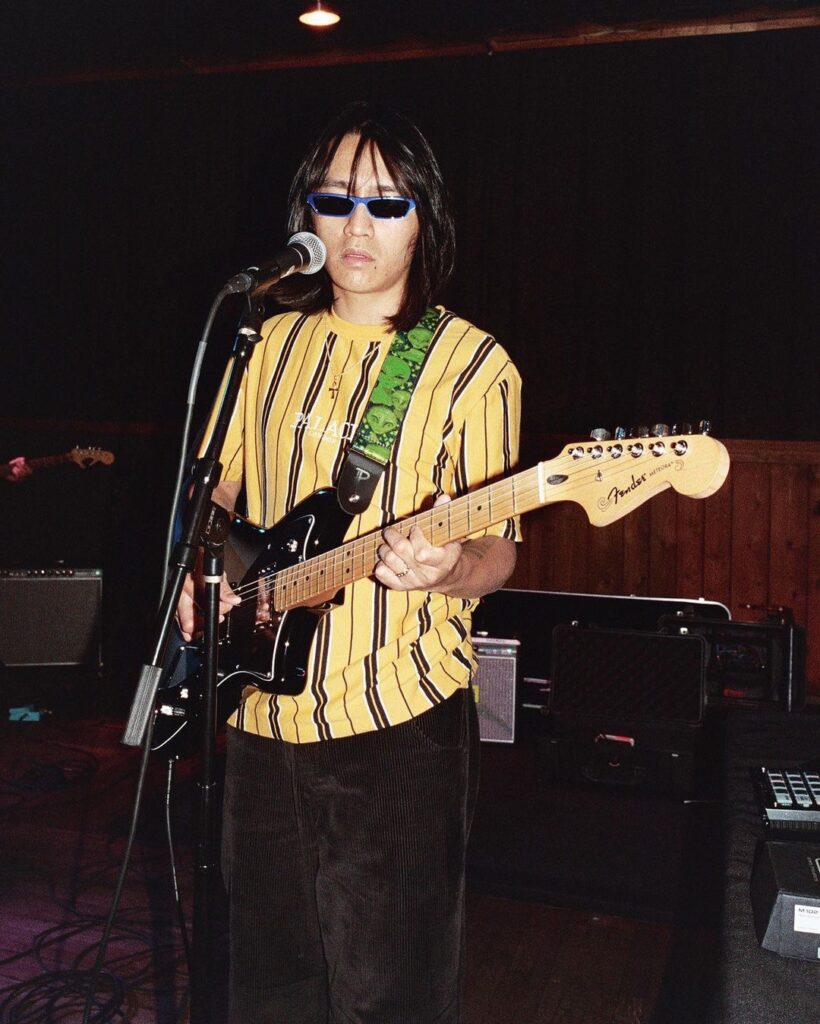 Eye Dress, Setting Up: Shot by Razy Faouri
What was the first skate video that you had on rotation the most?
Fulfill The Dream and Misled Youth.
Baker 2G everyone was so gnarly and the music was always fire.
What's your favourite skate photo?
Jamie Thomas doing the Leap of Faith.
I really liked skaters who skated big drops and this is probably one of the most gnarliest attempts ever captured on camera.
You mentioned Jeremy Wray's skateboarding as an influence on you as a young skater. What was the first skate video you saw Jeremy in that has left the biggest impact on you?
Jeremy Wray's part in One Step Beyond when he was skating those mountains and some of it was shot on film. I always loved when they threw in 16mm shots in skate videos.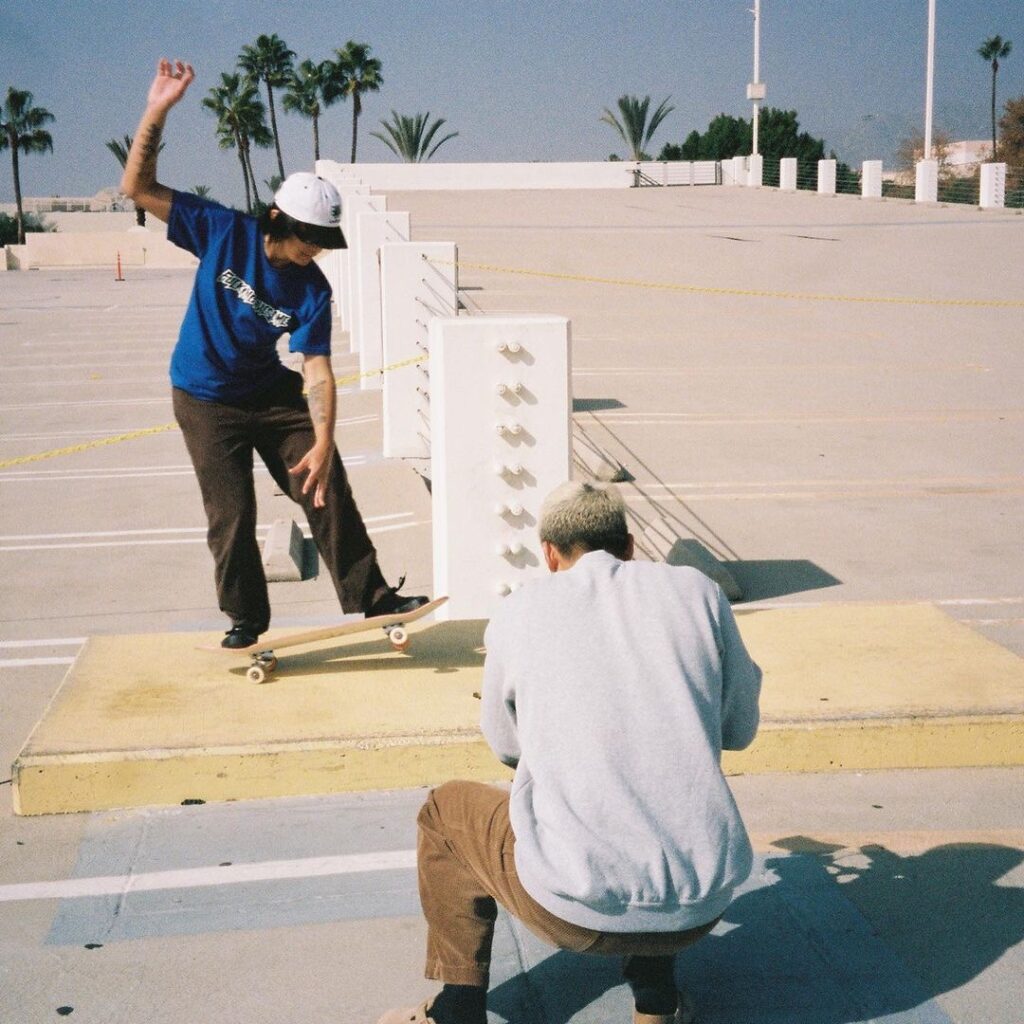 Eye Dress, Manual: Shot by Razy Faouri
Do you have a favourite Jeremy Wray trick or video part of all-time?
Definitely the part when Jeremy Wray Ollies that water tower gap, like who even does that!
It's definitely in the top 10 of most scariest tricks ever done in the history of skateboarding plus the picture that was on the Thrasher Magazine cover is so legendary.
You mentioned in previous interviews that skateboarding showed you a world, where you can hear and see Punk, Hip Hop and electronic culture all in the same place. Is there a particular skater, video, or part that captures that feeling of cross-genres without boundaries for you?
I think Baker 2G was it for me.
They had Bad Brains and Andre Nickatina, old Ludacris, The Locust, Donovan, and The Animals.
The team was so diverse too. It was also one of the most aggressive pissed off skate videos I ever seen. Also, seeing everyone getting fucked up was a vibe.
How long were you creating music before you started making your own songs?
I was playing in bands since I was 13 but never really started recording until I was 17.
You play guitar, bass, synths, samplers, and drums. What motivated you to play so many instruments, was it curiosity or necessity to self produce your songs the way you wanted to?
I just wanted to learn everything, I started out playing bass in bands.
My first band was an anarcho punk band.
We'd cover Rudimentary Peni and Crass and also play songs of our own.
They were all like a minute long and super fast then eventually I joined this indie band where we'd play like Built to Spill and early Modest Mouse type shit and after practice I'd go mess with the drums it was really out of curiosity.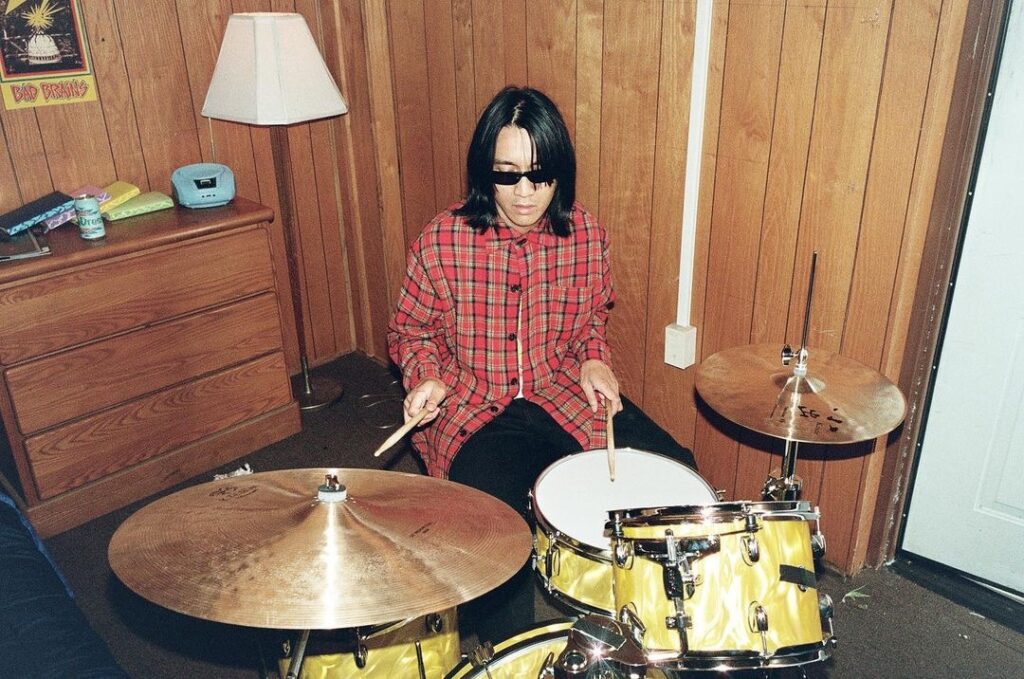 Eye Dress, Drumming: Shot by Razy Faouri
I never thought I'd be good but I just kept doing it and over time you get better you know and ideas started forming in my head the more I learned on guitars.
Eventually guitars and drums became really easy for me.
Then the next part of my journey was synthesizers and learning how to play the keys which I'm still not very good at but I make do with what I know.
Also samplers I discovered when I was a teenager so whenever I get bored of playing my instruments I'll go cut up some samples of old ass music and try to get my friends to rap on them. I really just try to make songs I grew up listening to a lot of the times.
I'm just trying to emulate artists from the past and try to add my spin to it by singing about my sometimes embarrassing life!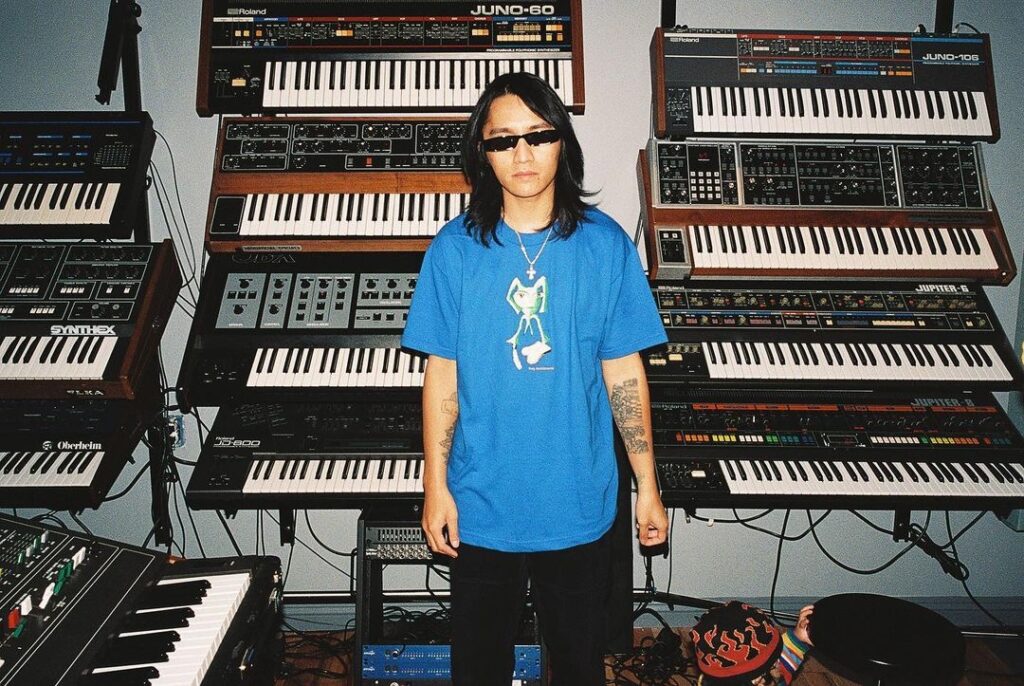 Eye Dress and his synthesizers: Shot by Razy Faouri
Do you have any advice for skaters who want to make music but can't find inspiration to start?
Get a laptop and download Ableton or whatever your preference is and learn how to record yourself. Once you do that your life will change I promise you.
Also make music videos out of all your songs. I don't care what you use – be it a VHS camera or your iPhone don't let what you use stop you from getting creative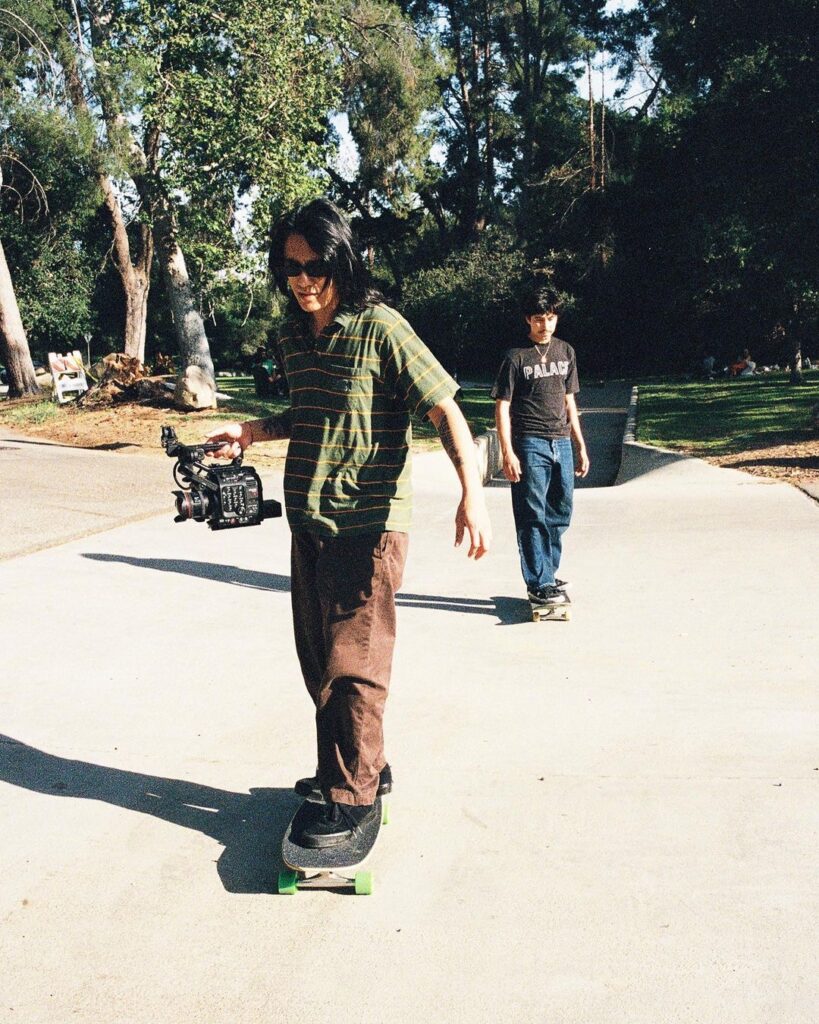 Eye Dress, Filming clips at a ditch spot: Shot by Razy Faouri
I've heard that you were mainly producing your songs into records at home and then releasing them online. But when did you start playing music live and what was that first experience like?
When I started playing in my best friend Julius' band called Bee Eyes we would play any fucking bar that let us play.
We did it for free and eventually started to get paid chump change and that kind of gave me hope that it could go further.
Eventually we played so many shows that we got booked to open for my friend Mac DeMarco in Singapore and Kuala Lumpur.
We were in the Philippines then, so getting to fly out to play a show felt huge for us and seeing Mac really inspired me.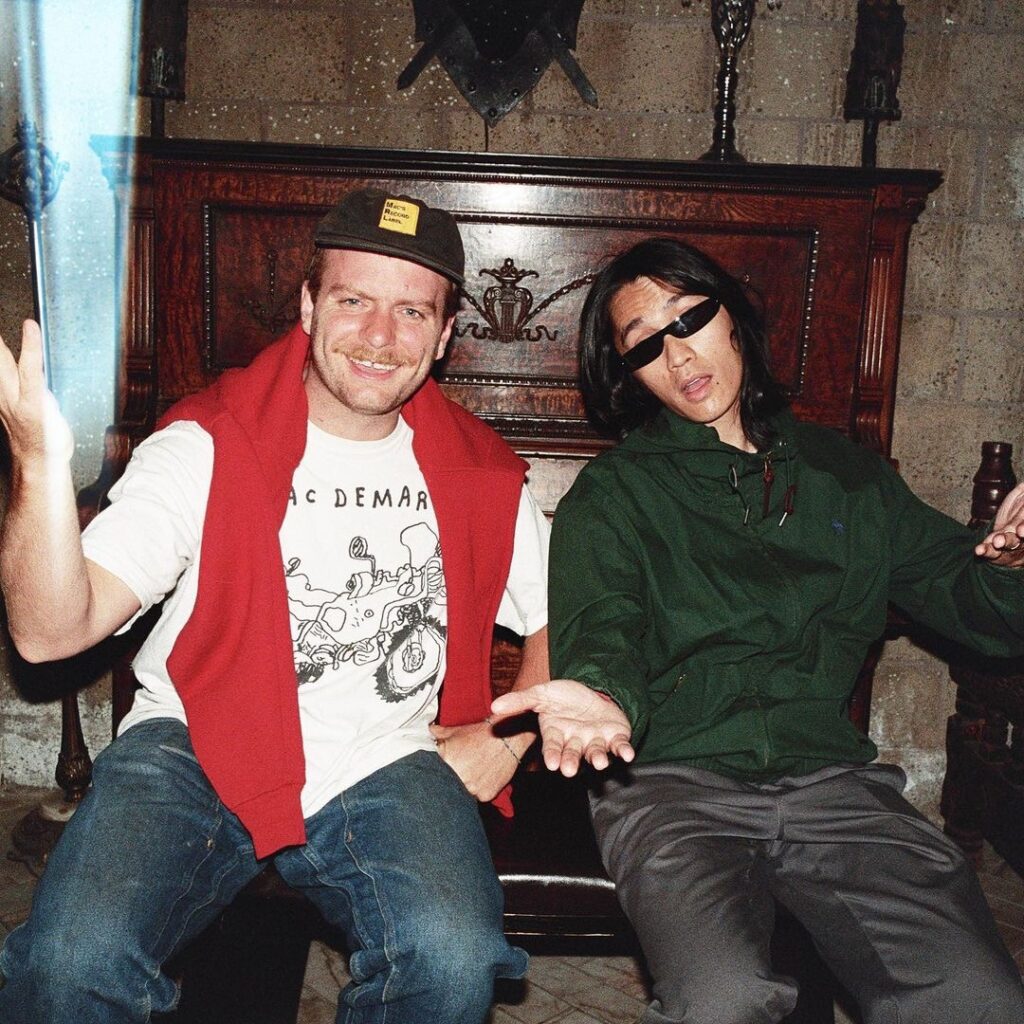 Eye Dress and Mac DeMarco
My band broke up and I started Eyedress and I opened for Grimes at the Hard Rock Cafe in Manila and my life started to change.
I would get booked to play Asia then Europe and eventually came back to America and I never looked back since. I've just been going as hard as I possibly can with this music shit, it's my life.
At what point did you realise that you could make music your career?
When people I never met started emailing me asking me to release my music onto tape or vinyl then eventually after gaining some traction online I got signed to XL recordings.
That was my first real record deal. Then they dropped me and after that is when Lex Records signed me and that second deal really changed my life because it brought me to America.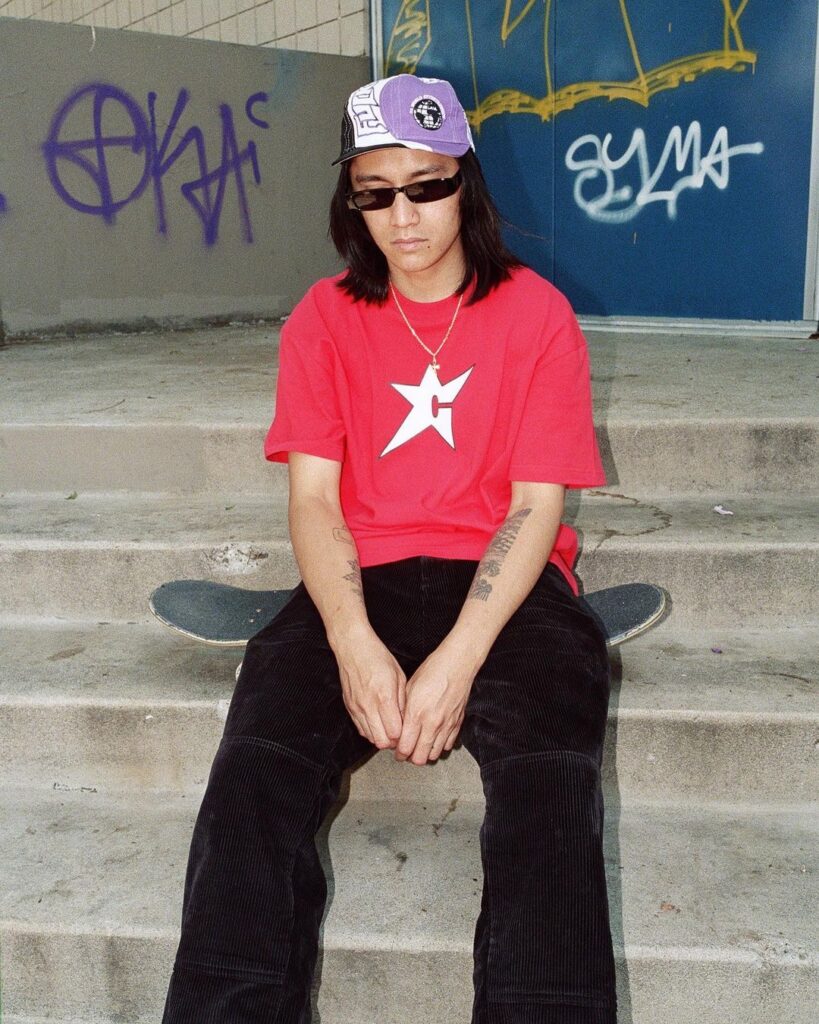 Shot by Razy Faouri
So when I was 28 Lex got me to do my first US tour and after that I knew that this was gonna work out just seeing how all my fans would go crazy and mosh and dance to my shitty songs really made me feel like the dream was tangible.
That's why after that tour I stayed in LA and just worked super hard and kept recording and filming videos with my friends until my shit went viral but you know even through all those times I experienced a lot of self doubt.
I'm very negative because I was born into poverty never fully believing that I could achieve such things because of my background but yeah here I am!
I'm signed to RCA and I honestly still can't believe it.
I'm just very grateful to be here and hope my story inspires anyone that sees my journey.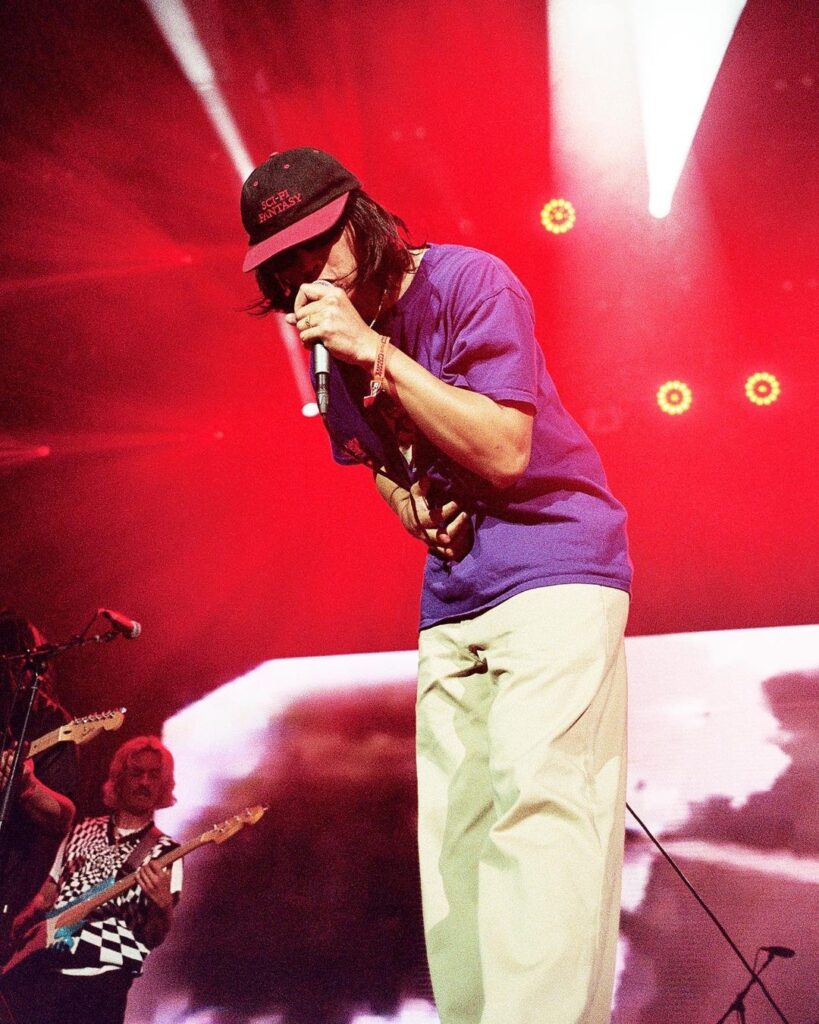 Eyedress on stage: Shot by Razy Faouri
You've now gone on to play Coachella, what was that experience like?
That shit was baller!
We rented this Versace mansion in Palm Springs with a mini golf course in the backyard and a big ass pool.
I had my family and my whole band and team staying there and even my friend Patrick O'Mara, who skates for Supreme and Joseph Campos who rides for Hockey, all stayed with us.
It was fun as hell. I did shrooms on my downtime, went to Boomers! and I tried to have the best time possible because that show was lowkey scary as fuck for me mentally haha.
What have been some of your favourite shows to play so far in your career?
I love almost every show I've ever played but recently I played The Novo in LA and sold it out.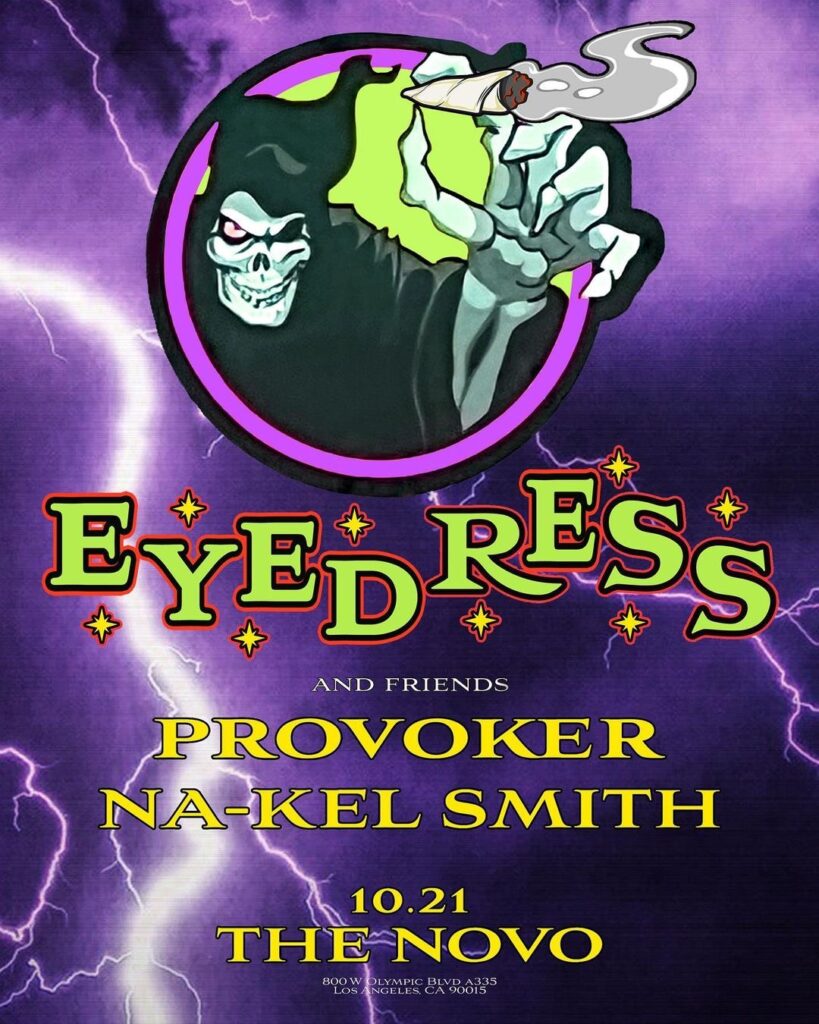 I've never seen that many people or would think that many people would come watch me and my band but yeah that shit was surreal and looking back that was definitely one for the books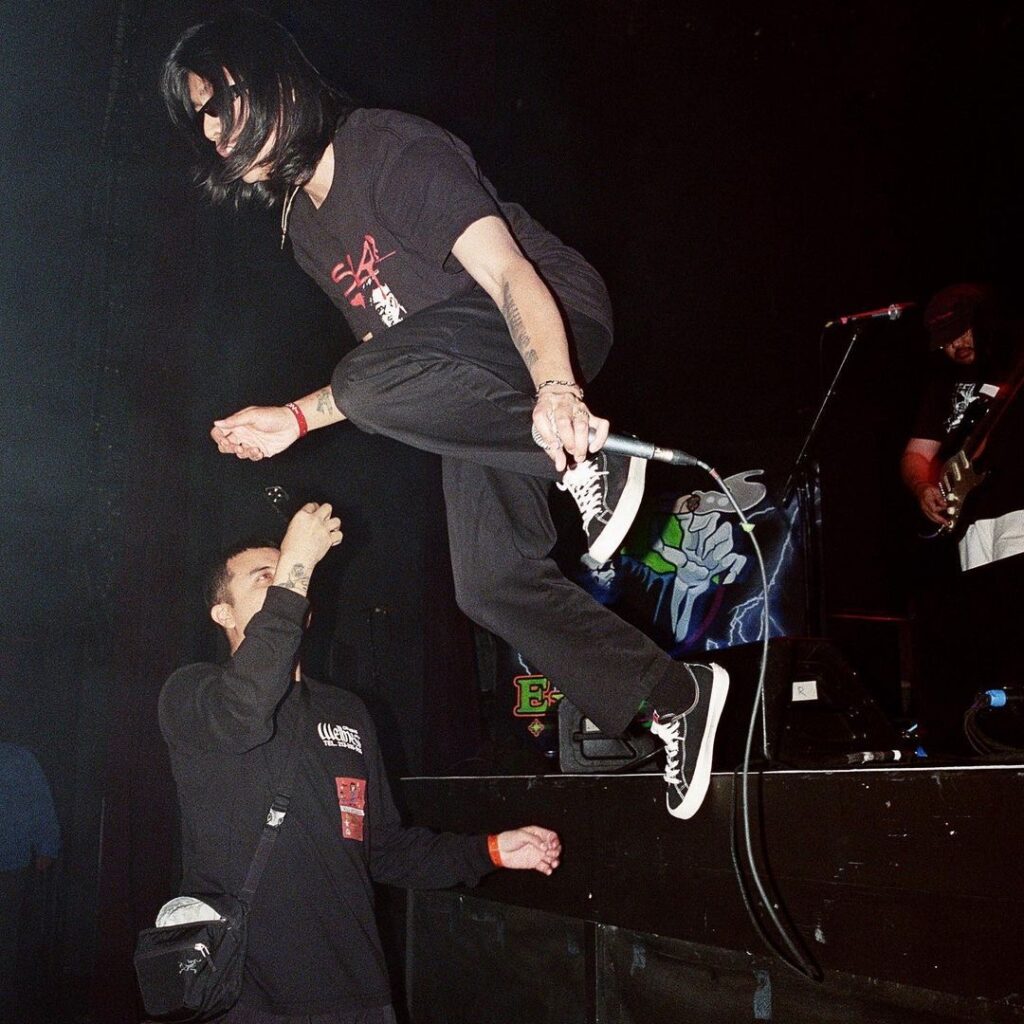 Eye Dress, Stage Jumping: Shot by Razy Faouri
I've seen you used to live in London. That's where we're based. Whereabouts did you live in London, how long were you in the city for and what was your favourite thing about living here?
I actually used to live in Denmark Hill when I was with XL. It was honestly rough as shit.
I stayed in a flat with a bunch of other artists and grime producers.
I was still a kid in my mind. I could barely cook and had never really lived on my own prior to that so I had a lot of growing up to do while I was there but yeah I've definitely been to London a lot because XL and Lex are both in London.
My favourite thing was probably the food getting Nandos, taking the bus.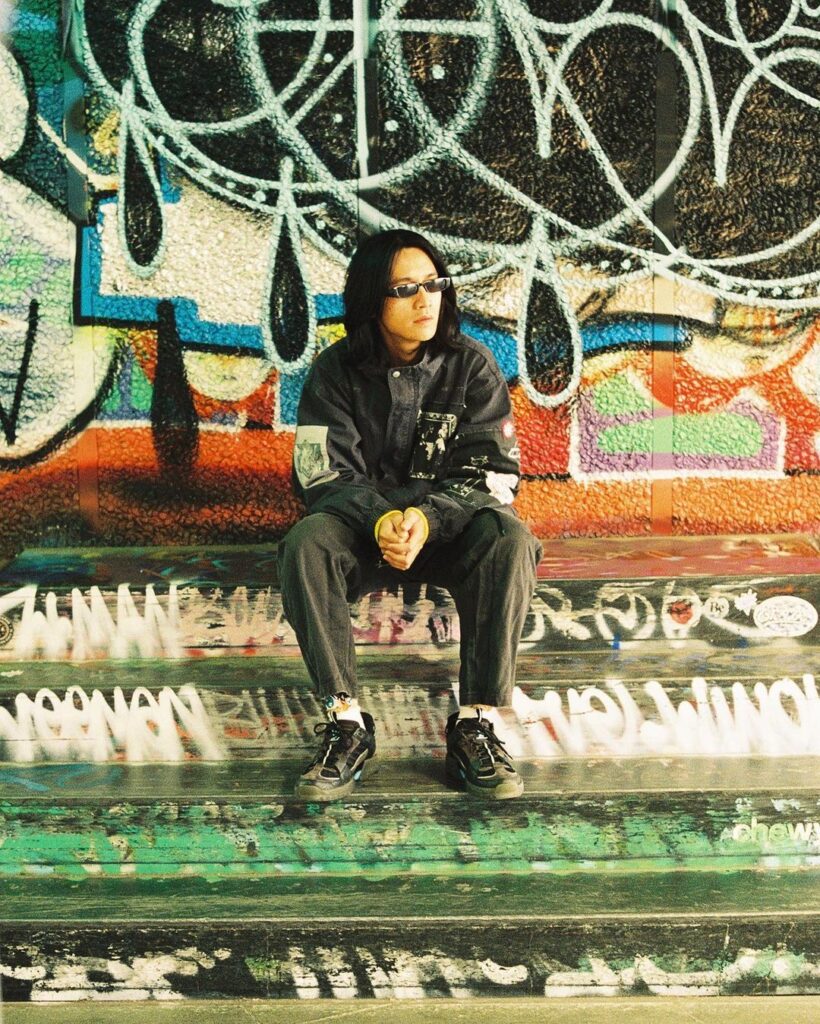 Eyedress, Southbank, London: Shot by Razy Faouri
I know it's not glamorous but I'm a simple man and really enjoyed the scenery, it's so nice compared to the Philippines so I was just really grateful to be anywhere but there you know I had a lot of fun.
I would hang out with King Krule, he took me to his mum's house and we smoked a lot of weed.
I would go to cool Boiler Room shows and watched Earl Sweatshirt and I even watched Drake with my old boss haha good times innit!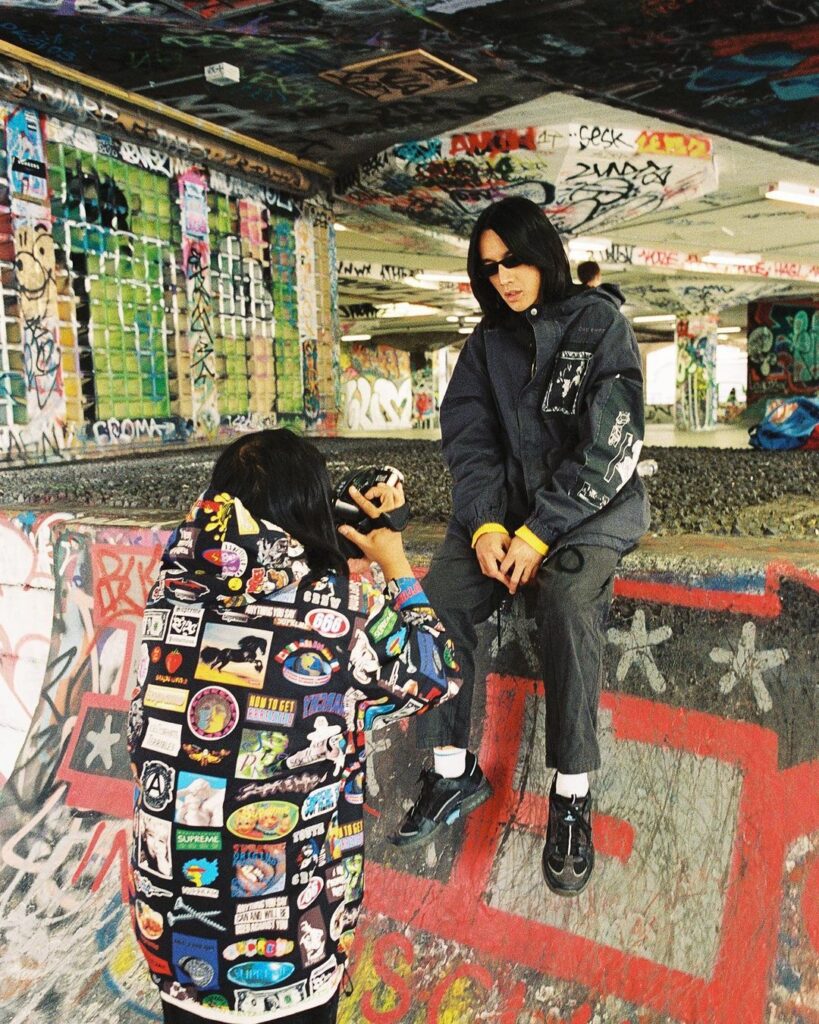 Shot by Razy Faouri
I heard you went into Supreme in London a lot. What was your favourite thing about those experiences, do you still remember anybody you met and do you still have friends in London?
Buying a £100 hoodie and the mean ass workers there that wouldn't help me get my size hahaha nah just kidding but man it was really my friends that made it so good.
I don't see a lot of them anymore or speak with them much now that I live in Los Angeles but yeah I had plenty of good times and British people definitely changed my life and are the reason I am in America.
So shoutouts to all the Brits who caught on with my music early on before I made a name for myself here in America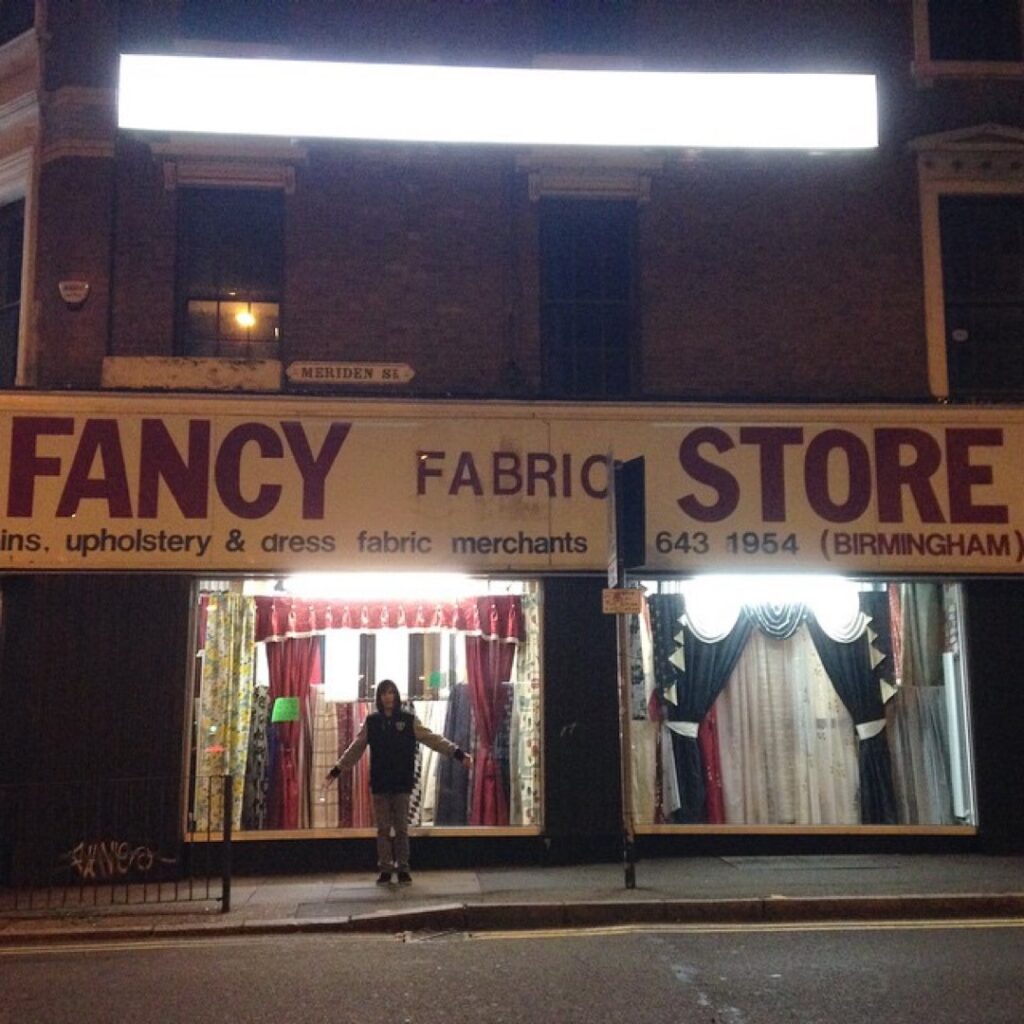 Eyedress in Birmingham, England
Your track "Jealous" off your 'Let's skip to the Wedding' album blew up online. What was it like seeing your song be listened to so much and what impact did it have on you at the time?
I was super stoked cuz when I wrote that song I was super heartbroken and felt like my life would never get any better.
You've also made a "Jealous" remix track with King Krule. How did you meet Archie and start to work together, when you lived in London, or when you had moved back to The States?
We met through Ratking.
We were all on XL at the time and I was just at the XL office with Ratking and then Archie pulled up and obviously I was a big fan of him cuz he wasn't just a rocker guy but also made sick ass hip hop music.
We never worked together when I was in London and I never thought we would.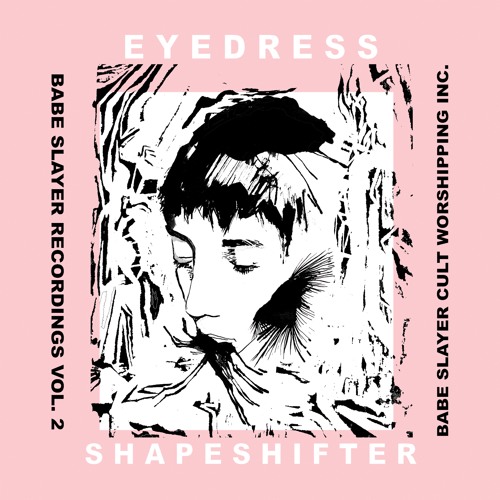 We started working together when I had moved back to the Philippines, he opened my album Shapeshifter.
We made a rap song called "Return of the Wicca Mane" then throughout the years he'd help me.
How do you mean?
Like he got me to speak tagalog on his track "The Cadet Leaps", a song off his Ooz record.
Then he returned the favour after when we did this track called "Chad an Gordy" on my Mulholland Drive record.
Are you still in touch with King Krule?
After the Jealous remix I haven't heard from him since!
King Krule's version of "Jealous" has some sick Franky Villani footage where he's skating a ditch in L.A. in the video. How did you collaborate with Franky on the visual side of the project?
Franky Villani actually used two of my songs in his New Balance parts.
The first song was "Separation Anxiety" and then he used "Xenophobic".
When I moved to LA I hit up Franky and we met up at one of my shows.
We've been friends ever since and even made music together.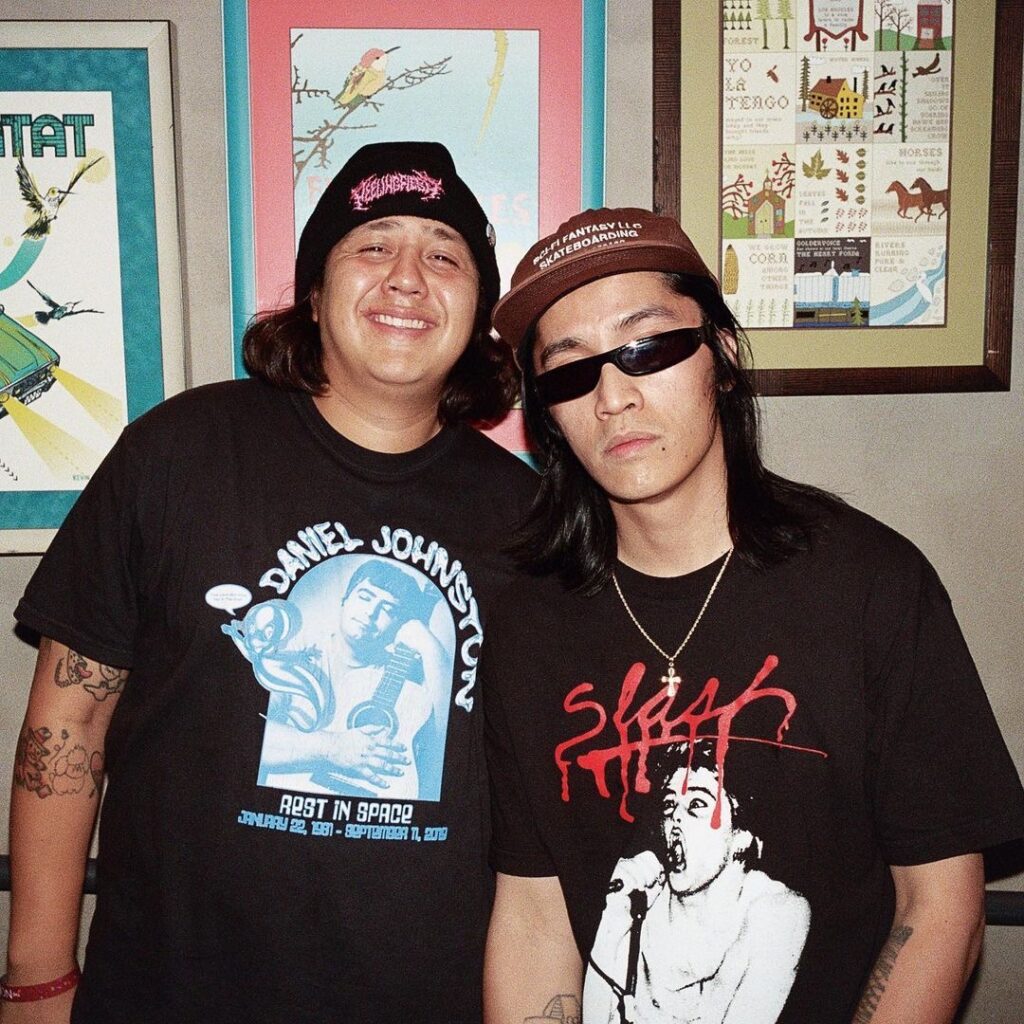 What songs did you make with Franky?
Our first song was called "In The Dog House" and we even made a funny music video for it but yeah me and Franky been working on a bunch of new stuff lately.
He got me to design a colourway of his latest New Balance shoe coming out next year then we been making more music together.
I love Franky and when we did the Jealous remix video I just wanted to put him on the way he did for me when he used my songs when no one really knew about me.
You produced your '2 Headed Goat' track with Lucien Clarke and RealYungPhil and the video is filmed at night in London. How did that track come to life and how did Lucien get on-board for it?
Me and Lucien started following each other on the gram and that song came about through my friend RealYungPhil.
We made this like punk rap song that my friend Zeroh played the bass on then we thought it'd be epic to get Lucien to speak some wisdom on the song and yeah that's how that came about.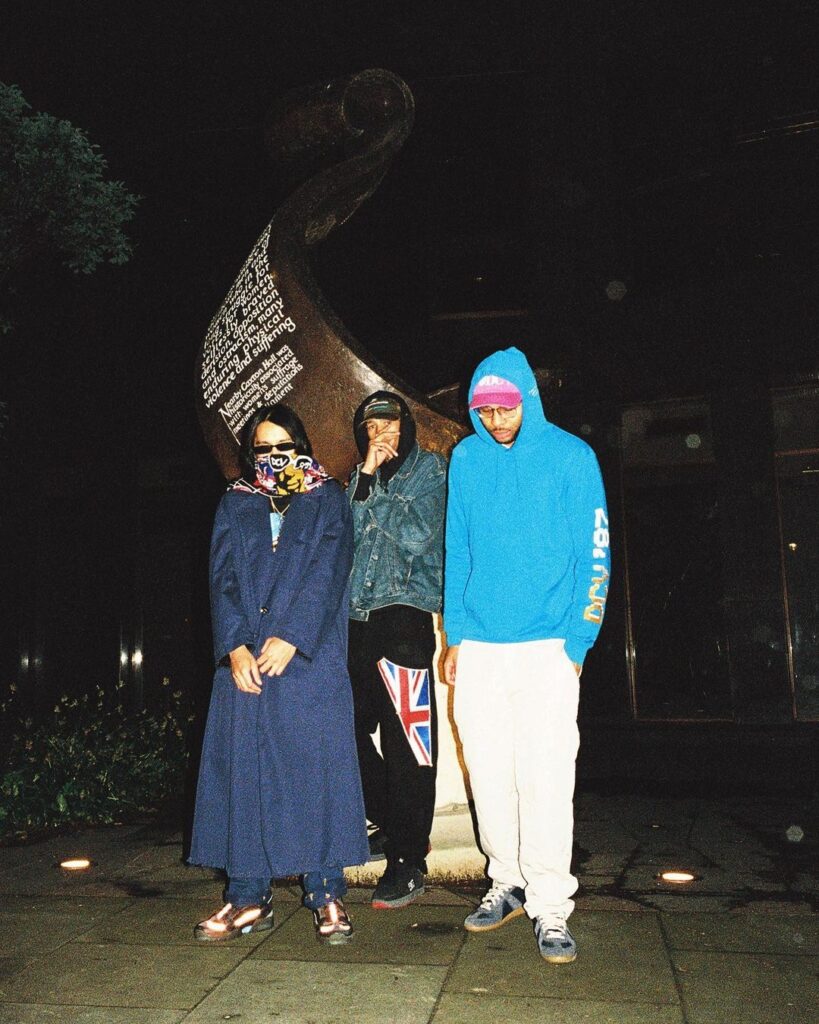 Eye Dress, Lucien Clarke and RealYungPhil, Viccy Benches, London: Shot by Razy Faouri
Lucien is really chill. He invited us over to his studio when me and Phil were in London and we shot the video there, just down the street
We met his mum, she was really sweet and yeah I fucking love Lucien, he's one of the most dripped out skaters of our time.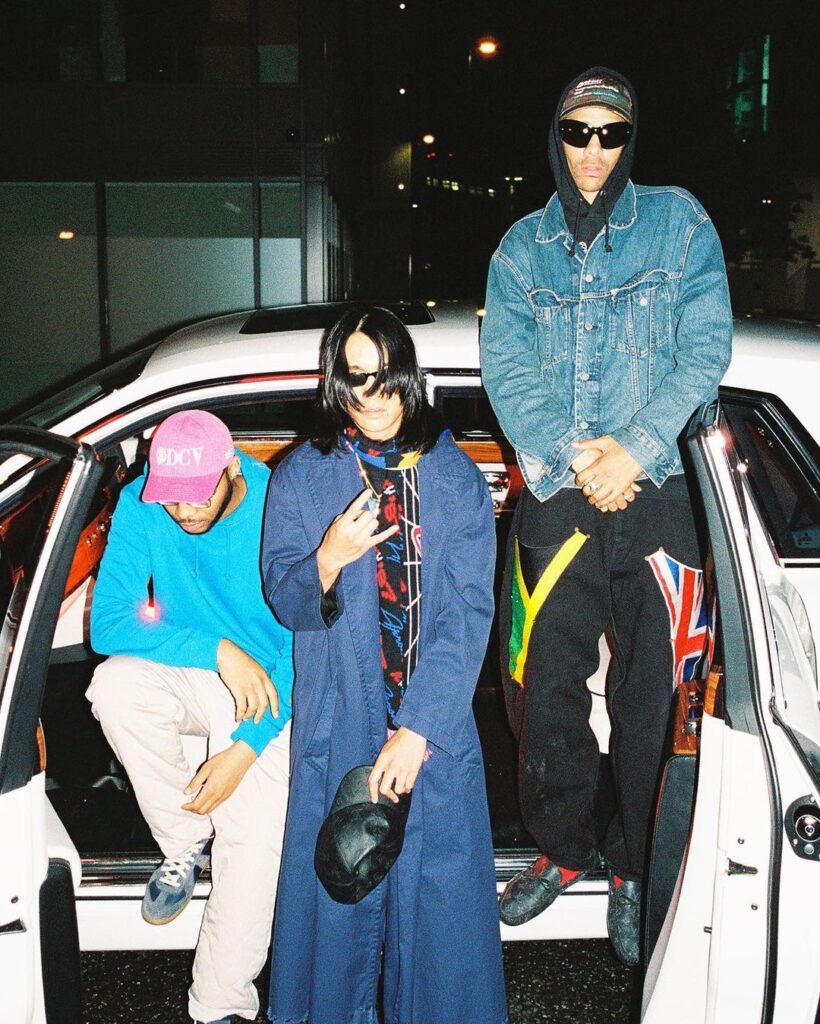 Eye Dress, Lucien and RealYungPhil, on set, London: Shot by Razy Faouri
What was it like coming back to London to shoot the 2 Headed Goat video and how long did it take to film?
We started filming when the sun went down. The film crew was late and running behind schedule so we ended up filming til 3-4am.
It was actually a really tiring shoot but it was fun hanging out with Phil and Lucien.
Lucien took us to a spot he'd filmed a lot at but yeah, I wish we had filmed that video ourselves didn't really vibe with the director that was assigned to us but we tried to make the most of it you know?
Did you skate much when you were in London?
Not really. I just hit Southbank for the first time and got some silly little clips in Lucien's Louis Vuitton skate shoe haha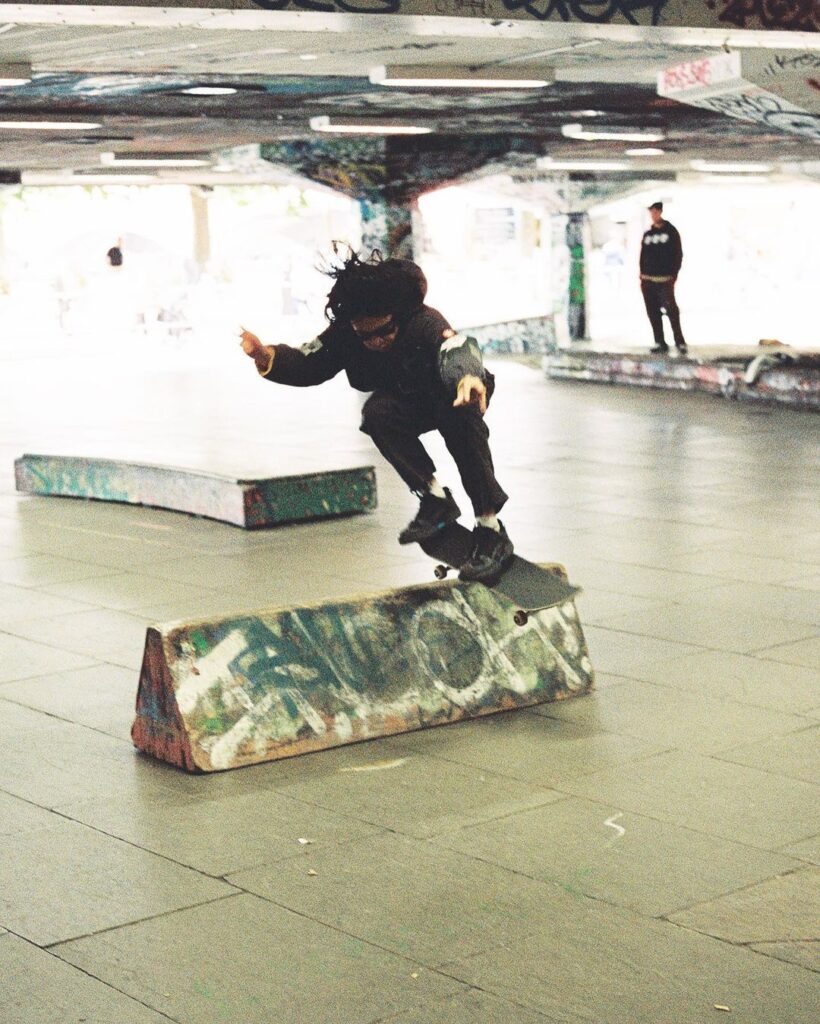 Eye Dress, Ollie over the wallie barrier, Southbank: Shot by Razy Faouri
On the same album you also collaborated with Na-Kel Smith on 'SMOKE AND MIRRORS'. What was it like having Nak rapping on one of your tracks and how did you first meet initially?
Nak just came over to my house in the Hollywood Hills one day and he didn't even need my help recording because he already knew how to record himself.
So I was just rolling up and smoking the whole time, then he had to go so I finished my verse when he left and ever since me and him have been friends.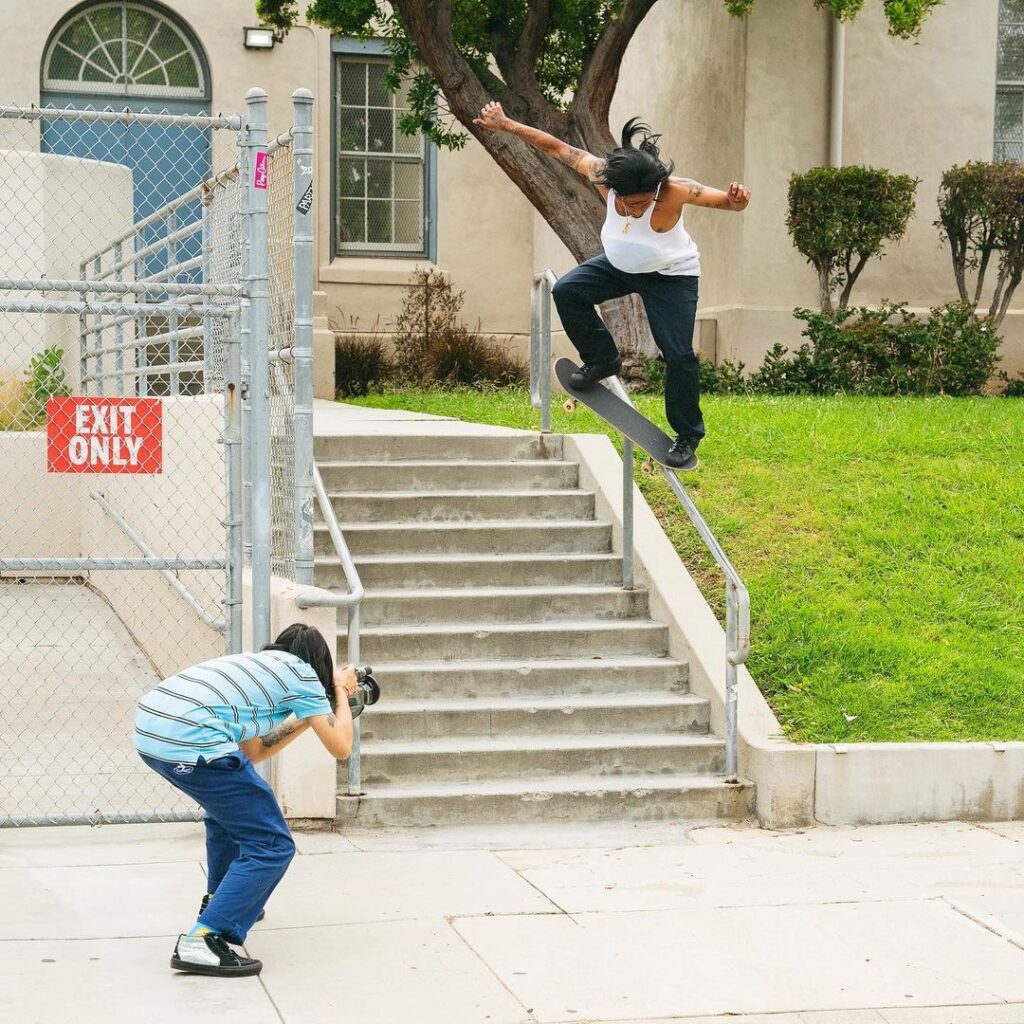 Eye Dress and Na-Kel, Filming for the "Teen Mom" music video: Shot by Razy Faouri
Of course I knew about him through his skating, like how I knew about Lucien but I always just played it cool and tried to help him out however I could.
We never really met before that but around that time he was hanging out with my friends Cashcache, who's a producer from Atlanta and RealYungPhil, who I made "2 Headed Goat" with.
I guess we just became friends cuz we had like mutual friends and shit it was really organic.
Nak skates in the 'Teen Mom' video. What was it like working with him as a skater for it, who's idea was it to get him skating in it and what was it like seeing him Crook down that rail?
It was the director Abe's idea to ask Na-Kel to be in it.
I never thought I'd ask Nak to do me no favour like that, especially skating but it was surreal man.
When he landed that trick he was like "lemme do it again!" and I was just filming him with a fisheye.
It was so sick. He's just so gnarly when he skates haha but he's also funny as hell cuz he was wearing that wig and a beach ball inside his shirt lol that was good times.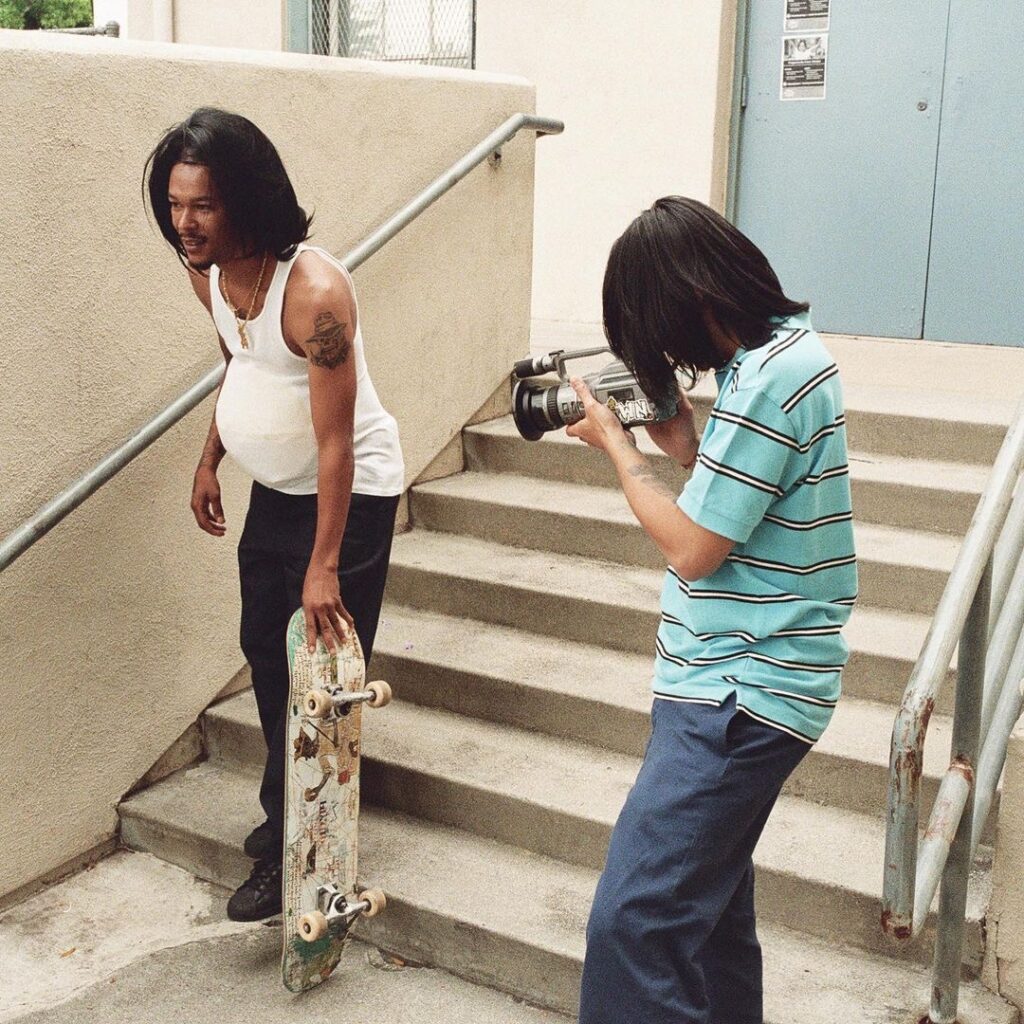 Nak and Eyedress: Shot by Razy Faouri
I've seen you wearing Supreme, Palace and Fucking Awesome clothing in your videos. But are there any other skate brands you look up to at the moment?
I fuck with Carpet, those guys have been hooking me up.
Nancy too and Fuck This Industry, also FTP, Butter and Lo-Fi in Australia.
Sci-Fi Fantasy recently gave me a bunch of shit and Violet of course. Also Last Resort.
I love Bill Strobeck and his filming style, there's so many man.
I love the 10C41 kids, Juice and Junior, Marby and Kien from there, those are all the homies.
I love how diverse and open skating has become and seeing more women skating in a male dominated industry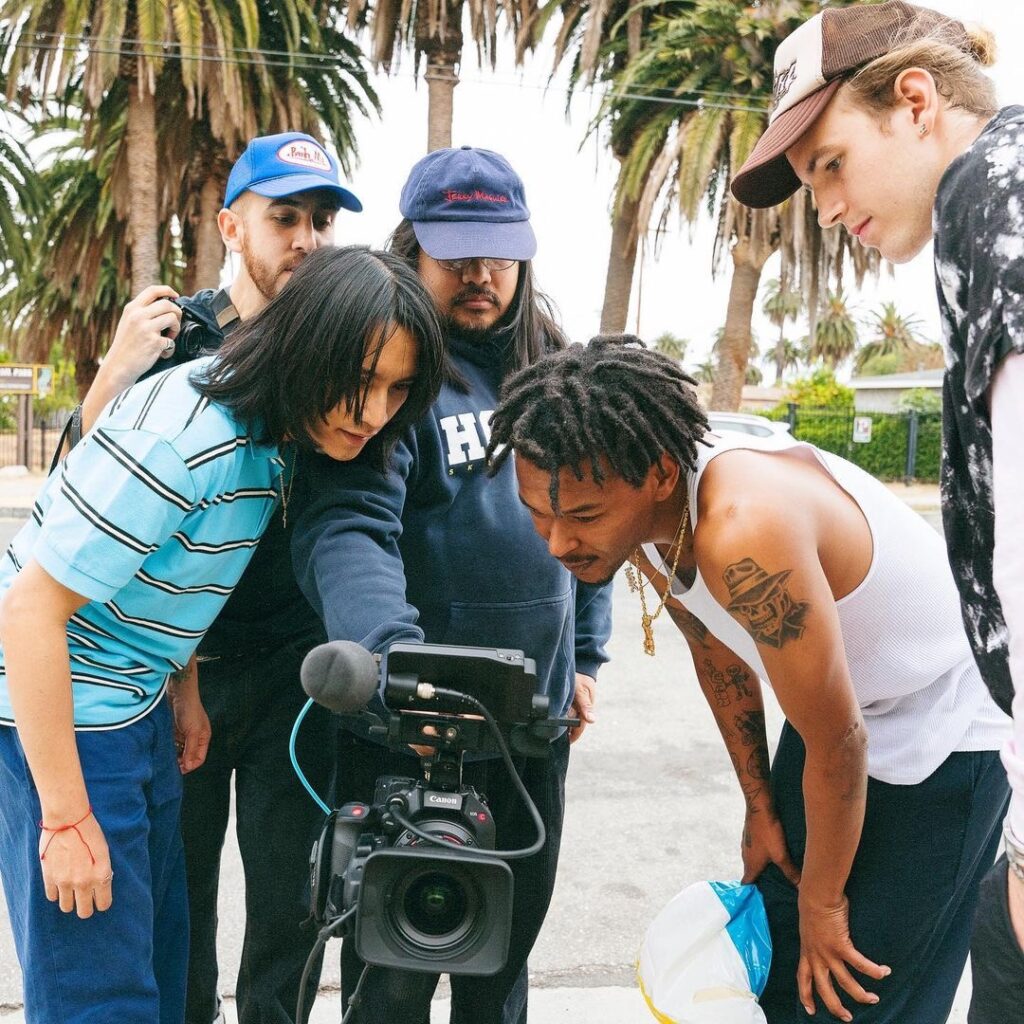 Eyedress, Nak and the crew on the set of "Teen Mom": Shot by Razy Faouri
You include skateboarding as much as is possible in your projects, whether that's musically, visually or lyrically. Why do you think it's important for skating to be a part of your art?
That's because its how I got into the music. I got influenced by it, literally, got put onto so many artists, through skate videos
Your track 'Skateboarding Day' is dope. Lyrically, the words "Skate" and "Escape" blend so well. Skateboarding is escapism so it's a great audial bond of the two. What motivated you to write and make the track and how long did it take to produce from writing to its full release?
I used to go skate cuz I'd have a shitty time at home or at school, so it was always my escape from the norm.
Skateboarding Day? I don't know, when I moved to LA I lived in Silverlake and I didn't have a car so I'd go skate up and down Sunset Boulevard to get food, go to the ATM, buy groceries shit like that.
I was thinking of how like Dick Dale had those really bad ass songs about surfing so I kinda wanted to make some shit about skateboarding cuz I can't really swim and I'm terrified of the ocean.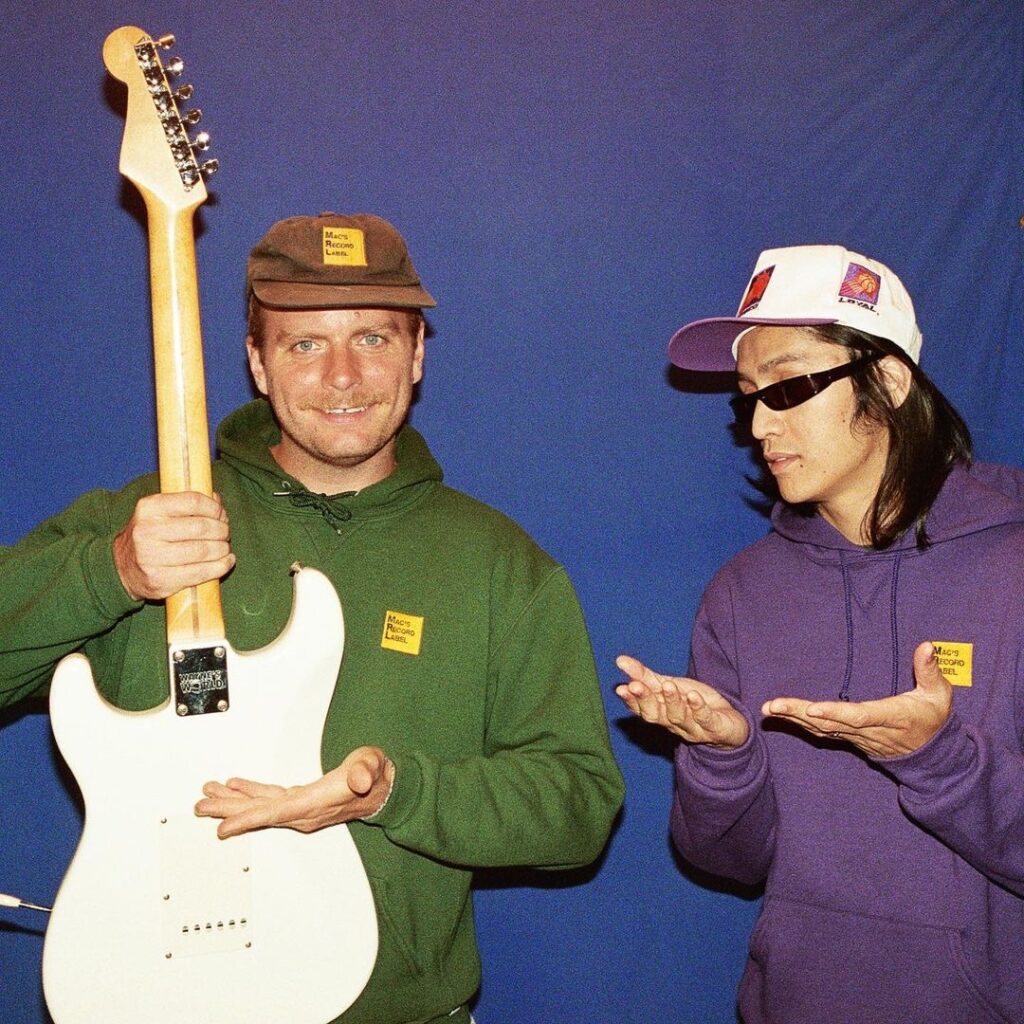 Mac DeMarco and Eyedress: Shot by Razy Faouri
You've recently collaborated with Mac DeMarco. He's rad. How did you meet Mac and when did you both decide to work with each other on the track 'The Dark Prince'?
I met Mac DeMarco in Singapore when my old band Bee Eyes opened for him.
We've been friends ever since but only started working together after I got signed to RCA.
I had rented out a mansion in Malibu and set up a studio with my producers to start recording my next album and I hit up Mac one day out of the blue and asked him if he wanted to record with us and he came up we had breakfast.
We got like these really gnarly breakfast burritos and yeah we went back to the studio and recorded the instrumental for "Dark Prince".
Eventually I did vocals on it like weeks later.
Then we started talking about doing a video and there you have it it was really surreal and a dream come true full circle moment for me.
Mac is my hero and I never thought we'd make music together but yeah it's been really good lately.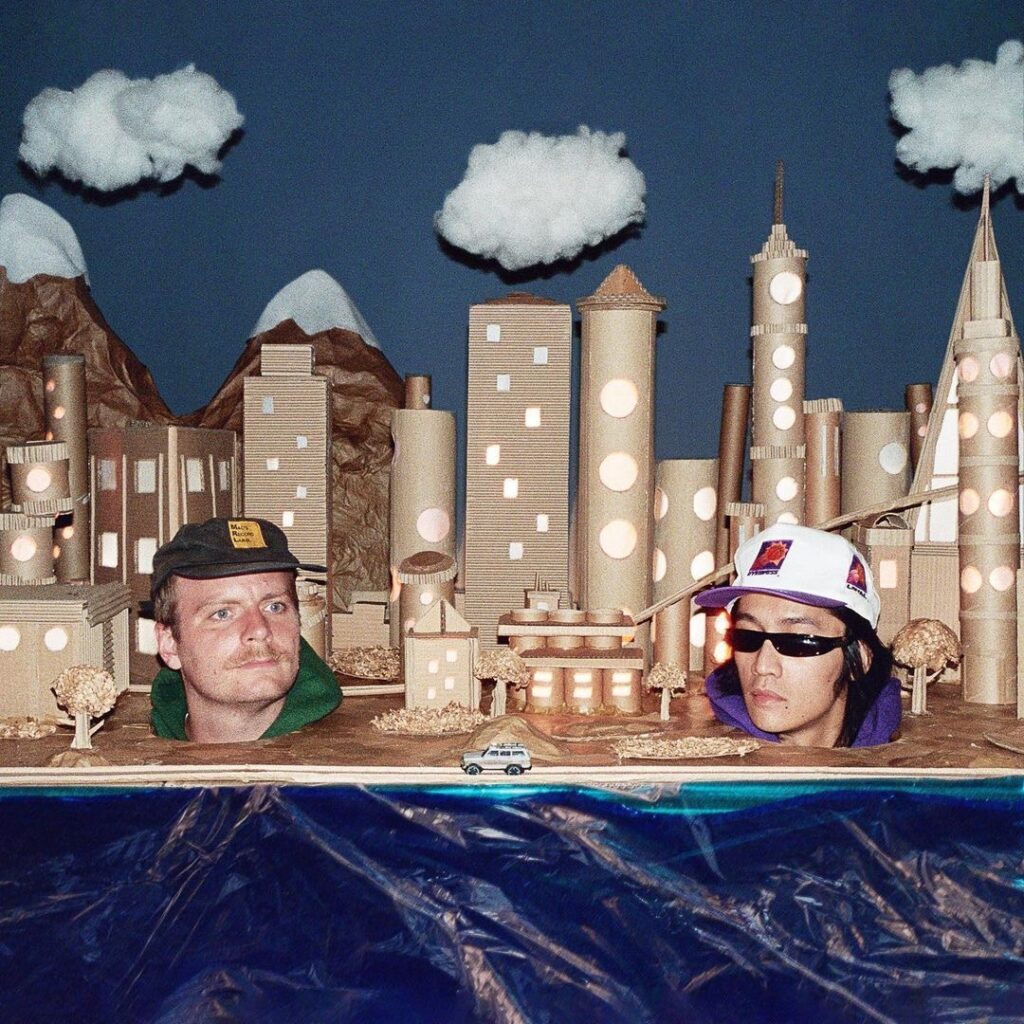 Eyedress and MacDemarco on the set of the "My Simple Jeep" music video: Shot by Razy Faouri
Do you have a favourite artist that you have collaborated with so far?
Kevin Shields remixed my song "House of Cards".
I wish I could go work with him some more.
Obviously working with Mac and Homeshake have been two of them.
I met Homeshake when he was still playing guitar for Mac's live band.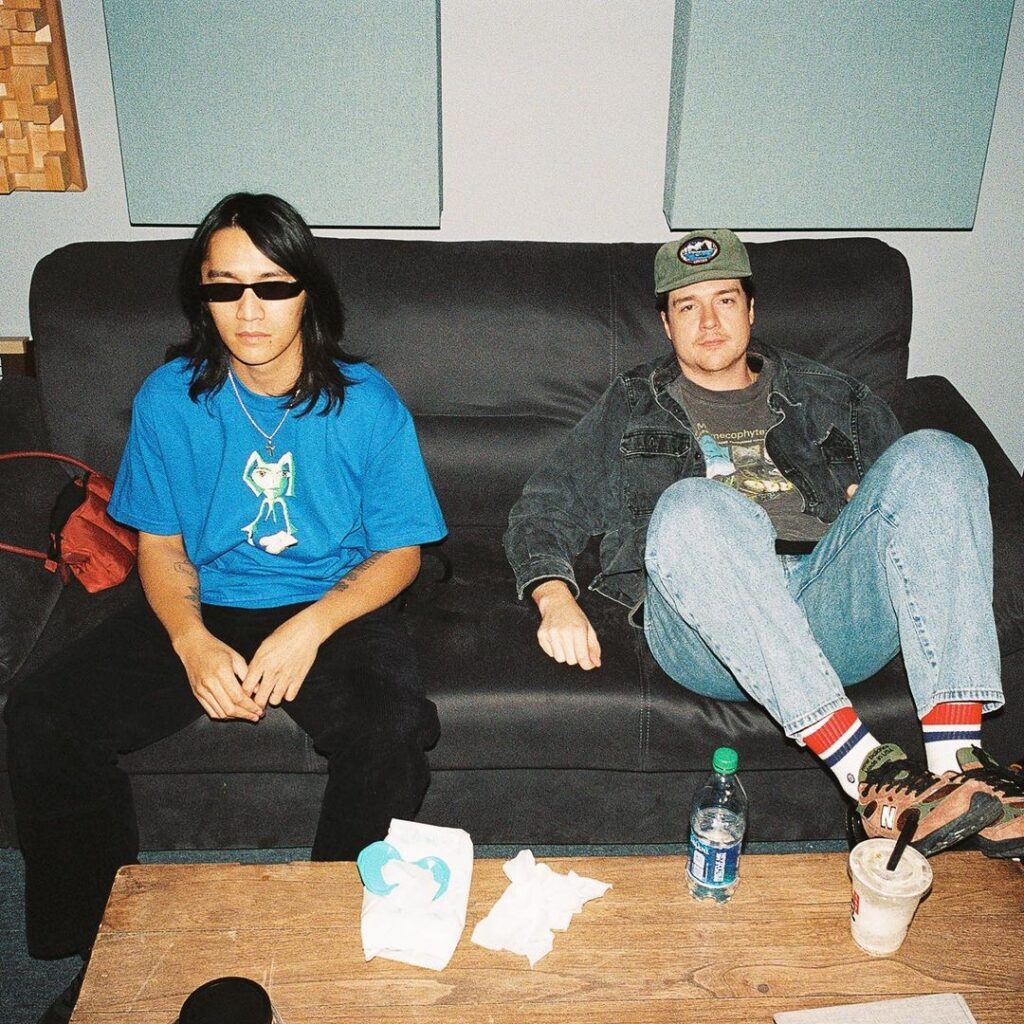 Eyedress and Homeshake: Shot by Razy Faouri
I also recently worked with The Marías as well.
We've got some new songs coming out one of them. One of them Mac co-wrote with me.
You sing and rap. Who inspired you to sing on your tracks and who inspired you to rap?
My inspiration to sing was probably Julius my best friend.
He really pushed me to believe in myself and also we'd always freestyle after band practice.
Dude, we always did both like rock shit and rap shit because it's what we listen to and I also grew up in the westside of Phoenix, Arizona which is the hood so I think a lot of those early traumatic experiences I had as a kid got me seeing the world differently.
What is it about making music in multiple genres with your sound that motivates you?
I just try to be myself in everything I do.
I grew up listening to rap and R&B, speaking slang and also being into punk rock and skating.
So I guess all that motivates me and pushes me to be this mixture of everything that I like because that's just how I turned out.
You've made 5 studio albums. This is a difficult question but what has been your favourite to create?
I think "Sensitive G" will always be my favourite record because I didn't even think I could even make a record that good while I was making it.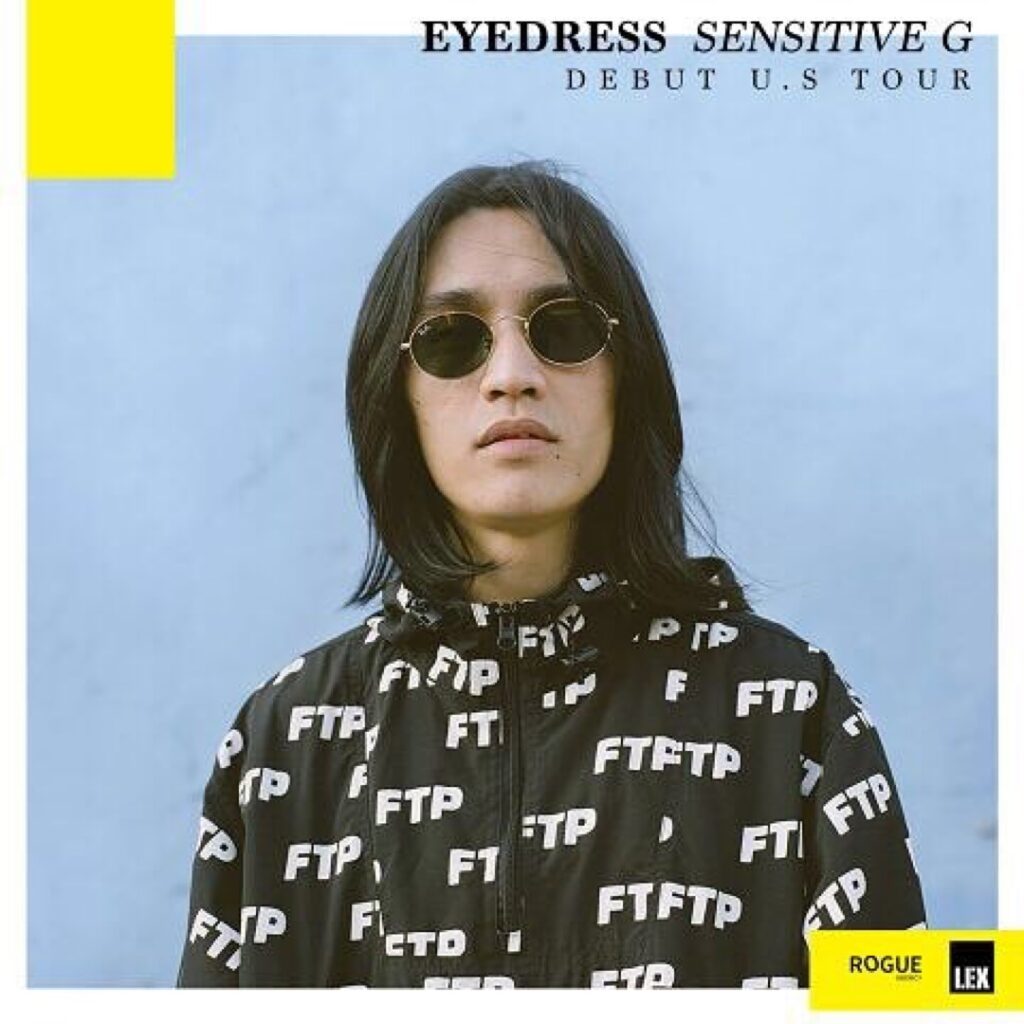 I was brutally honest and going through a lot of difficult things in my life at the time. It's also the album that brought me back to America which was my dream since I left America when I was a teenager.
So that album definitely meant the world to me and then following it up with Let's Skip to the Wedding which is definitely one of my best albums.
I think the album that I'm making right now for RCA is definitely going to be my best work and will be the record that puts me on the map.
You mention your wife Elvia and son Boaty often in your music and posts. Why is family important to you?
Family is important because Elvia was there for me when no one else was.
I was a drugged up mess and she changed me and made me better. She gave me a family and another chance at being a father and having a reason to live. I owe them my life and family is so important to me because it's literally the whole foundation of my success.
Elvia, before we had our son, took me in and her family all accepted me and loved me and did what they could so that I could continue being a musician.
What advice would you give to readers who're thinking of starting a family but are unsure that they will be able to start their creative careers otherwise?
Don't ever be unsure about your dreams because a good family will help you make all your dreams come true.
You just have to be good to them and take care of your family and be honest and real in your work and the world will give back to you.
Don't look at how much time it takes just take everything step by step and you will soon realise what I'm talking about.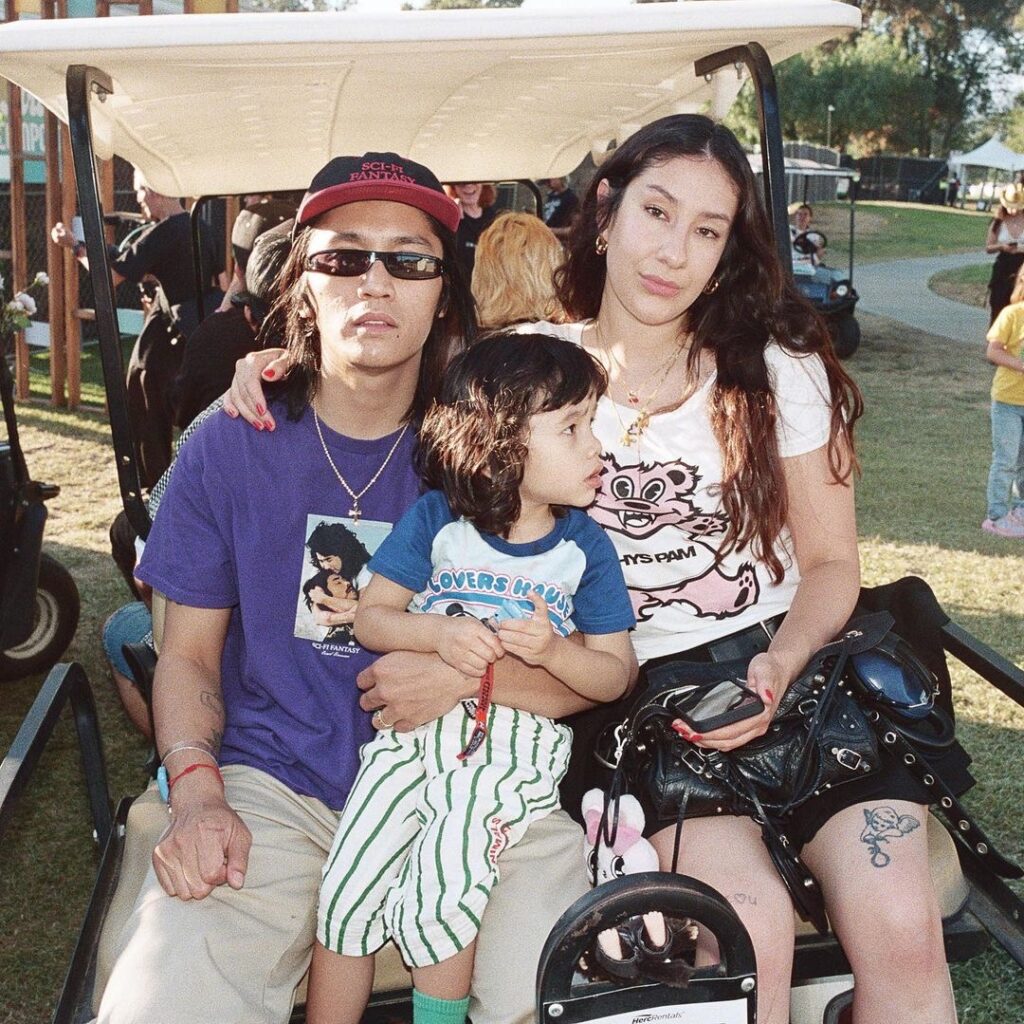 Eyedress, his wife, Elvia and their son, Boaty: Shot by Razy Faouri
Who are the skaters that you look up to or watch the most at the moment?
Just my friends. I'm lucky I get to call them my friends.
I mentioned them earlier in this interview, they inspire me everyday to be great and to do my best.
Who's your favourite rapper of all-time?
Quasimoto cuz he's a cartoon.
Who's your favourite singer and why?
Kevin Shields for his soft spoken and calm delivery and his beautiful dreamy melodies.
Kim Gordon for just being the most unique most bad ass bassist and singer and Morrissey cuz he's Morrissey lol.
Do you have any other favourite musicians?
Cody Chestnutt and Blue Magic
What's your favourite skate video?
Baker 2G – piss drunks forever. I don't know it's just raw as fuck.
Where's your favourite spot to skate in America?
Any school with stairs and some banks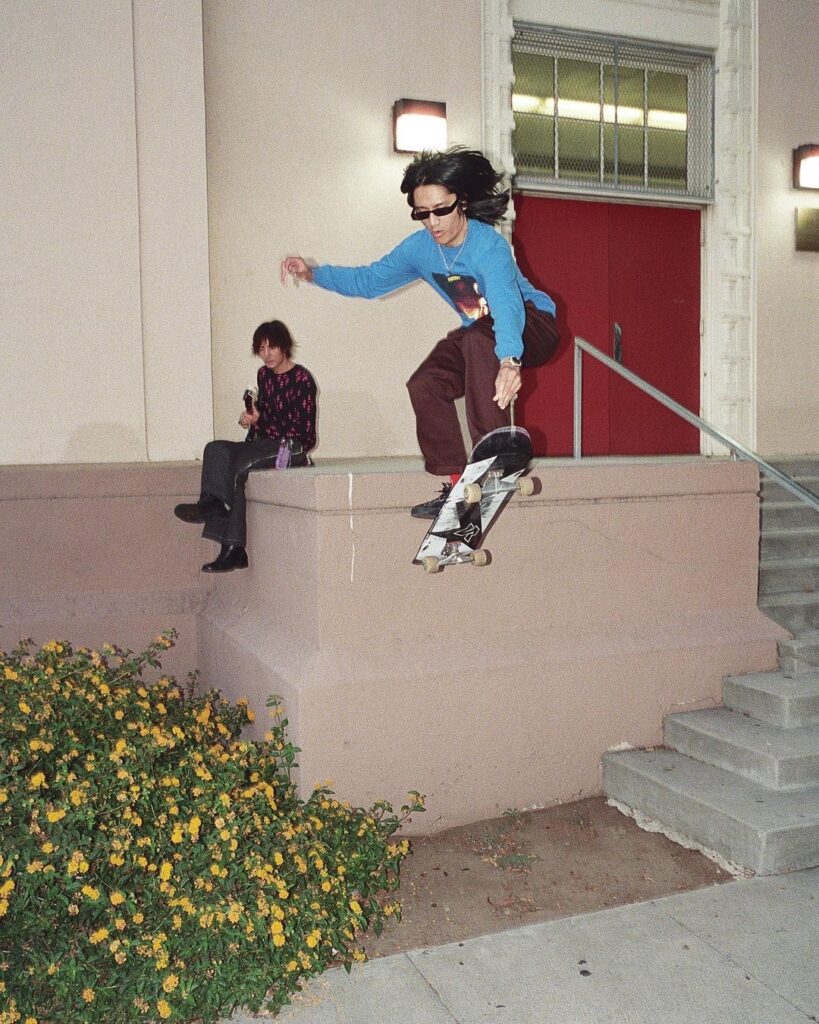 Eyedress, Mud Gap Bomb Drop: Shot by Razy Faouri
Do you have a favourite spot to skate in Los Angeles?
Griffith Park
Where's your favourite place to skate in the world?
Tokyo and Hong Kong
Who's your favourite skater?
What advice would you give to musicians who want to define their sound and find their voice?
Be the most genuine and honest version of yourself always stay true to you.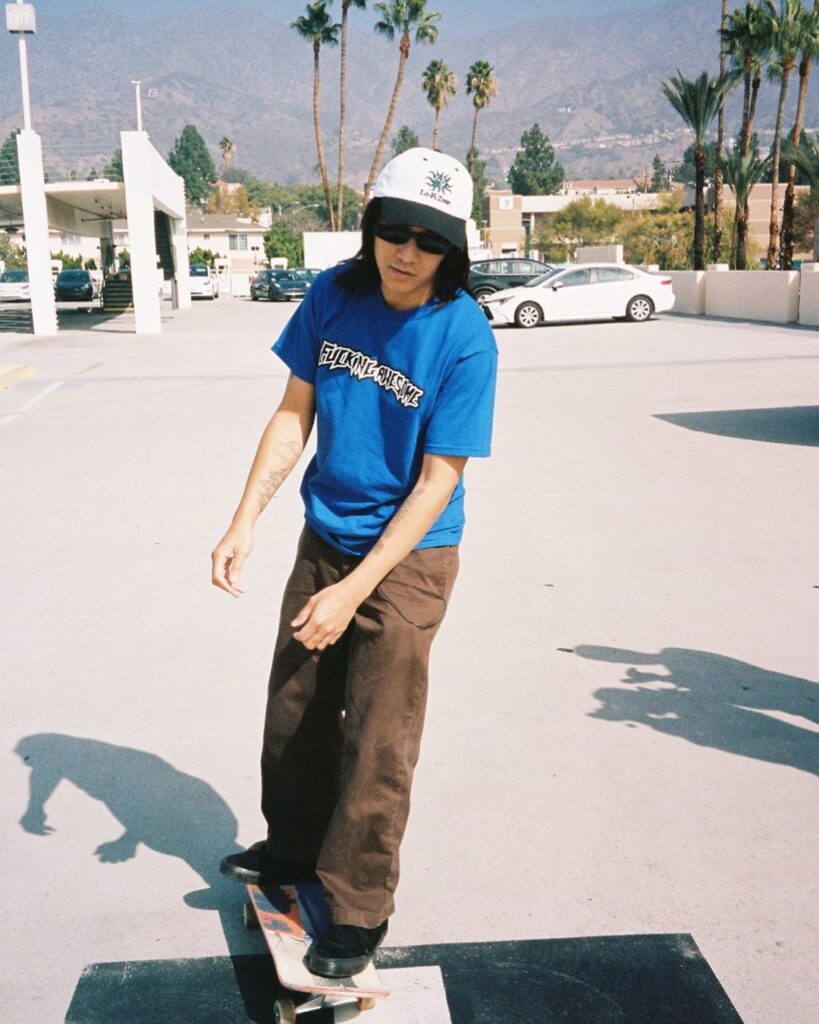 Eyedress, Cruising: Shot by Razy Faouri
Working on any upcoming albums, releases or shows you would like to announce?
I am working on a new album. It's still untitled but it's coming out in 2024 for sure
Shot by Razy Faouri
Any shoutouts you would like to make?
No Comply, thanks for asking so many damn questions lol
Any last words Idris?
Peace. Stop killing each other and save the children